Are you looking for the best places to hang out as a teen?
In this post, we'll discuss the most common places for teens to hang out and stay in touch with their friends.
Plus, we'll also cover some fun and budget-friendly things to do with your friends while hanging out.
Most Common Places For Teens To Hang Out
The most common places for teens to hang out are:
School
Friend's House (Basement, Games Room)
Online (Social Media Sites or Gaming)
Sports, Clubs, Hobbies, Theme Parks, Amusement Park
In The Neighbourhood (Park, Beach, Parking Lot, Boardwalk)
At The Mall (Stores, Coffee Shops, Restaurants)
As a bored teen, you're often short on cash, so the best activities for teens are fun, cool, and cheap!
American teens love getting together with other teenagers, especially in places where there are no parents to be found.
According to Dr. Clark, co-author of Your Teenager is Not Crazy: Understanding Your Teen's Brain Can Make You a Better Parent, you'll find teens where other teens are hanging out. This might be the parking lot where nothing seems to be happening, but the point is that they get to hang out with other teens.
The goal is to get together with a bunch of teens and find budget-friendly places to hang out. So the next time you're wondering "What are the best teenage hang out spots near me?" remember these suggestions and find your favorite places to go with friends.
Below are some of the best places to hang out with friends as well as affordable activities that won't break the bank.
1. Hang Out At School
As a teen, you spend a huge chunk of your time at school.
As a result, school is the best place to hang out with friends and make new friends.
If you get creative, you can actually have loads of fun at school.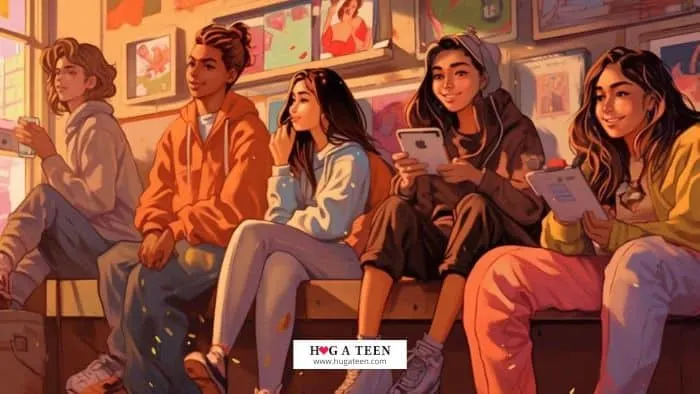 Fun Things To Do At School With Friends
Here's a list of fun things to do at school with friends:
Games: Play classic schoolyard games like Dodge Ball, Double-Dutch, Foursquare, Tag, and Kick the Can.
Get Social: Ask for a girl's Snapchat – find out how here.
School Clubs and Organizations: Joining or starting a club based on shared interests can provide a great way for teens to spend time together. These can range from film clubs, book clubs, art clubs, science clubs, and many more
Eat: Hang out in the canteen with your friends.
Outdoor Activities: Explore different areas of your school, or arrange nature walks during breaks.
Study Groups: Forming a study group with friends can make studying more enjoyable and productive. This is especially important if you're looking to improve your grades in certain subjects.
Theme Days: Planning and participating in theme days, where everyone dresses up or participates in activities related to a particular theme. Examples are 'Anything But a Backpack Day' or 'Senior Skip Day'
Bookclub: If you have friends who love to read, bring your books along and find a spot to read as a group.
Project: Start or participate in a science fair project. It will help you learn and develop your own projects!
Learn a new language using Duolingo. If you have a couple of friends learning the same new language, have conversations in that language regularly to improve your fluency.
Make a scrapbook of each year of high school.
Play board games such as chess and Scrabble. You can enjoy the games in class before a teacher arrives or during breaks.
If you have a swimming pool at school, then arrange some swimming pool games.
Arrange a water balloon fight. Ask your friends to bring water-fight balloons because they pop more easily than regular party balloons. For a full-scale war, each person will need roughly 25 to 50 balloons.
Play fun games such as charades or card games.
Keep a dart set at school, find a suitable place to hang it, and play during breaks. 📢 You might also enjoy reading: Best Ever Dart Team Names & Ideas (Funny, Badass, Unique & Clever)
Do pranks at school. You can do them in the classroom or outside. Ensure that your 'victims' are not hurt in any way as you prank them.
Try some rebellious things to do at school, including prank-calling your parents or friends, goofing off in class with pen spinning, or wearing mismatched clothing.
Love meditation or yoga? Get together with some friends to breathe, stretch, relax, and practice mindfulness—all these activities are shown to improve grades.
Discuss and plan things you're going to do outside of school.
🤓 You might enjoy reading: Can You Get In Trouble For Prank Calling?
2. Hang Out At A Friend's House or Basement
After school, one of the most popular places to hang out with friends is at their house or basement.
If you're the type who loves having friends around, then it might be worth setting up a teen hangout room.
There are loads of cool games that you can put in your game room—check out these game room ideas.
Fun Things To Do At Home With Friends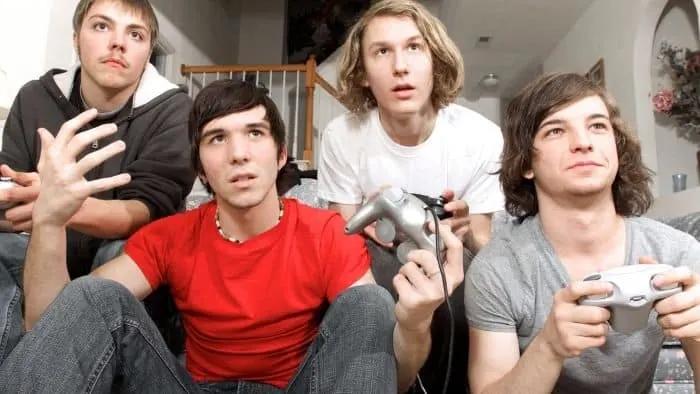 Here are some fun teen hangout ideas and things to do at home with friends:
Watch a movie or series together. If you're having a sleepover then you can set up an outdoor movie night. Also, don't forget the movie night snacks.
Play arcade games & table games. Try a Full Size Stand Up Arcade Game, Air Hockey, Foosball, Table Tennis, Darts, there are so many to choose from!
Play video games. There are loads of cool multi-player games you can play on your PC, console, or phone. Some favorites are Roblox, Minecraft, Among Us, and League of Legends.
Have a Kickback Party.
Play outdoor games. There are loads of outdoor games you can play like outdoor lawn games, outdoor giant games, and outdoor night games.
Do creative projects together. Creative projects you can do with friends include painting, drawing, or origami.
Try an art kit or a craft kit—arts lean more towards something you draw or paint, while crafts are more about making something.
Make lunch with your friend. Try one of these easy lunch recipes.
Invite your friend for a sleepover. Check out this list of 64 things to do at a sleepover.
Paint your friend's nails.
Give your friend a house tour. If you have a large home, then you can give an MTV Cribs-style house tour! Large properties are also perfect for games like "Hide & Seek" or Flashlight Tag.
Play Truth or Dare. This game is great, especially if you're hosting a couple of friends.
🤓 Discover some awesome hobbies for teens here: Hobbies For Teenage Girls & Hobbies For Teen Boys
3. Hang Out Online
Thanks to technology, you don't have to be physically close to someone to enjoy their company.
The internet enables friends to spend time together even when they are hundreds of miles away from each other.
Fun Things To Do Online With Friends
Let's look at some fun things to do with friends online.
Meet up with your friends on Zoom or Facetime. Check out our Things To Talk About On Facetime., as well as Things To Do on Facetime to get the conversation going. Ensure you have a good internet connection to make the most out of the meeting.
Interact with each other on social media and chat platforms like TikTok, Discord, Snapchat, WhatsApp, or Instagram. Chat directly with each other or in communities/groups.
Play online games with your friends. Some awesome online games include Fortnite, Minecraft, and Pokemon Go.
Watch a TV show with your friends. Netflix has a feature called Teleparty (previously called "Netflix Party") that allows you to invite people to watch a show together.
Create memes. Share the memes with your friends or post them on a meme group you're both in.
Explore various places using Google Street View or plan your dream trip. This feature enables you to explore any country or neighborhood across the globe. Find and explore notable landmarks and buildings such as the White House.
Try new recipes together. Try some of these super easy recipes for teens. You can stream your activities in the kitchen while you cook.
Create or join an online book club. Find a book you and your friends are interested in, read it, and arrange a video chat to discuss it.
Sing with your friends through online karaoke on platforms such as Smule. This is the perfect activity for friends who love music and singing.
Draw online with your best friend using sites like Draw.Chat.
4. Hang Out While Playing Sports
If you enjoy being active, then sports are a great way to have fun with your friends.
Most sports can be played with some simple equipment (think ball games), on a lawn at home, at the park, or on the beach.
Fun Sports To Play With Friends
Here are some fun sports to play with your friends:
Volleyball is a fairly easy game to learn and is loved by both teen girls and teen boys.
Track and field sports are great if you want to boost your endurance levels. You can choose to build your skill in sprinting, long-distance running, jumping, or throwing.
Soccer is fun and easy to play—all you need is a field, a ball, and some friends.
Baseball is hugely popular among American teens. Practice on your own using a Practice Net and Tee.
Basketball is a fun and versatile game. It's arguably the most popular game in the USA. Set up a hoop at home and play with your friends or try this Basketball Arcade Game.
Biking or Cycling is a great way to explore your neighborhood with friends. A bike ride is a great way to build up fitness and makes for an excellent sport both on and off-road (mountain biking).
Gymnastics is a great way to build strength and flexibility.
Calisthenics is similar to gymnastics but focuses on building strength using your own body weight and does not require a gym. Building strength in competition with your friends is a great way to have fun and discover how far you can push your body.
Martial arts include various disciplines like Karate, Kung Fu, Jiu-Jitsu, Aikido, Judo, Taekwondo, MMA, and Boxing. Learning a material art will boost your self-confidence, increase your strength, flexibility, and awareness of your surroundings.
Pickleball: Pickleball is one of the fastest-growing sports around the world. It's easy to play with 2 or 4 players, and players of all skill levels can play, making it a great way to connect with others.
5. Hang Out At The Mall
Malls are great places to hang out with teenage friends because they offer a wide range of facilities and activities to explore.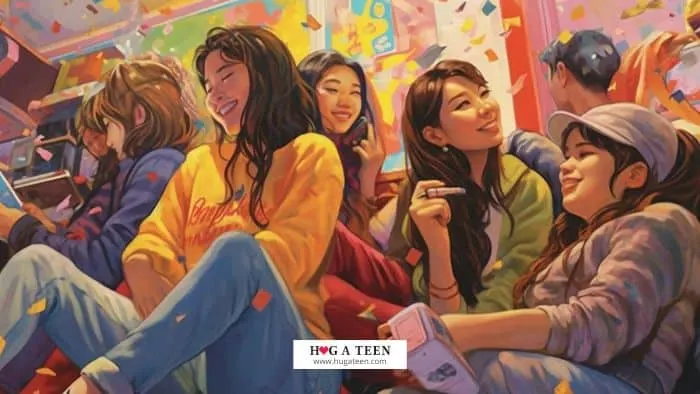 Fun Things To Do At The Mall With Friends
Fun things you can do with friends at the mall include:
Grab a bite with friends. Malls have food courts with several restaurants to choose from. Try a different restaurant every time you visit. If you're not feeling hungry, you can meet with your buddies at a coffee shop.
Shop with your friends. Malls have a wide variety of stores, and you can find virtually anything you are looking for. Window shopping is a great way to get your shopping fix without spending any money.
Try on clothes. See who can come up with the best or worst outfit. Remember to take pics so that everyone can judge at the end of the day!
Get some exercise. Just walking around the mall is a great way to burn some calories. Wear a fitness watch to check steps, distance, calories burned, hourly activity, active minutes, and floors climbed.
Visit a pet store. If you love animals, then the pet store is a great place to spend some time with birds, hamsters, guinea pigs, ferrets, rabbits, kittens, puppies, and more.
Play hide and seek. Malls are massive, meaning there are many hiding spots. You can agree to stick to specific areas of the mall. Ensure you are not running around or being a nuisance because you might get in trouble with store owners or mall security.
Find expensive items. Visit expensive shops and compete to find the most expensive and overpriced items.
Watch a movie. If there is a movie theater inside or outside the mall, then watch a movie (or two!) with a friend.
Visit the arcade. Wondering where do teenagers hang out? You'll probably find them at the arcade., which can be a fun way to spend an afternoon. There are loads of ways to compete in arcade games including fastest, longest, most points, etc.
6. Hang Out At The Park
The park is an easy and free place to enjoy the outdoors with friends. Outdoor areas are common places for young adults to hang out and fun places to hang out with friends.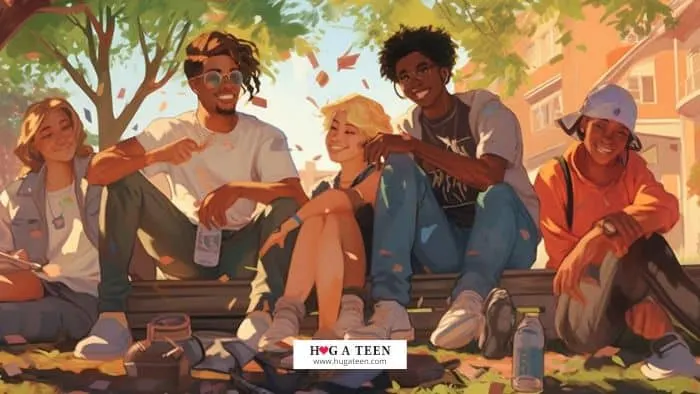 Fun Things To Do At The Park With Friends
Below are some fun activities to do with friends at the park:
A selfie scavenger hunt. Create a list of places or objects to find in the park, and take a selfie with the item as proof. The person back within a set timeframe, with the most completed selfies, wins.
Play ultimate frisbee with your friends. All you need is a frisbee and an open field. The throwing, catching, and running will keep you fit and enhance your speed and agility.
Free classes in the park. Many parks offer free classes like yoga, cardio, stretching, Zumba, and more. Join a new group and meet some friends while you're there.
Set up up a challenge. Take a hula-hoop or jump rope to see who can go for the longest.
A slackline is another great way to have fun. All you need is a slackline and two trees. Up the ante by adding ninja warrior hanging attachments.
Play giant outdoor games. Try Supersized Kickball, Giant Jenga, Giant Wooden 4 In A Row, and more.
7. Hang Out At The Beach
If you're lucky enough to live close to the beach, then this is an awesome place to hang out.
The sand, water, breeze, and pleasant weather provide an opportunity to engage in a wide range of exciting activities.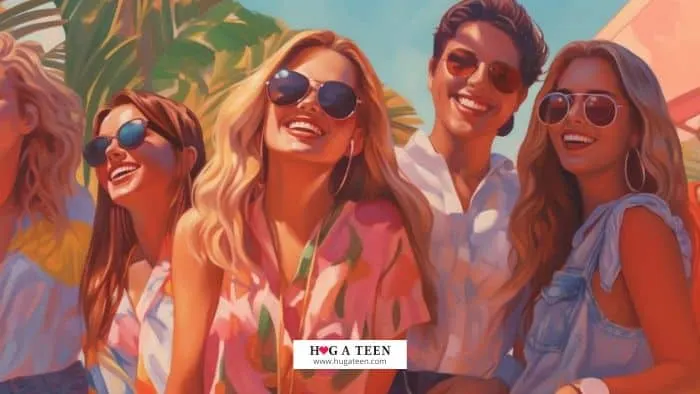 Fun Things To Do At The Beach With Friends
You can do these interesting activities while at the beach with your friends:
Have a picnic with your friends.
Enjoy water sports such as surfing, kitesurfing, and waterskiing.
Go on a hike. Most beaches have nearby hiking trails that enable you to reach raised areas that offer breathtaking views. You can go for a swim after a walk.
Socialize and make new friends. If you find other teens playing games such as beach volleyball, ask if you can join.
Take lots of photos. Beaches offer loads of opportunities to take great photographs of people and various activities.
Watch the sunset or sunrise with your friends.
Meditate. You don't have to engage in physically exerting activities at the beach. Find a place to lie or just sit and watch the waves. This is a great way to reduce stress and anxiety.
Build a sandcastle or anything else that comes to mind using the beach sand. Have a sandcastle competition to see who can build the biggest or tallest sandcastle. Don't forget to take buckets and spades!
Try some crazy and funny things at the beach like crab-walking or burying your friends in sand.
Take a walk along the boardwalk.
Places For Teens To Hang Out – Conclusion
As you can see, there are loads of places for teens to hang out.
Plus, there are many cool, fun, and cheap ways to have fun with your friends.
Find out where the other teens in your neighborhood hang out, and you're sure to find some fun activities to enjoy while making new friends at the same time.