Even though there are plenty of board games and card games that teens can play indoors with friends and family, there are also several other exciting indoor activities that they will enjoy.
We've rounded up some of our favorite activities and indoor games for teens.
Although most games can be enjoyed by just about anyone, we've divided the list into indoor games for tweens, indoor games for teen boys and teen girls, and indoor games your teens can play with the family, at sleepovers, as well as at parties.
I hope you find some exciting new activities for your teen and family here today.
🤓 You might also want to check out: Activities For Teenagers With A Broken Leg Or Arm
Indoor games for tweens (and younger teens)
Whether your tween is having some friends over or you're planning a birthday party for your 11 or 12-year-old, these indoor party games are sure to be enjoyed by all.
1. The Mummy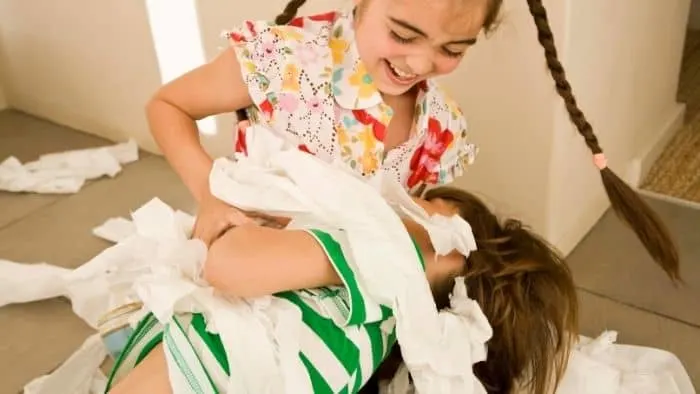 The younger teens love playing this game, especially if they have a group of friends over.
Separate them into groups of two or three.
One person from each team is chosen to be the mummy, and each group is given a roll of toilet paper or bandage roll gauze.
When the game begins, all teams have to use the entire roll of toilet paper to wrap their mummies.
The team that can roll up their mummy the fastest wins.
Alternatively, if it's just family then you can choose mom or dad to be the mummy and let the kids have fun wrapping you up.
2. Blind Food Guessing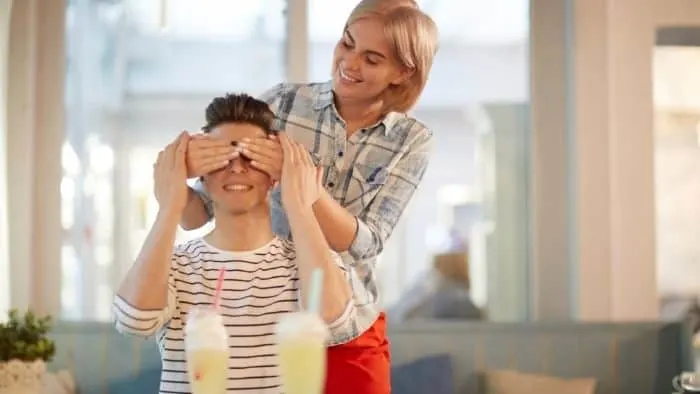 It is a fun teen game for all ages but is especially suited to younger teens.
The game should probably be prepared in advance so that the kids have some exciting yet safe foods to guess.
One person is blindfolded, and the others choose food items for the blindfolded person to taste and guess without looking.
If a player guesses correctly, they hand the blindfold to the next player, who guesses the next food item.
Don't forget to keep food allergies in mind!
3. Orange War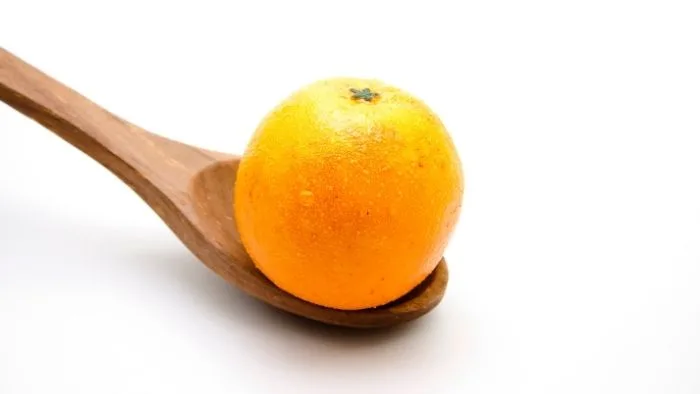 Players put an orange on a spoon.
They then have to tip off the orange of their opponent's spoon without touching them and while trying to keep their orange on their spoon.
If a player loses their orange, they are out.
The player who keeps their orange on the spoon until the end wins.
4. Chubby Bunny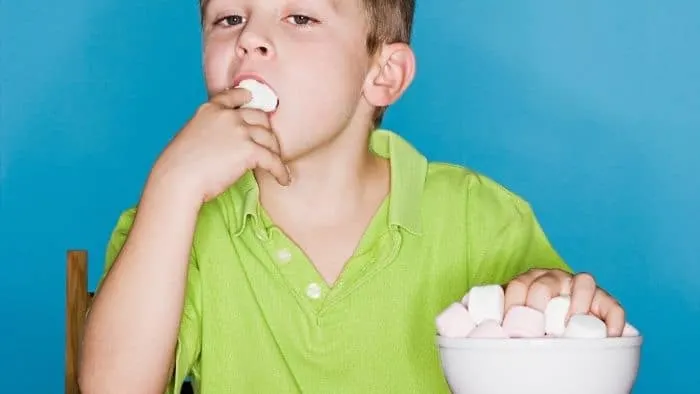 Contestants have to see how many marshmallows they can cram into their mouths while still saying the words "chubby bunny."
The person that can fit the most marshmallows into their mouth in a minute, and still talk, wins!
Make sure to have plenty of marshmallows ready for your kids to enjoy.
5. Indoor Bowling
Create an indoor bowling club in your house.
You just need a flat floor (passage or kitchen usually works well).
Place ten empty bottles in a triangle and use a tennis ball to knock them over.
If your tween adores knocking over the bottle pins then you can consider getting them a kid's indoor bowling set.
6. Treasure Hunt
Teens and tweens love a good treasure hunt or scavenger hunt.
Teens might pretend that this game is too young for them, but if you include some chocolate treats as the treasure, they'll be competing vigorously to find the prize.
Most teens still love to receive an Easter basket and still enjoy finding those hidden Easter eggs regardless of how old they are.
Write out some clues and hide each clue around the house.
Each clue will bring them closer to finding the treasure.
7. House Of Cards
Get a deck of cards and stack up the cards strategically, placing them on top of each other to make a house of cards.
Take turns adding a card whilst building your house.
The higher you build the more precarious your house of cards gets.
8. Chopstick Race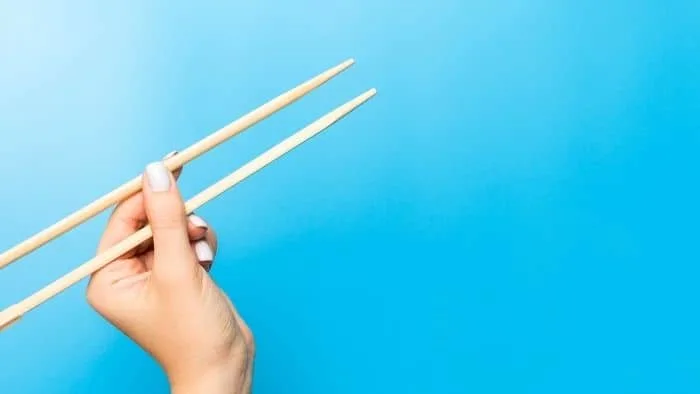 When our tween has a playdate, and they ask if they can have a snack, we sometimes get them to play this game.
It makes a fun game out of an everyday activity.
Using a pair of chopsticks, get your tweens to move as many cereal pieces from one bowl into their own bowl within a certain amount of time.
When the timer goes off, the person with the most cereal pieces in their bowl wins, and they each get to eat their winnings.
9. Indoor Archery
This makes a great birthday gift for teen boys as well.
There are some great options online, like this complete archery set from Franklin Sports.
Set it up where they can take a few steps back.
This target easily attaches to most doors, so a passage usually works really well.
And don't worry, these aren't real arrows.
They have safe velcro dart tips.
This is a great way to introduce them to the sport as well as teaching them hand-eye coordination, strength and endurance, spatial awareness, patience, and accuracy.
10. Snowball Fights
Snowball fights are a fun, imaginative game, and you'll find kids will really enjoy playing them.
Build some forts in the room to hide from the snowballs.
Then crumple pieces of paper into the snowballs.
Teens love throwing the 'snowballs' at each other and ducking behind forts avoiding getting hit.
For an even more authentic option, you can get this set of 50 soft 'snowballs'.
11. 3D Coloring Puzzle Set
This set includes eight different images to color & four 3D puzzles to build.
12. DIY Charm Bracelets
How about some DIY charm bracelet making
13. Make Your Own Candles
We found this amazing candle-making kit on Amazon
14. Paint Your Own Squishies
Let them paint their own squishies
15. Window Art
Your tween can even create their own window art
The list for indoor teen craft activities is endless and so much fun. Once you start searching for ideas that your tween is interested in, you're sure to find many options.
Indoor Games For Teen Boys
1. Table Tennis
Table tennis, or ping pong, is hands down our boy's favorite game to play indoors.
If you don't have a table tennis table, then you can get a net and attach it to your dining room table.
The game can be played either as a singles match or a doubles match.
The first player to reach eleven points wins.
It can be tricky to play at first but once you have some practice playing you'll want to play nothing else.
2. Dart Games
Dart Boards are easy to hang in any room. Laugh and joke around with your friends while throwing some darts.
You can either get the magnetic dartboard for younger children:
But for older teens, we'd recommend the steel tip dartboard with staple-free bullseye:
Or possibly the electronic dartboard for an exciting twist to the game:
🤓 You might also enjoy reading: Best Ever Dart Team Names & Ideas (Funny, Badass, Unique & Clever)
3. Paper Airplane Competition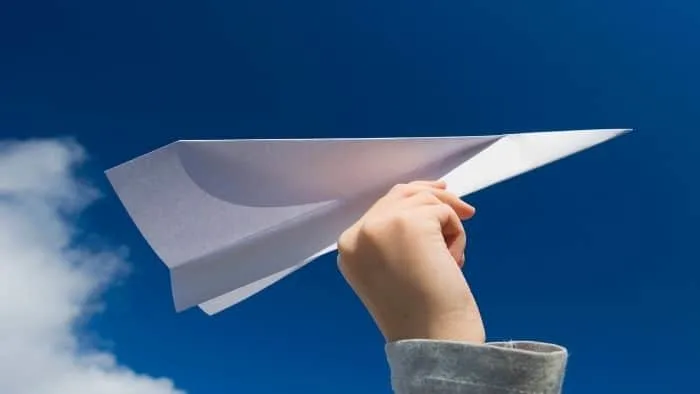 Paper airplanes are popular among preschoolers and high school students.
Make paper airplanes and then have a competition to see which one flies the farthest or fastest.
4. Sock Wrestling
Clear a large space in the center of a carpeted room.
Two players face off wearing socks but no shoes.
The first person to remove both of his opponent's socks wins.
Since we had a bunch of wrestlers, we used wrestling rules to determine legal moves.
For the most part, you'll want to establish rules that prevent serious injury or property damage.
5. Indoor Basketball
If you have a basement or large enough area in your home, you might consider creating a games room.
There are some amazing indoor arcade-like games perfect for teen boys to play.
Basketball is usually played outside the home but this ultimate basketball arcade game has 10 individual games providing your teenage boys with interactive gameplay for hours.
🤓 For some fun three-player games check out 55+Fun Games To Play With 3 People.
Indoor Games For Teen Girls
1. Learn a TikTok dance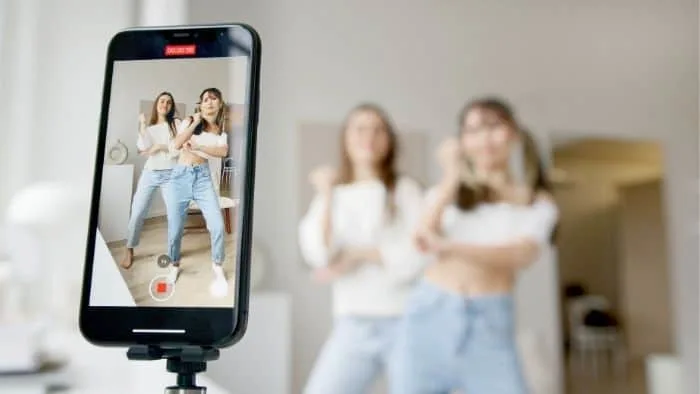 It's no surprise that our older kids already love the new app, TikTok.
Wouldn't it be great if you learned a dance with them?
While you may get a few eye rolls … you'll get to enjoy some fun and many laughs with your teen.
Teenage girls love to dance so this is a fun indoor activity for a teenage girl.
2. Make a quarantine time capsule
Covid and lockdowns haven't been easy for anyone.
If you've been looking for a fun indoor activity for your teenage girl, then what about creating a time capsule that the whole family can contribute to?
Include photos, notes, and other things the family did together while staying quarantining.
You can even add some predictions as to how things will have changed once Covid is behind us.
Just imagine your grandchildren reading all your stories!
3. Have a bake-off
If your kids love sweet treats (who doesn't), then getting them to compete and make their own is a wonderful activity for any teen.
Our boys love cookies more than cakes, which I think is also a lot easier.
They each get to make their own batch, or they get to decorate their own, depending on their age, skill, and ingredients we might have at the time.
4. Crafts
Teens and tweens can be entertained for hours with fun arts and crafts activities. Be sure to stock up on some craft kits and art materials so that they have many options to choose from.
5. Origami
Origami is enjoyed by boys and girls alike.
You can google how to make many origami creations or invest in this amazing origami kit with colorful pages and an instruction book.
6. Rock Painting
Rock painting is an age-old favorite, especially if you hide your painted rocks in your neighborhood with a message of joy or kindness written on the back.
You'll need to use paint or alternatively, these metallic marker pens work wonderfully as well:
7. Stamp Your Own Jewelry
I know that I would have loved to do this when I was younger- actually, I'd still like to do this today.
How amazing to have so many fantastic creative resources available to us today.
8. Journaling
All girls love journaling and now she can personalize & decorate her diary with stickers, gems, glitter, frames etc.
Indoor Games Your Teens Can Play With The Family
1. Have a Dance Party
Turn on the music and have a dance party.
Yes, the entire family should dance!
When kids are stuck inside and can't run around, this is a great way to burn off some extra energy.
We mostly end up having a dance party in the kitchen.
If you love a dance-off, then you might need to get an electronic dance mat for your home. They're really fun for the whole family to play, with many dance songs and several different modes to keep everyone entertained.
2. Do A Puzzle Together
During the lockdown, we all spent a lot of time around the dining room table doing puzzles together.
It was a fun activity that anyone who was bored could sit and enjoy for a little while, and then move on.
Anyone who enjoys candy will love this next puzzle (one of our top 10 for sure).
If you're looking for something original then these wooden puzzles in unique shapes are something to look into.
For all the Star Wars fans this puzzle ticks all the teen boxes.
3. Coloring
Colouring is a great way to relax whether you're an adult, tween, or teen.
We've enjoyed the Mandala coloring in books like this one:
We always turn on the radio or listen to someone's playlist on Spotify.
4. Organize a Cook-off
If your kids are addicted to the Food Network, then why not set up a friendly competition at home.
Make dinner together as a family and assign one dish to each member to make.
Dishes will be scored on presentation and taste.
The winner gets to choose which dessert you'll make next.
5. Take a virtual trip or tour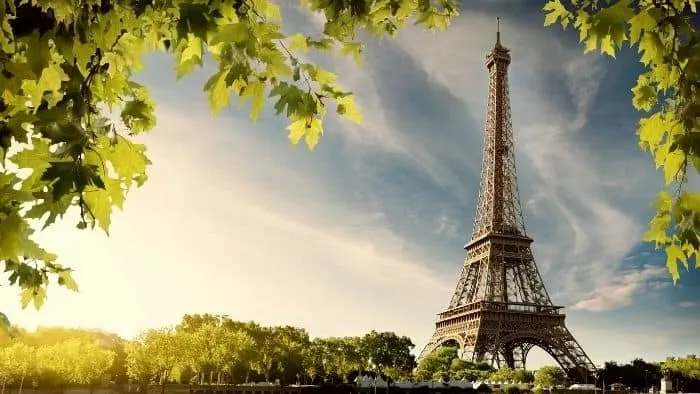 It's great to see some of our world through Google Earth and the web!
Make an online virtual trip to a far-off destination together. There are limitless possibilities.
Virtual field trips to museums are great options as well.
The Escape Game is a great site to have a look at.
6. Indoor Skee Ball
Skee Ball is a fun game the whole family can play.
Players get 3 wooden balls to roll up the ramp and into one of the circles on the board.
If a ball rolls back down the ramp you may roll it again.
Record your points on the scoring pad. The player with the most points wins!
Pro-tip: Place your ramp and board on a yoga mat to minimize the noise of the wooden balls on the floor. You can even use pool noodles as bumpers. Cut a slit down the side of a pool noodle and slip one over each side of a yoga mat.
Indoor Sleepover Games For Teen Girls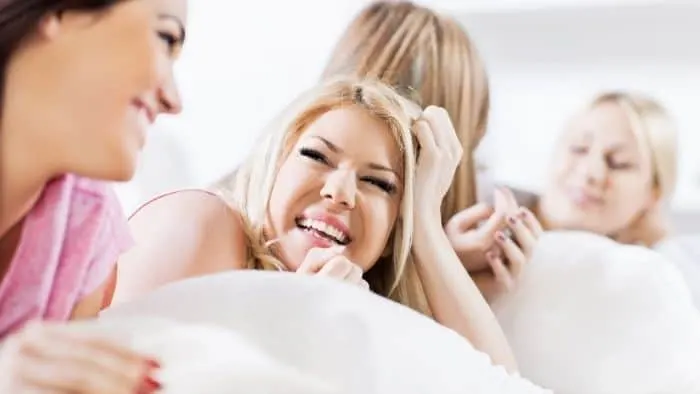 A sleepover is still a favorite way to spend time with friends. To keep the momentum and fun going, there are several things your teen can do at a sleepover.
1. A Lie And Two Truths
This game is perfect for smaller groups and is ideal for slumber parties.
Each teen makes three statements about themselves.
One statement should be a lie, while two should be true.
It is up to the rest of the group to figure out which statement is a lie.
If you want, you can give everyone an equal number of candies.
If someone guesses right, she gets a piece of candy.
For every wrong guess, the teen has to give a piece of candy.
2. DIY Bracelets
This is a wonderful bonding experience for the girls in the sleepover to make their own bracelets.
3. Blind Makeup Artist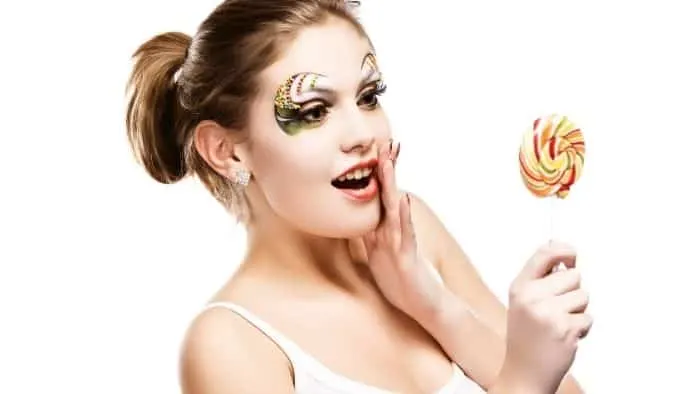 This can be a hilarious indoor birthday party game for 15 year old girls, where they can show off their makeup skills.
Provide lip gloss, eyeshadow, powder, blush, and other hair accessories for teens to use.
Avoid mascara and perfume since both might irritate the eyes if used incorrectly.
Split the group into two teams.
Everyone gets a chance to be the make-up artist or model for each team.
One makeup artist from each team wears a blindfold.
Their task is to apply makeup to a player while the rest of the team guides them.
The team with the model with the best makeup wins.
Other games that are really fun for sleepovers include Blind Portraits, Sleeping Beauty & the Fortune Teller Game.
🤓 Read all about these in our Party Games For Teens & Tweens here.
Indoor Party Games For Teens
1. Gummy Bear Contest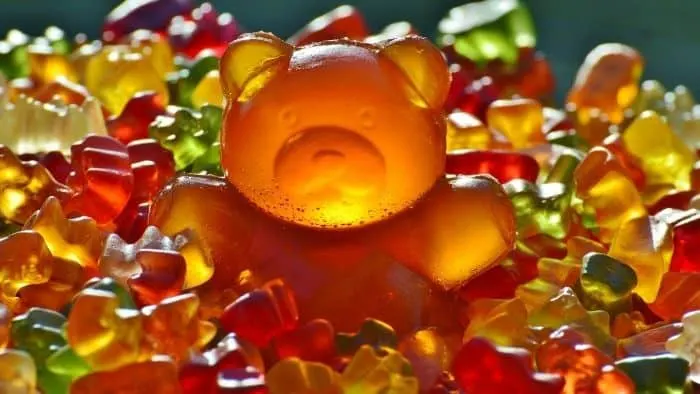 If you've been wondering what games to play at a teenage birthday party, then this teen party game is super funny.
Put ten gummies in each pie tin, then cover with whip cream.
Each teen must retrieve the gummy bears with their hands tied behind their backs.
OnGo! they must try to get the gummy bears out of the tin of whip cream as fast as they can.
The person who gets all of their gummy bears first wins!
Please take lots of photos as they'll be really funny.
2. Never Have I Ever
'Never Have I Ever' is a favorite game for teenage groups.
Usually, this game is played in small groups where everyone knows each other quite well.
All the children get 20 pieces of candy and sit in a circle.
Everyone takes turns naming something they have never done.
So maybe they can say, "I've never been camping" or "I've never stayed up all night" or "I've never been to Africa".
Anyone who has done that thing mentioned eats a piece of their candy.
The winner is the first one to finish eating their candy.
3. Would You Rather
This is a fun game where teens can get to know each other a bit better, and also just have fun answering some silly questions.
Make them up as you go along or google some great example questions. Some question ideas below:
Would you rather jump out of a plane or go to space?
Would you rather kiss Jane's brother or Kim's brother?
Ride a dragon or breathe underwater?
Be able to sing like an angel or paint like Picasso?
🤓 For more fun questions, you might also like to read 350+ Would You Rather Questions For Teens.
4. Who Am I?
'Who Am I?' is a fun indoor game for teens where they try to guess 'who they are.'
Write down the name of a famous character or celebrity on a note.
Stick the note on an opponent's forehead so that he does not see what's written on it.
Next, the player asks his group members questions that they should either answer yes or no to.
When he thinks he knows the correct answer, he should try guessing the character's name.
Players get three chances to guess the name.
5. Wink Assassin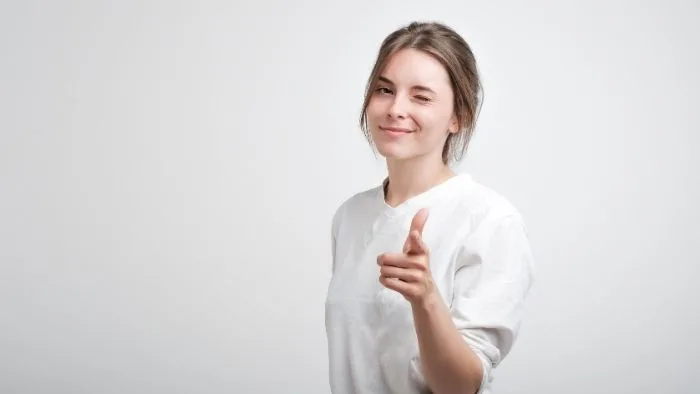 Wink Assassin is one of our favorite indoor games for teens and a really fun party game.
There is an assassin in the game who can kill other players by winking at them secretly.
The murderer can be determined by picking that paper from a hat.
Then have everyone move throughout the room mingling with each other.
The players have to keep eye contact with one another while watching for the killer.
The assassin must wink at someone secretly.
If someone was winked at they should count to five after which they should die dramatically and leave.
The player must say, "I accuse" if he guessed who the murderer was.
The game ends if they choose correctly.
Otherwise, the accuser is eliminated, and the game continues until the murderer is identified or all players have been eliminated.
6. Blindfold Obstacle Course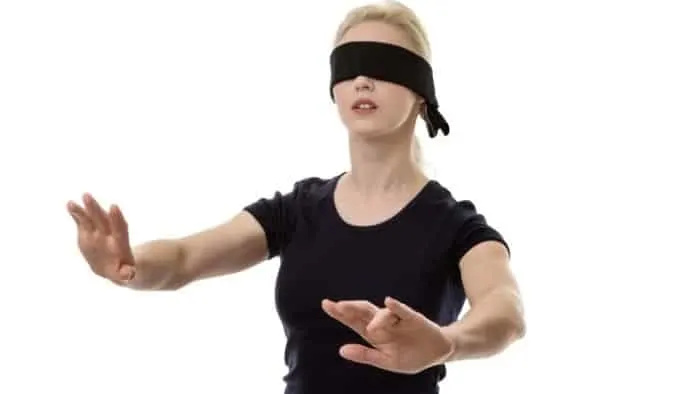 Blindfold games are fantastic birthday party games for 13-14 year olds.
Have everyone pair up.
On each team, one person wears a blindfold while the other navigates him or her through a narrow hallway filled with obstacles (a coffee table, chairs, a vacuum cleaner).
When played indoors, you should have one team go at a time and use a timer to record how long each team takes.
The team which finishes the task fastest wins.
7. Freeze
Freeze is an all-time favorite game to play for a teenage party, mainly for younger teens or tweens.
All you need is some music and space to dance.
While the music is playing everyone has to dance, but as soon as the music stops players have to freeze.
If you're still moving when the music has stopped, then you're out.
8. Charades
If you haven't tried out this game yet, you should!
Start by forming a team.
In this teenage indoor game, you act out a word or phrase.
During the game, the player acting out the word or phrase may not speak at any time.
You can choose from any category you like, including movies, animals, cartoons, and anything that's relevant and that your team might know.
If you like Charades, you might also like Word Games For Kids & Teens.
9. Twister
Twister is another old classic that never loses its appeal.
Teens always love the chance to be in close proximity to one another.
This game allows them this opportunity but in a pretty harmless way.
Or try this new twist on the old classic: Blindfold Twister:
We hope you've enjoyed reading through our favorite list of indoor games for tweens and teens.