There's nothing better than getting your teenagers outside and hearing their friends scream with laughter.
The best outdoor games are usually those that involve a ball, one that incorporates skill, is physically challenging, and one that causes kids to bond over laughter.
These classic games and new favorites will keep your teenagers entertained all summer.
They'll have a blast playing these outdoor games with their friends and might even get you in on the fun as well.
Up for the challenge? Find some new outdoor games for teenagers for your next backyard party that will keep everyone entertained.
You might also enjoy:
Best Daytime Outdoor Lawn Games For Teenagers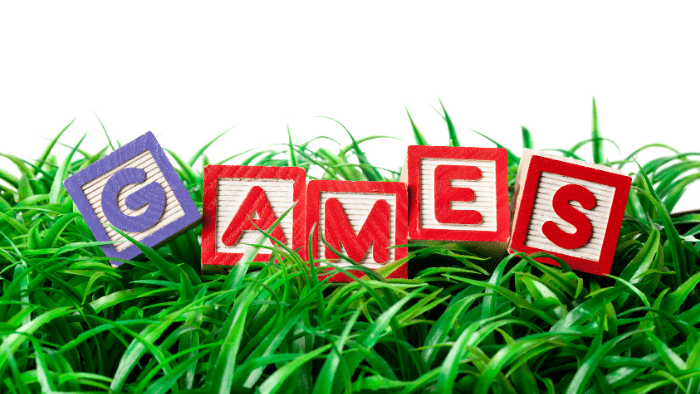 Spikeball is an entertaining and highly active outdoor game. Spikeball is a combination of volleyball and foursquare.
Volleyball, teams alternate possessions and try to spike the ball away from each other!
However, instead of hitting the ball over the net, you hit the ball into the net and let it bounce towards the opposing team.
The opposing team then has three passes to hit the ball back to you. If they miss, you score, and the first team to get to 21 wins.
Spike ball is a fun outdoor game for teenagers, but adults will love playing it too.
You need four people to play and a nice open space. You can set up your Spikeball set anywhere (the beach, your backyard, or even in the basement).
The Spikeball game set consists of a flexible, hula-hoop-sized net with foldable legs, making it the perfect, portable game to take to anywhere.
Balloon Stomp
Balloon Stomp is an outdoor party game that your teens can play individually or in teams, depending on how big your group is.
You will need lots of balloons and some string.
The aim of the game is simple –burst the opposing team's balloons without losing yours.
Everyone gets a balloon and ties the balloon to their leg with a long string so that the balloon is not too close to you.
If you've chosen to split the group into teams, then use strings of different colors for each team.
The players must move around quickly and step the other team's balloons, only with their feet.
The last person left with an intact balloon or the team that successfully bursts all the other team's balloons first wins.
For more balloon games read Party Games For Teens & Tweens or 51 Fun Water Balloon Games.
Lawn Twister
This is a spin on one of the classic family games.
Lawn twister is the perfect option if you have great weather or a tiny house or want your teens rather to play outside.
Get some different colors of yard paint and paint a giant Twister board out on the grass.
Teens always love the chance to be close to one another.
This game allows them this opportunity but in a pretty harmless way.
You can even try this as a Glow In The Dark option using Glow In The Dark Paint.
If you don't have time to paint your own yard twister, then have a look at this larger Twister mat from Amazon as another option.
Beanbag toss is another excellent teen outdoor game that's quick and easy to set up.
This set includes the grass outdoor lawn game (3-hole bean bag toss) and the 3-hole washer toss, with two game platforms.
If you want to play washer toss, then flip the platforms over as this side uses a padded foam surface, so the washers make less noise when hitting the surface.
Bring out this bean bag & washer toss game anytime when teens need to get outside and blow off some steam.
Lawn Bowling
Bowling has always been a favorite with the whole family.
We found these great wooden bowling pins and balls that are great for the ultimate backyard hangout session.
Of course, they can be used to play inside as well (if you have space), but the wooden pins are nice and heavy to use out in the yard as well.
Did you know that they have a giant version of this game as well?
Blindfolded dodgeball is a fantastic outdoor game for large groups of teenagers. It's Dodgeball with a twist.
All the teenagers should put blindfolds on, except for one person who will be the ball fetcher & referee.
Ask the players to stand at the center of the yard or play area.
One blindfolded teenager must throw the dodgeball at the group of blindfolded teens and get them out.
The blindfolded ball thrower asks the blindfolded gang whether they're ready, such as shouting "Here piggie piggie," and the players have to respond by saying "oink oink." Or you can use the traditional "Marco Polo" call out.
If they don't respond, then the ball fetcher can warn them to respond or declare them out.
Whenever the ball hits a blindfolded teen, the ball fetcher must remove him or her from the game.
The winner is the last teen standing. Once a teen is out, s/he can help the ball fetcher by fetching the ball and shouting instructions to the ball thrower.
Remember to use a soft ball so that no one gets hurt.
Here are some other fun alternatives to blindfold dodgeball:

Blob Tag
Blog tag is similar to regular tag, except that once a person is tagged, they hold onto "it" and continue trying to tag the other players.
The game continues as the "blob" of players becomes larger until only one individual is left unattached.
The last person to not be tagged is either the "winner" or becomes "it," and then the blob disperses so it can start all over again.
A great teen outdoor party game that will have your teens bonding and laughing hysterically.
Sponge Pass
Sponge pass should definitely be played outdoors as everyone will end up pretty wet.
The teens should line up in two teams facing each other.
You need to put a bucket of water and a sponge at the beginning of the line. Then at the end of this line, there should be an empty bucket.
Each team must soak the sponge in water, pass it down the line, and empty it into the empty bucket.
The first team to transport the water from one bucket to the other is the winner.
Get your teens to cool off and dunk a basketball poolside.
This specially designed poolside basketball game's base can be filled with water or sand to provide stability.
With great reviews of many teens having hours of fun, this makes our list for fun daytime outdoor games for teens.
This disc toss game by Kan Jam is arguably the No. 1 Outdoor Party Game in America.
Kan Jam is an incredibly fun and popular competitive team game similar to Cornhole, washer toss, and horseshoes.
Teams take turns throwing the flying disc across the yard into the can.
It's best to play on grass or sand, as this allows for players to make some epic dives in attempts to deflect the incoming disc thrown by their teammate.
The first team to reach 21 points wins. Or fly the disc directly into the slot for an Instant Win!
Watch how to play KanJam in the video below:
Giant Outdoor Games For Teenagers
To spice up your teen's outdoor games, we've found some super cool bigger-than-life size versions of your favorite outdoor games.
All sorts of games have been supersized so you can physically get in the fun.
The motto here is "go big or go home," when it comes to outdoor fun.
Once again, the bigger, the better!
Whether you're super skillful or super competitive, you're in for a supersized good time!
Supersized kickball is the same as traditional kickball on a grand scale!
Each kickball expands to 25″ in diameter – over 3X the size of a regular ball!
This kickball set includes 1 oversized kickball, 3 bases, 1 home plate, 1 pump, 3 ball plugs, and 1 plug remover.
Beat the heat this Summer with the alternative to a dunk tank.
You can imagine your teens trying their hardest to get their friends soaking wet.
Toss a bean bag and hit the target to release 5 quarts of water over your target! Perfect for backyard parties.
Backyard parties with this game are easy and entertaining.
Each player receives three "bolas" to throw onto the ladder rungs.
A bola is basically two golf balls connected by a rope.
The aim of the game is to throw your bola so that it wraps around the ladder steps. You can also try to knock off your opponent's bola to steal their scores.
Getting your bola on the top rung gets you 3 points, middle rung equals 2 points and bottom run only 1 point.
The first person to 21 points wins.
Fun, frustrating, you name it – that's what outdoor games are all about.
Another great giant game option to play in your yard!
The Giant Wooden Dice set was designed to bring giant-size fun to any existing dice game that you want to play.
The dice sets are made from hand-sanded pine wood and come in 2.5inch or 3.5inch and have heat-stamped numbers that will never rub off.
4 in a row is one of our favorite games and a childhood classic.
This giant version increases the fun exponentially, making this one of our top outdoor games for teenagers.
This giant tower is over 5 feet tall.
You can choose different types of wood, including a stars and stripes painted version.
It plays just like the classic stacking game where you pull out the blocks from the tower's body and replace them at the top of the tower with it falling over.
Great to have on hand when teens are looking for a fun outdoor activity.
Great Outdoor Night Games for Teenagers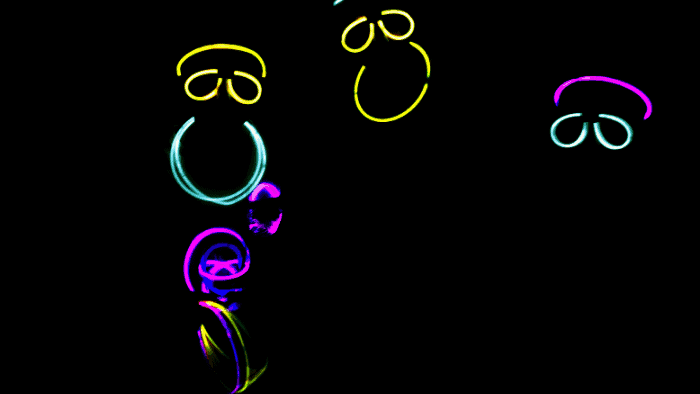 When your teens decide to have a sleepover party, it's best to have some night games ready to keep them entertained.
We recently made a list of our top games for our teenage son to enjoy at his sleepover birthday party.
So let's get on to our 9 Top Outdoor Night Games for Teens and Tweens.
Flashlight Tag
Flashlight tag is a little bit like hide-and-seek rather than tag.
One person is "it" and gets a flashlight. As soon as s/he starts counting to 100, everyone else needs to run and hide in the garden.
This version does not require you to be physically touched to be tagged.
If you're caught in a beam of light by "it" and they call out your name, you lose.
As long you can evade the flashlight, you can still play the game. So keep your eyes open for new places to dive behind or under!
Glow Stick Volleyball
You will need glowsticks for this fun evening activity and a glow-in-the-dark volleyball.
Split the group into two teams. Each player gets four glow sticks, one for each wrist and one for each ankle.
You can either play with a volleyball net or just try to keep the ball up in the air.
You're not allowed to catch or throw the ball.
It's similar to volleyball and players have fun trying to toss the ball back and forth while keeping it off the ground.
Blackout Sardines
In this game, the whole group is searching for just one person – it's a little like Hide and Seek turned against itself.
One person has to hide, while everyone else counts to 100. When the time is up, everyone spreads out and looks for the hidden person.
If they find them, they do not have to shout out or announce that they have found them. Instead, they just have to go and hide with them.
As more people find 'it,' they all squish in like sardines and hide together.
The last person to find everyone loses and the first person to find them gets to hide in the next round.
Capture the flag is back with a futuristic glow-in-the-dark twist!
Steal the glowing flag, break friends out of jail, sneak into enemy territory, and protect your base to win.
Each game box includes two glow-in-the-dark orbs to use as the flags, colored LED bracelets to identify team members, and glow-in-the-dark jail markers.
Additionally, each kit comes with 12 game variation cards that let you play Capture the Flag in a whole new way.
It's a great way to entertain your teens at night.
Glow In The Dark Cornhole
Just imagine your teenager's face when they see their cornhole board all lit up.
These LED lights fit around a regular-sized cornhole board (4ft x 2ft).
Use the remote control to change color. There are 16 color changes and four modes to choose from.
You can even get glow-in-the-dark bean bags to make it even more exciting.
Go and get your light-up cornhole game party started tonight!
Glow In The Dark Twister
How about playing twister in the dark?
Using glow-in-the-dark color paint, you can paint your twister board outside and continue the fun.
Teens always love the chance to be in close proximity to one another.
This game allows them this opportunity but in a pretty harmless way.
The game may seem very simple at first, but it's really entertaining, especially when it's incredibly dark outside.
Team members can wear similar colored glow-in-the-dark bracelets and anklets to add more glow to the game.
Here's our top glow-in-the-dark football choice.
Wizards and werewolves is an active outdoor group game that combines Hide and Seek, Tag, and Glow-in-The-Dark Elements.
Transform your backyard into an enchanting fantasy world.
The werewolves hunt Wizards, and Wizards search for glowing crystals to boost their powers – it is an exciting outdoor activity for tween boys and girls.
This is an excellent alternative for anyone who loves the fantasy genre.
Leave the video games, board games, books, and movies behind and go outside.
Get your teens to play organized sword fighting games using glowing foam glow-in-the-dark glow swords.
Glow Battle includes ten ways to play plus expansion packs for up to 12 players. Great for ages 12+
I hope that you enjoyed reading our list of outdoor games for teenagers.