Does your teen come home ravenous even though you give him money to eat lunch at the school cafeteria?
There are several reasons why teens are not eating healthy, nutritious meals at school.
Most cafeteria lunches are refined, low-fiber, sugary, or fatty foods and lack protein and complex carbohydrates (like whole grains) that satisfy hunger and sustain energy over a longer time.
In addition to this, teens would rather spend their lunchtime socializing than eating. This means that a problematic meal that needs a knife and fork is out of the question.
School lunches need to be easy to eat. It either needs to be something that they can eat with their hands (like a sandwich or wrap), smaller snacking items that they can eat quickly and easily (like cucumber and hummus), or a meal that's easy to eat with a fork (like pasta or salad).
These easy school lunches allow them to walk and talk and not have to sit down and eat with a knife and fork.
The bottom line is it should be quick and easy for them to eat with no mess or fuss. Now it's our challenge to find lunch ideas that meet their criteria while ensuring that it's tasty and nutritious at the same time.
I've selected several school lunch ideas for teens that are tasty, healthy, and easy to eat. Discuss these options with your teen and find a few staples that you know will give them the nutrition they need and won't come back uneaten in their lunchbox.
What is a good lunch for a teenager?
A good lunch should keep your teen full, focused, and energized until the end of the day. A balanced lunch should include healthy fats like cheese, hummus, nuts, or avocado. It should also have proteins like chicken, turkey/ham, hard-boiled eggs, or tuna fish; and the right kind of carbohydrates like whole grain bread, wraps, crackers, rice, and fruit.
Try using Chipotle cheese—teens love it! Find out: What Type Of Cheese Does Chipotle Use?
What can I give my kids instead of sandwiches?
If your child is tired of having sandwiches in their school lunchbox, then you can replace the bread with a wrap, a burrito, bagel, or quesadillas. Alternatively, you can offer them various options like quiches, muffins, fritters, pasta, or salads. Leftovers and meal preps are great quick lunchbox ideas as well.
What is a healthy snack for teenagers?
Healthy snacks for teens include mostly whole foods that have not been processed and don't include refined flour, added sugars, or artificial ingredients. Healthy snacks include yogurt, cheese, nuts, trail mix, fruit, hummus with pita bread, smoothies, eggs, nut butter, guacamole dip, olives, and carrot sticks.
The bottom line is that if kids eat a nutritious lunch they won't need that many snacks between meals. However, as we know that our teens are picky eaters at best and would rather socialize than eat a proper lunch, providing healthy snacks will keep their energy up and help them get the nutrients they need.
Healthy School Lunch Ideas For Teens
Buffalo Chicken Wraps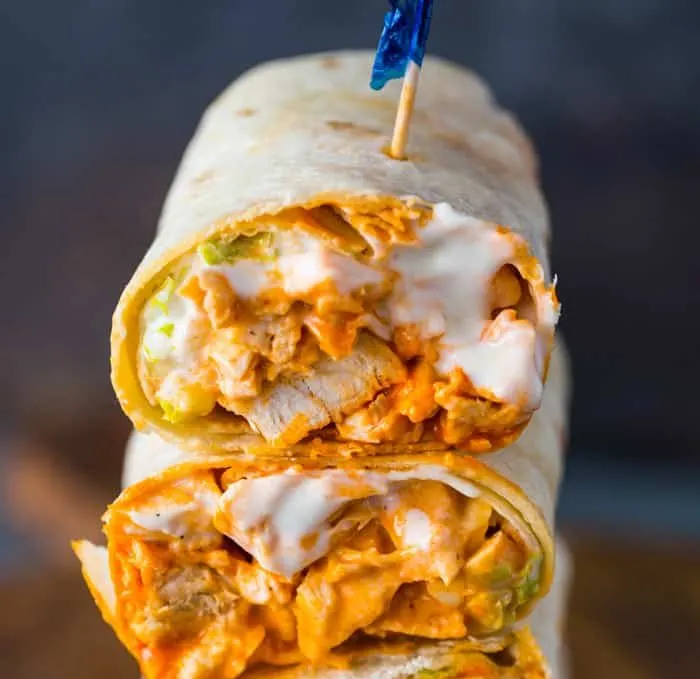 A delicious wrap that's bursting with flavor.
It takes no more than five minutes to make these buffalo chicken wraps.
They've got all the yummy flavor of buffalo wings without the added calories and fat.
The spicy buffalo sauce and excellent ranch dressing are a perfect combination, making this one of our favorite school lunch ideas for teens.
Chicken Parmesan Stuffed Shells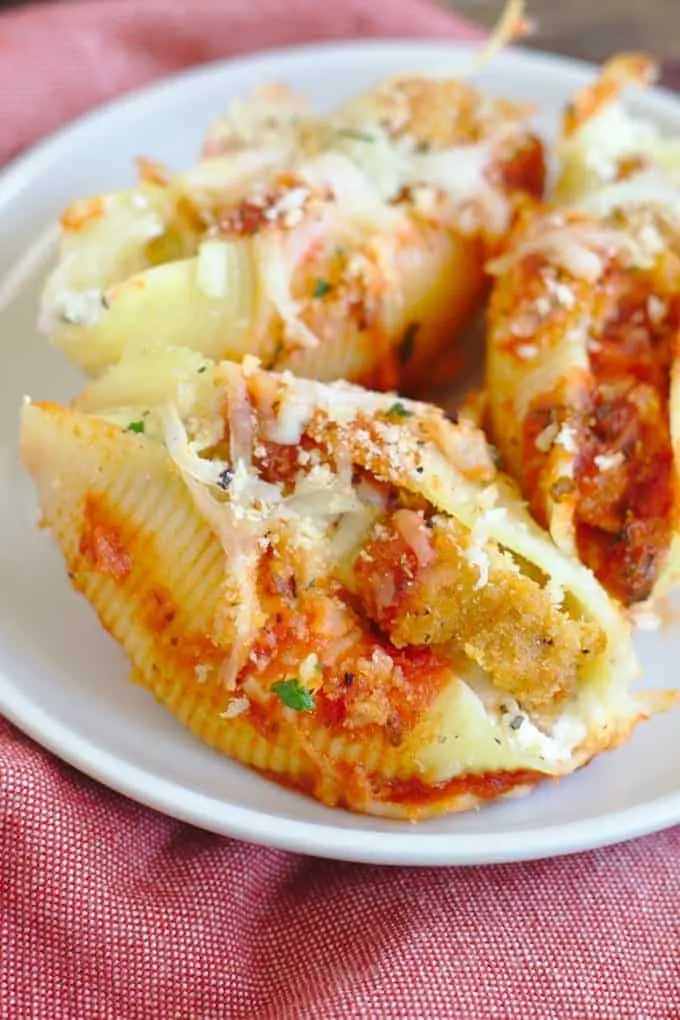 This delicious stuffed shell pasta recipe has cheese, crispy chicken, and marinara sauce, all topped with more cheese!
These stuffed shells are easy to prepare the day before and pack into lunchboxes.
BLT Sandwich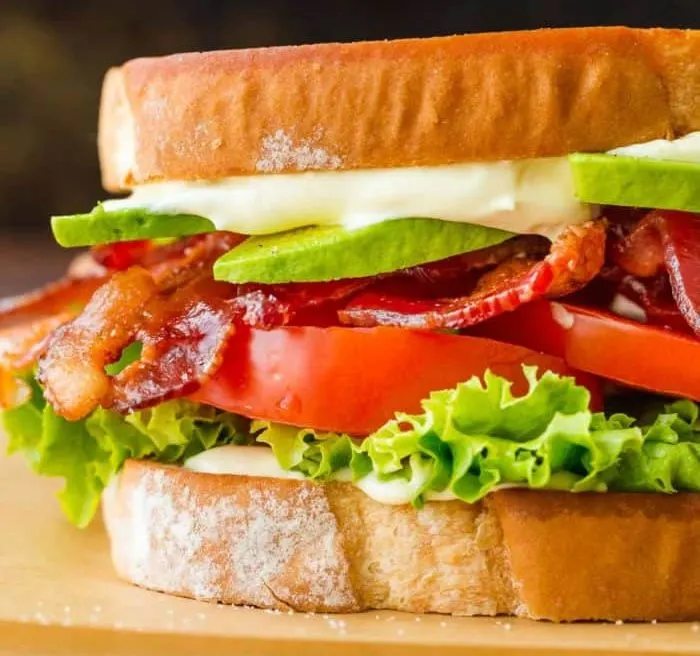 BLT sandwiches make a tasty school lunch.
When using avocado, toss the slices in a bit of lemon juice before adding to the sandwich to ensure the avocado slices remain vibrant.
The perfect combination of toasted bread, crispy bacon, thick slices of tomato and avocado, and the three-ingredient sandwich sauce will make this your favorite BLT recipe.
Meal Prep – Teriyaki Chicken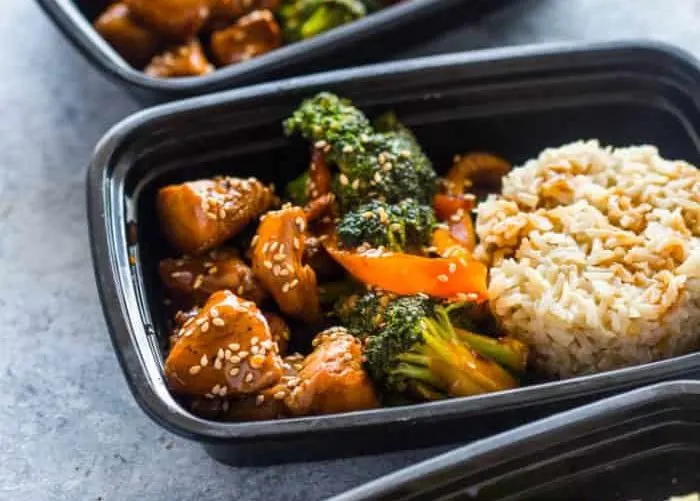 We love meal-prep lunch options as you can make quite a few portions at a time.
Take-out cravings will be satisfied without the added calories.
A sticky teriyaki glaze covers the chicken, adds the perfect combination of sweet and salty. Adding broccoli adds crunch and fiber, but chicken is also fantastic on its own!
I love these meal prep containers as they're reusable, microwaveable, and dishwasher safe.
Cheesy Mini Potato Gratin Stacks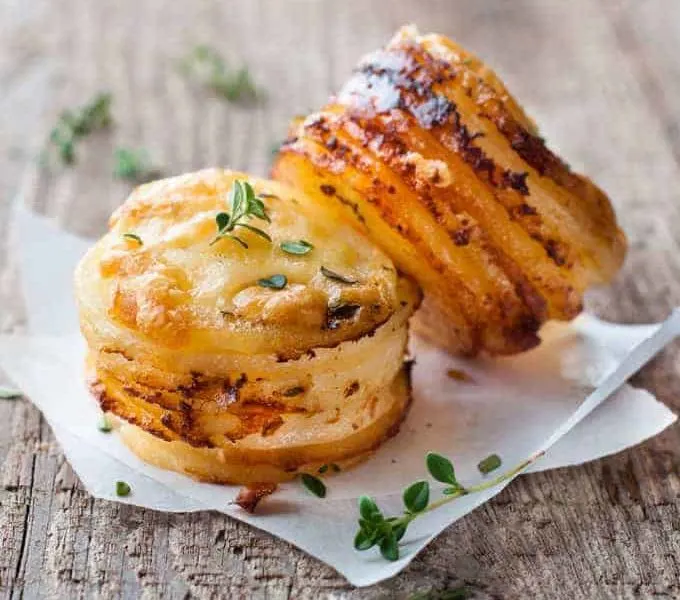 Your kids will love these Mini Potato Gratin Stacks because they are creamy, cheesy, and delicious.
Make a batch in a mini tray and pop these into lunchboxes as a special treat.
This highly rated mini backing tray will give you 24 potato gratin stacks to share.
Egg Roll in a Bowl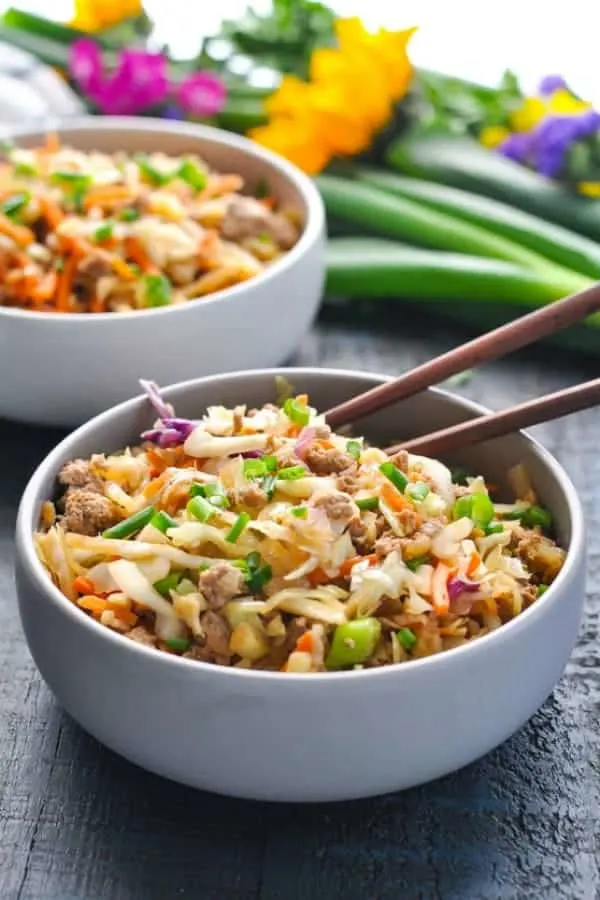 There are no fancy, expensive, hard-to-find ingredients needed for this easy recipe!
You can enjoy all of the Asian flavors without any deep-fat frying.
This easy-to-prepare dish consists of fresh vegetables and lean proteins stir-fried in a savory sauce.
Chicken Parmesan Calzone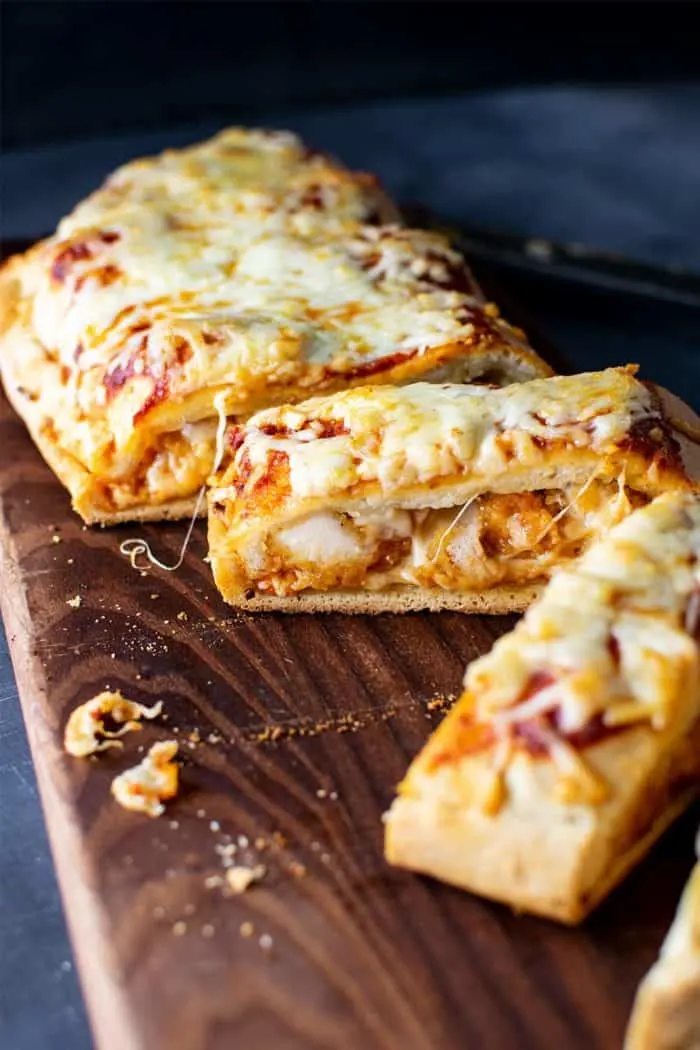 Calzone stuffed with crispy chicken, Parmesan, and mozzarella cheese – YUM!
The most distinctive feature of this calzone is the pizza-like finish. The outside crust of this calzone has a layer of mozzarella cheese and sauce, giving it a cheesy, crunchy texture.
This is easy to prep the night before and everyone can slice off a piece and pop it into their lunchbox.
Mini Salmon Quiches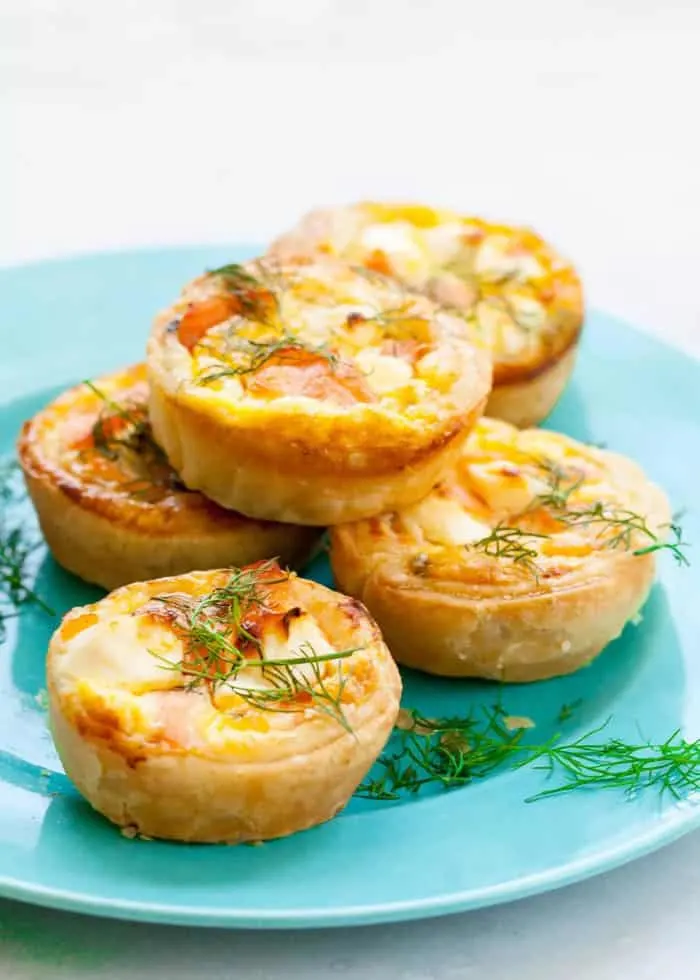 This mini salmon quiche couldn't be easier to make. The crust is made from store-bought puff pastry, and the filling is made out of smoked salmon, cream cheese, and scallions.
You can freeze them once baked, but you probably won't need to as they'll be eaten fast.
Ultimate Tuna Melt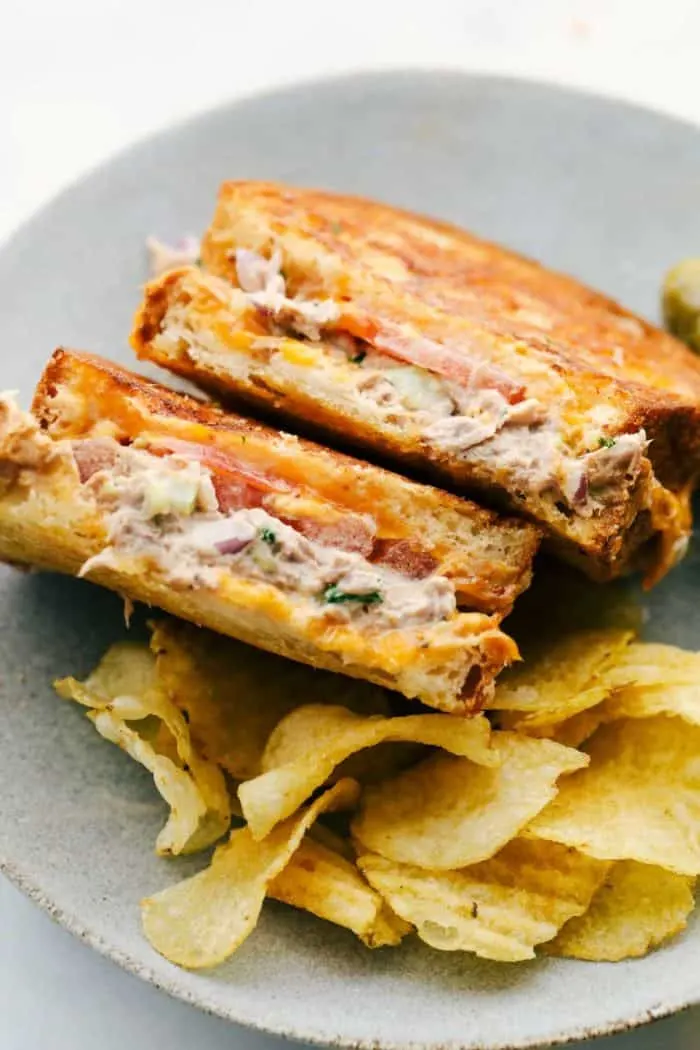 This tuna salad mixture is full of SO much flavor and textured layers.
The golden crust, soft tuna mixture, and crunchy onions and tomatoes are a fantastic combination!
Cauliflower Fried Rice & Crispy Tofu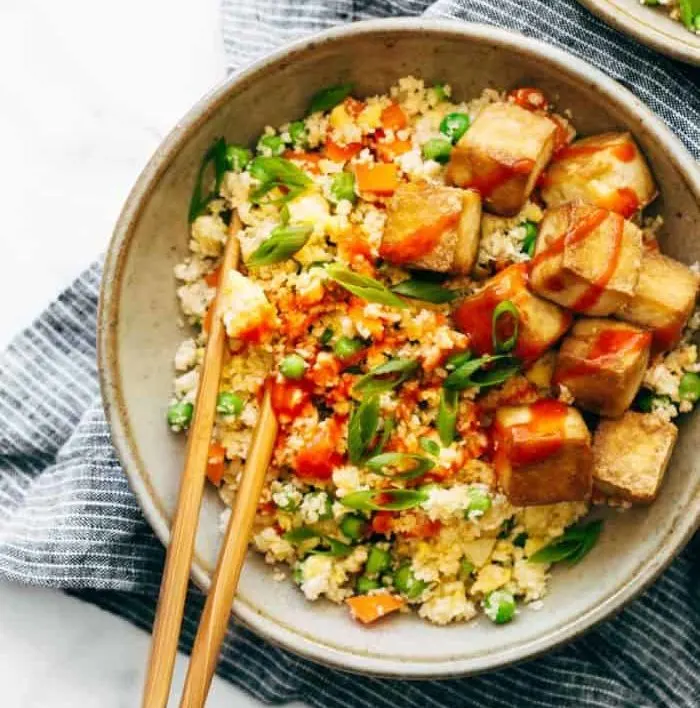 Combine garlic, ginger, tofu, hard-boiled eggs, soy sauce, sesame oil, and cauliflower "rice" to make this lunch low carb and super nutritious.
These glass meal prep containers are great for storage and lunches. They're BPA-free with a leak-proof lid to keep their school bags neat and clean from any lunch spills.
Ham & Cheddar Lunch Box Muffins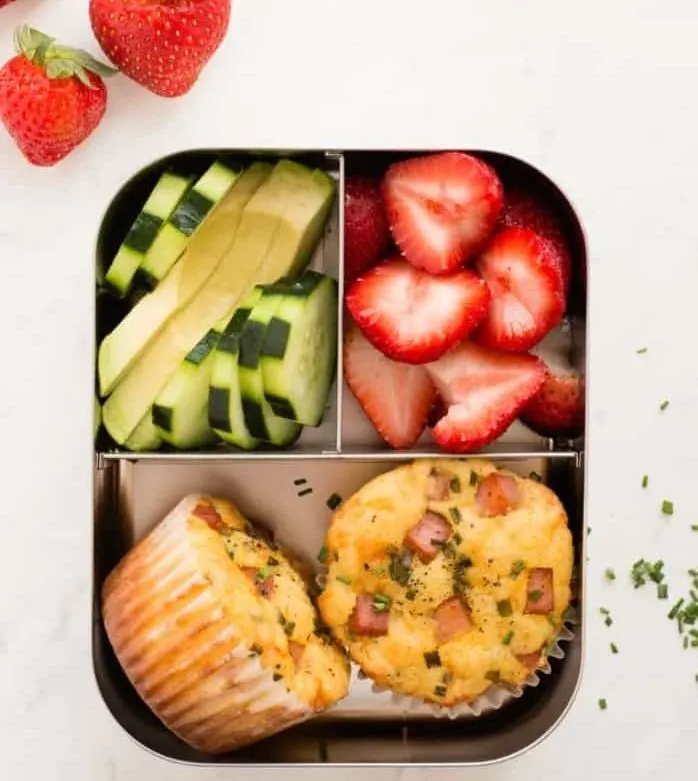 Ham and cheese go together beautifully in these savory muffins with a hint of cornmeal for structure and texture.
These are loaded with chunks of ham, cheddar cheese, and chives. A muffin is about as filling as a basic sandwich.
Find similar stainless steel lunchboxes on Amazon.
Tender Chicken Fritters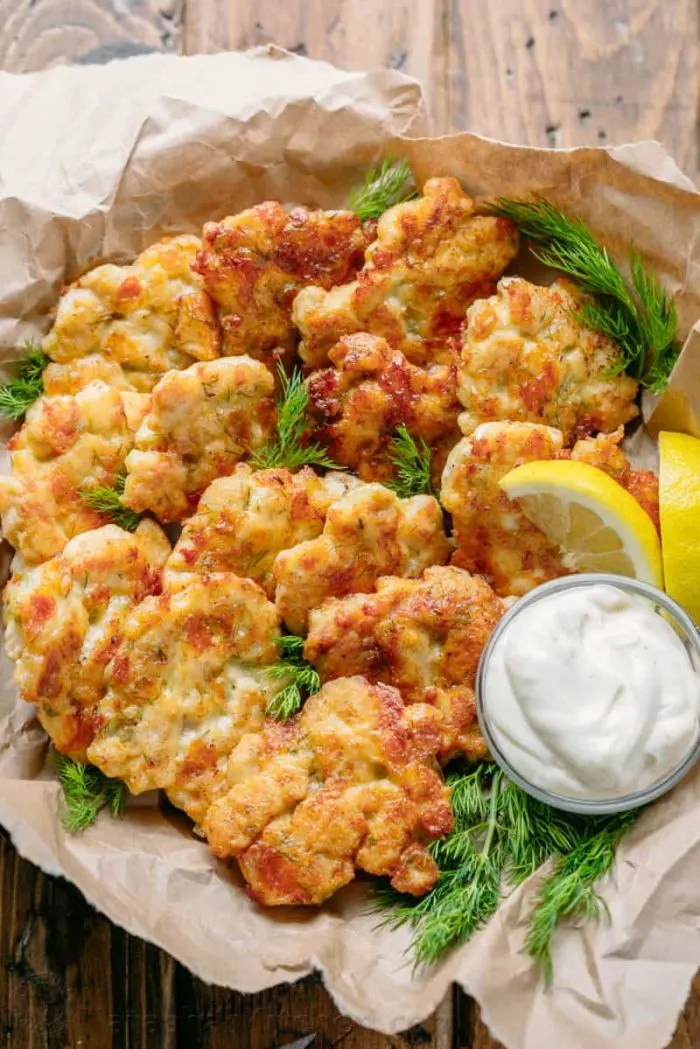 Flavorful, tender, and juicy, these fritters are a delight to eat. These chicken patties are the perfect easy chicken recipe!
You might want to leave the garlic aioli sauce out of their lunch boxes, but it does go very well with these chicken patties, as well as fries, and veggies and also tastes great on sandwiches and burgers.
You can make a batch and let everyone put a few in their lunchbox the next day.
Easy Enchilada Cups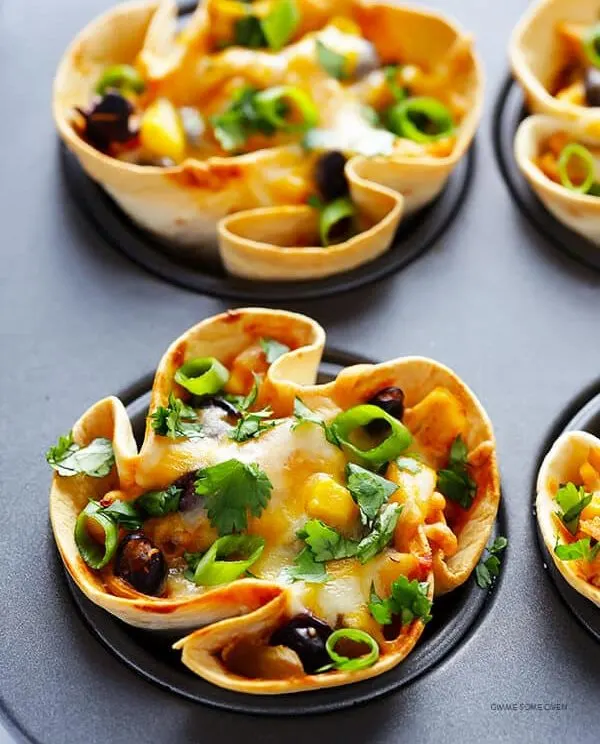 Combine rotisserie chicken, black beans, corn, chopped green chiles, and canned enchilada sauce to make the enchilada filling.
You can use chicken, steak, fish, or shrimp, or add some cooked vegetables for a different variation!
So easy to prep the day before to make lunchboxes tasty and easy to eat.
Taco Salad Meal Prep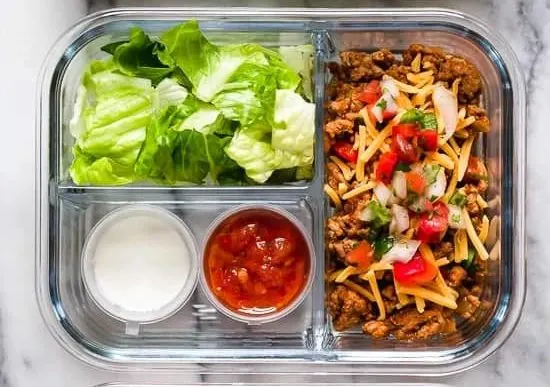 Meal prepping this delicious Turkey Taco Salad for lunches during the week is a breeze!
Keeping the greens separate will make it easy to reheat the turkey without heating up the whole thing.
Make sure to store them in the fridge so you can grab one on your way out in the morning!
Caesar Salad Wonton Cups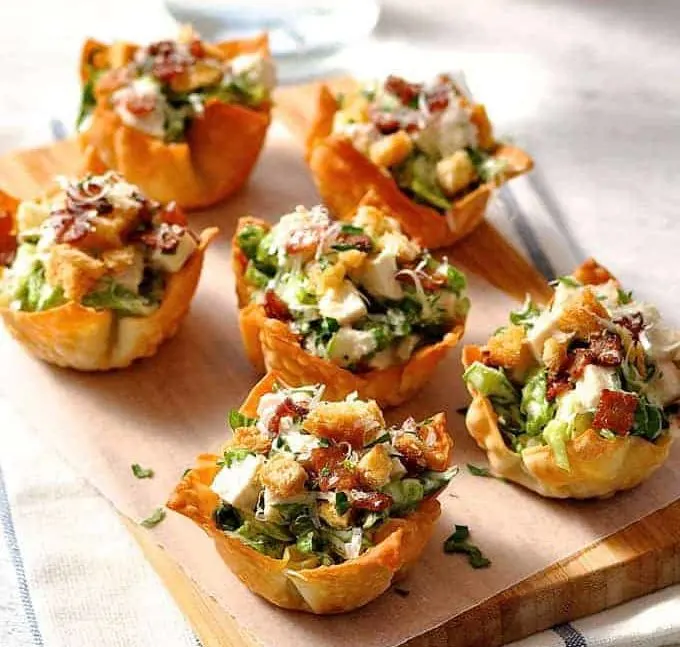 This recipe has the advantage of allowing you to prepare all components in advance, which is especially useful because the wonton cups stay crispy for days in an airtight container.
To prevent the salad from falling apart when you bite into it, you should use a thick dressing.
This quick and easy salad makes a great lunch on the go.
Hawaiian Pineapple & Spam Tacos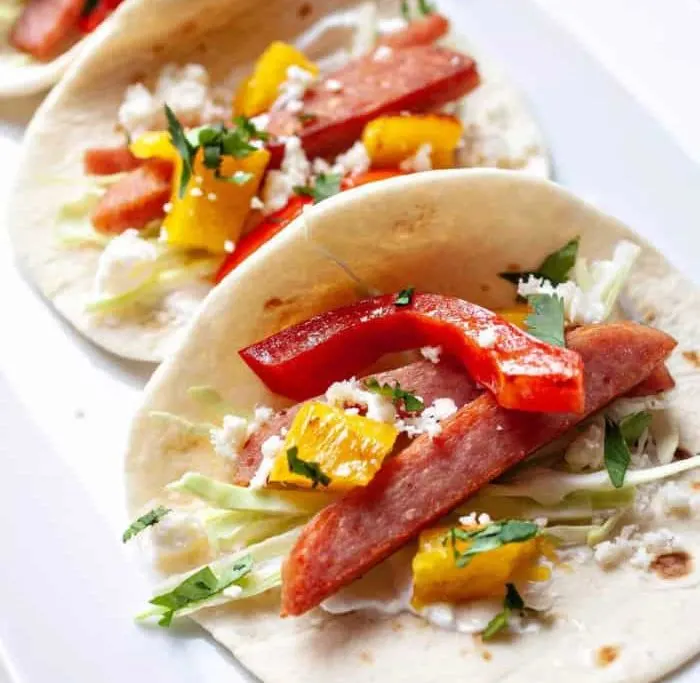 Spam has a rich and almost creamy texture. The rich taste of this meat can be overpowering in large portions; however, it can be balanced by cooking small strips and serving it along with acidic, sweet, and spicy flavors.
Bacon-Wrapped Chicken Bites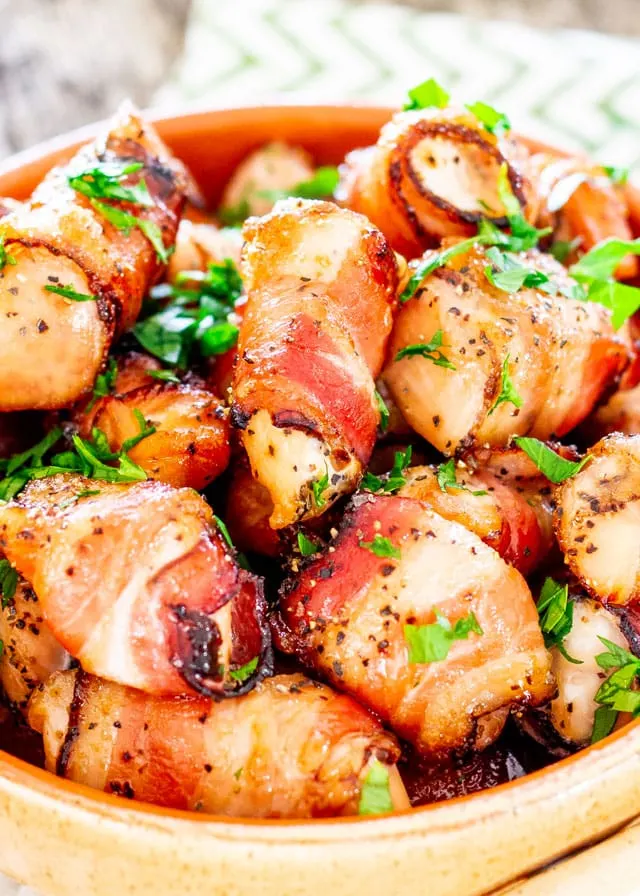 There are only a few ingredients needed for this recipe – brown sugar, bacon, and chicken.
This recipe has good flavor, showcasing the sweetness from the brown sugar, saltiness from the bacon, and some freshly cracked pepper generously sprinkled on top.
Spinach Ricotta Quiche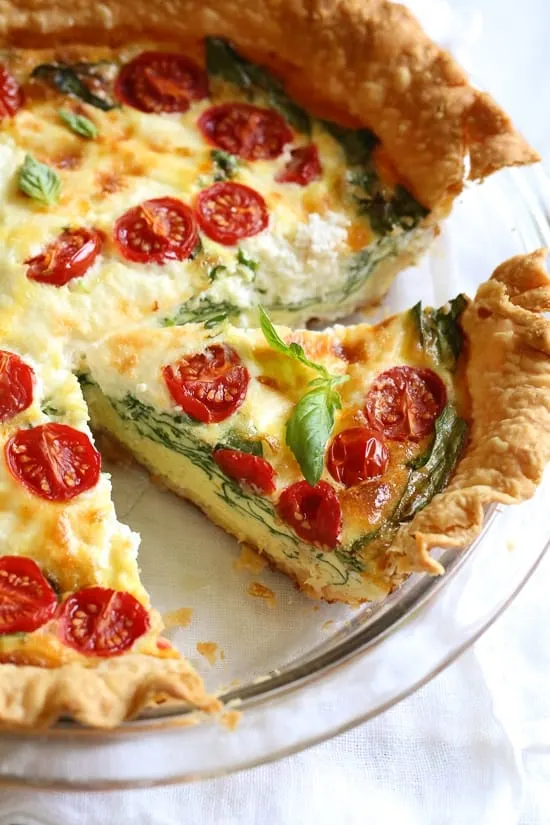 You can easily prepare this vegetarian quiche with simple ingredients like spinach, ricotta cheese, eggs, tomatoes, and basil.
A tasty, filling, and easy-to-eat school lunch for teens.
Chicken Tacos with Pineapple Salsa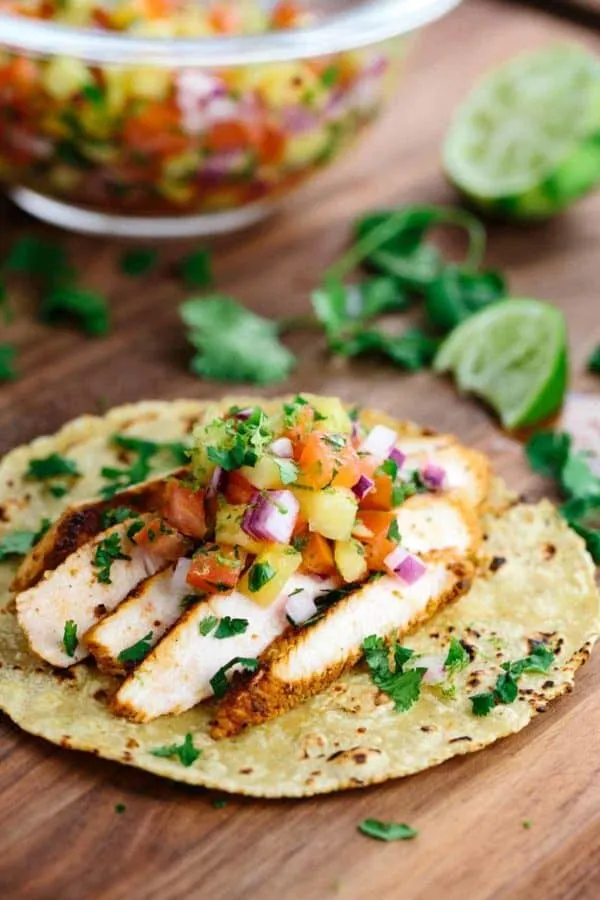 A flavorful marinade of savory spices and herbs complements the healthy lean white meat.
To make any taco more interesting, add some refreshing toppings like this sweet pineapple salsa.
These chicken tacos are easy to wrap and eat at school.
Tuscan Chicken Pinwheels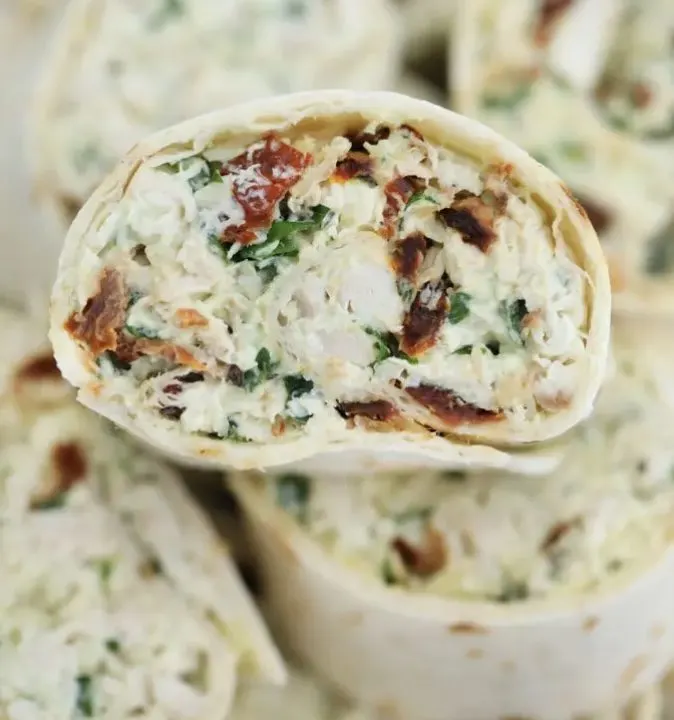 This delicious, easy-to-make chicken roll-up combines Italian flavors with a creamy chicken filling.
Add some extra veggies to their lunch box to make a complete meal.
They contain a lot of protein, which makes you feel full longer.
Best Chicken Salad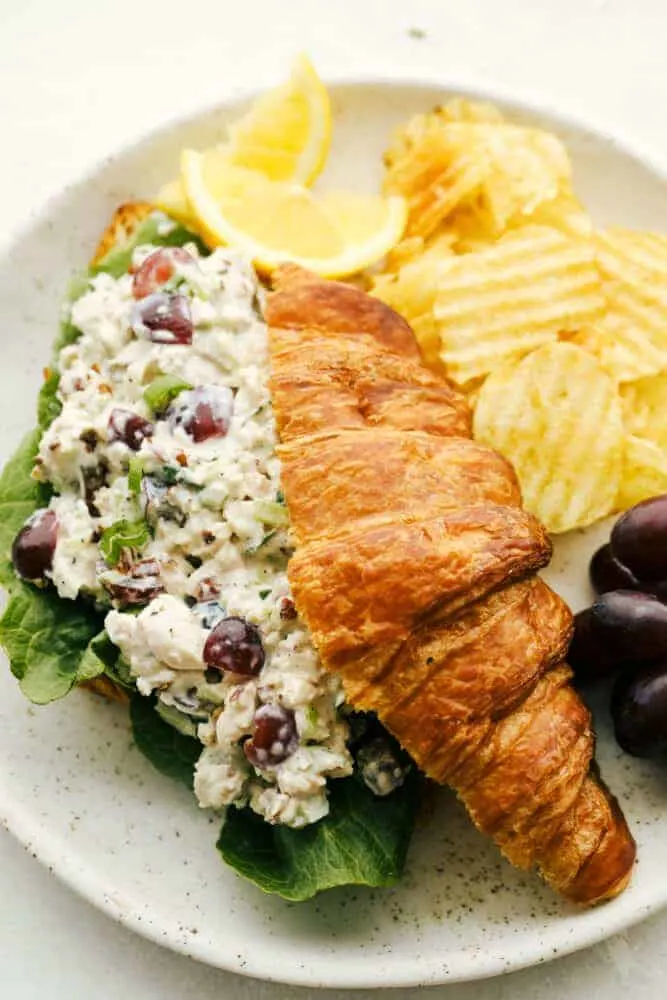 Together, the crunchy grapes and richness of the mayo go very well with the chicken. At the same time, celery and pecans give it a nice crunch.
It's hard not to love this Chicken Salad. It's so easy to prepare and yet so elegant.
The wrap is also very versatile. You can serve it on a croissant, rye bread, or even in a lettuce bowl.
Spicy Fish Taco Bowls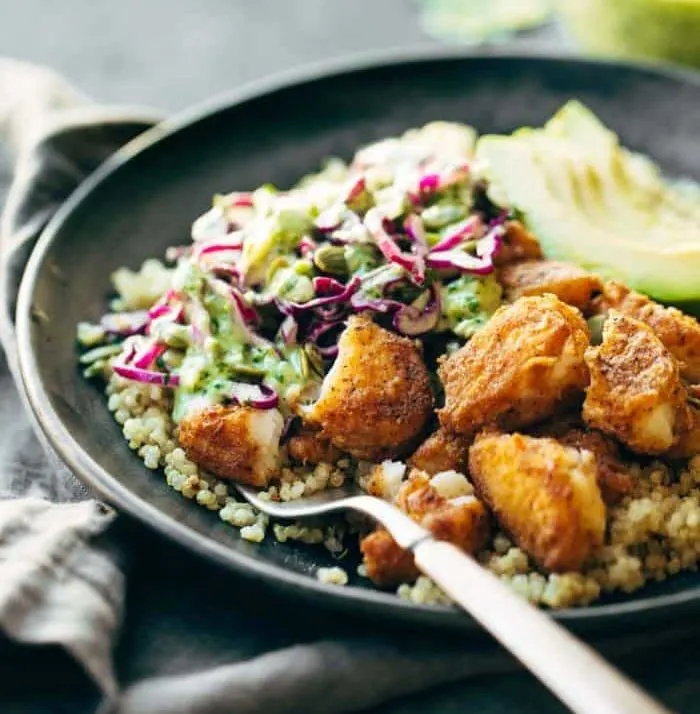 There is nothing complicated about this recipe- an enticing dish with an abundance of color, nutritional value, and flavor.
The combination of light and crispy fish, quinoa, cilantro-lime slaw, and avocados is definitely a delight.
Club Roll-Ups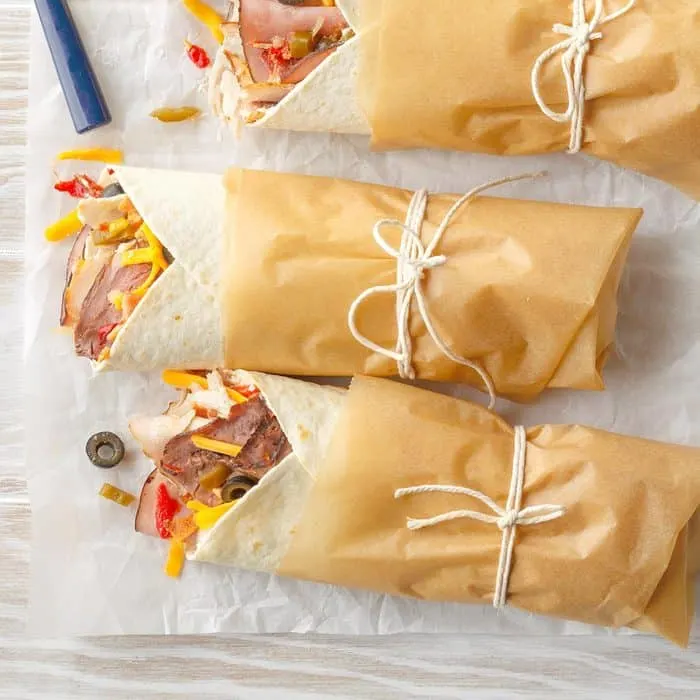 Get all the flavors of a club sandwich in a tortilla rollup.
These rolls have a lot of flavor with a combination of cheese, ham, bacon, and tender roast beef or turkey.
They are great for quick easy lunches.
Japanese Fruit Sandwiches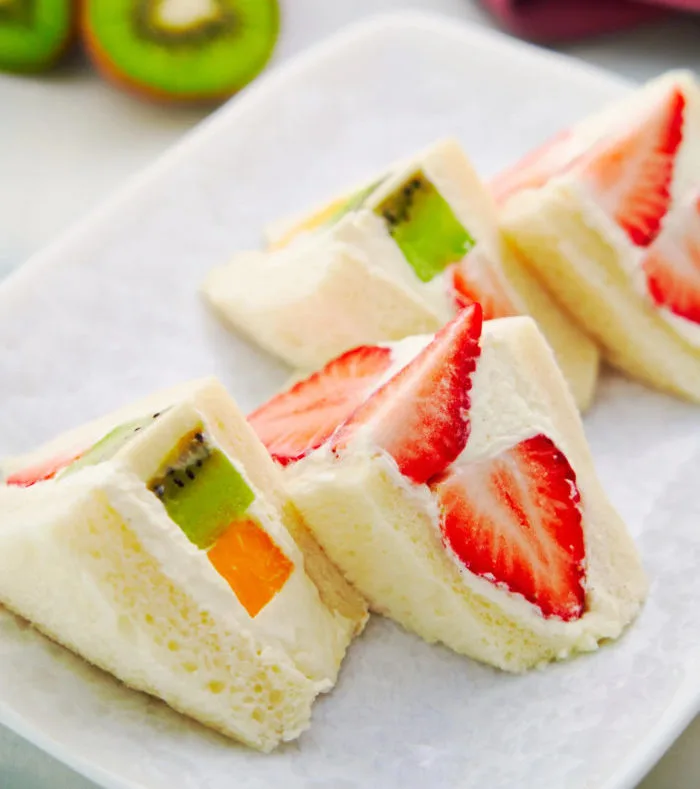 Try something different with this Japanese fruit sandwich.
Sweetened condensed milk gives the sandwich a strong creamy texture.
Play around with different fruit choices to make this a fun addition to your school lunch ideas for teens.
The Best Shrimp Quesadillas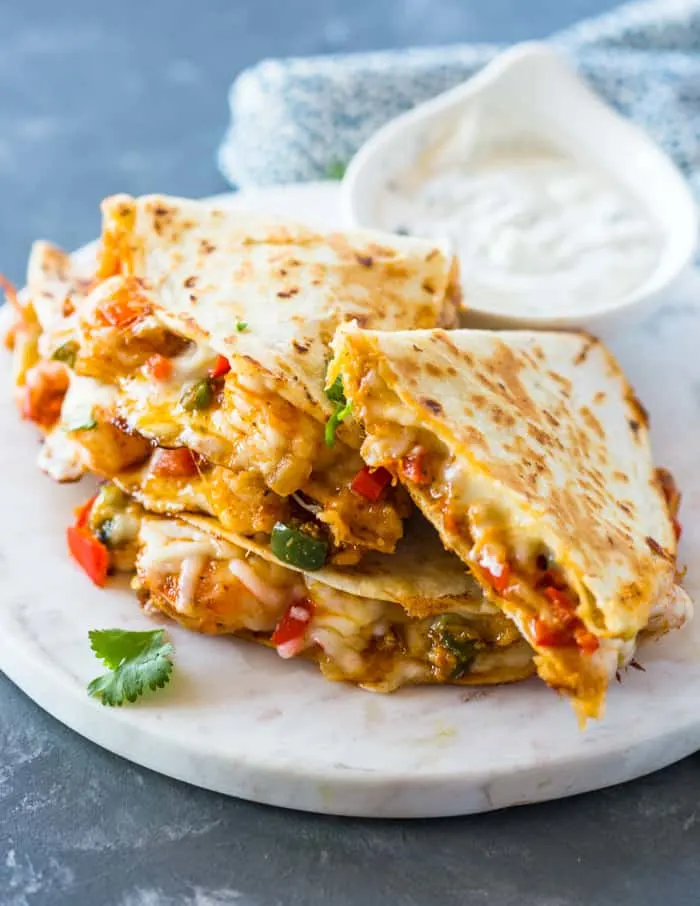 A mouthwatering combination of spicy shrimp, bell peppers, and cheese in a tortilla.
Shrimp is showcased in a festive, spicy way in this delicious, quick, and easy-to-make dish.
Classic Egg Salad Sandwich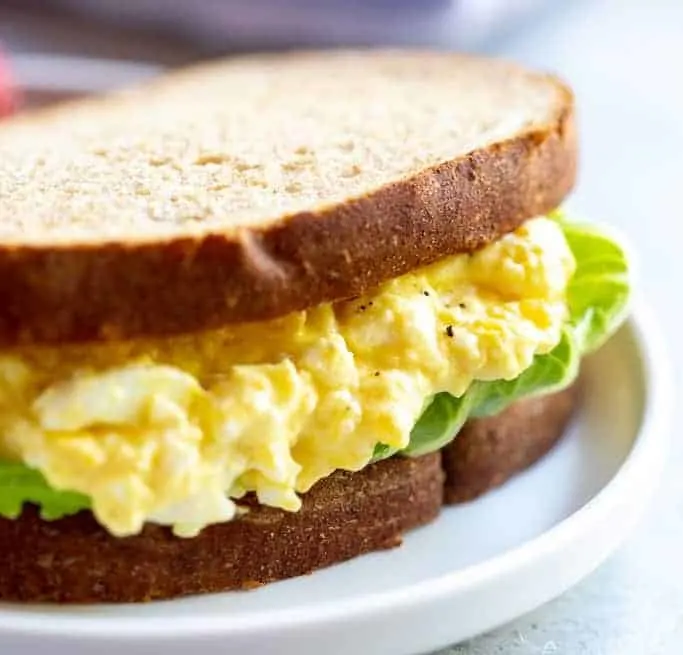 Kids and adults alike will surely love making this simple snack quickly and customize it to suit their tastes.
Your teen might prefer it spicy, or add some bacon or whatever your heart desires.
This egg salad can be made ahead and stored in the fridge for several days.
This classic egg salad sandwich has so much to offer!
Instant Pot Mac and Cheese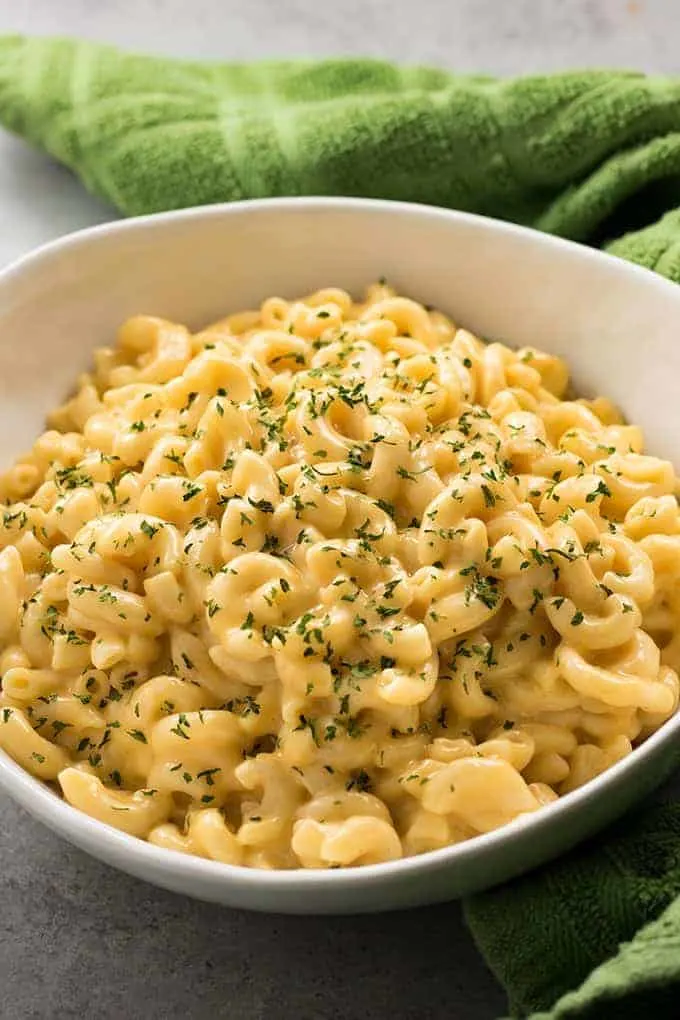 You can make delicious and creamy mac and cheese in about 10 minutes with the Instant Pot with minimal time and effort!
Lunch on the go has never been easier. Add some chicken or bacon for extra protein.
Greek Pasta Salad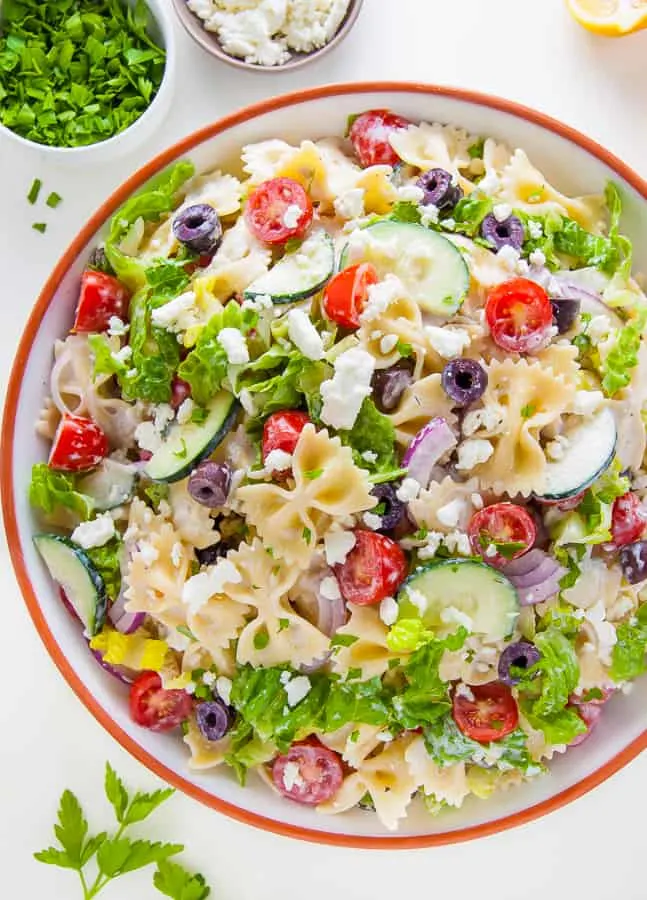 The vibrant Greek-Style Pasta Salad makes our list for healthy and easy school lunch ideas.
The combination of al dente pasta, crunchy veggies, salty feta cheese, and tangy tzatziki vinaigrette combine well to make a great meal.
It takes just 20 minutes to prepare this Greek Pasta Salad, packed with fresh ingredients and tons of flavor!
Hummus And Veggie Roll Ups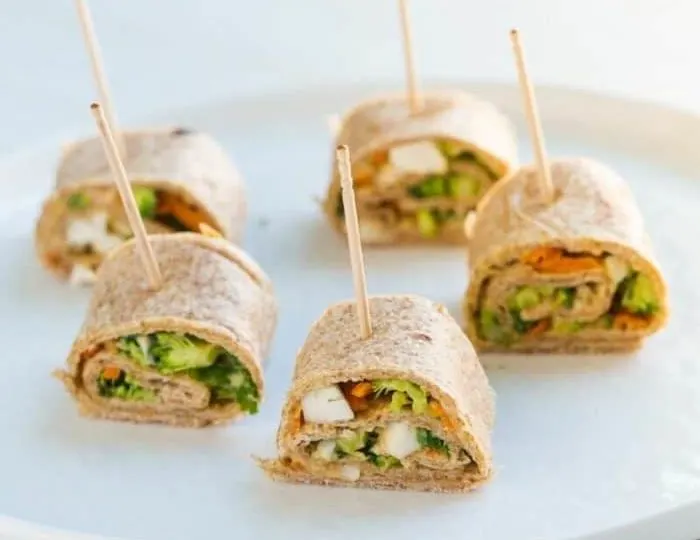 These hummus veggie rolls are easy to make, delicious, and contain excellent nutritional benefits, as well as being plant-based (vegan).
Because this dish is relatively light, you could cut up some extra carrot sticks and cauliflower florets to go along with it.
Southwest Chicken Salad Bento Box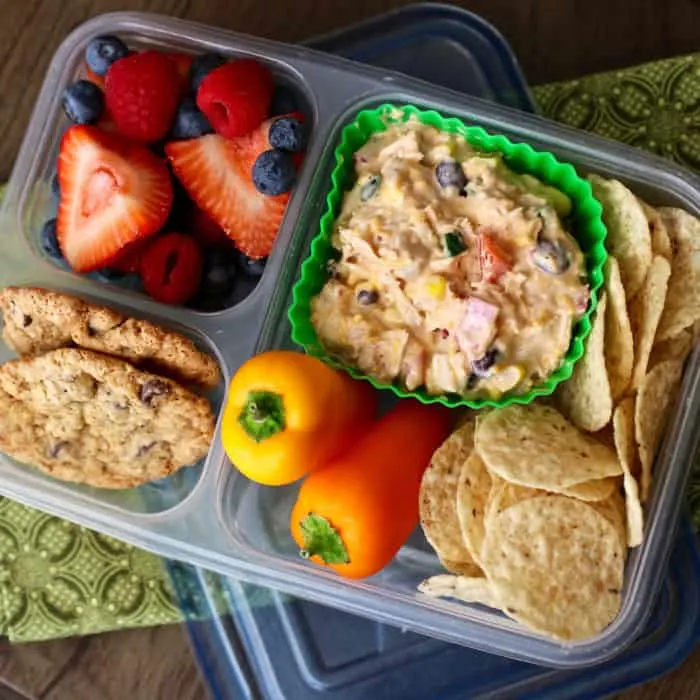 Take chicken salad to the next level with Southwest flavors! A fancy bento box is perfect for adding a little flair. Incorporate the chicken salad into a bento box easily using silicone muffin cups.
Fill the remaining compartments with sweet peppers, tortilla chips, berries, and an oatmeal or chocolate chip cookie for dessert.
As an alternative to tortilla chips, you can use bite-size crackers.
Strawberry Avocado Spinach Salad with Creamy Poppyseed Dressing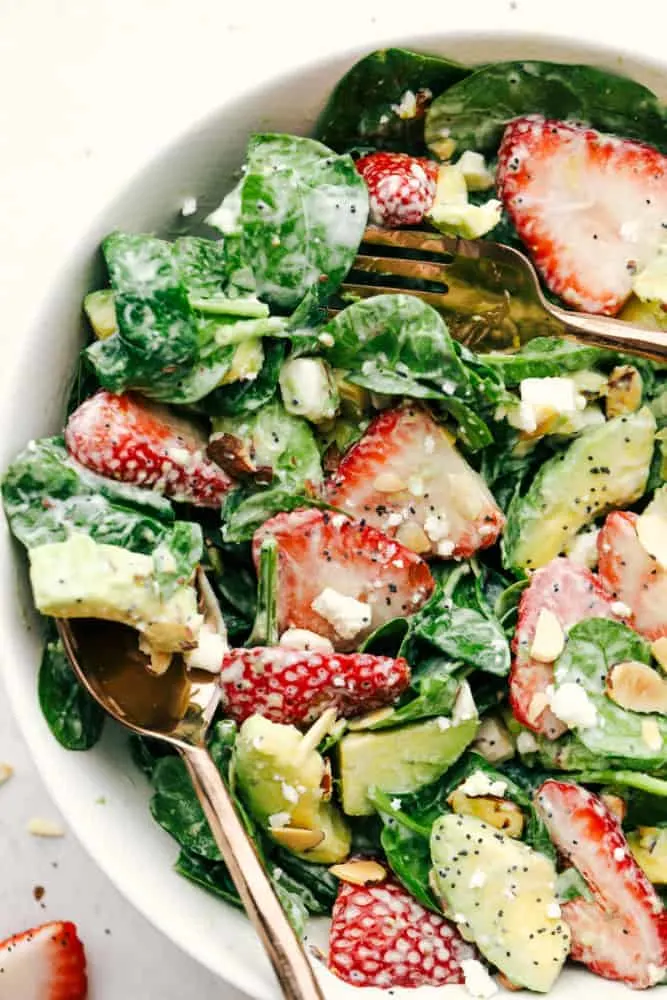 You'll be amazed by the results of combining all these ingredients together!
Drizzle the poppyseed dressing over the tossed salad to create a crunchy texture.
The mix of tastes and textures of these fresh ingredients, make it one of our favorite school lunch salads.
Chicken Caesar Salad on a Stick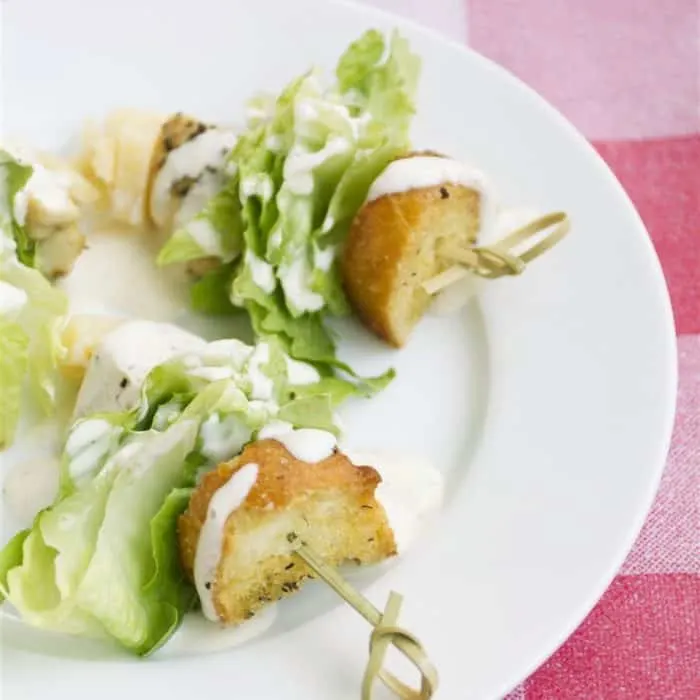 There's more to a salad than lettuce on a plate smothered in dressing. Prepare your salad ingredients and put them on a stick!
The taste and ease of preparing these chicken Caesar salad skewers made them a tasty recipe and a great lunch option.
Healthy Protein Boxes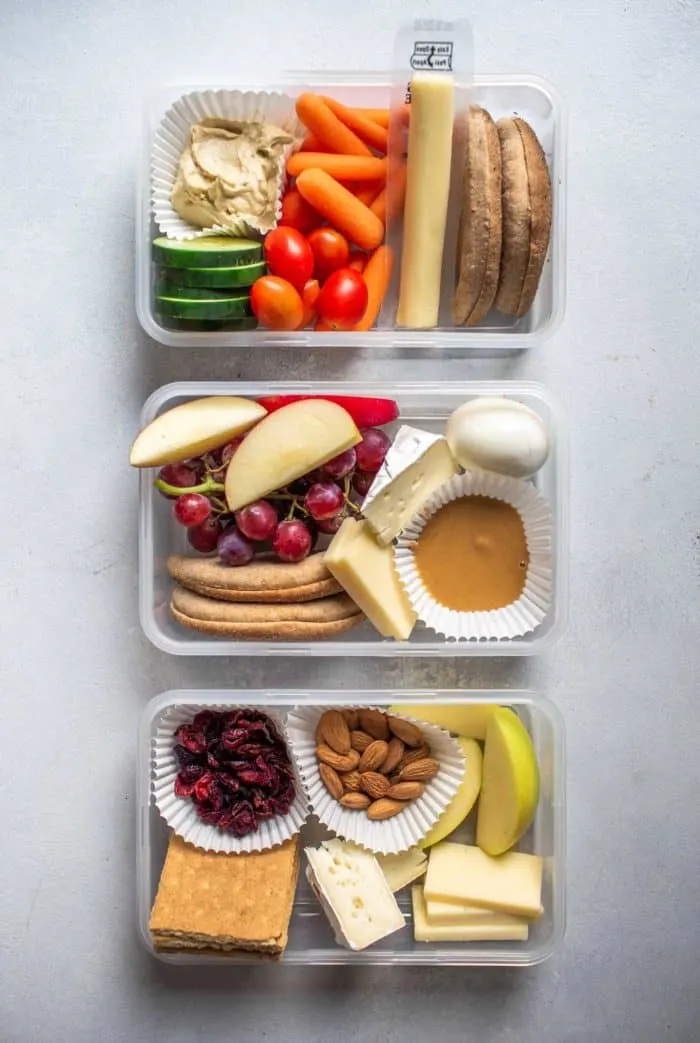 Meal-prepping is easy with DIY Protein Boxes. Plus these boxes offer several nutritional benefits.
Getting enough protein keeps your energy level high and your hunger at bay throughout the day. Fiber from whole grains aids digestion. Fruits and vegetables are packed with vitamins and nutrients.
There are so many options to choose from. You can mix it up based on your teen's tastes for a super easy school lunch.
BLT Roll Ups with Turkey and Avocado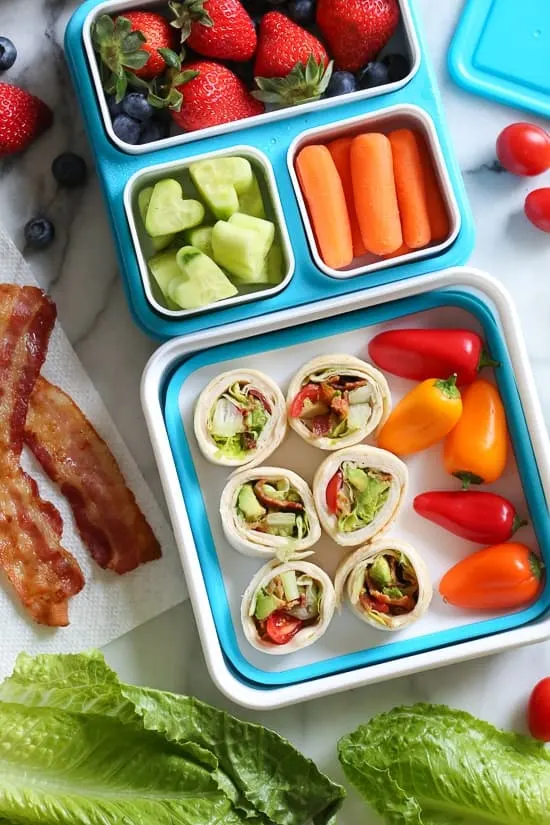 This easy recipe for BLT-Avocado rolls up is great for school lunches.
Teens who don't like sandwiches will appreciate bento box lunch boxes with divided compartments. Add fruits, olives, seeds, raisins, crackers, and cheese to each compartment.
You can prepare these ahead of time so that they are ready to grab and go when needed.
DIY Bistro Box 5 Ways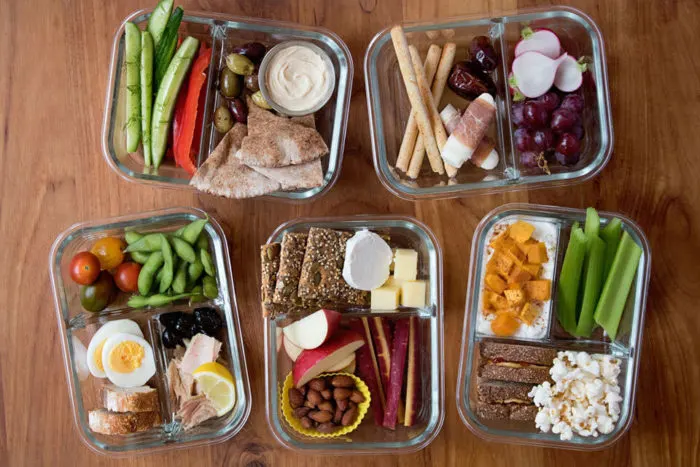 Packed lunches have never been more convenient with the help of these copycat Starbucks bistro boxes.
The box is typically filled with protein-rich whole grains, fresh in-season fruits, and fresh veggies ideal for a quick lunch.
It's possible to create an irresistible mini feast with just the right ingredients that will keep your teens craving these healthy school lunch ideas.
My top lunch bag recommendation for boys is this insulated MazForce bag as it's durable, easy to clean, and fits a lot of food, snacks, and your water bottle as well.
I selected this thermal lunch bag for girls for its durability, size, and overall gorgeous design.
I hope that you and your teen have found a few yummy school lunch ideas that they love. Remember to add a few snacks and a bottle of water as well.