You probably remember how easy it was to make your young child happy with a cake, balloons, some friends, and party games.
Now that your teenage child is older and a bit harder to please, you might be wondering what you're going to do for your teenager's upcoming birthday.
There's no need to worry, as there are many amazing teen birthday party ideas that I will share with you below.
Whether your teen is happy to have a party at home or would prefer to do something outdoors, there are several options to choose from.
How To Choose The Best Party Themes For Teens
The best way to decide on the perfect teenage birthday party for your child is to read through all the options and then discuss these with them. Once you know how many kids your teen wants to invite and what kind of party they'd like, then you can start planning all the finer details like location, theme, decor, food, music, games, date, and time.
Every child is different, which is why I don't specify which party idea is best for a particular age group, however, if you're looking for party ideas for tweens then you can find more Fun Birthday Party Ideas For 11 & 12 Year Olds.
For 16-year-olds, I have made a separate post as you might want to do something extra special for your sweet 16. You can discover more ideas in this post – Sweet 16 Party Ideas.
Whatever your teen is into, we have several birthday party ideas for teens that will be perfect for each of them.
How To Plan A Teen Party
Before you can plan the party, you need to discuss what kind of party your teen has in mind. Decide if it's going to be at home, how many kids they want to invite, if they have a theme in mind, and don't forget to discuss your budget with them.
Whatever the age of your teen, or the size of your celebration, you can utilize the tips from my party planning guide for a successful teen birthday party planning process.
Things to remember include:
Listen to the birthday girl/boy
Decide on a budget
Choose a venue – at home or not
How many kids can they invite?
What kind of food would they like?
Entertainment
Decorations – do they have a theme in mind?
Safety – discuss your rules, do's and don'ts, and have adult supervision.
❤️ Suggested reading: Heart Touching Birthday Quotes For Son
Teenage Birthday Party Ideas At Home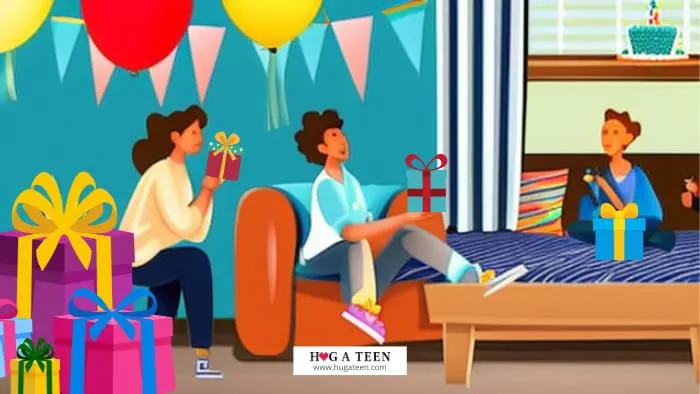 We've enjoyed having birthday parties at home, as well as at venues that cater to a specific activity. There are advantages to both, so it really depends on what your teen would like to do specifically.
Parties at home can be less costly, and it's easier to keep an eye on your kids, but there's always the inevitable clean-up afterward.
I've rounded up some really fun teen party ideas below that include parties at home as well as at a venue away from home.
Indoor Teenage Birthday Party Ideas
If your teen's birthday falls during Winter, then an indoor birthday party might be your best choice. We've used several of the following for our 15 year old birthday party ideas previously.
1. Online Gaming or LAN Party
If your teen likes playing online games – okay, who am I kidding – most teens love gaming. A fun gaming party might be perfect for your avid gamer.
A LAN party is best for smaller groups of friends who all have access to a computer or compatible gaming consoles so that they can play the same game simultaneously.
You can read HigherEdGeek's 5 tips to help you throw an amazing LAN party and get some insight on how to set it up.
There's a great selection of affordably priced gaming party supplies available on Amazon, from paper plates and napkins to party favors and decorations.
Alternatively, there might be a gaming venue near you where all the kids can spend an hour or so playing games on the latest computers and gaming consoles together.
2. Dance Party
Your teen might be interested in hosting a classic disco or dance party.
I've found that teenage girls are much keener on dancing but at some point, boys start showing interest too, so the success of a dance party will mostly depend on the age of your teen.
Until about 15 yrs the girls seem to have loads of fun dancing while you might find the boys outside kicking a soccer ball instead.
Remember that playing the right music is really important, so you might want to hire a DJ or at least have an amazing music playlist to keep the party going.
You can definitely get the boys involved by adding a game of limbo.
3. Glow in the Dark or Neon Party for Teens
A very popular twist on the classic disco is to transform your party room into a Glow In The Dark Party.
You will need some black light to make your decorations and food light up and get your guests to dress up in neon outfits and glow-in-the-dark accessories.
A glow-in-the-dark party doesn't have to be a dance party, as there are several awesome glow party activities and games to keep your teen and their friends entertained.
If your teen is keen on a glow party, then read my Glow In The Dark Party Ideas post for all the info you need to throw the perfect neon glow party.
4. Game Night Party
Games are great icebreakers for awkward teens. The right games can transform any gathering into a competitive, fun, and exciting occasion.
Choosing the right game is will depend on the number of players and the type of games you want to play. There are several fun board games, card games, and indoor activity games to choose from.
It's always a good idea to have a few games available so that your guests choose their favorite for the night.
🎉 If you're looking for games to play at your next party, you might also find value in reading: Fun Party Games For Teen & Tweens They'll Love
5. Murder Mystery Party
If you've enjoyed playing Clue (or Cluedo), then why not try a fun murder mystery party where your guests look for clues to solve a murder.
Each guest gets a murder mystery character and name and can dress up to match their persona.
You can find some amazing Murder Mystery Games at Makers Of Mystery.
Create the crime scene with crime scene tape, evidence markers, and ramp up the theme with some great party decorations.
You could also try one of the Cold Case Murder Mystery Games.
6. Hold a Dinner Party
Hosting a dinner party is a fun way for your teen to feel grown-up.
Let your teen help with setting up the table(s) and arranging the seating accordingly. You could serve some fancy starters – like sushi – and keep the main meal simple like their favorite pasta.
Serve the birthday cake as dessert and their meal is complete.
You can combine a dinner party with games before or after if you have enough time. Some fun icebreakers include "Never Have I Ever" or "Wink Assassin," which they can even play at the dinner table.
7. Indoor Picnic
For a less formal dinner, you can arrange an indoor picnic. You can make it glamorous and comfortable by adding lots of cushions and pretty decor.
When hosting a picnic you may want to serve finger foods and snacks that can be shared amongst the guests.
Put on some music, and who knows, it might turn into a dance party in the end.
8. Classic Sleepover Pyjama Party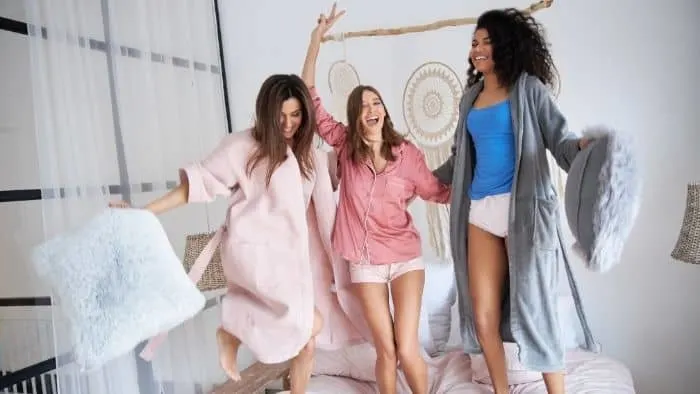 Sleepovers are still fun no matter how old you are, but are best when your teen invites a few of their closest friends rather than a big group.
Sleepovers can be combined with most other party ideas.
Girls could have a spa night and sleepover combination, while boys might enjoy a gaming night and sleepover.
Your teens might even choose to have an epic trampoline sleepover.
Remember to have loads of snacks and drinks available to satisfy their grumbling tummies. Here's a useful list and free printable of what to pack for your next sleepover.
It's also a good idea to have something special planned for breakfast like pancakes or a fun cereal bar with all their favorites.
Here's a list of things that your teenage daughter and her friends can do at their sleepover party.
9. Karaoke Night
Those who love to perform will love a karaoke theme party.
Create a stage with a cool backdrop and lights to make guests feel like stars!
Rent a karaoke machine and let your kids show off their talent and sing their favorite songs while dancing the night away!
If you have a specific theme, for example, 80's, then they can dress up and play around with costumes and accessories.
Be sure to get the kids that are shy to join in by pairing them up or even making groups or teams.
10. Spa Night
Many teen girls love being pampered, so a spa night would be at the top of their list of birthday party ideas for teenagers.
Be sure to have loads of spa products and make-up that they can play with, and don't forget the lovely-smelling creams and candles to complete the spa experience.
Put on some music, pour some sparkling grape juice, and you'll have a happy group of giggling teens. Combine it with a sleepover, and you have a winning party combination.
For an extra special treat, let them make their own bath bombs as party favors to take home later.
Watch this short video on how to make your own bath bombs:
11. Cake Boss Themed Birthday Party Idea
If your teen loves baking and is happy to have a small group of friends over, then a cake boss-inspired party is a firm favorite.
You probably won't have time to bake enough cakes for everyone, so you could make giant muffins or giant donuts instead and decorate those.
Alternatively, you could order already baked undecorated cakes from a local bakery.
Be sure to have enough fondant, frosting, sprinkles, chocolate chips, cake toppers, piping bags, and cake tips for everyone to decorate their cake.
12. Cookie Decorating
If decorating a cake is too much, then you can also get your teens to decorate cookies instead.
The advantage of cookies is that they are quick and easy to bake, and the decorating possibilities are endless.
You'll need cookie cutters and lots of frosting and sprinkles.
For a fun twist, they can even try cake pop decorating as well.
13. Pizza Party
Just love kids love sweet treats like cookies, and one of their favorite foods is pizza.
Buy several pizza bases and get them to decorate their own pizza.
Be sure to have lots of different types of cheese, meats, and veggie toppings available for them to use.
As soon as a pizza is ready, pop it in the oven. If your oven is large enough, you should be able to get a couple in at the same time.
Alternatively, if you've always wanted an outside pizza oven, perhaps now is the time to do it. The Roccbox by Gozney portable outdoor pizza oven is highly rated as one of the best gas-fired pizza ovens available. You can even take it camping with you!
Your teen party guests can even make sweet pizzas for dessert – just add some chocolate, marshmallows, nuts, caramel, sprinkles, and ice cream, and you've got a dessert pizza in the making.
Watch a quick video listing our top teenage birthday party ideas for you:
14. Minute to Win It Games
Hosting a "Minute to Win It" teenage birthday party is a fun and fast-paced way to celebrate. With its quick and quirky challenges, this party concept is perfect for groups of friends.
Teens love a bit of competition, so these games allow them to showcase their skills, work together, and have a blast.
Whether it's a series of individual challenges or team competitions, a "Minute to Win It" party is sure to bring lots of laughter, excitement, and memorable moments for all the guests.
🎉 Read this post for some fun Minute-To-Win-It Games for teens.
15. Arts & Crafts Party
You might think that arts and crafts are for young tweens, but there are some spectacular craft kits available that teens will love.
They can try their hand at quilling, candle making, making friendship bracelets, pendants, or resin jewelry.
Clear the dining room table and set out all the tools they need, put on some music, have plenty of snacks, and give them a few hours to chill and craft away. Time will fly and they'll have so much fun making something that they can take home with them afterward.
🎉 For more great craft ideas, have a look at our Craft Kits For Teens & Tweens post.
Outdoor Teenage Birthday Party Ideas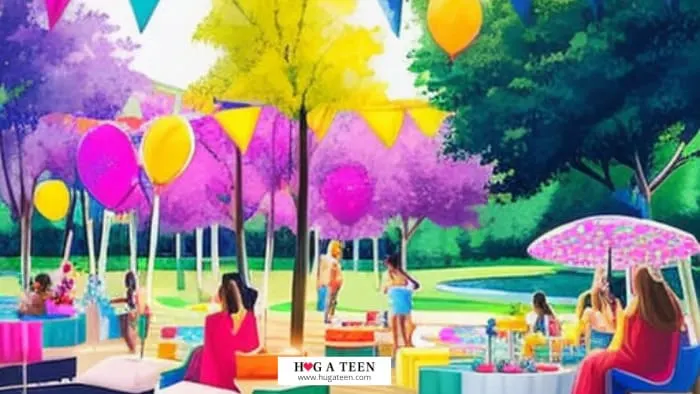 Outdoor birthday parties are a great way for teenagers to celebrate their special day with friends and family. With so many options available, it can be difficult to decide which birthday activities for teens to include in the celebration.
No matter what you choose, an outdoor teenage birthday party is a fantastic way to make lasting memories with friends and family. So grab a blanket and a few snacks, and enjoy the great outdoors while celebrating the birthday of a special teenager!
Here are some great outdoor birthday ideas for teens that are sure to make the day unforgettable.
1. Outdoor Movie Night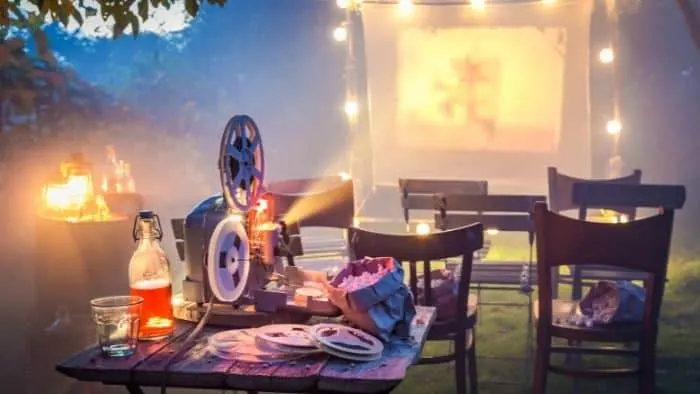 For a more laid-back vibe, set up an outdoor movie theater by hanging a white sheet and projecting a movie for all to watch. A bonfire with s'mores is always a hit and can be a fun way for teens to bond and chat late into the night.
An outdoor movie night could be the ultimate way for any movie-obsessed teen to celebrate their birthday.
You'll also want to create some comfy seating for everyone. You can bring out some couches, bean bags and add plenty of pillows, blankets, and throws.
Don't forget the movie night snacks, and you'll have a winning party for your teen.
🎉 You might also be interested in finding out What Is A Kickback Party?
2. Camp Out
Both boys and girls love a sleepover, and camping out makes it even more fun.
Everyone can bring their own tent and place them in a circle, or you can buy, borrow or rent a big tent so that everyone can sleep in the same tent. You could even set up a backyard camping trampoline sleepover for your next birthday party idea.
It might be fun to decorate the inside with some fairy lights or keep it dark for some spooky storytelling.
Combine the camp out with a campfire with hot dogs, burgers, and toasted marshmallows and you're all set.
For a more fancy alternative, you can also set up a glamping vibe for your teenage party. You can set up several cute teepees or you can hire a big teepee (or bell tent) where they can all sleep together.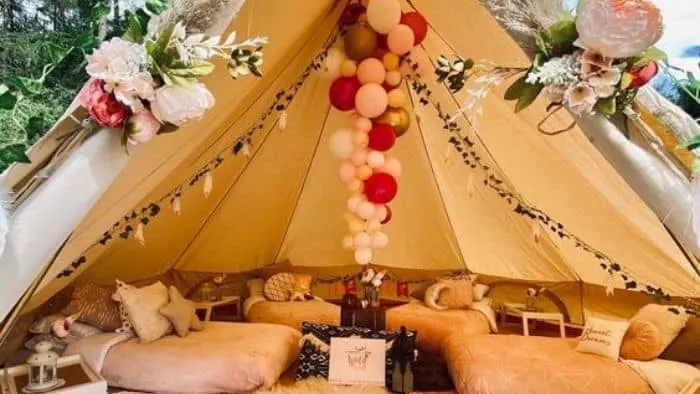 You can get the cutest bunting and decorations in many themes from Amazon. I personally love the boho vibe, but you can find whatever theme your teen loves best.
3. Backyard Picnic
For a chilled outdoor vibe, your teen might love a backyard picnic. You can choose a boho theme or even throw a vintage tea party.
Be sure to decorate with lots of pretty balloons, flowers, and plenty of soft pillows. Flower crowns are a must as well and make great party favors.
4. Sports Themed Party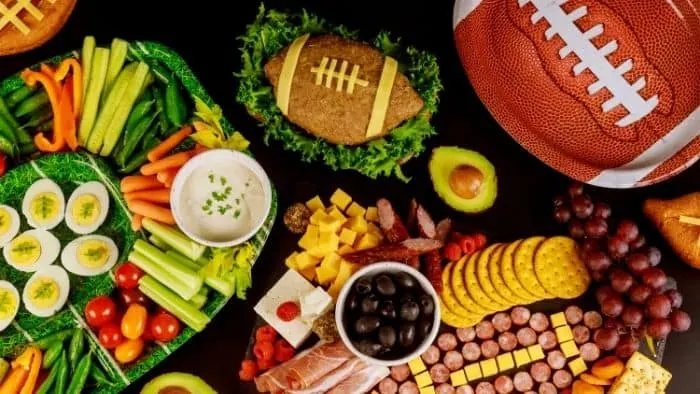 Sports-loving teenagers can have a tournament day with games like soccer, volleyball, or even a friendly round of basketball.
Sports-themed parties are great for active teens. Depending on what sports they like, you can cater to their preference.
You can even get several different sporting games like spike ball, beanbag toss, or supersized kickball to make the games even more exciting.
🎉 Have a look at our Top 25 Best Outdoor Games For Teenagers post for more inspiration.
5. Pool Party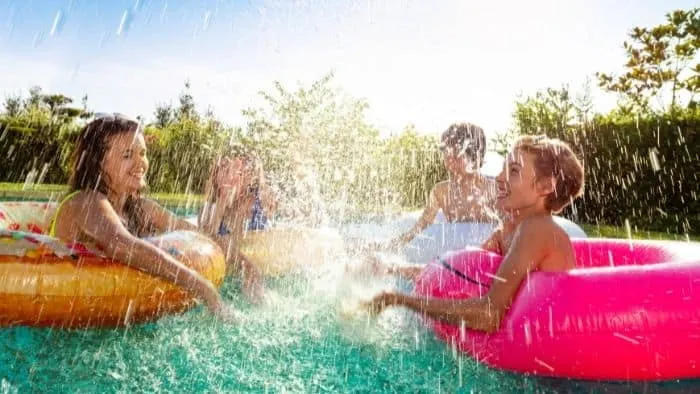 Pool parties are great fun in Summer and perfect for all ages.
Grab some oversized inflatables, blast some music and throw an epic pool party.
You can decorate your yard with some colorful bean bags, towels, and bright-colored plastic cups.
🎉 Here are some super fun games to play at your next pool party.
6. Fear Factor Party
A Fear Factor-themed party is a great birthday idea and will have everyone laughing in fear and amusement. Just imagine all the funny photos they'll have to look back on.
You can have several different fear factor games and challenges for them to complete to score points.
Here are some challenges that they can do:
Place a few boxes on the table with a cut-out that their hands can fit through. Label the boxes with gross things and place some gross objects in the boxes.
For example, Box 1 can be labeled bleeding heart and can have a peeled tomato in it. Box 2 could be labeled maggots and have cooked pasta for them to feel and guess what it really is.
Another fun game is egg roulette, where you place a bowl with several hard-boiled eggs on the table, plus a couple of raw eggs as well. Each player has to choose an egg and smash it on their head. Get your camera ready for the raw egg.
🎉 Check out some more scary party games that they could play in this ghoulish Halloween Party Games round-up.
7. Carnival Themed Party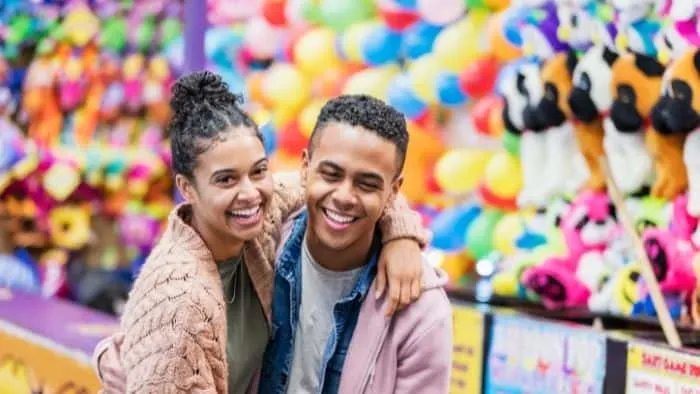 Who doesn't love a good carnival? Bring the carnival to your backyard by setting up different stations with traditional carnival games.
Some great games include ring toss, balloon pop, kan jam, and skee ball.
Instead of face painting, perhaps teens would prefer temporary tattoos; however, cotton candy remains a favorite no matter how old you are. You can even rent or buy a cotton candy machine and make your own.
You could even rent a food truck to complete the carnival theme.
8. Music Festival Party
Teens might not be old enough to attend a concert or music festival alone yet, but how about throwing one in your backyard?
Similar to throwing an outside movie night, you'll need to set up a large screen or sheet. Then project recorded live performances of their favorite bands.
Make sure that you have a good music system. Add some fun lighting, temporary tattoos, funky face paints, and glow sticks, and you have an awesome teenage party idea.
You can either serve some easy finger foods, pizzas, hot dogs, or burgers or pack some picnic hampers.
You can really combine many different ideas to create the ultimate party for your teen.
9. Tie-Dye Party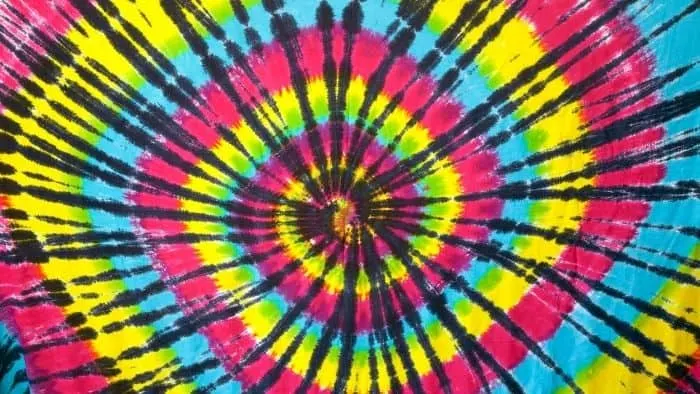 Tie-dye is still super popular, so a tie-dye party would make a great teen party idea. There are several ways to tie-dye your tees or sweats, so choose your favorite look or technique before you start.
For a creative touch, have a DIY tie-dye station or a photo booth with fun props to capture memories from the day.
Those who're even more adventurous can try to reverse tie-dye as well.
10. Escape Room Birthday Party
There are several fun escape room games where teens need to work together to solve a riddle and escape a Forbidden Castle, The Pharaoh's Tomb, or The Sinister Mansion.
These games can be played with up to 6 players, but you can buy a few of the same or different options, as these games can only be played once because players will mark, fold and tear the game materials to solve the riddles.
Check the number of players and difficulty level of each game to match up with the number and age of your party guests.
11. Photo Scavenger Hunt
Instead of your normal scavenger hunt, get your teenage guests to find and take photos of a list of places or objects they need to find.
You can even turn it into a selfie scavenger hunt where they need to take a photo of themselves with the object.
They'll love being able to upload their selfies to Instagram and might even include a few TikTok videos.
This is a fun party idea for a large group of teens as they can split into groups of any size.
12. Night Games Party
Night games are such fun and will make your teenage party one to remember. From flashlight tag, and glow stick volleyball to glow-in-the-dark cornhole toss, there are plenty of fun outdoor night games to keep them entertained.
Combine with some glow-in-the-dark decor and lighting, and you have the perfect setting for an epic night games party.
13. Color Fight Party
Color fight parties are such fun but can be pretty messy.
Divide the group into teams and give each team a different colored powder.
Each player gets a cup of colored powder, and when the war begins, they get to throw powder at the other players.
You might want to give players goggles or protective eyewear and make sure that they wear old clothes.
To match the theme, include colorful treats as well.
Teenage Birthday Party Ideas Away
Perhaps you don't have a backyard, or your teen would prefer to have a party outside of the home. There are as many exciting teenage birthday party ideas that you can organize at a venue away from your home.
1. Amusement Park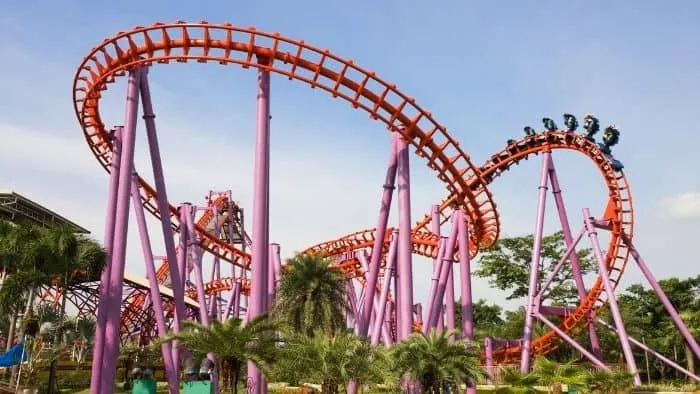 If you're lucky enough to live near an amusement park, then your teen and their pals can spend a day enjoying the rides. Rollercoasters and junk food are top of the list of fun activities.
Entrance to amusement parks can be pricey, so you might want to feed them before they arrive and then just give them some extra cash for drinks.
If they're old enough, you won't need to chaperone them the whole time, but just be sure that they all have your phone number and a way to contact you if necessary. Get your teen to touch base with you a few times so that you know they're having a good time and everything is okay.
2. Paintball Party
There are several awesome paintball party venues that throw an awesome teen party. Both our sons have had several paintball parties, and they're always a success.
Remember to wear old or camouflage clothing and be warned that they might get a few paintball bruises.
3. Laser Tag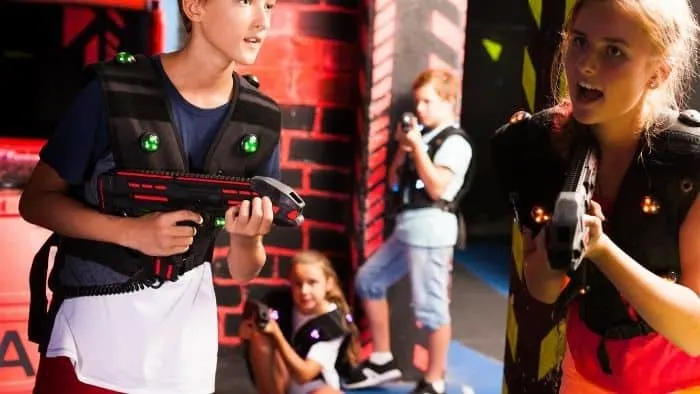 If your teen is not keen on a paintball party, he might prefer a laser tag party instead. This is another fun birthday party idea for any age.
You can book at a laser tag venue, or you could even get your own laser tag guns and play in your own backyard or in a park. As long as there are some places to hide behind, then you can really play anywhere.
🎉 You might also enjoy these Nerf Gun Party Ideas
4. Geocaching Birthday Party
Would your teen like to try geocaching? This game involves hiding and seeking treasure caches.
You can put a cache anywhere in the world and track its location with a GPS device. You can log your cache online and share it with your friends. You can then find the cache with any GPS device or smartphone.
For older kids and teens, this is the ideal birthday party!
5. Beach Party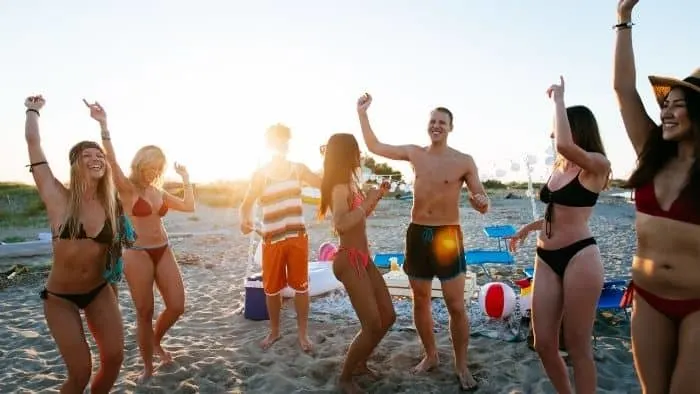 If you're lucky enough to live near the ocean, then I'm sure your teenager would love a beach party at some stage.
You can decorate with some really fun inflatables and be sure to have loads of easy-to-eat snacks and cool drinks available.
Remember your sunscreen and having some shade is always a good idea.
6. A Road Trip for Teen Party
If your teen has a small group of friends, then a road trip could be fun. We recently combined a small road trip with cool surfing destinations for our teenage son.
Tip: always take two cars in case someone doesn't feel well so that you can take them home while the rest can continue the road trip.
It doesn't have to be an overnight road trip, and you can be back home that evening. However, if you want, you can always combine it with an overnight camping trip as well.
You might like to read our Road Trip Games post for more fun ideas.
7. Hiking
While we're thinking of ideas for outdoor parties, your teen might like to take their friends on an epic hike.
We have some amazing hikes to waterfalls in our area that we all really enjoy. We packed some great snacks, and they all cooled off in the waterfall afterward.
We combined this with a movie night sleepover as our son only invited four of his best friends, so it was manageable.
Just be sure to be familiar with the route you want to hike so that you don't have any unforeseen issues like getting lost or spending more time hiking than you anticipated.
8. Attend A Concert & Support Live Music
If you're lucky enough to have a cool band playing in your city, you could take a group of your teen's friends to watch and support a local band.
9. Go Watch A Local Sporting Event
If your teen is into a certain sport, there may be an awesome sporting event that they'd like to attend. Let them choose a few close friends and make a day of watching their favorite team play.
10. Indoor Downhill Skiing
Okay, agreed that this isn't available for everyone, but if you do happen to live near an indoor ski slope like Big Snow, then this could be an amazing teen party experience.
11. Go Bowling
Going bowling for a teenage birthday party is a fun and energetic way to celebrate. They will love the bright lights, loudg music, and lively atmosphere. Bowling is a great activity for groups of friends. Whether it's a casual game or a friendly competition, a bowling party is sure to be a hit with teens.
12. Go Carts
Go-carting is an exciting and adrenaline-fueled activity that can be a great addition to a teenage birthday party. The high-speed thrills and competitive atmosphere make it a perfect choice for teens who love a little friendly competition.
With various tracks and go-cart options available, there is sure to be a go-carting experience that fits the tastes of any group of teenagers.
So rev up the engines and get ready for a birthday celebration filled with speed, excitement, and unforgettable memories!
13. Water Park
An adventurous teenage birthday party at a waterpark can be a thrilling and exciting experience. With its fast slides, lazy rivers, and wave pools, a waterpark is an ideal location for teens.
Drop them off for the day with enough spending money for snacks and drinks and they will have fun and make memories they'll never forget.
14. Crazy Golf
Playing crazy golf as a teenage birthday party idea is a fun and unique way to celebrate. With its creative and whimsical courses, most towns now offer an indoor glow-in-the-dark golf course.
It's a perfect blend of competition and laughter and offers a great opportunity for teens to bond, challenge each other, and have a great time.
Even the coolest teenager will approve of these impressive venues, and most offer food, drink, and party packages.
The best part is that you don't have to hassle with hosting a party at home.
Party Extras
If you have the budget, then there are a few extras that are just the icing on top for any teenage birthday party. Here are some ideas to keep in mind:
Rent a food truck
Chocolate fondue with strawberries
Specialty foods – Mexican, Japanese, Italian
Get a photo booth
Create a candy shop
Flowers
Decor in their theme or color scheme
Party games
Party favors
I hope you've enjoyed all the fun birthday ideas for teens that I've shared with you and that you and your teen have found the perfect party to celebrate their birthday.