Are you planning a Nerf gun-themed party for your tween?
We all know getting the games right for children's parties can be challenging, but with a few ideas, you can create a party your teen will remember.
A nerf gun party will keep the kids engaged and entertained out on the battlefield.
Below you will find Nerf gun party ideas that you can implement in your child's next party.
You might also enjoy reading:
Nerf Gun Party Ideas Games
King Of The Nerf Hill
This game involves setting up two teams.
You start with one player from each team on the playing field.
If a player gets hits, they get replaced by the next team member.
In the end, the team with the most players still in the game wins.
Capture The Nerf Flag
In this traditional outdoor game, teams have a colored flag and the objective is to capture the other team's flag.
Start by splitting them into two teams, find two flags of different colors and give each group a colored flag.
Each team then hides its flag somewhere on the playing field and needs to protect it from the opposing team.
Each team needs to find the opposing team's flag and bring it back to their base.
If you get hit, then you have to run back to your base and start again.
The team that finds the other team's flag and brings it back to their base wins the game.
Nerf Elimination
The elimination game starts with two teams on the field.
If members of the other team hit you, you are off the range.
The team with the most members remaining wins the game.
Nerf Sniper Shootout
If the party doesn't have enough kids to split into teams, a sniper shootout is an ideal game to engage them.
Set a target and give each child six shots at the target.
The one with the most hits wins the game.
Nerf Freeze Tag
Go all out with Nerf guns and have kids going wild with this game.
The game requires a minimum of four players, all equipped with Nerf guns.
If someone is shot, they have to freeze and not move.
If you are playing in teams, you will need a team member to shoot you with a dart gun and unfreeze you.
Nerf Gun Obstacle Course
Use your backyard and build an obstacle course using cardboard, tables, or chairs.
The kids can use their Nerf guns to shoot at anyone while maneuvering the obstacles.
The player that hasn't been shot at the end of the game, or with the most shots wins the game.
Run The Nerf Gauntlet
Give the birthday girl or boy a little more attention with this game.
The birthday boy or girl has to run the gauntlet while everyone else stands at a distance shooting at them as they run to the other end.
Be sure to space them out a bit, wear safety goggles, and remember the rules to avoid anyone getting hurt.
Nerf Gun Target Shooting
Set some targets at a reasonable distance.
These could be bottles placed on a table or cardboard cut-out targets.
The kids can then use their Nerf guns to shoot the target. The one that hits the most targets wins the game.
Nerf Gun Tin Can Challenge
Arrange empty cans or bottles on a table and set a reasonable distance between the shooters and the targets.
Play the game in rounds, getting a winner for each round, then have all the winners go against each other for the ultimate winner of the game.
Nerf Water Balloon Challenge
Fill balloons with water and hang them on a line in the garden.
Give each child a turn to shoot at the balloons.
You can have a few teams and use different colored balloons to monitor which team hits and pops the most balloons.
Nerf Gladiator
This is a two-person game whereby one is the gladiator or the shooter while the other is the competitor.
The gladiator should have several weapons and be on higher ground.
The competitor should not have any Nerf guns and has to navigate the course avoiding the darts.
Height, Distance & Accuracy Nerf Challenges
Set targets at different heights and distances that the shooters can compete in hitting.
You could also mark targets where the most accurate shooters go against each other in the final round to find a winner.
Free Play Nerf War
Leave the shooters to do their thing with the free-play Nerf War.
They can set their own rules or go wild and play with no limitations.
The fun is in running around and shooting at their friends.
Hide and Seek Nerf Challenge
Add a little twist to hide and seek and bring the Nerf guns to work.
Each player will have a nerf gun.
Players hide from the seeker and get two bullets each to try and shoot the seeker before they shoot them.
You can set a timer for everyone to hide.
Watch this video to see how to play this fun Nerf Gun party game:
Protect The 'Baby'
A player or two must protect the baby, ensuring the baby (doll) is not shot by the assailants while passing it from one point to the other.
The defenders have to keep the assailants away from the baby, and if the baby gets hit, they are out.
Nerf Gun Party Invitation Ideas
Create a compelling and eye-catching invitation for your Nerf Gun party by staying within the color scheme while laying out the party's location, time, and other details.
Nerf Gun Party Decoration Ideas
Staying on theme is one of the most important parts of organizing a successful Nerf Gun party.
Here are some decoration ideas you could use.
Nerf Gun Party Ideas Cake
The birthday cake is the center of the party, so it has to be on theme.
Here are some eye-catching cake designs you can seek inspiration from:
Nerf-branded cake
Gun-shaped cake
Two-tier Nerf birthday cake
Nerf Target Cake
Nerf Gun Party Ideas Food
Tie in the decor and cake with Nerf gun-themed foods and snacks.
Here are some ideas:
Nerf Theme Color Donuts
Nerf Theme Color Snacks
Nerf Bullet Cookies in Nerf-Colored Icing
Nerf Gun Party Targets
Nerf gun games cannot be complete without targets. Here are some target ideas you can get to complete your Nerf gun party.
Mesh Target
This portable mesh target doubles up as a collection bag for your darts as you shoot.
It is a great idea to practice your shooting skills, and the fact that it is portable makes it convenient to use anywhere.
DIY Hanging Nerf Target
This no-sew hanging nerf target is easy and fun to make using inexpensive materials.
You can cut parts of the hanging material and use stickers to mark the targets.
DIY Cereal Box Targets
Glue targets on cardboard or old cereal boxes and arrange them so that the highest number is furthest away and hardest to shoot. You can download some free target prints here.
DIY Can Targets
You can use party cups and arrange them to create various heights for the targets.
Alternatively, you can set cans on a ladder or shelf at different heights.
Nerf Gun Party Battlefield Ideas
Make use of the space you have to turn it into a battlefield. You can go ham and source for supplies or use what you have at home.
Here are some ideas:
Outdoor tires and pallets battlefield
Inexpensive cardboard battlefield idea
Nerf Gun Party Tips
Here are some useful tips for planning a fun Nerf gun party:
Get enough Nerf guns and darts. Order enough for the number of invites you have.
Choose Nerf games beforehand and prepare all the supplies you need for the games.
Consider the location to ensure adequate space for Nerf gun games.
Stay on the theme by matching the cake, decorations, food, and party favors.
Create an order of events for a seamless flow of the party.
Best Age
Nerf gun parties are ideal for children between 6 and 13.
You might like to read Fun Birthday Party Ideas For 11 & 12 Year Olds if you're looking for more tween party ideas.
How Many Players
Nerf gun games can have two to any number of players.
The best thing is that you can play some games in teams while others are free-play.
As long there are enough guns and darts, there is no limit to the number of players.
Where To Have A Nerf Gun Party
The venue of your Nerf gun party will depend on the number of guests you plan to invite.
The idea is to ensure you have enough space to set the battlefield, the snack bar, and the space for all guests.
You could play in a park, in the forest, but the best Nerf gun parties are often in your own backyard.
Nerf Gun Party Rules
No physical contact
No intentional face shots
Eye protection is mandatory
Play within the boundaries of the battlefield
Share guns and darts
Play fair
Nerf Gun Party Supplies
For a successful Nerf gun party, you will need guns, bullets, safety goggles, and some targets.
Let's have a look at some top picks below:
Nerf Guns
Nerf Gun Party Tactical Vest
Nerf Bullets
Nerf Gun Party Safety Glasses
Nerf Gun Party Targets
Nerf Gun Party Favors
Free Nerf Gun Party Printables
Targets
Download all four free target prints here.
Place the highest number furthest away to make it harder to score.
Food Names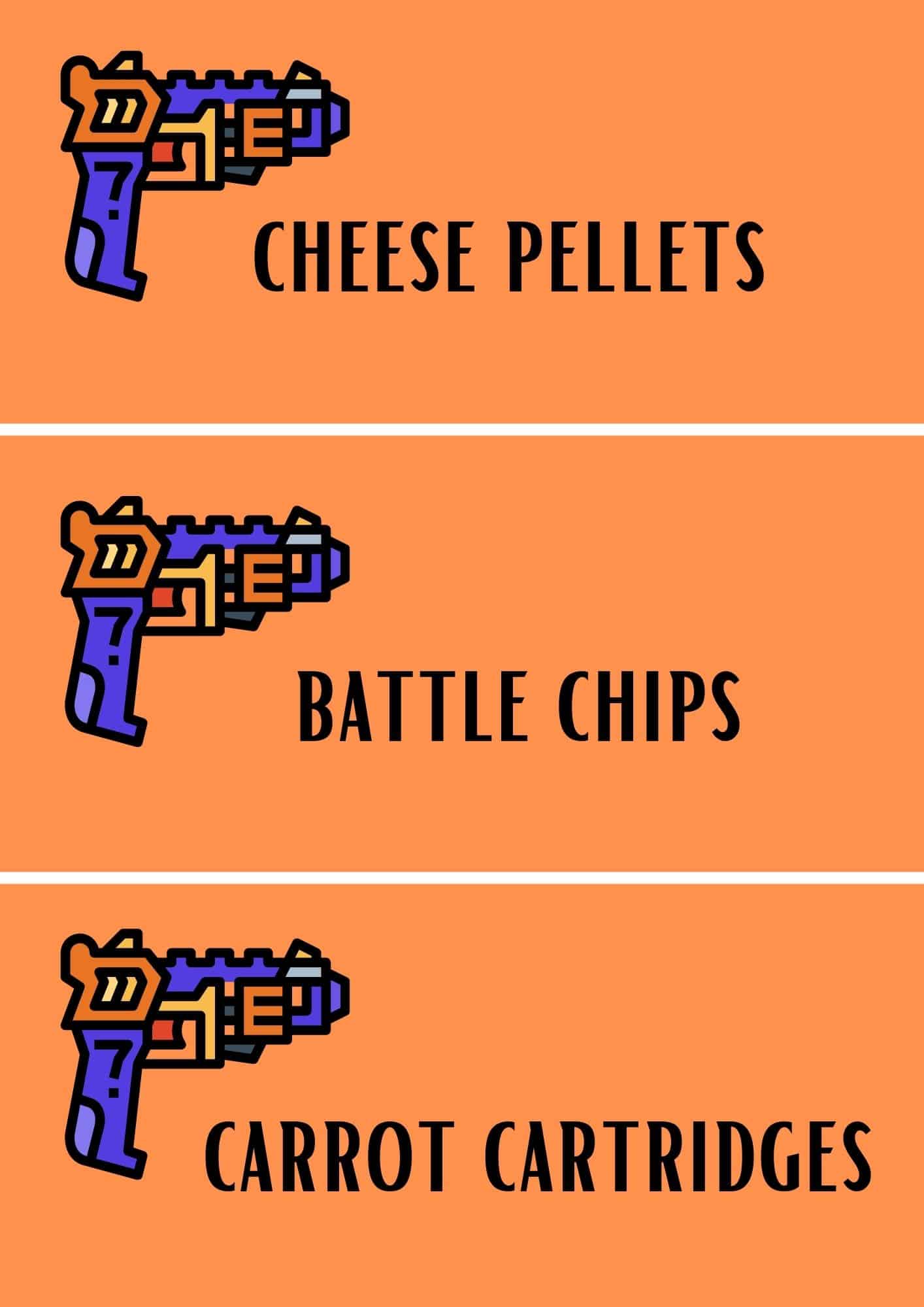 Download these fun food names and use them to decorate your snack table.
Cheese Pellets – cheese puffs

Battle Chips – Spicy Doritos

Berry Bombs – Strawberries or blueberries

Carrot Cartridges – Baby carrots

Refuel Fluid – Energy drinks

Water Rations- Bottled water
Watch this video for some advanced Nerf Gun Game Ideas:
Nerf Gun Party Ideas Related Question
Can You Play With Nerf Guns In The Park?
Each city will have its own requirements. In some parks you can arrive – first come first served, while in others you might need a permit, especially if it's an organized party.
If you do play in a park then be polite and mindful of other people enjoying the park.
Stay away from footpaths and don't build any structures that need to be stacked into the ground.
Always pick up all your mess and bullets when you're done.
How Many Bullets Do You Need For a Nerf Gun Party?
You should aim to have about 50 darts per child. It will depend on how long you want each game to continue, and what kind of guns they're using as well.
You can place buckets of nerf bullets strategically around the playing field so that kids can reload.
This Nerf Elit Dart Rover will come in pretty handy to quickly pick up bullets on the field.
What Is The Best Nerf Gun For Nerf Wars?
The Nerf Ultra One Motorised Blaster is the best gun for Nerf Wars. The dart drum holds 25 darts allowing you to fire and reload fast.
What Is The Fastest Firing Nerf Gun?
Nerf N-Strike Elite HyperFire blasters are the fastest-firing Nerf dart guns. The fully motorized blaster fires a deluge of darts at targets at a rate of up to 5 per second. Let the rapid-fire action begin by pressing the acceleration button and pulling the trigger!
What Is The Newest Nerf Gun 2022?
The Nerf Hyper is a new blaster that shoots harder (up to 110 feet per second) and has the fastest reload.
The blaster uses smaller foam projectiles that take up less space and you can fit 40 projectiles inside a pistol-sized blaster.
What Is The Best Nerf Sniper?
The Nerf Ultra Pharaoh is a bolt-action, magazine-fed, single-shot sniper blaster.
With a robust bolt-action priming mechanism (up, back, forward, and down), the bolt-action rifle feels like a sniper rifle.
What Is The Biggest Nerf Gun?
Although the NERF Overwatch Soldier: 76 Rival Blaster is also huge, the Nerf Mega Mastodon, with its 24-dart rotating drum and motorized mega blasting, is the biggest nerf gun blaster.