I recently wrote an article on hobbies for teen boys, because I was looking for ways to get my teenage boys off their screens and out of the house.
Although all girls can obviously participate in the same hobbies that boys do, I have found that some girls tend to find creative hobbies more interesting.
In this article, I'll share some hobbies that I think teenage girls will enjoy.
What Are Good Hobbies For Teenage Girls?
Hobbies should not only be fun and relevant to your teenager but also contribute to their life in some way. Learn a new skill like sewing or cooking, be more creative by learning to play an instrument, or volunteer and participate in acts of service.
📢 You might also be interested in reading: Helping Your Teenager Find Their Passion (Tips & Activities)
Outdoor Hobbies For Teenage Girls
1. Hiking
We have a mom's hiking club in my neighborhood and we meet every week to get outside and walk.
Some walks are in our area, while others are a bit further out and more of a day hike.
Having a group of friends to go hiking with is one of the best hobbies for anyone that likes to be outdoors.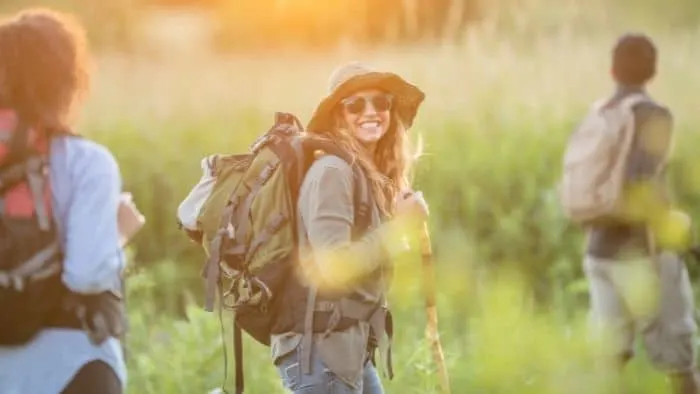 Your daughter can combine hiking with photography, the responsibility of planning a safe hike, as well as getting exercise and exploring a new landscape.
Here are some of the benefits to hike hiking that makes it an ideal hobby for teenage girls:
It's a form of exercise that can be done anywhere. You don't need any equipment or a gym membership to start hiking.
Hiking offers you increased mindfulness and focus, which helps you become more present in your life and less reactive to negative emotions like anger, anxiety, or shame.
It's easy on the joints and muscles as compared to other intense forms of exercise such as running, so if you're getting injured frequently from other types of sport, there's not much risk.
2. Cycling
My best friend and I used to love riding our bikes in our neighborhood together.
It felt great to get out of the house, away from our parents, and experience some freedom.
Although we weren't riding our bikes for exercise, joining a cycling (or running) club is a great way to meet people outside of your school and get rid of some stress.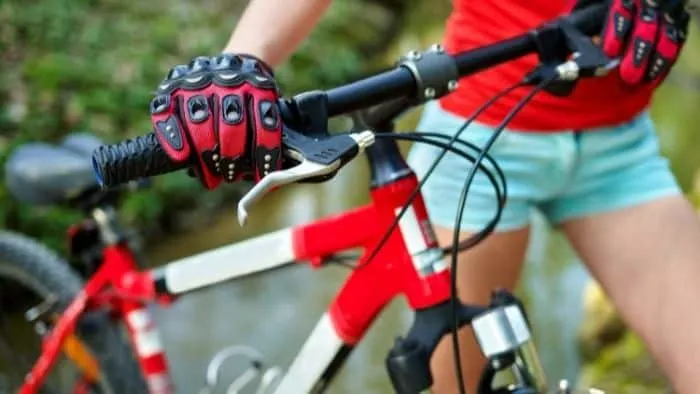 Here are a few reasons why cycling is the perfect hobby for teenage girls:
It's inexpensive. There's no need to buy expensive equipment, and you can always borrow a bike if you don't have one yourself.
It lets you spend time outdoors, which means you'll be getting all those vitamins from fresh air and sunlight!
You'll get to meet new friends at cycling groups in your area that will share the same interests as you.
Riding a bike improves your stamina (and therefore many other aspects of your health) by burning more calories than walking does.
3. Lifesaving
Baywatch highlighted that lifesaving isn't only for boys and that girls really enjoy this as a hobby as well.
In addition to teaching lifesaving skills, this is also a great way to exercise.
A lifesaving club provides a wonderful bonding experience, and it becomes more than a hobby.
Here's a wonderful story by a 13yr old from Scotland about her love of lifesaving. Read Emily's story here.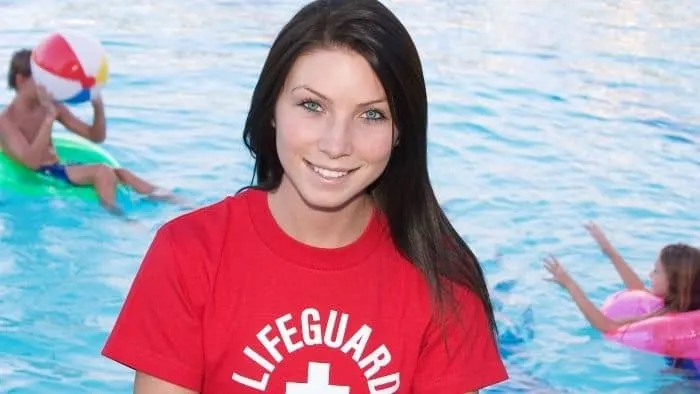 Life-saving offers many benefits that make it an awesome hobby for teenage girls:
It's very rewarding and satisfying in the long term. You're not only helping others, but you're also improving your own mental wellbeing by making new friends with people in need of help.
For those who are afraid of medical procedures or needles, it's a safe alternative because it's done with first aid while staying on the ground.
Because you work together as a team and share duties, life-saving is also an ideal sport to get your friends involved in!
❤️ Suggested reading: How To Teach Your Teen Daughter To Use A Tampon
4. Geocaching
This is a real-world, outdoor treasure-hunting game using GPS-enabled devices. Participants navigate to a specific set of GPS coordinates and then attempt to find the geocache (container) hidden at that location. It's a fun way to explore your local area or new places.
5. Rock Climbing/Bouldering
While it might seem a bit daunting at first, rock climbing or bouldering can be an incredibly rewarding and empowering hobby. It's a great way to build strength and endurance, and there are many climbing routes specifically designed for beginners.
6. Bird Watching
This is a great hobby for anyone who loves nature and enjoys spending time outside. It's not a typical hobby for teens, but bird watching can be a peaceful and rewarding way to spend time outdoors. It can also lead to an interest in ornithology (the study of birds) and contribute to citizen science projects.
7. Gardening
Whether it's flowers, vegetables, or herbs, gardening can be a rewarding hobby. It's a great way to learn about plants, and it can also provide a sense of accomplishment when you see your plants grow and thrive.
8. Outdoor Yoga
Yoga is often practiced indoors, but doing yoga outside can be a unique and refreshing experience. It can be done in your backyard, at a local park, or even on the beach. It's a great way to improve flexibility and reduce stress.
9. Skateboarding/Longboarding
While it's becoming more popular among girls, skateboarding is still often seen as a male-dominated activity. However, it's a fun and challenging hobby that can be a great way to get around and express yourself.
10. Surfing
Surfing as a hobby for girls is an exciting and empowering activity that combines physical fitness, mental focus, and a deep connection with nature. It's a sport that requires balance, strength, and agility. Surfing is not just about riding waves; it's about embracing a lifestyle that values respect for the environment and the thrill of exploration. It's a hobby that can introduce you to a supportive and passionate community and provide endless opportunities for personal growth and achievement.
Indoor Hobbies For Teenage Girls
11. Painting
Teens can learn to draw and paint in a variety of ways since there are tons of different art mediums and multiple ways to explore them.
While art supplies can be costly, there are plenty of student-grade supplies that beginners can start using.
Additionally, this is an ideal hobby since you can do it at home, a cafe, a park… pretty much anywhere!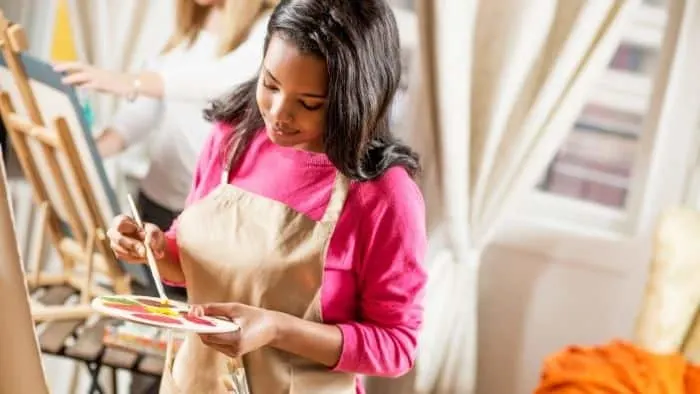 Here are some reasons why your teen should try this hobby:
You don't need any expensive equipment to get started! You can grab some paint at the store as well as canvas or you can use what you have on hand in your home.
It offers plenty of opportunities to meet new people that share the same interests as you. Maybe they're local artists, or maybe it's a place that sells art materials.
You can enjoy creativity while you're relaxing! Painting is one of the freest forms of self-expression, whether it's from an abstract point of view or a figurative one.
It's a great hobby for you to do at home if you're bored! Painting is an excellent way to create something that you can hang on your wall, or even give away as a gift.
12. Learn To Play An Instrument
Learning an instrument is another excellent leisure activity for teens who are musically inclined.
Learning an instrument is similar to learning a sport as you have to practice a lot for it to become good at it.
Once she decides which musical instrument she wants to play, you'll probably have to arrange some lessons.
Piano, recorder, violin, flute, and guitar are some popular musical instruments to try.
Some great artists, however, have taught themselves how to play.
Here are some benefits to learning to play an instrument:
You can make music whenever the mood takes you!
It's a valuable skill that could help you professionally in the future.
Learning to play an instrument helps develop your physical coordination while having fun and improving your mood at the same time.
Learning how to compose songs and create music teaches you patience and improves your memory.
There are also some awesome YouTube videos and online tutorials that your teen can watch to get started.
13. Playing Cards With Friends
Playing cards is one of those hobbies that you can take with your anywhere.
As long as you have a couple of packs of cards, you can get a game going.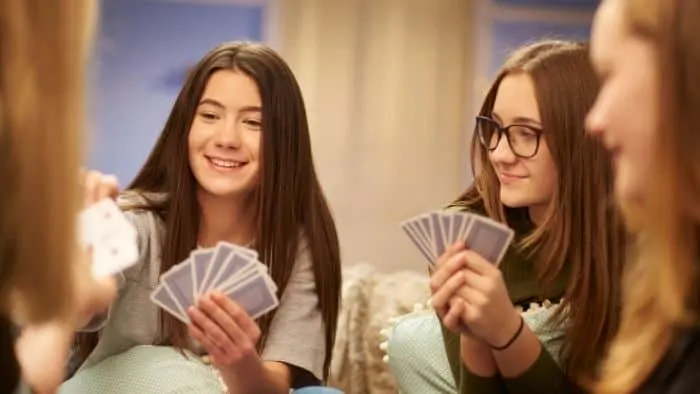 To this day, my girlfriends and I still love playing Canasta.
We played it in twos, threes, and fours but you can play Canasta with up to 6 players.
My mom loves playing Bridge, so playing cards is a hobby that will never leave you.
Bridge is known as quite a tricky game to learn.
Here is a video that will teach you to play bridge in just 5 minutes!
14. Cooking / Baking
I have to admit that I don't enjoy the assumption that I (being the only female in the house) will do all the cooking.
That being said, my boys love baking and eating the cookies once they're ready.
Learning how to cook is a life skill that everyone should learn, even though some people love it more than others.
The fun thing about taking up cooking or baking as a hobby is that you will always have willing participants – well at least willing taste testers.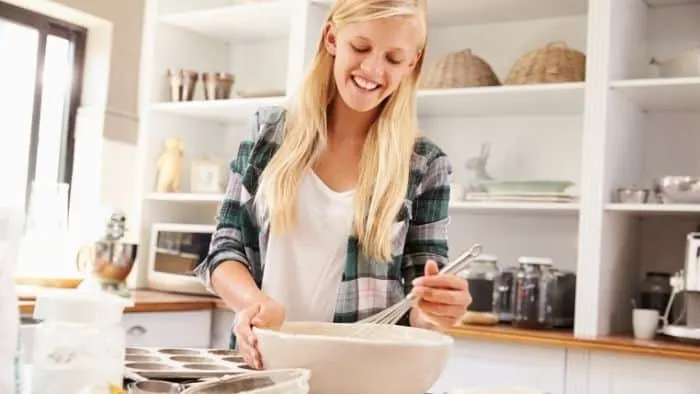 Some of the benefits of learning how to cook and bake are:
You'll feel happy and productive when you see your results.
It's a great way to spend time with family or friends.
Baking is not only a creative hobby, but it will also help you bake for other people
Learning new dishes is eye-opening and will provide comforting memories of past recipes
It gives you an opportunity to be creative and have fun!
Here are some great books to get started:
1. The How-To Cookbook for Teens: 100 Easy Recipes to Learn the Basics
2. The Complete Baking Book for Young Chefs: 100+ Sweet and Savory Recipes that You'll Love to Bake, Share and Eat!
15. Blogging
Blogging can be a wonderful way to express yourself, learn a lot about a certain topic, and even earn you some income.
There are many female bloggers that discuss interesting topics like fashion, entrepreneurship, travel, college, and cooking.
Whatever your daughter is interested in, there are tutorials on how to set up your blog and it can also have great income earning potential in the future.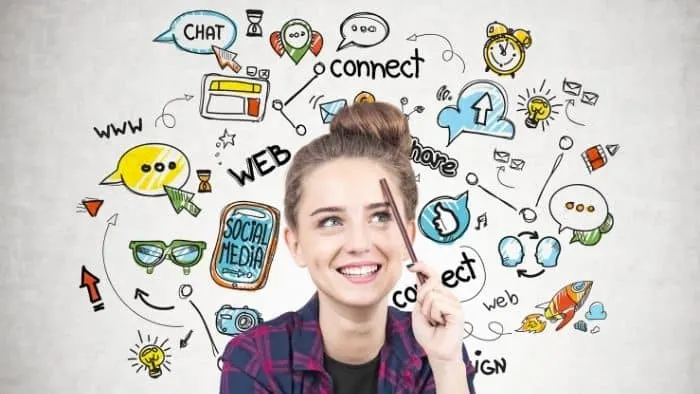 Here are some quick steps to help your teen get started with blogging:
Pick up a free blog from Blogger or WordPress on the internet and set up your username and password.
Find a topic you're interested in. Maybe that's health, political issues, fashion, pets, or travel.
Spend some time thinking about what you want to post on your blog. You can either write about personal experiences or discuss different issues in the world.
Decide what pages you will create, for example: About Me, Contact
Decide what content sections you will create, this is how you will categorize your content
Pick a theme to customize the look of your blog
Start writing awesome content! Remember, the more you write the better you'll get.
16. Sewing
Sewing can be a fun and useful hobby.
My friend taught me how to make outfits for our barbies and later she made my ballet costumes.
I never really learned any more than that, but if your daughter shows interest, I found a fun starter sewing machine for teens that you might want to look at.
Some of the benefits of sewing include:
Sewing is a great hobby for all ages. It's a worthwhile skill that is both creative and useful.
Sewing will keep your hands busy and active. It's an excellent opportunity to learn how to use different skills, such as dexterity, sewing machine skills, or pattern knowledge.
You can meet new people in the area! There are plenty of sewing groups that you can be involved in your area.
It's therapeutic for those with anger issues too because it will allow you to express yourself and release tension.
17. Arts and Crafts
There are so many amazing crafting ideas available online or on Pinterest.
I personally loved beading when I was younger, making necklaces, bracelets, or earrings.
Earrings look great, especially if you learn to tangle!
You can either find free patterns online or get some store-bought ones from your local craft store.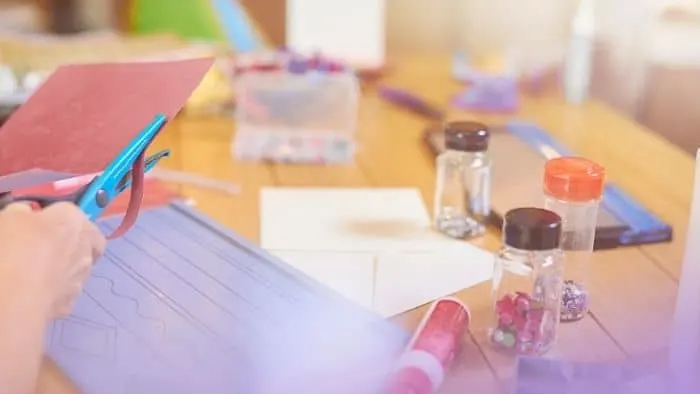 There are also some awesome crafting books available on Amazon that will make the perfect gift!
This book caught my eye – "52 DIY Crafts for Girls: Pretty Projects You Were Made to Create!".
18. Jewelry Design
My best friend is a goldsmith, and she makes the most stunning jewelry.
I remember that she started making jewelry when we were teenagers. She has a real passion for it.
I loved getting to see her progress and also enjoyed getting some great jewelry pieces in the process.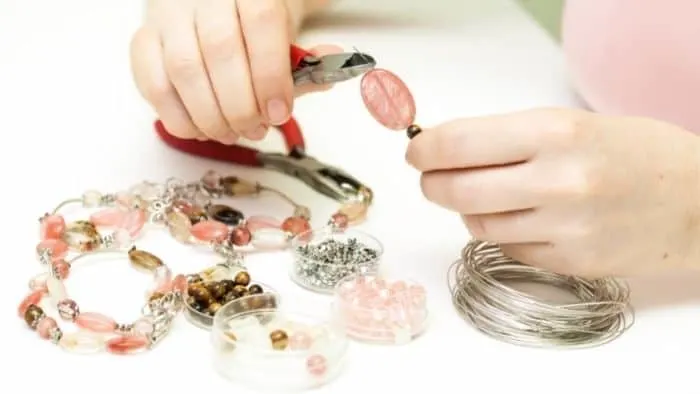 If your daughter shows interest in jewelry making, I found this amazing starter jewelry-making kit below.
Not only does it have the tools and all the jewelry-making supplies, but it also comes with 15 instructional videos.
19. Photography
Many teens today are taking selfies and using their phones to document their lives.
Photography as a hobby can fulfill the need for creativity and learning a new skill.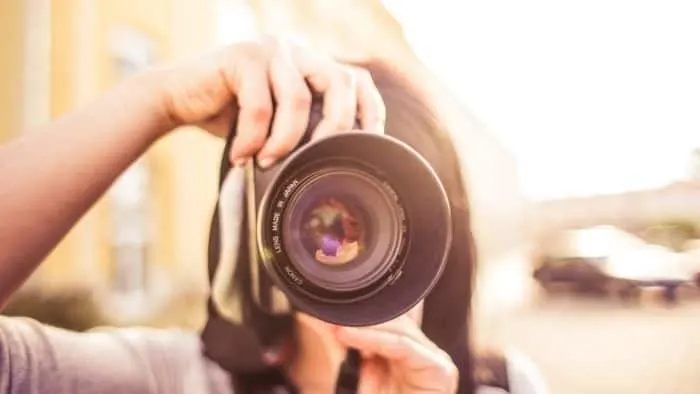 As an art form, it builds on imagination whilst still needing to learn the technical skills required.
If she is really interested, then a good camera and some extra training could be beneficial.
Here is a list of 14 great sites to learn photography.
20. Drama
Many schools offer drama in school, so your daughter should have some idea of this is something she'd like to pursue more.
If she enjoys acting, it's never too early to join a drama club and learn from other aspiring actors.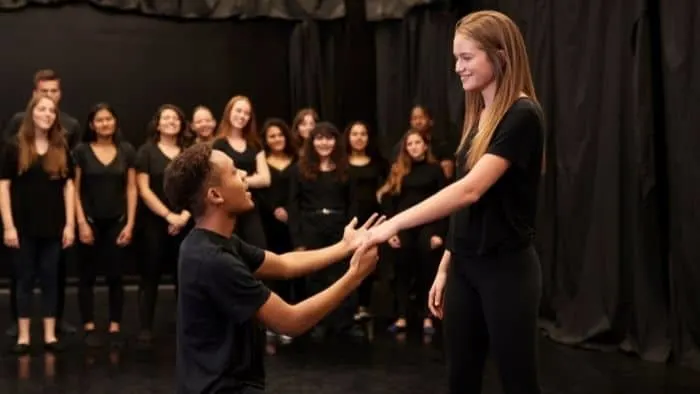 There are also several acting classes available online.
Perhaps she might be the next break-out movie star!
The video below gives some advice on how to start acting as a teenager:
21. Dance
Ballet, Modern dance, Aerial dance, Tap, Irish Dance, and Hip Hop are some of the most popular dance types that your daughter could enjoy.
Most girls will have done some form of dance when they were younger.
If your teenage daughter feels that she's no longer interested in ballet, then she might enjoy Aerial dance or Modern dance instead.
There are so many types of dance available, have a look at the most viral dances on TikTok right now.
You can even learn how to start dancing without taking a dance class:

22. Volunteering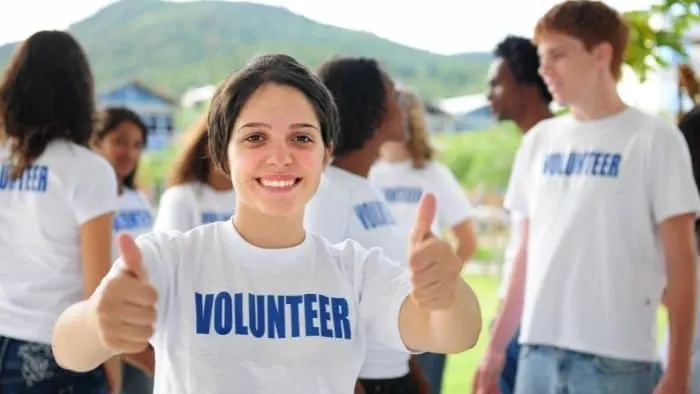 Volunteering is another activity teens should consider.
Volunteering at a local shelter, tutoring children, or feeding the hungry are all ways to develop their interpersonal skills.
By volunteering, they will develop selflessness, as they help others make their lives better.
23. Martial Arts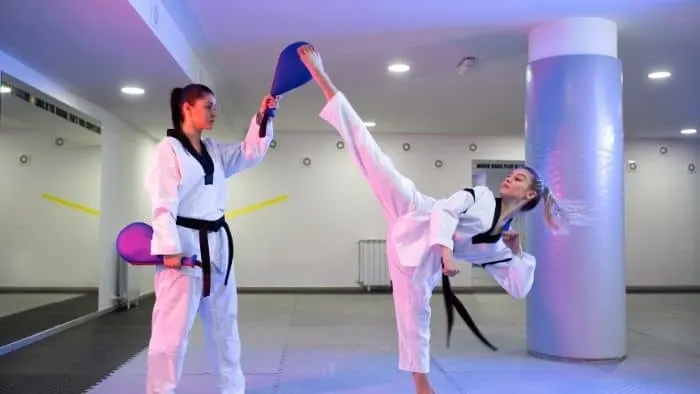 Self-defense is so important so learning a martial art or joining a self-defense class is a wonderful hobby for any teenager to start.
24. Cheerleading
Joining the cheerleading squad takes a lot of energy, practice, and having a positive attitude.
Cheerleaders work really hard to perfect their choreography and dance moves.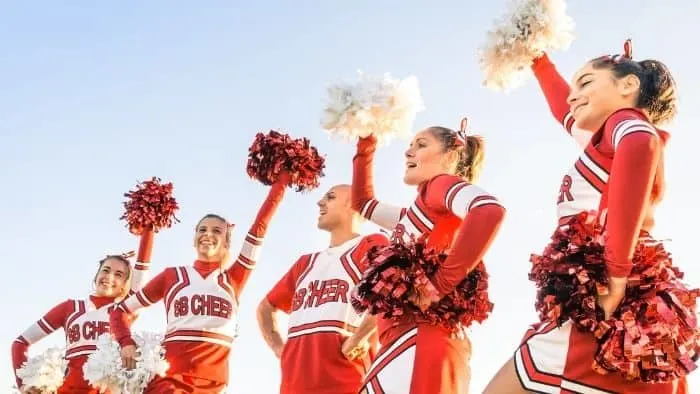 Getting into a cheerleading squad is a great achievement.
It's a great workout, you learn awesome dance moves and bond with a group of like-minded girls.
25. Babysitting
Although babysitting might be not be considered a hobby, it can be something your teenage daughter takes up regularly to earn some pocket money.
It's always best to start babysitting your own siblings, then family, and then friends.
It's very important that you know the family that you'll be babysitting for, and have all their contact details, in case of an emergency. Discuss how much they will pay you to babysit.
Also, let your parents know where you will be babysitting and what time you should be home for safety and peace of mind.
26. Online Games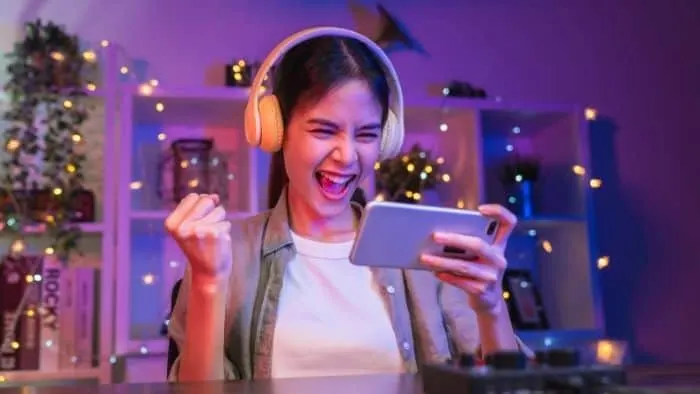 Online games can provide endless hours of mentally enriching entertainment. A couple of games to mention that have been proven to help with improving memory recall and strategic thinking are listed below:
Backgammon: the popular checker game has a simple objective, move all your checkers into your own home board and then bear them off. The first player to bear off all of their checkers wins the game.
Minesweeper: one of the computer games that paved the way for gaming online, Minesweeper has remained popular for decades due to its simple yet entertaining gameplay. Players must identify all the bombs on the grid without clicking on one.
🤓 You might like to read: Fun Babysitting Games, Activities & Ideas
I hope you've enjoyed reading through our favorite hobbies for teenage girls.