A kickback party is a small casual party or laid-back gathering of close friends, usually in a person's home.
The purpose of these low-key parties is to relax, socialize, and have a good time. A kickback is an informal gathering of friends in a person's home where good food and drinks can be enjoyed without the hassle and stress of organizing a big party.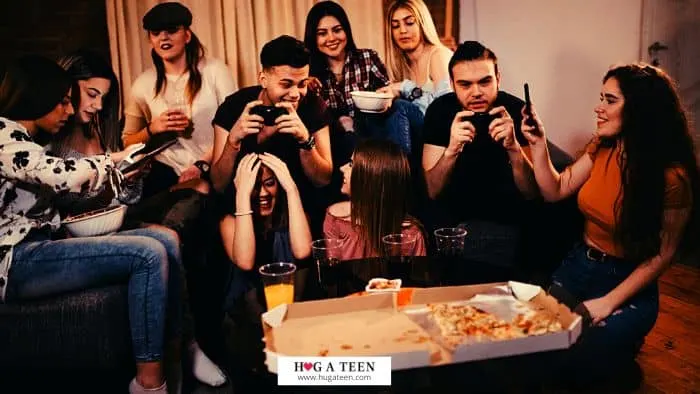 What Is A Kickback Party?
Definition of a Kickback Party
Kickback parties are stress-free versions of typical parties. It is a casual gathering, usually held at someone's home, where the focus is on relaxation and socializing rather than on structured activities or formalities. The term "kickback" implies a sense of relaxation, as in "kicking back" and enjoying oneself.
The concept of a kickback party has its roots in informal house parties, but it has evolved to represent a specific type of gathering. Unlike traditional parties, which often involve extensive planning and preparation, a kickback party is all about keeping things simple and stress-free.
According to the Urban Dictionary, it's a "get-together that has more people than a hangout but less than a party."
Kickback Vs. Party
A kickback party is a stress-free alternative to a traditional or formal party. Unlike a regular party with lots of people, a kickback party generally involves a smaller group of friends.
Kickbacks do not require a lot of preparation or cleanup from the hostess. While hosting a party often involves a great deal of preparation, expense, and cleanup. Since kickback parties focus on simple and easy entertainment, you can host them without the fuss or inconvenience of a big event.
Characteristics of a Kickback Party
A kickback party has several key characteristics that set it apart from other types of parties:
1. Casual and relaxed atmosphere
The main goal of a kickback party is for everyone to relax and have fun. There's no need for formal attire or strict schedules.
2. Small guest list
Kickback parties are typically small, intimate gatherings. This could be just a few closest friends or a small group of people who know each other well.
3. Minimal planning and preparation
One of the defining features of a kickback party is the lack of elaborate planning. The focus is on simplicity, with minimal decorations and a casual setting.
4. Low cost
Because of the minimal planning and preparation involved, kickback parties are often more affordable than traditional parties. Guests will often bring their own food and drink making kickbacks a budget friendly party.
How To Throw A Kickback Party
When it comes to planning a kickback party, the key is to keep things simple and stress-free.
Here are some steps to help you plan your event:
1. Choosing the right location
The best location for a kickback party is usually someone's home, where everyone can feel comfortable and relaxed. However, you could decide on a beach party or a picnic in a park.
2. Creating a guest list
Remember, kickback parties are typically small, intimate gatherings. Invite a few close friends who get along well with each other.
3. Party Theme
Consider adding a theme so that people know what to expect. It's all about chilling, so it could be a pool party, movie night, games night, or just a barbeque. Whatever you decide, but sure to stay with the laid-back theme.
4. Deciding on food and drinks
Keep the food and drinks simple and casual. Consider ordering pizza or asking guests to bring a dish to share. For drinks, you can provide a few options like soda, water, and perhaps a few alcoholic beverages for those who drink.
5. Setting up the space
Make sure there's enough seating for everyone, and create a relaxed atmosphere with some soft lighting and comfortable seating.
6. Plan some simple party activities
You don't need to have an elaborate plan, just be sure to have some form of entertainment or activities available. Activities at a kickback party are usually low-key and can include things like watching movies, playing games, or simply chatting and enjoying each other's company.
It could be having a movie on standby, some pool lounger set out, or some board games ready if anyone is keen.
7. Choosing the right music
Music is essential for every party, no matter how chill it may be. Prepare relaxing instrumental music ahead of time, and crank it up later if the evening becomes lively. It's all about chatting, connecting, and relaxing at kickback parties, so choose music that contributes to the atmosphere of a carefree party.
Do's and Don'ts at a Kickback Party
Understanding the etiquette of a kickback party can help ensure that everyone has a good time.
Here are some do's and don'ts for hosts and guests:
– Do keep the atmosphere relaxed and casual.
– Don't stress about having the perfect decorations or the most elaborate food.
– Do respect the host's home and clean up after yourself.
– Don't bring uninvited guests (i.e. friends of friends) without asking the host first.
– Do participate in the laid-back activities and enjoy the company of the other guests.
– Don't feel obligated to stay until the end. It's okay to leave when you're ready.
Kickback Party Themes
1. Pool Party
Although pool parties may conjure images of hotties in bikinis and wild music, they don't have to be that way. The soothing effect of water is an excellent addition to a chilled-out day or evening with friends.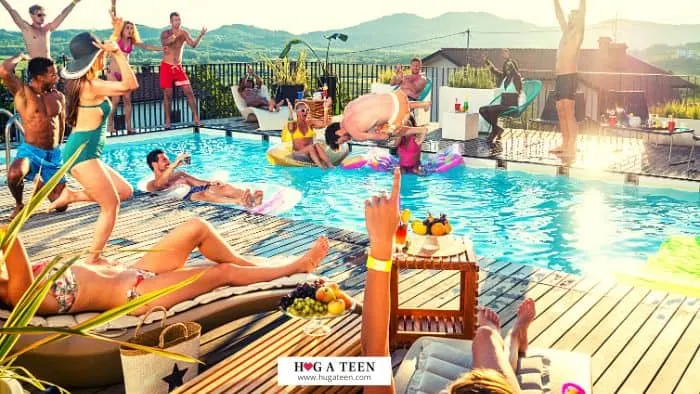 2. Movie Night
Movies make for some of the best kickback party ideas. Watching something that you all enjoy can sometimes be the best thing to do. It is also fun to watch old movies and laugh at the outdated effects and dialogue.
3. Potluck
Organize a potluck dinner the old-fashioned way. All you need to do is provide the main dish, and everyone else can bring sides and desserts.
4. Cheese And Wine
There is nothing more sophisticated than a cheese and wine party. See what you can come up with if everyone brings the cheese and wine of their choice. Imagine getting guests to guess what cheese they are eating while blindfolded; what fun that would be!
5. Board Game Night
Board games are great because they're usually designed to accommodate at least three players. In some games, ten or more people can play, but in others, only half that number can participate. Just perfect for a chill night with close friends.
6. Ice Cream Party
The next time national ice cream day rolls around, organize a good old-fashioned ice cream social to celebrate or just because you want to. Play ice cream games, decorate your ice cream parlor in the style of an ice cream parlor, and serve delicious ice cream cake. There's nothing better than sugar rush fun.
Kickback Party Games
1. Video games
There is nothing better than a good competitive video game. Playing video games with your friends is a great way to stay connected. There is something to play with on almost every device, whether it is on the couch or online. In the best party games, players do not need to have much video game experience to participate, so anyone can play.
2. Board games
Over the past few decades, party board games have become increasingly popular. Over the years, party board games have evolved and offer varying experiences for all kinds of crowds. From simple, casual word games to intense, palm-sweating social deduction games, party board games have come a long way.
🤓 For great board games ideas check out these Best Board Games For Teenagers
3. Card Games
Depending on the number of guests you have, playing card games can be a fun way to spend time with your friends.
🤓 For more card game ideas have a look at these Fun Card Games For Teens
4. Pool Games
Hanging out by the pool is always fun, so why not have some fun pool games and toys available to kick the party up a notch?
🤓 You might enjoy these Fun Swimming Pool Games For Teens To Play This Summer
Kickback Party Food
1. Finger Foods
Nothing makes a party more fun than finger foods! There's always an excuse to serve appetizers, whether it's a casual get-together or a formal dinner. The party will certainly get started with some bite-sized hors d'oeuvres accompanied by your festive cheese board.
2. Potluck Dinner
Generally, potluck suppers are a wonderful idea: everyone brings one dish to share, and you end up with a feast with plenty of food to share. It can, however, be a challenging event to plan and organize. Your instructions need to be specific, and they must be within the budget and ability of your guests.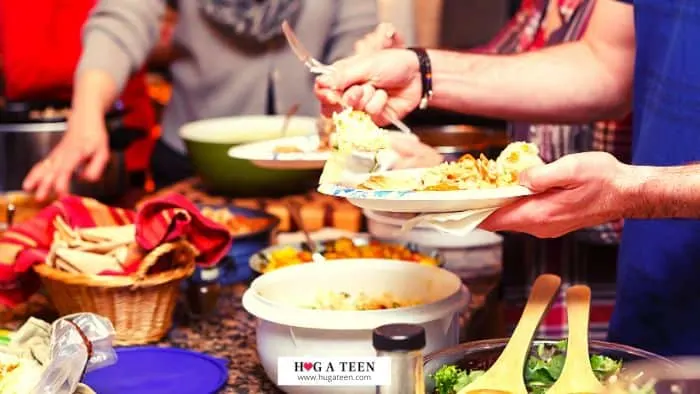 3. Backyard BBQ
This spring, summer, or fall, throw a backyard barbecue for your friends. Kickback parties are the perfect excuse to grill Fall Off the Bone Ribs or BBQ Chicken Burgers. You can ask your guests to bring side dishes. There is likely to be a wide variety of delicious party dishes served to you.
4. Hotdog Bar
Hot dogs can be so fancy and wild and high maintenance in so many amazing ways. Nevertheless, if you are planning to set up a hot dog bar, you need to make sure the toppings are low maintenance. In other words, they can sit in a bowl without getting gross, and they don't need special attention.
5. American TakeOut
One of the easiest genres to work with is American takeout food. The options for easy-to-carry foods and finger foods are so numerous that you can gather them in bulk and take them to any party. Almost all of these are available at local takeout stores for takeout solutions. It is important to pick something that will spread easily to many people at a party, but it should also not be too messy or require a lot of care when eating.
Here are some options for American takeout:
Sandwiches
Fried chicken
Fruit and vegetable platters
Onion rings
Boneless wings – with sauces and flavors to choose from
Donuts, muffins, baked goods
6. Chinese Take Out
There is always something super portable about Chinese takeout. In movies and books, you see and read about it. It's probably impossible to list all the best takeout options, but these are some of the best! They are always a hit at parties and are easy to find for takeout. Some of these are finger foods, while others are not, but they are usually easy to serve and inexpensive to buy so you can feed everyone!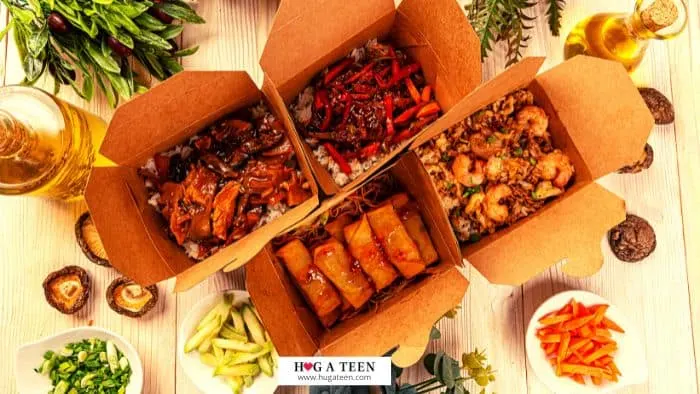 Chinese takeout options for a party include:
Egg rolls or spring rolls
Crab Rangoon
Dumplings
Lo mein
Sweet and sour chicken
Kung Pao Chicken
Fried Rice
7. Italian Take Out
Is there anyone who doesn't like Italian food? There are usually pasta, sauces, and bruschetta available when ordering Italian takeout. With these party dishes, you can feed many people without much effort. There are a lot of pasta options in Italian food. If you like, you could even set up a pasta bar, serving spaghetti, alfredo, penne, and various sauces. These items are options that are good for parties because they are simple and typically come ready to serve.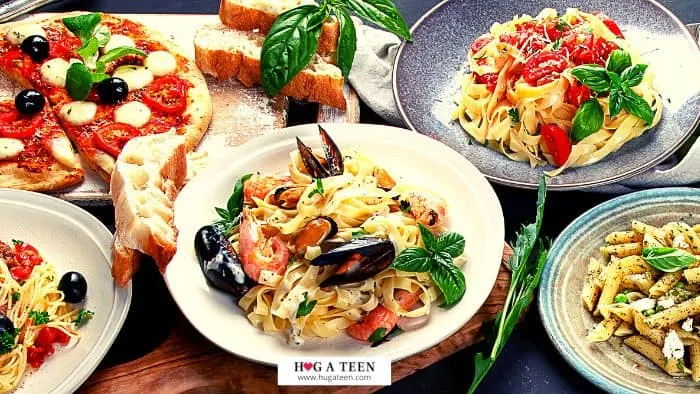 Italian takeout options for a party include:
Pizza
Mini Calzones
Bruschetta
Bread or breadsticks
Arancini di Riso
Lasagna
Alfredo
Pasta Carbonara
Tiramisu
8. Mexican Take Out
Another popular take-out option is Mexican food. Alternatively, you could create your own taco or burrito station and build your own Mexican Food Bar. The type of party snacks and how things are set up would most likely determine how extensive this is. As a host, you can easily accommodate something like this that would not only make the event fun, but also allow everyone to have what they want for an impromptu Mexican party.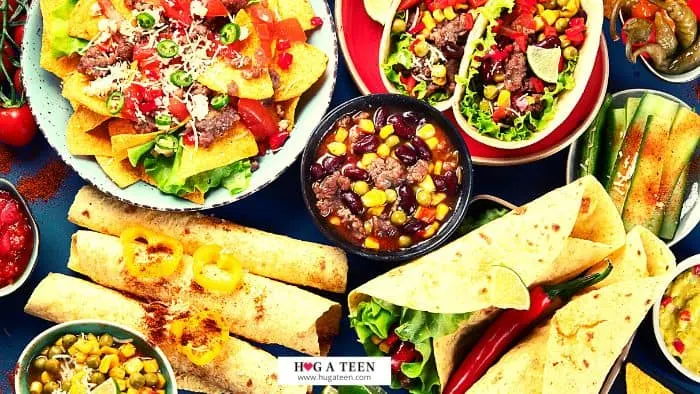 Take a look at these Mexican party takeout ideas:
Tacos
Chips and salsa, guacamole, or queso
Quesadillas
Burritos
Kickback Party Outfit
When deciding what to wear to a kickback party, comfort is key. Opt for casual attire such as jeans, t-shirts, or comfortable dresses. Avoid formal or restrictive clothing, as the atmosphere is relaxed and informal.
You might also want to consider the activities planned for the party – if there's a chance of outdoor games or sitting on the floor, choose your outfit accordingly. Remember, the goal is to relax and enjoy, so wear what makes you feel most comfortable.
Kickback Party Invitations
It is not necessary to send fancy invitations. Your guests only need to be provided with the details and asked to respond. You can send everyone a group WhatsApp with a fun party GIF.
For a more personalized approach, invite your guests by phone. Let them know when, where, and what to bring. It is important to ask guests for an RSVP so that you can easily arrange the setup and determine the number of guests.
Be sure to only invite your closest friends so that it doesn't get out of hand like Adrian Lopez's kickback party.
What is Adrian's kickback party?
Adrian created a digital flyer inviting his friends to a kickback party in Huntington Beach, California. The invite was shared on TikTok and other social media sites. It wasn't long before "Adrian's kickback" went viral and thousands of people showed up at the beach.
Who is Adrian from Adrian's kickback party?
Adrian Lopez is a 17-year-old teenager who became a viral sensation after a party he hosted drew thousands of people to Huntington Beach and led to nearly 200 arrests.
Related Kickback Pary Questions
Here are some answers to common questions about kickback parties:
What should I wear to a kickback party?
Casual attire is best for a kickback party. The key is to be comfortable.
What should I bring to a kickback party?
Ask the host if you can bring anything. Often, guests will bring a dish to share or their own drinks.
How long does a kickback party last?
There's no set time for a kickback party. It could last a few hours, or it could go on into the night. It all depends on the host and the guests.
Conclusion
A kickback party is a great way to enjoy a relaxed, casual gathering with friends. With minimal planning and preparation, you can host a successful kickback party that everyone will enjoy. Remember, the key to a great kickback party is to keep things simple, relaxed, and fun. Happy planning!