Track and field is a highly competitive sport that demands physical and mental toughness from its athletes.
For teenagers who are just beginning to pursue their passion in this field, motivation can play a significant role in their success.
In this article, we will explore some of the most motivational quotes from renowned American track and field athletes that can inspire teenagers to push beyond their limits and achieve their goals.
Track And Field Motivational Quotes
From the importance of mental toughness to the power of positive thinking, these quotes offer valuable insights into the world of track and field and can help young athletes stay focused and motivated as they pursue their dreams.
"It is better to look ahead and prepare than to look back and regret." – Jackie Joyner-Kersee
"RUN! The word itself asks you a question when you spell it out. Are You In?"
"The man who can drive himself further once the effort gets painful is the man who will win." – Roger Bannister
"Motivation is what gets you started. Habit is what keeps you going." – Jim Ryun
"Dreams don't work unless you do."
"It's very hard, in the beginning, to understand that the whole idea is not to beat the other runners. Eventually, you learn that the competition is against the little voice inside you that wants you to quit." – George A. Sheehan
"One step at a time, I get to make positive choices to fulfill my dreams." – Deena Kastor
"The miracle isn't that I finished. The miracle is that I had the courage to start." – John Bingham
"All athletes need three things: commitment, discipline, and hard work. Without that, it's hard to keep running." – Haile Gebrselassie
"Keep your dreams alive. Understand to achieve anything requires faith and belief in yourself, vision, hard work, determination, and dedication. Remember all things are possible for those who believe." – Gail Devers
"Don't listen to negative influences. Believe in yourself, and show others what you can do. Only "you" can find your potential." – Marla Runyan
"If you don't have confidence, you'll always find a way not to win." – Carl Lewis
"Good things come slow. Especially in distance running." – Bill Dellinger
"Before a race, I block out what's going on in the stadium. It's different for everyone. But for me, I've always been able to block it out. For a sprint race, it's important not to get distracted." – Allyson Felix
"Run like hell and get the agony over with." – Clarence DeMar
"In running, it is the man against himself, the cruelest of opponents. The other runners are not the real enemies. His adversary lies within him, in his ability with brain and heart to master himself and his emotions." – Glenn Cunningham
"Run like there's a hot guy in front of you and a creepy one behind you."
"The body does not want you to do this. As you run, it tells you to stop, but the mind must be strong. You always go too far for your body." – Jacqueline Gareau
"The difference between the impossible and the possible lies in determination." – Usain Bolt
"When you finally realize your gifts and talents, joy and satisfaction come as you walk in your purpose." – Sanya Richards-Ross
"Ability is what you're capable of doing. Motivation determines what you do. Attitude determines how well you do it." – Lou Holtz
"There is something about the ritual of the race – putting on the number, lining up, being timed – that brings out the best in us." – Grete Waitz
"If you run your race, you'll win… channel your energy. Focus." – Carl Lewis
Motivational Quotes For Athletes
To help inspire and encourage young athletes, many American track and field athletes have shared their favorite athletic quotes that reflect the true spirit of the sport. Constant training pays off, so hopefully, these famous sports quotes will help keep your teen athlete active.
"Don't dream of winning, train for it!" – Mo Farah
"Train insane, or remain the same!"
"It is in experiencing and accepting the pain of defeat, that we may truly acknowledge the joy of victory." – Andre Bramble
"Sports psychology is a very small part, but it's extremely important when you're winning and losing races by hundredths and even thousandths of a second." – Michael Johnson
"Do not let what you cannot do interfere with what you can do." – John Wooden
"Strive for progress, not perfection."
"I am a sprinter, and I love to go fast. It's very difficult for me to be patient and follow a race strategy or conserve energy." -Allyson Felix
"If you change nothing, nothing will change."
"Life is a marathon, not a sprint; pace yourself accordingly." – Amby Burfoot
"The ability to grow is directly related to the amount of insecurity you can take in your life." – Bruce Jenner
"It doesn't get easier, you get stronger."
"One skill that separates good from almost-good runners is an ability to concentrate for an entire race, whether it is a mile or a marathon." – Kara Goucher
"To know you are one with what you are doing, to know that you are a complete athlete, begins with believing you are a runner." – Dr. George Sheehan
"Success isn't how far you go but the distance you travel from where you started." – Steve Prefontaine
"It does not matter how slowly you go so long as you do not stop." – Confucious
"The pain you feel today, will be the strength you feel tomorrow."
"I also realize that winning doesn't always mean getting first place; it means getting the best out of yourself." – Meb Keflezighi
"Once you're beat mentally, you might as well not even go to the starting line." – Todd Williams
"You cannot propel yourself forward by patting yourself on the back." – Steve Prefontaine
"We crave instant success these days. If you are a really good sprinter and long jumper, you don't want to spend two or three years on a whole new set of events. You're used to doing well, and it's difficult to give that up." – Daley Thompson
"I don't have any close friends that are my competitors. I think that's just the nature of being a sprinter." – Christian Coleman
Running Inspiration Quotes
Running is a challenging but rewarding activity that requires discipline, dedication, and perseverance. As teenagers begin to explore their passion for running, they may look for inspiration to stay motivated and focused on their goals.
Professional runners are often a great source of inspiration, and many of them have shared their favorite quotes that capture the true measure of the sport.
In this list, we have compiled some of the most inspiring and motivational quotes for runners from renowned professional runners.
These quotes offer valuable insights into the mental and physical aspects of running and can inspire teenagers to push beyond their limits and achieve their full potential.
"Running reminded me exactly who I am and what I am made of." – Lynn Jennings
"Life is better when you're running."
"Doing something for yourself, like running, and using it to test yourself, will only make you feel better about your career or your family role." – Joan Benoit
"Running is in my blood-the adrenaline flows before the races, the love/hate of butterflies in your stomach." – Marcus O'Sullivan
"Your sweat is your fat crying. Keep it up."
"Every run has the potential to transform us from who we are to the person we're becoming. Every step on every run could be the one that begins our metamorphosis from who we've always been to what we've always wanted to be." – John Bingham and Jenny Hadfield
"Run like you stole something."
"Run when you can, walk if you have to, crawl if you must, just never give up." – Dean Kamazes
"Good health, peace of mind, being outdoors, camaraderie: those are all wonderful things that come to you when running. But for me, the real pull of running—the proverbial icing on the cake—has always been racing." – Bill Rodgers
"Good things come slow. Especially in distance running." – Bill Dellinger
"Let your downhills carry you up hill!"
"I want my time spent running to serve as a reward." – Frank Shorter
"Running is my meditation, mind flush, cosmic telephone, mood elevator, and spiritual communion." – Lorraine Moller
"Everything you need is already inside."
Track And Field Instagram Captions
When it comes to sharing your passion for track and field on social media, the right Instagram caption can make all the difference.
Whether you're celebrating a personal achievement or simply sharing your love for the sport, these track and field Instagram captions will help you capture the true spirit of the game.
"When your legs can't run anymore, run with your heart."
"You can't win them all, but you can try." – Babe Didrikson Zaharias
"You can't flirt with the track. You must marry it."
"The real competition is against the little voice inside you that wants to quit." – George A. Sheehan
"Every runner has excuses, but a champion never uses them."
"Even if you're on the right track, you'll get run over if you just sit there."
"Track is such a great metaphor for life…You try to jump as from where you started as you can, you throw all the heavy stuff away from you, and when life's hurdles knock you down, you get right back up."
"Running sets me free!"
"The long run is what puts the tiger in the cat."
"If you're not ready to fall, you're not ready to hurdle." – Tonie Campbell
"One chance is all you need."
"The burn is my girlfriend, failure is my ex. I'm married to the track and engaged to success." – Andre Bramble
"As strong as my legs are, it is my mind that has made me a champion."
"Limitations only exist if you let them."
Inspirational Quotes For Track
Track and field is a sport that requires immense physical and mental strength, making it essential for athletes to stay motivated throughout their training and competitions.
To help inspire and encourage, we have compiled a list of track quotes. From famous quotes by international track stars to words of wisdom from coaches, these motivational track quotes can help athletes maintain focus and determination during track events.
Whether you're a sprinter or a long-distance runner, these inspirational quotes for track are sure to inspire and uplift you during your training and competition.
"Don't run away from challenges, run over them!"
"One of the main techniques I used was focusing on the goal and visualizing myself competing in the race before the race started." – Michael Johnson
"Sometimes you just do things." – Scott Jurek
"I ran and ran and ran every day, and I acquired this sense of determination, this sense of spirit that I would never, never give up, no matter what else happened." – Wilma Rudolph
"To be number one, you have to train like you're number two." – Maurice Greene
"Track and field is the best way to reach out for kids. It doesn't matter how fast you are. You always want to beat someone." – Carl Lewis
"To me, the runner's high is a sensational reaction to a great run! It's an exhilarating feeling of satisfaction and achievement." – Sasha Azevedo
"Run every race like it's your last." – Sierrah Negrette
"There is no time to think about how much I hurt; there is only time to run." – Ben Logsdon
"There is magic in misery." – Dean Karnazes
"In running, it is the man against himself, the cruelest of opponents. The other runners are not the real enemies. His adversary lies within him, in his ability with brain and heart to master himself and his emotions." – Glenn Cunningham
Determination Track And Field Quotes
"A goal is just an awesome way to force growth on yourself." – Deena Kastor
"Nobody goes undefeated all the time. If you can pick up after a crushing defeat and go on to win again, you are going to be a champion someday." – Wilma Rudolph
"The gun goes off, and everything changes, the world changes, and nothing else really matters." – Patti Sue Plummer
"The art form is to become one with the hurdle, to make it your friend, and I embraced that process." – Renaldo Nehemiah
"Somewhere in the world, someone is training when you are not. When you race him, he will win." – Tom Fleming
"Hurdling requires more than just speed. It requires flexibility, strength, and courage." – Reggie Towns
"Nothing, not even pain, lasts forever." – Kim Cowart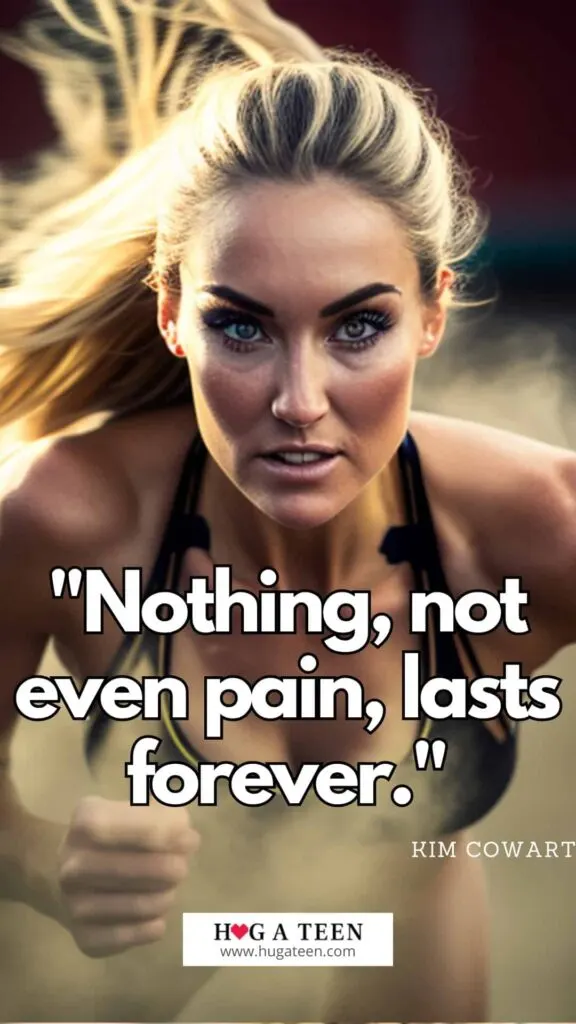 "When you put yourself on the line in a race and expose yourself to the unknown, you learn things about yourself that are very exciting." – Doris Brown Heritage
"A lot of people think track, you just run, that's all you do. No. There's a lot of technical aspects to it as well. A sprinter is not just going to get out of the blocks and start running. You do that, you're going to get embarrassed every time." – Marquise Goodwin
"All my life, I believed I became an athlete through my own determination, but it's impossible to think that being descended from slaves hasn't left an imprint through the generations." – Michael Johnson
I hope you found these quotes in this article helpful and that your teen got some inspiration from them. Here's to never giving up – go on and break records!