Does your teen love drawing?
When I was a teenager, I spent hours drawing my teen idols.
Today there are so many new and exciting art and craft kits to help teens express their creativity.
Whether your teen enjoys drawing or is looking for another creative outlet, I've got you covered.
I share the latest, coolest art kits for teens.
Discover my recommendations for general art kits for sketching, drawing, and painting, as well as some unique new art kits for hand lettering, graffiti, string art, gilded art, light-up wire art, textile art, screen printing, and much more.
All Media Art Kit
If your teen is looking for an all-media art kit, then you can't go wrong with the Modera Deluxe Artist Painting Set.
This 137-piece professional art paint supplies kit comes with field & desk easels so that they can paint inside or outside, depending on their mood.
It includes watercolor paints, acrylic paints as well as oil paints, so you can practice using every medium.
The set includes:
24 x 12ml watercolor tubes
24 x 12ml acrylic paint tubes
24 x 12ml oil paint tubes
2 x stretched canvas
6 x canvas panel
12 x watercolor sheets
12 x acrylic sheets
12 x oil paint sheets
15 nylon short-hair oil/acrylic brushes
15 brush set
15 artist brushes
7 nylon paint brush set
Adjustable wooden desk easel with drawer
Aluminum lightweight adjustable standing easel
2 palettes
Knife set
Color wheel
Washing basin
All neatly packaged in a large carry and storage bag.
Sketching Kit
For sketching, I recommend this drawing set which includes sketching and charcoal pencils, as well as a 100-page drawing pad for hours of creative fun.
Complete Drawing Kit Includes:
12 graphite pencils (8B,6B,5B,4B,3B,2B,B, HB,2H,3H,4H,5H)
100 sheet full 9×12 inch drawing pad
4 pastel pencils
1 ultra-soft all-graphite woodless specialist pencil
2 sharpeners for graphite and charcoal pencils
3 charcoal pencils in soft, medium, and hard
3 graphite and 3 charcoal sticks in soft, medium, and hard
1 kneaded eraser
1 plastic/vinyl eraser
1 sandpaper block
2 stump blenders
1 pencil extender
1 artist knife
1 nylon bag
4 willow charcoal vines
Color Art Kit
For drawing and coloring, this art set includes everything your teen's heart might desire.
This highly rated 142 piece deluxe art set includes :
60 crayons
24 colored pencils
24 oil pastels
24 watercolor cakes
3 mixing palettes
2 sketch pencils
2 paintbrushes
1 color chart
1 eraser
All these art supplies are packed neatly into a deluxe wooden case with a removal drawer for convenient storage.
Watercolor Art Set
For watercolor enthusiasts, I recommend this watercolor paint set which includes 42 vibrant premium colors plus 6 metallic colors, which is not often included in watercolor art sets.
The two refillable water brush pens offer an alternative to your usual paintbrush as well.
The sturdy metal box lid has 3 partitions that can be used as a mixing palette for easy blending of watercolors.
Your teen can practice on the included 20 watercolor papers to perfect their painting skills.
Watch the video below which tests the paints and shows you how to use the refillable water brush pen.
Acrylic Art Set
There are many acrylic paint sets to choose from, so I chose this Meeden set as it has the most colors options and quantity of paint per tube. It also comes with painting tools, making it the best value for money and highest rated option available.
This set includes:
48 vivid colors in 22ml/ 0.74 oz tubes
10 paintbrushes in zip-up case
2 canvas panels
15 sheet acrylic paint pad
wooden paint palette
plastic paint knife set
mixing color wheel
premium easel box
Acrylic paint glides on smoothly and dries quickly on several surfaces, including canvas, wood, rocks, glass, fabrics, stone, metal, plastic, ceramics, blackboard, paper, Styrofoam, plaster, terra cotta, and tin.
Oil Paint Art Set
The Norberg & Linden oil paint set comes highly recommended as a great starter oil painting set for teens.
The pack comes with 24 x 12 ml professional oil paint tubes, a metal paint palette, and a selection of 25 oil paint brushes, and an 8×10 stretched canvas panel.
This complete high-quality oil paint set is perfect for anyone wanting to start a new hobby.
Hand Lettering Art Set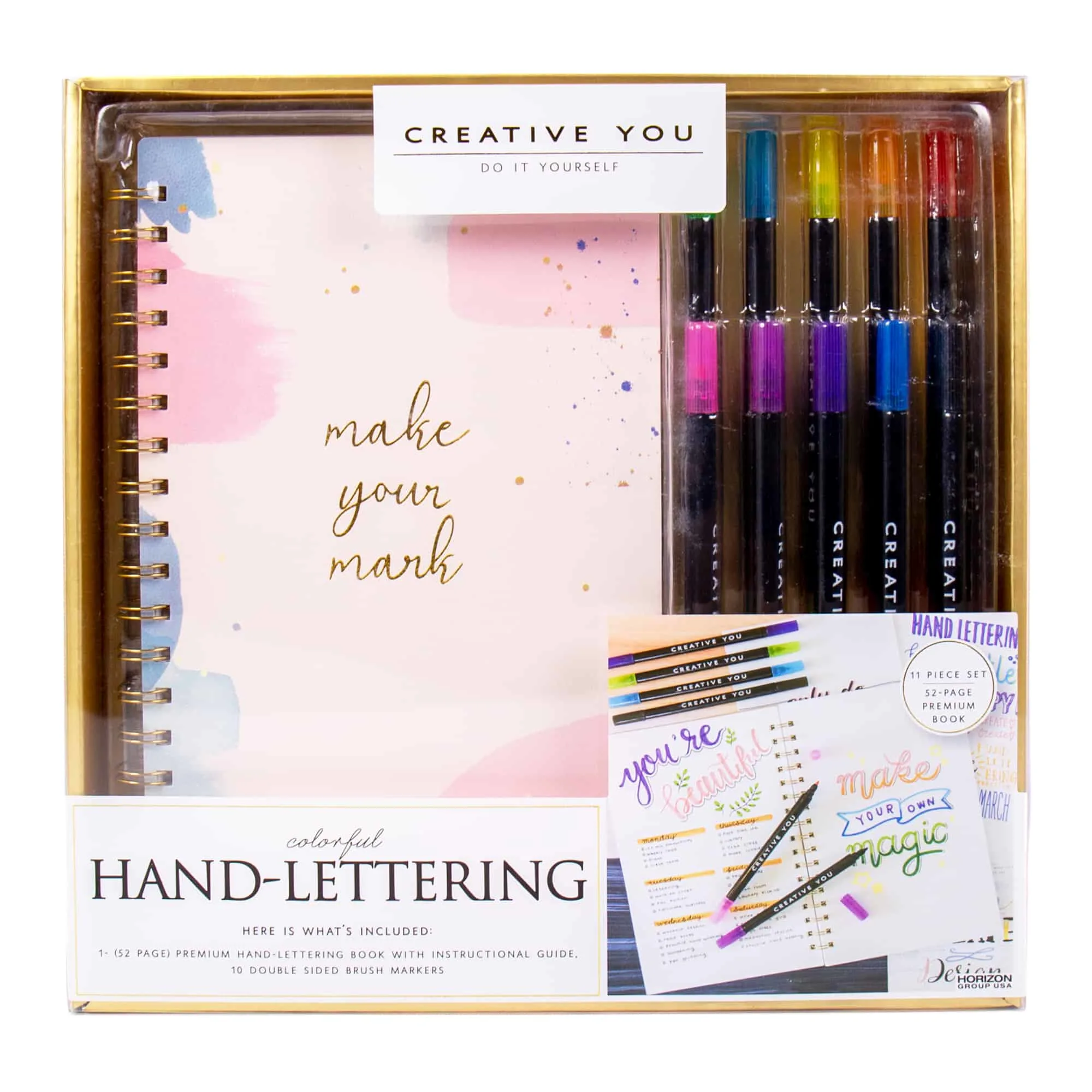 This lettering art set for teens contains the essentials to practice hand lettering.
The beautiful journal has lovely thick pages, so the ink does not bleed through.
The first couple of pages contain instructions and sample letters to practice, while the rest of the pages in the journal are blank to create your own letter art designs and embellishments.
The pens are very colorful and have a nice fine point tip on one side and a brush pen on the other.
Colors of double-sided brush pen include black, blue, green, orange, pink, purple, yellow, red, light blue, light purple.
Kit Includes:
1 Premium Spiral Bound Hand-Lettering Book – 26 pages
Instructional Guide
10 Double-Sided Brush Markers
It's a lovely starter art set for teens wanting to give creative hand lettering a try.
Light-Up Wire Art Kit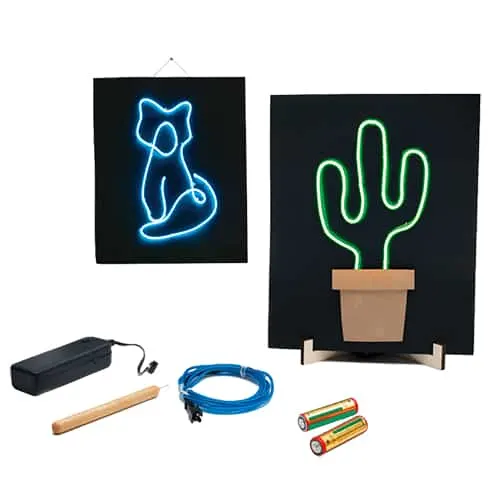 Not all art is done with a pen and paper.
For your more adventurous artist, why not let them create neon signs with EL wire.
They can choose from five existing templates or create their own.
Hang or display their signs on the included wooden stand, and turn them on to show how they glow.
Diamond Painting Art Kit
Diamond painting is a highly recommend art form as anyone can do it, regardless of artistic ability.
Diamond painting combines cross-stitch and paint-by-numbers. Each rhinestone is individually applied to an adhesive picture on a color-coded canvas with an applicator. The final product is a vibrant, shimmering work of art.
Even though most kits do come with everything you need to create your artwork, many diamond artists do recommend that you should invest in some extra tools, like an LED artcraft tracing light table, to make diamond painting easier, if you're going to take this up as a hobby.


Gilding Art Kit
Ever wanted to learn how to gild with gold metal leaf?
"Gilding is a decorative technique for applying a very thin coating of gold to solid surfaces such as metal, wood, porcelain, or stone. A gilded object is also described as "gilt". Wikipedia
This gild art kit lets you practice using gilding tools like a burnisher made of genuine agate.
Stick gleaming metal leaf in gold, rose gold, or silver onto faux-leather squares, journals, and bookmarks.
Textile Art Kit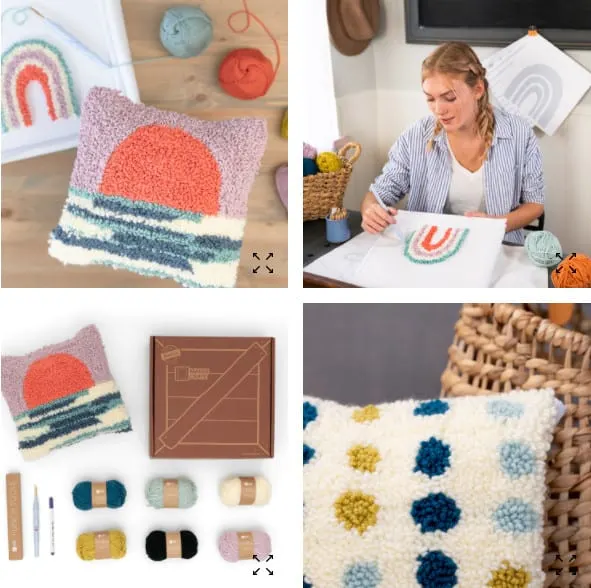 If your teen wants to try something different, this punch needle pillow textile art kit will give her endless opportunities to explore new talents.
Make the design for your punch-needle pillow, transfer it to the fabric, and mount it on the punch frame.
You'll learn how to use (and thread!) the punch needle so that you can fill in your project with colorful, fluffy yarn.
Then, sew and stuff your pillowcase so you can display your finished work!
Paint-By-Numbers Art Kit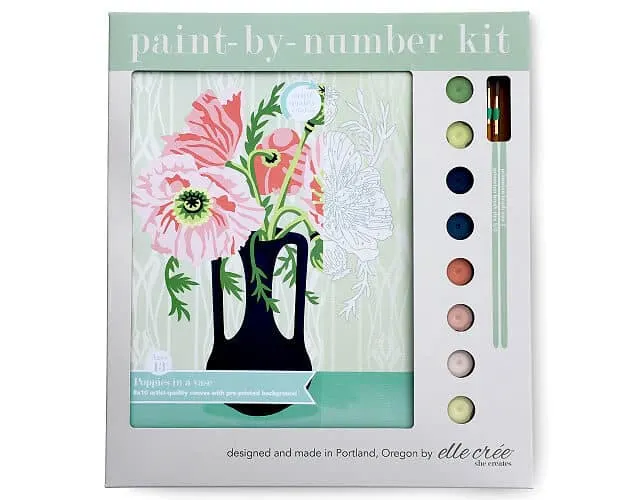 If your teen isn't a skilled artist yet but loves being creative, then a paint by number art kit is the way to go.
Rachel Austen's simple designs use just eight colors, keeping it easy yet fun.
The kit includes everything you need:
Painted canvas background with a pre-printed background in full color
Synthetic brushes with sable hair
Water-based acrylics with no toxins
Includes:
8×10″ Canvas
2 Paint Brushes
8 BPA-Free Paint Pots
Screen Printing Kit
You'll find everything you need to design and print your own cool T-shirts, totes, and more.
Print your own sayings on a T-shirt with this easy-to-use printing kit.
Because there is no electricity or heat used, the manual process is safe and mess-free for beginners, and chemical-free ink is easily cleaned with soap and water.
This kit contains a step-by-step guide, along with the materials you need, including graphics to enhance your ideas.
Bring your own T-shirt (or tote bag, tea towel, or any other fabric piece) and start creating personalized gifts, banners, event giveaways, and artwork.
Includes:
Wood screen, pre-stretched
Wood squeegee
100ml Black fabric ink
Reusable vinyl graphic templates
Reusable full typeset
Blank reusable vinyl to create your own design
2 Wood spatulas
Step-by-step guide
Glow-In-The Dark Rock Painting Kit
Rock painting is such a fun activity for kids and teens.
This awesome glow-in-the-dark rock painting kit includes 10 rocks and waterproof rock painting supplies.
Get creative and watch your painted rock glow in the dark, or hide some rocks in your community for others to hide and enjoy.
Paint Pouring Kit
Tweens will love exploring their creative side with this paint pour set. Simply mix, layer, drip, and pour acrylic paint to create fluid art designs!
Inside this washable paint set, they'll find everything they need to create their pour paint creations.
Includes:
5 ready to pour paint colors
2 large & 4 small canvases
Painting station
Disposable cups
Apron and gloves
Glitter, start confetti & stickers
Straws & a pipette
The unique "magic cell" paint formula allows you to create unique patterns and designs. Unlike other paint pouring sets, this particular paint formula is ready to pour right out of the box – no mixing or measuring is required.
It's an incredibly easy and enjoyable way of tapping into their inner artist as well. A number of tools are included for preventing messes.
3D Art Coloring Kit
Create eye-catching artwork!
This Fantasy Freaks kit comes with four picture boards, seven felt-tip markers, and 3-D glasses so you can finish your project in 3-D.
Check out the Funny Freaks kit for more options.
Comic Book Kit
Perfect for fans of comic books and graphic novels.
This kit provides everything your teen will need to create their epic, illustrated superhero stories.
It contains books that come with blank cells, allowing for endless creative possibilities. Illustrations come to life with colorful markers, while bubble text is created with easy-to-use stencil templates.
To add to the fun, rubber stamps feature classic comic book expressions and shapes.
Includes:
blank comic book
markers
stencil templates
rubber stamps
ink pads
bottles of ink
storage box
It makes a perfect gift for any comic book fan!
Graffiti Art Kit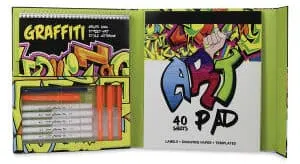 This petite Graffiti Kit can teach kids how to make graffiti-style lettering.
The kit includes instruction on a variety of street-inspired graffiti lettering styles, as well as cool 3-D effects and all the supplies needed to create multiple works of art.
This makes an awesome gift for any aspiring street artist.
Kit includes:
Art paper pad with labels
5 Broad/medium dual-tip markers
4 Neon highlighters
Fine-tip marker
Pencil
Instruction book
Calligraphy Kit
Give young artists this award-winning calligraphy kit with an instruction booklet and supplies.
Contains quality supplies, detailed directions, and traceable alphabets in one start-up kit!
Included are beginner-friendly Nib, Pen, Ink & Calligraphy Paper. Suitable for both left- and right-handed users.
Mosaic Art Kit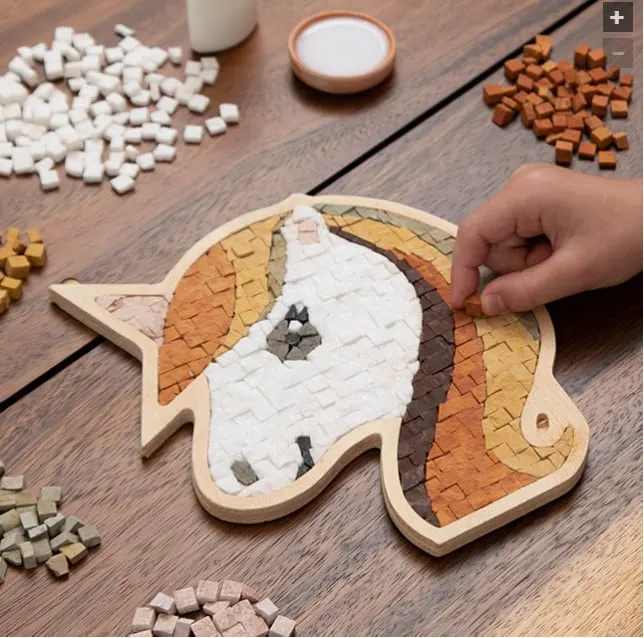 A professional-quality mosaic made easy!
The unique thing about this kit is that Tunisian mosaic artists have carefully cut all the genuine, natural stones. Then you just have to put them together like a jigsaw puzzle.
A photograph of the finished mosaic is fitted into the wood frame. Dip each piece in the glue before sticking it on the frame, using the picture as a guide. Fill the enclosed dish with glue and dip each piece in the glue before sticking it on.
In the end, you will have a beautiful, majestic unicorn design. It has a metal hanging loop already attached to the back of the frame for easy display.
With this Make A Real Mosaic Unicorn kit, you'll find out just how fun and easy mosaics can be.
Includes:
natural stone tiles
pre-assembled wood frame
glue bottle
glue dish
detailed instructions included
The finished mosaic measures 8.75 x 7.75 inches
String Art Kit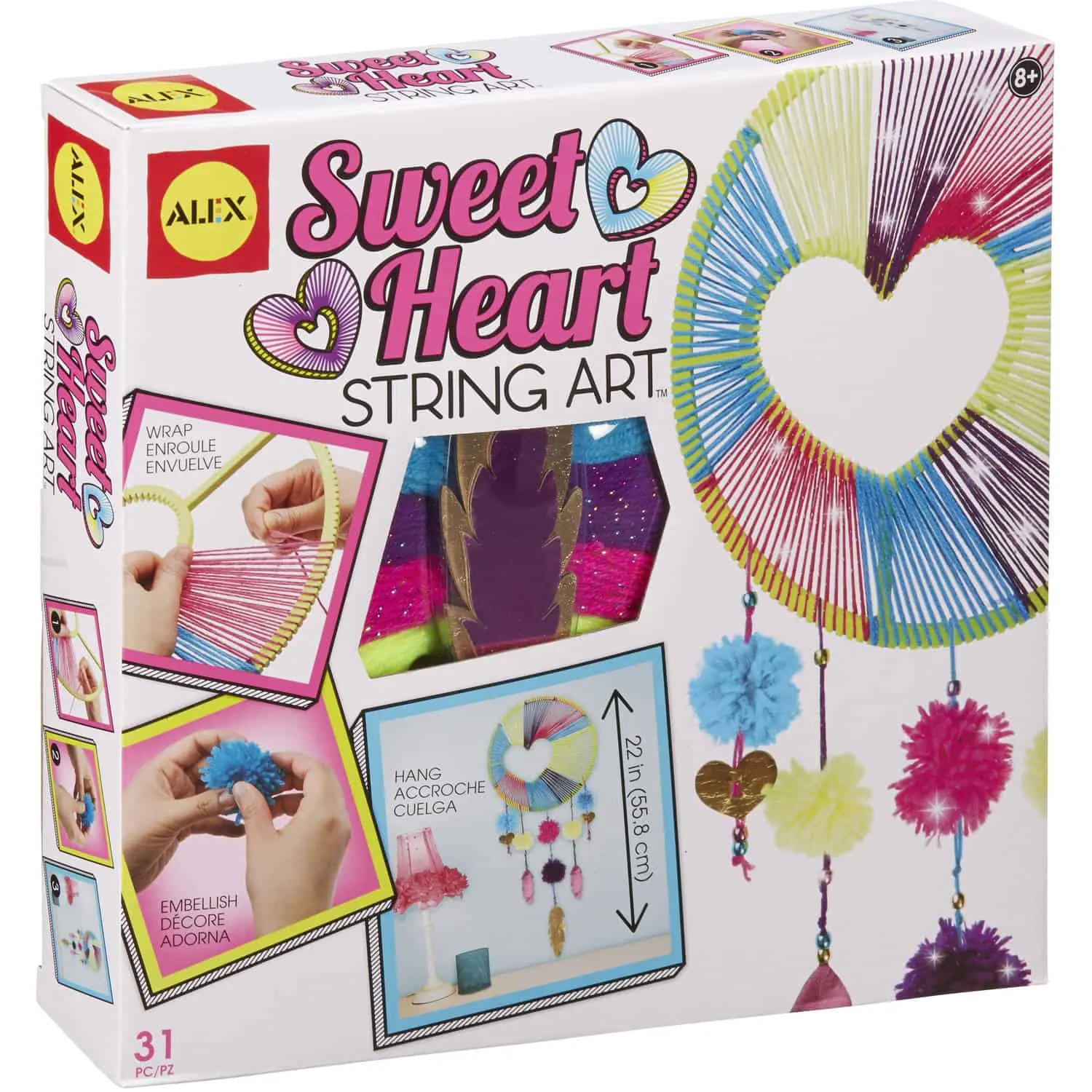 This string art set makes a super cute dream catcher without using pins or nails. The plastic mold simply allows you to wrap the colorful yarn around the frame, decorate, and hang.
Add shimmering yarns, golden beads, and shiny faux leather feathers!
Includes:
11in. x 11in. (28cm x 28cm) plastic notched hoop
4 colors of yarn
20 metallic pony beads
5 metallic faux leather shapes
plastic needle
Instructions
Scratch-Art kit
Scratch-art is another fantastic and fun way to get your teens off their devices and be creative.
These scratch art products have bright colors hidden behind a matte black coating. The beautiful images are displayed as a grey foil layer, indicating where you need to scratch. Use the scratch pen (included) for scratching off gray-colored sketches, revealing the beautiful colors and drawing underneath.
This scratch art kit for teens includes:
8x Sheets Scratch Cards
1 x Scratch Pen
1x Clean Brush
2 x Wood Stylus Stick
I chose to highlight the Animal scratch art option; however, they also offer several other versions, including this Fireworks & Girls, which I love as well.
Nail Art Kit
A nail art kit is something right up my alley. I would have loved to have this as a teen, as I used to draw my nail designs on paper and then stick them on. You can imagine that I'm obsessed and somewhat jealous of the type of art kits teens can get today.
Nail art kit includes the essential tools needed to DIY nail art for beginners:
10 box nail glitter
2 box nail rhinestones
5pcs golden nail sticker
1 nail file
4 nail color
1 nail dryer
1 nail buffer
nail brush
nail separator
carry case
FlipBook Kit
If your teen enjoys drawing cartoons, this flipbook art set is an excellent investment to upgrade their skills.
This set comes with a light pad for drawing and quality flipbook paper with holes and binding screws, giving them everything they need to create amazing animations.
The A5 ultra-thin Portable LED Light Box is anti-slip and adjustable, so you can keep everything in place and set the brightness to your preference.
If you want a bigger option, they do offer a larger A4 option as well.
They were designed by people who work in animation movies, so they've thought of everything to make the process as easy as possible. This makes a fantastic gift for any creative teen.