Bucket lists are a great way to document all the fun things that you might like to do. You could make a bucket list of fun summer activities for your next summer holiday, for what you'd like to achieve in the next 10 years, or even a list of things you'd like to do before you leave this earth.
Creating bucket lists for teenagers helps them focus on looking for and enjoying experiences rather than things. It's a great way to get your teen to think about exciting things they'd like to do other than playing video games or watching Netflix – even though these may be on their bucket list, too, if they wish.
This bucket list for teenagers includes things to do on their own, things to do with a best friend, and things to do with a group of friends. Whether you're looking for cool activities for teens to do inside or outside, there are over 100 fun bucket list ideas for you to choose from.
Ready to create the best summer bucket list for your & your friends? Let's go!
Bucket List Ideas To Do On Your Own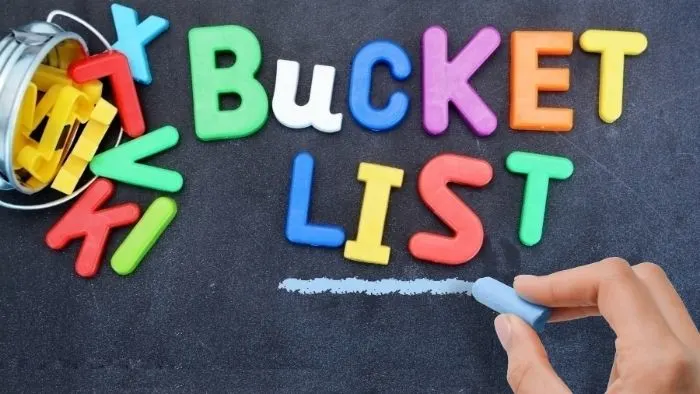 Take a photo every day for a month or for the whole holidays, and then make a video of it at the end of Summer. This is one of my favorite summer bucket list ideas or challenge that you can do on your own, or even share with friends.
Drastically change your hair – try a new haircut or color your hair a bright color. Once you're out of school or college you won't have long Summer holidays to experiment with your hair, so now's the time to play around and color it blue or pink.
Make a scrapbook of all your best memories from this school year.
Handwrite a letter and post it to your best friend telling them what you like most about them. Or write a letter to your grandparents, who will appreciate a letter from you more than you can ever imagine.
Write a letter to your future self. Explain how you're feeling today and what you want to achieve in 5 or 10 years. You can even create a time capsule and put several items in it, so remind you of what you were interested in and what was happening at this time.
Waterproof Time Capsule
Make a collage or vision board of all your dreams & goals for the future.
Try a new food. There might be foods that you've never tried before, or even some that you didn't like as a small kid, but might like now. You could even make it a challenge with a friend to make it more fun.
Make an origami animal. Origami is fun and can be challenging if you're trying more difficult designs. Start with some simple origami tutorials and work your way up to harder designs as you progress.
Go to the movies or to a restaurant alone. Take some time to just enjoy your own company. Put away your phone and just look at the people around you.
Cook dinner for your parents or family. It could be fun to include other siblings as well.
Read a classic novel…for fun. You might have read some for school, but there are several classic novels that you might not have read yet. Perhaps 1984 by George Orwell, A Wrinkle In Time by Madeliene L'Engle, or The Bluest Eye by Toni Morrison will make it onto the teenage reading bucket list.
Clear out your cupboards. Throw out or donate any clothes you haven't worn for a while. It's a good habit to start early on anyway, as clothes tend to pile up quickly. You can do the same with books and toys, and have a garage sale, and make some money selling stuff you don't want. It's not only therapeutic to get rid of stuff you don't use, you'll even earn some extra cash.
Visit an interesting museum or exhibition. There may be a new art exhibition that you've read about, or if it's not near you, there are even virtual online exhibitions to view.
Redecorate or at least rearrange your bedroom. Or perhaps you can convince your parents to create ateen hangout room for you and your friends.
Binge-watch a series on Netflix.
Find the best online fashion deals and buy a whole outfit under $50. Top tip – always look on a site Sale or Clearance page first to see if there might be something perfect for you before buying full-priced items.
Set a personal challenge for yourself to complete by the end of Summer – i.e., it can be to learn a new skill, climb a mountain, help someone, etc.
Create the best music playlist. Every time you hear a song you love, add it to your playlist. This is a great way to build up an epic playlist for yourself and for when friends come over.
Help someone. It could be a small act of kindness like helping a frail person with their shopping, buying a homeless person a meal, or helping your dad clear out the garage.
Make an effort to chat with an older person who looks lonely. Ask them what they did in their Summer holidays. You'll be surprised by how much freedom the older generation had and what they got up to.
Go without a screen for 24 hours. It may sound easy, but it's strangely hard. Just switch it all off and place it in a drawer. It helps to go and spend your day outside, or better yet, go camping where there's no wifi anyway.
Finish a 1000 piece puzzle.
Start a journal. It's not only interesting to write down your hopes and dreams for the future but also quite cathartic to write down the thoughts, fears, and emotions that you're feeling today.
If writing isn't quite your thing, then you can create a scrapbook instead. There are many ways to decorate and personalize it.
Plan a dream trip. Although travel is different during and probably for many years after this pandemic, we can always dream. We're also fortunate to live in a time where you can travel vicariously through travel blogs, YouTube, and even Google maps. Choose a location anywhere in the world, and you can see a street view of what it looks like. There are even videos where you can see people driving in different cities and listen to their local radio station.
Try to break a world record. Depending on what you're into or what skills you have you might be able to find something on the Guinness World Records that you can beat.
Try a new exercise like yoga or pilates. Or develop your own home workout.
Bucket List Ideas To Learn A New Skill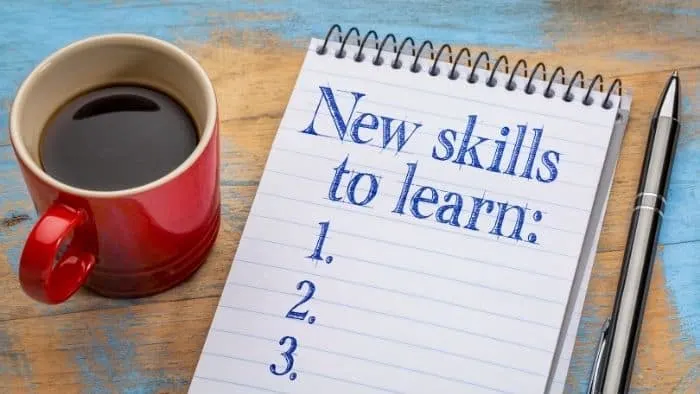 Learn to cook your favorite meal or food. Perhaps you love DimSum or sushi, now's the time to learn how to make it yourself.
Learn how to use chopsticks. If you love Asian food then you might enjoy learning this skill. Practice makes perfect!
Learn to play an instrument. There are so many videos online teaching you the basics of how to play the guitar or the piano.
Bake an extreme cake or learn how to make cake pops.
Learn to rollerblade, skateboard, or ice skate.
Take a surfing lesson.
Learn how to braid your hair.
Learn how to make your own jewelry, like rings, bracelets, or earrings.
Get a fun Summer job, or start your own business. It's never too early (or late) to learn a new skill and start making some money.
Learn how to do your own manicures.
Learn to drive (safely!) 👍
Start a new hobby. Check out our list of Hobbies For Teenage Boys, and Hobbies For Teen Girls.
Learn how to make healthy snacks for yourself. Whether you like savory or sweet treats, there are several healthy snack ideas for you to choose from.
Learn how to play poker or chess, or a new card or board game.
Learn how to make your own soaps or bath bombs.
Learn how to do laundry. Yes, this might not be on your bucket list of things you want to do, but it is on the list of things you should know how to do before you go off to college.
Learn how to make homemade ice cream. You can thank me later 😉
Learn how to finish a Rubik's cube. There are algorithms for this so it can be learned.
Build something. It could be as simple as a bird feeder or more tricky like a bike ramp.
Learn a magic trick.
Learn how to touch type with two hands
Grow your own herbs or vegetables.
Learn a new language. There are several apps like Rosetta Stone, Memrise, and Mondly that can help you.
Start your own blog. Your blog can be about anything you're interested in. Many teens love gaming, but you might have a lot of knowledge about fishing or hiking trails or you could write about how to make some extra pocket money as a teen.
📢 You might also be interested in reading: Helping Your Teenager Find Their Passion (Tips & Activities)
Bucket List Ideas To Do With A Friend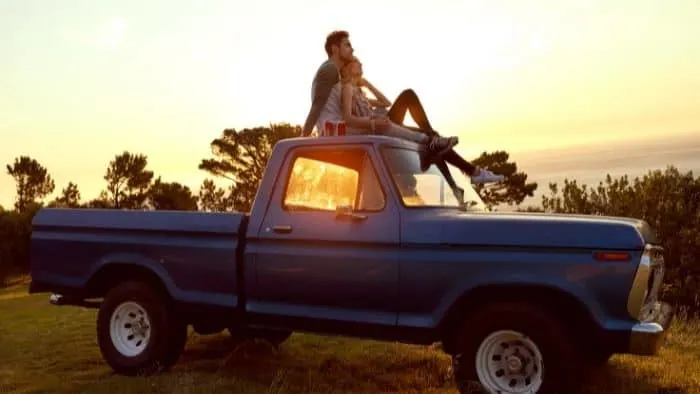 Be a tourist in your own city. Take some time out and just wander around your town or city. Visit local attractions and try out a new restaurant.
Create a YouTube video.
Take a road trip. If you're old enough to lift your friends then a road trip is an amazing way to spend some time with your bestie. Just to be sure to let your parents know your route and destinations and stay in touch regularly.
Go indoor skydiving or indoor skiing.
Depending on your age, you can either go on a day hike or even go backpacking with a friend.
Volunteer – at a local animal shelter or nursing home.
Visit a college campus that you're interested in attending after graduation. You can make it a fun day outing with a friend (and parent).
Spend a day with a younger sibling or cousin. They'll love you forever for showing interest in them and what they like doing, and you'll most likely enjoy hanging out with them as they have so much energy and just a zest for life that can be infectious.
Go kayaking, canoeing, or even paddleboarding on a lake or down a river.
Take a guided tour rafting or tubing down a river.
Go fishing. Perhaps you've never been fishing before but have always been interested. Find a friend who knows how to fish and spend the day hanging out together while learning a new skill.
Go on a special date with your boyfriend or girlfriend. Here are some First Date Ideas For Teens that might help.
Learn how to tie-dye. You can even learn how to Reverse Tie-Dye if you're looking for something more edgy and interesting.
Play mini-golf or putt-putt golf.
Go go-karting.
Go to a baseball game. Do you know the answer: How Many Stitches Are On A Baseball?
Visit a farm. There are amazing things to do at farms like picking strawberries, milking cows, or even flower picking.
Go ziplining. Zipping along the treetops is an exciting summer activity to do with friends and family.
Learn a new TikTok dance.
Rent a jet ski for an hour or two – but remember that you need to be 16 years oldto ride a jet ski. You must show them a valid photo ID, and you must have a signed waiver from a parent or guardian if you're under 18 years old.
Visit a batting cage or driving range and hit some balls.
Buy or borrow a metal detector and go treasure hunting with a friend.
Grab a friend and go on a long bike ride. Set your course, so you know how long you need to complete your trip, and so that your parents know the route you've taken.
Bucket List Ideas To Do With A Group Of Friends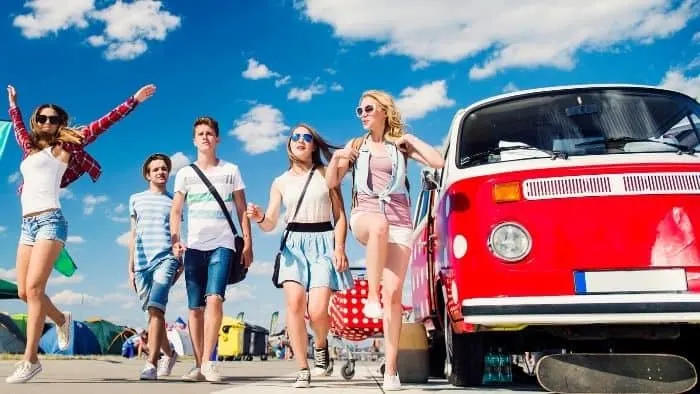 Participate in Senior Skip Day at school.
Host a White Lie T-Shirt Party
Visit a nearby city or town that you've never been to.
Pull a fun all-nighter. It's fun to try but most likely some of you won't make it to sunrise. Just be sure to have loads of movies, games, and snacks available.
See your favorite band in concert
Watch the sunrise. You can either pull an all-nighter, but it's probably best to set your alarm early and go out to your favorite spot to watch the sunrise. You'll have the best day ever!
Have an epic water-gun fight.
Go on a sunset hike.
Have a spa-themed slumber party. Here are some things to do at your next sleepover.
Hang out at a nearby park – pack a picnic, play frisbee, and just enjoy being outdoors.
Take a trip to the ocean or lake.
Host a DIY craft party for your friends. Here are some really fun craft kits that your friends will love.
Host a gaming party or LAN party for your friends. An epic videogame tournament will definitely be remembered and easily ticked off your bucket list.
Have a YES day. 'Yes days' are fun for the whole family. Get your parents involved too.
Create a fundraiser for a particular cause.
Camp out or sleep under the stars. Bring lots of mattresses and blankets and gaze at the stars. It helps if someone knows a bit about constellations; otherwise, you can do some research beforehand by reading this book or watching this video:
Host an outdoor movie night. How about watching a classic movie or even having a movie marathon where you watch all the movies nominated for an Oscar in the year you were born.
Find and take photos of all the incredible street art, fantastic architecture, or even scenic views in your city or town. It's fun to see your city through different eyes, and you'll have great photos to remember this amazing day by.
Set up a slip and slide in your backyard.
Giant Water Slide With Sprinkler
Have an epic water balloon fight with your friends. Be sure to fill up plenty of water balloons beforehand so that the fight can carry on once you start.
See a drive-in movie. There's something so old-school and nostalgic about a drive-in cinema. Sit back relax and don't forget the popcorn.
Visit a water park or amusement park.
Go bowling.
Host a karaoke evening.
Host a games night. There are so many board games or card games that you can play. Round up some friends or family and have an epic games night.
Make friendship bracelets.
I hope you've found some inspiring and fun bucket list ideas here so that you can create and fill your own summer bucket list with awesome activities for you and your friends this Summer.
Summer Bucket List Printable Download
Download and print the summer bucket list for teens.