Our teenagers need to learn how to cook for themselves and their future families. It's a life skill that everybody should have.
If you can teach them to cook on their own, they won't starve when they move out. Once they move out, they will find out how expensive and unhealthy it is to eat out or order takeout.
I also don't want my future daughter or son-in-law mad at me for raising people that are useless in the kitchen.
Teenagers who can cook for themselves have many advantages.
Getting teens involved in the kitchen and cooking can encourage them to become more aware of what they are eating. They consume fewer fast-food meals, and vegetables are more prevalent in their diets.
Allowing them to choose the foods they eat is a great way to promote independence. They might also feel good about themselves when they participate in cooking for their families and themselves.
Who knows? They might even really enjoy it!
I share 28 easy recipes for teens to make themselves. These include breakfast ideas, lunch recipes, dinner, snacks, desserts, and some treats that are easy to prepare.
Easy Breakfast Recipes For Teens
Quick and Easy Corned Beef Hash Omelet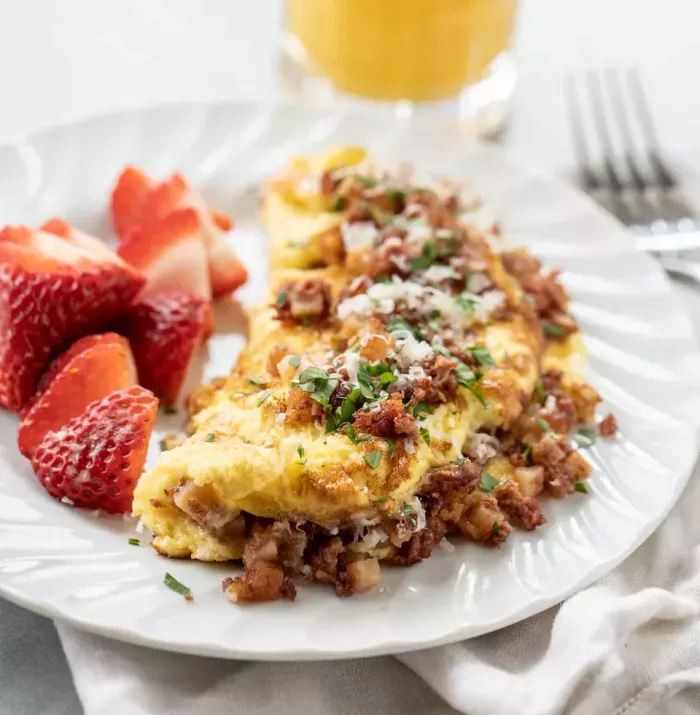 This tasty omelet is a really quick and easy recipe for teens.
You can add so many fillings to an omelet, but for this hearty and delicious breakfast omelet, eggs, and corned beef hash are the main ingredients.
Making this is so easy even a complete beginner can do it.
Easy Homemade Pancakes
Although you can buy a packet of pancake mix teens can easily make these pancakes using basic ingredients at home.
They might want to add a couple of blueberries, banana slices, or chocolate chips to these pancakes.
Don't forget the maple syrup and whipped cream for a delicious breakfast treat.
Bacon Egg Cups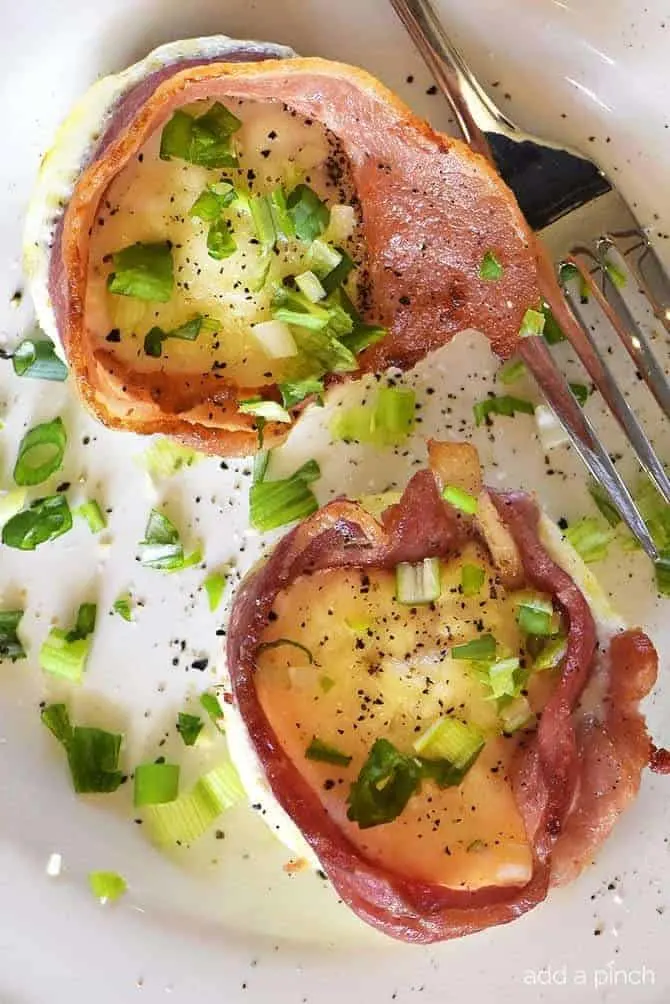 If teenagers can prepare an easy breakfast they'll enjoy, skipping breakfast won't be an issue anymore.
This bacon egg cup is an ideal quick breakfast to get them started in the morning, thanks to the smoky flavor of the bacon, layered with parmesan cheese and creamy egg.
Breakfast Banana Splits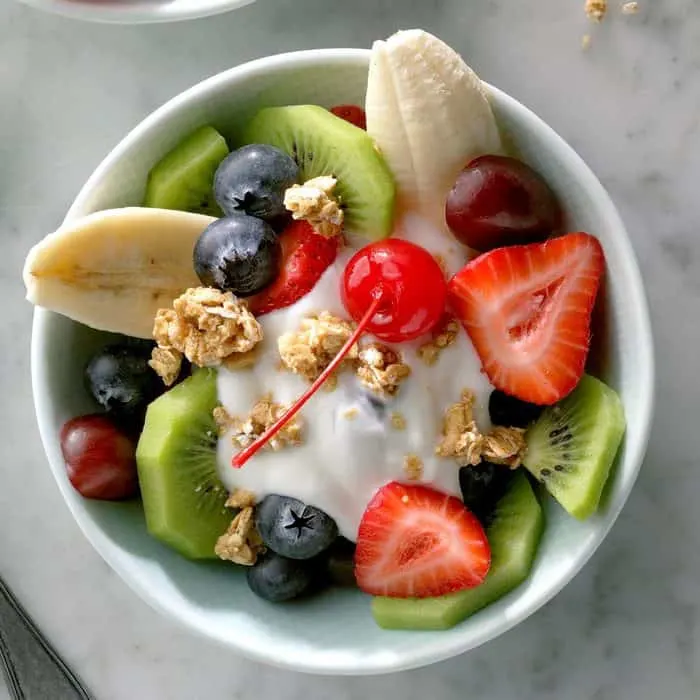 Bright hues and wholesome ingredients make these brightly colored cups an excellent choice for breakfast your teens can make themselves.
Making breakfast banana splits with yogurt, granola, and plenty of fruit can be a great way to incorporate more fruits into their diet. They can exchange the fruits and cereals according to their taste — the options are limitless!
Besides being healthy and delicious, it's also super easy to make.
Easy Lunch Recipes For Teens
Hummus Toast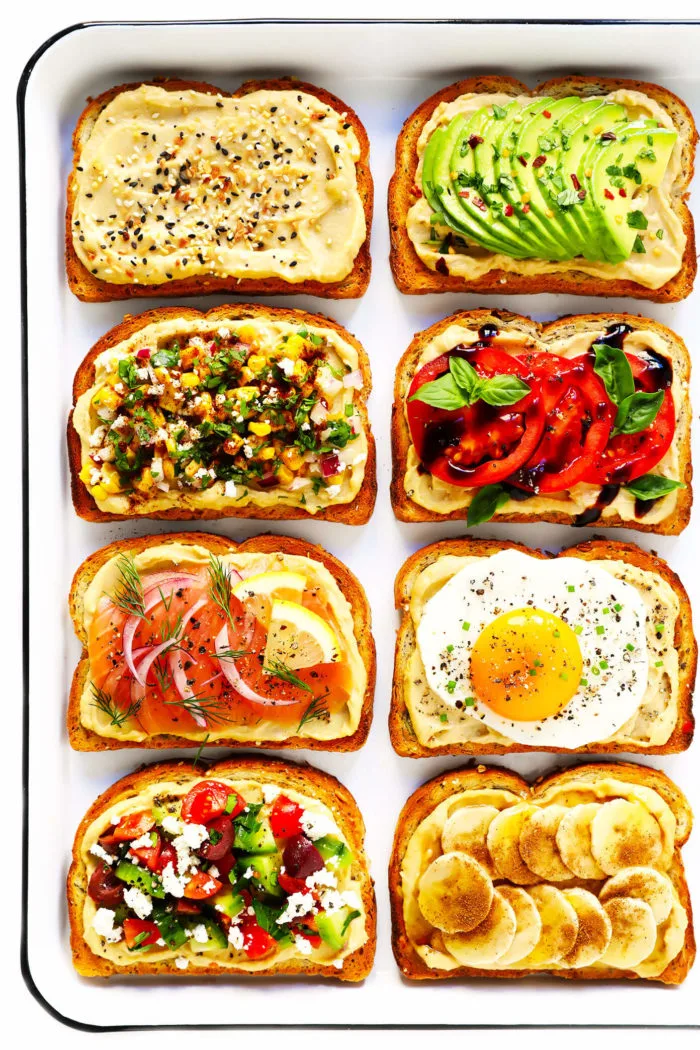 This recipe is a nutritious way to eat fruit, vegetables, and protein for teens who prefer light breakfasts, lunches, or dinners.
They can customize hummus toast in countless ways.
They can pick whatever kind of bread, whatever type of hummus they want (homemade or store-bought), and whatever sweet or savory toppings they might be craving.
Easy Pasta Salad
Here's a quick and easy pasta salad recipe! Fresh veggies and parmesan in a zesty dressing.
This vegetable-filled version is super easy to make as we use this ready-made bottled Zesty Italian salad dressing.
All it takes is boiling the pasta, chopping the vegetables, and tossing them all together.
Teens can make this salad on their own. And it's delicious, too!
Air Fryer Chicken Parmesan
This recipe makes an excellent quality, juicy and delicious air-fried chicken parmesan.
It is ready in under 20 minutes. A much easier and faster way of cooking chicken parmesan than the oven recipe!
It's so easy even teens can whip up this restaurant-quality chicken parm best served with pasta or salad.
Easy BLT Pasta Salad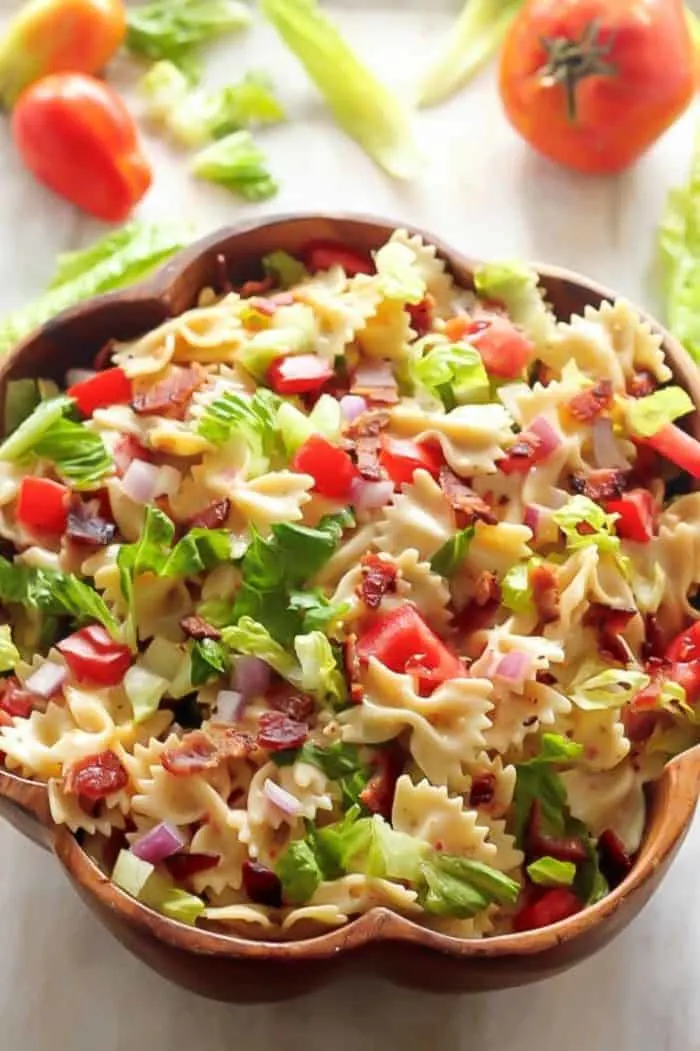 Pasta salads are popular with teens these days. Mainly for its convenience as a quick lunch or snack.
They'll surely love this 20-Minute BLT Easy Pasta Salad! It's quick, easy, and delicious!
Simple yet loaded with bacon, lettuce, and tomato, this bow tie pasta salad is sure to please your teens.
And then it's dressed in a tasty Zesty Italian dressing, which is a creamy, yet totally addictive combination.
Ultimate Easy Nachos Recipe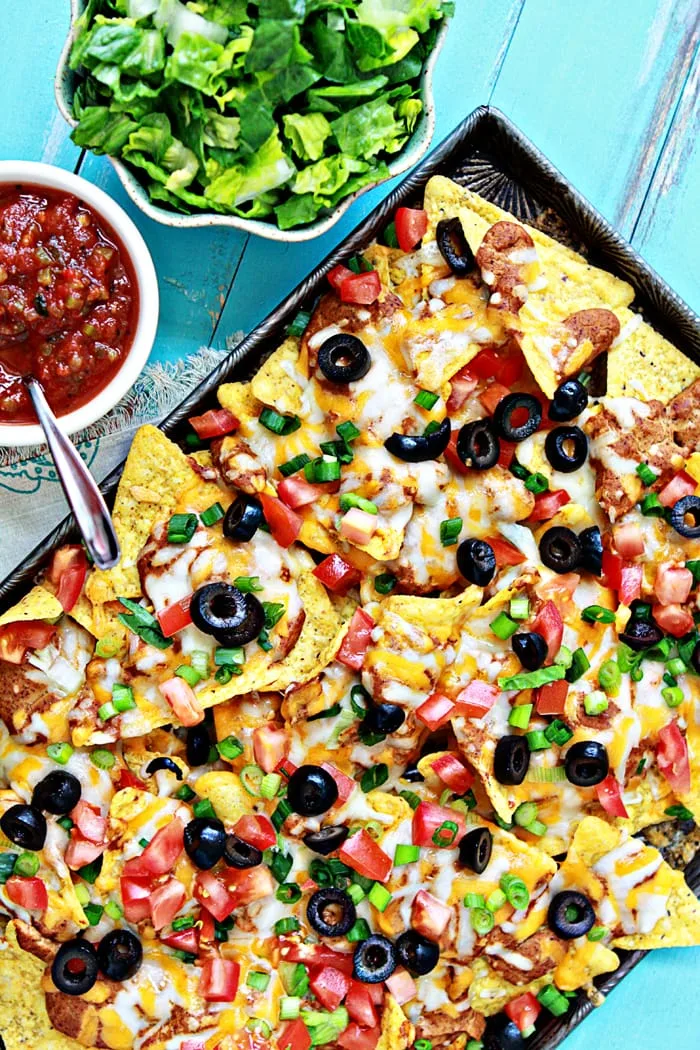 Friends planning to come over? Teens can whip these baked nachos in no time.
Easy to make and easy to serve, this treat is perfect for teen movie nights. Here is a list of the best movie night snacks for teens.
Putting a baking tray on top of crunchy tortilla chips, sprinkling it with spicy refried beans, and olives, and baking it for a few minutes seems pretty simple, right?
Easy Dinner Recipes For Teens
Instant Pot Spaghetti with Meat Sauce
With whole wheat pasta and turkey meat sauce, this one-pot spaghetti can be a quick and easy go-to pasta dish for teens.
You can make it on the stove but for a quick option, you can make this recipe in less than 15 minutes using an Instant Pot.
Your teen can cook the meat sauce and pasta together in one pot at the same time!
Healthy 20 Minute Sheet Pan Sausage and Veggies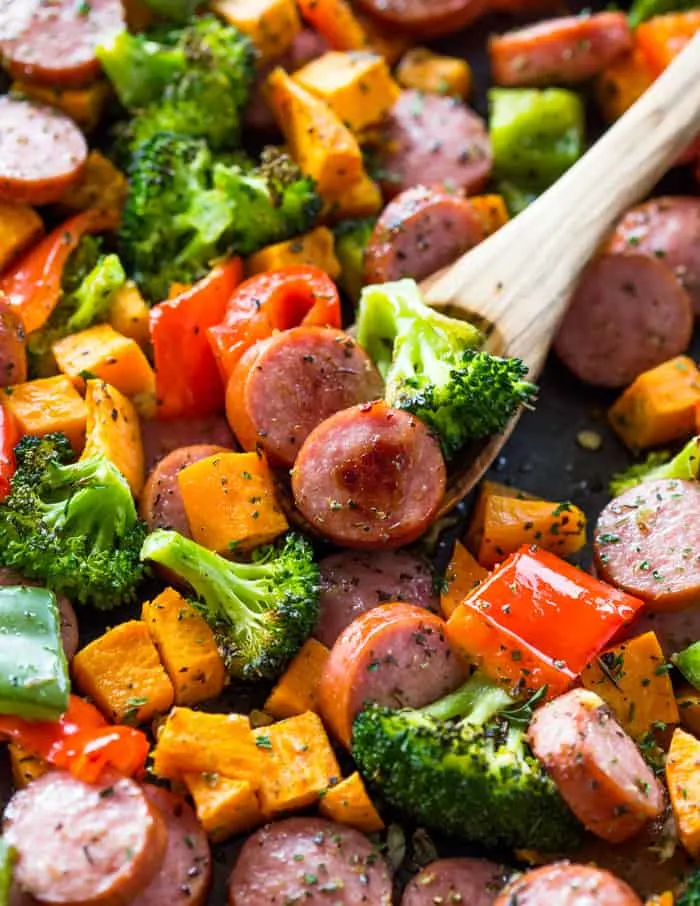 Sausage, sweet potato, broccoli, and bell peppers are roasted to perfection on one sheet pan.
This 20-minute meal is a low-carb, healthy, and packed full of flavor dinner option that is also great for meal-prep as well.
Stove Top Broccoli Mac and Cheese
How nice would it be if teens could cook their own Mac and Cheese?
They're going to love this creamy, delicious comfort food with this classic broccoli cheese flavor combination!
Delicious and easy to make! It's also a way to encourage them to eat broccoli.
Try with Chipotle cheese—teens love it! Find out: What Type Of Cheese Does Chipotle Use?
Quick Asian Beef Ramen Noodles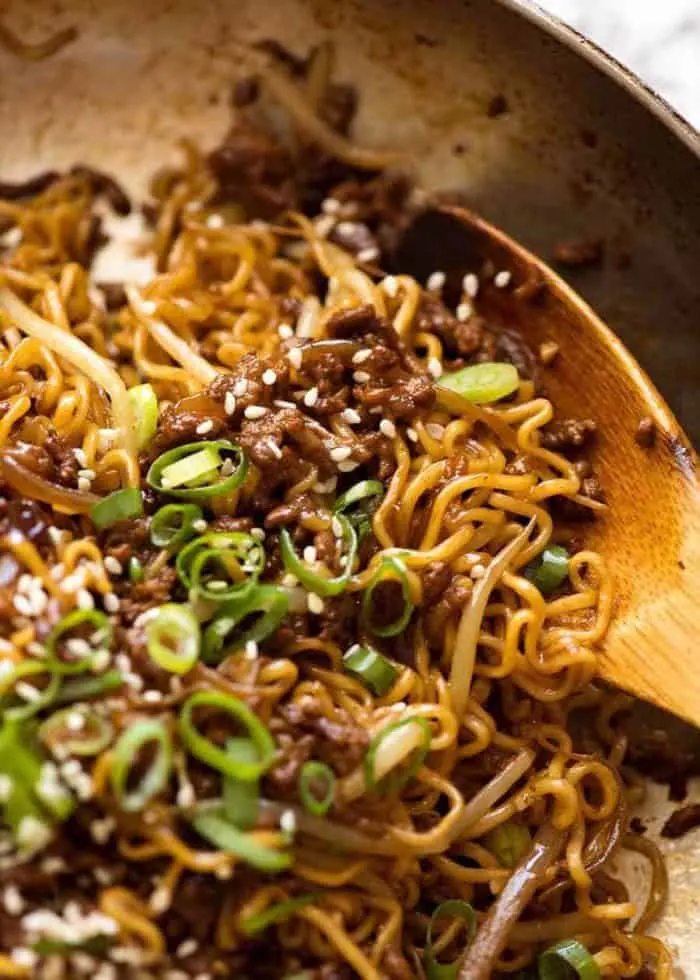 They can also try this flavor-packed ramen noodle recipe that's made in one pot.
Your teens are going to love this terrific and economical beef mince recipe.
These Asian Beef Ramen Noodles feature caramelized beef, noodles, and a sweet, savory four-ingredient sauce!
Quick Healthy 15 Minute Stir-Fry Chicken and Veggies
All of the ingredients come together quickly and effortlessly for this recipe—an ideal recipe for beginners like teens.
The only prep is chopping the chicken and vegetables for this dish, which they can do in advance.
It's easy, healthy, and delicious. It's another way to incorporate vegetables into your teens' meals.
Ten Minute Simple Egg Fried Rice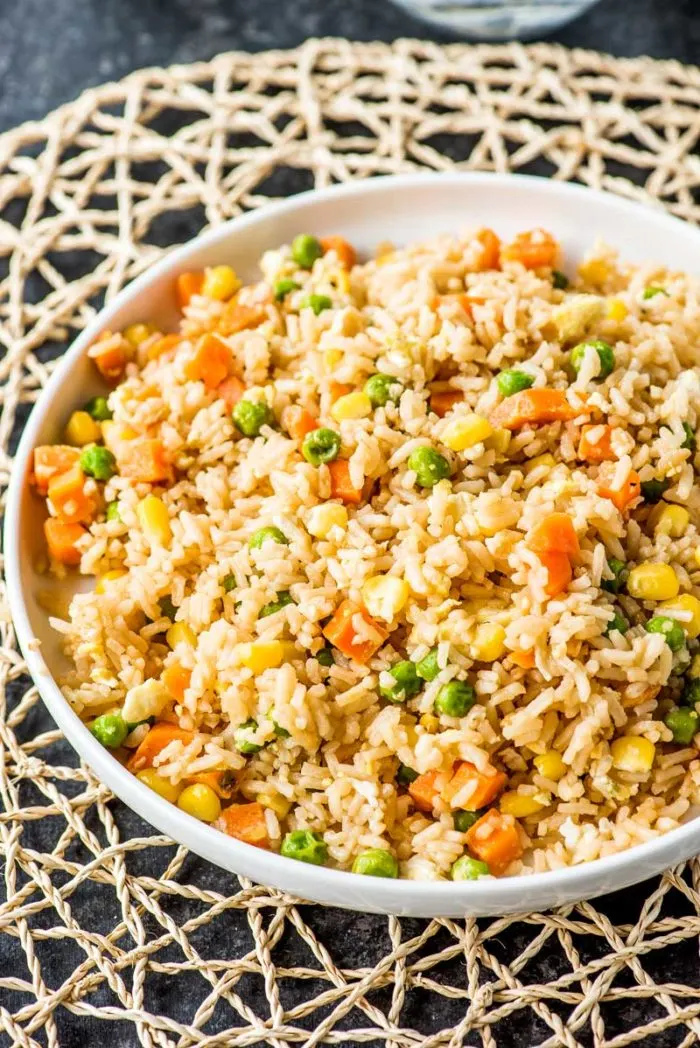 This is a quick and easy way for teens to make a filling meal using leftovers.
They can add more vegetables, eggs, or even pre-cooked meat—all this flavorful goodness in just one pan!
Easy Broccoli Cheese Soup
Teenagers surely need comfort food once in a while.
Making this creamy soup from scratch is something they can do on their own.
It takes less than 30 minutes to make this easy broccoli cheese soup!
A comforting bowl loaded with tender broccoli, cheddar cheese, and cheesy goodness!
Easy Snack Recipes For Teens
Easy Pepperoni Pizza Sliders
You won't believe how simple and tasty these are that even your teens can easily make.
In just a few minutes, assemble these sliders together and bake them, and they'll come out hot, cheesy, flavorful, and delicious!
Easy Cheesy Garlic Bread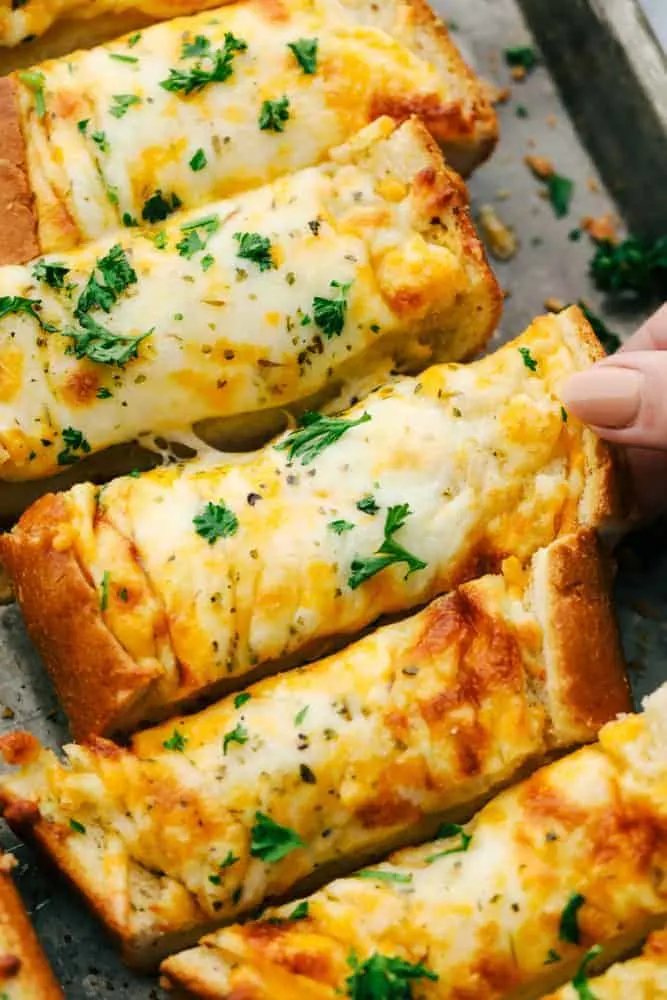 With loads of cheese and soft bread on the inside and crunchy crust on the outside, this easy cheesy garlic bread is comfort food.
This dish is incredibly easy to prepare and delicious.
Five Minute Cheddar Bacon Ranch Dip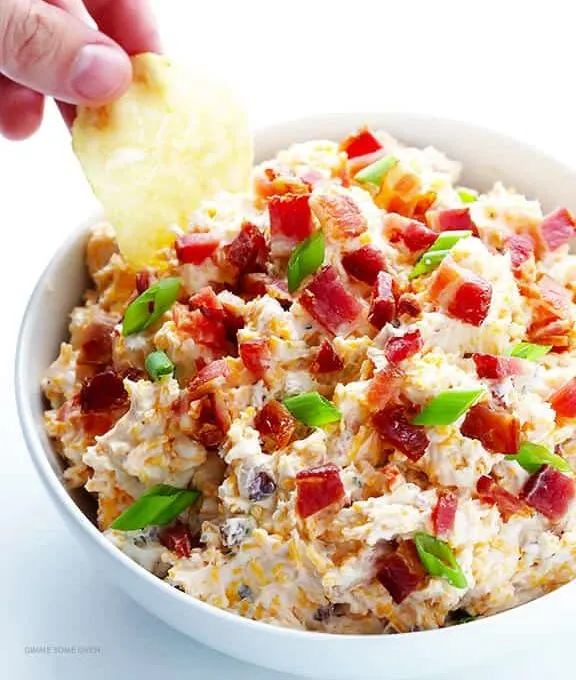 Your teens' Netflix and chill night wouldn't be complete without a bowl of chips and a delicious dip.
With just six ingredients, this easy 5-minute Cheddar Bacon Ranch Dip recipe will have them eating it in minutes.
The dip is naturally gluten-free as well. Directions are straightforward to follow. All you have to do is stir everything together.
Easy Dessert Recipes For Teens
Easy Winter Fruit Salad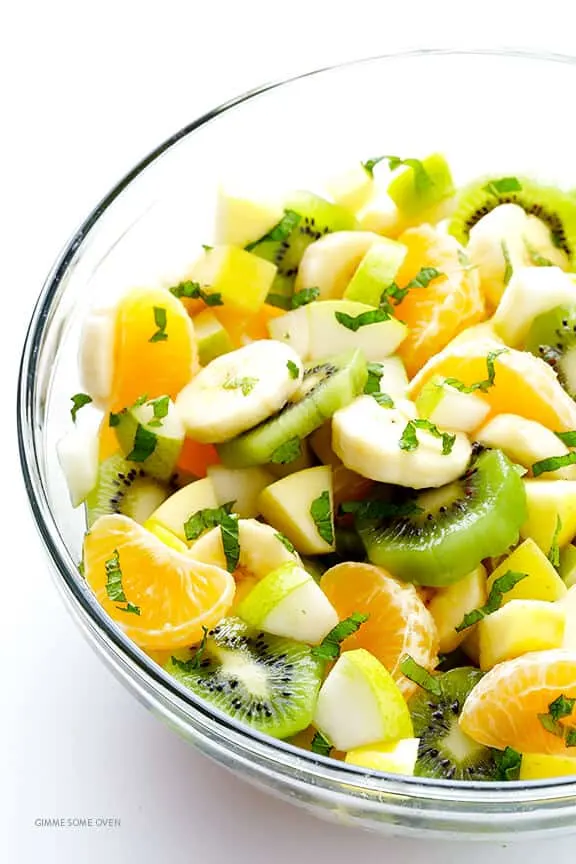 Featuring a handful of simple ingredients, this unique and tasty Easy Winter Fruit Salad looks beautiful on the table, tastes great, and is wonderfully healthy!
It will give your teens more reason to incorporate fruits into their diet. Plus, it's so easy to make!
Easiest Summer Fruit Salad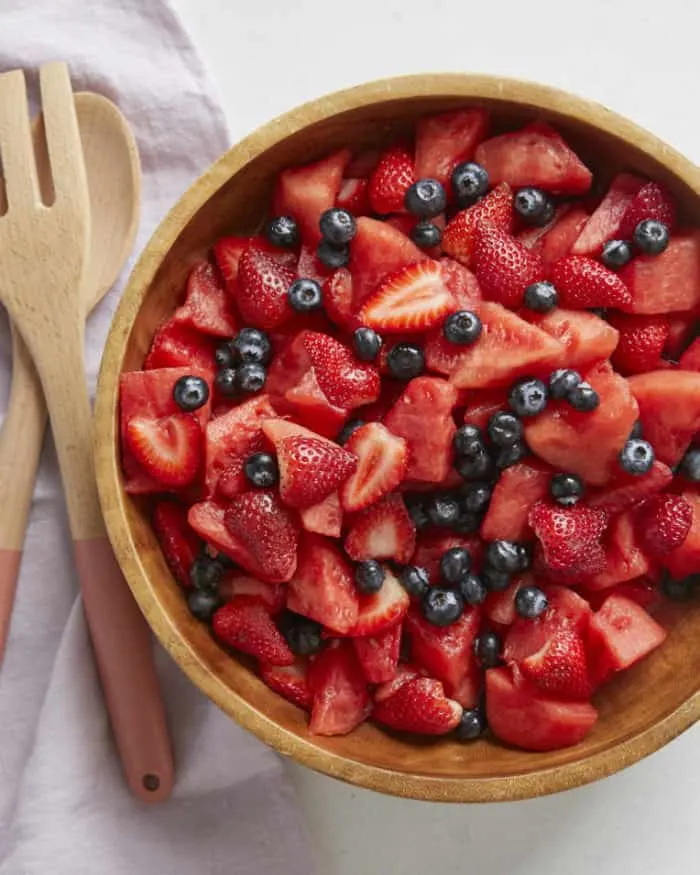 Teens can easily make this dessert themselves, and it's a simple serve-yourself snack.
Through the hot, humid months, this fruit salad is a delightful treat.
A refreshing and guilt-free snack teens will enjoy.
No-Bake Nutella Cheesecakes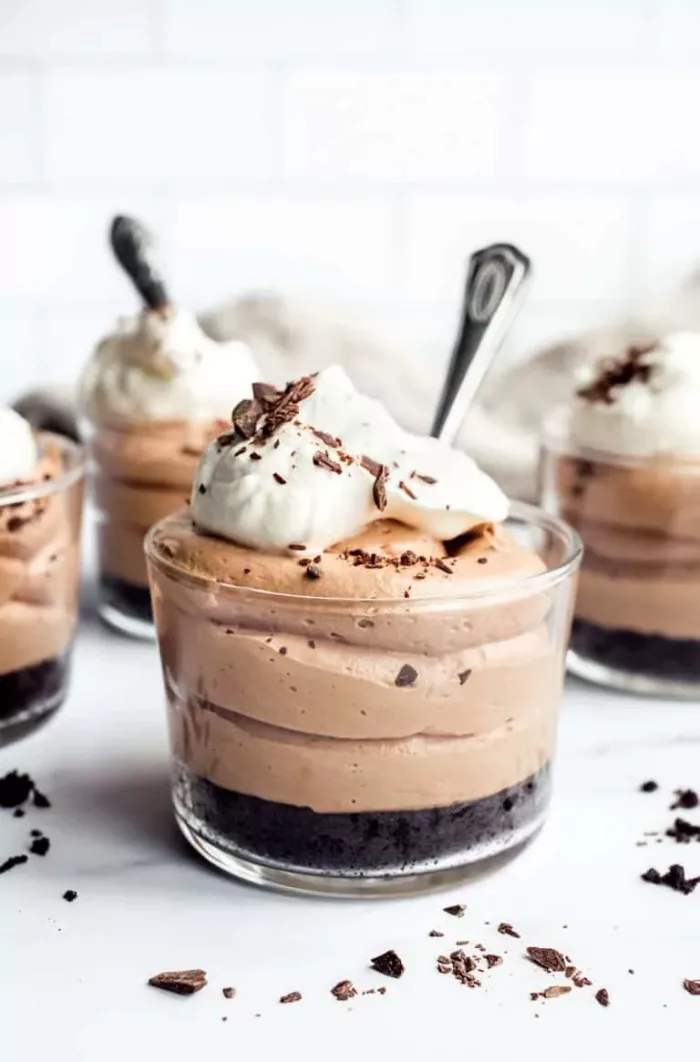 Teens will thoroughly enjoy making this chocolate and hazelnut dessert.
This easy and delicious No-Bake Nutella Cheesecake features a light and fluffy Nutella filling topped with a delicious Oreo cookie crust.
An easy dessert that doesn't require baking.
Easy No-Churn Homemade Ice Cream
Ice cream is not just a dessert for teens. Most days, it serves as comfort food.
Why not allow them to make a version of their own with their choice of mix-ins?
No ice cream maker? No problem! The advantage of no-churn ice cream is that they can make it at home without using an ice cream maker.
It takes only three ingredients, plus whatever mix-ins you desire, to make homemade ice cream. And it's ready to eat in just a few hours.
Five Minute Molten Chocolate Mug Cake
This super-easy chocolate mug cake recipe is perfect for teens who aren't skilled bakers.
To make this deep-dish style cake in a mug, all you need is a coffee mug and pantry staples.
It takes hardly any time or effort. Every bite is delicious, with hints of vanilla and swirls of melted chocolate.
This delicious personal-sized cake tastes excellent when warm, straight from the microwave, topped with ice cream.
If you're looking for some more delicious recipes for sweet and savory treats that your teen can make then have a look at the following book:
The Baking Cookbook for Teens: 75 Delicious Recipes
Easy Treat Recipes For Teens
Easy Peanut Butter Fudge
This simple fudge recipe is sure to please teenagers with a sweet tooth. Chocolate and sweetened condensed milk go into making it.
With these ingredients, they don't need to use a candy thermometer!
It will only take less than 20 minutes to assemble, is perfectly sweet, slightly salty, creamy yet dense, and is delicious.
No-Bake Cheesecake Stuffed Strawberries
No-bake cheesecake-filled strawberries are fast and easy to make and relatively inexpensive, but they're also incredibly versatile.
It's a sweet treat that can be adapted to fit almost anyone's diet. Making these with friends and family will surely be a fun experience for teens!
15-Minute Homemade Donuts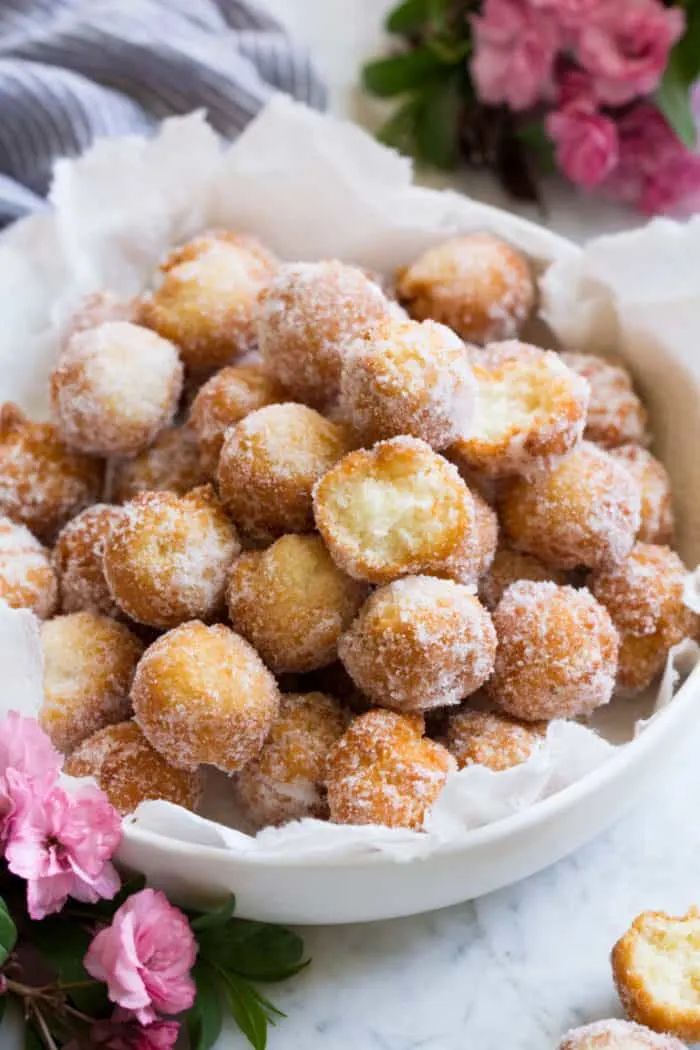 These mini donuts have a sugar-coated exterior with a light gold color and a soft and fluffy interior.
The recipe does not require kneading, rolling, or cutting. Once they're stirred and shaped, they're ready to fry!
As good as a classic cake donut, but less messy! A go-to donut recipe teenagers can make themselves.
No-Bake Protein Energy Bites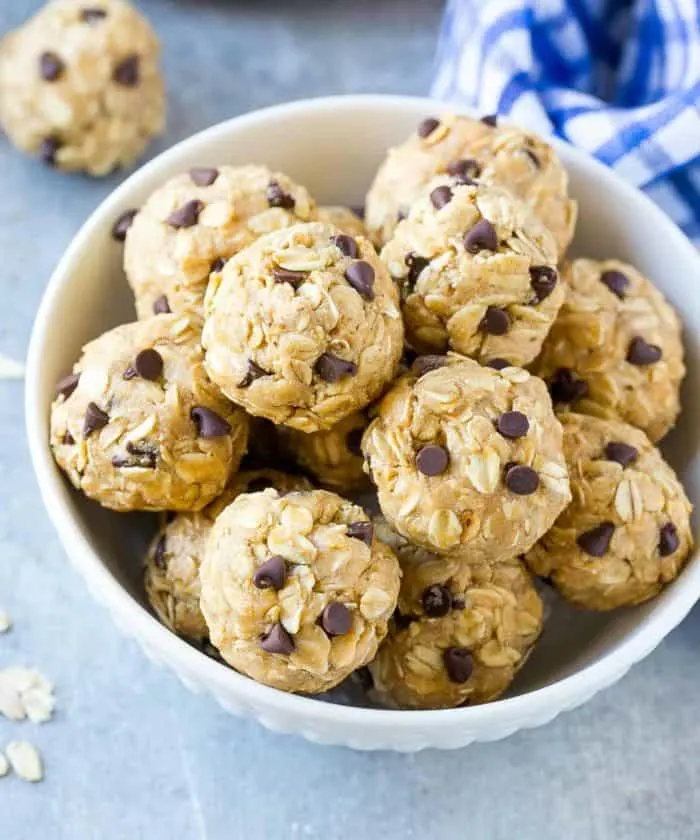 Instead of getting store-bought energy bars, why not have our teens make their own energy bites that taste like a Chocolate Chip oatmeal cookie?
It's loaded with protein, along with several feel-good ingredients.
These are not only easy types of snacks that teens can make on their own, but they're fun and delicious as well.