For teens that have an ios device, there are a ton of fun things to do on FaceTime. Apart from chatting with your friends or boyfriend, you can play games on FaceTime, learn a TikTok dance, bake, work out, or do arts and crafts.
You can also video call your friends through other applications available on Android devices, such as Google Hangouts, Zoom calls, WhatsApp video calls, etc.
Fun Things To Do On FaceTime With Your Best Friend
You might be wondering what you can do with your best friend on FaceTime. I've found some fun activities to do with your BFF the next time you're video chatting.
FaceTime Jamming Session
If you and your best friend love making music together, why not have a jam session with your best friend using GarageBand for iPhone.
Listen to Music On Video Call
You might have your favorite playlist on Apple Music, and now you can listen to music together using SharePlay, which allows you to listen to content in sync with everyone else on the call.
Learn A New Skill
Whether it's learning how to create stunning galaxy nails or how to reverse tie-dye, you and your best friend can learn a new skill together on FaceTime.
Learn TikTok Dances
Learning a TikTok dance is probably one of the most fun things you can do with your best friends. SharePlay also allows you to share videos in real-time.
Here's a fun TikTok dance you can learn with your friends.

Bake Together
Baking is another fun thing to do on FaceTime. Grab an apron, find a yummy recipe, and have a bake-off!
Baking cakes and cupcakes can be fun since they require decorating.
Play Online Games Together
If you can't hang out together in real life, you can still play games virtually using video chat on Facetime, Zoom, or WhatsApp.
There are plenty of fun games to choose from, including 'Read My Lips,' Virtual Hide & Seek, Masked Dancer, Virtual Rainbow Race, and the classic game of charades.
Whatever category of games you're looking for you surely find a few favorites in 25 Of The Best Games To Play On FaceTime.
Go Online Shopping Together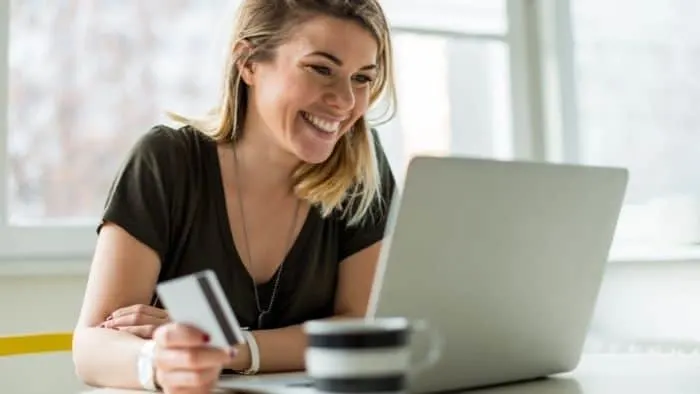 Shopping online becomes much more fun when you have your bestie around to ask for their opinion.
You'll probably end up spending as much time shopping in clothing stores online as you would at a shopping mall.
Check out our list of Most Budget-Friendly Clothing Websites for Teen Girls.
Work Out Together
Have you been demotivated to follow your routine and have fallen behind on your workout sessions?
Work out with a friend, or better yet, with a group of friends, so that you will be motivated and have fun together at the same time.
You can do simple exercises together, or make it more competitive by seeing who can do the most or the fastest.
Alternatively, you can also follow an exercise class together using SharePlay.
Gossip/FaceTime Chat
Just chatting to your bestie is often the go-to activity when it comes to video calls.
If you run out of things to discuss, then you can have a look at 60 Things To Talk About On Facetime.
❤️ You might also enjoy reading these Beautiful Good Morning Messages For Friends
Paint or Do An Art or Craft Together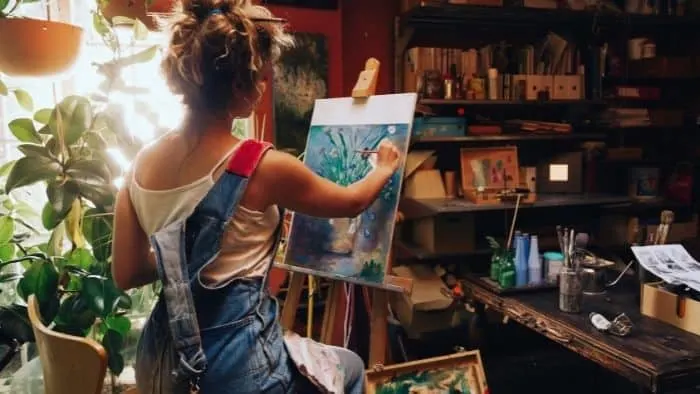 You can also get creative and do some art or crafts together.
There are so many creative projects that you can do with your best friend over FaceTime.
Perhaps you want to learn how to doodle in your bullet journal, paint a picture, do a fun craft, or even share some awesome bullet journal ideas.
Self-Care / Spa Night (Make-Up, Facial, Mani/Pedi)
If you love trying new beauty treatments, then spend some quality time with your best friend with a spa night.
Try a home facial, Mani (try these DIY Galaxy Nail Tutorials), Pedi, and even a new hair trend.
Organize Your Rooms Together – Swap Or Garage Sale
If you have to spend more time in your room due to social distancing, you might as well put your time to good use.
Put on your favorite music and sort through your clothes and any other items you might not want anymore.
Then see if you can swap out some things with your friend. You could even turn it into a fancy dress party.
Things To Do On FaceTime With A Boy/Girlfriend
Play Games On FaceTime
If you enjoy playing a board game or card games with friends, asking your boyfriend if he likes playing games with you could be a fun option as well.
A popular game for partners is 'Read My Lips' where you press the mute button, and your boyfriend has to guess what you're saying.
You can also play games like Trivial Pursuit if you want to see how knowledgeable he is. A game of Truth or Dare can be risky but great fun as well.
Make Dinner Together On Video Call
If you can't get together with your significant other, how about cooking a meal together.
You'll need to plan ahead so that you both have the required ingredients to cook your favorite meal.
Share the recipe, and you can even make it a competition to see who's meal looks the best in the end.
Then sit back and enjoy your meal together – virtually.
Facetime Movie Night
Watching a movie over FaceTime is almost as fun as watching it in real life.
You can still comment and chat together. Using SharePlay will allow you to watch at the same time.
Don't forget to make some yummy movie night snacks before you start.
Read To Each Other
If you're romantically inclined, then reading to each other can be a very sweet FaceTime activity.
Alternatively, you might have a school assignment that you have to do, so working on that together is also a great thing to do on Facetime.
Listen To Horror Stories Together
Horror stories and murder mystery stories are both very popular.
Put on some creepy background music and turn off the lights for a spooky atmosphere.
Facetime offers some creative fun things to do, such as listening to online stories or creating your own; whatever you choose, you will have a great time.
Things To Do On FaceTime With Your Crush
Get To Know Each Other Better Over Facetime
Speaking to your crush might be nerve-wracking; however, if you have a few conversation starters ready, you shouldn't have any uncomfortable silences. Before calling your crush on FaceTime, choose some things to talk about from our topic list.
Have a list of questions ready to get the conversation going. Think of some personal questions that you've been wanting to ask, but perhaps haven't had the opportunity to do yet.
Facetime Coffee Date
Make a cup of coffee at home or grab a takeaway cup, and then FaceTime your friend for a coffee and catch up when you can't meet in person.
You might like to know: How Much Caffeine Is Too Much For A Teenager?
Go For A Walk Together Over Facetime
You can take your partner on a romantic walk using your phone.
You can take your sweetheart on a tour of your local area if you live far away, or you can watch the sunset together.
These are some fun things you can do on FaceTime with friends in the comfort of your home.
Facetime is a great way to catch up with friends, and these activities are exciting, fun, and entertaining.
With these creative and fun things to do on FaceTime, you'll never run out of conversation topics.