The words 'arts' and 'crafts' are often used interchangeably. However, arts lean more towards something you draw or paint, while crafts are more about making something.
This post explores all the different craft kits for teens that we've enjoyed doing ourselves, and some new craft kits that I found online.
If you're looking for art kits, then you should also read 24 Unique & Creative Art Kits For Teens.
What Are Some Good Crafts For Teenagers?
Teenagers are spoiled for choice with so many different crafts to choose from. Kits range in difficulty so that there's something for tweens and teens of any age, and they can tackle harder crafts as they get older.
Crafting kits include journaling, quilling, wood-burning, candle making, embroidery, sewing, jewelry making, origami, soap making, and so much more.
Why Purchase A Crafting Kit?
Crafting kits are useful as they include all the supplies you need for a particular craft, as well as instructions on how to complete the project. Kits are therefore a great tool for learning new skills.
I hope you enjoy reading about and discovering new craft kits that are readily available for teens to help them foster a love of crafting and DIY.
Journaling Set
Journaling has become such a popular hobby among teens and this journaling set has everything you'll need.
You get to customize this spiral journal with all your personal thoughts and memories.
The kit includes glitter tape, sticker sheets, and many more items to embellish your journal with unique ideas.
Hand Gesture Cast Molding Kit
You've seen all the crazy hand gestures that your teen has been making. Well, now they can immortalize their favorite hand sign and display it in the room.
Easy to mix this molding kit casts a perfect hand gesture quickly and is super durable.
Quilling Craft Set
If you've never heard of quilling, then you're not alone. I came across quilling while researching DIY jewelry box ideas.
I've subsequently discovered that it's a really popular and super fun craft to get into.
Paper filigree, or quilling, is an art form that consists of rolling, shaping, and gluing paper strips together to create decorative patterns.
This highly rated quilling kit has everything you need to get started.
Tie-Dye Kit
You might have noticed how tie-dye is super popular again. This tie-dye party kit has everything your teen needs to get creative and transform their old tees into funky threads.
A step-by-step guide shows over 8 tie-dye looks and up to 36 projects.
Just add water to the bottles to activate the dyes and get started.
Here's a video on how to create the best tye-die tees in no time.
Spirograph Set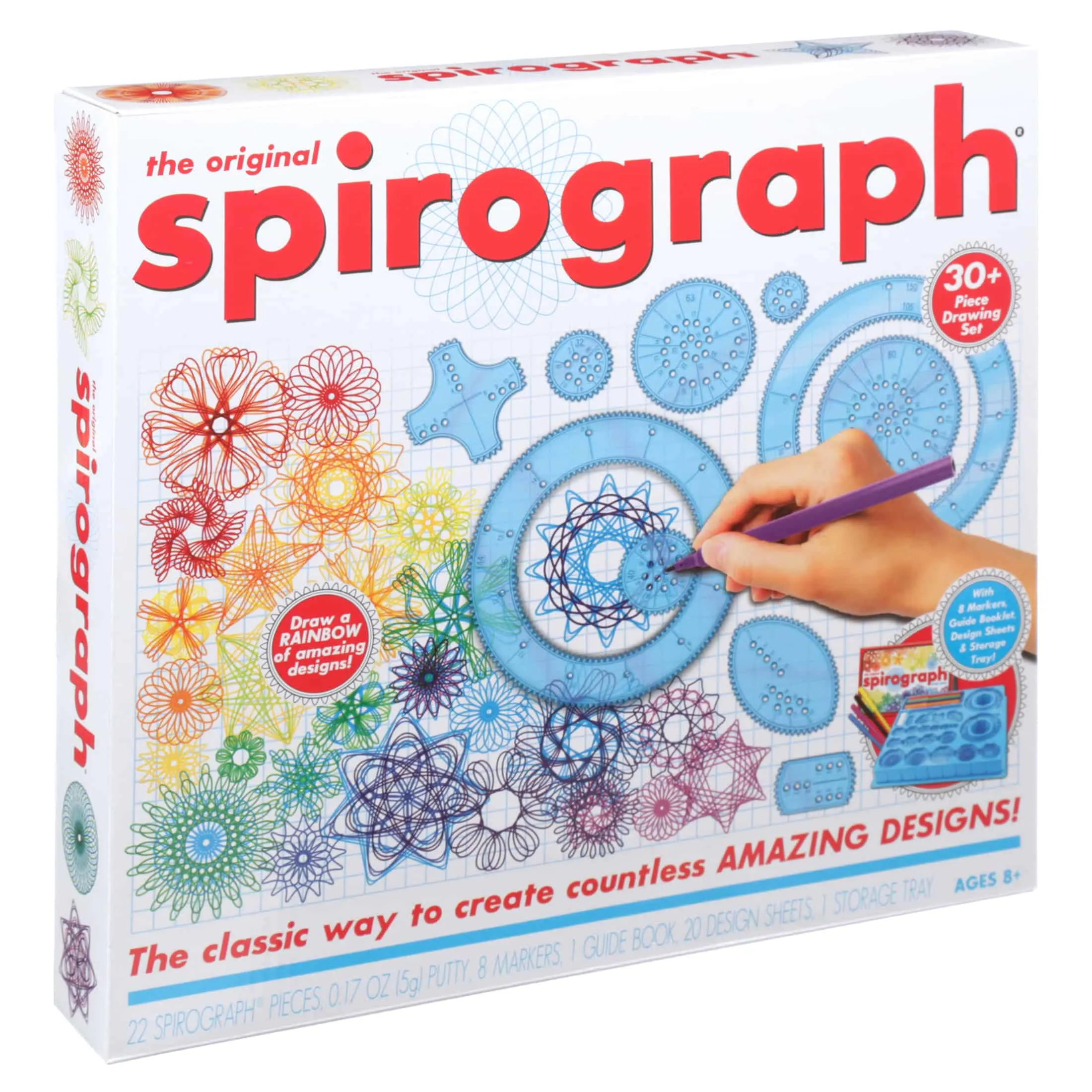 You might recognize this set from your youth. This original Spirograph set has some new never-seen-before shapes included as well.
Use the 12 wheels to create amazing spirograph designs. There are so many color and shape options to create.
Wood Burning Kit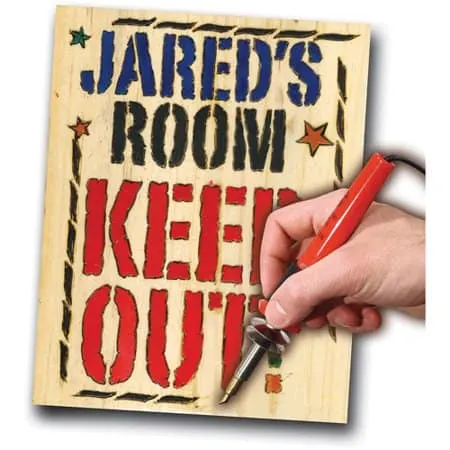 Here's a new craft that I haven't done before myself.
I think our sons will love this as they love anything to do with wood and fire.
For a more professional wood-burning kit, you can look at this Pyrograph pen from Amazon which can be used for embossing, carving, and soldering too.
Candle Making Kit
If you love candles as much as I do then this kit is a must-have.
This soy candle kit comes with 16 different color dye blocks as well as 4 scented oil bottles, so your candles are not only pretty but smell divine too.
Scents include: Cinnamon vanilla, Cotton clean, Lavender, and Coconut Lime
Watch this video to see how easy it is to make your own candles.
Soap & Bath Bombs Making Kit
Making soap and bath bombs at home is not only creative and fun but gives you real soap and bath bombs to use or gift to someone.
This DIY soap-making kit for tweens includes step-by-step video and ebook instructions to make soap, bath bombs, and salt scrub. Customize by choosing from 5 different colors, shapes, and essential oils.
For older teens, I would recommend this more sophisticated soap-making kit as they will be able to make luxurious soap bars with these models and dried flowers.
I'm actually quite obsessed with this particular soap-making kit myself and am going to purchase it for my goddaughter and me to do together.
No-Sew Quilting Fleece
Yip, you read that correctly. You can make your own quilt without any sewing.
This great invention by Melissa & Doug lets anyone create an awesome fleece blanket.
Just knot together the fleece squares provided in this craft kit to make this gorgeous fleece blanket.
DIY Friendship Bracelet Kit
All teens love making, sharing, and wearing friendship bracelets.
This award-winning DIY friendship bracelet kit includes a spinning loom, making it fun and easy to create many different colorful friendship bracelets.
Watch this tutorial video to learn how to make friendship bracelets quickly and easily using the spinning loom.
DIY Embroidery Kit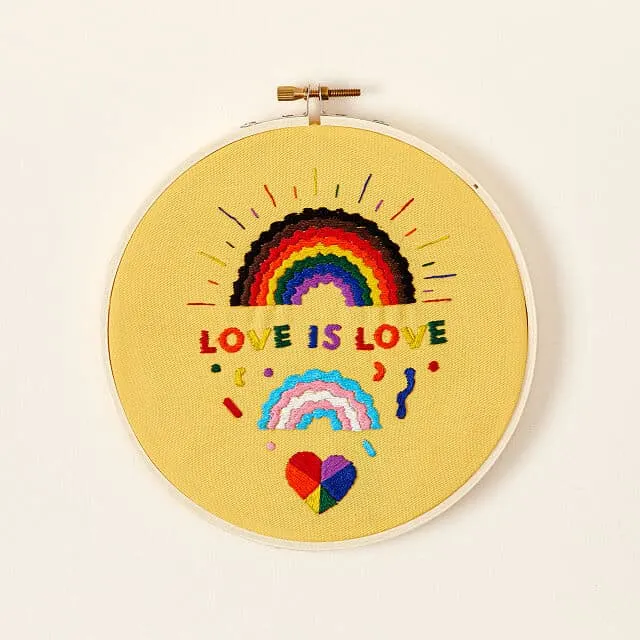 Okay, so embroidery might seem like something granny does, but this super cute crafting set might just get your teen keen on trying a new craft.
The 'Love is Love' message has been used to create an original pattern along with the trans and LGBTQ+ rainbows.
The kit includes an illustrated guide and the pattern sticker, needle and thread, fabric, and embroidery hoop that will inspire even beginners.
Instead of just making a gorgeous piece of wall art, your teen can choose to sew this onto a tote bag or even a pillow to display however they prefer.
Yarn Unicorn Kit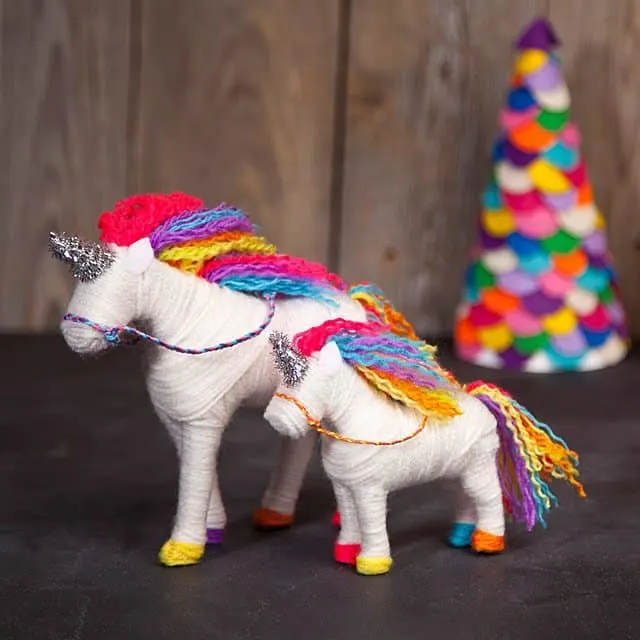 This might be more for tween unicorn-loving crafters but just look how cute these are.
It's a pretty easy craft for younger teens and tweens to do on their own. The kit comes with cardboard cutouts which you wrap the thread around to create your magical unicorns.
If unicorns aren't your thing then perhaps you'd prefer a Llama or an elephant?


Mini Terrariums Craft Kit
Here's another new craft for your nature-loving crafter.
This craft kit includes everything you need to make three geometric containers filled with felt plants.
If your teen loves plants but might forget to water them, then this is a fun crafting activity that will allow them to enjoy having a terrarium in their room – no green thumbs needed!
DIY Flower Art Craft Kit
Sticking to the nature theme, your teen might be interested in this DIY flower art craft kit.
It comes with a 7″ x 9″ frame and over 230 flower and leaf cutouts. Choose your favorite design, or make up your own, and create a gorgeous flower arrangement to display in your toom.
Learn To Sew Craft Kit
The 'Learn To Sew' craft kit is a great way to teach tweens and teens how to sew.
The kit contains 7 super cute projects including:
– Phone case
– Stuffie
– Bunny pouch
– Donut pincushion
– Heart headband
– Wallet
– Bracelet
The detailed instructions teach them different sewing techniques as they complete these fun projects.
For slightly more advanced crafters you can choose the 'Make A Bunny Friend Craft Kit' or the 'Make A Fox Friend Craft Kit'.


Design Your Own Masks Kit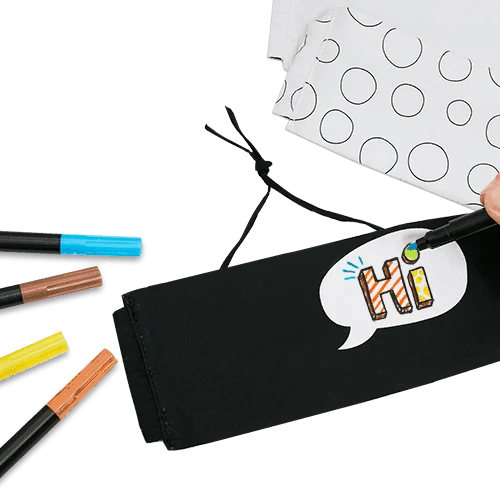 Not every artist wants to draw on paper!
Why not let them express their creativity and individuality with these message-themed face masks that they can draw themselves.
This face mask art kit comes with two printed designs, as well as a blank canvas. Use the included fabric markers to color, write and draw your own personal face mask designs.
DIY Tote Bag Craft Kit
For the slightly older teen, who's looking for a sewing project, this DIY tote bag craft kit will make the perfect gift.
This kit is great if you're not in the mood or don't have time to gather all the supplies yourself.
It includes everything you need to get sewing right away, and create a useful tote bag in the proces.
DIY Pendant Crafting Set
Use the step-by-step instructions to create 9 necklaces and 2 bracelets with pendants.
Your tween or teen can use the included images or print your own from photos of pictures they love.
Cut them to the pendant tray shape, and cover with the included protection film to prevent smearing or discoloration.
Then glue the glass cover in place and voila, you've made a stunning pendant.
The set even includes necklace chains to complete your project. You can make 11 projects in total.
Resin Jewelry Making Craft Kit
I'm obsessed with making jewelry, but one of the jewelry crafts that I haven't done yet is making things with resin.
This kit comes with everything you need, including epoxy resin, silicone molds, pendants, necklaces, instructions, tools, and fun decorations.
Probably more suited to teens, but tweens can do this with a bit of help.
Please note that even though epoxy resin does not have a strong smell, the fumes are not good for you, so wear a mask and gloves, and preferably craft outside, or in a well-ventilated room.
String Lantern Craft Kit
Another fun crafting activity is practicing the classic string art technique. This kit has everything you need to make three pastel lanterns, with a gold hanging cord, tassels, and battery-operated lights.
This is definitely a messier and more difficult crafting activity, so I would recommend this for older teens or to do this as a joint activity with a parent.
With some effort and a little bit of patience, the end result is definitely worth it.
Jewelry Crafting Kit
I've been making jewelry for many years and it's still one of my favorite crafts. I've sold my pieces in stores and have made many gifts for friends and family as well.
I found a few amazing jewelry-making kits online and chose this one as the beads are a bit more modern and more suitable for older teens to use.
You also get access to a jewelry-making video course that will show you how to use the tools and different techniques to create one-of-a-kind jewelry pieces to wear or gift to someone.
Watch the unboxing video below to see what the kit includes.
Origami Kit
Another amazing craft that so many teens love to do is origami. Origami or the craft of folding paper has been around for centuries and is still extremely popular today.
I thought this kit was a lovely origami starter kit as it not only includes high-quality double-sided square origami sheets in vivid colors and designs but also comes with a very detailed instructional book.
Whether you want to make origami flowers, plants, animals, insects, or a spaceship you have 108 sheets of origami paper (plus 10 sheets of practice paper), to complete your designs.
After you've completed this kit, you might also want to learn how to craft origami money.


3D DIY Animal Craft Kit
If you've mastered origami and want something more challenging, then this 3D DIY Animal Craft Kit will definitely keep you busy.
This kits is definitely more for older teens and adults, and makes pretty large 3D animals measuring 15.7″ x 9.45″ x 11″.
You won't need scissors as the pre-cut papers are pre-creased and numbered. You will need some good tacky liquid glue though.
There are several animal shapes to choose from, so if you love a sloth or a panda, or a unicorn, there's something to excite you and get your crafting.


Crafting Subscription Boxes For Teens & Tweens
If your teen or tween is an avid crafter then you might be interested in looking at a subscription box where they receive a crafting box every month.
CrateJoy
CrateJoy offers many subscription boxes ranging from sticker boxes, charm bracelets, baking and decorating, clay box, artist box, a faith box, and a quarterly subscription of favorite crafts from Fashion Angels.
There are so many amazing and unique boxes they can choose from that are suitable for many different ages. Have a look and I'm sure you'll find something they'll love.

Annie's Creative Girls Club
As part of the Creative Girls Club, you will receive TWO craft kits filled with supplies and instructions each month! Your teen will learn a variety of skills and techniques she can use again and again.

I hope you've enjoyed reading about all these crafting kit options and that you've discovered something new and exciting for you or your teen to try.