Looking to start a new Christmas tradition with family or friends?
Make the most of this holiday season with this awesome list of Christmas bucket list ideas.
With a bit of planning, you'll make memories with your loved ones that'll last a lifetime!
🎅 Scroll down to download the FREE Christmas Bucket List Printable PDF to print at home.
🎄 You might also enjoy:
Christmas Bucket List Ideas
A Christmas bucket list is a great idea because it keeps everyone involved in planning and celebrating the holiday.
Planning a Christmas bucket list is a lot of fun, especially if you're doing it together with your loved ones.
Below are some ideas to get you started.
1. Host A Party With Christmas Games
Host a party with Christmas games for friends or family.
Check out this list of Christmas party games, or try a Christmas Scavenger Hunt to liven up the party.
In fact, you can play any classic party game and simply add a Christmas twist to it.
Minute-To-Win-It games, and board games, are also great to play at a Christmas party.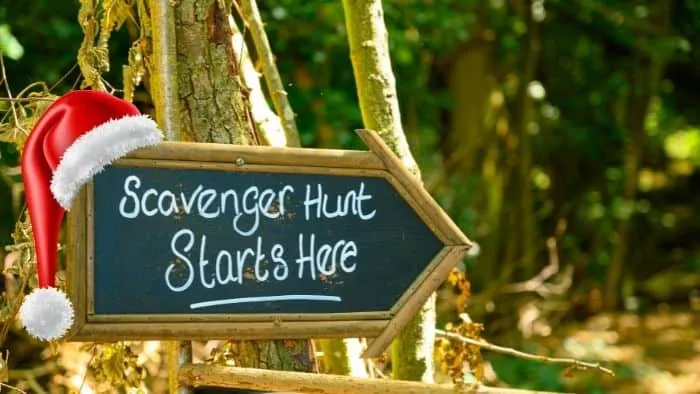 2. Play Christmas Trivia
Trivia games can also be loads of fun! Try some of the Christmas Trivia ideas below: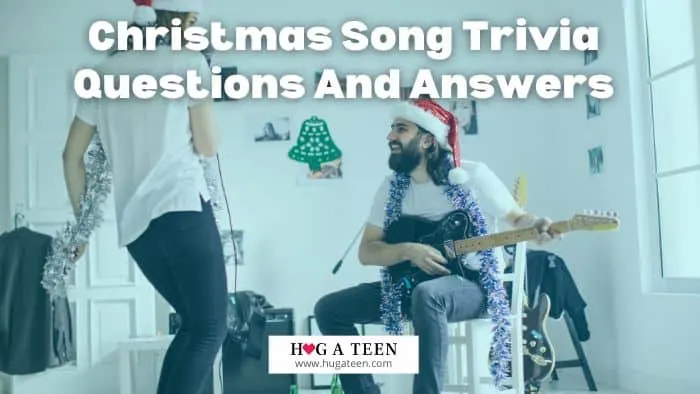 3. Play Christmas Charades
Another fun party game idea is Christmas Charades – try one of these Christmas Charades ideas (with Free Printable).
Charades sounds easy but you'll be surprised at how many wrong answers you'll get for things like Santa and Jingle Bells.
4. Play The Secret Santa Gift Exchange Game
Secret Santa is a Christmas gift exchange game where everyone gets randomly allocated a person who they must buy a gift for.
You want to try and buy a gift that they will enjoy or that will be useful to them.
There is usually a price limit so that everyone receives a gift of similar value.
This gift is given secretly, so you don't know who bought your gift.
5. Play Christmas This or That
Christmas This or That is a great game for families to play during the holidays.
There are no right or wrong answers, so everyone can participate without feeling embarrassed.
Plus, you'll have a ton of laughs while playing!
Check out these 50 Christmas This or That Questions For Kids & Adults.
6. Play Christmas Would You Rather
Just like many other ice breaker games, Christmas Would You Rather can be played by anyone.
While the questions are rather silly, it's always fun to hear how everyone justifies their answers.
Check out this list of 63 Christmas Would You Rather Questions For Kids, Adults & Teens.
7. Get Creative With Elf On The Shelf
Get creative with Elf On The Shelf starting from 1st December.
Elf On The Shelf is an awesome Christmas tradition where the whole family can get involved.
Place naughty elves getting up to no good around the house.
Check out some of these excellent Elf On The Shelf Ideas to get your creative juices flowing.
8. Tell Christmas Jokes
There are loads of silly jokes that you can share as a family to get everyone into a jovial mood.
Try some of the Christmas jokes below and get their eyes rolling!
9. Write Funny Christmas Cards
Share the joy of the season with some creative puns, quotes, saying and captions.
Check out some of the best Christmas puns below;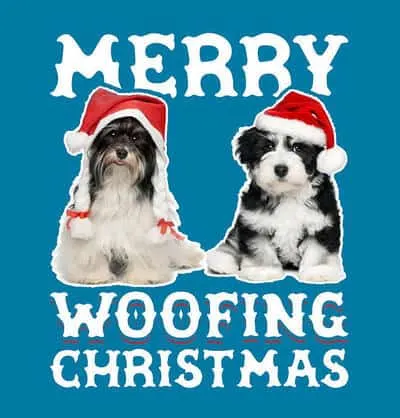 10. Visit a Christmas Town Or City
Check out this list of Christmas towns where you can experience a real-life Christmas movie moment.
These towns and cities go all out in the festive season with Christmas lights, fireworks, festivals, and more!
11. Shop For Gifts Without Going Over Budget
Set a fixed budget for gifts and ask that nobody goes over that amount.
A budget limit on gifts will encourage creative shopping and save everyone some money!
12. Spend Nothing On Gifts
Instead of buying presents, why not make them yourself?
Get creative and make one of these 32 Easy DIY Christmas Gifts.
Give only homemade presents to your family and friends this year to see their reactions!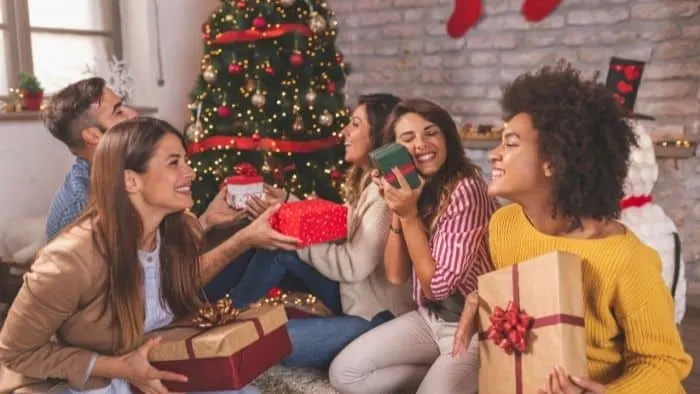 13. Make An Ugly Christmas Sweater
No Christmas is complete without at least one ugly Christmas sweater in sight. This year, make one yourself!
Try out one of the $5 Easy DIY Ugly Christmas Sweaters (6 Styles) below:
14. Make DIY Christmas Tree Ornaments
Put a unique spin on your Christmas tree this year and make your own DIY tree ornaments.
Check out these Easy DIY Christmas Ornaments that only take 5 minutes!
15. Decorate Your House
As soon as Halloween's done, you can start decorating your home with Christmassy stuff.
Try one of the 10 DIY Christmas Decoration ideas below:
16. Make & Eat or Drink Something Seasonal
Nothing screams Christmas more than fruitcake and eggnog!
Make the world's best fruitcake recipe below:
If you're looking for something easier, then try the homemade eggnog recipe below (alcohol is optional).
17. Hand Out Hot Meals To The Homeless
Not everyone is blessed to have a family and home to keep them warm, especially during this cold season.
If you feel the spirit of the season urging you to do a kind deed, consider handing out hot meals to the homeless.
18. Buy A Gift For A Stranger
Pay it forward this Christmas season and buy a gift for a stranger.
Homeless children wake up in a shelter without a house to call home and no gifts to unwrap.
Make a homeless child feel loved by getting them a stocking stuffer or gift card.
Is there anything more magical than getting a surprise gift from a stranger?
19. Donate To A Good Cause
Looking for a less materialistic approach to gift-giving for the season?
Donate to a worthy cause instead.
Here are some ideas for charities that help children at Christmas.
20. Visit A Reindeer Farm
Visit some real-life reindeer at a reindeer farm.
You should be allowed to feed them and pet them.
If you're lucky, you might even be able to go on a sleigh ride!
21. Be The House With The Best Christmas Decorations
Create your best interpretation of a Christmas Wonderland to bring joy to your neighbors and anyone who drives by your house!
Put up a Christmas tree, a Christmas wreath, Christmas lights on the exterior of your house, Christmas ornaments on your lawn, or a blowup Santa, his sleigh, and Rudolph in your front yard!
22. Find The House With The Best Christmas Decorations
Drive around your neighborhood (or even neighboring towns) to find the house with the best Christmas decorations.
Get ideas and inspiration for Christmas decoration projects to do at home!
23. Watch A Christmas Play or Show
Find a Christmas play, musical, or show at a theatre near you to get in the mood for Christmas.
Broadway has a bunch of awesome Christmas shows coming up.
24. Learn Christmas Greetings In Different Languages
Share the joy with more people this season by learning how to wish others a merry Christmas in different languages.
How To Say "MERRY CHRISTMAS!" In 46 Different Languages
25. Have A "White Christmas"
If you don't live in a place where it snows, why not pack your bags and travel to a place where it does?
26. Visit Santa
Get out of the house to find a Santa and have your photo taken with him!
Christmas Bucket List For Couples
Christmas is the perfect time to cozy up with a loved one.
Below are a few bucket list items for couples spending Christmas together.
27. Go On A Christmas Picnic
It doesn't have to be anywhere far.
A picnic in your backyard can be just as romantic as one in another state or another country.
❤️ Suggested reading: Picnic Date Ideas (Romantic Ideas for Couples)
28. Watch Christmas Day Sunrise or Sunset
Who doesn't love watching the sun rise and set?
Cuddle up and enjoy mother nature showing off for you!
29. Travel Somewhere Christmassy And Romantic
Take a trip and go somewhere fun, festive, and romantic!
Visit one of these Christmassy Towns in the US, or try an international Christmas vacation.
30. Make Each Other A Special Christmas Breakfast
Prepare a Christmas breakfast, and enjoy some decadently magical treats together!
Think of hot chocolate, waffles, pancakes, crumpets, muffins & more.
Here is an awesome list of 30 Christmas Breakfast Ideas.
31. Get To Know Each Other Better
Spending your first Christmas together?
Take the time to get to know each a bit better.
These 21 questions for a new relationship might reveal things about your partner that you did not know.
32. Dress Up As Mr. & Mrs. Claus
Dress up as Mr. & Mrs. Claus and then go on a walk in your neighborhood!
Seeing this Christmas power couple on the street is sure to bring joy to your neighbors and passersby.
Don't forget to wish everyone you meet a merry Christmas!
33. Kiss Under The Mistletoe
Mistletoe is a symbol of luck and happiness during the holidays. Kissing under the mistletoe is believed to bring good fortune to couples who kiss under it.
You can easily make your own mistletoe for only $3.
Hang the mistletoe above your fireplace or in front of your door.
Then, invite your loved one to join you under it and give them a kiss!
34. Have A Meal With Each Other's Family
Have lunch with your family on Christmas Day and dinner with your partner or vice versa.
Christmas is all about family and getting to know each other better.
35. See The First Snowfall Of The Season Together
They say couples who see the first snowfall of the season together are bound to end up with each other forever!
Enjoy a day out in the snow. Have a snowball fight, build a snow fort, see who can build the best snowman, make snow angels, and more!
Enjoy a day out in the snow and have some fun!
Have a snowball fight, see who can build the best snowman, or make snow angels.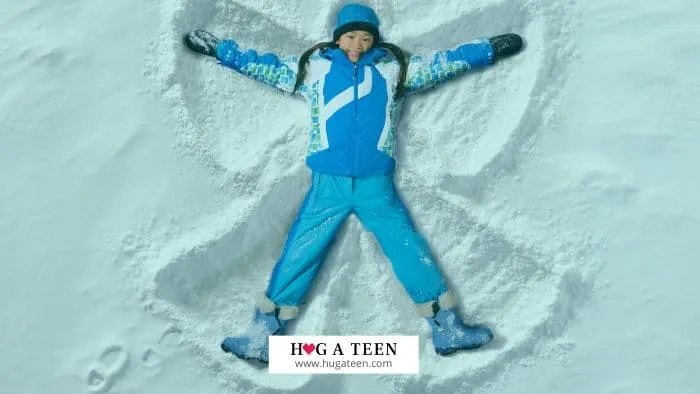 36. Make A Christmas Playlist
Combine all your favorite songs together and make your own couple's Christmas playlist to share with family and friends.
37. Dance To Christmas Songs
Romantic Christmas music always makes the heart flutter.
Pick out your favorites and then dance together in front of the fireplace for an evening filled with romance.
Here is a list of 40 Christmas Love Songs to get you started.
38. Have A Mini Gift Exchange, Advent Calendar Style
Make a list of themes to use for exchanging mini gifts.
Day 1 can be something sweet, day 2 something hot, day 3 something fun, and so on.
39. Try the TikTok Target Challenge
Try this sweet and romantic shopping challenge where you buy gifts for each other at Target.
Buy one or two items from each category:
1. Get something that is your partner's favorite color.
2. Grab one of your partner's favorite snacks.
3. Grab one of your partner's favorite drinks.
4. Find something your partner needs.
5. Get something you want your partner to try.
6. Find something that reminds you of your partner.
7. Grab a gag gift – something that is funny, weird, or out of the ordinary.
Try a shopping challenge this Christmas to make gift-giving both fun and more meaningful.
40. Cook Dinner For Two Together
Decide on something delicious and get busy in the kitchen.
41. Make Plans For Next Christmas
It's never too early to start planning for next Christmas!
Plus, doing this is a sweet gesture that shows you believe you'll spend next Christmas together again.
42. Make Christmas Candy
Candy canes? Truffles? Fudge? It's up to you!
Make a big batch so that you have enough to hand out to each other's families.
Here is a list of 60 Homemade Christmas Candy Recipes.
43. Plant A Christmas Tree
Buy a baby Christmas tree from a Christmas tree farm.
Make sure to get one with the roots still intact so you can replant it in your backyard after Christmas is over.
Here is a quick guide on How To Plant Your Christmas Tree In Your Yard.
44. Have Yourself A Merry Little "Usmas"
Couples around the world are enjoying "Usmas," a version of Christmas where only you and your partner celebrate together.
Here is a list of creative ways that couples are spending "Usmas" together.
45. Make A Christmas Time Capsule
Write each other a message to your future selves and include a prediction for the future.
Open the time capsules next Christmas to see if your predictions came true!
46. Experience Christmas In Summer
Ever wonder what it's like to have Christmas at the beach?
Head on over to the land down under and find out!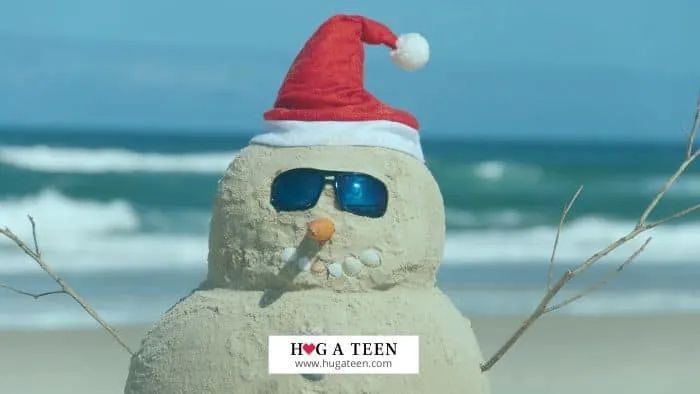 47. Spend Christmas Once In Every State
Start working on this bucket list item as a couple and finish it with your kids (and maybe grandkids) in the future!
48. Spend Christmas In A Different Country
See how other cultures celebrate Christmas by traveling to another country during the Christmas season.
Check out this bucket list of Christmas destinations.
49. Visit Disneyland At Christmas
Disneyland is magical during the holiday season.
You'll find lots of decorations throughout the park starting in mid-November.
Here are some tips to keep in mind:
• Go during the week when most kids are in class.
• Visit Disneyland on a weekday instead of a weekend.
• Avoid peak times like Thanksgiving and Christmas.
• Don't forget to bring along your camera!
Make sure to add visiting Disneyland at Christmas to your bucket list. You won't regret it!
50. Go On A Fancy Date
It's Christmas! Treat yourselves to a fancy date at that high-end restaurant you've been eyeing the whole year!
Family Christmas Bucket List
Christmas time is family time.
There are many activities that you can enjoy with kids, teens, and adults.
Below are some Christmas bucket list ideas that are perfect for any age.
51. Turn Your Home Into A Christmas Village
Ask each member of the family to decorate their bedroom door as if it were part of a Christmas village.
Here is a list of 30 Impressive Holiday Door Decorations.
52. Volunteer / Random Act Of Kindness
This holiday season, teach your children the importance of giving back to others.
There are plenty of opportunities to volunteer throughout the holidays, including homeless shelters, senior centers, orphanages, soup kitchens, and more.
You'll find that volunteering at any of these locations is a great opportunity to spend quality time with your family and give back to those less fortunate.
Whatever you decide to do, remember that kindness isn't limited to giving gifts or spending money.
You can start off small and build up to bigger and better acts of kindness throughout the year.
53. Drive Around To See Christmas Lights
Have a quick drive around the neighborhood to see all the lights from your neighbors' houses and the streets.
Make it even more fun with these road trip games!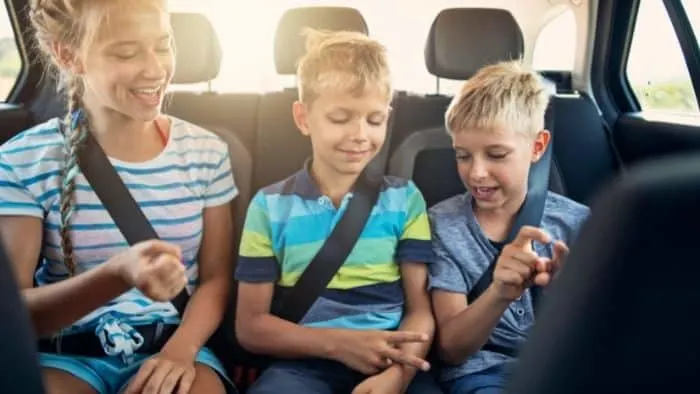 54. See A Christmas Parade
There are tons of holiday parades across North America, and most towns host at least one every year.
You'll find everything from Santa Claus riding down Main Street to carolers singing outside local businesses.
You can visit a Christmas parade any day of the week during December, so there's no excuse not to go!
Just remember to dress warmly and bring along a camera to capture the magic of the season.
55. Dress Up As Your Favorite Christmas Character
Christmas is a magical time of year, and there's no reason to let Santa steal all the fun.
Have everyone dress up as their favorite Christmas character, whether it be from a movie, a show, or a book.
You can dress up as Santa Claus, Rudolph the Red-Nosed Reindeer, Frosty the Snowman, Jack Skellington from Nightmare Before Christmas, or any number of characters from various Christmas films and TV shows.
Here is a list of 35+ Homemade Christmas Season Costumes.
56. Wear Matching PJs All Day
Most families wear matching PJs for the photos, but why stop there?
Wear your PJs all day for maximum lounging comfort with the family.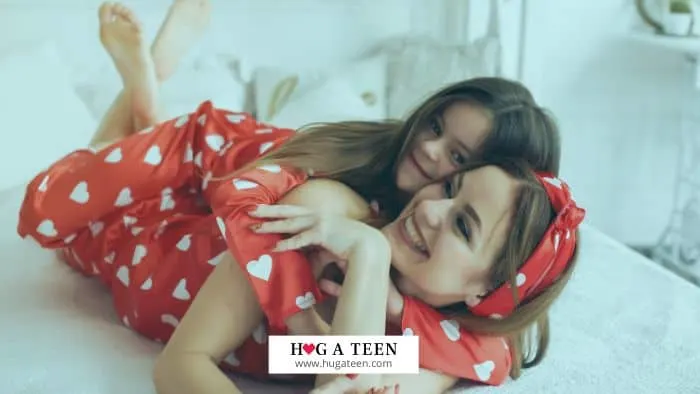 57. Camp Out In Your Backyard
No snow where you live?
Camp out in your backyard and enjoy the crisp Christmas air instead!
Make s'mores, roast chestnuts, and play fun camp games all day.
You can even build a DIY trampoline fort and have a trampoline sleepover.
Check out these Fun Trampoline Sleepover Ideas.
58. Have A Hot Chocolate Making Contest
Who can make the best hot chocolate in your family?
Find out by giving each member a kit with the basic hot chocolate ingredients.
Then let them get creative and add whatever else they want!
59. Camp Indoors & Watch Christmas Movies
Break out the air mattresses and grab a basket full of snacks; it's time to huddle and cuddle in the living room!
You can watch Christmas movies, sing carols, and exchange Christmas stories for a fun day of bonding.
Treat yourselves to some of these awesome Teen Movie Night Snacks.
60. Paint The Snow
Get your creative juices flowing and start making art on the snow outside!
Here's a recipe for snow paint that you can make quickly using only 2 ingredients.
Have a blast making designs and decorating the snow in the wintertime.
61. Try A New Winter Sport
Most people opt to ski during Christmas.
However, there are several other winter sports you can try to learn if skiing's not your thing.
Check out this list of the best winter sports to try.
Shovel racing certainly looks interesting:
62. Adopt A Pet
There's no better time to add a new member to the family than Christmas!
Visit the local rescue shelter and give a furry friend a warm, loving home this season!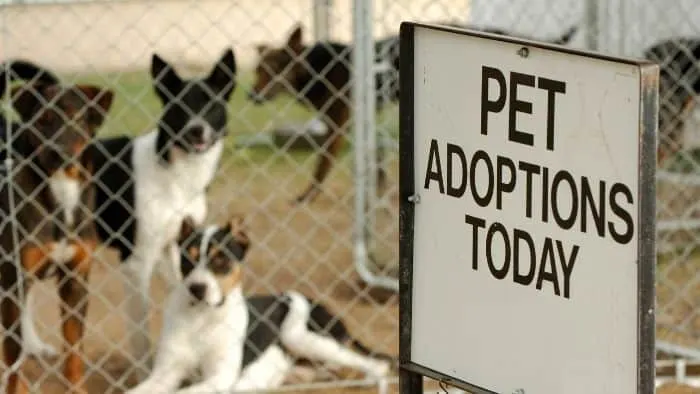 63. Gather Things To Donate
Have everyone go through the things they no longer use.
Then donate everything to those in need.
This is a great way to declutter for the year ahead and also to give back to those less privileged.
64. Pack Christmas Goodie Bags For Homeless Kids
They say Christmas is for the children, but not all children are fortunate to have something to open for the holidays.
Why not make care packages together as a family?
You can fill Christmas goodie bags with goodies such as toys, candy, stickers, crayons and coloring books, beaded jewelry, or glow-in-the-dark tattoos.
65. Tell Stories Around The Fireplace
Gather around the fireplace and have everyone tell a story about their most memorable Christmas.
You can also read some short stories, essays, and poems about Christmas.
Christmas Around the Fire invites us to turn off the TV, put down our devices, quiet ourselves, and gather our loved ones to share some of the best Christmas writing (in many forms).
66. Gift Swap With Another Family
Coordinate with a close family friend to do a family gift swap.
Set a budget and make a list of what people in your family like to make it easier to shop for everyone.
If you're short on ideas, then try this Gift Card Exchange Game.
67. Take The Same Photo Every Year
Every year, on Christmas day, take the same photo in the same spot.
To make things interesting, you can wear the same outfits or ugly Christmas sweaters.
You'll have loads of fun recreating the photo to look as close as possible.
Then have a good laugh about how much everyone has changed over the years!
68. Book A Christmas Mini Staycation
Need a change of scenery?
Book a hotel or an Airbnb before or after Christmas to recharge and refresh after all the holiday busyness.
Christmas Bucket List With Friends
69. Give A Book
Give each other a book to read on Christmas, then cozy up in front of the fire with a mug of hot chocolate and spend the rest of the evening reading.
In Iceland, this tradition is known as "Jolabokaflod," which translates roughly to "Christmas book flood."
As a result, books are the most popular Christmas gift in the country.
70. Go On A Food Crawl
Pick at least 5 of your favorite restaurants/cafes and try at least one thing from their menu.
If you search online, then you'll find food walking tours with a Christmas theme.
71. Have A Sleep Over
If you can't join your friends on Christmas eve or Christmas day, then have a sleepover before or after Christmas instead.
Here are some ideas for Things To Do At A Sleepover For Teens.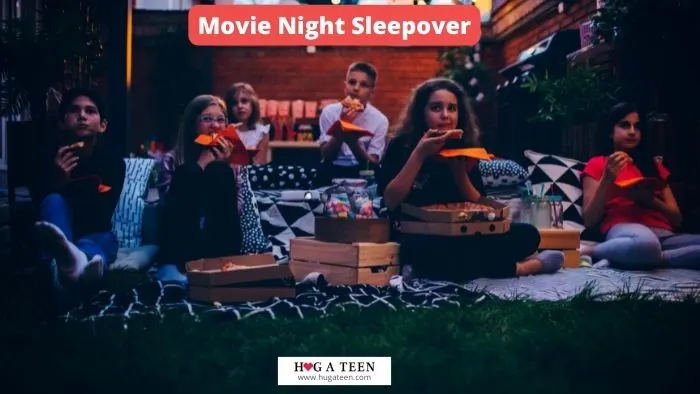 72. Go Thrift Shopping For Christmas Photo Costumes
Visit some thrift shops and find things to wear for Christmas.
The goal could be to see who can find the best or worst outfit.
To make the challenge more interesting, decide on a budget beforehand.
Take photos of your outfits and have your families judge the winner.
73. Recreate A Childhood Christmas Memory
Share something you loved doing during Christmas as a child and recreate that memory with your friends.
Watch a favorite Christmas movie, recreate a Christmas dish, or play games in the snow.
74. Go On A Christmas Potluck Picnic
Bring leftovers from each of your houses and have a picnic the day after Christmas.
Get together at one of these common places for teens to hang out.
75. Decorate Each Other's Room For Christmas
Decorating your friend's room for Christmas doesn't mean you have to buy expensive decorations.
Instead, you can simply use items that you already have at home.
Remember that nothing says Christmas better than the color red.
Check out this awesome guide on How to Decorate the Ultimate Christmas Bedroom.
76. Give Each Other A Christmas Makeover
You can go for a Christmas-themed character like Santa or The Grinch.
Alternatively, you can try one of these pretty Christmas makeup ideas to make you look hot.
77. Have A Christmas-Themed Crazy Hair Day
Crazy hair day will always be a fun bucket list item for any time of the year.
Check out some of these creative Christmas hairstyles.
78. Have A Snow Fort Building Contest
See who can make the biggest and strongest fort.
Check out this awesome guide on How To Build A Snow Fort.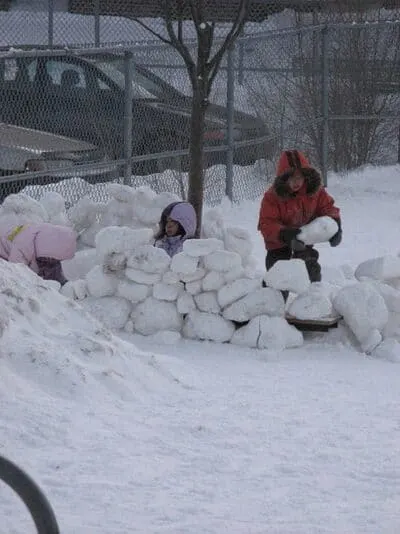 Don't forget to attack the enemy with snowballs!
79. Have A Christmas Movie Marathon
Did you know that National Christmas Movie Marathon Day is celebrated annually on December 23rd?
Enjoy your favorite holiday snacks with a mug of hot chocolate and a warm blanket.
What are your favorite Christmas movies?
Ask everyone to make a list of Christmas movies, compare them to see which movies get the most votes, and then watch the winners!
80. Eat Ice Cream
Eating ice cream in front of a warm fire while it snows outside is one of the true Christmas pleasures.
81. Make Some Christmas Prank Calls
Prank calls are an awesome activity to do with friends.
Take a look at these funny prank call ideas that'll have you and your friends laughing until you cry.
Watch some of the most outrageous Christmas prank calls below:
82. Christmas Dingdong Ditch
Get together with some friends and ring your neighbors' doorbells.
Give the game a Christmassy twist by wearing a Christmas costume and watch the priceless reactions of your victims.
You can also leave a gift for them to find when they answer the door.
83. Complete A Christmas Jigsaw Puzzle
Get a large 500-1000 piece jigsaw puzzle and complete it with friends!
Puzzles are a great way to relax and spend some quality time together.
84. Christmas Jigsaw Puzzle Competition
Choose smaller piece count Christmas puzzles and see who can complete the puzzles fastest.
Keep a score board and give away prizes to the top 3 winners!
85. Create A Christmas Tiktok Dance Compilation
Check out some of the Christmas dance moves on TikTok, and copy them to make your own dance compilation.
Below is a TikTok Dance Compilation & Mashup to give you some ideas:
Get your phones out, and put together your own dance compilation to share with family and friends!
86. Facetime Each Other
If your friend is far away then choose one of the activities above and complete it together over Facetime.
Pick a fun Christmas game to play together, or unwrap your gifts together.
Christmas Bucket List Printable