Organizing a scavenger hunt is a fantastic way to keep kids and adults entertained at parties and family holidays.
There are two types of scavenger hunts. In one, you follow clues to find a prize or gift at the end of the search. These types of scavenger hunts often use riddles or rhymes as part of their clues.
Another scavenger hunt type is where you need to find specific items on a list, and the first one to find or bring these items is the winner.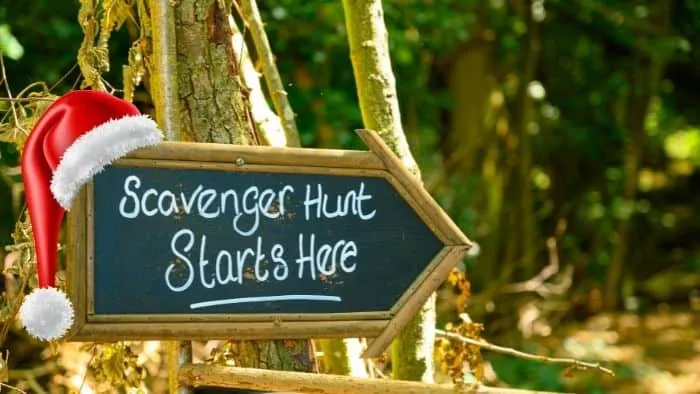 There are several benefits of scavenger hunts:
You can play them indoors or outdoors.
Kids and adults enjoy them.
Any number of players can play them.
Individuals or teams can play them.
You can adjust the level of difficulty to be easy or hard.
The game time can be adjusted by choosing how many clues you give or how many items they need to find.
You can add just about any theme to a scavenger hunt to make it perfect for your needs.
Scavenger hunts are not only popular for birthday parties, but you can also create unforgettable Christmas scavenger hunts by simply adding a Christmas theme to them. This can be done by making the clues and rhymes related to Christmas or asking players to find popular items they would use at Christmas (gift tags, snowmen, Santa figures, candy canes, etc.)
🎅 You might also enjoy reading:
Christmas Gift Scavenger Hunt
A favorite Christmas Scavenger Hunt is where you hide a gift. Some families hide one gift per child, which they can find and open on Christmas eve, while other gifts remain under the tree to be opened the following morning.
We've played this game for individuals, where each child gets different clues to find their gift hidden in a different location.
And we've also played it where they had to team up to figure out the clues together, and we hid both their gifts in the same place.
They were both fun, and it depends on the age of your children. You can make clues easier for the younger children and a bit harder for older teens. But it was also great to see them working together to find the answers to the clues.
To play the Christmas Gift Scavenger Hunt, you will need to decide the following:
How many clues do you want to make?
Where will you hide these clues?
How complex should the clues be?
Do you want to use rhymes and riddles?
For example, you might decide to:
Have five clues
Hide these in the fridge, bedroom, bathroom, garage, and couch.
Clues should be pretty straightforward.
You want to use Christmas-themed rhymes.
Your clues could look something like this:
Listen to Santa and do as you're told; your first clue can be found where we keep the food cold.
Father Christmas wears a suit of red; your next clue can be found where you rest your head.
Santa's reindeers have magical powers; you will find your next clue where you shower.
If you follow the Christmas star, you'll find your next clue where we park the car.
It's Christmas, so don't be a grouch; you can find your next clue under a cushion on your comfy__________.
You'll have your teens running around the house, finding and solving their clues to finally get their hands on their gift at the end of the hunt.
You can hide their gift inside or outside, depending on the location and weather. Just adjust your clues and rhymes accordingly.
Tip: Use cute Christmas envelopes to hold the clues. If you're hiding clues for more than one child, then use a different envelope style or color for each child so that they don't grab the wrong clue. Hang the first envelope clue in the Christmas tree, where you will start the scavenger hunt.
Indoor Christmas Scavenger Hunt
We've already discussed how you can hide gifts and have a Christmas scavenger hunt indoors, but you can also make a list of items your kids need to find indoors.
Be sure to make the items related to Christmas. These can include:
Ribbons
Wrapping paper
Santa figure
Gift tag
Reindeer
Christmas cookie
Tinsel
Pinecone
Pine needle
Christmas bauble
Make a list of items they need to find and tick off or bring it to you.
Players could play individually or in groups.
Prizes could be awarded for the first person to bring an item or the first person to find all the items.
Here is a free printable that you can download and print at home.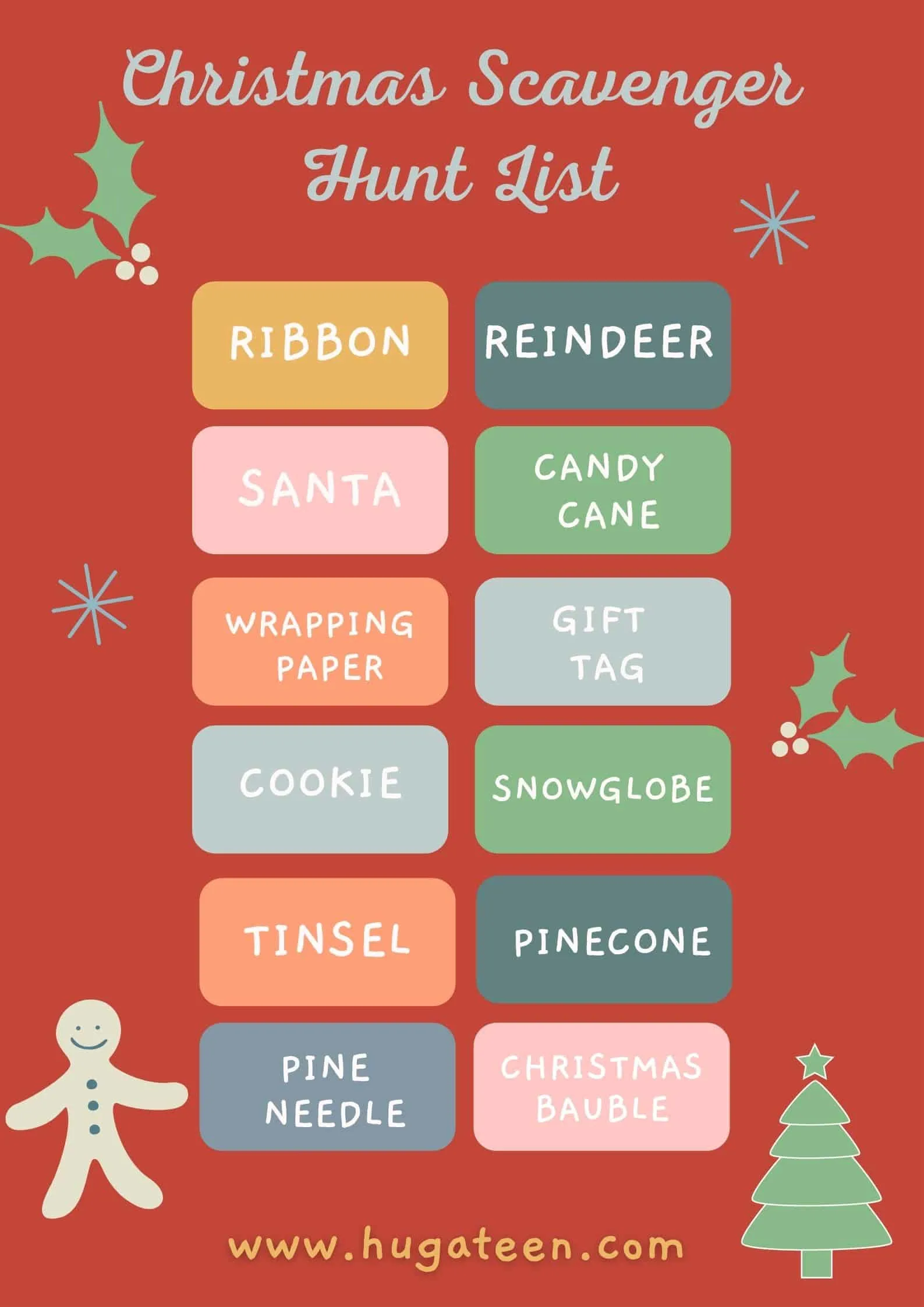 I also found this Christmas holiday-themed scavenger hunt game packed with 220 Christmas-themed cards with typical objects that you can find in your home or garden.
It has two separate packs with indoor and outdoor scavenger hunts making it easy for kids to have fun and run around and find Christmas items.
Christmas Scavenger Hunt
Christmas Photo Scavenger Hunt
Another way to have a scavenger hunt is to ask players to take photos of several Christmas items instead of bringing them to you.
This works well if there is only one of a particular item (Christmas tree) or if there are items that they cannot remove (fairly lights), in which case they can easily take a photo of them instead.
A photo scavenger hunt is also a good option if you plan to have the scavenger hunt played outdoors.
Alphabet Scavenger Hunt
An alphabet scavenger hunt is where players have to find an item starting with every letter of the alphabet. This can be played indoors or outdoors.
If you turn it into a photo scavenger hunt, then you could even play this in your neighborhood.
To add a Christmas theme to it, you should ensure that they find items that are related to Christmas.
For example:
A = Angel, Advent Calendar
B = Bow, Bells, Baby, Blitzen
C= Christmas tree, Candy cane, Candles, Chimney, Chestnuts, Cookies, Comet
D= Dasher & Dance the reindeer, Decorations
E= Elf, Eggnog
F= Father Christmas
G= Gift, Gingerbread man
H= Holly
I = Invitation or Ivy
J = Jingle bells
K = Kings
L = Lights
M = Mistletoe, Manger, Mary
N = Nativity, Nutcracker
O = Ornament
P = Present, Partridge, Pie, Pine, Prancer
Q = Quilt
R = Reindeer, Red nose, Ribbon
S = Santa, Shepherd, Snowflake, Stocking, Star
T = Toy, Turkey, Tinsel
U = Under the tree
V = Virgin Mary, Vixen, Visitor
W = Wrapping paper, Wreath, Winter Wonderland, Wise Men
X = Xmas
Y = Yuletide, Yule log
Z = Zest, Zoey! (Rudolph's girlfriend in the 1998 movie Rudolph the Red-Nosed Reindeer.)
Outdoor Backyard Scavenger Hunt
An outdoor scavenger hunt can be played exactly the same way as you would play indoors.
You can hide clues and come up with rhymes relating to things they can find outside (outdoor furniture, pool, garden shed, lawnmower, tree, fence, mailbox, etc.).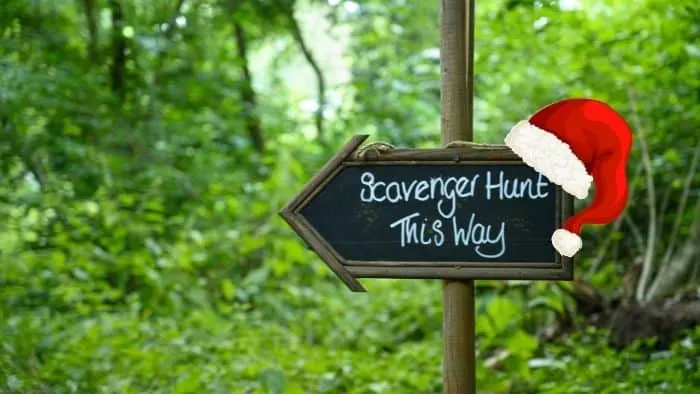 Neighborhood Scavenger Hunt
For older teens and adults, you can even set up a neighborhood scavenger hunt. There are even some fantastic apps that you can use to play.
I found this amazing website called Treasure Run which makes super creative and fun clues for a treasure hunt. You can customize your game based on the hiding place, the puzzle type and you can even adjust the riddle.
Virtual Christmas Scavenger Hunt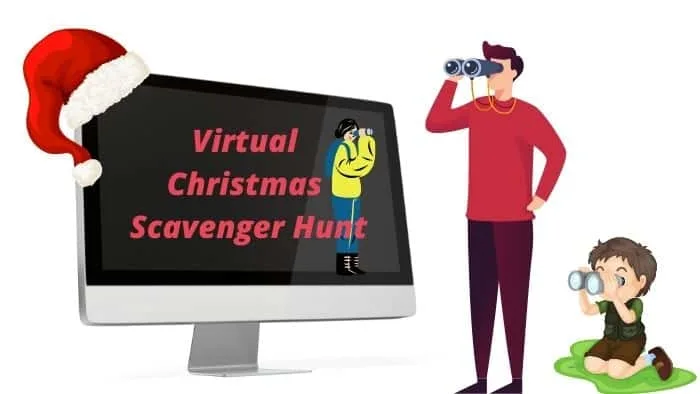 Creating a virtual Christmas scavenger can be loads of fun as well.
One person needs to lead the games while everyone else follows the instructions.
You can combine several of the scavenger hunt ideas.
For example:
Get players to find and bring back or take a photo of something red.
You can ask them to find several different items relating to Christmas (candle, star, ornament, cookie, tinsel, etc.)
You can create rhyming clues to direct them to find an item, i.e., Though Santa may be old, you must find something that keeps his drinks cold (ice).
To make it a bit harder, they might need to fill in the clue themselves, i.e. Santa doesn't need a map, but you will need this to _______. (wrap = wrapping paper).
Players can earn points for each round, and the person with the most points is the winner.
Other Scavenger Hunt Ideas
Emoji Scavenger Hunt
If you want to play a fun new scavenger hunt, look at the Emoji Scavenger hunt app.
It is an AI experiment game where you use your phone's camera to find items around the home.
For example, it will show you an emoji of a shoe, and you need to aim your phone at an actual shoe to score the points.
But be quick as you only get several seconds to find the items.
Watch how to play the Emoji Scavenger Hunt game in this video below:
Color Scavenger Hunt
An easy way to include younger kids in a scavenger hunt is to use colors instead of words.
While older teens and adults are solving riddles and finding clues, you can get younger children to find items matching several colors.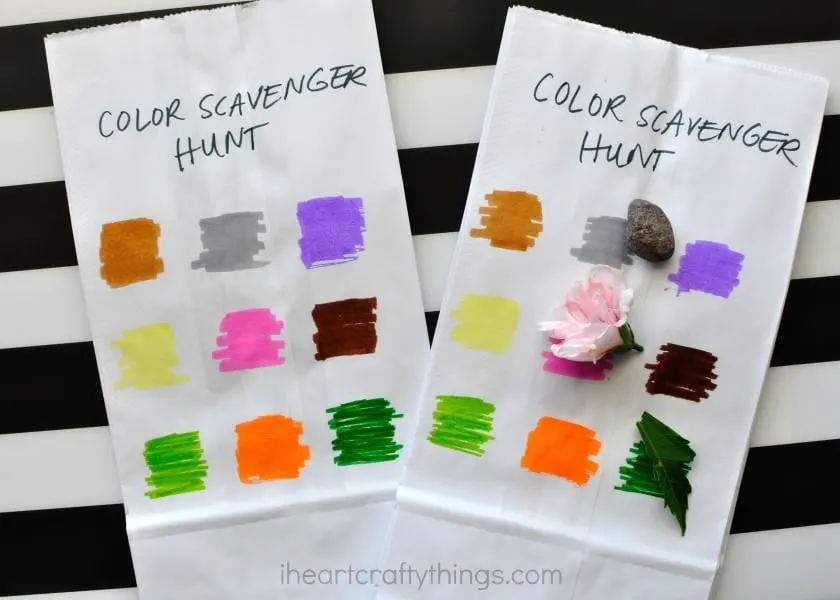 You can read more about color scavenger hunt ideas at I Heart Crafty Things.
An alternative to this is to change it into where they have to find items matching certain shapes instead of colors.
Flashlight Christmas Scavenger Hunt
If you can hide items out in your yard, then hosting a Flashlight Christmas Scavenger Hunt is a super fun activity for teens.
Give them all a flashlight and a list of items that they can find (or that you've hidden in the garden).
Set a time limit, and the person who finds the most items on the list within that time frame, or first, if there's more than one person to find all the items, wins a prize.
Christmas Scavenger Hunt Rhyming Clues
The best way to create Christmas Scavenger Hunt Rhyming Clues is to first decide where you want to hide the clues.
Then think of Christmas words that may rhyme with these.
For example:
If you want to hide the next clue in their bed, then think of a word that rhymes, i.e. red. Now think of anything related to Christmas that is red. Santa's suit, Christmas stocking, Elves dressed in red, Ruloph's nose, candy canes are white and red.
Now you can use these words to make up a rhyming clue.
Santa's suit is bright red; find your next clue under your bed.
Candy canes are white and red; your next clue is hidden under your ___.
Rudolph's nose is oh so red; go check what's hiding under your bed.
Here are some more Christmas Scavenger Hunt Rhyming Clues that you could use.
On which list will you be? Naughty or Nice?
Perhaps you'll find the answer where you can find the ice.
Santa's reindeer Blitzen is super keen,
You might find a clue in the washing ——-.
Santa has many presents he needs to give,
Find your next clue where your socks live.
Reindeer work hard pulling Santa's sleigh,
Your next clue is hidden where Mom (or Dad) works during the day.
A Christmas stocking may look like a large sock,
Hurry up, and find your next clue near the —–.
We love decorating our Christmas tree for certain,
You might find your next clue behind a ——-.
Download your free printable of these Christmas Scavenger Hunt Rhyming Clues.
FAQ: Christmas Scavenger Hunt
Here are my answers to some common questions about scavenger hunts.
How do you do a Scavenger Hunt for Christmas?
You can create a Christmas Scavenger Hunt in a similar way that you would a regular scavenger or treasure hunt.
You can hide a gift and give the participants clues in the form of riddles to help them find it.
Alternatively, you can make a list of items that you can easily find during the holidays (tinsel, Christmas tree, wrapping paper), and get your children to find all the items on the list to win a prize.
What are scavenger hunt clues?
Scavenger hunt clues are usually riddles and rhymes that players need to solve to find the next clue.
The last clue will lead them to a gift or prize.
Clues can be easy for smaller children or more difficult to solve for adults.
How do you write scavenger hunt clues?
The best way to write scavenger hunt clues is to first decide where you will hide your clues.
Then think of words that rhyme with that location. For example, red and head rhyme with bed.
Use these rhyming clues to make up a clue that leads them to their bed, like this: "Father Christmas wears a suit of red; your next clue can be found where you rest your head."
How long should a scavenger hunt be?
You can make a scavenger hunt as long or short as you want.
For younger kids, you can make the clues easy, or only give them a few items to find. 30 min is probably a good time for younger tweens.
You can give older teens and adults more difficult clues and/or more items to find, making their scavenger hunt longer. An hour is probably a good time for older teens to solve clues and hunt for items.
How do you give scavenger hunt clues?
If players need to find a prize or gift at the end of the hunt, then you give them the first clue (usually in an envelope). Solving this riddle will lead them to the next clue and so forth. The last clue will lead them to the prize.
If you want players to find several items, then print out a list for each player or team, and they can tick off each item as they find it, bring it to you, or take a photo of it. The person or team that finds all the items first, or the most items in a set time, wins a prize.