So you're finally having the extended family and even some friends over for Christmas.
There will be lots of planning and excitement, but for some people, especially teenagers, making small talk isn't always something they look forward to. This is where having some Christmas icebreaker questions available comes in really handy.
Print out some ice breakers questions, and let each child at the Christmas party choose a couple of questions they like. Their task is to go up to someone at the party (they can choose) and ask them one of their icebreaker questions. It might be fun to give young kids a Christmas cookie for every interesting answer they can come back and tell you.
The younger tweens will most likely run up to gran and gramps, or their favorite aunt or uncle, and readily start engaging.
Older teens probably won't be as eager, but having a couple of questions in their back pocket, will help them when long-lost Aunt Regina suddenly pops up and starts asking them loads of personal questions.
Having a couple of ice breaker questions 'in your back pocket' so to speak, will help anyone that's shy or awkward in social situations.
So, to help melt away the awkwardness at your next holiday gathering, I've come up with these fun Christmas icebreaker questions.
You are welcome to download this Christmas icebreaker questions printable to use during your next Christmas get-together. The questions can be thrown into a hat, and people can draw them as they see fit.
🎄 You might also be interested in some general Ice Breaker Questions For Teens.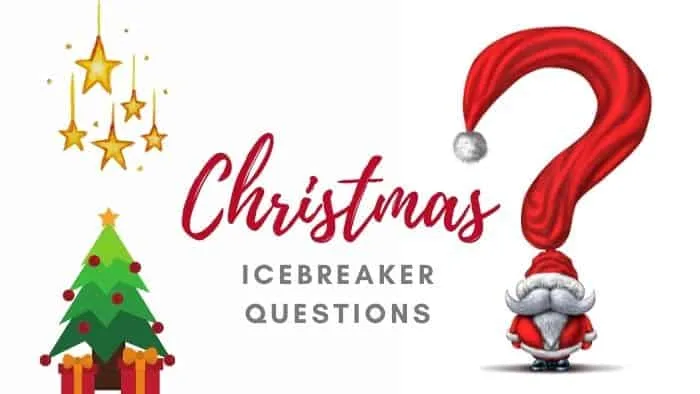 Christmas Icebreaker Questions For Family Gatherings
What is your favorite family Christmas memory?
Which is your favorite Christmas movie?
Do you have any weird family traditions?
What would be your one Christmas wish?
Do you have a favorite Christmas song?
If I was an elf, what would my name be? Discover how to choose your elf name here.
Tell us how your hometown celebrates the holidays.
Will you be sending Christmas cards this year?
Describe your perfect Christmas.
What would be your favorite Christmas miracle?
What is your favorite Christmas knock-knock joke? Here's a list of my favorite jokes.
Christmas Songs Icebreaker Questions
Which Christmas carol gets stuck in your head the most?
Which Christmas karaoke song would you slay?
What is your favorite Christmas carol?
🎄 Suggested reading: 80 Christmas Song Trivia Questions & Answers (with Free Printable)
Christmas Food Icebreaker Questions
Which holiday flavor do you enjoy the most?
Do you have a favorite winter beverage?
Do you like gingerbread cookies?
Do you have a favorite Christmas cookie?
Suppose you could make a new breakfast cereal for Christmas. What ingredients would you include?
🎄 Suggested reading: 100+ Christmas Food Trivia Questions And Answers
Christmas Holidays Icebreaker Questions
How would you describe the holidays in one word?
Do you have any Christmas holiday travel plans? Where to?
Have you ever been stuck at an airport over the Christmas holidays?
If you could spend the holidays anywhere, where would you choose to go?
If you could spend the holidays with any celebrity, who would it be?
What is your earliest holiday memory?
Christmas Santa Icebreaker Questions
Have you ever written to Santa?
Have you ever sat on Santa's lap?
Have you ever stayed up and waited for Santa?
Only for teens who are old enough. At what age did you learn that Santa does not exist?
Christmas Tree Icebreaker Questions
Does your Christmas tree stay up for months, or do you take it down soon after Christmas?
What tree topper do you have?
Who decorates the Christmas tree in your home?
When do you put up your tree?
Do you prefer a real or artificial Christmas tree?
Pre-Lit Artificial Mini Christmas Tree
Christmas Decorations Icebreaker Questions
Do you have Christmas lights and decorations on the outside of your home?
Have your parents kept any of the Christmas ornaments you made in grade school?
Do you have an elf on the shelf?
Which holiday decoration would you put up first?
Name a favorite family Christmas ornament and why it is special.
Could you imagine the strangest thing inside a snow globe?
Elf On The Shelf
Christmas Gifts Icebreaker Questions
Did you shop for gifts primarily online or at stores?
What is your favorite kind of gift?
What is the silliest Christmas present you have ever received?
Did you sneak and find your Christmas presents as a kid?
What gift would you love to unwrap?
Do you buy Christmas gifts for your pets?
What would you make if you had to make all of your Xmas gifts yourself?
What is a great last-minute gift?
What would be the worst surprise in your Christmas stocking? Check out our list of favorite stocking stuffer ideas instead.
When it comes to wrapping paper, what is the strangest thing you have ever used or seen?
Have you ever regifted a gift? Rather play some Christmas Gift Exchange games instead.
What is the absolute best Christmas present you've ever received?
If you could give anything, what would you want to give your parents?
How early should you be allowed to open Christmas presents?
What skill would you like to learn in order to make DIY Christmas gifts for your friends and family?
Christmas Icebreaker Questions Printable Download
Download your free Christmas icebreaker questions and print them out at home.
You can cut them out and put them in a hat, and let everyone choose a couple of questions to ask throughout the evening.