'Tis the season to be jolly! Christmas can be celebrated in a number of different ways, and we hope that these Christmas riddles become a part of your holiday celebrations.
This collection of 55 Christmas jokes and riddles is sure to make you laugh and bring some cheer this holiday season.
Listed below are Christmas riddles sorted by category for easy reference and a free printable to share with friends and family.
Christmas Riddles For Kids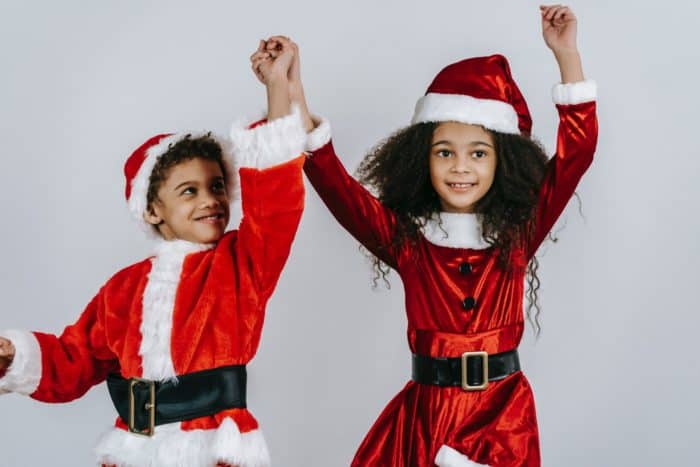 Kids of all ages love riddles! While riddles may seem straightforward to adults, they can be quite challenging for children.
However, the good thing about riddles is that you can also use them as a learning tool for your little ones.
It excites them when they get the right answer. It's like solving one mystery after another.
Why not incorporate a few riddles for kids into your holiday celebrations? Not only is it entertaining, but it can also be educational.
I've compiled a list of kid-friendly riddles that will make their holidays fun.
1. I'm made of two colors. And I look just like a hook. You'll give me a lick but I'm not something you cook.
ANSWER: Candy Cane
2. I am worn to mark a successful victory, I am also made of flowers and leaves formed into a circle, and I vary in size from big to tiny. What am I?
ANSWER: Wreath
3. What much-reviled Christmas edible is known for its long shelf life?
ANSWER: Fruit Cake
4. What do snowmen eat for breakfast?
ANSWER: Snowflakes
5. Which one of Santa's reindeer can you see in outer space?
ANSWER: Comet
6. Climbing down chimneys may often seem weird, but not when it's this old man with a white beard. Who is he?
ANSWER: Santa Claus
7. What will it be stuffed with. There's nobody who knows. But it looks like something you'd slide over your toes
ANSWER: Christmas Stocking
8. Your gifts are found beneath me, and on top of me is a fairy. Hung with baubles and bright lights, I bring cheer on cold Christmas nights. What am I?
ANSWER: Christmas Tree
9. You might make this at Christmas. So that you can stuff your face. A cake, icing, and candy. An edible dwelling place. What is it?
ANSWER: Gingerbread House
10. You can hold me and shake me, but I'm easy to break. I have lots of snow, even though all of it's fake! What am I?
ANSWER: Snow Globe
11. I'm grumpy and green and I stole all the presents in one night. But then my heart grew and I made everything right. Who am I?
ANSWER: The Grinch.
12. I am a helpful creature– I'm not too big and not too small
Out of all my fellow reindeer, you could say I'm the fastest of them all. Who am I?
ANSWER: Dasher.
13. You have no idea what I am, yet you wait for me every year. I rattle when you shake me, but you still don't know what's inside. What am I?
ANSWER: A present
14. Sweet as candy, double as fun. Named like a fruit, half the work is done. Found on Christmas, I am a treat for everyone. What am I?
ANSWER: A Sugar Plum.
15. What is something that travels around the globe like Santa Claus, yet never leaves its corner?
ANSWER: A postage stamp.
16. Known for having pointy ears and making Christmas toys. Which Santa then delivers to all the good girls and boys. Who are we?
ANSWER: Santa's elves.
17. I get hung but I'm not a picture. I'm green but I'm not a coat. I'm a plant but I'm not mint. I'm seen in December but I'm not a Christmas tree. I encourage people to kiss but I'm not Cupid.
ANSWER: Mistletoe
Christmas Riddles For Teens