The interest teens once had in Santa Claus may have faded, but the idea of gift-giving is something they will never outgrow. They still have their families and friends to share their precious gifts with.
However, buying fancy gifts may be difficult for teenagers with limited resources and money. These DIY Christmas gift ideas will allow them to give thoughtful gifts to everyone on their list without spending a fortune.
I've rounded up some easy and fun DIY gift ideas that will surely make them happy when the holidays come around.
With this list, they can pick from a wide range of gift ideas. Everyone can find something they'll love, from best friends to boyfriends and girlfriends, teachers, parents, siblings, and every member of the family, including your most precious pet.
No matter how big or small your budget is, there's something for everyone.
Edible DIY Christmas Gifts
Chestnut Truffles
Truffles made with chocolate and chestnuts is an edible gift that is easy to make and a wonderful way to give during the holidays.
Whether it's for family members or a sweet tooth friend who loves fancy desserts with a personal touch, this gift is perfect.
Chestnut Puree
Hot Chocolate Stirrers
Chocolate lovers will appreciate these great gifts; just stir a few into a mug of warm milk.
You can create your own flavors using the creative ideas in the tutorial.
Pack them in cellophane and tie them with a festive ribbon and tag! Pick out any of your favorite flavors!
You can give these adorable hot chocolate stirrers to a sibling or friend you would like to share a cup of hot milk with.
Reindeer & Snowman Chocolate Bark Treats
Bring the teen crowd together by making our deliciously festive chocolate bark. This gift would be perfect for their teachers. Sweet and simple.
DIY Christmas Cranberry Jam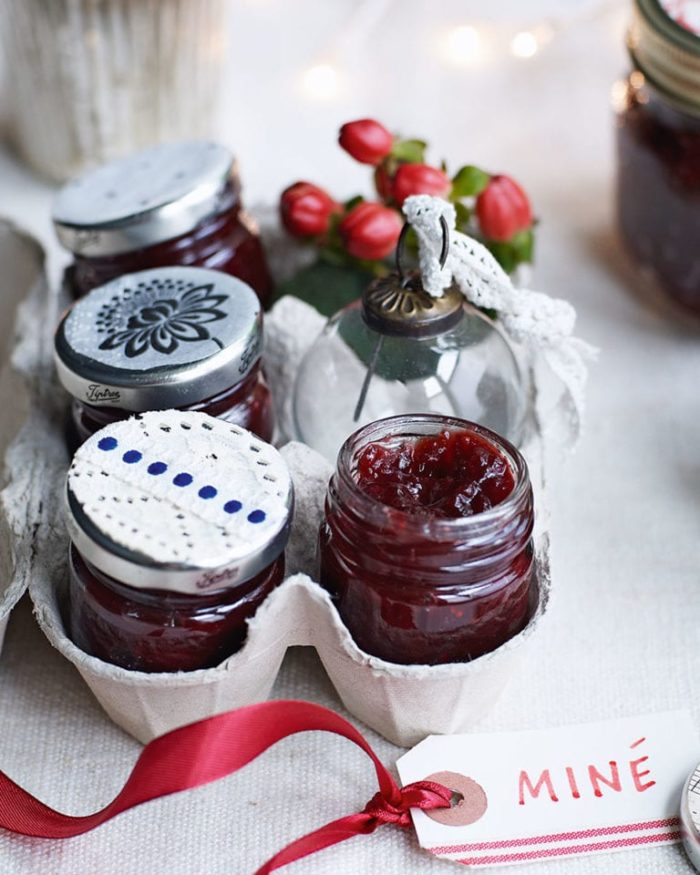 Spiced cranberry jam is a simple homemade gift that is tangy and an excellent food pairing for Christmas turkeys or hams—making it an ideal gift for relatives, and one that you can bring to a family Christmas dinner.
DIY Candy Cane Sleighs
Choose the candies of their choice to make it even more sweet and personal. Easy, inexpensive, but super cute.
Younger relatives and siblings will thoroughly enjoy this treat.
Mini Gingerbread House Mug Topper Cookies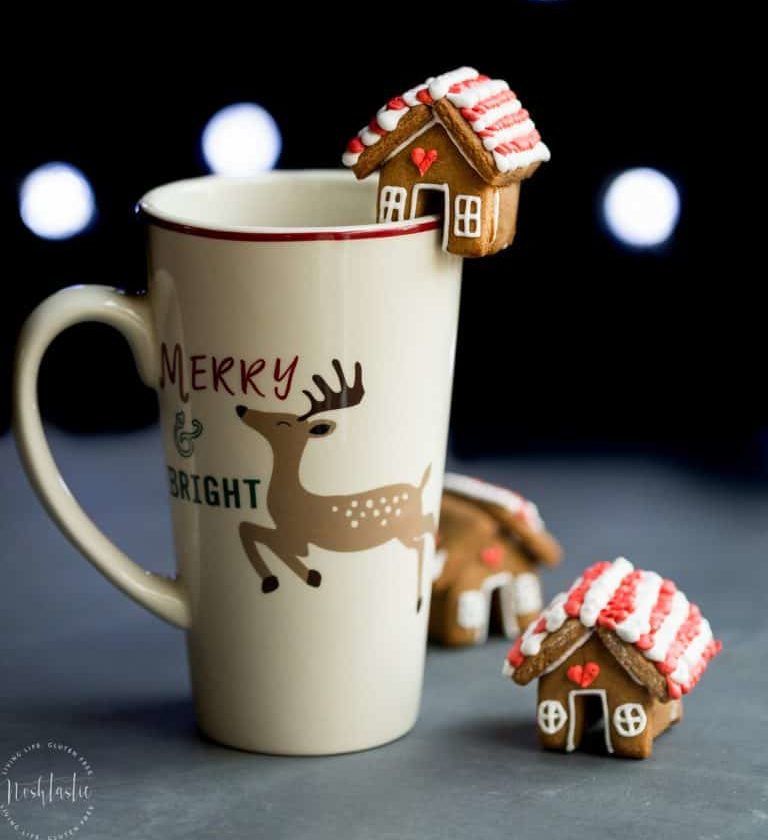 Add a little flair to hot cocoa by decorating it with an adorable gingerbread house.
While these tiny houses may appear challenging to build, but it is the same as making bigger ones – just bake, and decorate!
It's the ideal gift for anyone who loves warm drinks like chocolate or milk, especially on a cold Christmas night.
Jam Sandwich Cookie Gifts
Make classic Christmas cookies by filling them with jam of your choice and wrapping them up in a festive paper envelope.
You can choose any type of paper – gold or silver – then trace it, cut it out, fold it in corners, and seal it with a sticker.
Add a layer of wax paper between your cookie and the paper for extra protection.
These would be a delight to family and friends. Holiday treats don't need to be fancy. They only need to be made with love.
Sugar Cookie Name Tag Gift Ideas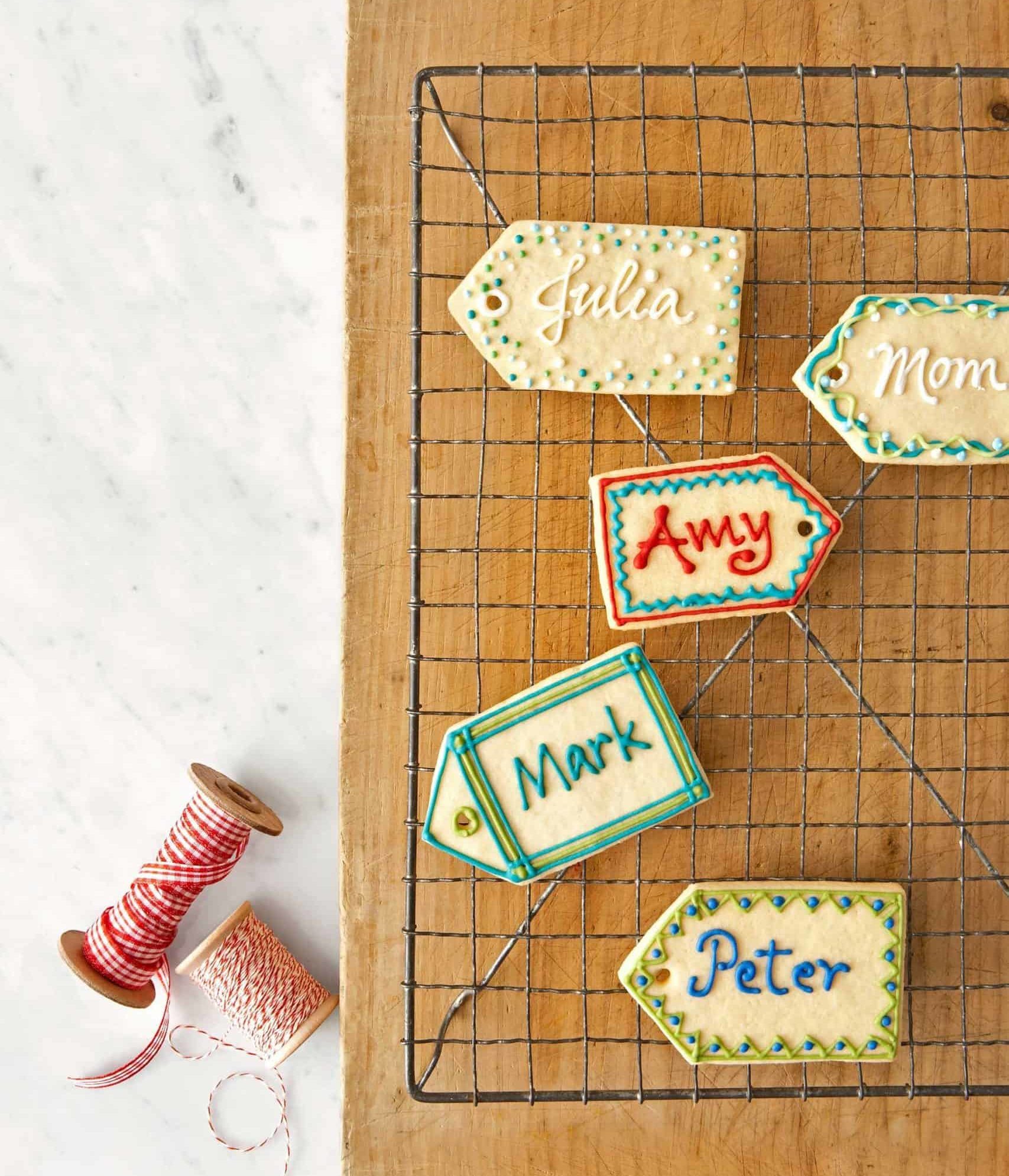 You can't go wrong with simple sugar cookies. Decorate your cookies with festive cutters and vibrant colors – or make something extraordinary by frosting them with royal icing, then writing a message using food-safe markers.
Make the cookies more personalized and eye-catching by adding names and decorative edging to each one. It is an excellent way to personalize such a sweet holiday gift to friends and family.
Homemade Christmas shortbread
Let's admit it, cookies are one of the most popular gifts for the holiday.
If you want to make your own homemade gifts for Christmas this year, these spiced orange Christmas biscuits would be a great idea.
Make thoughtful Christmas gifts from homemade shortbread by stacking them high and tying them with thin ribbons or strings.
A nice and easy holiday giveaway for friends, family, and even your neighbors.
Such a sweet and simple way to wish them happy holidays.
DIY Hot Cocoa Kit
It's a simple and easy project for teens to make for all their teachers and is suitable for those without much crafting experience.
With some glue, some tubes, and some decorations, anyone can make a darling homemade hot chocolate gift idea.
It's easy to make and super cute, but most importantly, it's inexpensive.
Homemade Holiday Spritz Cookies
While this recipe might look store-bought, you can easily make it at home with the help of a easy to use cookie press.
The recipient will be blown away with such fancy and delectable cookies. The best part, they are homemade!
A gift of this kind would make a great present for grandparents. It's time to treat them to these adorable goodies for the holidays. Plus, you will surely make them proud.
No-Bake Waffle Dippers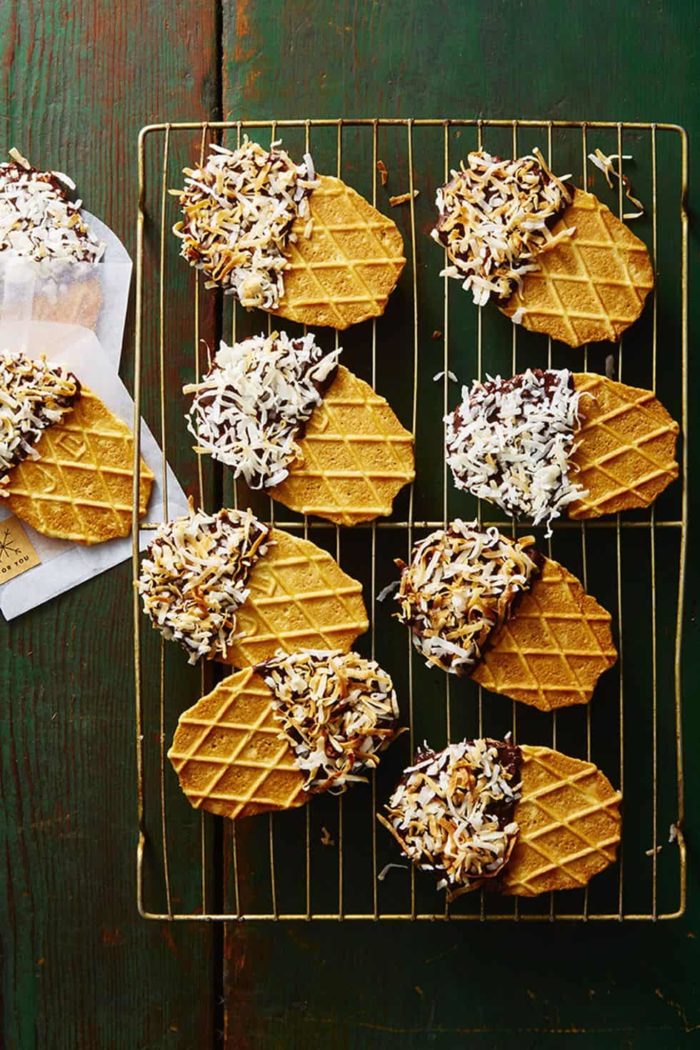 This recipe for three-ingredient cookies is perfect if you need a last-minute gift.
These cookies are not entirely homemade. Simply purchase three items, assemble, and enjoy!
Arrange them in pouches, boxes, or tin, and they're good to go.
Easy DIY Christmas Gift Ideas For Pets
In the Doghouse Photo Ornament
We definitely enjoy the company of our four-legged friends, especially during the holiday season.
Why not create an ornament to celebrate their love of pups this year for that friend who is more attached to them than anything else?
You might end up wanting to make one for yourself too.
Easy Homemade Dog Treats
Holiday gift-giving won't be complete without our beloved furry friends.
Here are some delicious homemade dog biscuits to share with them this Christmas – made from natural, easy-to-find ingredients. They'll love you even more for it.
Creative DIY Christmas Gifts For Family & Friends
Paint Chip Bookmarks
These cute and colorful bookmarks are made from leftover paint swatches.
Add a personal touch by choosing their favorite color.
These bookmarks will look like retro bookmarks from the past made with simple embroidery thread and the ombré effect.
It's ideal for your friend who spends countless hours reading books.
Superhero Comic Book Magnets
A fan of comic books? Their superhero dreams will come true with these comic book magnets. It includes all the iconic words for sound effects and exclamations.
These would make a unique DIY Christmas gift for teenagers or any boy, whether it's your boyfriend or your brother.
Ceramic Magnets with Transparent Glass Dome Cabochons
Cookie Cutter Stamped Christmas Tea Towels
With the help of a Christmas tree, gingerbread men, and snowflake cookie cutter, you can dress up white tea towels for Christmas.
You can have fun doing these cleverly designed cookie-cutter stamps used to make some fun tea towels for neighbors, teachers, and for grandma for the holidays. Or give them to the one in charge of the holiday feast – Mom.
Basketball Hoop Wall Decor
The super cute basketball hoop can also be used as wall decor for those who are not sports fans!
This wall art can be used for a basketball-themed party or simply as fun wall art for your basketball-loving boyfriend or brother.
Warm And Cozy Felt Cup Sleeve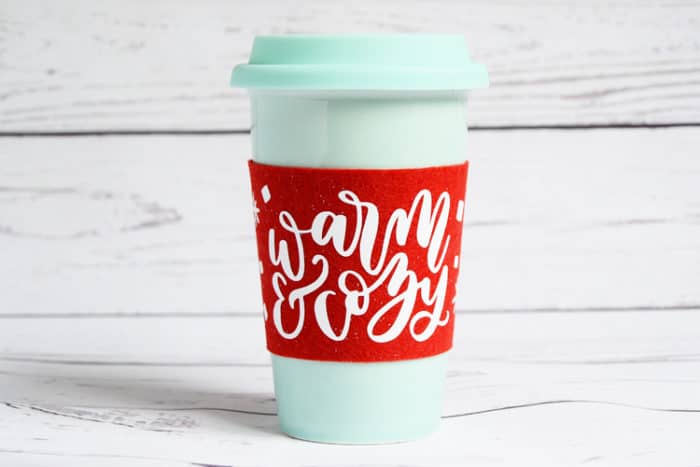 During this time of year, we enjoy a warm beverage to start our day, whether tea, coffee, or hot chocolate.
Some people like getting their drink from the local cafe occasionally – so of course, it would be nice if we could make this fun cup sleeve for their to-go cups.
This is an easy technique you'll definitely want to learn! Our older siblings or parents might find it helpful.
Classic Felt
Heat Transfer Vinyl
Elf Christmas Mason Jar Gifts
Mason jars are an ideal gift for the holiday season, and this one could not be simpler to make!
The holiday season is the perfect time to fill it with candy and gifts for friends and family.
These are the perfect last minute DIY Christmas gifts. Just fill the jars with colorful candy and add some easy decorations.
This homemade Christmas gift can be personalized and is a perfect DIY gift for teachers.
DIY Hand Warmers
Ensure that your friends and family are comfortable in the most colorful way.
Keep them warm this Holiday season with these hand warmers.
These super cute and creative gifts are perfect for best friends, grandparents and teachers alike.
Pine-Scented Candles
These pine-scented soy candles make the perfect holiday gift!
The striped wax makes them look special, and they're fun to make.
Not only are these candles incredibly attractive, but they smell divine (like pine).
This mint-and-white design will be perfect in the recipient's home until springtime comes around.
Money Tree Origami
When you don't know what to make for someone, then instead of getting them a gift card, why not make them an origami money tree.
This is a great gift for teenage boys who are often hard to shop or make something for.
If you're looking for other money origami projects to gift this Christmas then check out 20 Creative DIY Money Origami Ideas & Tutorials for further inspiration.
Mini Yarn Wrapped Rope Bowl
This colorful basket is the perfect place to stash holiday treats, trinkets, or other goodies.
The basket doubles as a gift wrap and a gift. Fill it with cute hair ties or DIY bracelets to make it even more special.
Whether it's used to hold cotton balls in the bathroom, or jewelry items, it makes a unique homemade gift.
This would make the perfect DIY Christmas gift for your teenage friends, so customize the basket using the recipient's favorite color. Your best friend's vanity table will look amazing with this addition.
Collegiate Scarf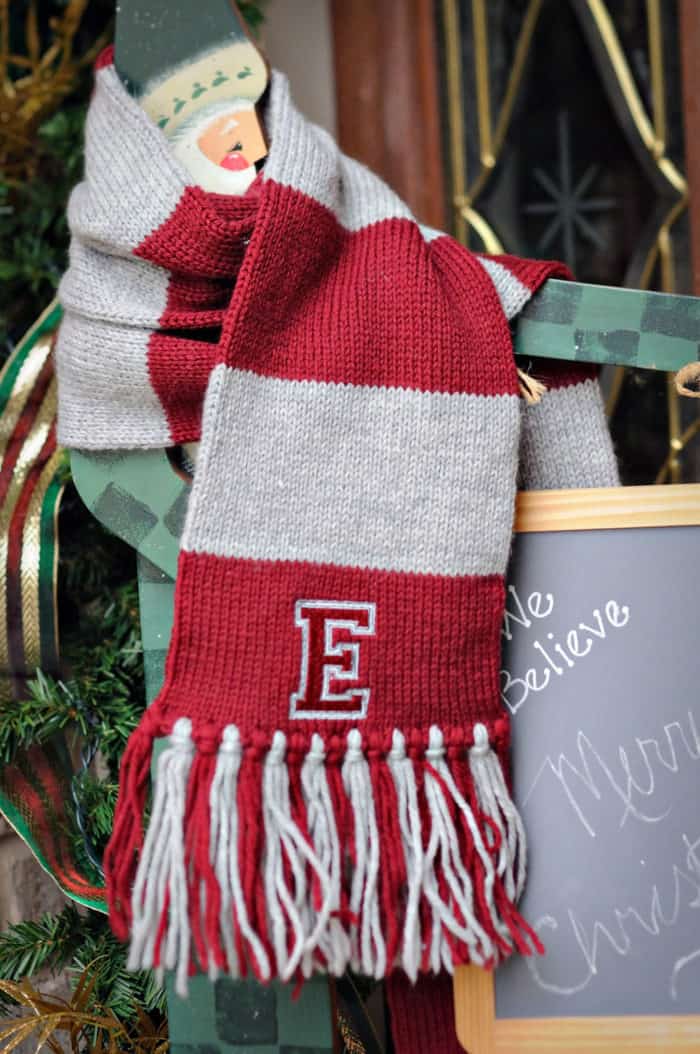 There are a lot of students who cannot afford the prices of college accessories.
Give them a school scarf they'll love – homemade can look retro and cool too.
It's not just any personalized gift; it's a whole lot of love and effort in the form of a collegiate scarf anyone can make for a friend or oneself.
Mystery Braid Bracelet
With a more grown-up feel than the friendship bracelets you likely made as a kid, these braided leather bracelets make an excellent gift.
It's a meaningful gift anyone can use every day—a good way to remind someone of your friendship.
Leather Kit, Mystery Braid Bracelets
DIY Fleece Tie Blanket
An easy no-sew project that teens will love is making a fleece blanket with a fringed edge.
This inexpensive blanket makes an excellent gift to friends. It's stylish and cozy. Just perfect for the holidays.
DIY Tablet Case
In the age of tablets and iPads, this gift idea feels especially useful. In addition to being excellent for protecting your precious gadget, this DIY tablet case is also aesthetically pleasing.
The leather buckle and strap allow you to carry it like a bag. It is also possible to make it if you have basic sewing skills by following the sewing instructions provided.
Your Ipad-using friends will surely appreciate this gift.
Roman Numeral Clock
The recipient of this awesome gift would be so enchanted with this clock that they wouldn't care if it doesn't tell time because it's used purely for aesthetics.
Painting, stickers and prebuilt wooden rounds will make this "woodworking" project a snap. It would be a perfect decor for an office or study, making it an ideal gift for the Dads out there.
DIY Custom Color Nail Polish
The project is ideal for anyone who has struggled to find the perfect pink shade or sheer glittery polish.
Create your own shades of nail polish in minutes by mixing ready-to-use polish bases with mineral colors!
A fun way to step up your DIY nail art game, this is a really fun project.
Your nail art savvy friend will surely love these as a holiday gift.
DIY Marble Dipped Mugs
One of the easiest and prettiest DIY Christmas gift that you can make is a marble dipped mug.
Read the tutorial and follow the step-by-step instructions to create the most beautiful marble dipped mugs.
These gifts are prefect for your best friend, mom, gran or even teacher.
Rainbow Ricrac Placemat Clutch
It doesn't get much cuter than a placemat turned into a fold-over clutch. Moreover, it requires less than 10 minutes to complete and is ready for use.
Each clutch costs less than $10 to make, so it is not only a great way to brighten up your wardrobe, but it is also an excellent bargain!
Another inexpensive and easy-to-make gift for your friend who loves a stylish clutch. Customize the color and design for a classy and more elegant look.