If you're having some friends and family over this holiday, then you might want to play some fun Christmas games.
Christmas charades is a fun game the whole family can enjoy at holiday parties.
If you're not sure how to play, then you can read the instructions and rules below.
I've also created some fun Christmas charade word lists that you can print at home.
🎄 You might also enjoy reading:
How Do You Play Christmas Charades?
You play the Christmas charades game by acting out a Christmas word or phrase without speaking, while your team members attempt to guess what you're acting out.
You can either play as a group, and have one person act out the word or phrase for the whole group, or divide the group into two teams.
If you have one group, you could allocate points to a person for guessing correctly. At the end of the game, the person with the most points wins.
If you're playing with two teams, then each player takes turns pantomiming for their teammates. The team that scores the most points at the end of the game wins.
Print out your printable list of Christmas Charades words and phrases and place them in a container (Christmas hats work well). Then you will need to select a person to start the game.
The first player will begin by picking a card.
Set a timer for each round. 1 or 2 minutes is usually enough. If the clue is guessed correctly before the timer runs out, that person or team gets the point.
If you're playing in teams, and the team has not guessed the answer within the time frame, then you could give the opposing team one guess. If they get it right, then they get the point.
Rules For Christmas Charades Game
The rules for the charades game are pretty simple to understand.
1. The first player chooses a random card.
2. The player has to act out the word or phrase to the rest of the group without speaking.
3. All the other players can shout out ideas and thoughts about what they think they may be acting out.
4. The first person to guess the word or phrase correctly gets the point. You can decide that they then need to act out the next word or that everyone gets a turn in order.
Charades Clues And Gestures
The following are some examples of action clues commonly used in charades:
1. What Kind Of Word Or Phrase Is It?
Start by indicating what kind of word or phrase you're acting out. Is it a book, a movie, a song, a play, or a TV show?
* Song – hold your hand up to your mouth as if holding a microphone and singing
* Book – hold your hands out in front of you as if you're holding a book
* TV – air draw a box with your hands indicating a TV
* Play – air draw the stage curtains, or pretend to pull theatre rope with your hands
* Movie – pantomime a film camera rolling (hold one hand in front of your eye, and the other makes a cranking gesture)
* Quote or phrase – make quotation marks with your fingers in the air to represent a quote or phrase.
* Concept – if you're acting out the whole word or concept, move your hands out wide in a circle, indicating that you're acting out the entire concept. You would use this gesture if you're acting out Christmas objects (tree, angel, Rudolph, Jesus, etc.).
Watch a quick video below explaining how to use the correct hand gestures to play charades.
2. How Many Words?
Let the other players know how many words the phrase contains.
* You do this by holding up the number of fingers in the phrase.
* You don't have to act out the words in order, so you can hold up two fingers for the second word, and later one for the first word, etc.
3. How Many Syllables?
You can even break down a word into syllables by holding the same number of fingers as syllables a word contains against the inside of your arm.
You then tap the finger corresponding to the syllable you're describing onto your arm.
4. It Sounds Like…
Sometimes it's easier acting out a word that sounds like the word you're describing. Pull on your ear to indicate that 'it sounds like.'
5. Short words
Hold your thumb and index finger close together to show something small. This could indicate words like 'a' or 'the,' for example.
6. Longer Version
Pretend to stretch an elastic band.
7. Shorter Version
Make a "karate chop" gesture with your hand.
8. Plural
Link your little fingers to indicate that the word is plural.
9. Past Tense
Reach over your shoulder and wave your hand back.
10. To Highlight A Letter Of The Alphabet
You can chop your hand in a chopping motion toward your arm (near the top or bottom of your arm, respectively, if the letter is near the start or end of the alphabet).
11. Guessing Correctly
Let them know they've guessed the correct word by touching your nose and pointing to the person who guessed correctly.
Remember that they might only have guessed one word of the phrase. You can hold up the finger corresponding to the word they guessed correctly and point at the person to confirm. Then move on to the next word.
Christmas Charade Ideas Lists
Christmas Charade Characters
To help you get started, I've written out some ideas on how to act out Rudolph the Red-Nosed Reindeer:
* Show that it's a concept as a whole.
* Hold up 5 fingers to indicate five words.
* You can show that the 2nd word is a small word 'the.'
* Then point your nose, and air draw antlers on your head.
* If they still don't get it, you can go down on all fours and pretend to pull a sleigh.
Here's a list of well-known Christmas characters that you can include and act out your Christmas charades.
Prancer

Frosty the Snowman

Mrs. Claus

Three Wise Men

Shepherd

Jesus

The Virgin Mary

Father Christmas

Elves

Vixen

Saint Nicholas

Angel Gabriel

Ebenezer Scrooge

Blitzen

The Ghost of Christmas Past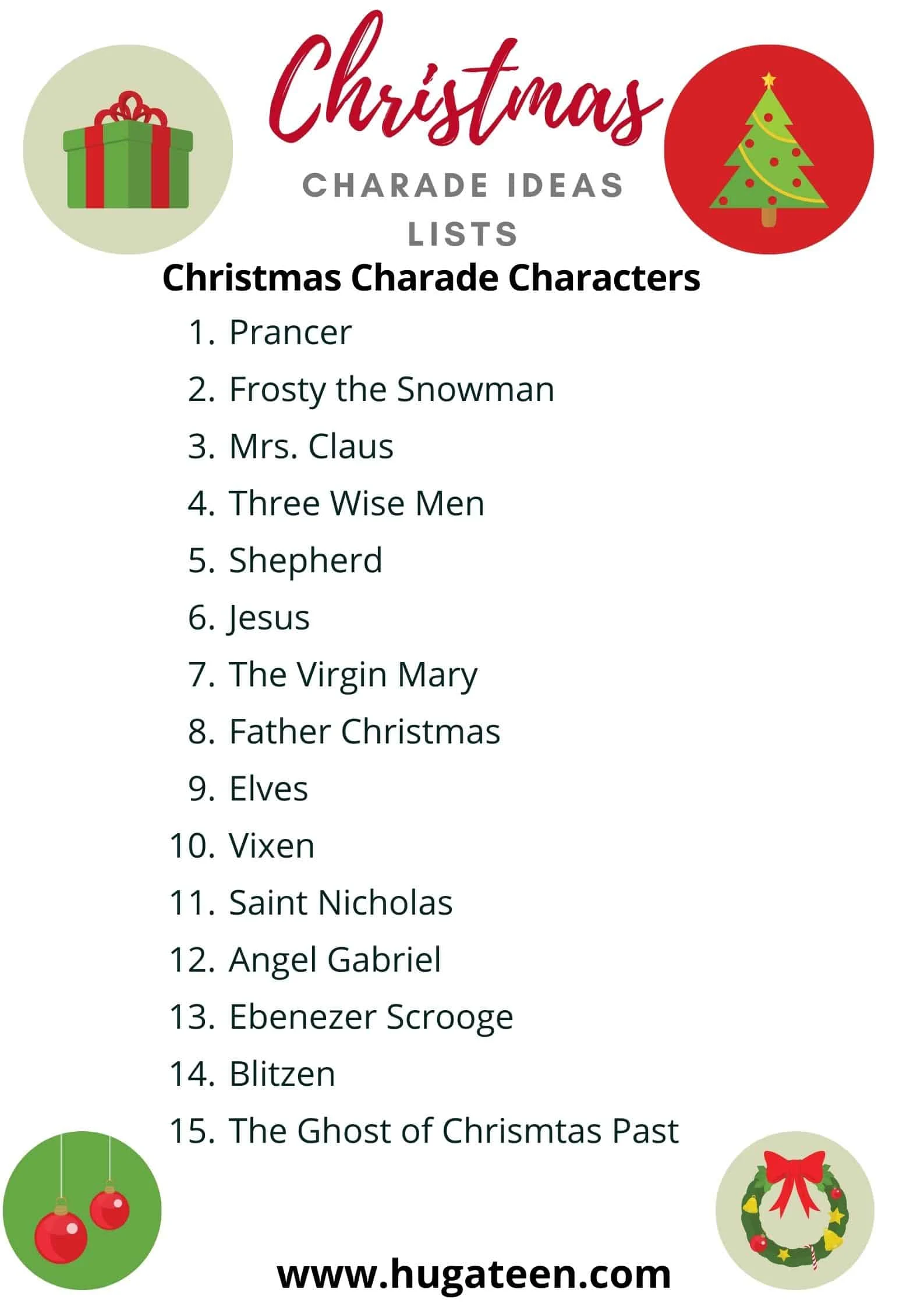 Christmas Decorations and Objects
Adding Christmas decorations and objects to your game of charades is always fun, but not always as easy as acting out a phrase.
Here are some examples:
Christmas ornament –

Pretend to hang things on a tree or place it on the top of the tree

Mistletoe –

"Hang" something above your head while pretending to kiss someone.

Manger

Eggnog

Tree Topper

Chopping Down the Christmas Tree

Candy Canes

Wreath

Ugly Christmas Sweater

Naughty List

Elf on the Shelf

Santa's Bag

Boughs of Holly

The North Pole

Gingerbread House

Gingerbread Man

Star of Bethlehem

Christmas Lights/Fairy Lights

Christmas Tree

Letter to Santa

Angel

Cookies and Milk

Star

Wreath

Bells

Gift Tags

Snow Falling

Sleigh

Candy Cane

Chimney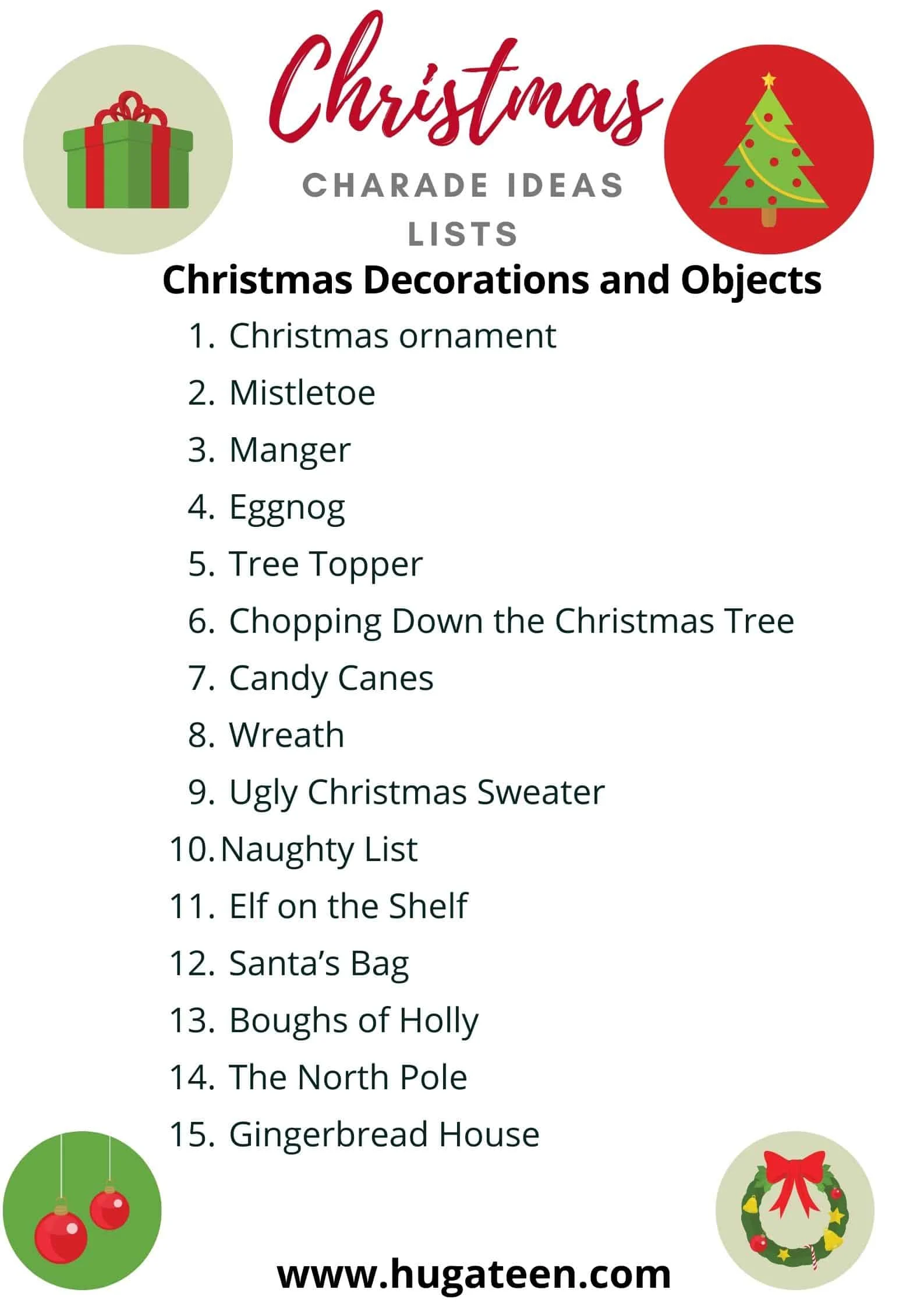 Christmas Movie Charades List
Home Alone

A Bad Moms Christmas

A Charlie Brown Christmas

Grumpy Cat's Worst Christmas Ever

How the Grinch Stole Christmas

It's a Wonderful Life

Miracle on 34th Street

National Lampoon's Christmas Vacation

The Nightmare Before Christmas

Elf

The Grinch Who Stole Christmas

The Polar Express

Scrooged

Four Holidays

Bad Santa

Christmas With the Kranks

The Muppet Christmas Carol

National Lampoon's Christmas Vacation

It's a Wonderful Life

A Christmas Carol

Jingle All the Way

Surviving Christmas

Jack Frost

Stalking Santa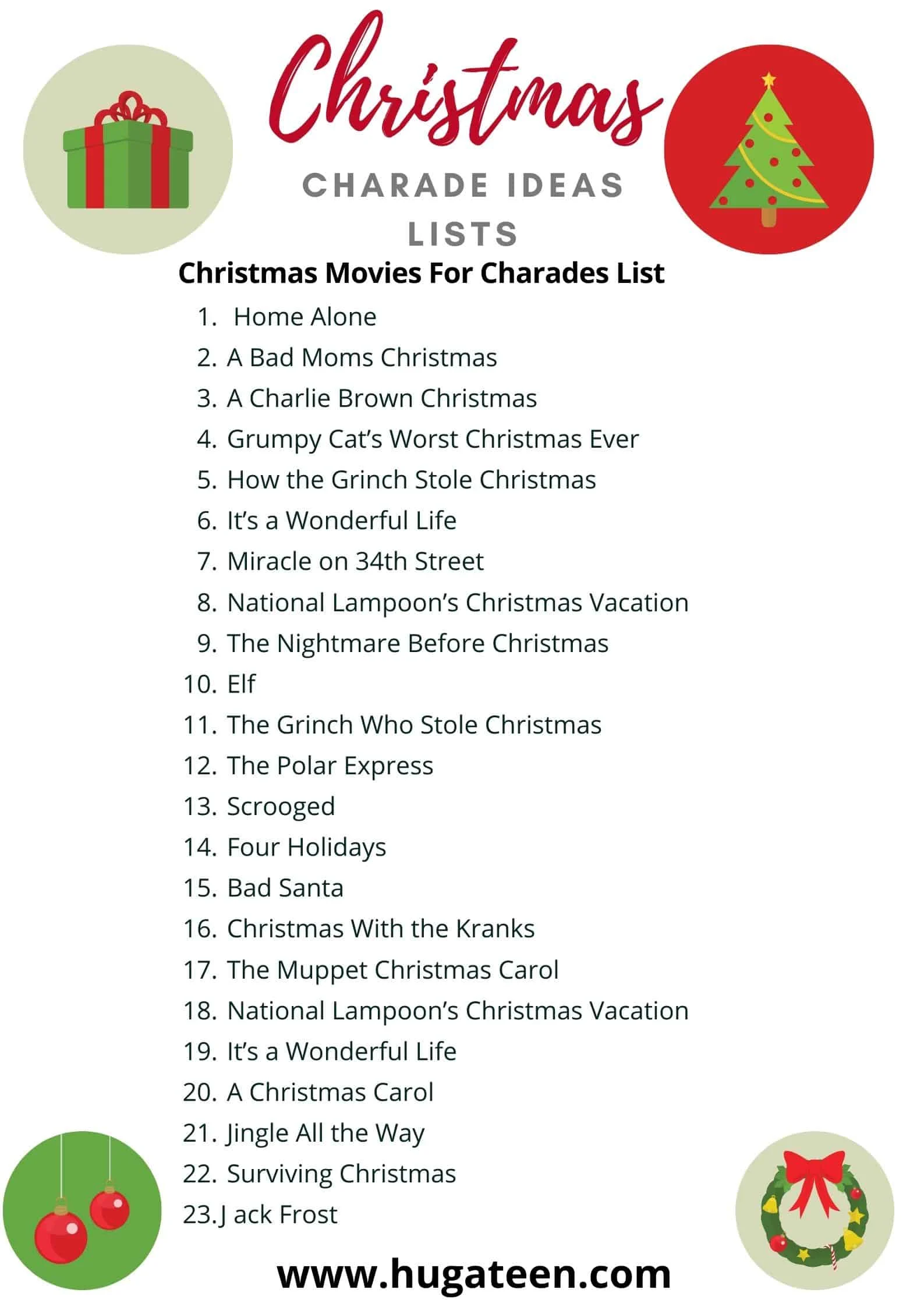 Christmas Books For Charades
Players act out the names of these books. You don't need to have read the books, as you can act out the words instead of the actual story. However, if someone knows the author as well, they can score an extra point just for fun.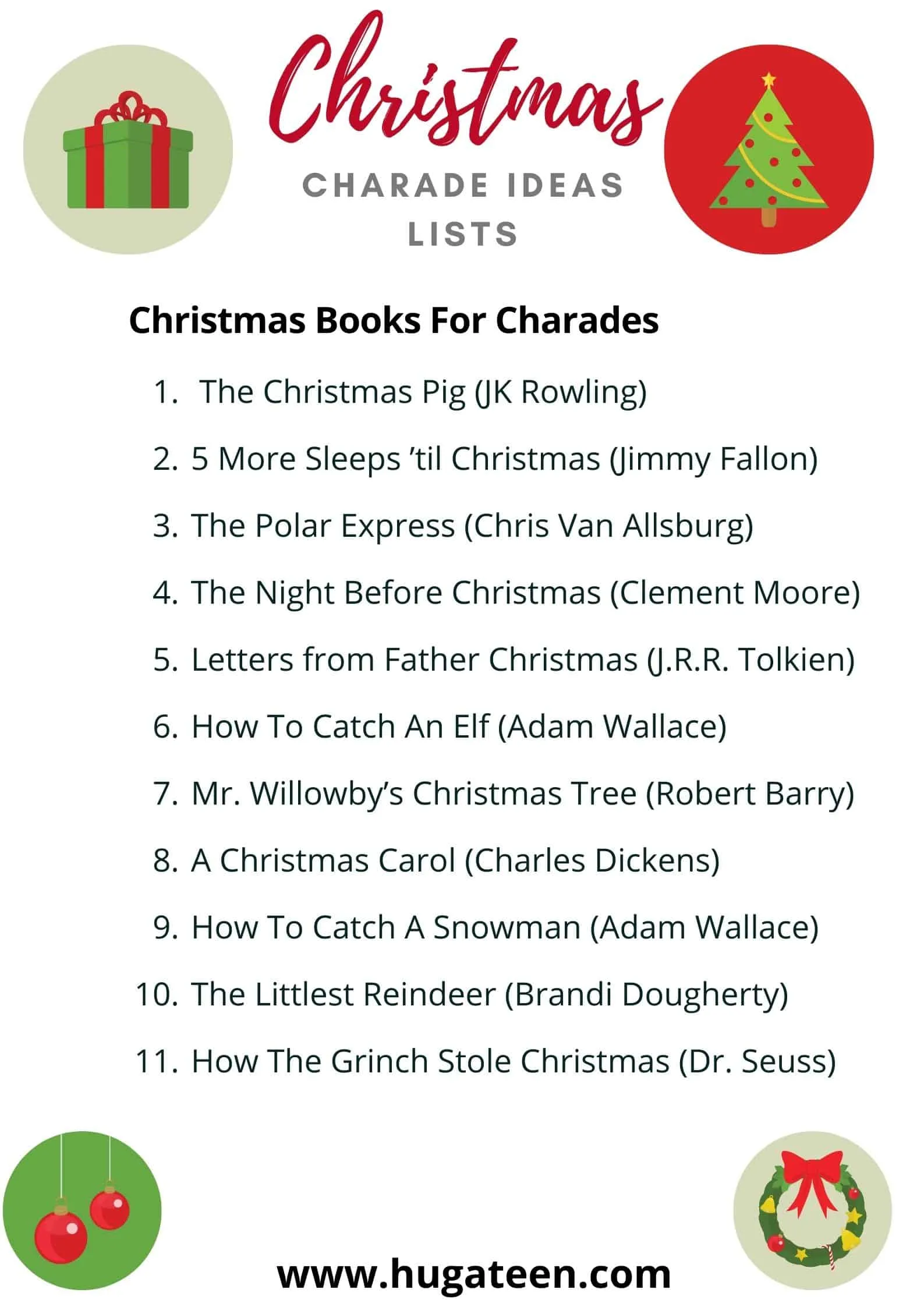 Christmas Carols & Songs Charade Ideas
There's nothing better than a good Christmas carol! You can act out some of these more popular ones. You can award extra points if they can sing the following few lines of the song as well.
Silent Night

We Wish You A Merry Christmas

We, Three Kings of Orient, Are

All I Want for Christmas is My Two Front Teeth

Jingle Bells

Joy to the World

Rocking Around the Christmas Tree

Feliz Navidad

The Little Drummer Boy

Have Yourself A Merry Little Christmas

Santa Claus is Coming to Town

Away in a Manger

I'm Dreaming Of A White Christmas

Deck the Halls

Do you Hear What I Hear?

The First Noel

Hark! The Herald Angels Sing

O Come, All Ye Faithful

Here Comes Santa Claus

Let It Snow
Christmas Actions or Traditions Charades Ideas
Decorating the Christmas tree.

Wrapping Christmas presents.

Writing Christmas cards.

Opening windows in your advent calendar.

Leaving cookies and milk for Santa by the chimney.

Caroling door to door.

Sitting on Santa's lap.

Hanging stockings on the mantel.

Kissing under mistletoe.

Playing a Christmas gift exchange game.

Eating Christmas dinner

Boxing Day

Nativity scene

Building a snowman

Christmas Scavenger Hunt – see our Christmas Scavenger Hunt games and clues here

Baking cookies

Roasting chestnuts
12 Days of Christmas Charades
You may also want to include phrases from The Twelve Days of Christmas.
A partridge in a pear tree.

Two turtle doves.

Three French hens.

Four calling birds.

Five golden rings.

Six geese a-laying.

Seven swans a-swimming.

Eight maids a-milking.

Nine ladies dancing.

Ten lords a-leaping.

Eleven pipers piping.

Twelve drummers drumming.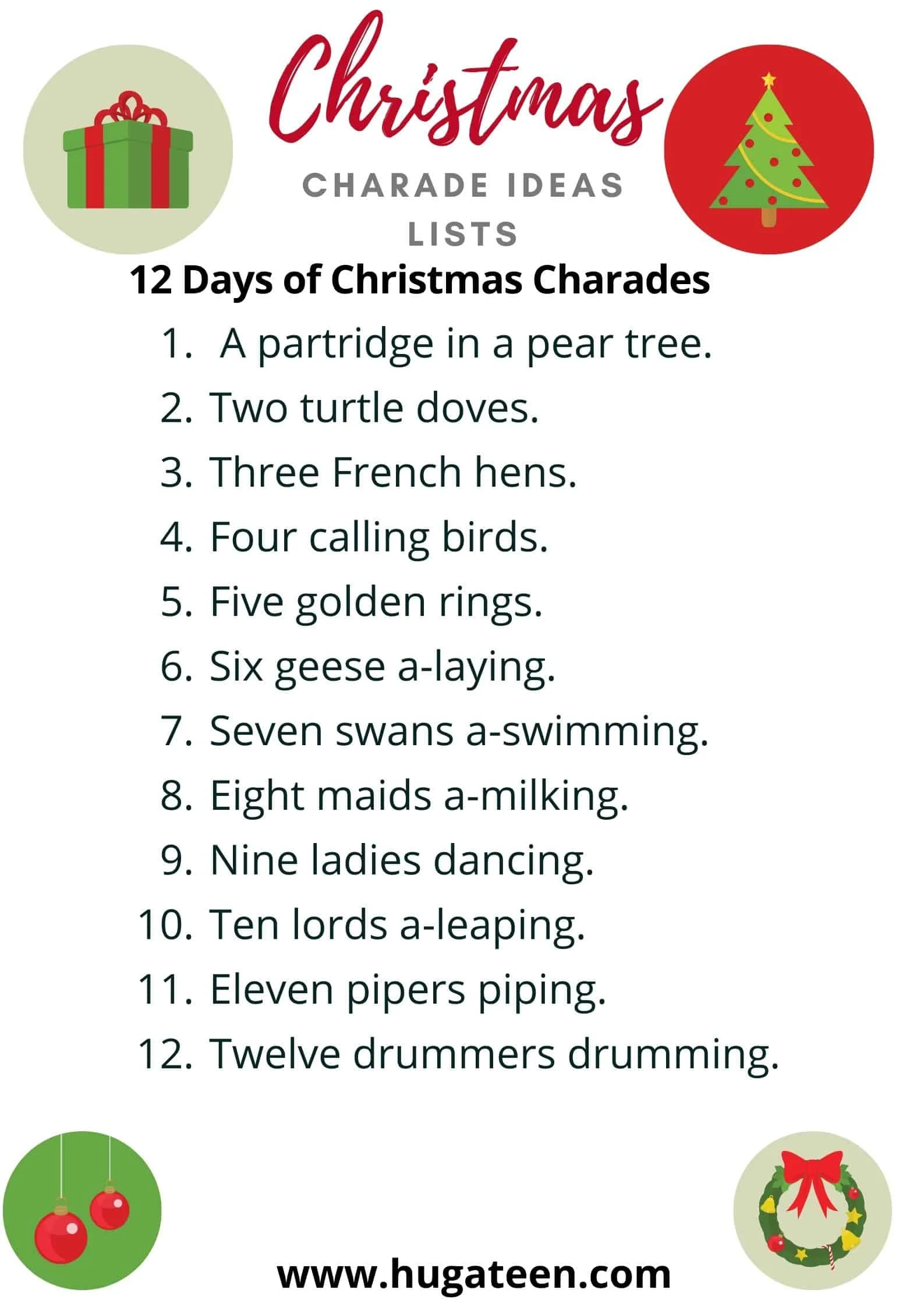 Christmas Charades For Kids
Keep in mind that young children might not understand what a gesture is.
If you have young kids playing then you could make two different containers; one for the younger players (with easier to act out clues, and one for the more advanced players.
Additionally, if you are playing with young children who can't read yet, consider putting the clues in pictures, or reading them out to them.
Remember to mix up the ages of team members on both teams to keep things fair.
Christmas Charades Ideas Lists Printable
I hope you've found some fun Christmas charades ideas and lists. Print them at home and cut out your favorite Christmas charade words or phrases to act out.
Wishing you and your family a very Merry Christmas!