I've tried to highlight games that any teen would enjoy playing without feeling embarrassed.
While researching and evaluating potential Christmas party games for teens, I kept my teenage son in mind. He's pretty introverted and doesn't like showing off or being the center of attention.
I wanted to ensure that the games listed below would be enjoyed by even the most embarrassed teenager, but as I know that some teens do love acting and many girls love singing, I have included a few games for extroverted teens as well.
Of course, we never know what our teens are really thinking, but these games have passed the awkward teen test, so they should be safe to play.
🎅 Suggested reading: Merry Christmas Wishes For Daughter (Poems, Quotes & Messages)
A fun way to get any Christmas party started is to get everyone to choose their Elf names for the evening. You can preselect funny words that match the first letter of the name or birth month, or they can make up their own.
Feel free to download these printable cards, which have several funny names suggestions for your guests to use to discover their elf name.
Match the first letter of your name and your birth month with the names below.
🎄 You might also be interested in reading:
Christmas Scavenger Hunt Games
Christmas Holiday Themed Scavenger Hunt
A Christmas Scavenger Hunt is an excellent way for kids to go on an adventure.
This scavenger hunt game features 220 Christmas-themed cards with typical objects that can be found around the house during the holiday season.
Two decks cover both the indoors and the outdoors, allowing teens to play inside or enjoy running around the neighborhood.
It's easy to play, just pair up, deal some cards to each team, and get hunting. It's that simple.
If you have the time you could make your own Scavenger hunt cards. You can either write or print out cards and highlight items you know will be around the house.
Remember to keep it Christmas-themed, so you can print words like reindeer, tinsel, elf, wrapping paper, basting brush, ribbon, pine needle, cookie, etc.
You can print on white card stock then laminate if you want to use it over and over.
Old School Christmas Scavenger Hunt
Scavenger hunts are always a hit with teens because they solve clues and riddles to reveal a treasure at the end!
Think of places where to hide clues and then make up a rhyming clue or riddle so that they can find it.
Each clue leads to the next. You can make as many clues as you like depending on the time you'd like them to spend on the scavenger hunt.
The final clue will lead them to the treasure at the end.
Have a look at our related article for more Christmas Scavenger Hunt Games & Clues.
Candy Hunt
With a Christmas twist, this is a fun game for all ages. Hide some Christmas candy or Christmas Santas around the house and let your kids find them.
Our teenage son still loves finding Easter eggs even though he wouldn't admit it.
Classic Christmas Party Games
Turn any classic game into a fun Christmas party game simply by adding a Christmas theme to them.
Christmas Charades
Get the Christmas charades game or create your own.
Make all of the phrases about Christmas and the holiday season to make a Christmas spin on a basic game of charades.
You'll find quite a few ideas for Christmas charade suggestions in this free printable.
It is simple to print the clues and cut them apart, then place them in a container so guests can choose one to act out.
Pass The Parcel
In this version of pass the parcel, you wrap one gift in several layers of wrapping paper.
Everyone those a dice, and the first person to throw six puts on a pair of mittens and tries to unwrap the gift.
The other players continue throwing the dice until someone throws a six, who then gets to put on the mittens and tries to unwrap the gift.
The person who finally unwraps and reveals the gift is the winner and keeps the prize.
Mitten Candy Game
Similar to pass the parcel, in this game, the players wear oven mitts while playing.
Divide the kids into two teams. A person from each team must try to unwrap Hershey's Kisses while wearing mittens.
As soon as they pop the candy in their mouth, the bag is handed to the next player.
The team that completes the task first wins.
Carol Pictionary
Write some Christmas carols on paper, fold and place them in a bowl.
Organize the teens into two teams, have each team member pick a paper from the bowl, and draw the carol on a board or piece of paper.
Each correct answer will earn them a point, and the team with the most points will win.
Blind Christmas Drawing
Each player gets a paper plate and a marker.
They must hold the plate on their head and draw whatever you suggest. For example, they might have to draw a Christmas tree, a reindeer, or even Father Christmas.
It's a hilarious yet straightforward game that's fun for everyone.
Ding Dong Decorations
All teens love playing Ding Dong Ditch, so why not change it up a bit and let them play Ding Dong Decorations instead.
Give your teens a basket of Christmas decorations, and instead of merely ding dong and ditching, they must leave a decoration by the front door instead.
Hopefully, your neighbors will actually enjoy this game too. It's probably best to let your neighbors know in advance what your kids will be up to and avoid the neighbors that are not keen on the idea.
Indoor Snowball Fight
Teens love a good snowball fight. If there's no snow outside, you can always bring the snowball fight indoors with these fun bouncy snowballs. Indoor games have never been this much fun!
They're super fun to throw at each other and soft enough not to hurt anyone or break anything.
Christmas Trivia Game
Classic Christmas trivia cards and questions that make for great holiday games.
You'll find all the best trivia questions ranging from Home Alone, and Elf, to Nightmare Before Christmas.
Christmas Scattergories
Christmas Scattergories is the Christmas version of this favorite board game.
Each player must come up with Christmas answers for every category without matching anyone else's response.
Adding the Christmas twist to the game makes it even harder.
Hearing Christmas Things
A twist on the typical 'Hearing Things' game.
You can still use the noise-canceling electronic headset from the original game, but instead of using the cards, you can sing a Christmas carol or use Christmas words like Father Christmas, Rudolph The Red-Nosed Reindeer, or Jingle Bells instead.
Christmas Rush
Christmas RUSH is an elimination game where you must collect four identical cards and grab a token before the Christmas Rush, or else you're out of the game.
Each player gets four cards, and tokens are placed in the middle of the table. There must always be one less token than there are players.
The dealer picks up a card from the pack, and either keeps it or discards it to the person on their left. The other players then choose to keep the cards as they come to them or pass them along.
If a player decides to keep the card, they must give another card to the player on their left.
Once a player gets four identical cards, they shout 'Christmas Rush' and quickly take a token from the middle of the table.
The player who doesn't grab a token in time loses this round.
This video clearly explains how the game is played:

Alternatively, you can play this game with regular cards and candy canes, but you'll miss out on the fun double-sided action cards, which add a bit of extra Christmas spirit to the game.
Christmas Reindeer Ring Toss
It's a ring toss game, but you toss the ring on someone's head who's wearing reindeer antlers.
It's a game that is easy and fun to play for all ages.
Dirty Santa or White Elephant Gift Exchange
Everyone brings a small gift of the same value (for example, $5 or $10).
You place everyone's name in a hat and draw the first name. This person can choose a gift from the pile.
The following person can either steal that gift or choose another one from the stack.
If they steal a gift, the person whose gift was chosen may choose another gift.
The next person can again either steal the gift from the person before them or draw from the pile.
I've researched the top 20 Super Fun Christmas Gift Exchange Games for you to read.
Christmas-opoly
If your teen loves playing Monopoly then this game with a Christmas theme is perfect for the holidays.
It features candy cane, reindeer, and scrooge player pieces. You might be run over by a reindeer or end up with a lump of coal.
A twist on one of the world's most iconic board games brings you all the fun and festive cheer of the season.
Team Sweatshirt Challenge
Partners team up and get inside the same XXL sweatshirt, with one arm each out of a sleeve.
They need to complete several tasks as a team to win. Challenges could include wrapping a gift, decorating an ornament, or frosting a cookie.
It's hilarious as they try to coordinate their arms to complete their challenges.
Stack The Snowman
Grab some white cups and get your kids to draw snowmen on them.
Stack the cups as high as you like and give your teens marshmallows to throw at the snowman.
The teen who throws over the most snowmen wins.
Christmas Minute To Win It Games
If you want to make your Christmas party more exciting, include a round of minute-to-win-it challenges.
In these challenges, participants or teams can gain points quickly by playing mini-games.
The following games are examples of what you could include:
Cookie Chomp
Participants balance a cookie on their foreheads and race to be the first to eat it without using their hands.
Candy Cane Fishing
This is a fun game where you hang candy canes on a string. You can use two chairs, or poles, whatever you can use to tie some string between them. Hang several candy canes on the rope.
Each player gets a candy cane which they must place in the mouth (straight part in their mouth) and try to hook a candy cane using the curved side of the candy cane.
They must then race to put the hooked candy cane into a cup.
You can either play to see who gets the most in a minute or divide the group into teams and see which team gets all their candy canes into the cup first.
Jingle Bell Toss
Kids will have a great time throwing jingle bells into cups for this Christmas party game.
It is easy to adapt this game for kids of all ages by varying the distance from where they throw the cups.
Everyone gets a minute to throw as many bells into their cup. The person with the most bells in their cup wins a prize.
Stocking Guessing Game
Fill a stocking with Christmas items. Each player gets a minute to feel the items and guess what's inside.
They then pass the stocking on to the next person and write down the answers privately.
The person with the most correct answers wins a prize.
Santa's Marshmallow Beard Relay Race
This game will involve a group of players gathering on one side of the room and a table full of small marshmallows on the other.
Divide the participants into two teams.
One player from each team must race to the other end of the room, smear petroleum jelly on their face, rub their faces into the mini marshmallows, and try to get as many marshmallows attached as possible.
They get a minute to do this and must then run back to their team.
Once the first player runs back to the group, the next player in line runs across and does the same thing.
The team that accumulates the most marshmallows will win the game.
Remember to take photos of all the Santa beards.
Marshmallow Toss
You will need a wreath, a large bag of marshmallows, and a bucket for each player to play this game.
Put a bucket behind the wreath and assign one person to hold it.
Players get one minute to throw marshmallows through the wreath into their bucket.
It's probably a good idea to place a sheet on the floor so that any marshmallows that miss the bucket don't land on the floor.
This game is won by whoever can land the most marshmallows in the bucket.
Ping Pong Prize Trivia Game
In this hilarious game, prizes are displayed on a ping pong table.
If you don't have a ping pong table, you can use this kit which turns any table into a ping pong table.
The game involves players answering Christmas trivia questions, and if they answer correctly, they have a shot at winning a prize by hitting it on the other side of the net with a ping pong ball!
Once all the prizes are won, you'll be sure to find them playing competitive rounds of ping pong as well.
You can make the game even harder by replacing the bat and ball with candy canes and marshmallows.
Shake & Guess
Place some jingle bells in a box and wrap it up like a present.
Teens need to shake the box and guess how many jingle bells are in the box.
The person with the correct (or closest) answer gets to open the box and keep the prize.
Prizes can be small items like candy or inexpensive stocking stuffers.
Blindfold Gift Wrapping
Divide the teens into teams of 2-4 people.
Each team gets a box, wrapping paper, and tape.
They need to try and wrap the present blindfolded, working as a team.
To make it even harder, you can ask them all to put one hand behind their back.
The team with the best-wrapped box wins.
Creative Christmas Party Games
Christmas Cookie Decorating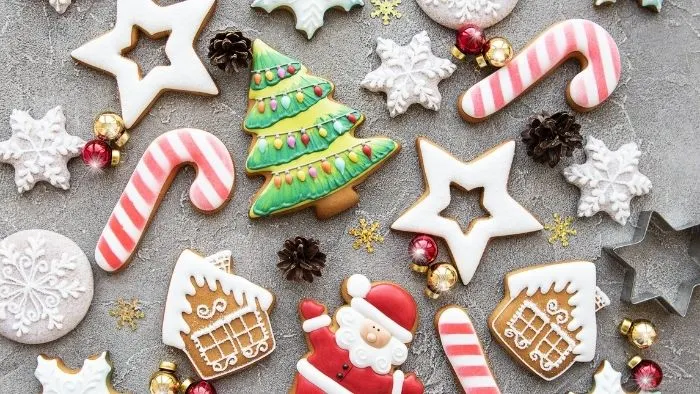 It's fun to have a cookie decorating contest with the kids.
Set out a table with everything they need to get creative and decorate their cookies.
They'll have lots of fun and enjoy eating the works of art.
The prettiest, most creative, or most colorful cookies can be rewarded, though everyone wins when they eat them.
You will need:
Paper plates
Plastic Knives
Unfrosted Sugar Cookies
Icing Tubes
Craft Christmas Ornaments
You can design and decorate Christmas ornaments using a kit like the ones below.
Just add some extra glitter, paint, or even beads and let them play.
You can award prizes for the most creative, most colorful, or who decorated the most ornaments.
At the end of the evening, they get to take their creations with them and put them on their tree at home.
Salt Dough Ornament Making
This is a fun, creative activity that older and younger teens can do together.
Get the older teens to make the salt dough, and hand out cookie cutters and decorating tools to the younger teens.
Older teens can also create their own or assist the younger kids.
You will need to bake the ornaments for about an hour and let them cool before painting them, so it's best to start early and finish off later.
Once cooled, they can finish decorating their ornaments and take them home at the end of the evening.
Here's a great recipe to use for your salt dough ornaments.
Christmas Games For Extroverts
Neon Christmas Dance Off
While many teens are pretty awkward, some teens still love singing and dancing and making lots of noise.
If your group of teenagers loves a good dance-off, then why not turn it into a Glow-In-The-Dark neon party.
Get them to dress in white, rent a blacklight, and get loads of glow sticks and decor.
Create a fun Christmas playlist – you can find some more modern songs on YouTube – and you're ready for a neon Christmas dance-off.
Christmas Carol Charades
Christmas party games like this are great for people of all ages.
There are many Christmas carols, some really popular, some obscure. The songs are acted out in teams, which is trickier and more amusing than you might think.
Teenagers can enjoy this game because it engages their minds, triggers their memories, and allows them to be silly.
Virtual Christmas Party Games
Virtual Scavenger Hunt
Zoom calls can be filled with fun and activity when you are on a virtual scavenger hunt.
The activity will increase engagement and excitement and will only take about 15 minutes.
Items such as favorite gifts or an item you've had the longest are the best to hunt for because they have story-telling opportunities.
Here is a list you can start with:
The best gift you've ever received
Your longest-held possession
Christmas decoration
Christmas movie
Christmas candy
Christmas stocking
Christmas star or angel on top of the Christmas tree
Simply fire off prompts, and whoever brings the item back first gets a point.
In addition, you can give extra points if the person explains more about the object.
Sing The Next Line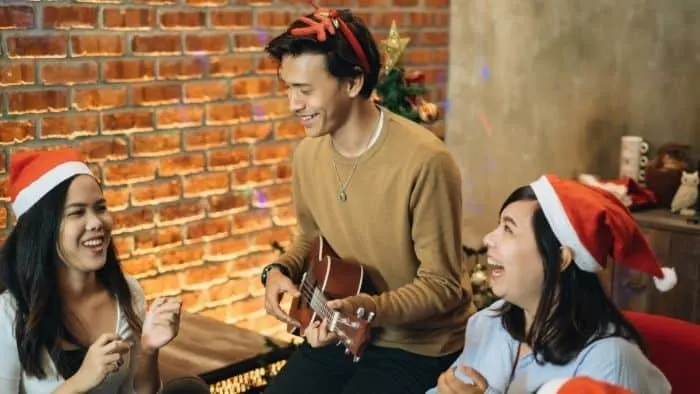 Curate an upbeat holiday playlist to get your group into the holiday spirit. The whole team can participate by adding songs to a playlist on Spotify.
The carols can serve as background music, but they can also be turned into games by stopping midway through and asking guests to sing the next line.
The first person to shout out their name and sing the next line correctly can get a point.
Guess The Gift
It's basically like a holiday-themed game of 20 questions.
Each person thinks of a present, and other players get to ask questions to guess what the gift is. The person to guess the gift wins.
You could add up points across all the virtual games, and the person with the most points could win a treat hamper, for example.
Christmas Boards Games
Don't forget the board games. There are so many amazing board games that teens love to play, and some even have a Christmas twist to go with the holiday theme.
National Lampoon's Christmas Vacation – Twinkling Lights Game
As Clark Griswold prepares to hang 25,000 twinkle lights this Christmas, tangled wires and a pesky squirrel threaten to spoil the mood.
Try to combine Christmas bulbs to score, but it's tough to spot patterns among twisted light strings!
It's an easy-to-learn game for 2-4 tweens or teens. Each game lasts about 20 minutes.
The Santa Claus Game
The Satna Clause Game is best for very young tweens. Young children will enjoy this Christmas game that teaches them to give and receive gifts, with songs, presents, and silly challenges.
Toys are placed in each player's sleigh, and the player who distributes them all first wins the game.
Adding singing and twirling like snowflakes and other creative responses to the spaces and cards can make it a lot of fun to play.
Classic Christmas Bingo Game
This classic Christmas Bingo set comes complete with 10 bingo cards, bingo chips, and a bingo spinner!
Your favorite Christmas characters and symbols are displayed on the Christmas bingo cards, and the bingo wheel points to the picture you need to complete your board! Christmas Bingo cards have unique designs, so no two cards are alike.
This easy yet fun game is great for everyone.
Christmas Party Decorations
Whatever games your teenagers end up choosing to play, it's always a great idea to make the room look fun and festive too.
Here are some awesome Christmas party decorations that you could use to make the party extra special.
Frequently Asked Questions
How do you keep kids entertained on Christmas Day?
You can keep kids entertained on Christmas day by planning ahead and arranging some fun Christmas party games for teens and tweens. Whether they enjoy crafting Christmas ornaments, playing Christmas board games, having a Christmas dance-off, playing Christmas charades, or enjoying a Christmas Scavenger Hunt, there are plenty of fun activities to keep them entertained this holiday.
How can I make my teen Christmas special?
You can make your teen's Christmas special by inviting some of their friends over for a special Christmas party. Get your teen involved by choosing some fun party games and activities that they can play. Don't forget to decorate the room to add that special Christmas feel, and you know how much teens love to snack!
What games do you play at a Christmas party?
Teenagers can be a bit awkward and often find games childish or embarrassing. Therefore games should be easy and fun to play.
Having a little bit of competition is okay and be sure to have lots of small fun prizes for everyone to feel like a winner.
Teens can play any classic party game, just add a Christmas twist to it. Scavenger hunts, Minute-To-Win-It games, board games, and creative activities are all great games to play at a Christmas party.
Christmas gift exchange games are always a winner and add a great twist to any party.
What are some fun Christmas activities?
You can keep your teens entertained with classic party games or get them to be creative and make some Christmas ornaments or decorate Christmas cookies.
Scavenger hunts and Minute-To-Win-It games are always fun too.
They might even enjoy making DIY Christmas gifts for friends and family.
Teach your kids some hilarious Christmas Knock Knock jokes.
Don't forget to include some Christmas gift exchange games as well.