Get ready to deck the halls with laughter! Our collection of Christmas puns is the perfect way to add a sprinkle of festive humor to your holiday season.
From Santa's elves to mistletoe giggles, these puns are sure to bring joy and jolly smiles to all.
So, grab a cup of hot cocoa, sit back, and enjoy these humorous Christmas puns to make this the most punderful time of the year.
There are puns for everyone. In addition to your usual Santa and elf puns, I've even included some dog puns, cat puns, food puns, and some hilarious one-liners too.
🎄 You might also like to read:
Hilarious Christmas Puns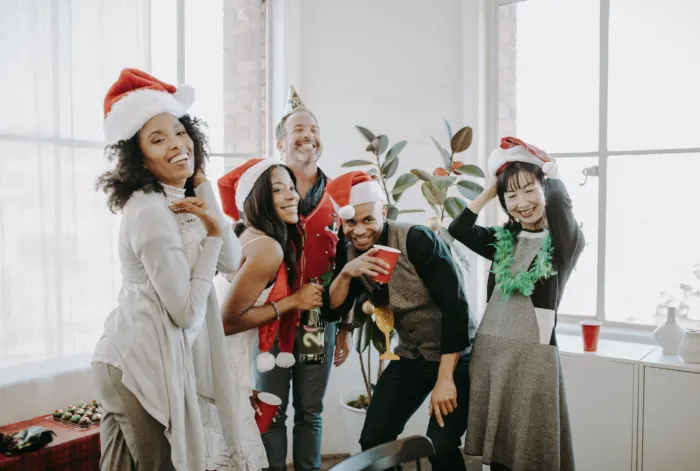 Christmas is the time to get together, exchange gifts, play some Christmas charades, and share some funny jokes. These Christmas puns might just be funnier than your dad jokes!
'Tis the ski-son to be jolly!
The Christmas alphabet has Noel.
Your presents is requested.
But wait there's myrrh.
Shake it like a pole-oriod picture.
Yule be sorry.
It's the most wine-derful time of the year.
All the jingle ladies, all the jingle ladies.
A mistle-toast to the holiday season.
That's just my resting Grinch face.
I love you from head to mistletoe.
It's the most wonderful time for a beer.
Love at frost sight!
🎄You might also enjoy these Catchy Christmas Phrases, Sayings, and Slogans for the Festive Season
Santa Puns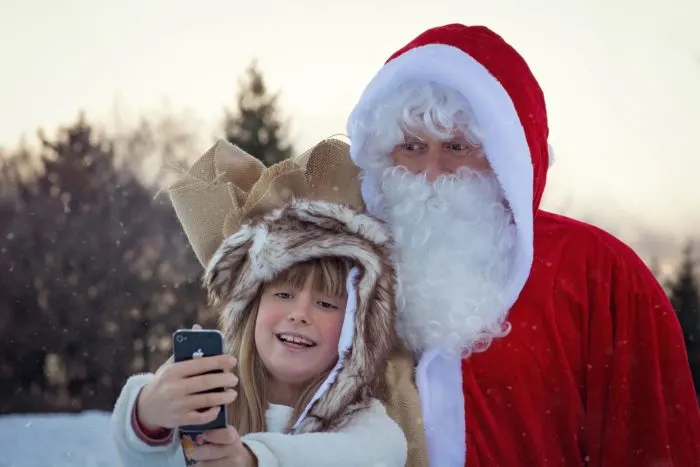 I Santa you something special this year.
Give 'em a round of Santa-plaus!
I always feel Santa-mental around the holidays.
Time for Father Christmas to take Santa stage again.
It must be Christmas because I'm spending money left, right, and Santa.
I'm Claus-trophobic.
Rebel without a Claus.
Claus I said so!
I hope this gift hits Claus to home… Merry Christmas!
That look really soots you.
I ho ho hope you all have a wonderful Christmas!
Sleigh Puns
You'll laugh your sled off over these sleigh puns!
Chrismas puns sleigh me!
Sleigh my name, sleigh my name.
Santa cleans his sleigh with Santa-tizer.
I have the final sleigh.
Sleighed by the bell!
"You're sleigh-in' it.
Sleigh cheese!
Can't afford it? Put it on sleigh-away.
Dog Christmas Puns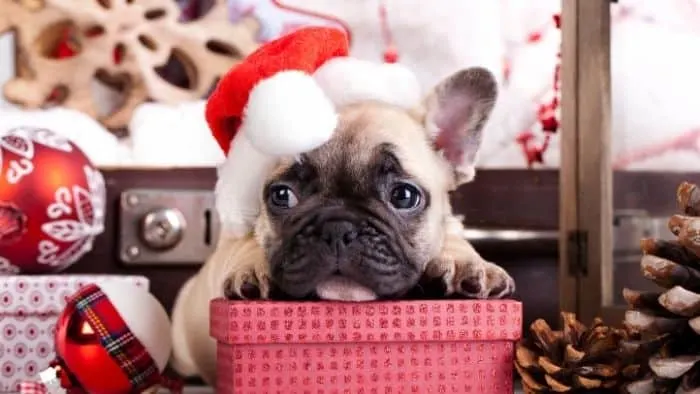 Your furbabies are as much a part of Christmas as anyone in the family, so here are some pawsitively furry puns to use on your Christmas cards or to caption those Instagram posts.
Yappy holidays!
Happy Howl-idays!
Happy Paw-lidays!
Happy Collie-days!
Husky Holidays!
Pugs and kisses.
Merry Christmutts!
Have the ulti-mutt holiday
May your days be furry and bright.
Deck the halls with balls and frisbees.
Have yourself a furry little Christmas.
On the fur-st day of Christmas…
Dachshund through the snow!
I've been a furry good dog.
O Come All Ye Fur-ry…
Christmas dog love is fur real.
You better not bark, you better not whine. You better not bite, I'm telling you why!
O Christmas treat, O Christmas treat!
Christmas with a dog is the ulti-mutt holiday.
We woof you a Merry Christmas!
We woof you a hairy Christmas!
Santa's little yelper.
Someone's barking up the wrong Christmas tree.
Santa Paws is coming to town.
Paw-sitively the best Christmas ever.
May you have a very Hairy Christmas and a Yappy New Year
Cat Christmas Puns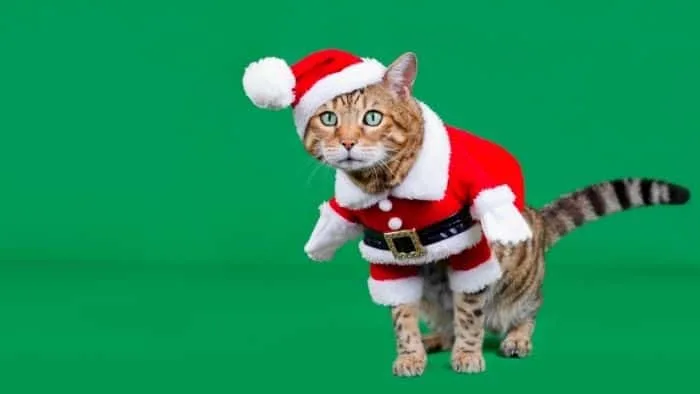 Enjoy these cat puns that you can sink your Claus into.
Have yourself a meowy little Christmas.
I got you the purr-fect present!
May your days be meowy and bright.
Eat, drink, and be meowy!
Meowy Catmas!
All I want for Christmas is mew.
Here comes Santa Claws!
Christmas Santa Claus Suit for Cats
🎄You might also enjoy reading these Funny Cat Christmas Puns, Jokes, Quotes, and Photos
Snow Puns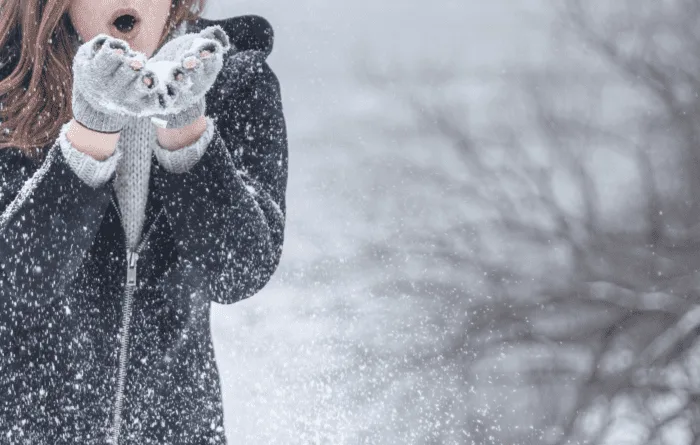 Get ready, it's snow time! Here are some funny snow puns that will melt your heart.
Christmas is snow much fun!
There's snow place like home for the holidays!
I made a house out of snow: it was really easy, igloo-ed it together!
Get ready, it's snow time!
Time waits for snow man!
That snowman is having a real meltdown!
You snow the drill.
These elves are up to snow good.
This cold weather is snow joke.
I told you snow!
Say it ain't snow.
Looks like Santa is snowed under.
This is snow laughing matter!
Snow thank you.
Snow on and snow forth.
It takes one to snow one.
I'm snow bored.
You snow the ways to melt my heart.
I only have ice for you.
It's ice to meet you.
Icy what you did there.
He came, he thawed, he conquered.
Christmas Snowflake Projector Light
Related: 55 Best Christmas Icebreaker Questions (Free Printable)
Christmas Tree Puns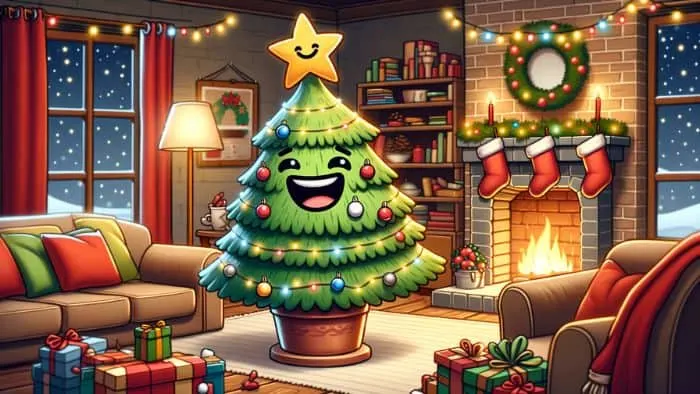 Hope you're ready for some tree-mendously funny tree puns.
I'm pine-ing for you.
Time to spruce things up.
We have great chemis-tree.
I'll never fir-get.
Don't stop be-leaf-ing!
These decorations are tree-mendous.
Birch, please.
I'll be bringing the Christmas spirit, fir sure!
This tree is officially lit.
I'll be treeing you for Christmas.
I love you a whole watt-tle.
Un-Fir-gettable, that's what you are.
Christmas Elf Puns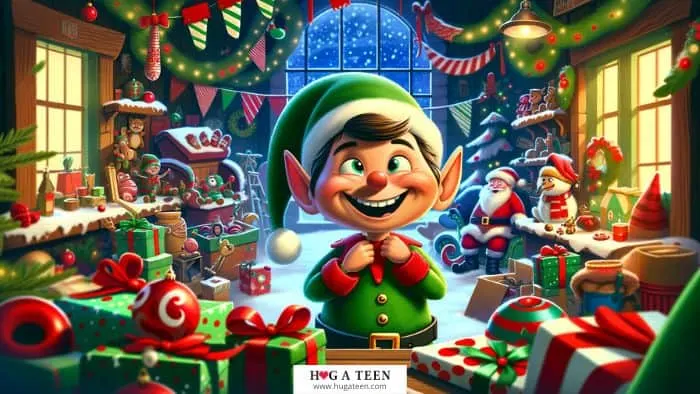 Whether is your kids or the Elf On The Shelf, these naughty little elves bring so much joy and fun at Christmas time. Treat yo'elf to these funny puns for a good laugh.
Let's take an elfie.
I'm elf-taught.
He's an elf-made man.
She has high elf-esteem.
Christmas is no time to be elf-ish.
Do you know your elfabet?
Don't forget to snap that Christmas elfie.
Treat yo'elf.
Believe in your elf.
Have your elf a merry little Christmas.
Don't get caught elvesdropping on Santa!
I have a helfy dose of Christmas cheer.
Get the elf out of here.
Related: 55 Christmas Riddles For Kids & Adults
Christmas Food Puns
'Tis the season to be jelly.
I hope it's juiced the kind of holiday you've wished for.
Wishing you an egg-cellent holiday.
I only have pies for you!
Happy Holey-Glaze!
Peas on Earth!
It's Christmas Thyme!
Hap-pea Christmas!
Have a dill-lightful holiday.
Merry Crust-mas!
Ginger all the way!
Avo great Christmas!
Guacin' around the Christmas tree.
Holly Jelly Christmas.
Berry Christmas!
Merry Christ-mash.
We whisk you a merry Christmas.
Dashing through the dough.
I'm so egg-cited for the holidays.
So be good for goodness steak!
Reindeer Puns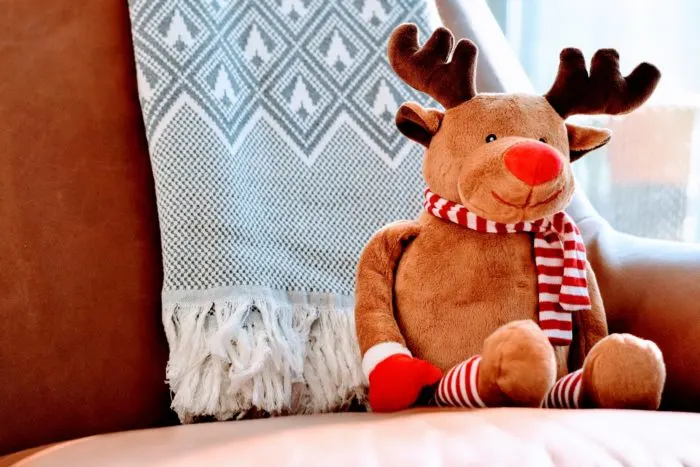 We won't be getting out presents on time if it weren't for Santa's reindeer. Here are some reindeer puns for some extra Christmas cheer.
Deer to dream.
Say it to me face, I deer you.
Hold on for deer life.
How rude-olph of you.
I have no ideer how's it's Christmas already.
I love the holiday season deerly.
Make it rein.
Oh deer, Christmas is here already!
Christmas One-Liners
You can use these puns and turn them into great one-lines to use at your next Christmas family gathering. Here are some Christmas one-liners to get you started.
There's nothing I want more this Christmas than your presents.
I wanted to Spruce things up this year, so I bought a bigger tree.
I hate to have the last laugh but I told you snow.
It's beginning to cost a lot like Christmas.
I didn't think this party would be such a drag, I'm snow bored.
I think this is the perfect time to take an elfie.
The moment you stop believing in Santa is when you start getting clothes for Christmas.
There are three phrases that sum up Christmas: Peace on Earth, Goodwill to Men, and Batteries Not Included.
I asked my wife what she wanted for Christmas, and she told me "Nothing would make her happier than a diamond necklace". So I gave her nothing.
The three phases of man – you believe in Santa, you don't believe in Santa, you are Santa.
I bought my husband a refrigerator for Christmas – I can't wait to see his face light up when he opens it.
Why is Christmas just like a day at the office? You do all the work, and the fat guy with the suit gets all the credit.
Not saying I live in a rough area but just bought an advent calendar and half the windows are boarded up!
What is the best Christmas present ever? A broken drum – you can't beat it!
Who is never hungry at Christmas? The turkey – he's always stuffed!
May all your sweaters be ugly and bright!
What happens under the mistletoe stays under the mistletoe.
I have this weird talent where I can identify what's inside a wrapped present. It's a gift.
I am one bottle of shower gel away from being able to open my own Christmas gift shop in my shower.
Santa saw your Facebook – you're getting a dictionary this year!
You came, you ate, now please just go HO HO HOME.
Don't like my holiday puns? That's a little Rude-olph of you.
Do you think that's the worst of it? There's myrrh.