Have you been looking for cute cat Christmas puns for your holiday cards, messages, or Instagram captions?
Well, that's just purrfect because that's precisely what this post is all about.
We've rounded up some of the most hilarious feline puns and wordplay you've ever seen for the holidays.
Cat lovers will love these meowy Christmas puns. We're pawsitive you'll find what you're looking for! Enjoy.
If you're looking for the ulti-mutt holiday dog puns, have a look at Christmas Dog Puns, Quotes, Sayings & Captions. They're perfect for wishing your friends Happy Howl-idays.
We even have some Christmas tree puns to ensure you have a tree-mendous Christmas, even if you're on the knotty list.
Cat Christmas Puns
We've compiled a list of our favorite funny cat Christmas puns, and we're purr-ty sure you'll love them.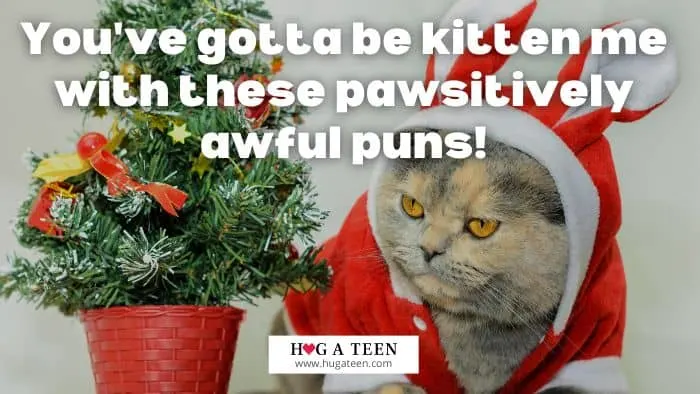 Santa Claws is coming to town.
Oh dear, you're on the naughty list this year, so you're not getting any purr-esents.
Walkin' in a Whisker wonderland!
Wishing you all a purr-fect Christmas!!
Wishing you a paw-sitively paw-some Christmas.
Wishing you and your cat a meow-ry Christmas!
It's the meow-st wonderful time of the year!
Thanks fur the memories!
Paw prints pave the way to my heart.
I hope you have a pawsh little Christmas with my favorite cat.
Pawsome, Santa Claws is coming to town. Purr-haps I'll get a mew mouse!
I hope you have a paws-atively fur-bulous Christmas.
Are you feline festive?
Have a clawsome Catmas!
All I want for Christmas is mew.
Eat, drink, and be meowy.
Have a meowy Christmas.
Hope you have a Purr-fect Holiday season!
May your days be meowy and bright.
Merry Catmas!
🎄 For more funny cat puns watch these purrty funny cat pun videos meouw:
Words With Cat Puns
Looking for some comic relief? Use these fun play on words to make your Christmas card wishes pawfully funny.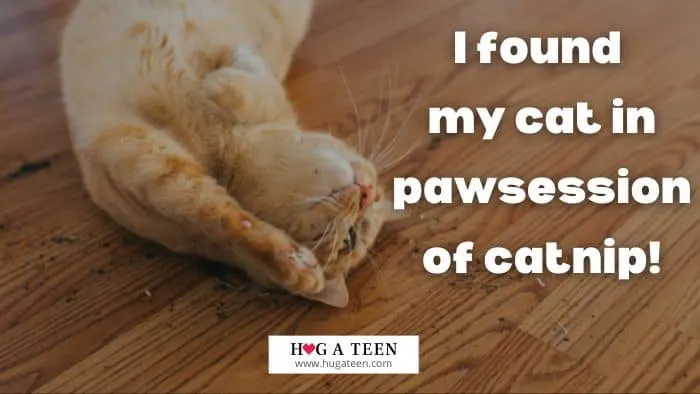 Catty Canes = Candy Canes
Santa Claws = Santa Claus
Santa Paws – Santa Claus
Meowry Christmas = Merry Christmas
Whisker Wonderland = Winter wonderland
Catmas = Christmas (Merry Catmas)
Meow = Now (Meow bring us some figgy pudding)
Purresent = Present
Pawsitive = Positive
Purrhaps = Perhaps
Pawsh – Posh
Fur-osty the Snowman = Frosty the Snowman:
Feline = Feeling
Fur-eath = Wreath
Purrty = Pretty
Paw = Poor
Meow-stletoe = Mistletoe
Christmas Tails = Christmas Tales
Kitten = Kidding
Fur real – For real
Cat = Got (You have cat to be kitten me right meow)
Fleas = Feliz ("Fleas" Navidad)
Paw-lease or Purrlease = Please (Paw-lease stop the bad puns)
Litter-ally = Literally (I'm litter-ally having the best Christmas ever!)
Cat-astrophe = Catastrophe (It's a cat-astrophe! Dad burnt the turkey!)
Clawsome = Awesome (How clawsome is this gift?)
Pawsession = Possession (I found my cat in the pawsession of catnip.)
Caturday = Saturday
Pawfully – awfully
Furmiliar = Familiar
Efur = Ever
Pawtrait = Portrait
Furends = Friends
Meowsical = Musical
Pawty = Party
Cat Christmas Quotes
Get your cat friends into the holiday spirit with these cat Christmas quotes.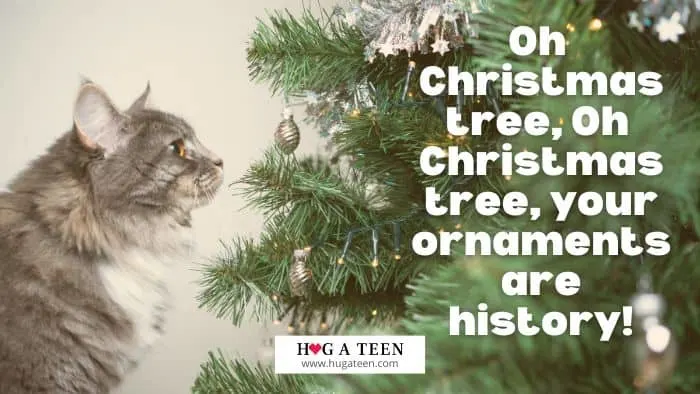 Looking good, feline better.
I have a cattitude problem.
You're the cat's meow.
It's the purrfect time for a nap.
Purr-haps we can cuddle later.
The cat is in charge; I just prepare the feast.
So fur-tunate to have you all here for Christmas.
Meow-ry Catmas!!!
Sorry I'm late for Christmas dinner. My cat was sitting on me.
All caroling must be approved by the cat.
The cats are in charge. I just live here.
She came, she purred, she conquered.
Are you kitten me?
If there are no cats in heaven, I don't want to go.
My love for you is greater than your love for catnip.
Destroy the tree and blame the doggy – falalalalalalalala.
Oh Christmas tree, oh Christmas tree, your ornaments are history!
'Tis the season for cats in boxes – falalalalalalalala.
Christmas Cat Jokes
Here are some of the best Christmas cat jokes to share with your family this holiday season.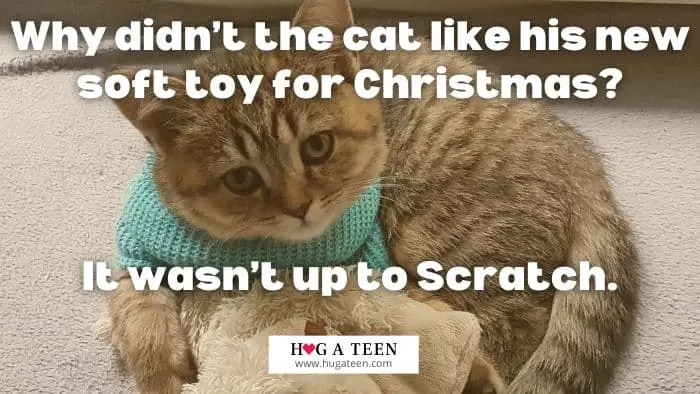 Why didn't the cat like his new soft toy for Christmas?
– It wasn't up to Scratch.
Whose idea was it to give everyone gag gifts for Christmas?
– Seems like the cat was just kitten around.
What do you call Santa's cat?
– Santa Claws.
Who delivers presents to cats?
– Santa Paws
How do cats celebrate Christmas?
– By throwing a clawsome Christmas paw-ty.
What's a cat's favorite Christmas dessert?
– Chocolate mouse.
Why did the cat not buy any Christmas presents?
– He was too paw.
What's a cat's favorite Christmas cocktail?
– A meowtini, shaken, not purred!
Why was it okay that it was raining cats and dogs on Christmas day?
– At least it didn't reindeer!
Why was the cat so grumpy this Christmas?
– He was in a lousy mewd.
Why did the cat swallow a ball of wool this Christmas?
– She wanted to have mittens.
Why did the cat want a drumset for Christmas?
– He wanted to make some mewsic.
🎄 Watch the best Cat Christmas commercial ever in the video below. It's pawsibly the best thing you'll see efur!
🎅 You might also enjoy:
Cat Christmas Sayings
Here are some cute Christmas sayings for all cat lovers to spread some holiday cheer.
Not all angels have wings. Sometimes they have whiskers.
Love is a four-legged word.
I want to spend all nine lives together.
Anything is paws-ible with a cat by your side.
I love you meow and furrever.
Cats are not our whole lives, but they make our lives whole.
Happiness is falling asleep to the sound of your cat purring.
Wishing you an ameow-zing Christmas.
When you're a cat, everyday is Boxing day.
Funny Christmas Cat Pictures With Captions
Even if you're feeling paw (poor), the gift of laughter is the best gift as it's free and spreads joy to all.
We all know how much trouble cats can get into when it comes to Christmas trees. Here are some of my favorite cat Christmas tree jokes for you to enjoy.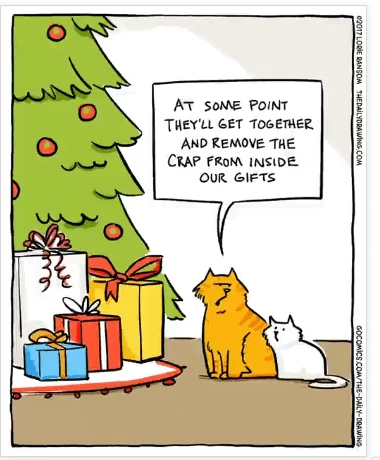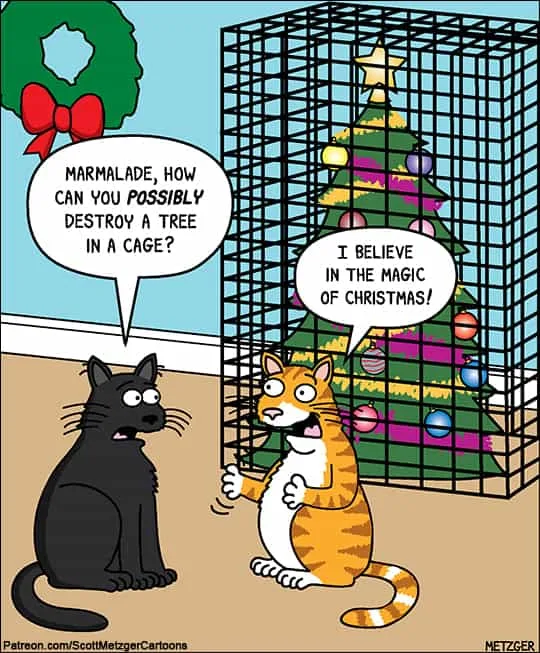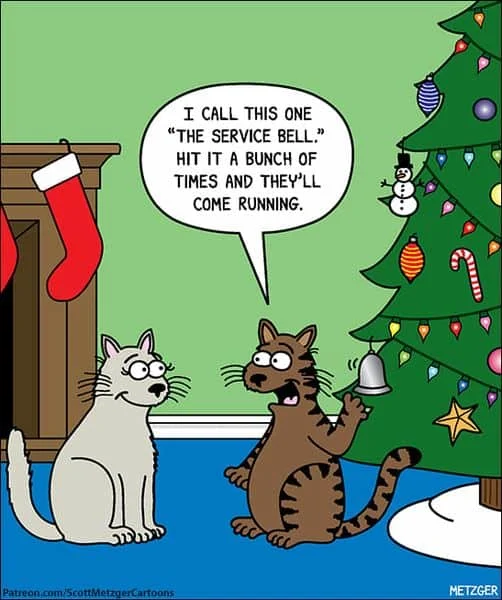 🎄 Cats in trees! Pawsibly not a great idea. Watch for more funny cat antics:
Now that it's Christmas, I hope you've hung the meow-stle toe and decorated your front door with a clawsome fur-eath.
When your guests arrive on Caturday for Christmas dinner, you're sure to have a meowy Catmas.
Your guests might not be Katty Purry or Brad Kitt, but all feline friends deserve to eat, drink, and be meowy!