Boredom is something we've all experienced at least once in our lives. It's not fun, but it doesn't mean you should sit around and wait until someone comes along who will make you happy again.
Boredom is actually a great opportunity to discover new passions and interests. Boredom is a sign that you're not living your life to its fullest potential. You're missing out on opportunities to learn new skills, make new friends, travel, and explore new places.
If you are looking for ideas on how to spend your time, learn and have fun in the process, here are useful and practical ideas.
What To Do When You're Bored For Girls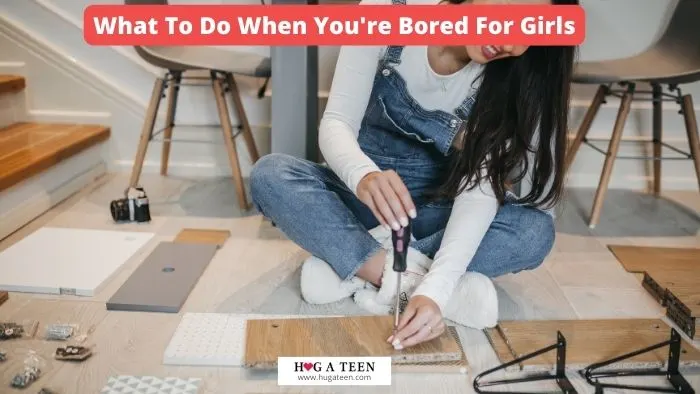 1. Clean your room and reorganize the decor and furniture for a new look.
2. Create DIY decor pieces for your room.
3. Paint canvases and hang them in your room.
4. Try out new nail art designs.
5. Try a recipe from a cookbook or Youtube.
6. Do a dance workout routine from YouTube.
7. Create boards on Pinterest and share them on your profile.
8. Go for a photo shoot outdoors.
9. Binge-watch a movie or TV series.
10. Go out for a walk in your neighborhood.
11. Create a music playlist and save it.
12. Go out on a solo ice cream date in town.
13. Learn how to do yoga from home.
14. Clean out your backpack and organize it well.
15. Create a bucket list of places you would like to visit.
📢 Check out: Bucket Lists For Teenagers
16. Write a journal and include things you are happy about.
17. Bake cupcakes and decorate them.
18. Write down a goal you would like to achieve and break it down into actionable steps.
19. Create a birthday wish list.
20. Go through your childhood album.
21. Take a free course online and add to your skills.
22. Cut out pictures from a magazine and make a collage.
23. Start a garden in the backyard.
24. Get house plants and style them in your room.
25. Try styling your hair in different ways.
📢 Check out these cool Hairstyles For Teenage Girls
26. Visit a restaurant you haven't been to and try a new menu.
27. Make a vlog of your day at home.
28. Learn how to make healthy snacks for teens that are delicious.
30. Spread out a blanket on the lawn and watch the clouds.
31. Design a card for a friend or family member and brighten their day.
32. Go out for a swim in the pool or lake nearby.
33. Take a nap under a shady tree in the backyard.
34. Ride your bike for 5 miles around the neighborhood.
35. Start a nursery garden for various vegetables.
36. Design a cute tote bag from old tees or jeans.
37. Volunteer at a dog shelter for a few hours.
38. Start a new hobby. 📢 Here are some hobbies for teenage girls to get you started.
39. Sketch your pet on a canvas and hang it up on the wall.
40. Grab beads and make a friendship bracelet for your best friend.
41. Visit a local library and read a book.
42. Pair different outfits from your closet to make unique styles.
43. Make a signature smoothie and name it.
44. Watch the sunset from a cliff near your home.
45. Go grocery shopping for your family home.
46. Volunteer to babysit for a friend or family member. 📢 Find out: How Much Do You Pay A Teenager To Babysit?
47. Learn how to grill hotdogs and make some.
48. Visit the museum and take pictures.
49. Try a new makeup look with the makeup you have.
50. Make popsicles using fruit juices.
51. Make a vision board for the next 6 months or next year.
52. Build a lemonade stand and invite your family for a drink.
53. Learn how to make watermelon punch.
54. Visit a flower garden and take pictures for your social media.
55. Take your pet outside for a walk. 📢 Find out: How Much To Pay A Teenage Dog Sitter?
56. Design sidewalk art using chalk.
57. Go to an amusement park and ride a roller coaster.
58. Visit an aquarium and learn about different species of fish.
59. Make paper airlines and try flying them.
60. Make homemade pizza in the oven.
61. Come up with an exercise routine and commit to doing it every day. 📢 Find out: What Is The Average Bench Press For A 16 Year Old?
62. Pack snacks and go for a hike.
63. Challenge a friend to compete with you in a cooking marathon.
64. Turn a piece of old clothing into something new and useful.
65. Volunteer at a library and read to kids.
66. Take up extra chores at home for pay.
67. Go thrifting at a thrift store and resell on eBay.
68. Call your friends for a sleepover over the weekend.
69. Learn how to play a new musical instrument.
70. Color your hair using temporary hair coloring.
71. Play games on FaceTime with your friends.
72. Take a cooking class and create a signature dish.
73. Create a funny skit and send it to your friends.
74. Plan a craft for kids in the neighborhood and teach them how to do it.
75. Do something for your neighbor; offer to clean their car, water their garden, mow their lawn or sweep the driveway.
76. Plan dinner, shop for the ingredients, and make the meal for the family.
77. Invite your friend home and do a makeover of her.
78. Make tacos, lay them out nicely, and invite your family for a tasting.
79. Create something you found on Pinterest; shop for items and follow the instruction to create something similar.
80. Learn a dance on Youtube and record your final try.
81. Take a train ride to the next town and explore.
82. Take a tour of your city; visit galleries, museums, parks, and restaurants.
83. Make a homemade bowling set. Get 2-liter bottles and spray paint them. Fill them with soil, rice, or beans, and close the cap. Set them up in the yard and use a ball to knock them down.
84. Go indoor rock climbing.
85. Learn how to tie dye, buy supplies from your local crafts store, and tie-dye a white tee to create a unique design. Learn how to reverse tie dye with bleach.
86. Create a campsite in the backyard; set out the tents, create a cooking station, and camp overnight.
87. Go for a walk on an unfamiliar trail with your dog.
88. Learn how to make candles, get supplies from a candle shop and create unique scents for use at home.
89. Make bath bombs. You can use citric acid and baking soda to create a fizz when you toss them in the tub.
90. Write a letter to Grandma and send it to her mail.
91. Learn the alphabet in sign language.
92. Pick flowers from the backyard or a nearby park and make a flower arrangement for your room.
93. Replicate famous art on canvas; you can buy plain canvas and use acrylic paint for this.
📢Check out these unique Art Kits For Teens.
94. Host a tea party and serve small bites and pastries. Add to the fun by reading poetry out loud.
95. Put together a jigsaw puzzle. You can download puzzle games online or buy a puzzle from a game store and assemble it from home.
96. Explore Google maps and learn about the different continents.
97. Learn how to play a new card game and teach your friends how to do it. 📢 Try one of these: Card Games For Teens, or learn how to play a classic game of Hearts or Cribbage.
98. Jump rope in the backyard and make it part of your day-to-day routine.
99. Clean out the pantry and organize it.
100. Create a photo album of pictures on your phone. You can group them according to events or special occasions from the past.
101. Play Retro games online like minesweeper, and challenge yourself with harder modes.
Things To Do When Bored At Home For Teens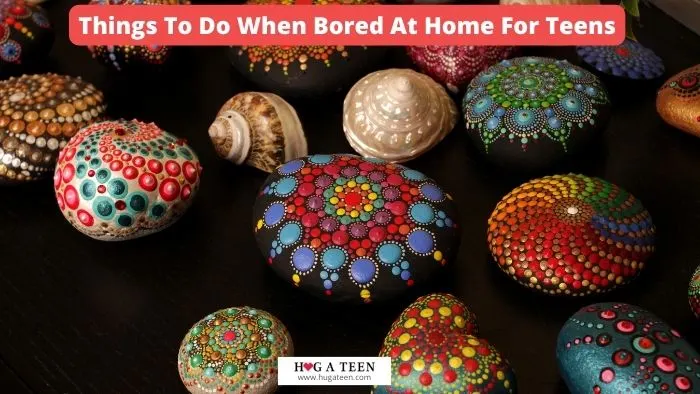 102. Make popcorn and rewatch your favorite movie, or try making one of these Teen Movie Night Snacks.
103. Surprise your sibling by cleaning out their room.
104. Learn a foreign language online.
105. Try out a new face mask and pamper your skin.
106. Call our grandparents and ask them about their childhood.
107. Re-read your favorite books.
108. Create a photo journal with family photos.
109. Offer to prepare family dinner.
110. Have a bubble bath and relax.
111. Learn how to make a pizza base.
112. Take a class on communication skills.
113. Watch how frisbee golf is played.
114. Make a root beer float.
115. Make a killer milkshake and share it with your family.
116. Make a mat from recycled tank tops.
117. Play online games.
118. Have a session with a relationship therapist.
119. Create a boredom jar with fun activities to do.
120. Tend to the garden.
121. Declutter your room and donate things you do not need.
122. Do a DIY project with things you already have.
123. Make a Christmas wish list.
124. Write a list of good habits you would like to adopt. 📢 Read more about: The 7 Habits Of Highly Effective Teens.
125. Paint rocks and hide them in your neighborhood.
126. Build with lego.
Things To Do With Teenage Friends When Bored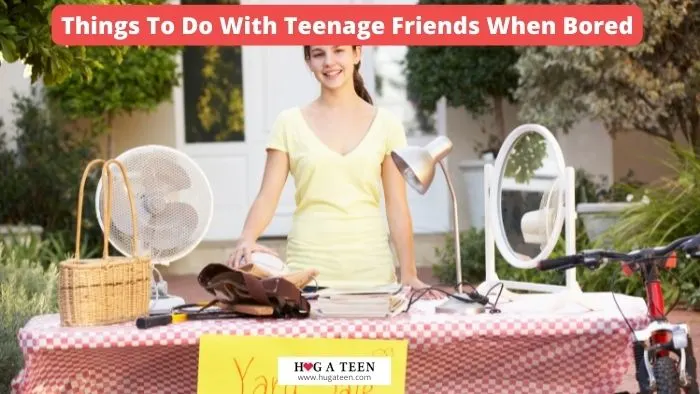 127. Visit a farmer's market and shop for groceries for your homes.
128. Plan a photo shoot at the park and pack different outfits.
129. Get some craft kits and learn how to create different things.
📢 You can find some amazing Craft Kits For Teens & Tweens here.
130. Go to a restaurant you have not been to.
131. Go to a baseball game. (Do you know the answer to this trivia question? How Many Stitches Are On A Baseball?)
132. Go to the beach and build sandcastles.
133. Attend a concert in town.
134. Play Truth or Dare. Try these Truth Or Dare Questions For Teens.
📢 Check out some Good Dares For Teenage Girls
135. Hold a yard sale at one of your friend's houses.
136. Write a produce a film using your phones.
137. Take a cooking class for something complicated like macarons.
138. Go on a photo safari and compare your childhood pictures.
139. Go swimming at a nearby club.
140. Camp out in the garden.
141. Have a water gun fight in the backyard.
142. Have a board game marathon. Check out some of the Best Board Games For Teenagers.
143. Have a dance party.
144. Have a picnic at the park.
145. Do each other's hair.
146. Go on a scavenger hunt.
147. Organize a trampoline sleepover in your backyard.
148. Make a bonfire and roast marshmallows. You could also make s'mores.
149. Build a tree swing together.
150. Build a giant fort in the backyard and spend the day in it.
151. Plant vegetable seeds together and label everyone's portion of the garden.
152. Build an obstacle course and play a game with it.
153. Paint each other's nails.
154. Have a pool party. 📢 Check out: Fun Swimming Pool Games For Teens To Play
155. Exchange outfits for a day.
156. Volunteer at a children's home or a shelter.
157. Create a friendship playlist and share it with each other.
158. Make a face scrub and have an at-home spa experience.
159. Go on a long bike ride.
160. Play water balloon games in the backyard.
161. Make a time capsule with your besties and bury it.
What To Do When Your Bored At Night Teenager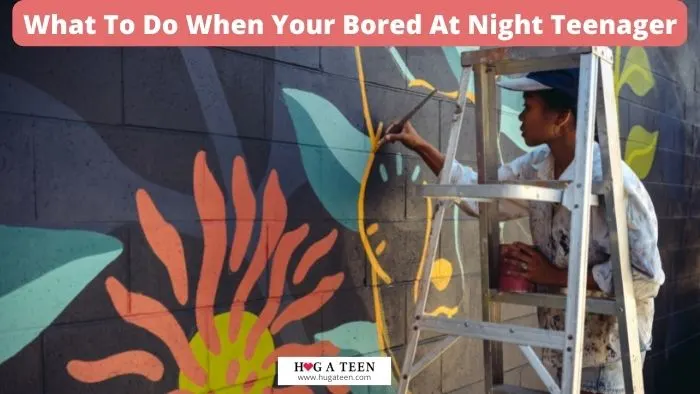 162. Research on family vacation ideas.
163. Read a comic book.
164. Have a long bath and add bath bombs.
165. Color on an adult coloring book.
166. Create a bucket list of places you want to visit alone.
167. Play fun games online.
168. Facetime a friend or crush. 📢Discover 20 Super Fun Things To Do On FaceTime With Friends
169. Write a gratitude journal.
170. Invent a new type of pizza.
171. Have an overnight movie marathon.
172. Explore new music and create a favorite playlist.
173. Research your family tree.
174. Bake a three-tier cake and decorate it.
175. Paint a tee with acrylic paint.
176. Put up posters in your room.
177. Write things you love about yourself and put them in a jar.
178. Make a keepsake box from summer.
179. Experiment with clothes in your closet and mix-n-match different garments.
180. Clean out drawers.
181. Write yourself a letter and keep it to read on your birthday.
182. Read a newspaper from start to finish.
183. Paint a mural on one of your room's walls.
184. Recreate a childhood photo and create a collage of the two.
185. Teach yourself new dance moves.
186. Learn how to do a handstand.
187. Practice mindfulness.
Productive Things To Do When Bored As A Teenager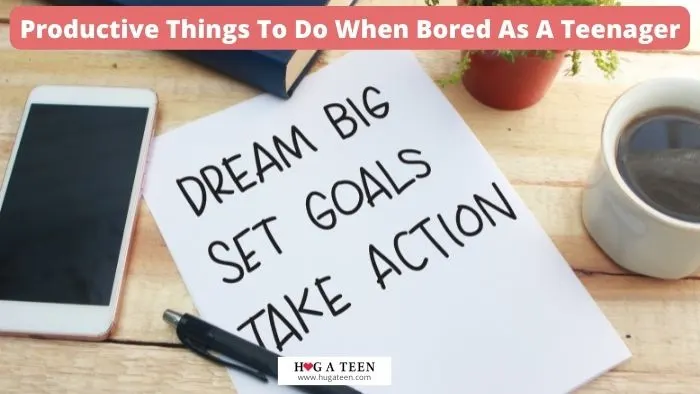 188. Have a session with a life coach for advice.
189. Revise your coursework.
190. Take a free online course in a field you are interested in.
191. Come up with a budget for the month.
192. Learn how to write a resume and create one.
193. Volunteer to teach kids online.
194. Apply to online jobs that you can do from home.
195. Write down positive affirmations to live by.
196. Set a goal and break it down into small achievable steps.
197. Come up with a saving plan.
198. Create a filing system for your paperwork.
199. Come up with a list of colleges you would want to go to.
200. Research the career path you wish to take.
201. Create a list of recommendations and referrals.
202. Look for a high school internship in your area.
203. Write a journal about yourself, what you want to become and what you will do to be that.
204. Read about personality traits and zodiac signs to find out more about yourself.
205. Learn essential life skills like how to change a flat tire, how to cook a specific recipe, how to fix a broken tap, etc.
206. Create a LinkedIn account.
207. Create a workout routine.
208. Read a personal development book.
209. Volunteer at an NGO.
210. Take a computer course like coding, computer language, or web design.
211. Do an experiment.
212. Take time off social media and connect with family.
213. Write a business plan.
214. Create a Pinterest board of what you would like your first apartment to look like.
215. Listen to a podcast by a relationship advisor.