Finding a good babysitter can be tricky.
Perhaps you're lucky enough to know a local teen who can babysit your kids.
But now the big question is: how much do you pay a teenager to babysit?
In September 2023, the average hourly pay for Teen Babysitting in the United States is $10 – $20 an hour. Younger teens (12-14) get paid between $10 – $15 an hour, while older teens (15-18) get paid between $15 – $20 an hour.
Several other factors might influence exactly how much you decide to pay a teenager to babysit.
In this article, we'll discuss all the main factors that influence how much you pay a teenager to babysit.
Age of the Babysitter
Babysitting rates are highly affected by a babysitter's age.
The rule of thumb is that the older the teen, the higher the rate.
There are several reasons why older teens might earn higher rates:
They have more options because they can get part-time jobs that pay a regular wage. So you'll have to match the salary they can get from working in a mall or store.
They have more experience from watching their own siblings, or from previous work experience.
They might be planning for the future and working towards becoming financially independent. For example, perhaps they're saving up for their first car or for college.
They might already have their own expenses to worry about like gas money. When I was 16, I had to use my money to repair my laptop and pay my phone bill.
They are better at managing their money so you can trust them with a larger salary.
Compared to older teens, younger teens have fewer financial responsibilities.
Since they tend to have less experience, they won't be able to do as many tasks as an older teen.
They may not be able to drive, cook, or even own a phone yet.
You can use a babysitting calculator to work out the minimum rates that you can expect to pay for a babysitter. Have a look at the table below, which gives you a suggested minimum hourly rate based on the age, location, and experience of your babysitter.
| Age Of Babysitter | Area | Number of Children | Kids Have Special Needs | Years Experience | Min Hourly Rate |
| --- | --- | --- | --- | --- | --- |
| 12 year old babysitter rate | Town | 1 | No | 0-1 | $5 |
| 13 year old babysitter rate | Town | 2 | No | 0-1 | $6 |
| 14 year old babysitter rate | Small City | 2 | No | 0-1 | $7 |
| 15 year old babysitter rate | Small City | 2 | No | 2-4 | $8 |
| 16 year old babysitter rate | Small City | 3 | No | 2-4 | $9 |
| 17 year old babysitter rate | Major City | 3 | No | 5+ | $11 |
| 18 year old babysitter rate | Major City | 4 | Yes | 5+ | $17 |
At what age can kids start babysitting? Find out below.
🤓 Suggested reading: Can A 13 Year Old Have A Debit Card?
The Babysitter's Experience
Many babysitters have years of experience under their belts and can provide references to support their claim.
Generally, you'll pay a higher fee for a babysitter if they have some past work experience.
A babysitter with experience will be more likely to handle children with varying temperaments in a variety of situations, in a way that a novice babysitter will not.
If you have a babysitter who has worked for you for a while, be sure to give them a raise.
Motivating them will help them do better at their jobs and ensure that they stay loyal.
Give them an extra $0.50 – $1 an hour if they have been with you for about 6 months to 1 year.
If they continue to stay with you as a regular babysitter, then you can keep raising their salary based on this rate.
Qualifications & Certifications
Babysitters' qualifications and certifications are also important factors to consider.
Babysitters who've taken a babysitting class, first aid, CPR, or other child care class can expect to be paid more.
Remember that they're trained to ensure the safety of your kids and know exactly what to do in the event of an emergency.
If your child has special needs, you may wish to hire a babysitter with experience working with them.
The rate for a special needs babysitter starts at $15 per hour and goes up to $25 per hour, depending on their certifications and your child's special needs.
Number of Kids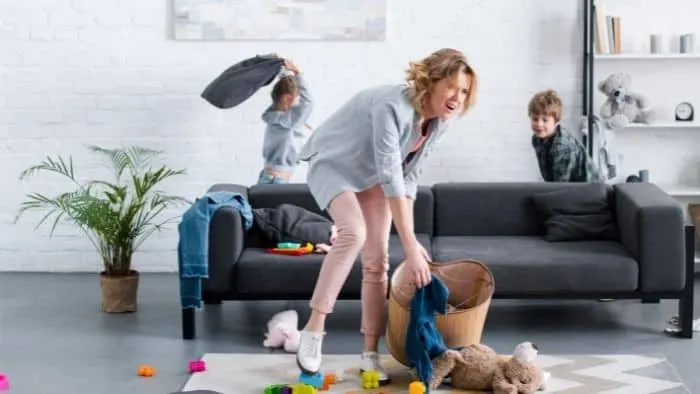 It's one thing to have one quiet kid in the house, and it's quite another to have several rowdy kids running around.
Having more kids to watch will mean having to pay your babysitter a bit extra.
Ideally, you should choose a base rate and then add extra for each additional child per hour that they have to babysit.
So how much should you pay per extra child? For teenage babysitters, you can pay $1 per hour for each extra child.
So if your base rate is $15 per hour and you have 3 kids then you would pay $2 extra per hour, for a total of $17 per hour.
Professional babysitters often charge rates higher than this per extra child.
Some parents pay 1.2 times the current rate when for an extra child. For example, if you pay your babysitter $10/hour for one child, then you would pay $12/hour for both children.
Responsibilities of the Babysitter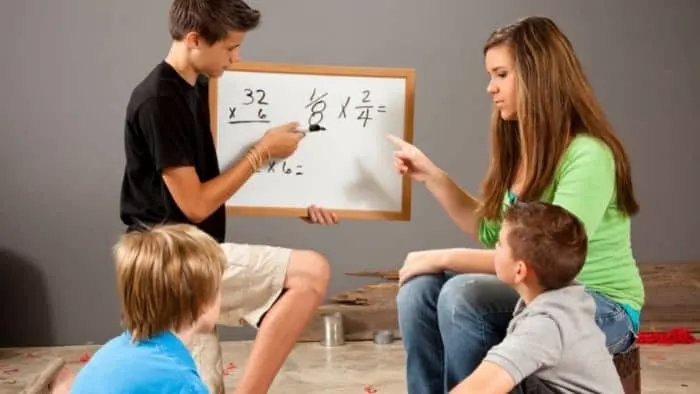 Babysitting can cover a wide variety of tasks.
Will they watch a movie with your children and then put them to bed? That's an easy job that any teen could do.
At a minimum, any babysitter should keep your kids safe and happy.
Responsibilities for a teenage babysitter could include:
Feed your kids
Bath your kids
Read to your kids
Play games with your kids
Put your kids to bed
But if you're expecting them to take on more tasks and responsibilities then expect to pay more.
Some older and more experienced babysitters might also do the following:
Pick up kids from school
Drive kids to activities
Do homework with kids
Make dinner for your kids
Other tasks could include housework tasks such as:
Load and unload the dishwasher
Sweep and clean the kitchen
Tidy up after the kids
Be sure to discuss your expectations during the interview process.
Let them know that you're willing to pay more if certain extra tasks are completed.
Needs of your Kids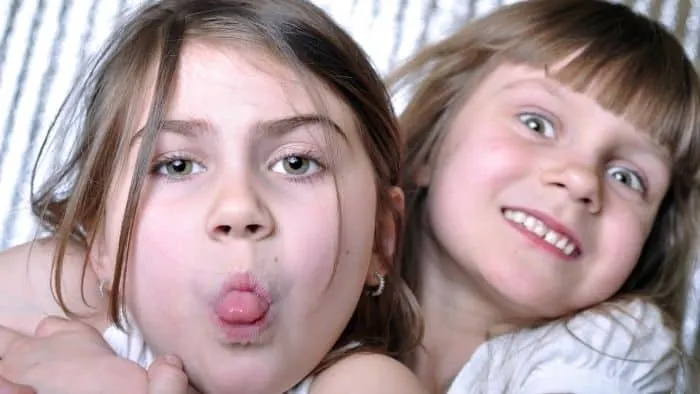 Parents will readily agree that children are all unique in their own way.
Each child has their own unique needs and this can affect a babysitter's pay rate.
There are kids who need plenty of attention and are bundles of energy.
Others are quiet and bookish and can be left alone for hours on end.
There are others who can be quite the handful and who might need a bit of discipline.
Older kids are more independent and need less attention. They just need some company to make sure they don't get into trouble while you're gone.
Meanwhile, younger kids and toddlers need constant monitoring.
How much attention and monitoring your kids need can affect how much teenage babysitters will charge for their services.
You need to discuss the needs of your child with your babysitter right from the start.
Time of Day
What time of day do you need them to watch your kids?
If you get a babysitter at night, then you can pay less because there is less work to do.
They might need to get them dinner and then put them to bed.
If you need them while you're out at work or running errands, you might need to pay a bit extra.
This is the time where both the teen sitters and your kids have a lot more to do.
Your kids might need help with their homework or want to play which requires more attention.
Area or Location
Where you live is another important factor in determining how much to pay a teenager to babysit your child.
Babsitting rates can vary greatly from region to region.
For some guidance, here's a table showing some of the differing rates between cities.
Babysitting Rates by Area in 2021
| Area/U.S. City | Hourly Rate for 1 Child | Hourly Rate for 2 Children |
| --- | --- | --- |
| National | $18.36 | $21.23 |
| Atlanta, GA | $16.86 | $17.47 |
| Austin, TX | $17.26 | $19.49 |
| Boston, MA | $18.69 | $21.13 |
| Chicago, IL | $16.06 | $17.02 |
| Dallas/Ft. Worth, TX | $13.72 | $16.50 |
| Denver, CO | $15.84 | $18.89 |
| Houston, TX | $17.07 | $19.10 |
| Las Vegas, NV | $12.53 | $17.18 |
| Los Angeles, CA | $18.26 | $24.80 |
| Nashville, TN | $15.31 | $17.16 |
| New York City, NY | $18.94 | $22.13 |
| Philadelphia, PA | $15.19 | $17.09 |
| Phoenix, AZ | $16.70 | $19.52 |
| Portland, OR | $15.98 | $17.30 |
| San Antonio, TX | $12.54 | $13.55 |
| San Diego, CA | $16.02 | $19.60 |
| San Francisco, CA | $21.17 | $23.56 |
| Seattle, WA | $18.82 | $20.67 |
| Washington, DC | $18.00 | $19.38 |
Source: urbansitter
You should also consider your babysitter's location and transportation costs:
How far does your babysitter live from your home?
How far are they from school?
Do they need to drive?
Are they close enough that they come as a last-minute sitter?
Additional Things to Consider
Many sitters have done their own research to determine how much they want to make so start by asking their rate.

You don't have to accept their rate, but it does give you a starting point to negotiate.

You can agree to increase how much you pay them later on based on their performance.
Consider paying extra for their transportation costs — either by reimbursing mileage or by funding their subway or bus cards.
Babysitting can be an ambiguous term with many possible responsibilities. Be sure you're clear on what you expect your potential sitters to do from the start.
Babysitter – Do's & Dont's
If you're unsure of what to expect from your babysitter, here's an awesome video from a teen covering her list of tips for babysitters.
In summary, her top tips for babysitters are:
Ask about allergies
Don't be on your phone
Clean up your messes
Don't snoop around
Lock the doors
Don't say bad things or tell scary stories
Be patient & kind
Don't leave the kids alone
Keep the kids entertained
Babysitting Books
If you're interested in knowing more about babysitting yourself or want to leave a book or two lying around for your babysitter to read, then I recommend the following books:
Babysitting Planners & Charts
The dry erase posters below are perfect for showing your household routine & emergency numbers:
The magnetic boards below can be attached to your fridge:
Babysitting Supplies
The most important item to have available is a first aid kit.
The kits below are both popular:
Babysitting Games & Activities
Below are some popular games that your babysitter can play with your kids:
Do I Need To Tip My Babysitter?
You can tip your babysitter depending on how well you think they did their job.
If the sitter performed well and the kids are happy, a tip can encourage them to keep up the good work and continue working for you.
In the United States, approximately 55% of parents (marketwatch.com) do tip their sitters.
A good sitter can be hard to find, so giving a tip shows your appreciation for a job well done and keeps them loyal to your family.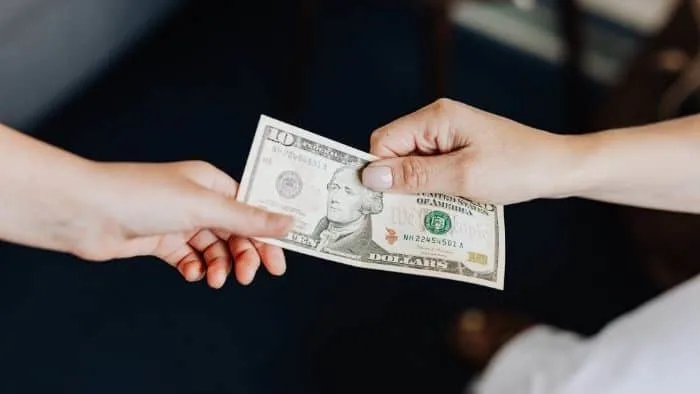 You don't have to tip every time a babysitter does their job. It may be best to tip whenever you feel like they did more than expected.
For instance, your sitter will probably expect a tip if you call them for a last-minute sitting.
A tip will show that you are grateful for their flexibility and consideration.
How Should I Pay My Teen Babysitter?
Consider paying your teen babysitter in cash or via bank transfer, if they have a bank account. If you pay them with a check then this will involve extra complexity for the minor who must first get the check endorsed before they can cash the check. Find out more: How To Endorse A Check For A Minor
Conclusion
Hopefully, you're now ready to find the perfect babysitter for your kids.
Always consider the minimum wage that they might earn elsewhere as a starting point.
Then evaluate the teen's skills, and provide the necessary books, games, and guidance.
Once you've found the right one, you can sit back and relax knowing that your kids are in good hands.