Teenage years are a time to break free from limitations and explore new opportunities. The same applies to teenage hairstyles. A teen girl will enjoy changing her hairstyle from time to time to help her discover her own unique personality and style.
Teens can find hundreds of ideas for cool haircuts and hairstyles for girls: asymmetrical haircuts, bobs, crazy voluminous hairstyles, sleek updos, and everything in between. Whether they have long or short hair, there are many exciting hairstyle options.
With so many options available, finding the right haircut takes some research. As we know, teenage girls are very particular about their appearance. The challenge can be in finding a hairstyle that's trendy, quick, easy, and doesn't look too childish.
Our gallery of stylish haircuts for girls has something for everyone, whether you're looking for something simple and easy to maintain or think about radically transforming your look.
Check them out now!
You might also like to read:
Short Haircuts For Teenage Girls
There is a short hairstyle for nearly every facial shape and hair type.
If your teen girl is ready to revamp her look and wants something that's a little less demanding, then why not consider any of these flattering styles?
Changing their hair significantly can be a fun and empowering experience.
The short hairstyles on our list will help determine which short styles to choose from.
Spiky Blonde Pixie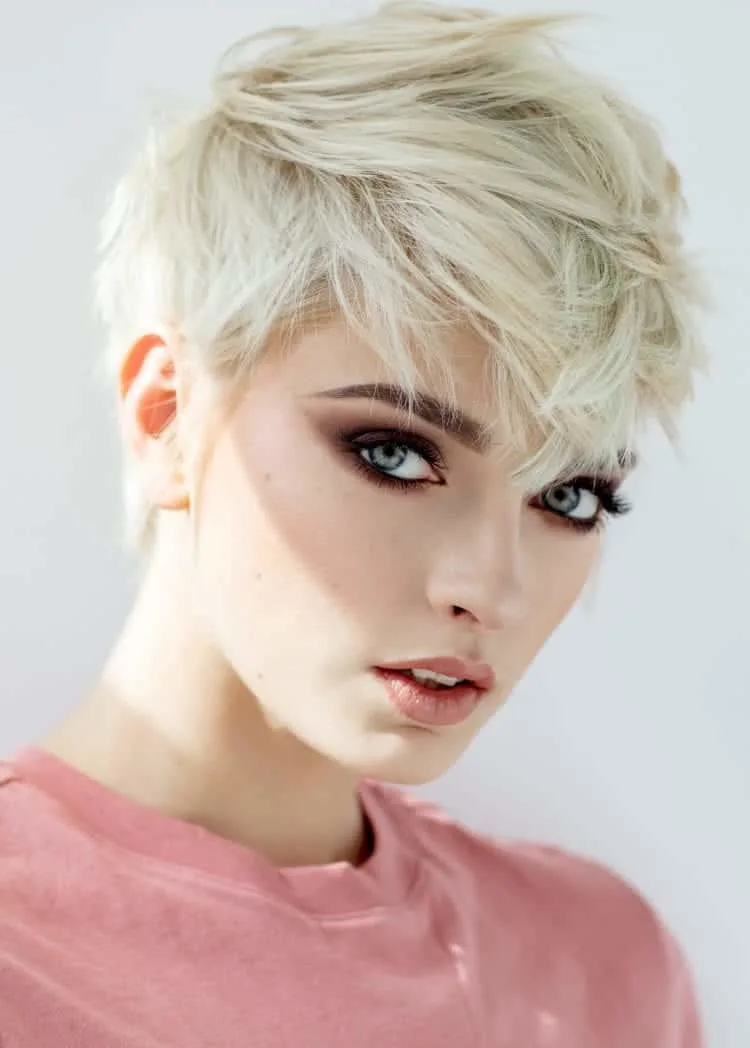 Using spiky texture and light blonde color, the classic pixie haircut is given an edge with a cool-girl vibe.
A hairstyle characterized by short sides and a sideways part on top, this style is short and edgy.
Using a hair spray will give it a long-lasting hold.
Teenage girls with short hair will surely love this style.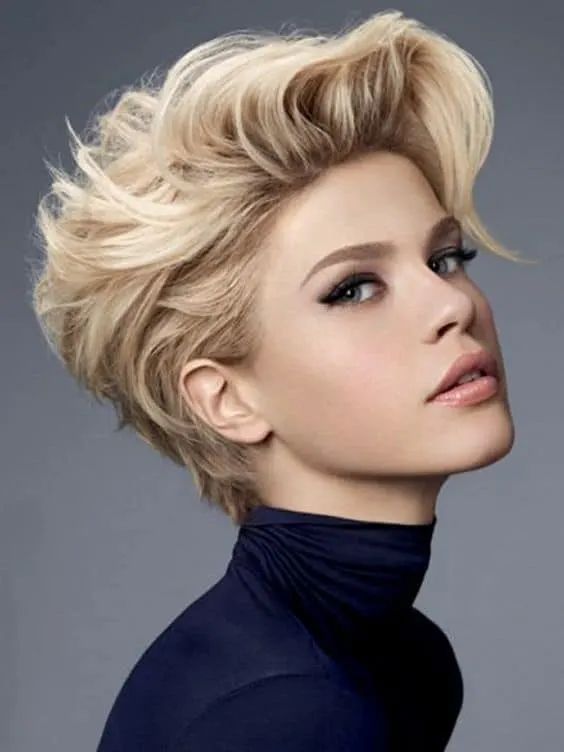 In order to achieve a dramatic haircut on a teenager, you need some volume.
The best way to give your hair the volume that lasts all day is to use styling products and pull your hair upwards from the roots.
Undercut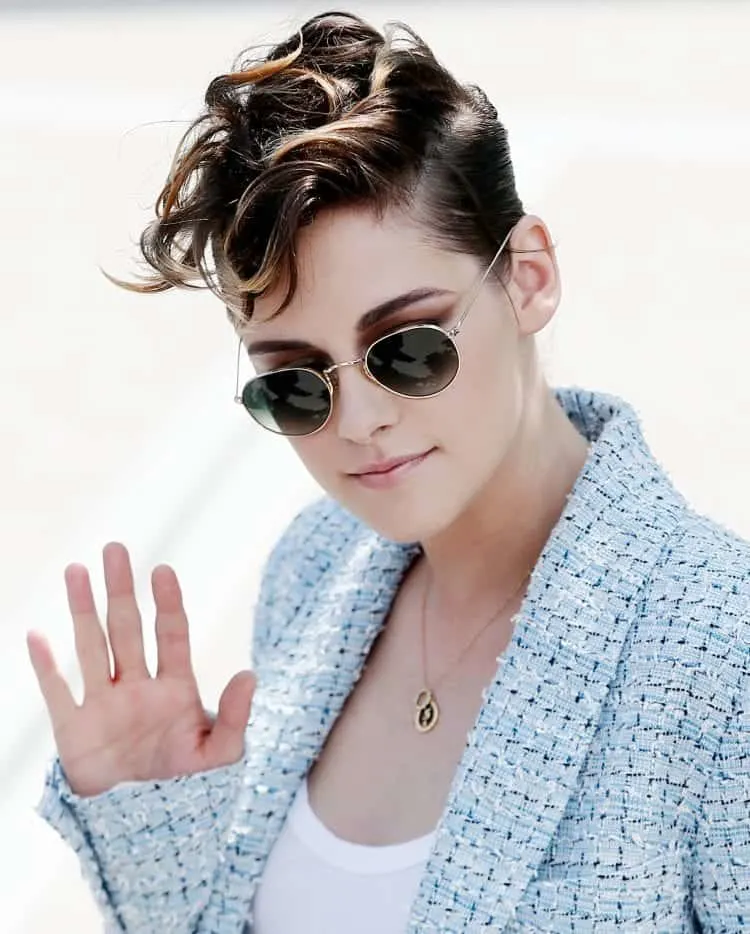 If you prefer something short, how about going a step further? Kirsten Stewart did just that.
In a very different look, Stewart took the undercut and raised the bar by leaving the top long and adding some highlights.
Teen girls who have the confidence to be bold might get this gorgeous hairstyle that will truly express who they are.
Choppy Short Hair with Bangs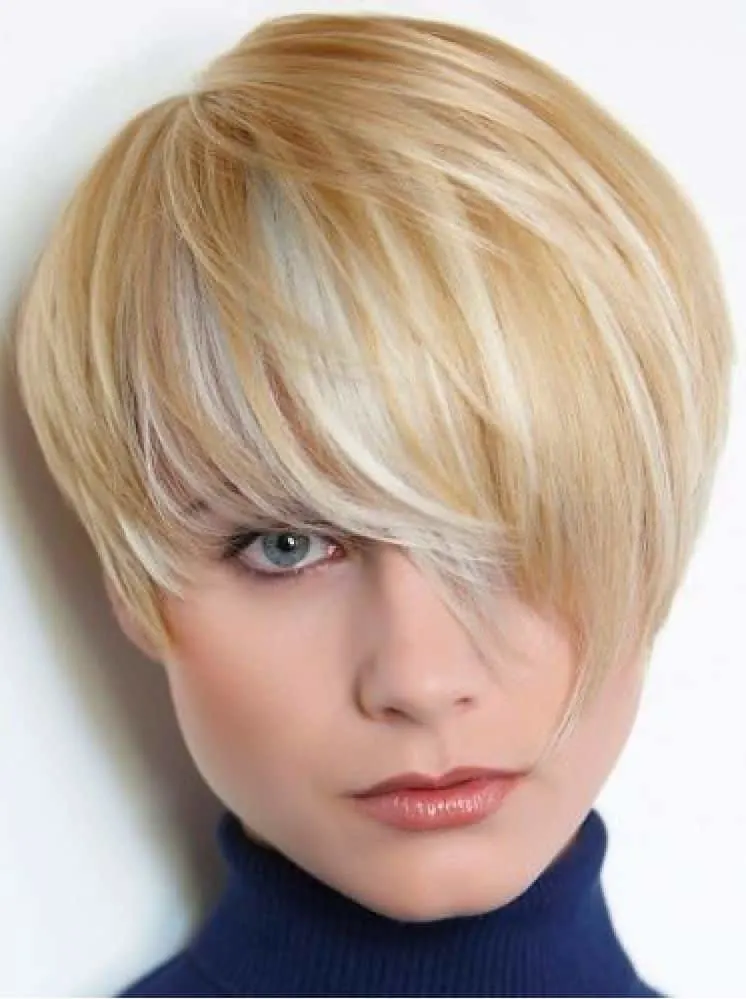 Hollywood was quite fond of this particular type of short hairstyle many years ago.
Recent times have seen choppy short hair with bangs being popular again.
This particular style does need some styling to keep the front bangs in place on the forehead. For smoothness, teen girls can use any cream or gel.
A hairstyle like this is ideal for teens who have round faces.
Side Swept Pixie
Pixie cuts are extremely versatile and elegant.
The asymmetrical look gets the finishing touch it needs thanks to the fringe on the side.
Hairstyles For Medium/Shoulder Lenth Hair
Though medium-length hair may not be as daring as a pixie cut or as glamorous as long waves, it is far from boring.
Hair of this length has a lot of versatility and can be styled in many ways that teenage girls might not have thought of.
Whether they prefer a straight lob or a blunt cut, there's a medium-length hairstyle that will work for them.
Deep Side Part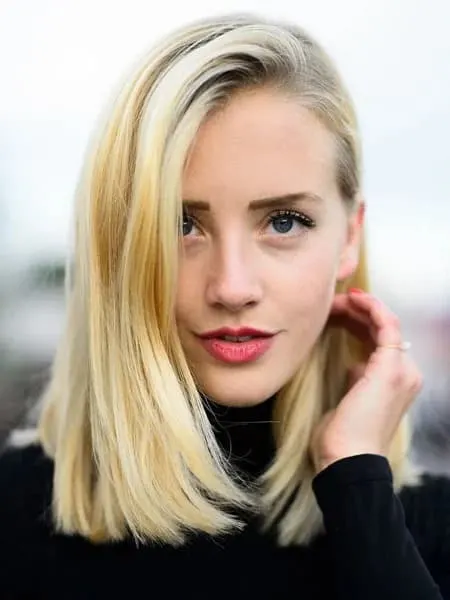 You can easily update the classic lob by styling your hair into a deep side part and flipping one side.
The sleek and sophisticated hairstyle is equally appropriate for teen girls whether on casual days and formal occasions.
Bob With Side Swept Bangs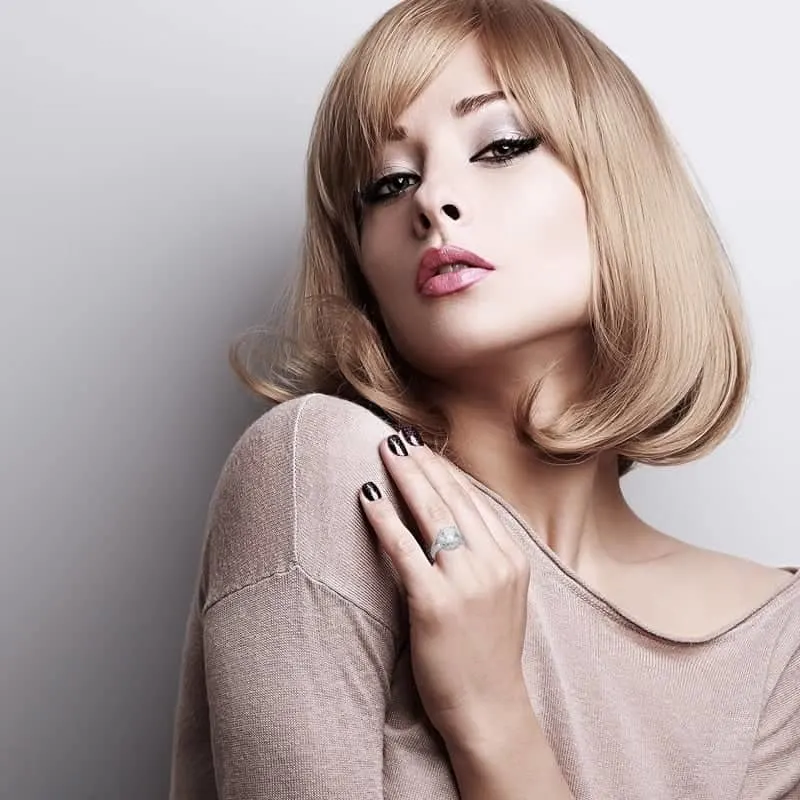 A transitional cut like a bob is the perfect choice for teens who are not quite ready for a super short haircut.
The ends of your bob can be curled under to add even more definition. Their face will look more defined and their cheekbones and jaw will be highlighted with side-swept bangs.
Messy Low-lighted Lob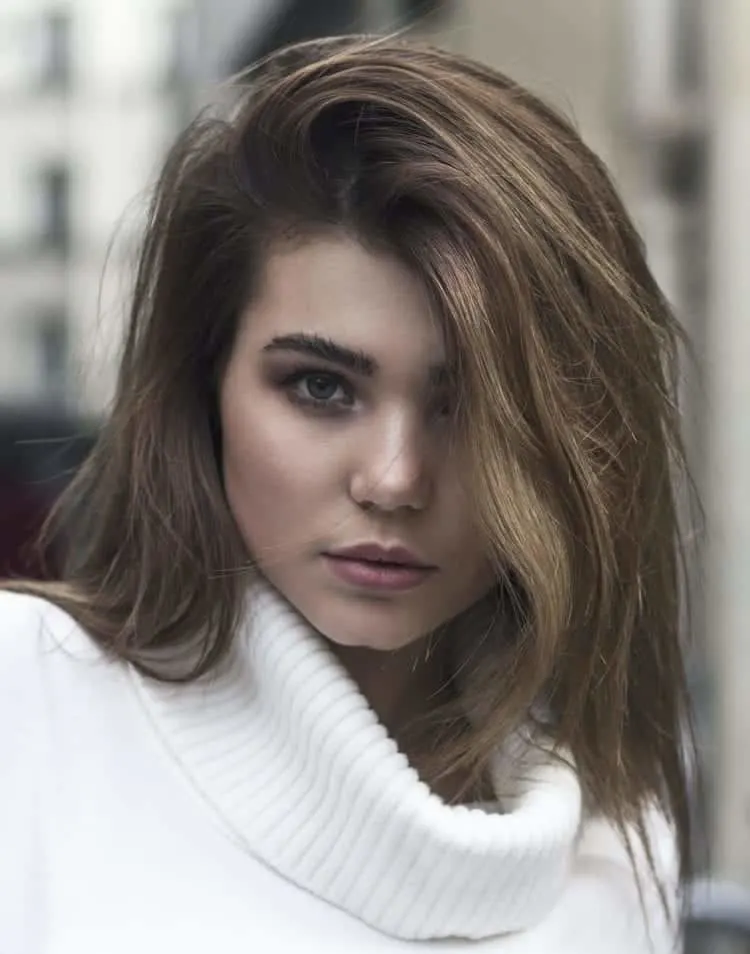 Everyone seems to be obsessed with the medium-length hair trend and putting their own twist on it.
Teen girls can play with their natural hair color by getting lowlights, especially if it's on the darker side.
Textured Bob
Teen girls that are carefree and happy to have their hair a little shorter will appreciate this stylish hairstyle.
To achieve this stylish and carefree look, teens should request a choppy bob with movement.
This hairstyle doesn't require excessive maintenance but still looks stylish.
Medium Length Cut for Asian Hair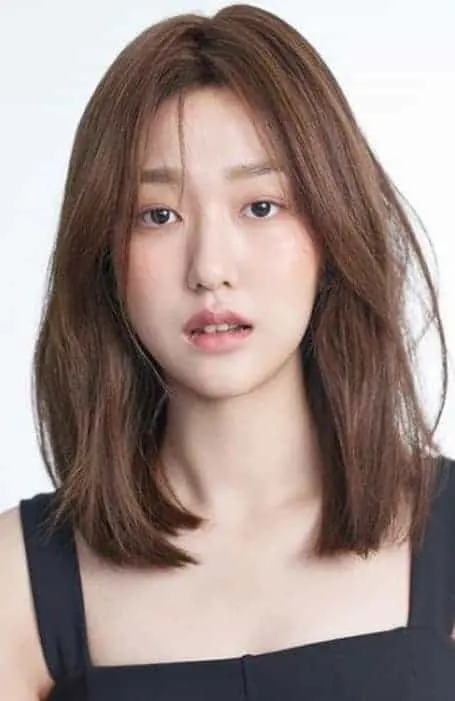 Typically, Asian hair tends to be thicker than Caucasian hair, so medium-length haircuts with long layers would work well. These layers add movement and let the hair appear more natural.
A framing layer can also help give any teen girl's face a slimmer and longer look.
Honey Comb Long Bob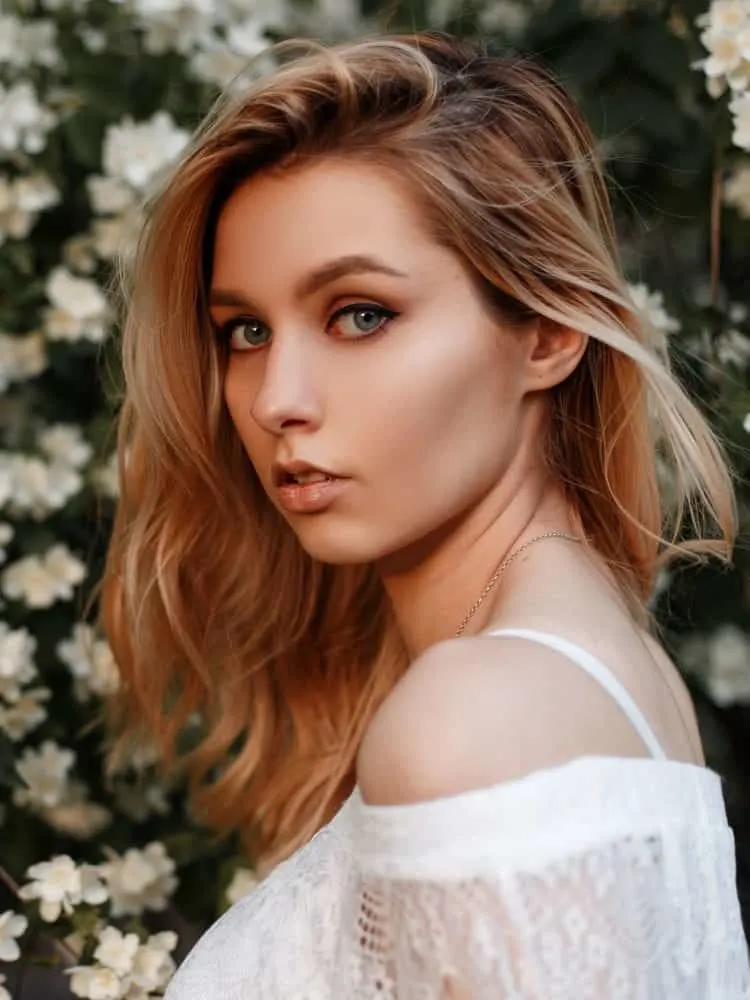 Long bobs or lobs are here to stay and are available in various styles.
Here, we got some honey-hued waves that work remarkably well with this haircut.
This hairstyle will give teen girls a modern, feminine look that's sure to turn heads.
Layered Short Hairstyle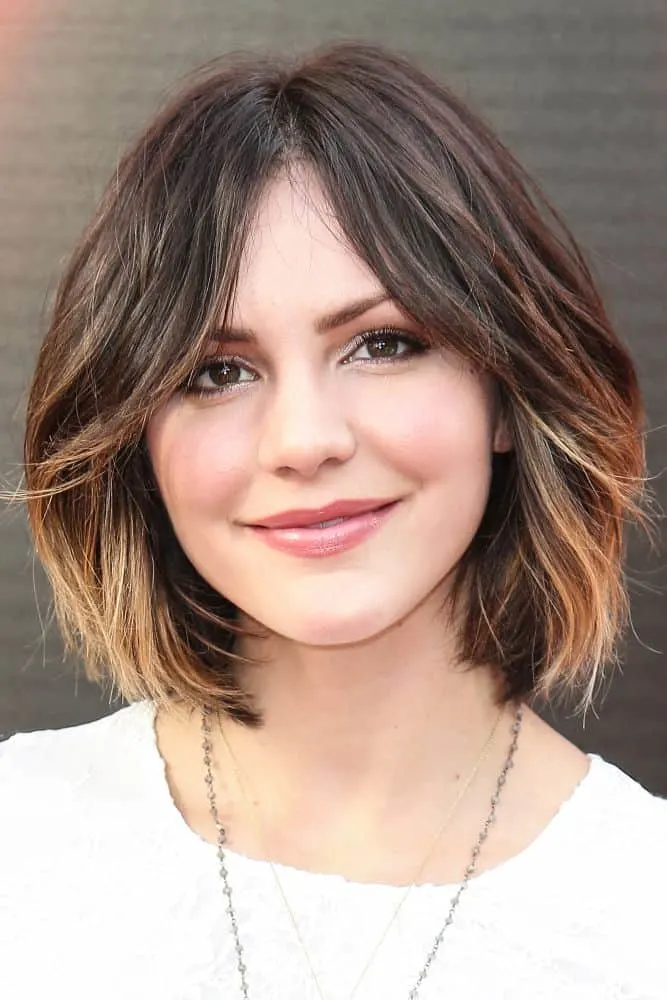 Short hair can be styled with bangs, ruffled layers, and choppy layers to create a model-inspired look with minimal styling.
Layered styles complement round and oval faces really well.
Strong Bob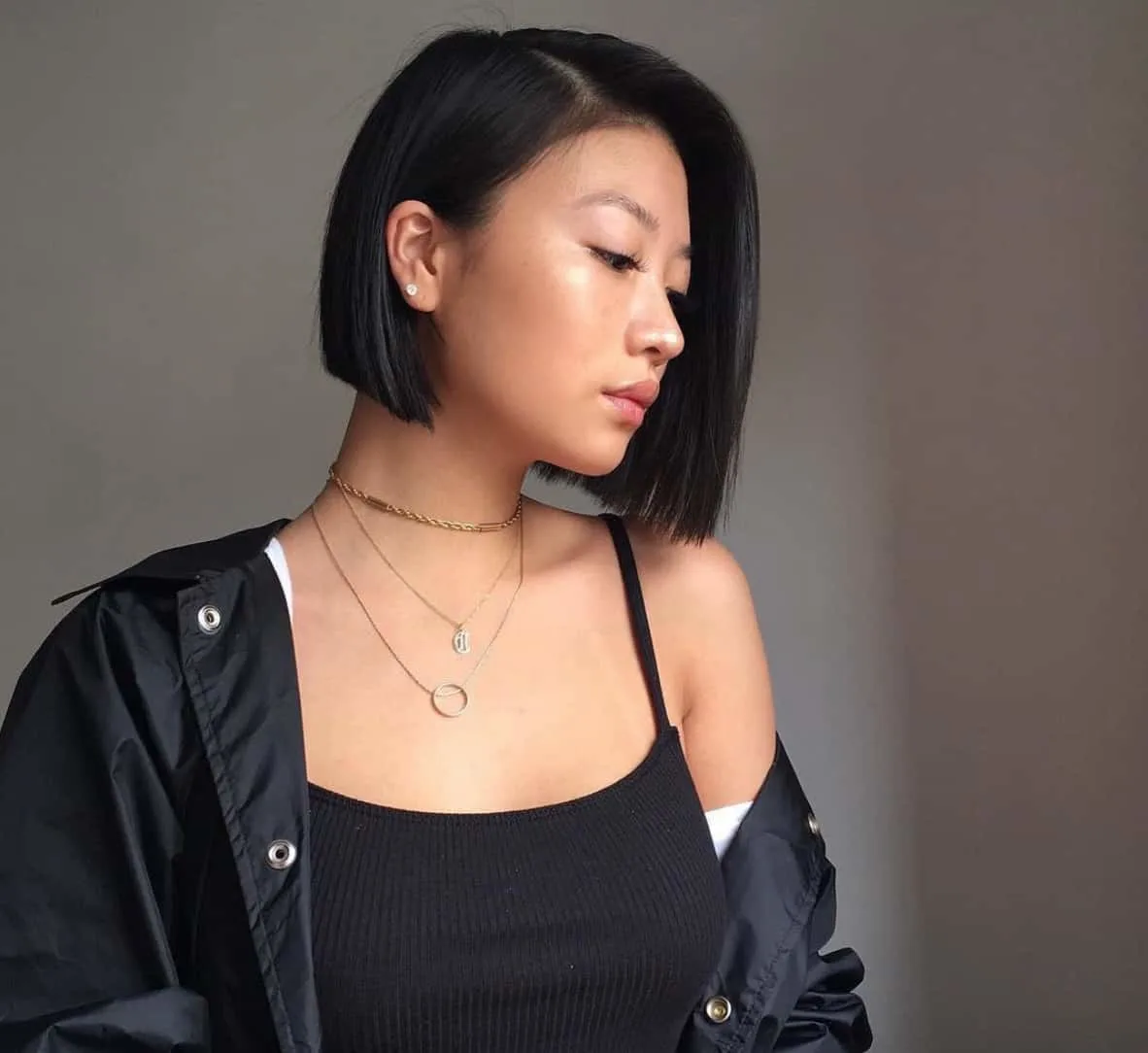 Among current hairstyle trends, the strong bob — more commonly referred to as the blunt bob — is gaining popularity.
You can style a teen girl's thick hair in a strong bob, with a few thinning steps. If you don't have naturally straight hair, then you will need to use a straightening iron to get this defined look.
A sharp bob looks best one length or with straight-across bangs.
Medium One-Length Haircut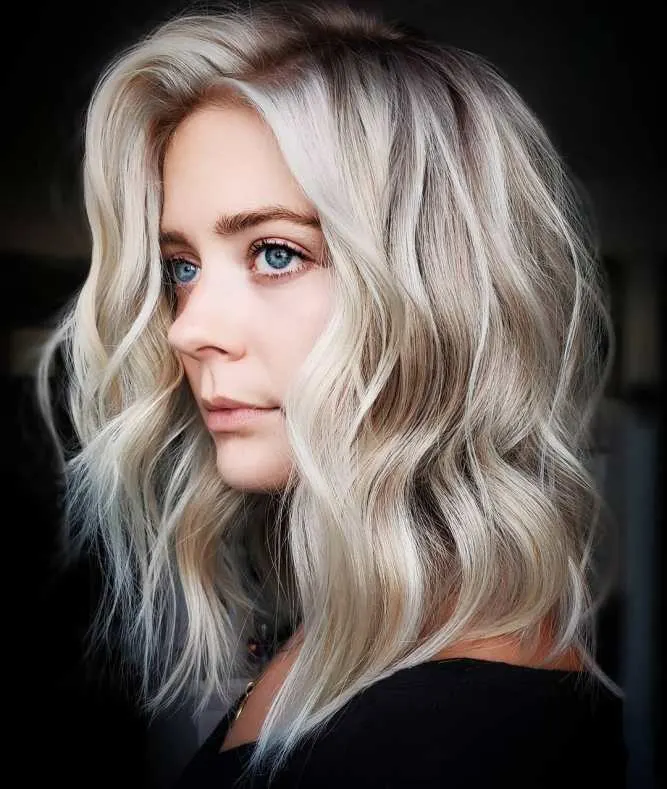 Many teenage girls decide to grow their hair a little bit, then wonder what they can do with it and how to style it.
In the event that they still wish to wear an updo, a mid-length haircut can be an excellent option.
On casual days, they can also let their hair down with a messy curl.
Burgundy Color Lob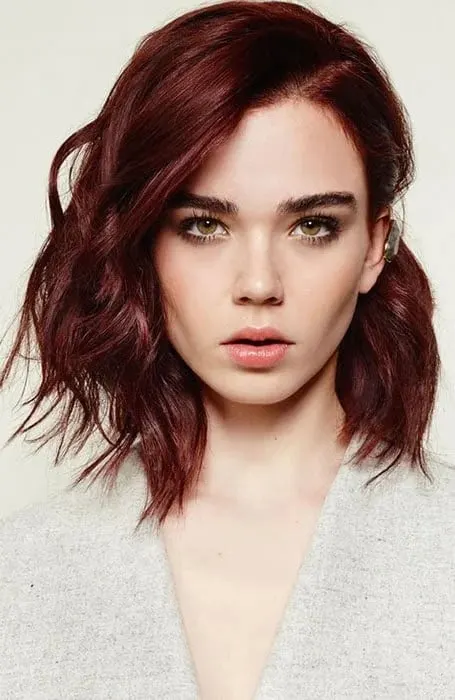 One of the most versatile haircuts, the lob, is a great choice for teen girls. They can wear it up or down since it's longer than a bob, giving them more styling options.
It will flatter most face shapes and can be adapted to suit various hair textures.
For teen girls, burgundy is an excellent choice if they want a standout look. This rich red color suits a wide range of skin tones.
In addition to looking full of life, they will notice that burgundy can leave their hair looking healthy and luscious.
The color can be incorporated in many different ways, including in an ombre or Balayage technique for a more subtle look.
Hairstyles For Long Hair
We seem to be gravitating towards shorter, smarter looks, however, long hair lengths remain beautiful and feminine.
It may seem overwhelming to sift through all the internet's looks for long hair as there are hundreds to choose from.
We have compiled our favorite and most popular hairstyles for long hair.
Whether your teen is going to a formal event or just an ordinary day in school, this collection of cute and easy hairstyles for long hair will sure to draw compliments.
Don't have long hair? Check out these glueless human hair wigs that could help!
Golden Honey Balayage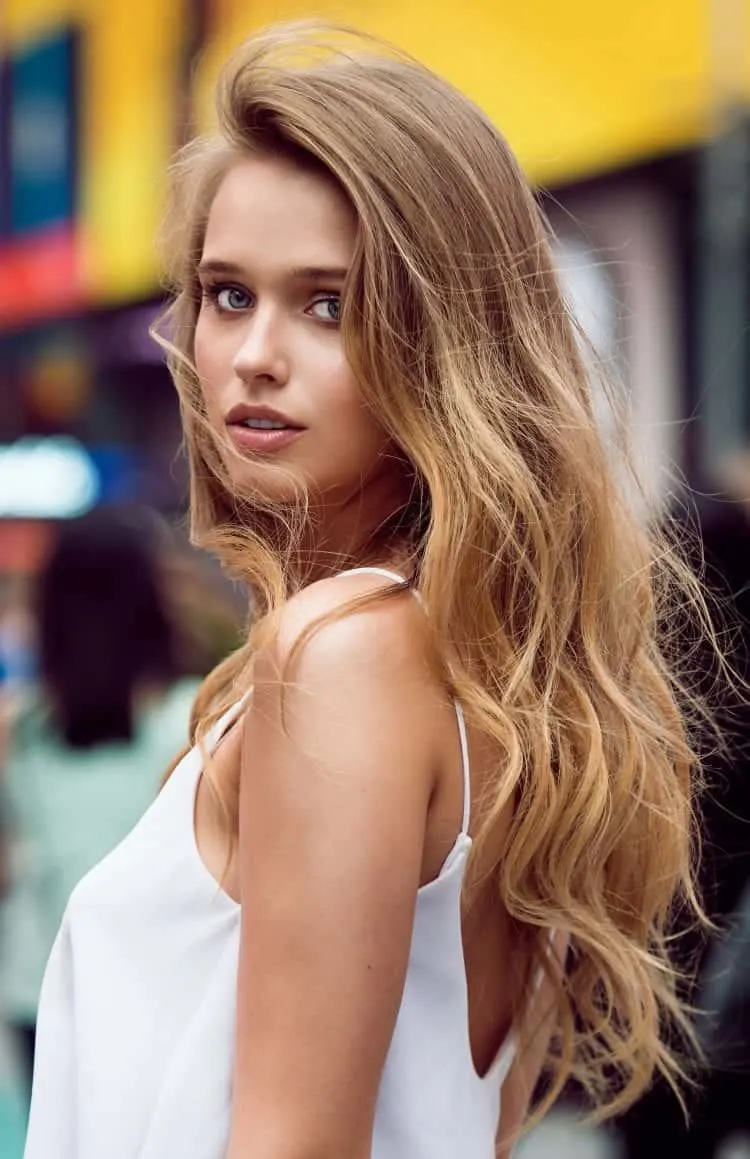 Highlighting with the Balayage technique means that your hair is not highlighted from the roots, and is able to grow out naturally without needing touch-ups.
For this reason, Balayage is one of the most popular coloring trends for girls with long hair.
The warm honey color is a good choice for teenage girls.
Long Brunette Shag with Subtle Highlights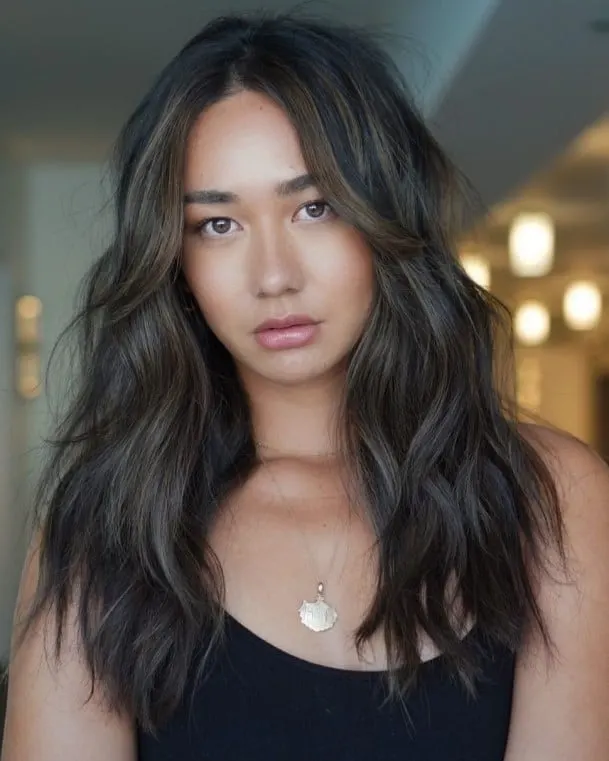 This fascinating haircut with long side bangs is great if your teenage girl's hair is long enough.
Active and busy teen girls can take advantage of trendy haircut styles that are not only attractive but are also low-maintenance.
Adding layers can make their hair look even fuller. They can part their hair accordingly so that it flatters their face shape.
Voluminous Waves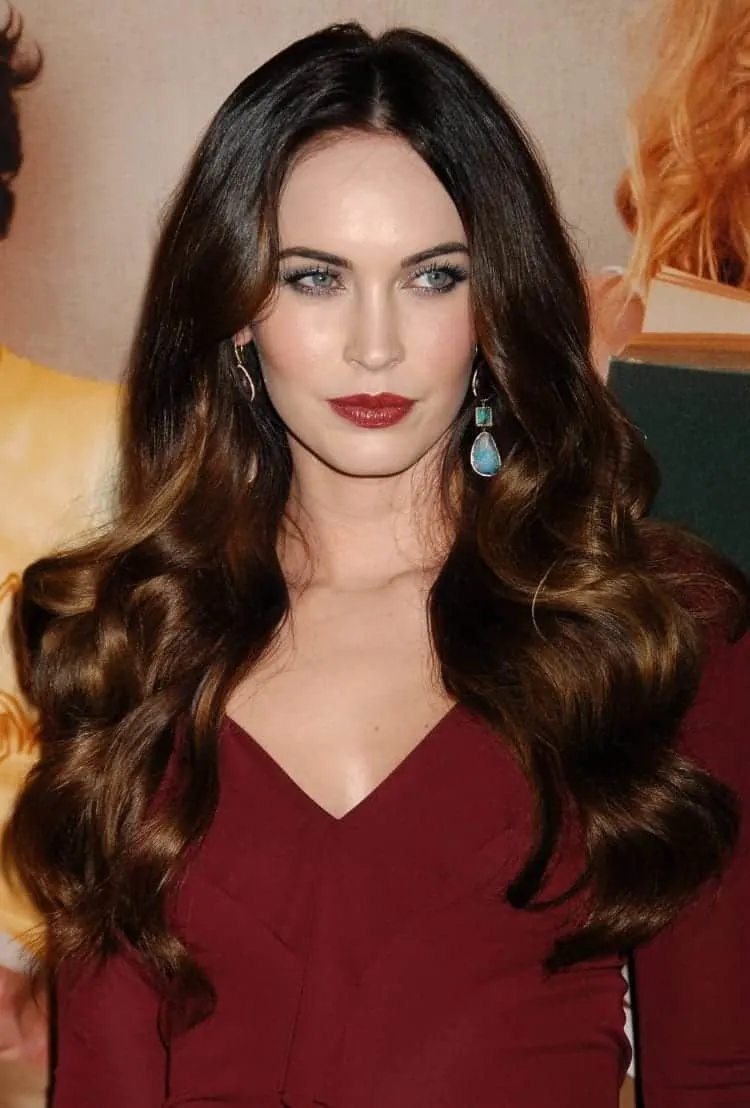 The perfect wave is bouncy and voluminous.
Using a curling iron with at least two-inch barrels will give your teen this fab look; the bigger the curl, the better.
Half Up Half Down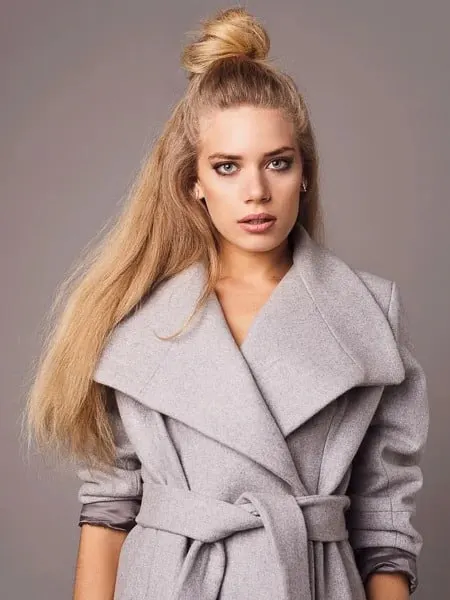 It's always possible to rock a half-up, half-down style if an updo isn't really your style.
Teen girls will surely love the top knot or half-bun because of their convenience.
In addition to looking cute, it's a style that's easy to maintain for teenage girls with long hair.
Despite its dressy appearance, this style can be worn casually as well.
Red Long Layered Hair
Red is one of the less common natural hair colors and comes in many beautiful shades and tones.
Those who embrace this rich shade have a uniqueness that makes them stand out among the crowd.
Colors like this are great for teen girls with fair and light skin tones.
It is a great idea to layer the hair as it allows the hair to look lighter, thicker, and add movement. This can be done on hair of all lengths and textures.
The stylist can help them figure out what looks best for them, giving the hair shape and definition.
All Blonde Highlights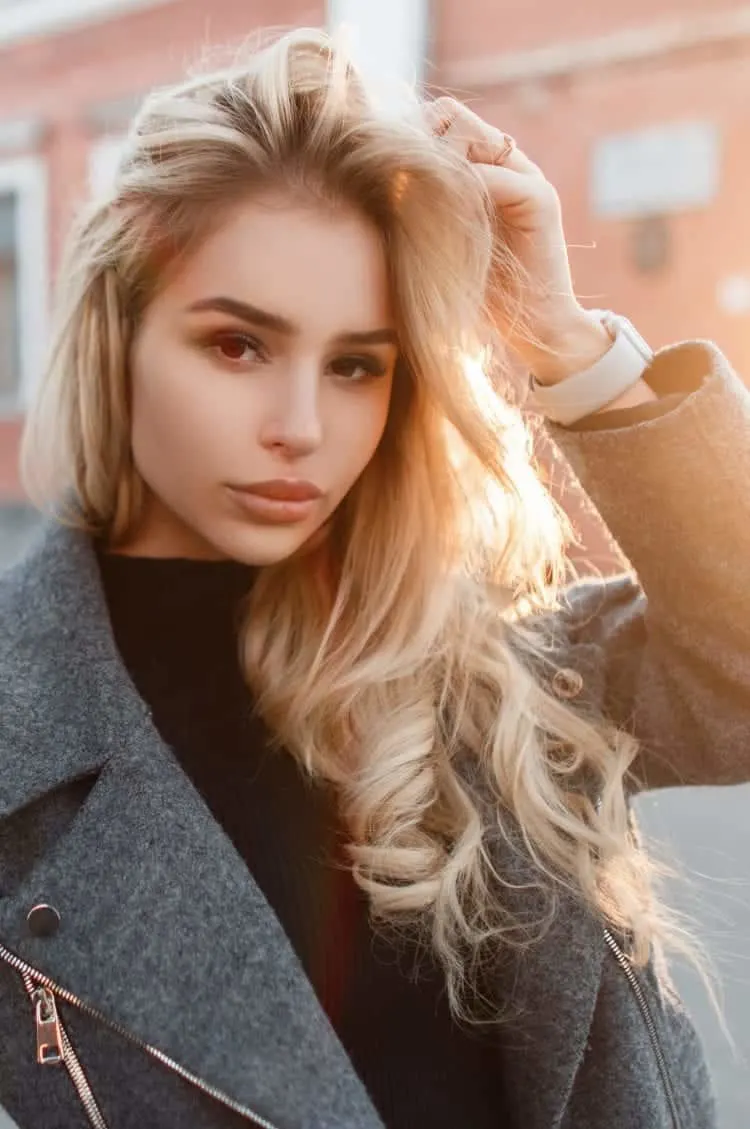 Teens with lighter hair might enjoy experimenting with different highlights.
Densely packed highlights will give them a lighter blonde look overall.
As an alternative, teenage girls don't need to go to such an extreme; a thin streak can still be effective so that some of their natural hair colors come through as well.
Long Layered Hairstyle With Highlight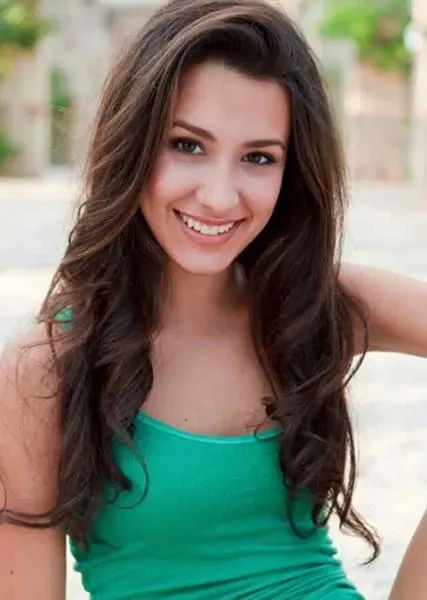 A longer layered style with a hint of highlight is one of the best options for teen girls with long hair.
Their hair can be curled or left straight and gorgeous. One of the perks of having long hair is that it gives you a wide variety of hairstyles to experiment with.
This look is one of the easiest to style and one of the most adorable hairstyles for teenage girls.
Mermaid's Hair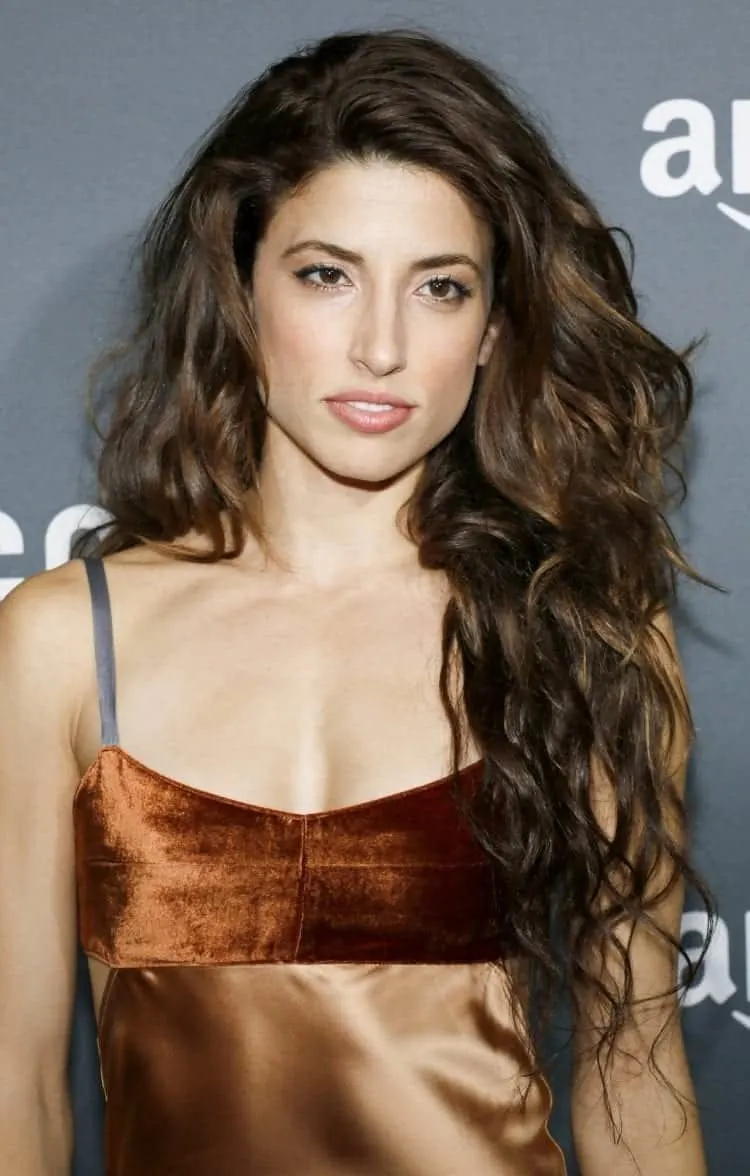 These cascading locks are reminiscent of those of a mermaid.
Teen girls can achieve a similar look by applying a texturizing spray to their messy curls.
It's a chic and dreamy style that is flattering on any teenage girl.
Hair Down with Twists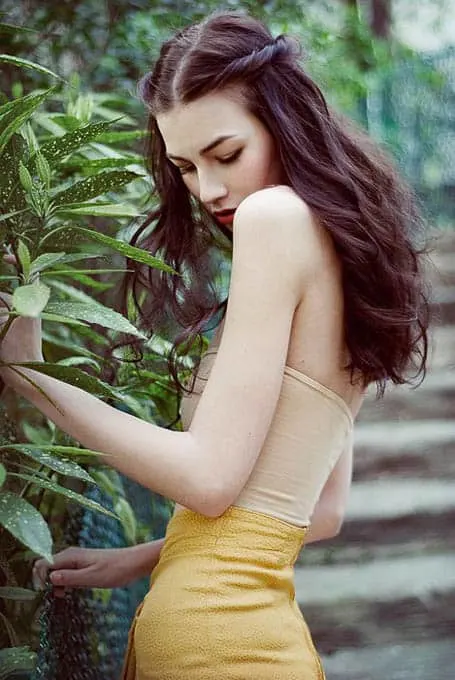 A hair down with twists look is a perfect choice if you want a dreamy look.
Hairstyles such as this one are easy to create and have a feminine and carefree, Boho look.
Teen girls will love how they can keep their hair out of their face and give it a beautiful and artistic appearance by leaving their hair long and loose and twisting it at the sides.
This style looks great on various hair types and lengths but looks best on naturally textured hair because it gives a softer look.
Hairstyles With Bangs/Fringe
Hairstyles with bangs have long been popular, thanks to their ability to create a fabulous look without altering the rest of the haircut.
There have been a number of haircutting techniques developed throughout the years, techniques that have allowed hairstylists to create different looks for bangs to fit any type of hair, age, as well as personality.
When picking out the perfect hairstyle, it's important to consider factors such as face shape, hair type, personality, and hair length.
In order to make your final decision easier, we have selected some of the most popular bangs/fringe hairstyles that will suit teens perfectly, so that they can take some inspiration from them and make the right choice.
Korean Side Bangs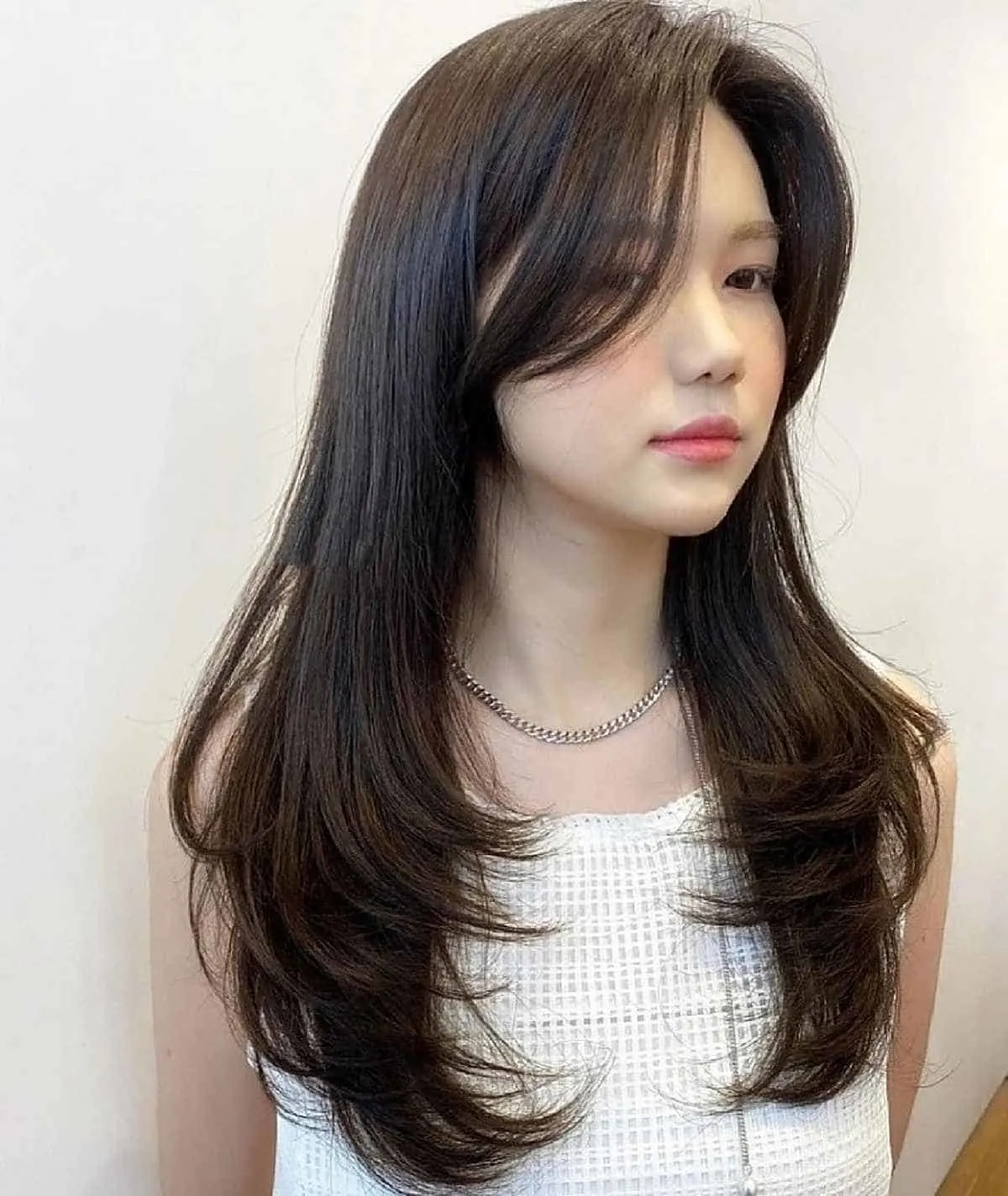 Due to Asian hair's tendency to be pin-straight, some types of side bangs hairstyles can be difficult to recreate.
Teen girls must look for a stylist who is skilled at seamlessly blending layers and textures to get this simple and trendy look.
Curtain Fringe
With a flattering appearance and being low maintenance, this is a great choice for teen girls.
Your teen can achieve this look by asking for long, soft bangs parted right in the middle like curtains.
Pixie Bangs
The pixie cut is highly adaptable and versatile, making it a favorite amongst women of all ages.
The cut will look good on all hair textures, but it is a good idea to try slightly longer bangs for a soft and feminine look.
A side-swept fringe, such as a blunt cut, can add both length and dimension to this hairstyle.
Straight Bob With Fringe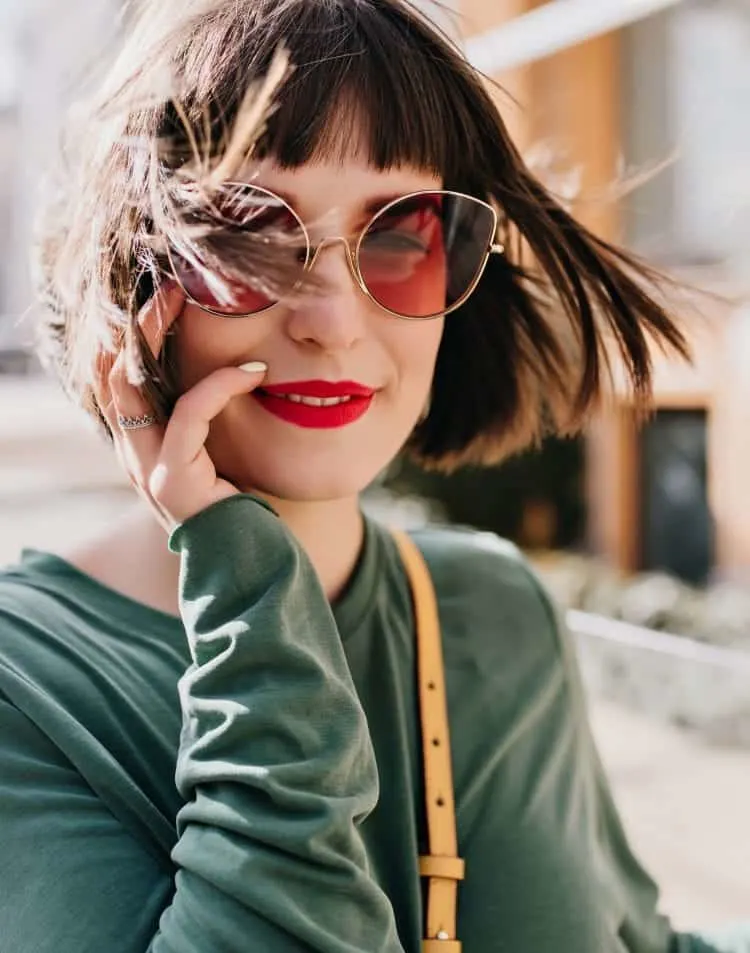 Almost all kinds of bangs need styling in the morning.
To achieve this look, teen girls should run a flattening iron over their hair from root to tip.
Even when they are rushed in the morning, this is an easy and quick look to accomplish.
Middle Part Curtain Bangs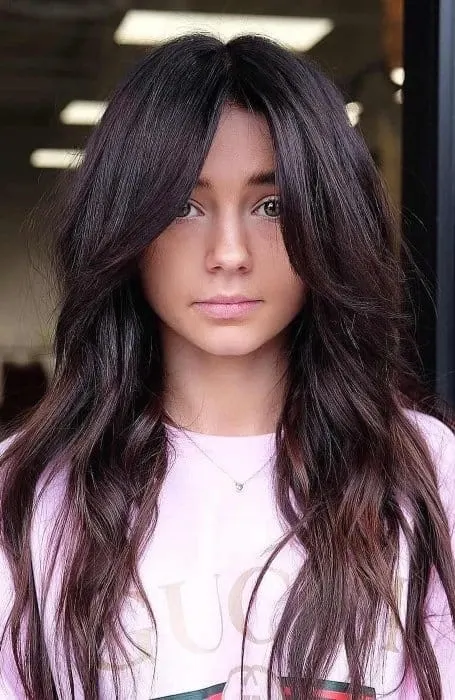 Curtain bangs can be distinguished by their middle parting, where the bangs fall on either side of the face.
Aside from being a flattering and practical option, this also accentuates the best features and keeps the hair out of the face.
Consider the length of your bangs when choosing a look that suits your face shape. Their length will help to elongate and slim the face, so the longer the hair, the better.
Shorter cuts, on the other hand, will highlight their cheekbones.
Top Knot With Bangs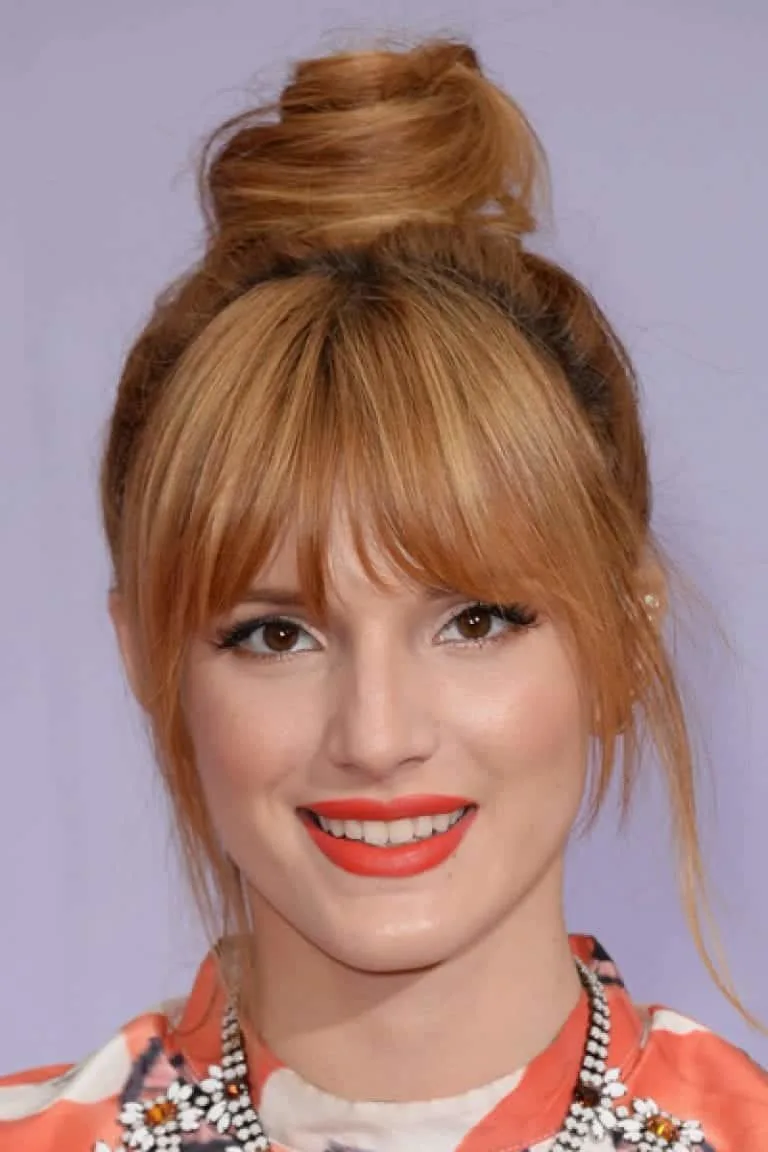 A top knot with bangs is another style popular among middle schoolers and college students.
It frames your face well and makes it look more innocent. Teen girls will be able to make their own distinct style statement with the top knot.
Long Wavy Hair with Bangs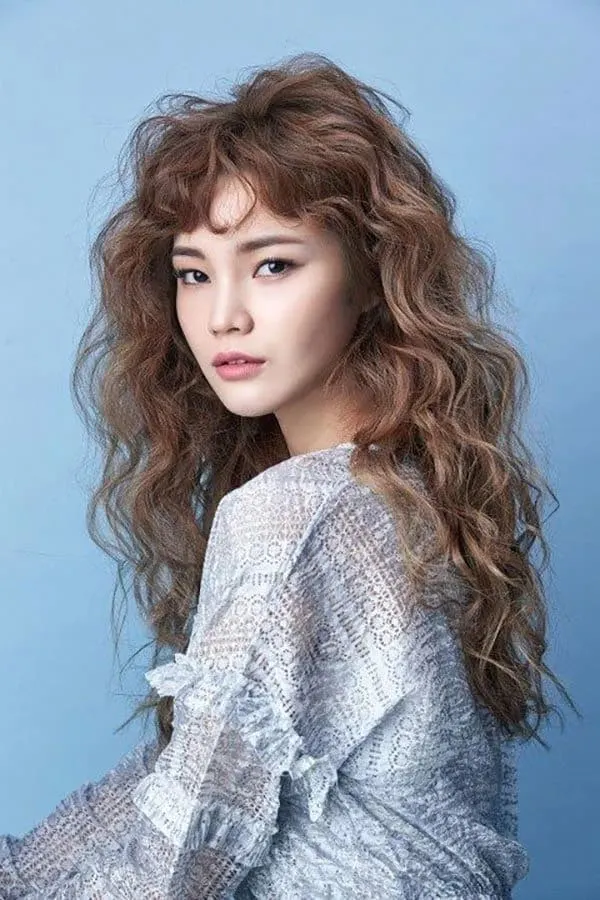 Long waves and bangs are the perfect combination. Keeping the hair loose will draw attention to the natural hair texture while also creating a soft look.
Adding bangs can change their entire appearance, frame their face, and emphasize their features.
Cute Ponytail With Bangs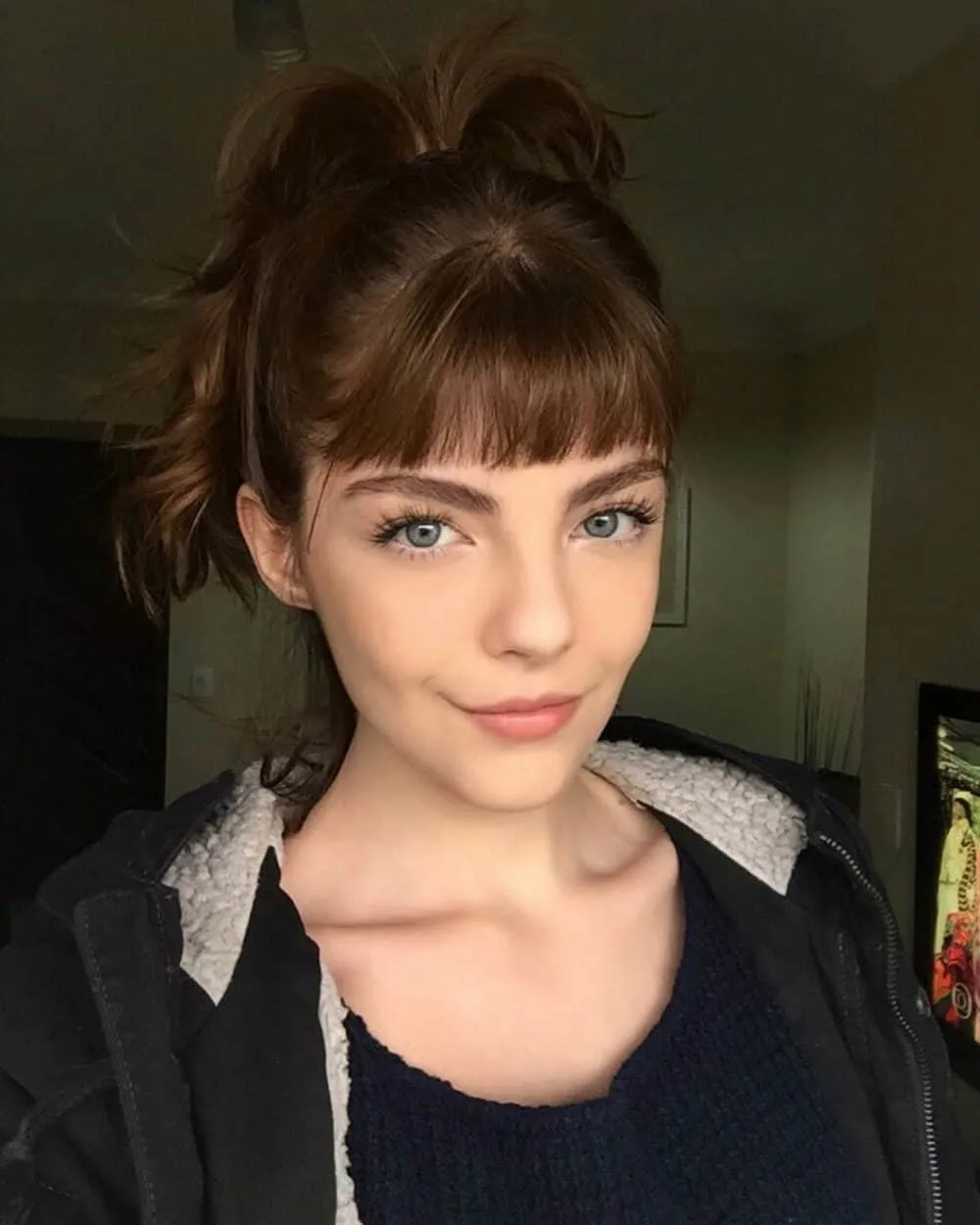 Teen girls can create a darling image by wearing a cute ponytail with bangs.
Mist a hairspray to secure the updo after backcombing the hair to add fullness. A ponytail with short bangs looks great on teenage girls with straight, natural hair.
Soft Curtain Bangs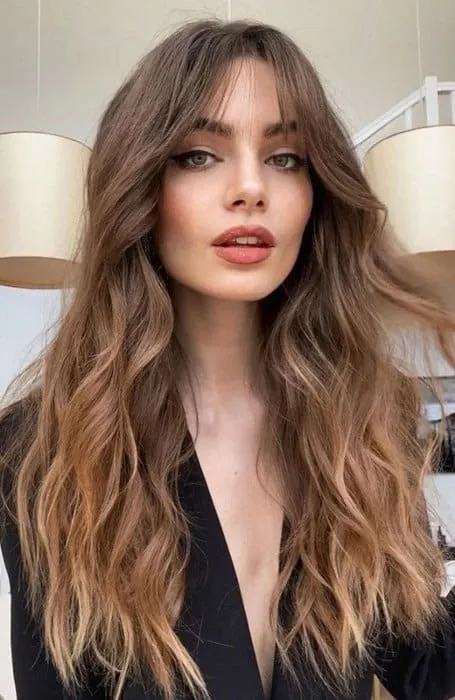 Teen girls who want a dreamy look with bangs that are wispy and flattering need soft curtain bangs.
Hair is given more dimension with this hairstyle, and it is designed in such a way that it is feathered toward the end of the hair.
It is suitable for teenage girls with longer faces. Also, this is the best option for someone who is looking for a fringe that is easy to style and requires little maintenance, while still framing the face and enhancing their features.
Bun Hairstyles For Teenage Girls
An elegant bun is always a stylish way to ensure a chic and stylish look, no matter what hair type or length teenage girls have.
These fun and easy hairstyles will take them from day to night with ease with a variety of options to suit any occasion.
Here are some of the coolest bun hairstyles teenage girls should try, so they can find the right style for them.
Messy Bun for Long Hair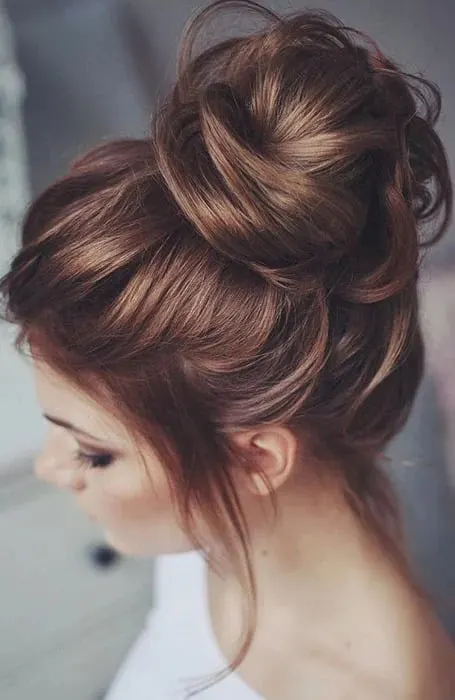 When worn with longer hair, a messy bun is a sophisticated yet casual hairstyle for teen girls.
Changing it up for different occasions is easy with this look because it is so adaptable.
Curling the loose hair by the sides is a great way to create a romantic and elegant look.
Whether it's a side, low or high bun, there are so many options!
Brown to Blonde Highlights In A Bun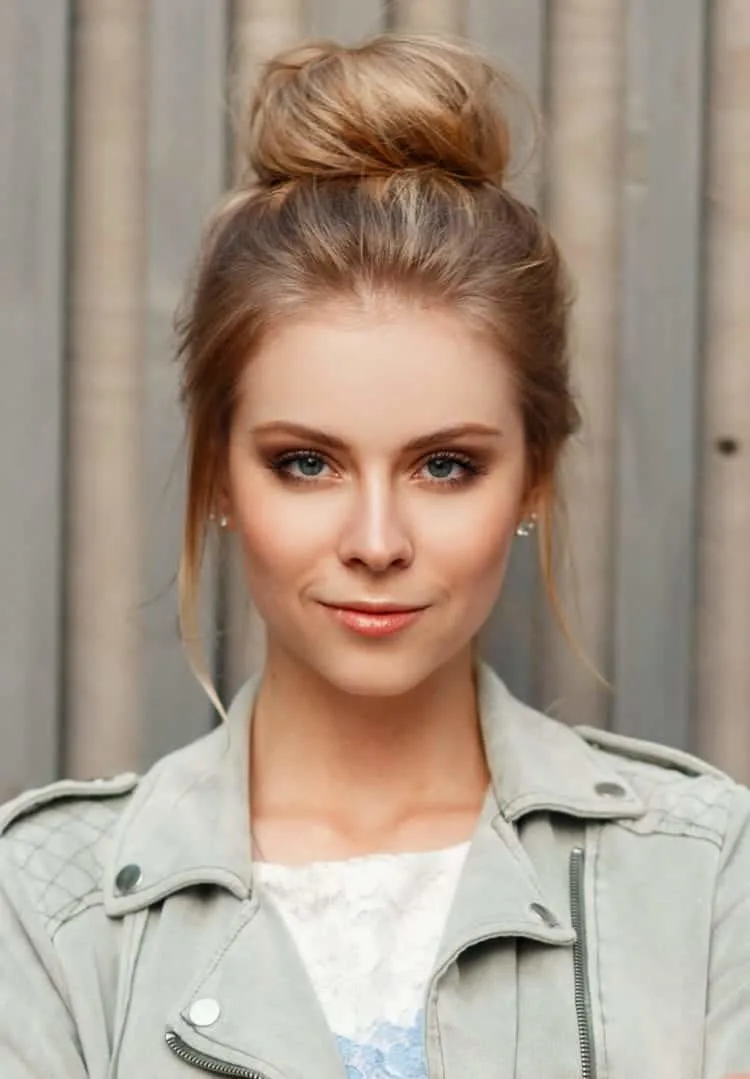 A bun pinned up with highlights looks especially cute.
All it takes for teen girls to achieve this easy-going look is to leave a few strands out in their hair and they can go from elegant to playful in a matter of seconds. Not difficult at all!
Cute Bun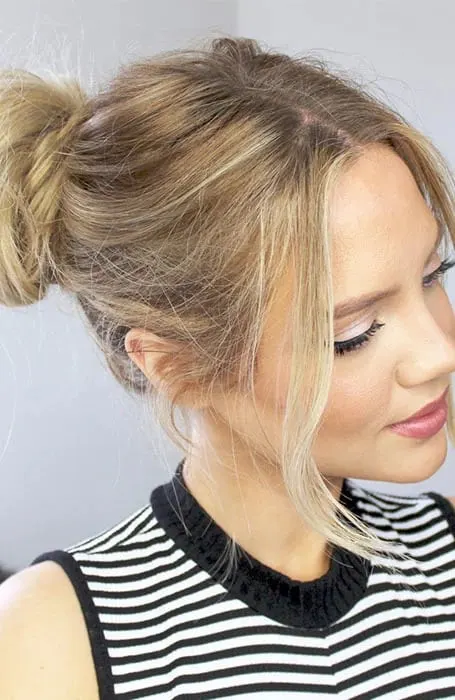 Buns are the perfect hairstyle for teen girls who don't have a lot of time on their hands but want to make an impression.
It's a good idea to leave a few strands hanging loose when styling their hair to achieve this cute look.
Curly Ballerina Bun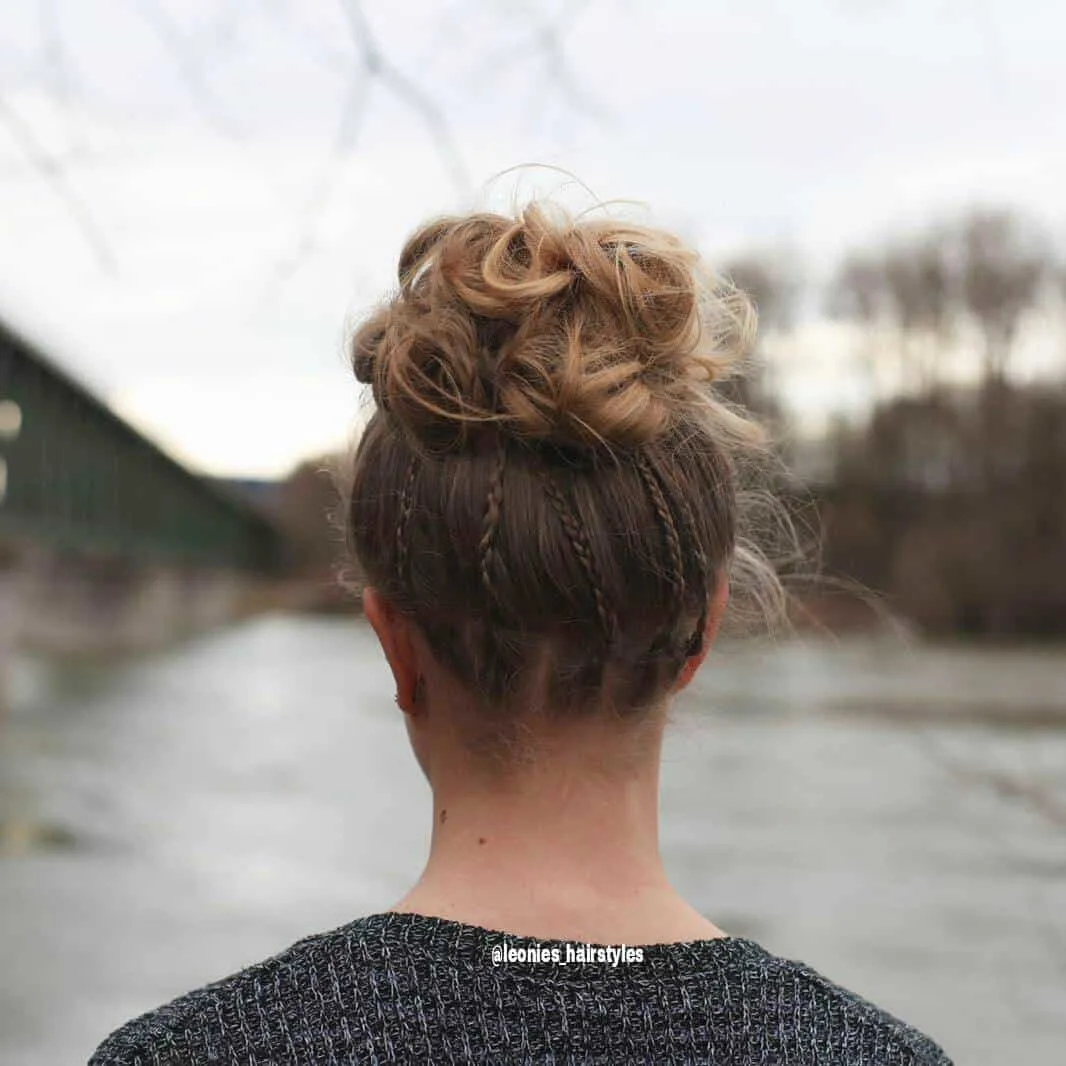 This look can be created by pulling hair into a high ponytail and curling each piece separately and pinning them under. The curly ballerina bun is always stunning.
With braids, this style can be dressed up for a formal event or worn on casual days.
Bun with A Twist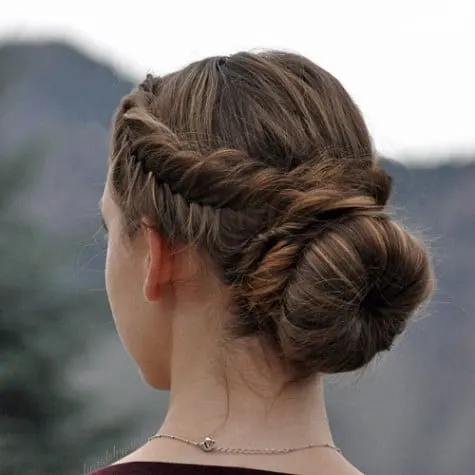 This lovely teen hairstyle is cute and sophisticated for any occasion.
This looks best on teen girls with medium to thick hair. Longer hair will make the bun look thicker.
Make sure they use plenty of hairpins and setting spray to secure this style.
Bow Shape Space Buns with Braids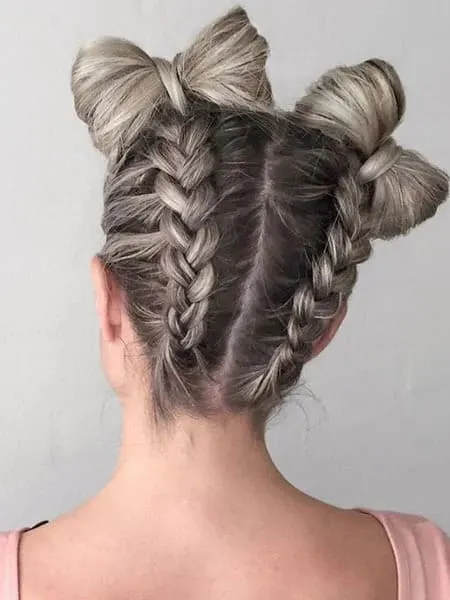 The bow shape buns with braids are one of the cutest space bun hairstyles.
Taking two Dutch braids and securing them into bows from the front section, it is a bun style that involves braiding hair from the back to the crown.
Whenever teen girls want to look cute, they can sport this hairstyle.

Sleek Top Bun
A bun is a go-to hairstyle for every busy teen girl.
No matter how neat or messy they get their top bun, it always looks great! A stylish and convenient way to stay fab even on busy days.
Side Bun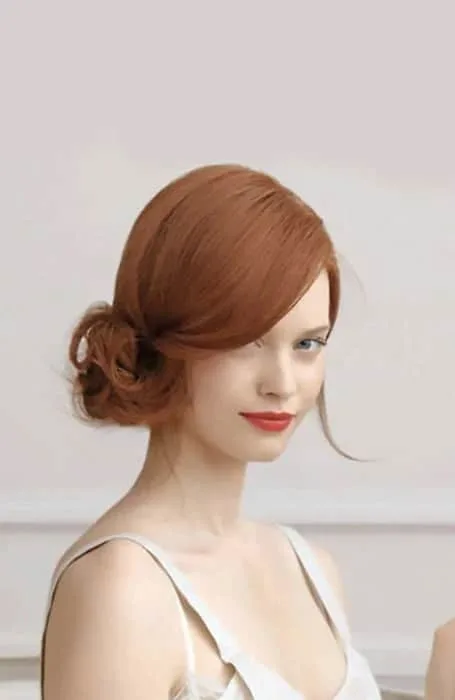 Unwashed hair on the second or third day looks great in a side bun. Teen girls can spray dry shampoo on their hair, tie it loosely to the side.
Once they've completed this step, they can divide their ponytail into two sections and twist them together until they meet at the bottom. Wrap the twisted ponytail into a bun.
Create a messy bun by pulling out some hair, pinning it, and spraying it with hairspray.
Braided Sides and Bun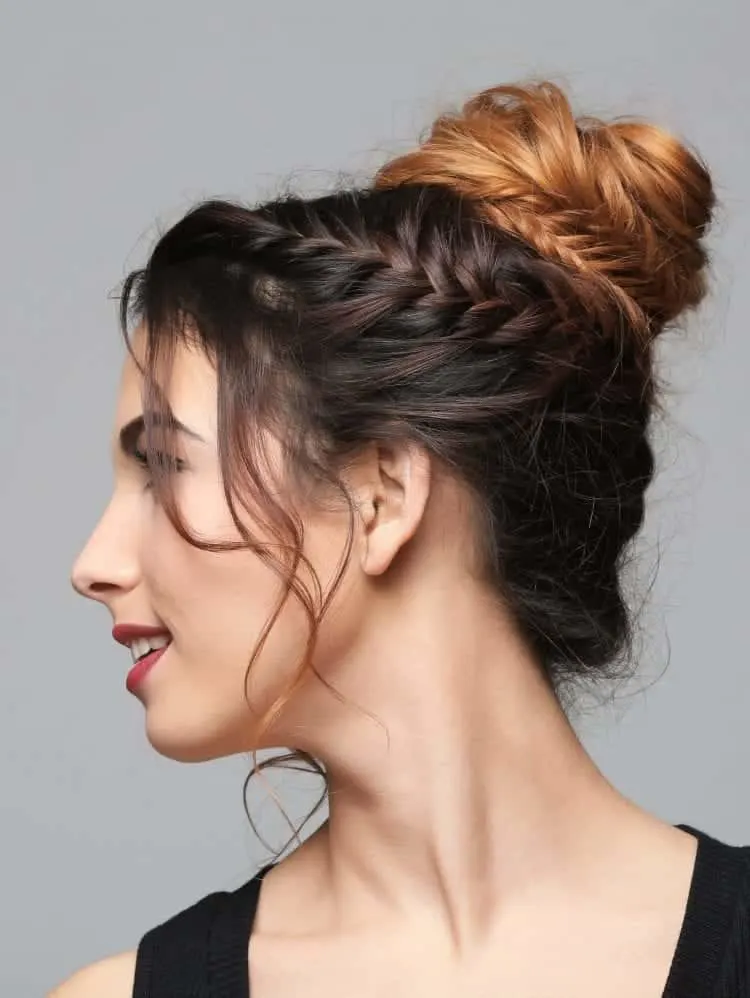 Almost every teen girl's dream hairstyle is a braid and a bun, so why not combine them?
To get this look, their hair should be mostly gathered up into a bun, but they should leave a little bit stranded on one (or both) sides.
After that, they can braid the remaining hair as they wish, and pin it back behind the bun. Easy and absolutely stylish!
French Fishtail Bun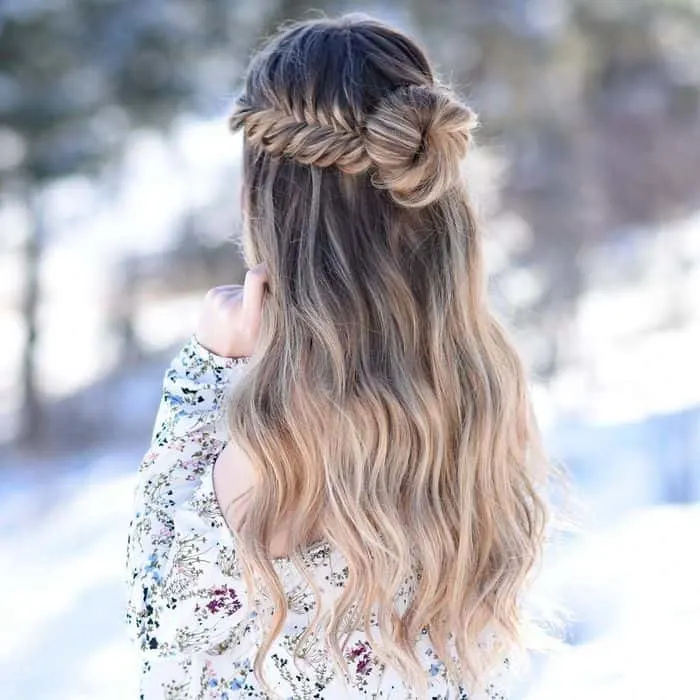 Teen girls will never look at a half-up hairstyle in the same way again!
The French fishtail bun is the perfect twist on a classic style for teenage girls who like to experiment with their hair.
Fishtail braids are created by taking two large sections of hair at the temples and braiding them together.
Do not simply tie their hair at the back of their head, but pull it into a lusciously large bun instead.
Braided Hairstyle For Teens
The braid is one of the most popular and versatile hairstyles.
There are incredibly complex patterns and simple plaits in this style, making it one of the most versatile.
So whether your teen girl is at school, hanging out with friends, or heading to a formal event, there's a braided hairstyle that's ideal for them.
Here are some of the braided hairstyles that any teenage girl can try.
Double Tie Fish Braids
It is the ultimate cool-girl look to wear fishtail braids in place of a traditional braid.
This style involves braiding the hair from the face toward the back of the head, tying it off with a knot, and finishing the rest of the plaiting with the rest of your hair.
A teen girl's hairstyle that is certainly aesthetically pleasing.
Halo Braid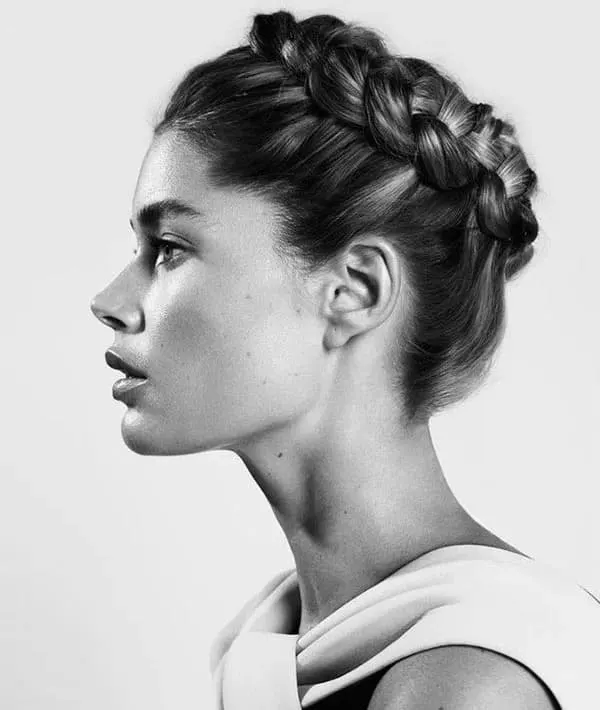 The halo braid is an advanced version of a crown braid that sits higher on the head.
Starting about an inch back from the temple, sweep all the hair to one side, and Dutch braid it from left to right.
When you start there, the halo will appear more raised and less like the crown braid. Adding more and more sections will cause the braid to coil around the head. Twist and tuck the final pieces of hair once it's done.
Halo braids are also one of the best ways for teen girls to show off statement earrings at a formal event, particularly in the summer.
Topsy Tail Braid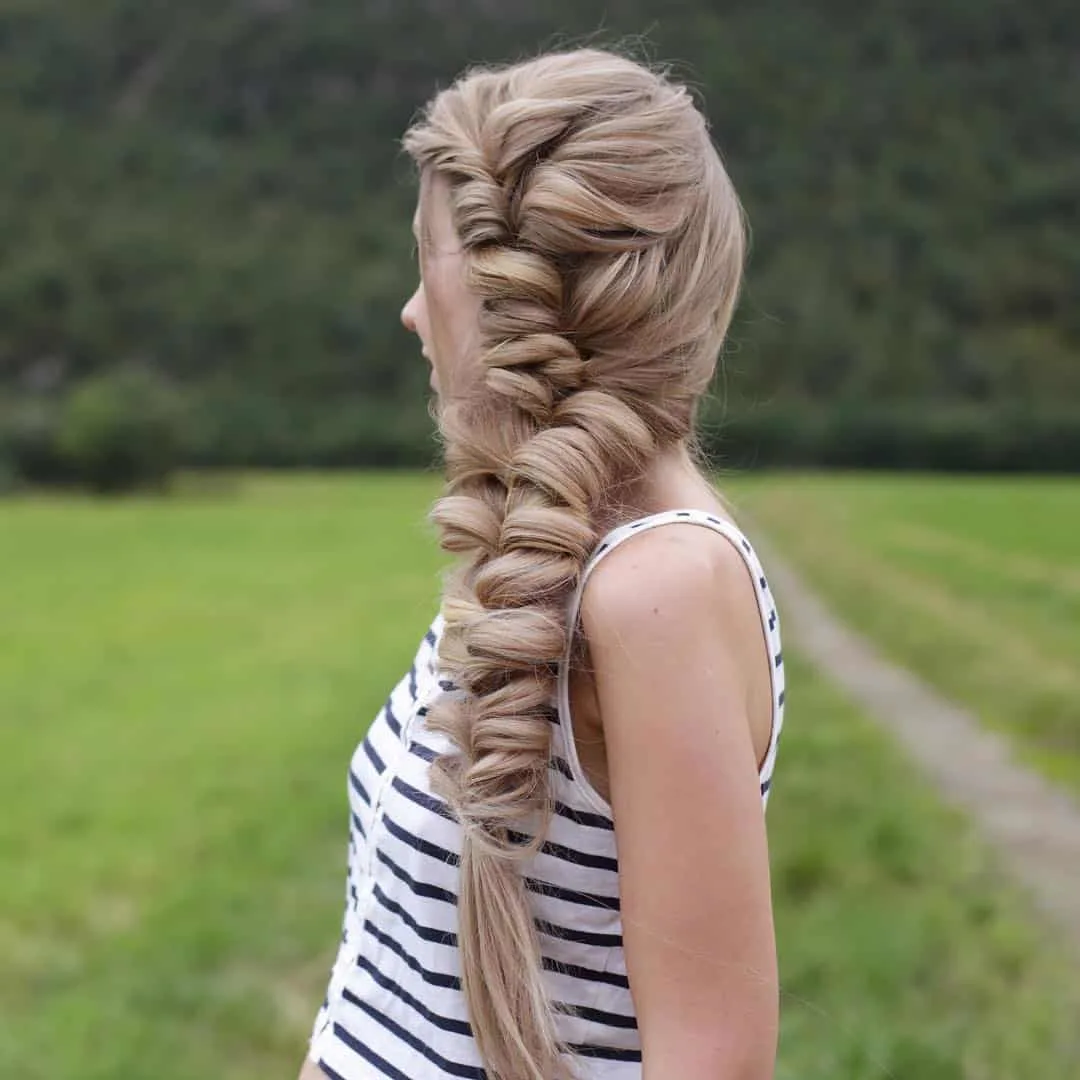 Despite looking complicated, this braid is actually quite simple.
It is very easy to achieve the stacked topsy look, and it is a striking style that teens will love.
Romantic Braids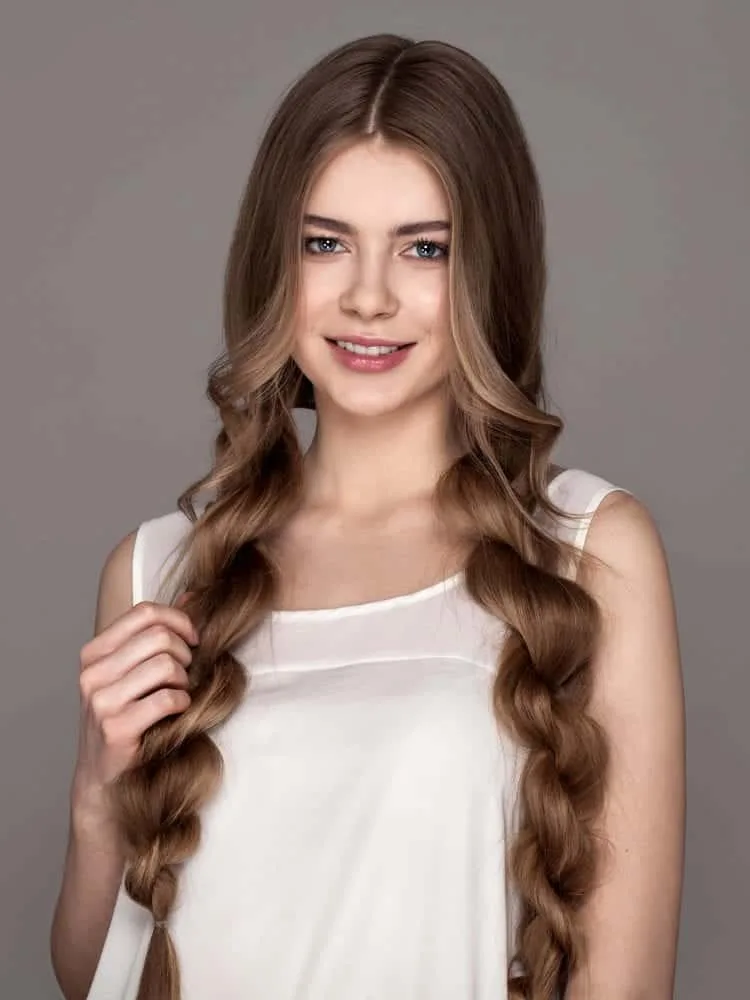 This hairstyle highlights a teen girl's innocent face in a very beautiful and elegant way.
Once you've secured the braid, you'll need to pull on the strands in order to achieve that puffy effect.
Black Hair with Crown Braid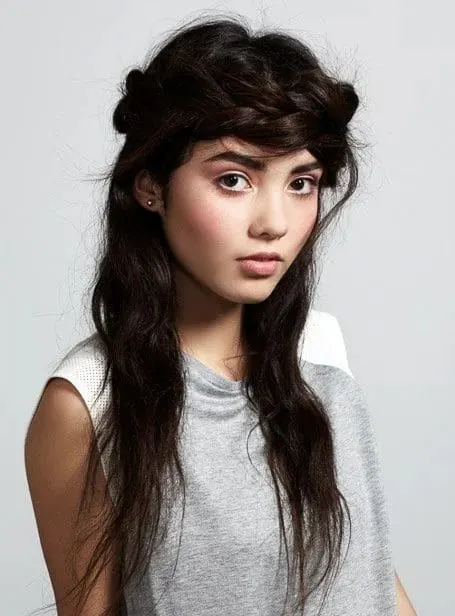 Crown braids are one of the most romantic braid styles and are appropriate for special occasions.
Teen girls may be drawn to this pretty updo if they are attending a wedding or prom.
It can be done by creating a French braid, lifting the hair to the sides, and wrapping it around the crown of their head. Pins can be used to keep it in place.
This style is easier to achieve on hair that hasn't been freshly washed, and although it may appear complex, it is one of the easiest braided styles to achieve.
Side French Braid
Not only are braid crowns feminine, but they also keep hair out of the face in an attractive way.
Teenagers who want to wear their hair down or show off their gorgeous locks will love the half-up style.
Teens will love this look because it is fun and easy to create.
Double French Braid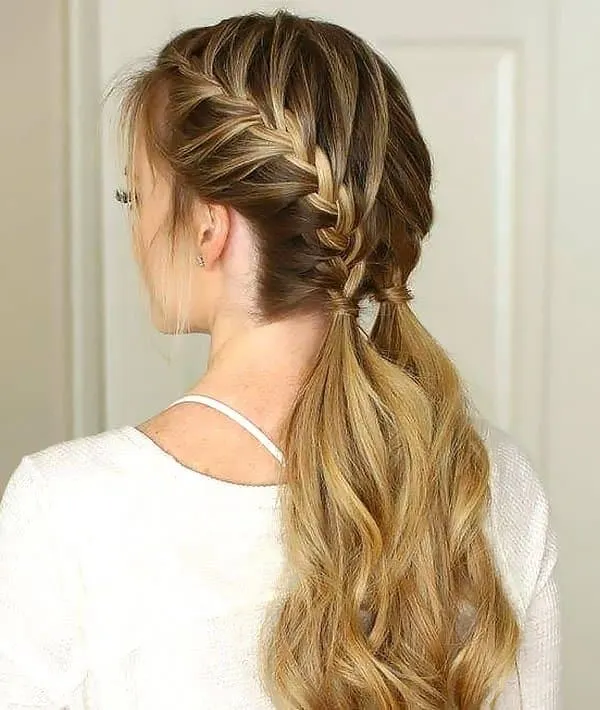 With their feminine look and timeless appeal, French braids are a classic.
The braid is versatile enough to be worn anywhere even in school.
Smooth it out for a slicker look, or add a few face-framing pieces for a more romantic appearance.
This hairstyle can also be paired with a fishtail braid or a half-up, half-down style.
French braids are also popular hairstyles for prom. No matter the occasion, a French braid is a great hairstyle for teen girls.
Ponytail Hairstyles For Teen Girls
There is no hairstyle more synonymous with comfort and simplicity than a classic ponytail. But ponytails don't have to be boring.
Teenage girls can always jazz it up with one of these easy ideas. There is a ponytail out there for any hair type or length.
This is an ideal style for any occasion! Take a look at these amazing ponytail hairstyles.
Easy Ponytail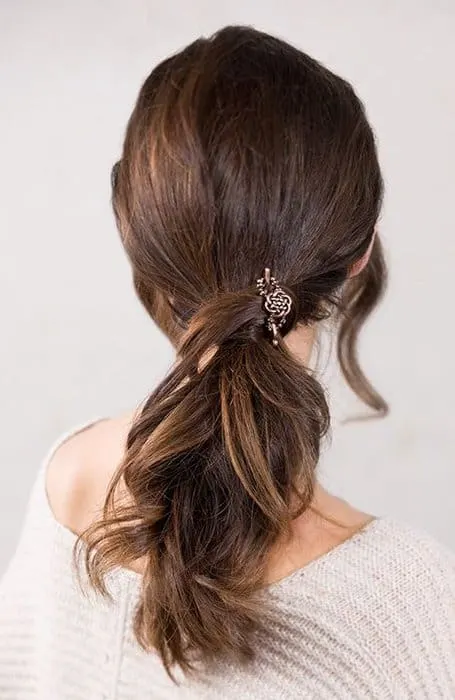 Teen girls will be surprised at how easy it is to upgrade their ponytails.
To start, wrap the hair elastic around the base of the ponytail. They should wrap a section of their hair around an elastic and secure it.
Using a cute clip instead of a bobby pin will add some extra personality to your simple ponytail and make it look more polished.
High Ponytail with Flipped Ends
Teens will love the retro vibe of this hairstyle inspired by the queen of ponytails herself, Ariana Grande.
For a glam take on the '90s style, flip out the ends and keep the bangs out on one side.
Thick French Braid Ponytail
Teen girls can definitely pull off a sophisticated low ponytail.
They will always look on-point when they add an effortless French braid to their low ponytail.
Prom Ponytail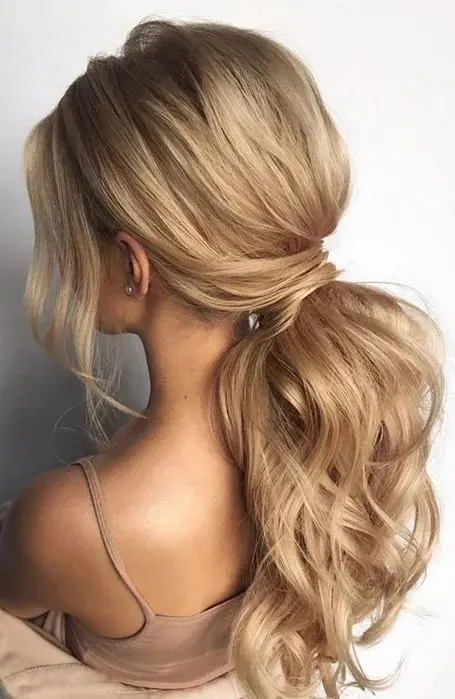 Ponytails are popular for teen girls because they are casual, everyday styles. However, they can also be a great choice for formal events like proms.
To maintain an elegant appearance, tease the hair at the roots from underneath. Using tongs, create soft waves after securing the ponytail.
In order for the ponytail to look seamless, twist a small section of hair around the elastic.
For this look, they will need long, thick hair, but if they don't have this type of hair, they can use hair extensions.
Half Ponytail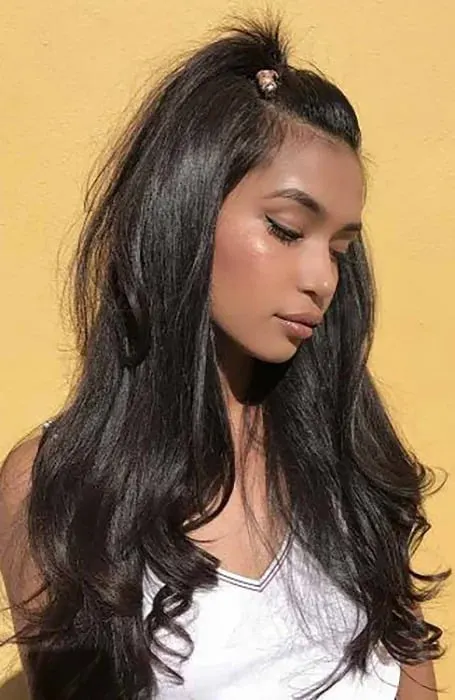 A half ponytail – also known as the half-up, half-down style – is making a comeback.
Because it works on any hair length or texture, it is one of the most versatile hairstyles for teen girls.
They can tie the top section into a ponytail as high or low as they like. By raising the ponytail section, they create more volume at the crown of their head, making a round face appear longer. While the loose lower part of the hair frames their face beautifully.
Teen Hairstyles For Curly Hair
Teen girls deserve to fully embrace their lovely locks, whether they are naturally curly or they have them curled with their favorite wand.
To make the most of their beautiful curls, teen girls should try out new styles and cuts.
Here are some of the best and most beautiful curly hairstyles that are suitable for either long or cropped hair.
Crown of Curls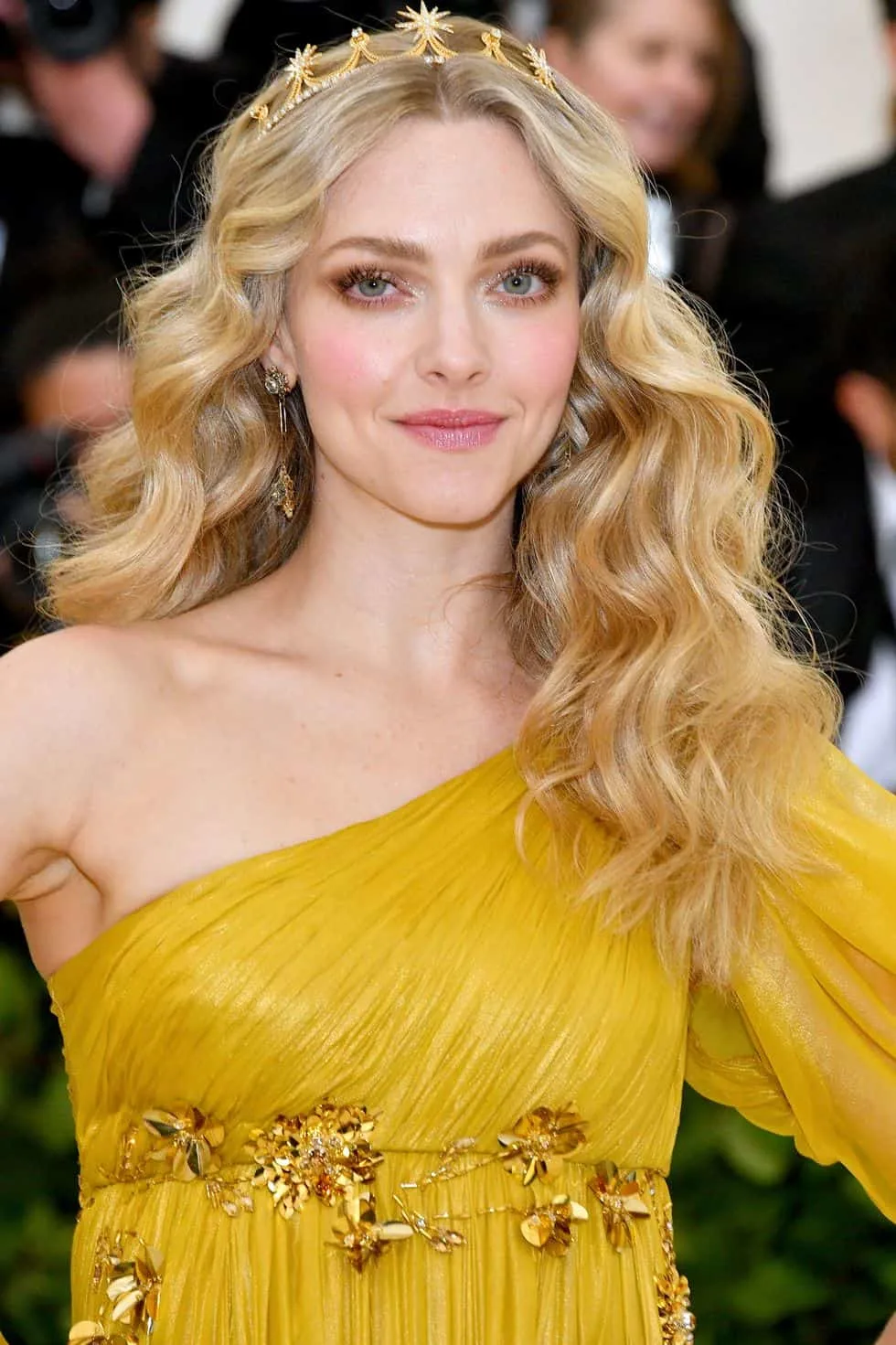 These brushed-out ringlets are equally wavy and defined.
Teen girls can achieve this look by using a medium-sized barrel curling iron for definition, then by using their fingers to separate each strand. To finish the look, they can use a paddle brush.
Curly Bob + Side Braid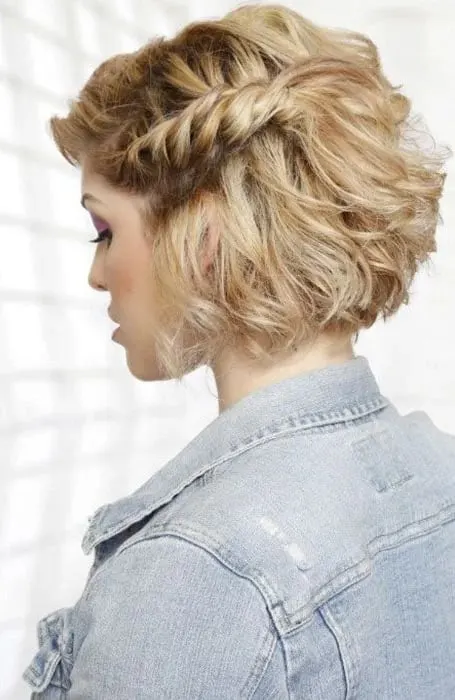 With the current braided hair trends, short-haired teen girls don't have to miss out on all the cool styles.
Simply adapt them to your length by choosing achievable options, such as a side braid.
Cheeky Curly Bob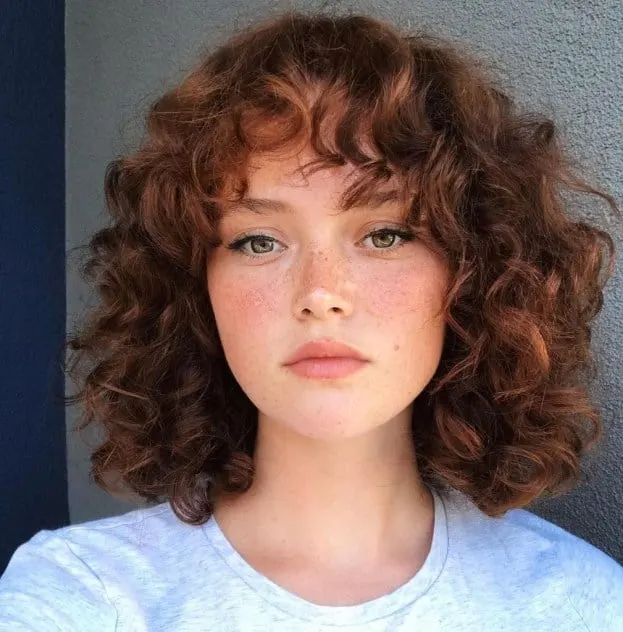 Teenage girls can do their hair in a fun, girly way with this style.
Even on the hottest day of the year, this medium hairstyle will make teen girls feel comfortable.
'80s Waves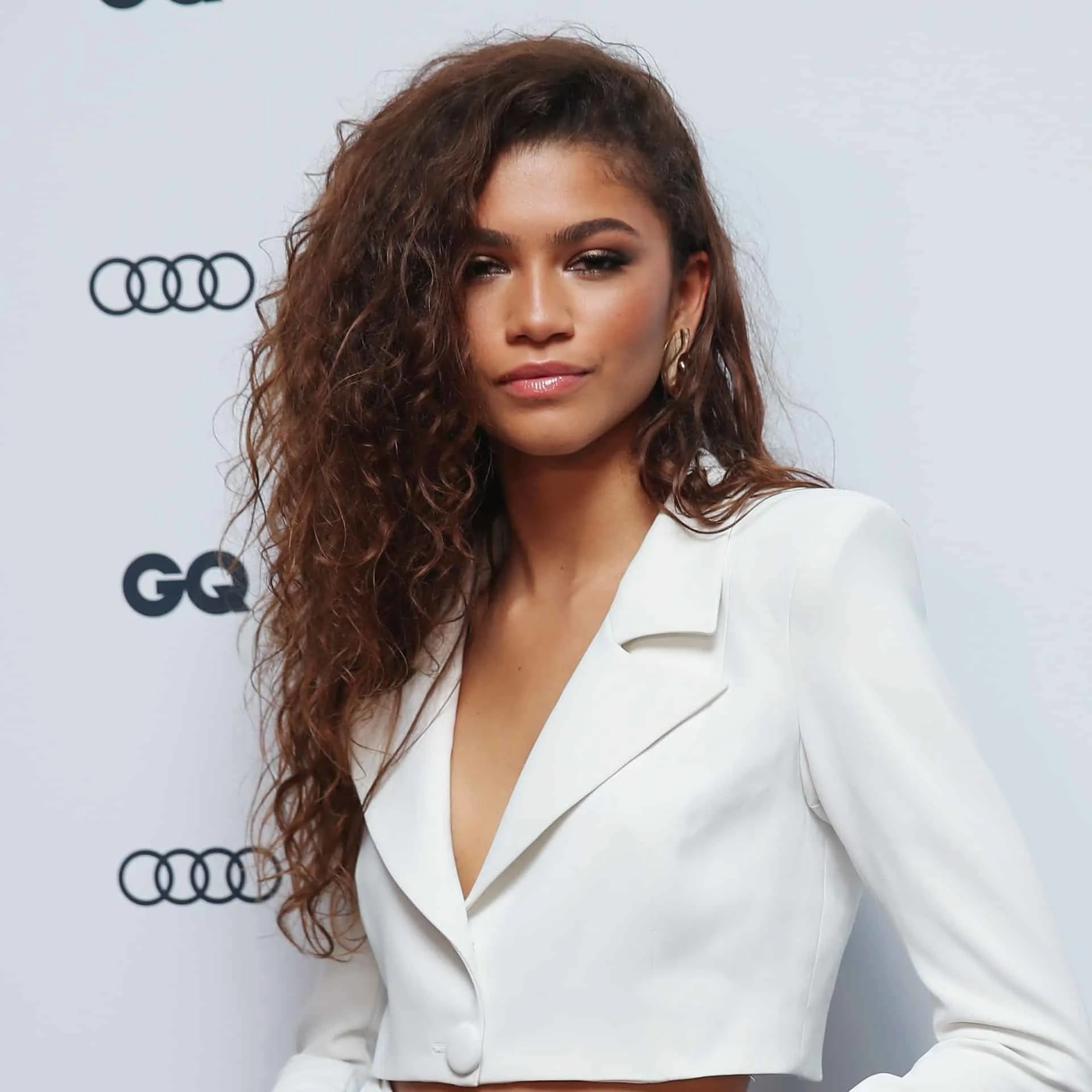 Bringing back some of the most iconic '80s hairstyles is the best way to make teen girls enjoy classic hairstyles.
These side-parted long textured waves are giving us a retro vibe.
To get this look, they would start with damp hair and generously work through the foaming pomade.
Cute Curly Pixie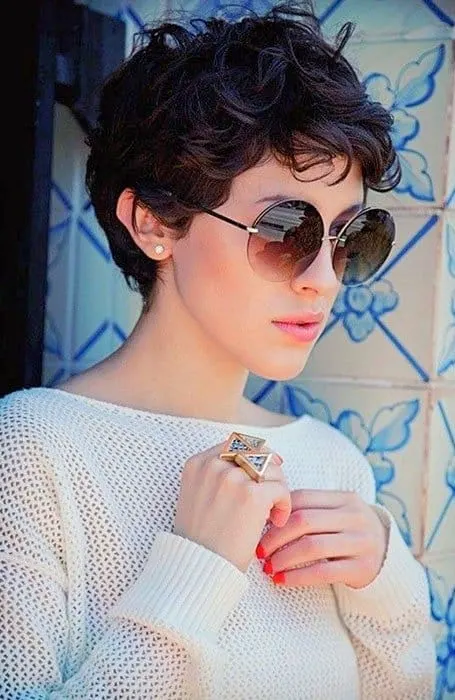 Besides being practical for teen girls, a curly pixie cut is also feminine and cute.
Consider adding a decorative hairpin to their style to dress it up for formal events.