A 19th birthday deserves to be commemorated in the most meaningful way possible. A photoshoot is a perfect way to capture this momentous milestone and create lasting memories that will be cherished for years to come.
There are countless 19th birthday photoshoot ideas to choose from, ranging from fun and playful to elegant and sophisticated.
Whether you are taking the photos yourself or working with a professional photographer, a well-planned photo shoot will result in stunning images.
Let us explore some of the most creative and inspiring photoshoot ideas for your 19th birthday that will make your celebration unforgettable.
🎉 You might also enjoy reading:
19th Birthday Photoshoot Ideas For Girls
1. Sunset Birthday photoshoot
Any location looks stunning at sunset. Choose your favorite spot and snap some gorgeous photos.
2. Birthday Balloons In Bed
Have plenty of balloons in your birthday theme color, including the number of balloons. Spread the balloons in bed and have a photo shoot. You can have a few friends join in.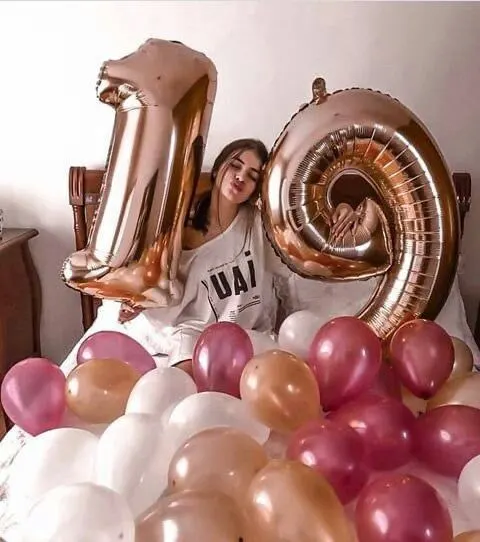 3. Fancy robe and Balloons Photoshoot
Buy a fancy robe in your theme colors and spice up the frame with helium balloons. You can have a photoshoot of this indoors or outdoors.
You might like to read How Long Do Helium Balloons Last before planning your photoshoot.
4. A Group Shoot With Your Friends
Bring your friends to the shoot and take group photos for your birthday. You can have a theme with your clothes or coordinate your looks for a uniform style.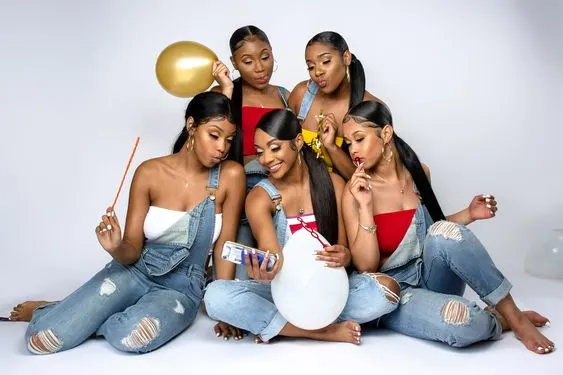 5. Vintage Birthday Photoshoot
Collect vintage items to match your birthday theme and bring them to the shoot. Find vintage clothes, too, and style your hair in an old-school style to complete the look.
6. Outdoor Picnic Photoshoot
Pack your picnic basket with treats and create a picnic setup. You can do this in the backyard or at a park nearby. This can be a great idea for a solo photoshoot or a group shoot.
7. Bike and Flowers Photoshoot
Pack a flower basket and fit it on your bike. Find a flower field or an outdoor garden and pose with your bikes.
8. A Dressy Shoot Outdoors
Get a luxurious flowy dress for a dressy shoot in the woods. Find a favorable spot between the trees where you can pose and take photos with a beautiful backdrop.
9. Beach Photoshoot
The beach at sunset makes a perfect backdrop for your photos. Wear your flowy dresses or bikinis, carry a basket of flowers, or balloons, or set up a beach picnic for beautiful photos.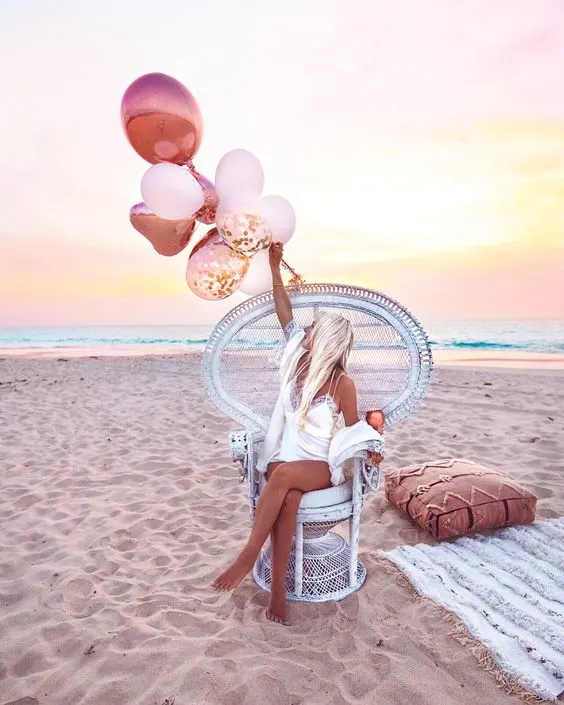 11. Street Photoshoot
Hit the streets with your friends for an epic photoshoot. If necessary, you can have a theme around your clothes and poses, but a simple plain look is enough for good photos.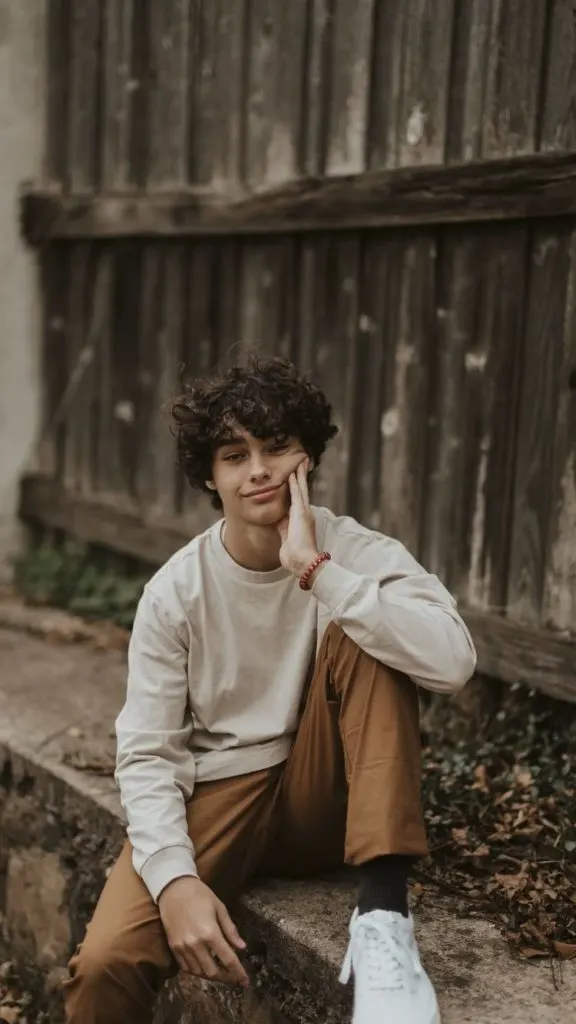 12. On-the-road Photoshoot
A not-so-busy road in your neighborhood can be a great photoshoot idea, with the trees and street lights as a perfect addition to the background.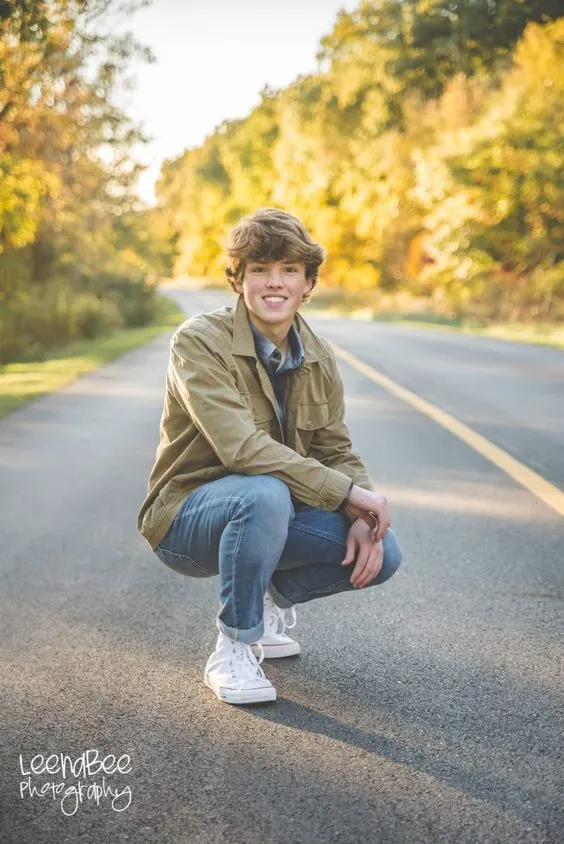 13. Photos By the River in the Woods
If you have a birthday idea in the woods, you can sneak in some photos by the river. Photos in nature always come out great and freeze all the fun times you have with your friends in the woods.
14. In-studio Photo Shoot
Nothing beats the good old-studio photoshoot. If you have run out of creative photoshoot ideas for your birthday, simple photos at your nearby studio will come in handy.
15. Slow Motion Action Shot
In this slow-motion action shot the birthday boy stands in the center of the frame, wearing a playful grin on his face. Suddenly, a cake comes flying towards him from off-camera, and he braces himself for impact. The camera captures every moment of the chaos in stunning slow motion, emphasizing the joy and excitement of this memorable celebration.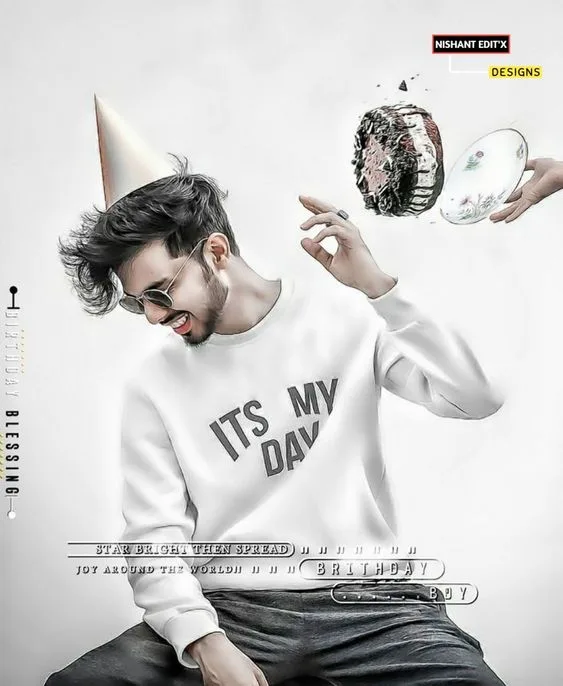 16. Balloon Number Photoshoot For Guys
You can create interesting photos using 19th birthday balloons. Let the balloons float forward toward the camera to create an interesting perspective.