Learning how to do household chores at the youngest age possible is one way to set your teen up for success in later life. Marty Rossman, a researcher from the University of Minnesota, found out in a study that children who were given household chores turned out to be more successful in later life than those who weren't given chores.
It's a great reminder to keep telling yourself on days when you and your teen are arguing over chores.
It has been suggested that children from the age of two should start doing chores and helping around the house. Of course, you can't expect much help to come from the little one at such a young age. The focus, at this stage, is to get them used to helping you and being responsible for something at home.
As they get older, chores for teenagers will gradually shift to tasks that teach them to be self-sufficient. The latter parts of their teen years should be reserved for learning chores that'll prepare them to live independently.
As a parent, your part to play is to help your teens learn to do things for themselves. Seeing them struggle with completing a chore may be hard at first, but it's important to back off and let them see the housework through.
Allowing your teen to experience doing chores is one of the best things you can do as a parent to prepare them for the world. Sooner or later, your teen will be leaving the nest. You'll want them to be able to do things on their own, so why not teach them how it's done now?
Thinking of getting your teen started on doing chores around the house, but you're not sure where or how to start? We've got your back.
Here are some of the best chores to assign to your teens to get them ready for the world.
Chores That Encourage Self-Sufficiency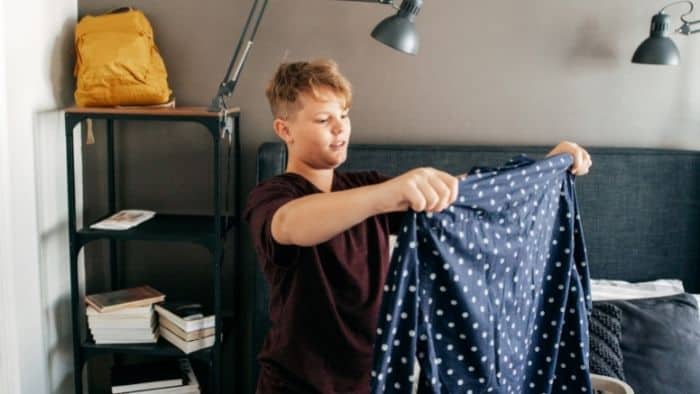 Start your teens off with chores that promote self-sufficiency. It's nice to think that you'd always be there for your kids, but the reality is that you won't always be by their side.
Sooner or later, you'll need to send them off to explore the world by themselves, and the best thing that you can do is teach them how to survive on their own.
This is why it's essential to start teaching them about self-sufficiency and independence at the earliest possible age.
Here's a chores list for teenagers to help them grow up as self-reliant individuals who can thrive on their own.
Making their own bed – this chore doesn't only make your teen's room look tidier, it also helps give them that feeling of getting their first accomplishment for the day done. Read more about the benefits of making your bed here.
Keeping their private space (their bedroom) neat and tidy – if they tidy up their room, they'll know where everything is. This will help eliminate the need for your teen to ask you or your partner where things are.
Changing their own sheets – help your teen prevent acne breakouts by teaching them how to change their sheets once a week!
Cleaning their room – from dusting and vacuuming to changing their sheets and pillowcases, this chore is something your teen should learn how to do by the age of 13. Make it a part of their weekly routine so they can incorporate it well into their adult years later.
Preparing their school stuff for the next day – this should be easy for your teen considering they decide on what to wear and what to bring to school every day anyway.
Doing their own laundry – having a washing machine is so convenient, especially when you have a teen in the house. Teach your teen how to use the washer and dryer so they can start taking care of their own laundry. One load every week shouldn't take too much of their time.
Folding and putting their own (clean) clothes away – on the rare occasion you do their laundry for them; they should at least fold and put their own laundry away.
Keeping a list of what they need – let your teen keep track of what they are almost or currently out of to make it easier for you on your next shopping trip—from deodorant and other personal care items to school supplies and snacks, making them come up with a list to submit before the next scheduled grocery trip is definitely an efficient way to go.
Preparing their own meals – thirteen is a good age to start learning how to make simple meals. Pancakes, sandwiches, eggs — these are just some of the easiest meals you can teach your teen so they can start making it for themselves. Older or more experienced teens can also start packing their own lunches to bring to school. Read: Easy Recipes For Teens To Cook Themselves
Washing their dishes – even if you have a dishwasher, your teen should still learn how to wash dishes by hand. Why not start with making your teen responsible for their plate after every meal?
Cleaning their own bathroom – having your own bathroom is a privilege, not all teens have, so it's something your teen should be grateful for. And what better way to show gratitude than keeping it clean, right?
Putting things back where they belong – weekdays can be hectic for your teen, so it's understandable if they leave a few things lying around in their room. On the weekends, though, they should make time to go around their room and put things that are out-of-place where they should be.
Taking their own trash out – you don't have to be the one going through every room of the house collecting all the trash from those little bins. Let them take their trash out, even if it's just to put it in the main trash can.
Doing their own laundry – having a washing machine is so convenient, especially when you have a teen in the house. Teach your teen how to use the washer and dryer so they can start taking care of their own laundry. One load every week shouldn't take too much of their time.
Ironing/steaming their own clothes – once they get the hang of doing their laundry, they can move on to ironing/steaming their clothes.
Chores That Promote Altruism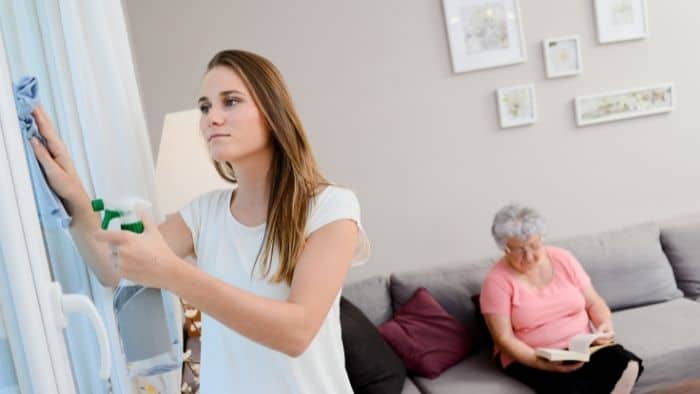 Altruism is something that should be instilled in kids at an early age. Thinking not only of your own well-being but of other people's well-being is an important skill that teens need to learn to grow as well-rounded individuals.
There are also tons of benefits teens can get from being taught altruism/being altruistic. One good way to do this is to teach your teen about chores that promote altruism for other people at home by doing the tasks listed below.
These chores will help make them great roommates in the future, too, when they leave home.
Cooking meals – if you have a relatively small family to feed, your teen should be able to manage cooking at least one meal a day for the whole family. This can be especially helpful for households with two working parents.
Doing the laundry – once they learn how to do their own laundry, they can also start doing laundry for others. Another option is to teach them how to wash commonly used and shared items around the house like curtains, throw pillowcases, kitchen towels, and the like.
Unloading the dryer – they don't have to fold for everyone. After all, every member of the house needs to carry their own weight, too. Even when they weren't the ones that started the laundry, taking a load out of the dryer as soon as they hear it finish is a chore that can make life a bit easier for others at home.
Helping take care of younger siblings – if your teen has younger siblings, it would be a great idea to have them help in caring for their siblings. From looking after the younger ones while you're away running errands to changing diapers and making milk, your teen can definitely learn a lot. Read: How Much Do You Pay A Teenager To Babysit?
Caring for elderly family members – running errands for grandparents that live alone, dropping by grandma and grandpa's house on the weekends to do their laundry or cut their grass — these are just some chores that your teen can do to help care for the elderly members of the family.
Caring for the family pet – aside from other human beings' well-being, your teen could use a lesson on caring for your furry friends, too. If you have a family pet, you can assign certain days for your teen to take them on a walk or bathe them. Read: How Much To Pay A Teenage Dog Sitter?
Cleaning out the fridge – no one wants to accidentally eat spoiled food or drink milk that's beyond the best-by date. Cleaning out the fridge is a chore that you can assign to all able household members in rotation, including your teen.
Bringing the mail/paper in – it barely takes 5 seconds to stop by the mailbox and see if there's anything inside, especially when you're coming home from the outside anyway.
Sanitizing and disinfecting high-touch surfaces – your teen can help keep everyone at home safe from viruses, germs, and bacteria by sanitizing and disinfecting high-touch areas like doorknobs, stair rails, and the like. This is an especially useful chore today, given the current global pandemic.
Chores That Will Prepare Them For Living On Their Own
Towards the end of their teenage years, your teen needs to learn basic household chores that will prepare them to live independently.
Mastering these chores and incorporating them into your teen's everyday lives can help them become great roommates, too.
Check out this teen chore list for ideas on what types of chores you can give your teen.
Doing the weekly shop – letting your teen go shopping for groceries while sticking to a list and budget is an excellent way to prepare them for the real world. They get to see how much necessities go for these days, learn how to compare prices and get better deals to save money.
Loading and unloading the dishwasher – which dishes go on the top rack? The bottom rack? How should they place utensils in the dishwasher? These are all things your teen needs to learn before they move out.
Doing basic repairs – no parent expects their teen to do major repairs. However, they do need to learn basic maintenance like weatherstripping, patching a hole in the wall, fixing squeaky doors, and more.
Cleaning the bathroom – though small, the bathroom is one of those areas in the house that requires a bit more effort to clean. Ask your teen to clean the bathroom and see which areas (tub, sink, shower, etc.) need improvement.
Checking security devices for maintenance – this one is more of a periodical chore (could be done monthly, every quarter, depending on your preference) but still something that needs to be done. Teach your teen how to work and check your safety and security systems, including alarms, smoke detectors, filters, and CCTVs, for maintenance. Show them how to replace batteries, reset systems, etc.
Take the trash out on garbage collection days – the challenge for your teen here isn't taking the trash out per se. It's remembering when garbage collection day is and making sure to wheel the bin out to the curb before the truck comes.
Chores They Can Do Outside
Mowing the lawn – make sure to teach your teen how to handle lawn-mowing equipment before giving them the task safely. It's best to supervise them for the first few times they do this chore as well.
Blowing leaves off the driveway – if you have a blower it can actually be quite a fun task to blow the leaves off the driveway rather than sweeping them up.
Raking the lawn – helping with any yard work is a great way for teens to contribute to house chores. If you have a blower it's even easier.
Weeding the garden – during spring and early summer there will be quite a few weeds that need removing, so it's a useful chore to add to their list.
Cleaning outdoor furniture – at the beginning of summer they can assist in cleaning the dust and cobwebs off stored winter furniture, and after summer the furniture needs to be cleaned again before being packed up and stored for winter.
Shoveling walkways – in winter you may have snow covering your walkways which needs to be cleared. If you have a shared walkway or elderly neighbor it's also an opportunity for them to help them by clearing their side as well.
Cleaning snow off the car – if you live in a cold climate then you'll probably need help removing snow off your car windows.
Chores That Will Prepare Them For Their Own Car
Washing the car – if you're sharing a car with your teen, it only makes sense to share the responsibility of keeping it clean with them, too. Teach them how to wash the car, so when they finally get their own, you'll know they're capable of keeping it in good shape.
Clean the car interior – vacuuming the carpet, wiping the dust from surfaces, cleaning the seats are all car chores you can assign to your teen.
Refilling the windshield wiper fluid – here's a straightforward chore for your teen and one that they can't get wrong. Successfully doing this chore will also help boost their confidence about knowing how to maintain a car.
Getting the car ready for long trips – every time you have a long trip with the family, why not give your teen the chore of making sure the vehicle is in good condition before embarking on your journey? From checking the tire pressure and engine oil level to making sure that all the necessary tools for a road trip emergency are ready, this chore is something that they'll be able to learn from and use well into their adult years.
Chores You Can Pay Your Teen To Do
Should you reward or pay your teen to do chores? Yes, but not for every single chore they do.
Basic chores like the ones listed above are things your teen will eventually need to do on their own so assigning them these chores now is just a way to introduce them and get them used to the task. In other words, these chores are expected of them.
However, there are also chores for which you would usually hire and pay someone else to do, so why not let your teen do it and then pay them instead? The task gets done, your teen learns how to do it, you have one less thing to worry about, your teen gets paid and feels good about earning their keep: it's a win-win!
These chores are optional, so don't feel bad if your teen declines your offer to pay for their services. Do encourage them, though, and let them know that knowing how to do these chores will be handy for them and save them money in the future.
Once they've learned how to do these correctly, they can even start earning more by offering the same services to your neighbors.
Here are some examples of chores that you can pay your teen to do:
Cleaning the gutter – make sure to teach them all the necessary safety precautions for this chore, so they don't get hurt.
Repainting – whether it's a room in the house or the walls outside, repainting is a task that takes time and patience. Ask your teen if s/he'd be interested in completing this task before calling anyone to get it done.
Basic yard work – mowing the lawn, trimming the hedges, making a flower bed, weeding — these are basic yard work chores that your teens can do for a bit of cash. Read: How Much To Pay A Teenager For Yard Work
Power washing the driveway – if you have a power washer, you can ask your teen to clean your driveway as well. It's an easy chore, but it takes a bit of time and effort to complete.
Minor woodwork/carpentry jobs – this one is something for the older teens. If you have the necessary tools at home, now's a good time to teach your teen how to use them (and make money from it!).
How Many Chores Should A Teenager Have?
With all the chores mentioned above, you may be wondering, "how many chores should a teenager have?"
In all honesty, there isn't one correct answer for that question. The answer would depend on different factors like your teen's age, whether they have other siblings who are also teens, their ability to carry out the chores successfully, and more.
How To Succeed in Delegating Chores for Teens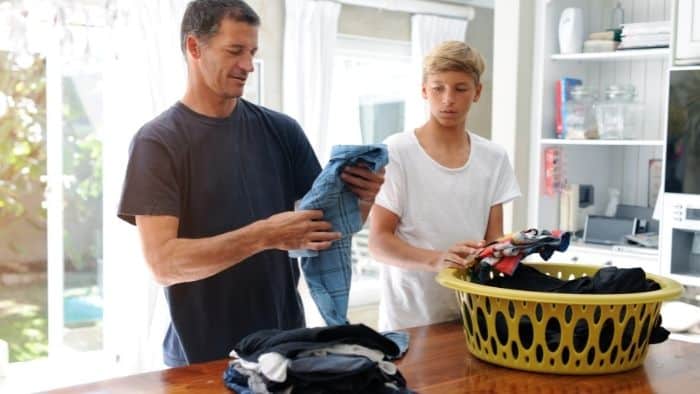 Teens are all about freedom and independence, so being told what to do may not be their favorite thing. Expect some resistance and a bit of annoyance at first, especially if your teen didn't grow up doing things around the house regularly.
They might think of chores as tasks that take away from their free time, but they'll understand soon that it's for the best.
There will be times when your teen will try to get out of their chores by using the age-old, classic "Oops, I forgot" excuse.
The good thing is that you can prevent that from happening using these tips:
Create printable chore charts for teens – print one for your teen/s and one for yourself. They can use it as a reference to see which chores are assigned to them for the day, week, or month and you can come back to your copy to ensure everything has been done by the time they're due. There are plenty of teenager chore chart templates online, but making your own using Google Sheets or Numbers/Excel is relatively easy.
Let them use a chore app for teens – yes, these things exist, and they make tracking chores so much easier for everyone. Most of these also act as an all-in-one virtual command center that makes it easier to stay organized — perfect for busy parents! You can look at Cozi, Homey, OurHome, S'mores Up, to name a few. There are also apps that they can use for turning chores into games.
Mix up the chores – repetition is critical for mastering new skills needed to complete chores. But it can also lead to boredom (especially among teens). Allow your teen to pick a few duties that will be their "main thing." This chore is something they can take complete control and responsibility of until they leave home. Add a few other tasks depending on the season or special events and occasions like holidays, summer vacations, etc.
Give credit where credit is due – it sounds cliche, but a quick pat on the back or simply saying "well done" really goes a long way, especially for teens. Don't forget to thank them and make them feel appreciated when they do their chores well.
Teach them how it's done first – if you want to make sure that your teen is doing their chores the right way, show them how it's done! They can watch hundreds of videos online, but nothing beats seeing how things are done first-hand.
Delegating chores to your teen/s is definitely a great way to lighten your load in keeping the home in tip-top shape. However, it's not an excuse to get you (as a parent) out of these responsibilities.
It would help if you taught your teen how to do their chores properly, especially when it's something they haven't done before or one that requires a bit of technical knowledge and experience. Even after you've taught them, you'd still want to make sure they're doing it the right way and at the right time.
By the time your teen is ready to leave and live an independent life, they'll see how beneficial being used to doing chores really is. You'll be glad to hear them calling to thank you for teaching them how to do those basic chores instead of asking if you could come over and help them with it.