Teenagers are likely to be hungry after school which causes them to raid the fridge and eat whatever they can find.
However, snacking on the wrong foods can add unwanted calories and make them even more hungry. The consumption of snacks that lack nutritional value does nothing to enhance one's brain or body development.
It's crucial to choose healthy snacks for teens that are whole, nutrient-dense, and that help them obtain the macronutrients (fat, protein, and carbohydrates) and micronutrients (vitamins and minerals) they need for good health during this period of rapid development and growth.
Teenagers have so much going on physically, mentally, and emotionally that thinking about food quality is likely the last thing on their minds.
There are rarely healthy foods available at school or even when they're hanging out at a friend's house, whereby teens end up eating a lot of not-so-nutritious food.
Choosing nutritious snacks helps fill them up and nourish them without adding an unhealthy amount of calories.
Here are some nutritious healthy snack recipes for teenagers if you're short on ideas.
Savory Snacks
Baked Parmesan Zucchini Sticks
The incredibly easy recipe gets these crispy little bites on the table in just 30 minutes, using just a few simple ingredients.
You'll find your teenager asking for more when you serve them these Baked Parmesan Zucchini Sticks.
They make a delicious after-school snack when served with your favorite dip, and are a great way to get your teens to eat their vegetables.
Baked Sweet Potato Chips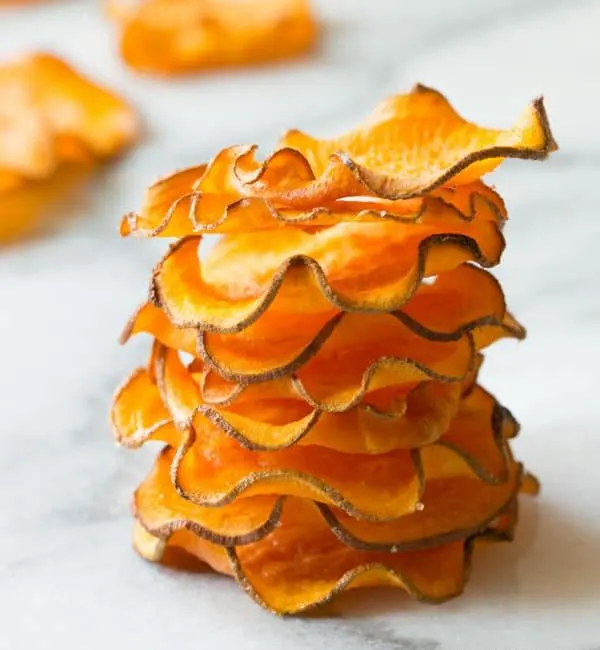 These three-ingredient baked sweet potato chips are a delicious and healthy after-school snack.
They are very light and crisp when they are baked, with salty-sweet flavor teens will love.
The process of making sweet potato chips at home gives you complete control over chip thickness, fat content, and seasoning, making it a healthy change amongst store-bought chips.
Light and Easy Cheese Ball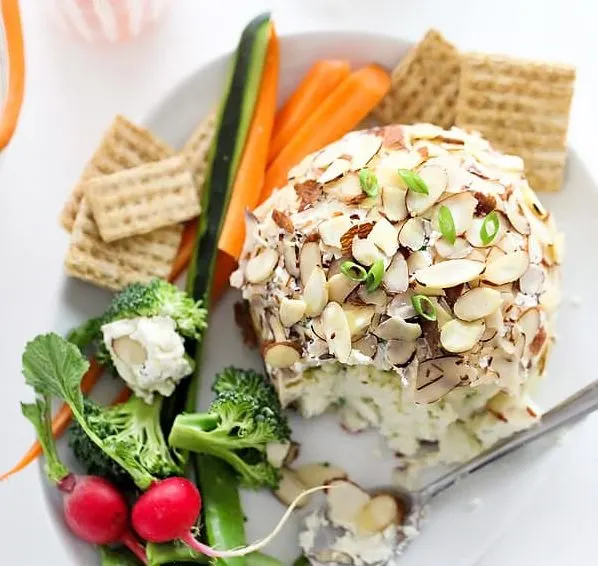 Made with a combination of light cream cheese, Greek yogurt, and mustard this cheese ball is nearly guilt-free.
It's also a wholesome way to incorporate vegetables in your teens' diet.
Asparagus Frittata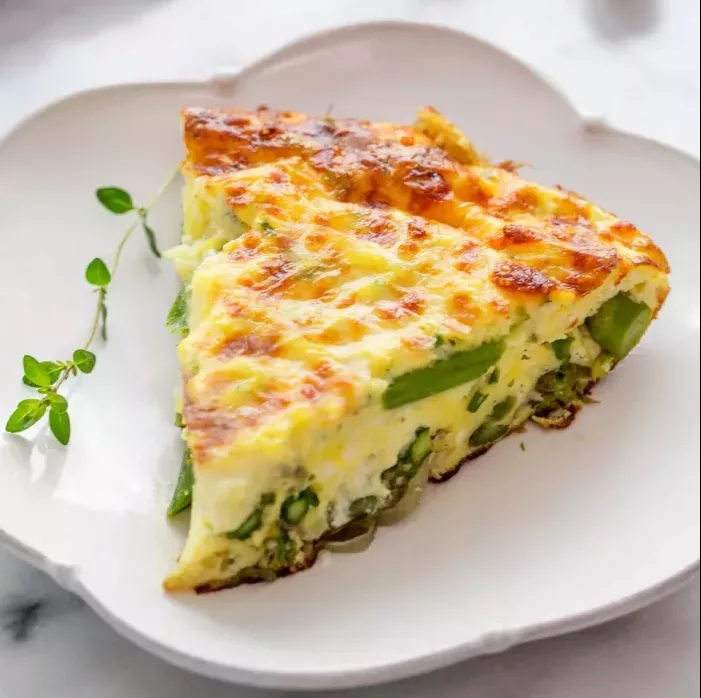 Frittatas are a bit like omelets or crustless quiches with added flavorful ingredients.
Asparagus gives you a healthy dose of vitamins A and K1, copper, and potassium, while the egg base of the recipe provides protein, vitamins B2, B5, B12, choline, iron, selenium, and the cheese boosts calcium.
This nutritious treat can serve as a mini-meal or an after-school snack that can fill your teens for hours until the next mealtime.
If you're looking for more healthy protein snacks for kids, then check out the Serenity Kids website.
Chopped Raw Veggies with Hummus
It is a straightforward dish that can be made with any vegetables you like. The most popular vegetables to include in a vegetable tray are baby carrots, celery, cucumbers, radishes, and broccoli.
For more nutrients, make sure you buy hummus with a high chickpea content.
Protein and B vitamins are abundant in the hummus, while the veggies are packed with vitamins and are good for their overall health.
Chicken Salad (with thyme and scallions)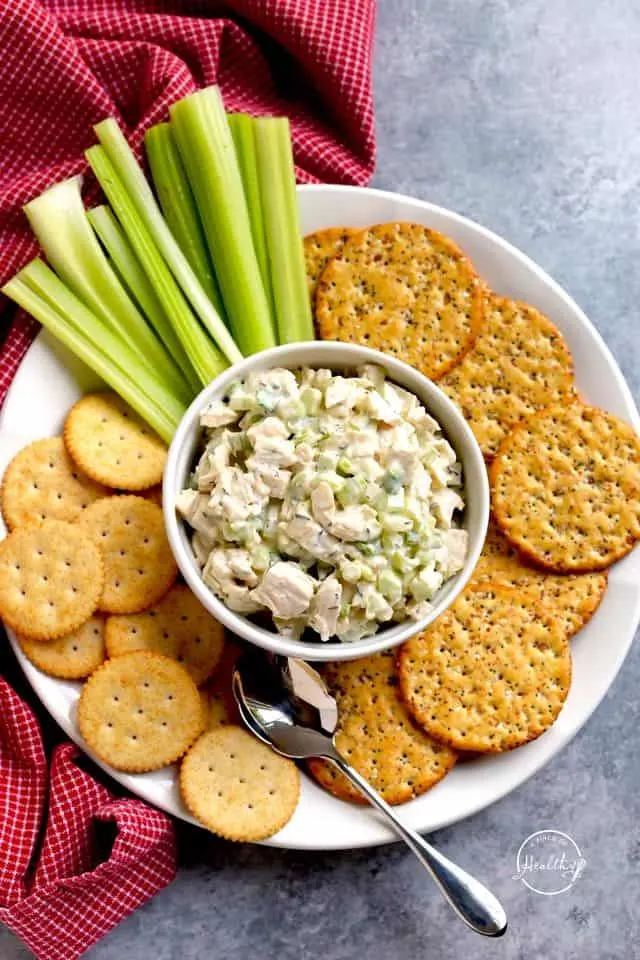 This chicken salad recipe is more of a savory variety.
This salad is a great addition to crackers and fruit, or on a sandwich.
Packed with flavor and texture—a perfect go-to after-school snack for teens.
Chicken Pesto Stuffed Sweet Potatoes
This protein and antioxidant-packed dish is a healthy, delicious, and easy to make.
Sweet potatoes are also rich in antioxidants that protect your body from free radicals, especially the orange and purple varieties. It's also an excellent source of fiber, vitamins, and minerals, which are beneficial to gut health.
This filling and easy healthy dish is ideal for a post-game meal for teen athletes.
Baked Tofu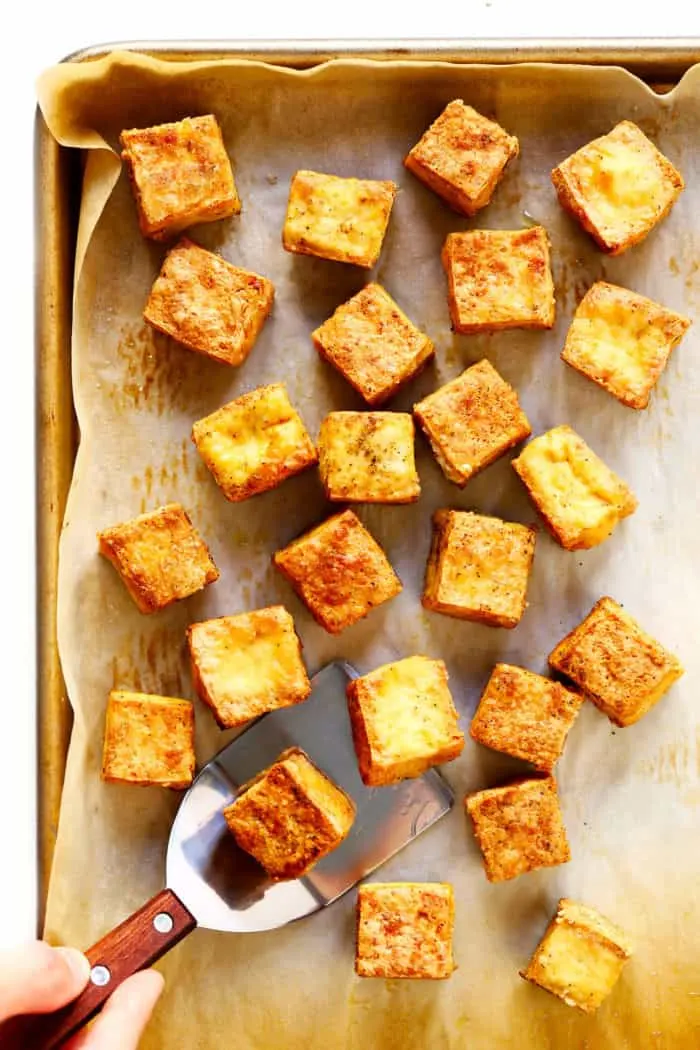 You can easily customize this 30-minute Baked Tofu recipe with the seasonings of your choice, and it's super crispy and delicious.
Tofu is a high-calcium, high-protein vegetarian protein you can eat almost every day. As an excellent source of amino acids, it has a low-calorie count; despite its high-fat content, tofu is an excellent option for mini-meals or snacks for teenagers.
Trust me, if you've never been a fan of tofu, at least try these, they taste delicious!
Easy Healthy Guacamole
Healthy recipes such as guacamole are always a good choice! You can snack on it guilt-free because this healthy dish is made of veggies, spices, and healthy fats.
This delicious guacamole recipes is made with avocados, tomatoes, garlic, cilantro, and lime. It's rich in vitamins, minerals, and healthy fats from mashed avocado.
Serve with whole wheat pita, celery or sweet bell pepper strips to dip with.
Teens will now have an easy-to-make, healthy snack option and also a fun snack to eat.
Tangy Veggie Wrap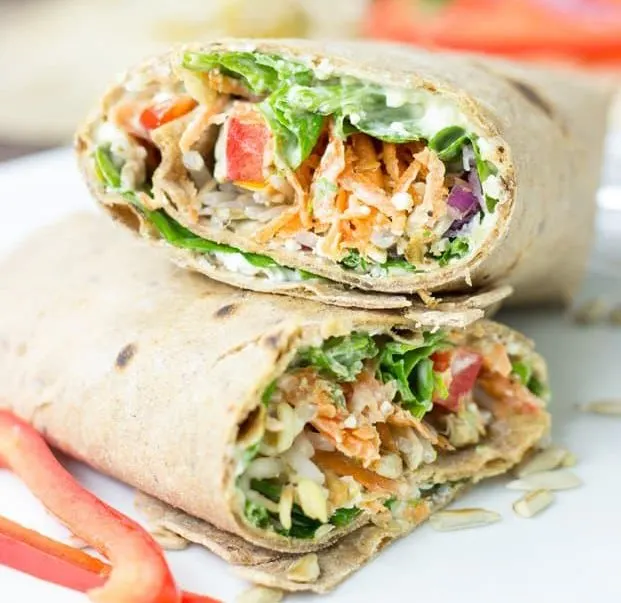 Packed with vitamins, nutrients, and flavonoids that act as antioxidants and anti-inflammatory compounds, it's an ideal healthy and delicious snack for any teenager.
The wrap provides 16 grams of protein, 20 grams of fiber, and more than 100% of the recommended daily vitamin A and C intake.
Kale Caesar Salad with Creamy Parmesan Dressing
This kale and romaine Caesar salad is made with a creamy Parmesan dressing that has no egg or anchovies but is still deliciously creamy.
In spite of its low fiber content, romaine lettuce contains minerals like calcium, phosphorous, magnesium, and potassium. In addition, romaine lettuce contains vitamin C, vitamin K, and folate. It's also source of beta carotene, which the body converts into vitamin A.
The nutrient-dense properties of kale, combined with its low-calorie content, make it among the healthiest options around. By eating more kale, you can drastically increase your diet's nutritional content. It's a good source of vitamin C, K and is very high in beta carotene and antioxidants..
This dish is suitable as a healthy mini-meal for teens to keep hunger at bay in between their busy days.
Add chicken or bacon if you prefer a more meaty option and to add some extra protein.
Loaded Chicken Quesadillas with Avocado Salsa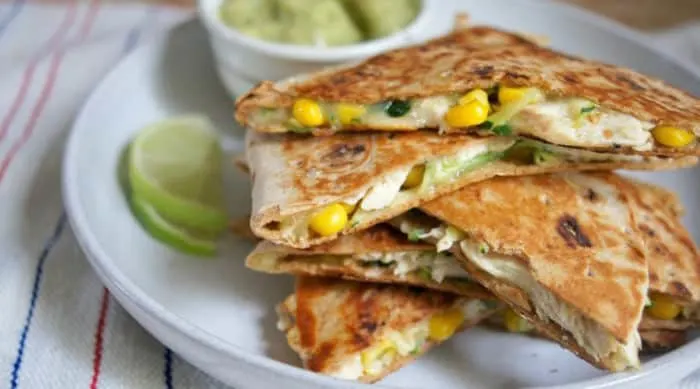 These quesadillas are filled with a combination of corn, zucchini, and chicken.
Simply slice and blend up an avocado for salsa. To add even more vegetable goodness, serve this Mexican slaw on the side.
It makes a filling, popular mini-meal for hungry teens with a hearty appetite.
Quinoa Crunch Salad with Peanut Dressing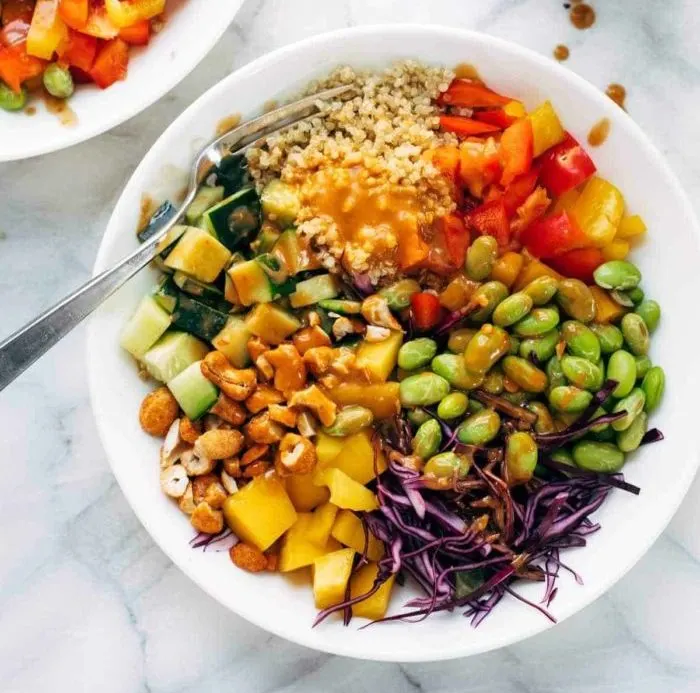 Vegetables like carrots, bell peppers, cabbage, and edamame make this salad crunchy and healthy. A juicy fresh mango is also included, along with quinoa tossed with chili lime cashews.
The yummy peanut dressing has just the right amount of heat.
Vegetarian teenagers will love this tasty salad that is packed with plant-based protein.
Zucchini Pizza Boats
No extra carbs from a heavy crust, just all the delicious flavors of pizza!
Despite being healthier, this option is still delicious!
Your teens won't complain about eating their vegetables when it comes in the form of pizza.
Plus, these popular teenage snacks are super easy to prepare.
Avocado Toast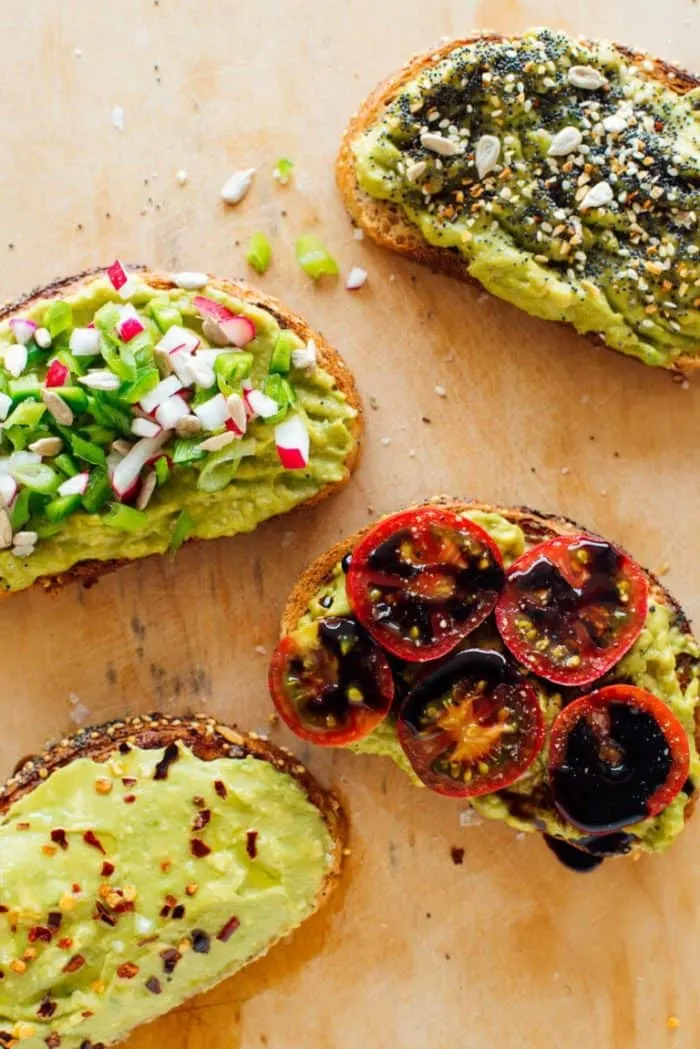 This simple yet nutritious snack is ideal for active teens. They're going to love avocado spread on toasted bread the next time they get hungry.
Your teen can stay full for hours by eating a whole-wheat piece of toast with 1/4 of an avocado spread on top. It's so delicious, nutritious, and filling.
Plus, there are many variations to suit every teenager's taste.
Berry Walnut Trail Mix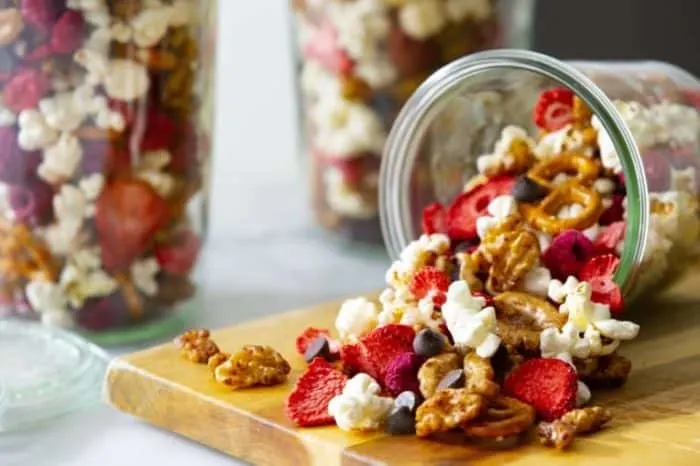 Nuts make a delicious snack mix because they're portable, easy to flavor, and a delicious non refrigerated healthy snack for teens.
They're packed with protein and fat, so they can keep you full for a while. It makes it an ideal on-the-go snack for teen athletes.
This trail mix consists primarily of California walnuts, which, when warmed up with cinnamon and maple syrup, become addicting toasted, spiced nuts.
These are so good you might even want to make a double batch to use on salads.
Sweet Snacks
No-Bake Granola Bars with Raisins and Chocolate Chips
With each bite, you'll discover just how addictive this grain-free, paleo, crunchy, crisp, sweet, and salty granola bars are!
Packed with healthy fats and sweetened with raw honey, they're full of raisins, mini chocolate chips, coconut flakes, and nuts.
These bars are gluten-free, dairy-free, grain-free, and addictive! High in Omega-6 and protein, these bars are the ideal quick snacks for teenage athletes.
Mango Energy Bites
These six-ingredient mango energy bites have dates, coconut, hemp seeds, and lime zest! The perfect blend of sweetness, zestyness, and energy!
It is okay for athletes to consume a light snack 30-60 minutes before a game. For snacks close to game time, choose easily digestible treats with only a tiny amount of protein. And these energy bites are perfect for optimal pre-game snacks for teen athletes.
Three Ingredient Banana Oatmeal Cookies
A delicious chocolate chip banana cookie made with just three healthy ingredients and packed with lots of chocolate and oats!
These gluten-free, vegan snacks are the perfect fit for an afterschool snack.
It's basically a bowl of oatmeal with bananas, and chocolate chips rolled up in a delicious cookie.
Banana Oatmeal Muffins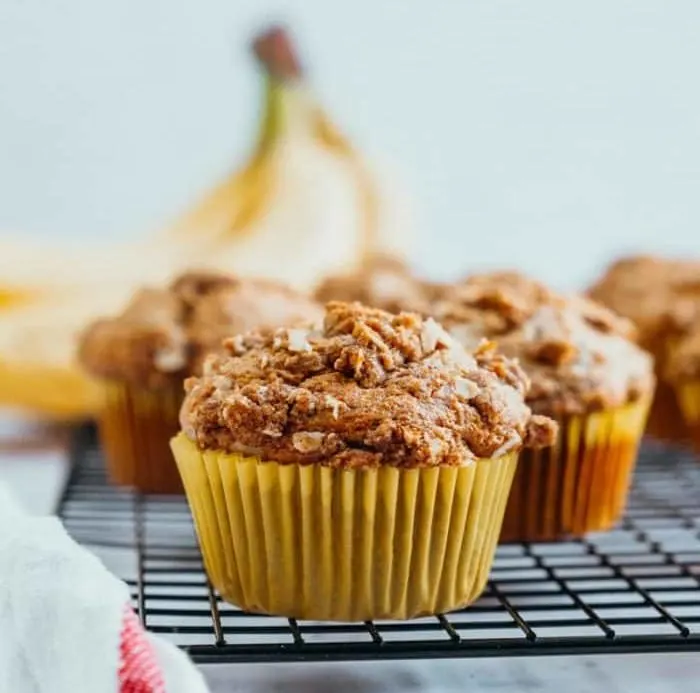 Delicious and fluffy muffins are perfect for utilizing your leftover bananas.
Made mostly out of oats instead of flour, these muffins are almost as delicious as a bowl of oatmeal.
With a light streusel topping, they make a delicious after-school snack for teenagers.
Chia Seed Protein Pudding Snack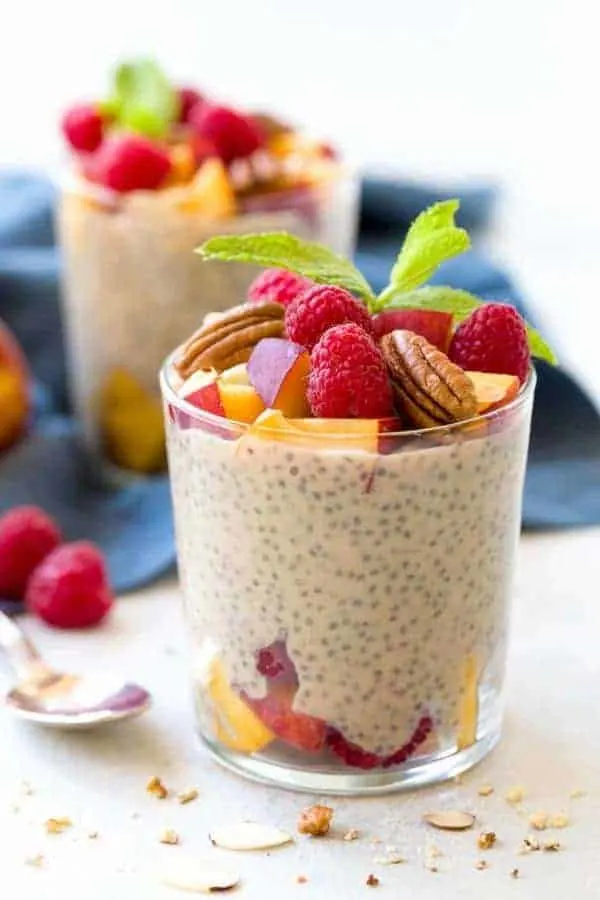 A cup of Chia seed protein pudding can supply you with fiber and probiotics, along with all the nutrients your teenager needs.
This recipe only requires three ingredients! A tasty vegan snack topped with fresh peaches, raspberries, and nuts.
A serving of this chia seed protein pudding will help fuel your teen's day with the maximum amount of nutrition.
Chicken Waldorf Salad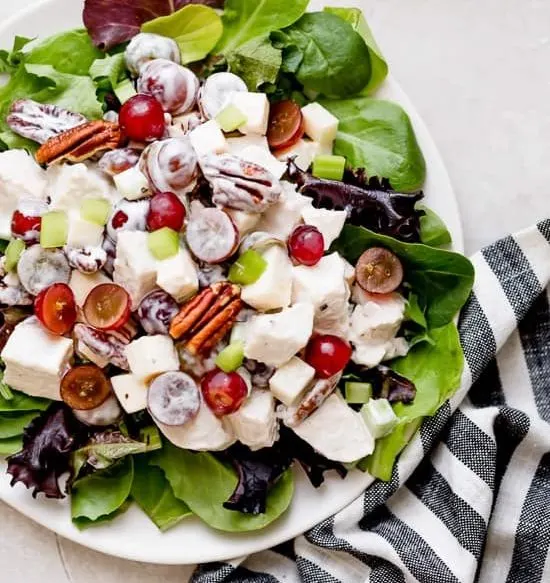 This salad is filled with lean protein, fresh fruit, and heart-healthy nuts with mayo and Greek yogurt as a dressing.
Simple, but oh so tasty! Perfect for mini-meals after school for hungry teens because of its high protein and fiber content making it healthy and filling.
Fruits Snacks
Healthy Sour Candy Frozen Grapes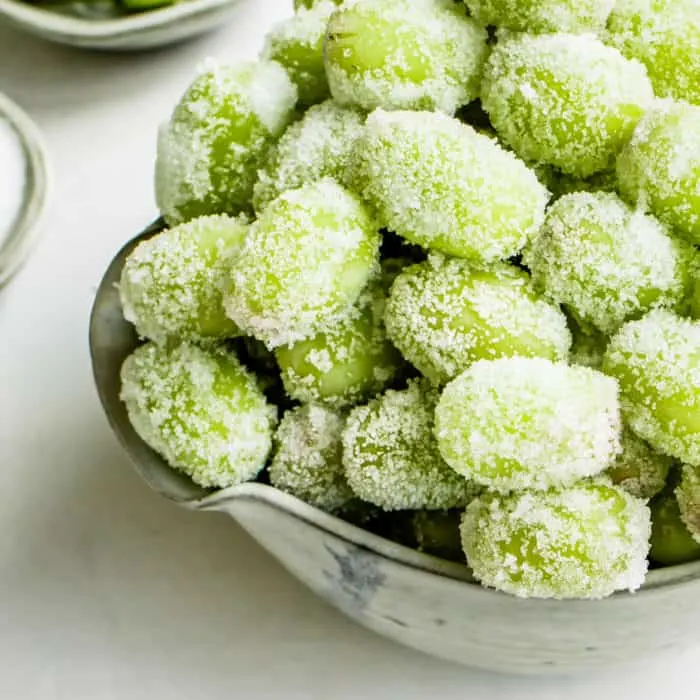 Give these grapes a try if they're craving a sweet treat but don't want to waste calories.
Instead of eating Sour Patch Kid sweets, which is full of sugar, these taste identical but are a much healthier option.
You can place them in portioned baggies in the freezer for your teen's after-school treat.
These sweet tasting treats are hydrating and a great cooling snack in Summer.
Healthy Apple Nachos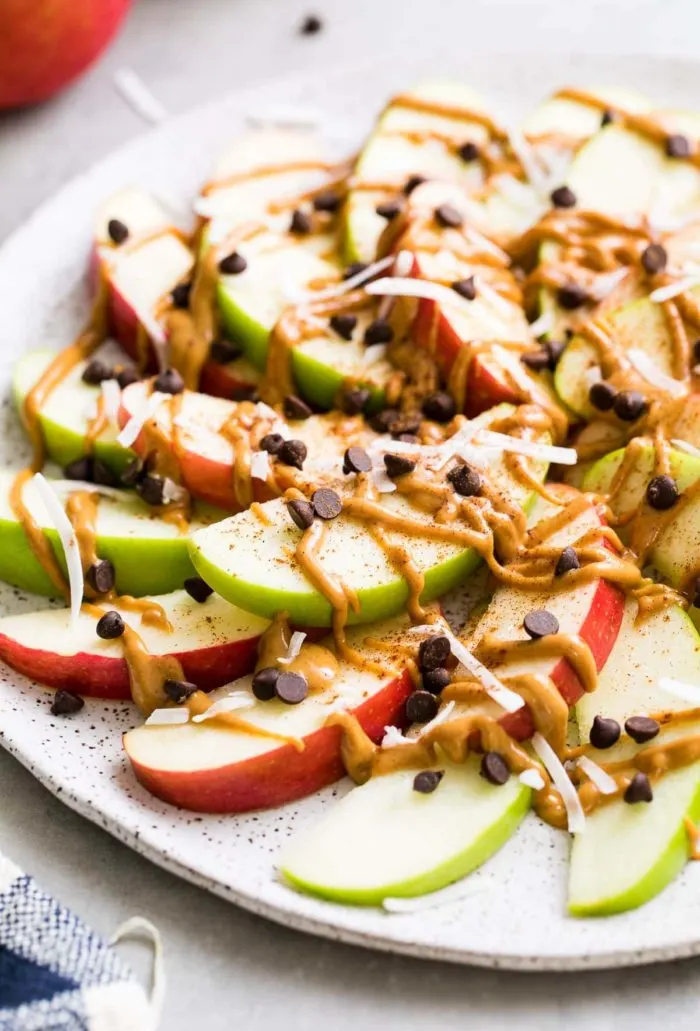 These healthy apple nachos are made of layers of fresh apples, bits of chocolate, coconut flakes and drizzled with warm, nutty nut butter and sprinkled with cinnamon.
Apple nachos are a delicious snack that you can make in under five minutes.
For every two tablespoons of nut butter used in apple nachos, you get about 8 grams of protein.
Healthy, vegan after-school snack teens will love.
Dried Fruit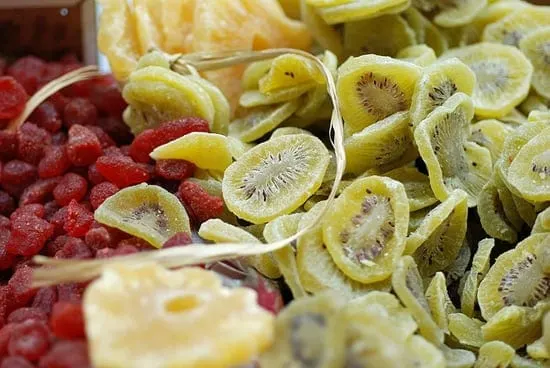 Healthy dried fruit is convenient to carry around and makes for an easy snack.
It's also tasty as a salad topping, cocktail garnish, or trail mix ingredient.
Although it takes a little time to dry your own fruit, it's definitely worth the effort, as you'll cut out all the added sugar and sulfur commonly used.
Fruit and Cheese Kabobs
This is a tasty and healthy snack idea. This recipe is easy to prepare ahead and has a delicious cinnamon-spiced yogurt dip.
These snacks will be a welcome change among other junk food options for teens.
Smoothies & Yogurt
Immune Booster Sweet Green Smoothie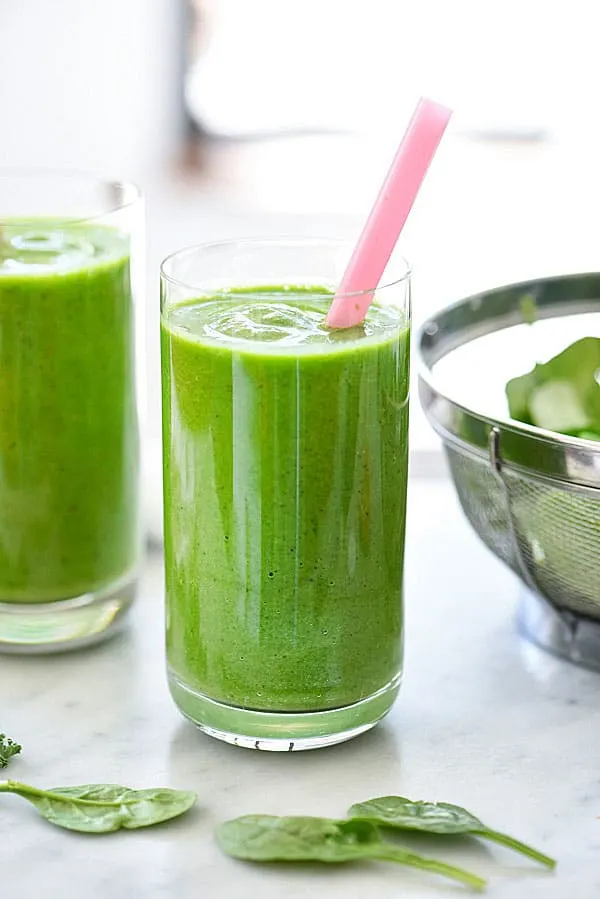 A yummy and healthy immune-boosting smoothie made with almond milk and frozen fruit is naturally sweetened and rich in vitamins and antioxidants to help keep colds at bay.
It has been reported that you can boost your immune system by eating vibrant, vitamin-fortified, and antioxidant-rich foods.
Being constantly on the move, teen athletes find it difficult to take time to sit down for a meal. Getting their greens through smoothies is one of the most convenient ways to do it.
Peanut Butter Smoothie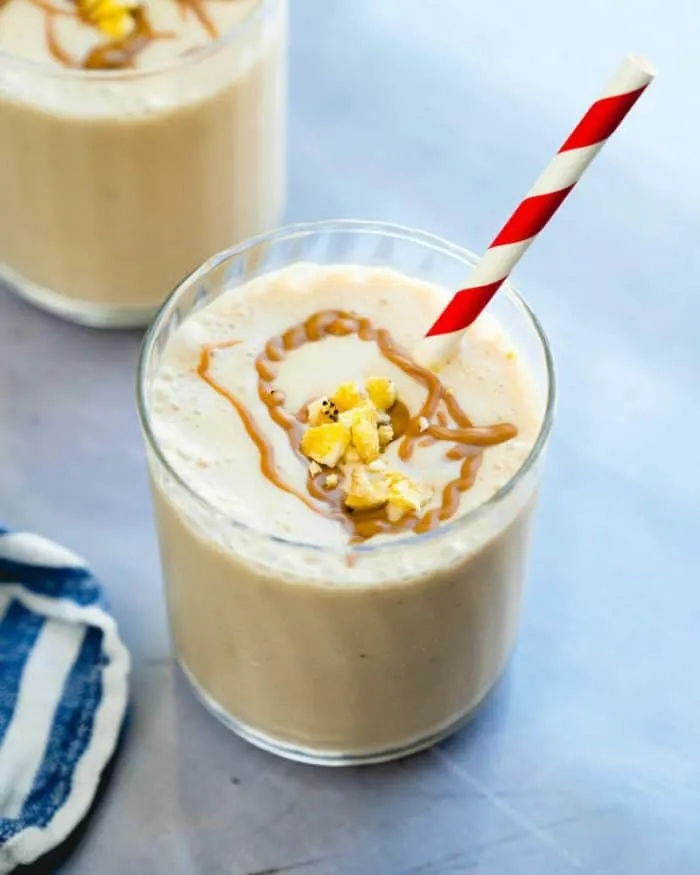 It has a pure, sweet flavor, silky smooth, creamy texture, and is full of healthy ingredients—just natural sweetness and no added sugar.
For a plant-based variety, choose the non-dairy milk of your choice. This is also a healthy snack for teens with newly adjusted braces.
Creamy Dragon Fruit Smoothie Bowl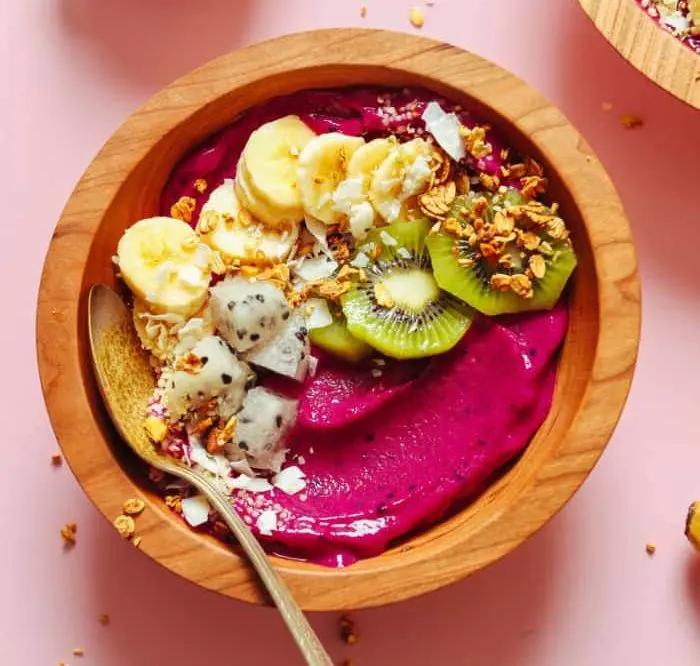 You'll love the creamy, naturally sweet, vitamin- and nutrient-packed taste of this easy-to-make healthy snack.
The yogurt and fruit combinations all combine for a great, refreshing, and nutritious treat, and since you're pureeing it, you can include harder fruits as well.
Smoothies are usually a hit with both pre-teens and teens. An added benefit of a smoothie is that it can soothe mouth soreness associated with new braces.
Healthy Yogurt Bowls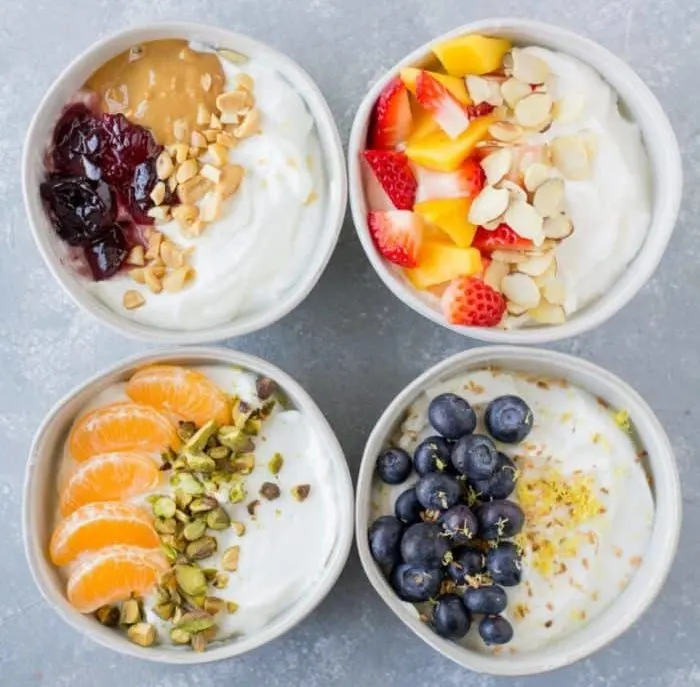 This protein-packed yogurt bowl is easy to make and delicious! Plain Greek yogurt provides probiotics to promote gut health and digestion.
These parfaits are a delicious way to get protein, calcium, vitamins, fiber, and more. Adding berries, bananas, or any other preferred soft fruit to yogurt makes for a nutritious, satisfying snack that is ideal for teens to still get their dose of protein and vitamins.
I hope you've found some yummy and healthy snacks for teens that they'll enjoy.
Whether they prefer sweet or savory snacks, these options all add towards their daily nutritional needs.