Would you like a little inspiration for your teenagers' next birthday cake?
Instead of spending crazy amounts of money on a birthday cake, which looks great, but then is hardly eaten, you can make your own.
Check out these fun and unique birthday cake ideas for teenagers that are sure to impress them!
Baking these birthday cakes does not require advanced skills. With lots of adorable cakes for teens and tweens, you'll be sure to find one that's perfect for their next birthday.
Choco-Berry Surprise Cake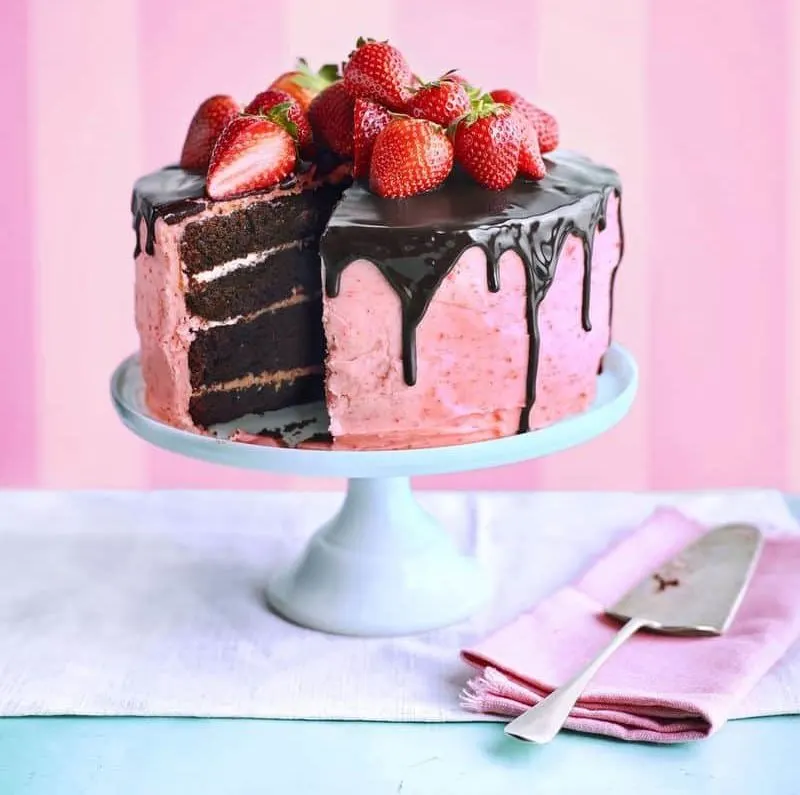 There's something so festive and fun about this whimsical, elegant cake, and the beautiful chocolate details make it a great party treat.
This color combination of black and pink is popular with teenage girls and makes a great party statement.
Pink Strawberry Flamingo Cake
Pink Strawberry Flamingo Cake is a sure-fire way to make your teenage girl smile on her birthday. You can match its pink color with any teenage girl party theme.
With strawberries, milk, and butter, each bite has a delicious strawberry flavor. There is a buttery frosting between each of the three 6″ round cakes and strawberry rhubarb jam in the middle.
The flamingo cake topper adds a playful touch. Any tropical design can be used as an outer rim decoration using vibrant colors.
This pink strawberry flamingo birthday cake idea for teenagers is the perfect treat for summer or a pink-themed party.
Flamingo Cake Toppers
Peeps Sunflower Cake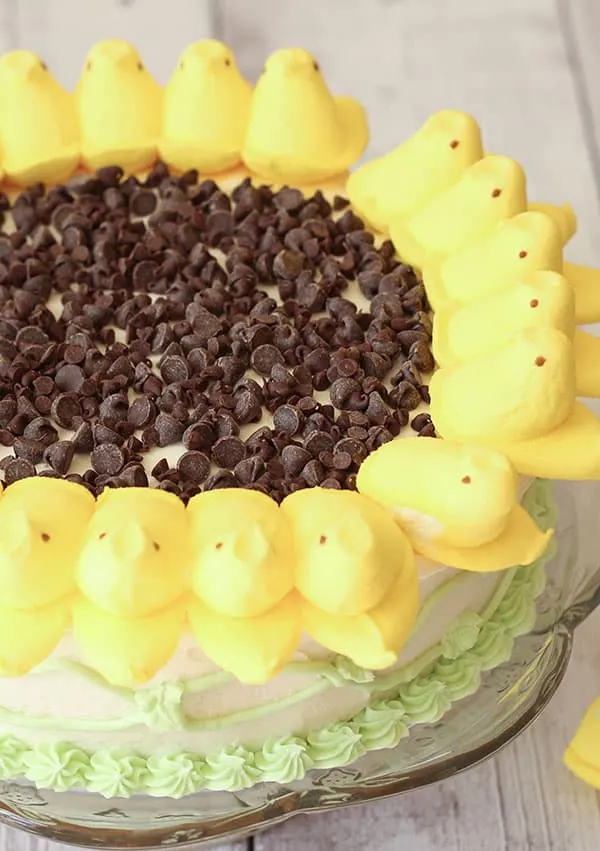 Among teens today, sunflowers are one of the most popular flowers. For your teenage girl's birthday cake, you can use sunflower as a design.
The yellow peeps resemble flower petals, while the chocolate chips resemble sunflower seeds.
This cake looks impressive despite its simplicity. Your teen girl will love this sweet gift that you can easily make.
Cheerleading Cake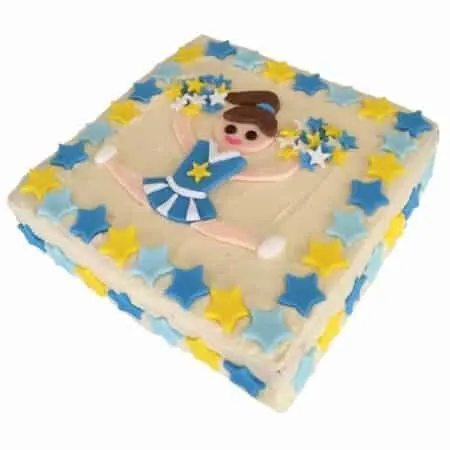 If you're in Australia then you can order this DIY cake kit with all the ingredients you'll need to bake and decorate this cheerleader cake.
However, you can easily decorate and customize the cake yourself in any colors by getting some colorful fondant.
Your cheerleader will love this DIY birthday cake idea for teenagers.
Classic DIY Rainbow Confetti Cake
If you're not a fan of baking then Duff Goldman has made this do-it-yourself kit so that you can easily decorate your cake at home.
Whether you follow their step-by-step instructions or do your own thing, you get to focus on the best and most creative part of cake-making — the decorating!
Makeup Cake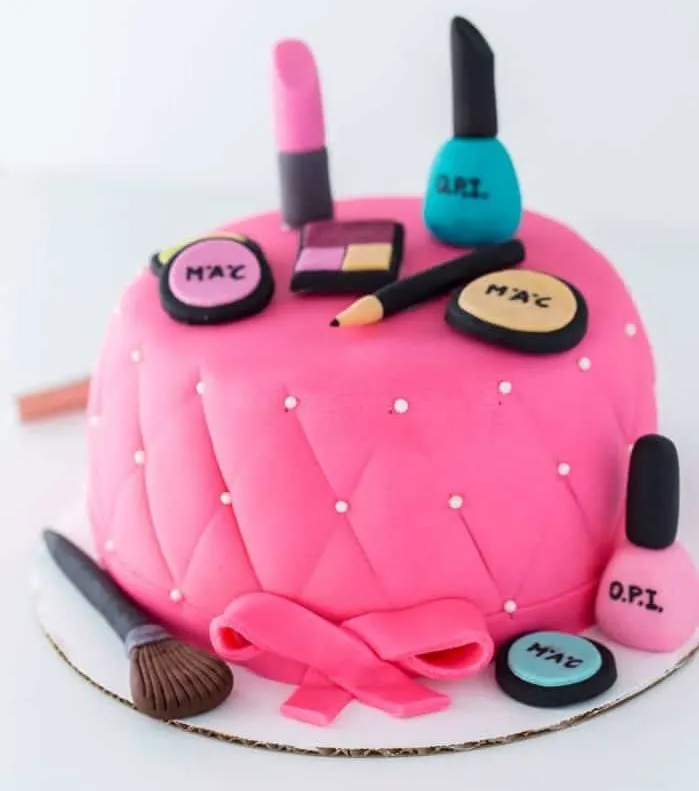 Makeup Cakes filled with everything a teenage girl would love are among the most attractive and requested cake recipes out there.
With a cake that features nail polish, lipstick, blush, and eye shadow, she will surely smile as soon as she sees her birthday cake.
Emoji Party Cake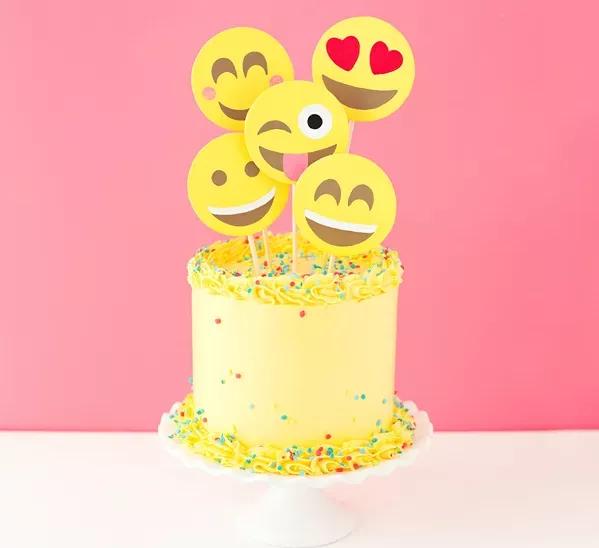 Whether you have a tween or a teen in the house, an emoji birthday cake is easy and fun.
If you love decorating then you'll love that the instructions explaining how to make the toppers yourself.
Alternatively you can get some emoji cake toppers and arrange them on top of your cake.
Giant Doughnut Cake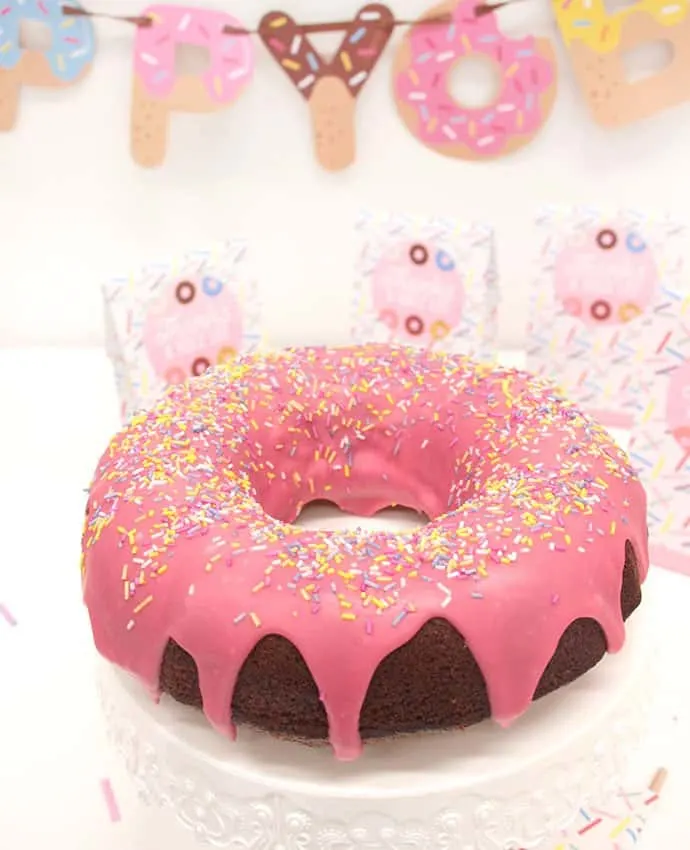 This would make for a really cute birthday party cake, and you can even customize the color of the frosting to match your party theme.
It's a pretty awesome cake and absolutely cute—best for fun and bright doughnut theme parties for teenage girls.
SweeTARTS & Smarties Tie-Dye Cake Recipe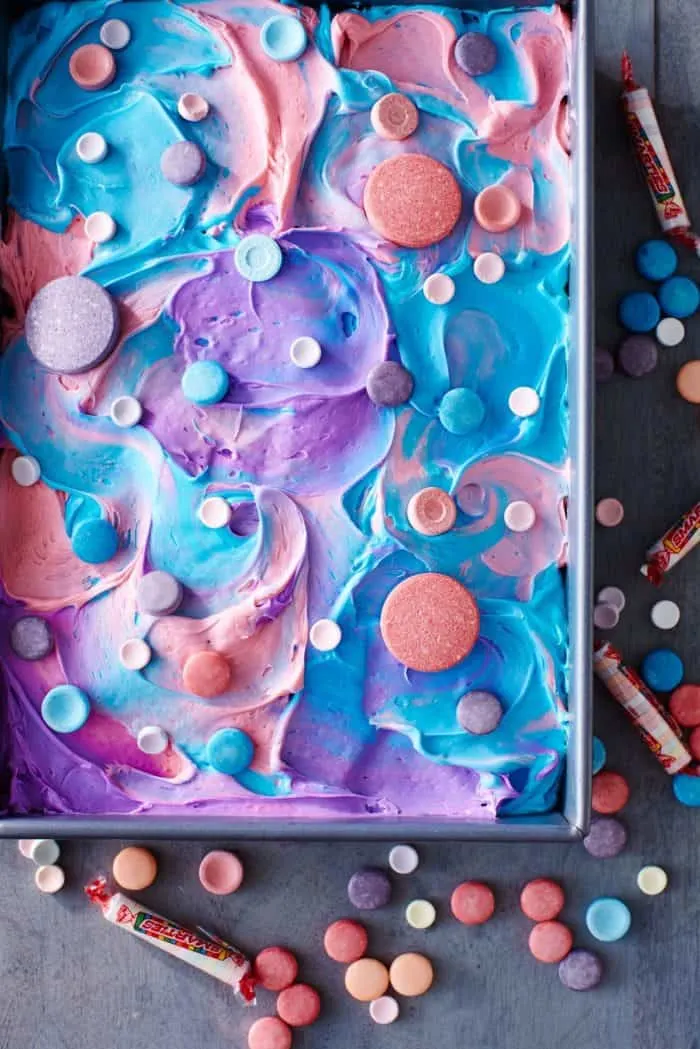 Get your bell-bottoms and love beads ready for this colorful cake that will take you to the 70s.
By adding food coloring and mod-colored Jell-O to a simple bake-and-take sheet cake, it transformed into a psychedelic work of art.
This vibrant cake is a fun addition to a unicorn, mermaid, or retro-themed birthday party for your teen girls.


Jersey Cake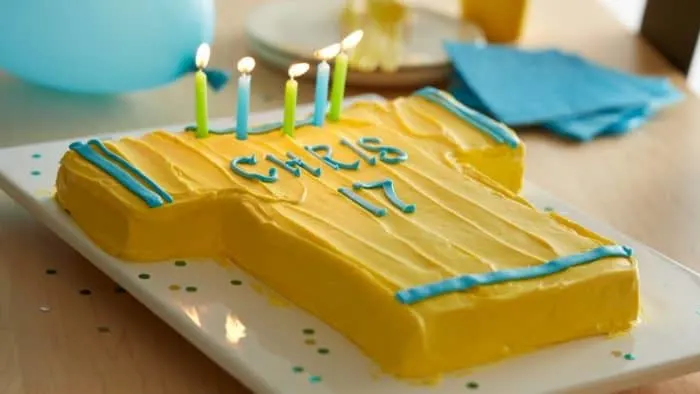 Make a jersey cake of his favorite team custom-made for the birthday boy with his name on it!
What a cool idea to customize a cake for a teenage boy!


Go Bowling Cake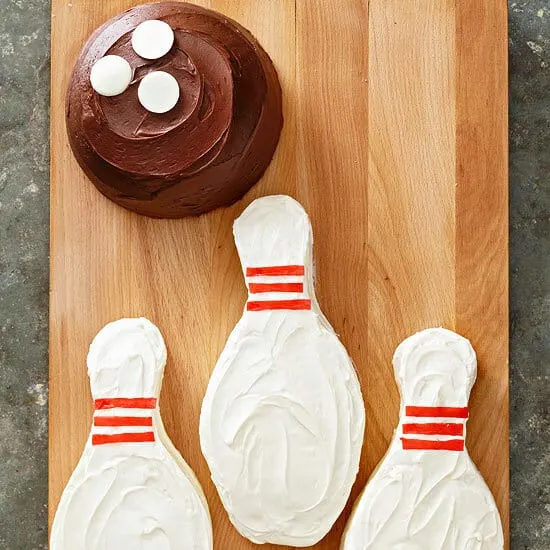 This bowling cake recipe idea will be a hit with sports fans.
The bowling ball cake is made from chocolate cake and frosting, while the pins are made from yellow cake and white frosting with red fruit leather.
Such a fun and creative way to make a sport-themed cake ideal for a sports enthusiast teen!
Soccer Ball Cake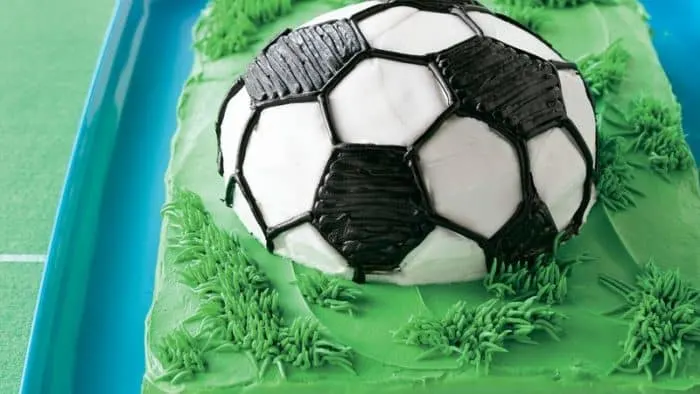 The perfect cake for your teen soccer player. Featuring a radiant green base that emphasizes the soccer ball design.
Your teen athlete will surely love this for a soccer-themed birthday party!
Basketball Court Cake Kit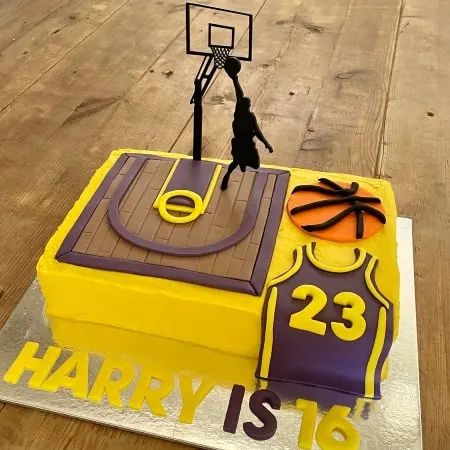 Here's some inspiration for your basketball playing teenager.
This DIY Basketball Cake Kit only ships to Australia, but you can recreate this yourself easily.
Bake a simple sponge cake and decorate with colored fondant in your basketball teams colors.
Use letter cut outs and a basketball cake topper to finish the look.
It will surely amaze your teen and make them feel special.
Letter Fondant Cutters
Birthday Basketball Cake Topper
Colored Fondant Selection
Star Wars Death Star Cake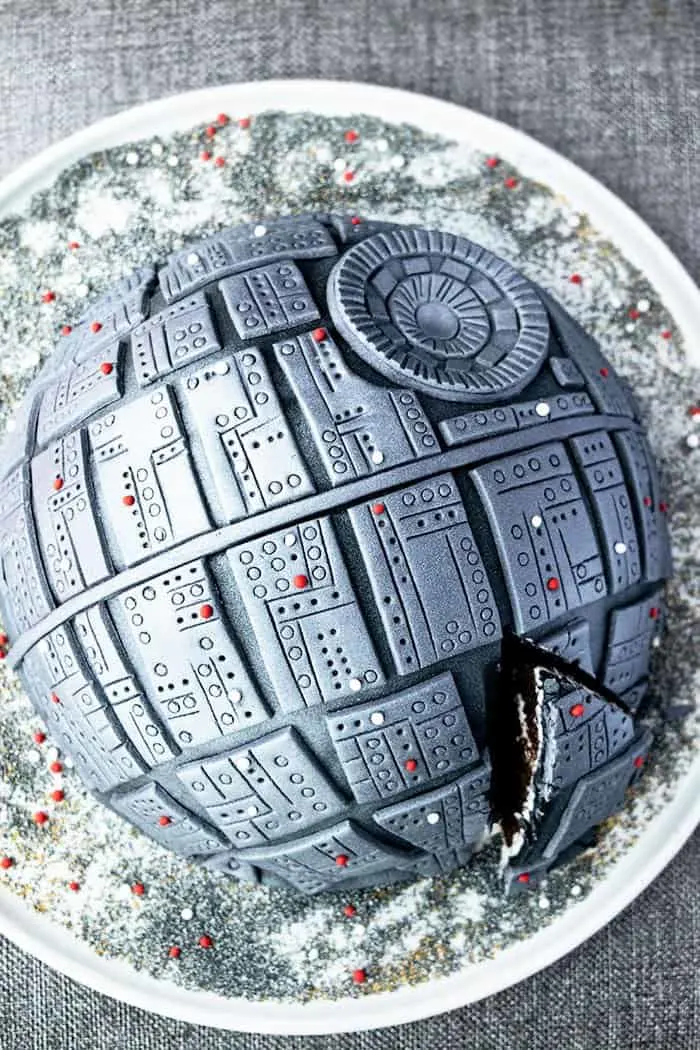 If your teenage son is Star Wars crazy, you have to try this cake!
This awesome Star Wars cake looks super impressive but with some patience you can totally do this at home.
Let this fun cake be the centerpiece of your teen's party table!
Legos make fantastic toys that can be stuck around cakes, and that would make them a real show stopper.
Star Wars Cake Toppers For Birthday Cake
❤️ Suggested reading: Heart Touching Birthday Quotes For Son
Harry Potter Cake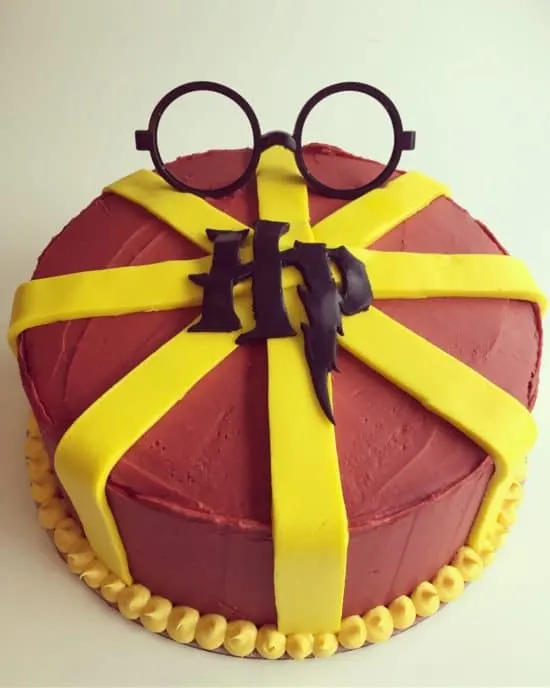 What an amazing cake to make for a Harry Potter teen fan for their birthday.
With Harry Potter's colors and his signature eyeglasses, any fan will agree that this is an ideal cake.
Harry Potter Glasses Cake Topper
Nutella Chocolate Cake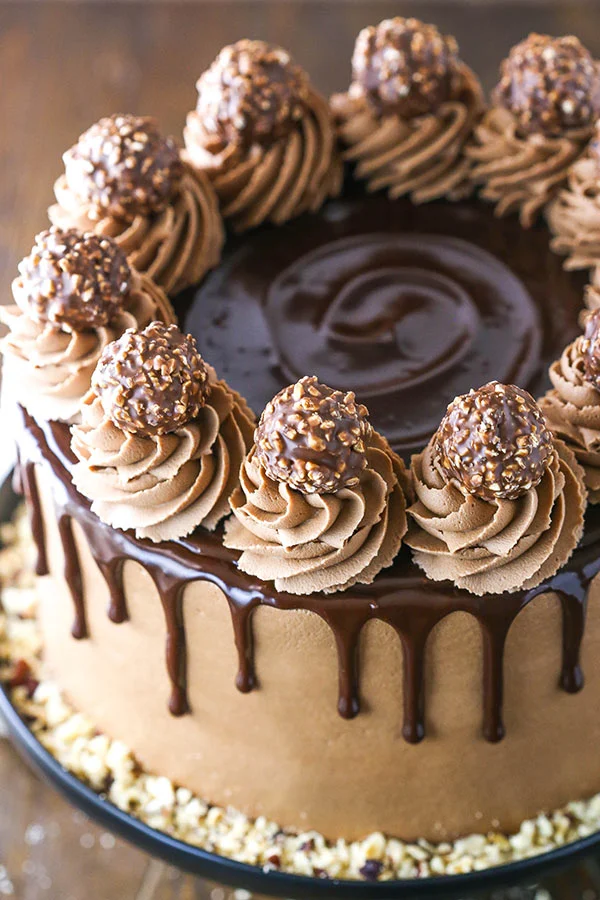 If your teenage boy appreciates Nutella and eats it right out of the jar, this cake recipe is for him.
The flavors of chocolate and Nutella complement each other beautifully, as do peanut butter and chocolate.
Then the cake is filled with fudge chocolate. A moist chocolate cake and a delicious Nutella combination make this cake very special. Nutella chocolate cake is made even better by topping it with Ferroro Roche balls.


Kit Kat M&M Cake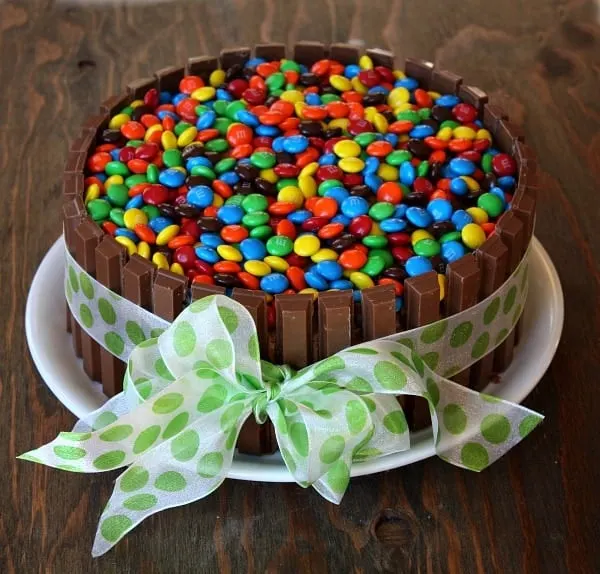 This cake is perfect for those who don't want to spend too much time or money on it but still want a fantastic looking and yummy cake.
A simple birthday cake can be transformed into a stunning one by using this idea.
Kit Kat Wafer Bars can be used to decorate the cake's exterior.
Make a fantastic birthday cake by adding more of your loved teens' favorite candy to the cake center.
Amazing Maltesers Cake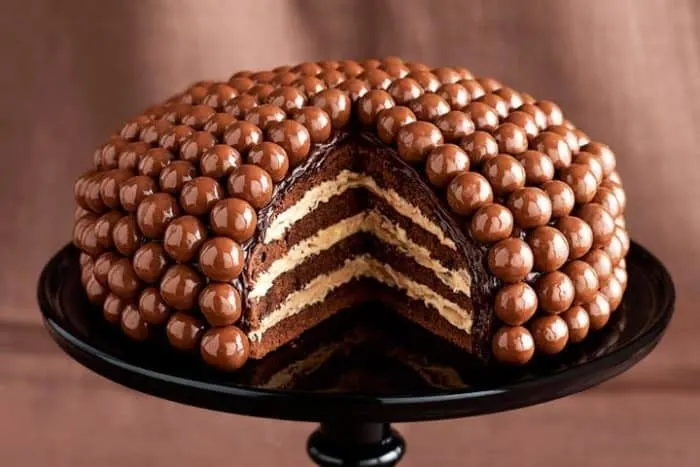 If you are a Maltesers fan or one who loves chocolate, a cake topped with your favorite chocolate balls will be the perfect birthday treat.
This delicious and moist cake full of flavor will be your teenager's next go-to birthday cake.
Chocolate Pinata Party Cake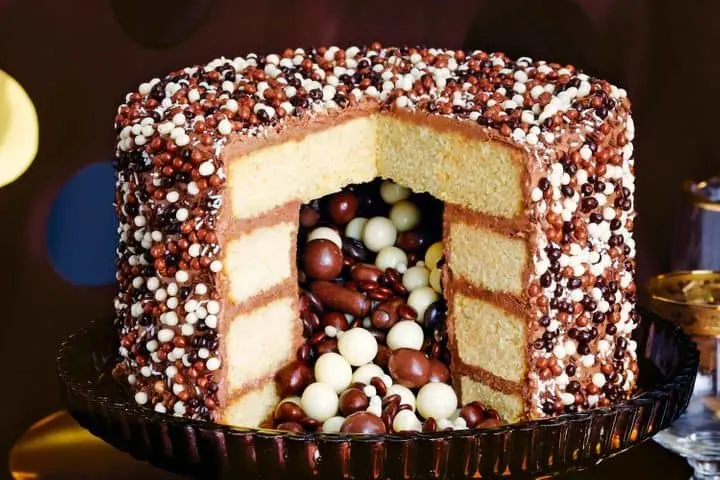 Show off your creativity by making this chocolate sprinkle pinata cake.
The cake is filled with sweet treats, so your teen is sure to have a great time!
If other cakes are ruined when sliced, this cake is even more gorgeous when it's cut open.
Your chocolate-loving teen and her guests will be delighted.


Geode Cake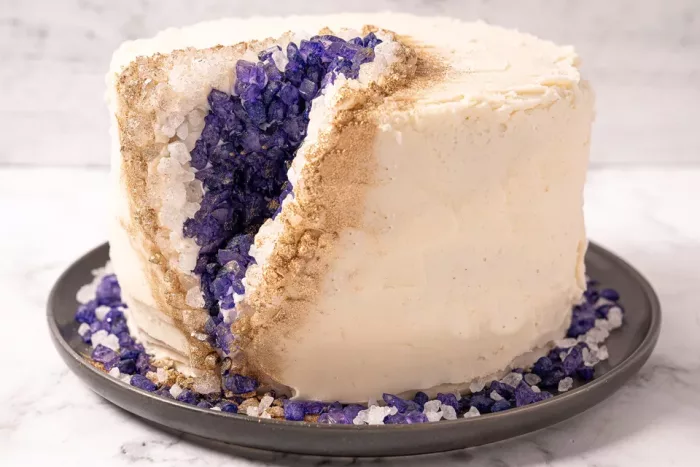 These stunningly designed geological layer cakes were inspired by the natural formations of precious and semiprecious stones.
Finished and frosted cake pieces are cut out, and edible crystals made from rock candy are inserted into the cake cavities.
Even though it may seem like a ton of work, it's not much more than layering and frosting a cake, especially when you buy rock candy instead of making it. Remove the rock candy from the stick before arranging it on the cake.
Purple Rock Candy Cake Filling
Fresh Watermelon Cake
Create a delicious watermelon cake, unlike anything you have ever tried.
Your friends and family will be wowed by this fresh and healthy take on cakes. Add some cream on your fruit but don't cover it.
Simple decorations will let the beautiful fruits shine. You've never had fruit cake look as good as this!
It's healthy, easy, and stylish, definitely healthier than traditional cakes.
Remember that you can add your favorite cake topping to celebrate your teen's birthday.
Happy Birthday Cake Topper
Multi Purpose Fruit Cutting & Scooping Set
Absolutely Epic Doughnut Cake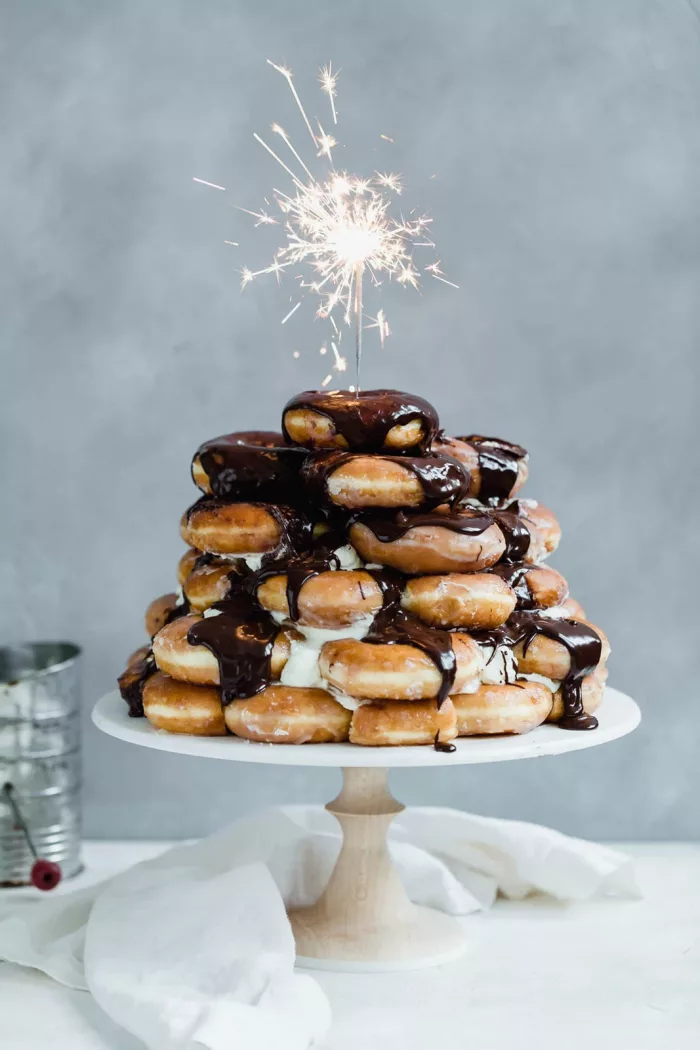 It is a cake made out of Krispy Kreme doughnuts, drizzled with chocolate fudge sauce.
It's incredibly easy to prepare this cake. Krispy Kreme Original Glazed Doughnuts are absolutely perfect for the job, so there's no need to make your own. The doughnuts are light, fluffy, and the perfect size for making a six-layer cake.
Sparklers on top of this cake are a great way to make it look even more gorgeous.
A donut cake has become our favorite go-to birthday cake as you don't need plates and the kids don't leave any bits of cake & icing lying around.
Waffle Cake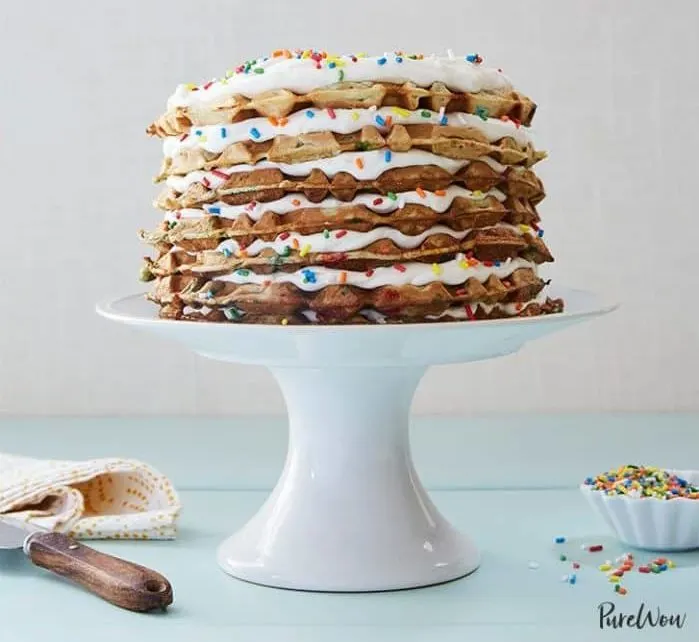 It takes all afternoon to make a layer cake from scratch. This gorgeous cake was whipped up in less than an hour because of a few clever shortcuts.
We introduce you to rainbow waffle cake. If you're looking for a perfect, tasty, and easy-to-make cake for your teen's birthday, this is it!
Chocolate Chip Cookie Cake
Chocolate Chip Cookie Cake is so easy to make, rich, and chewy, making it ideal for any birthday celebration!
The frosting and sprinkles make it more appropriate as a centerpiece for your teen's birthday party feast!
Pink Vanilla Pocky Stick Cake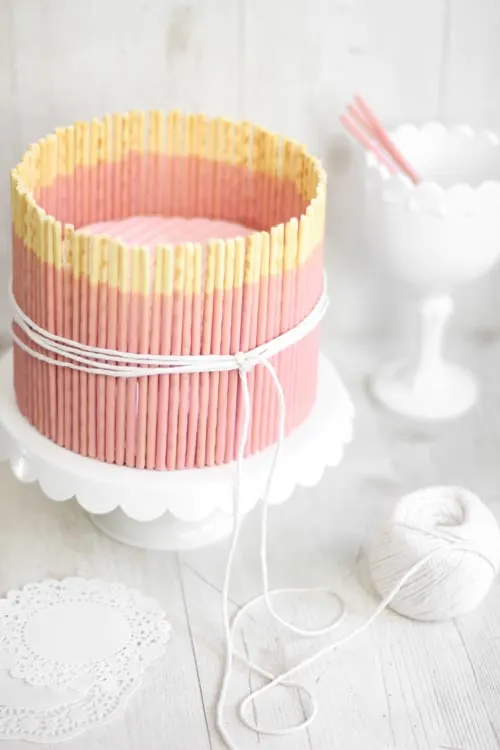 A simple, 6-inch personal-size cake with vanilla bean throughout, garnished with strawberry Pocky sticks, an ideal minimalist cake for a teen girl's birthday.
This straightforward recipe uses American buttercream frosting and simple yellowcake.
Both cake and icing are reminiscent of birthday cakes your teens remember as children. Neat, simple, and delicious.
Letter Cake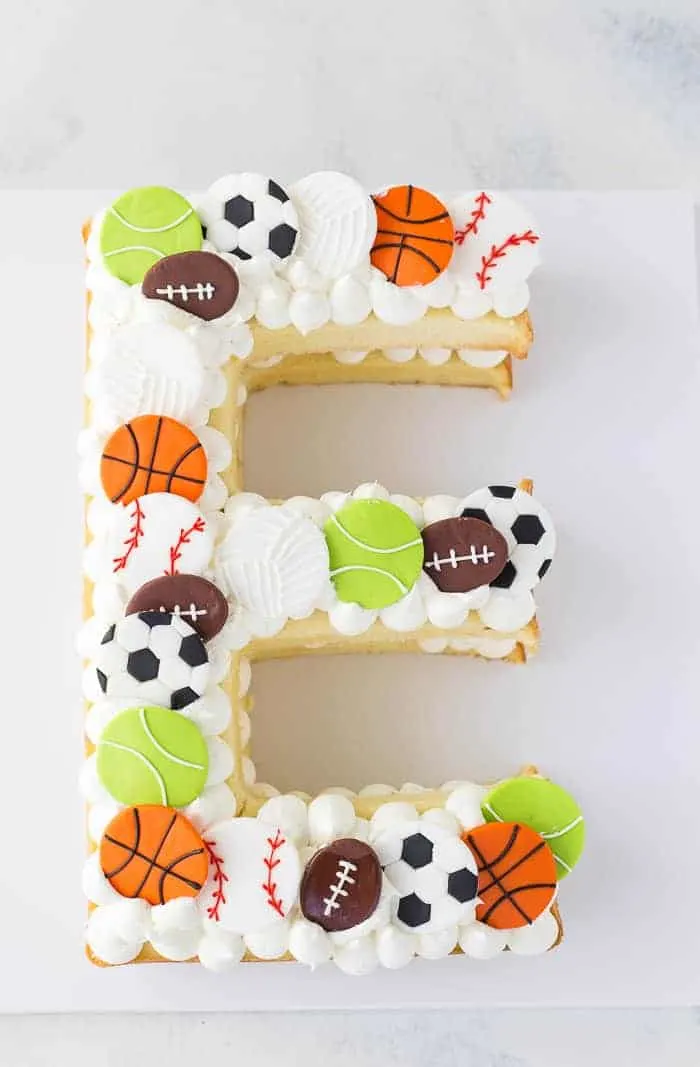 Have you considered making a letter cake for your teen's upcoming birthday?
A customized cake with the birthday boy/girl's initials is the perfect way to make it extra special.
The designs can also be customized according to the flavors, colors, and toppings they prefer.
This is an easy way to make your teen boy's and teen girl's celebration cakes fun and interesting.
Alphabet & Number Cake Bake Set
Using the included inserts, you can make cakes in the shape of all 26 letters of the alphabet or any number from 0-9. The set comes with clear instructions on how to make every letter or number.
The rectangular pan measures 14.5 x 9 inches. It has a grid bottom that holds the inserts securely and prevents batter from leaking out.
Disposable Cake Decorating Pastry Bags
Pink Ombré Cake with Vanilla Buttercream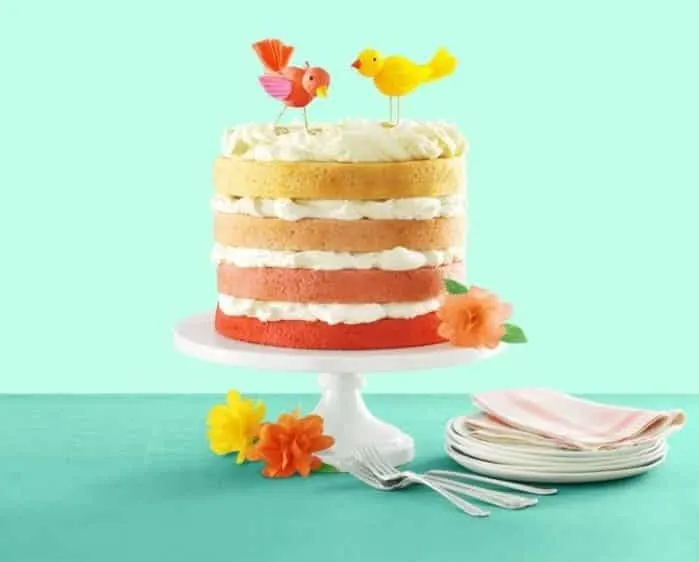 Your teen won't be able to resist this vibrant cake. So easy to make and gorgeous that your teen girl will surely love it.
You can use any pastel-colored cake topper of choice, and it can also be flowers or fruits.
It's a classy layered, minimalist birthday cake perfect for a teen girl.
You can add any cake topper that you tween or teen prefers to make it more personal. This cute unicorn cake topper would make many tweens birthday cake wishlist.
Don't forget the party decorations.
Strawberry Limeade Cake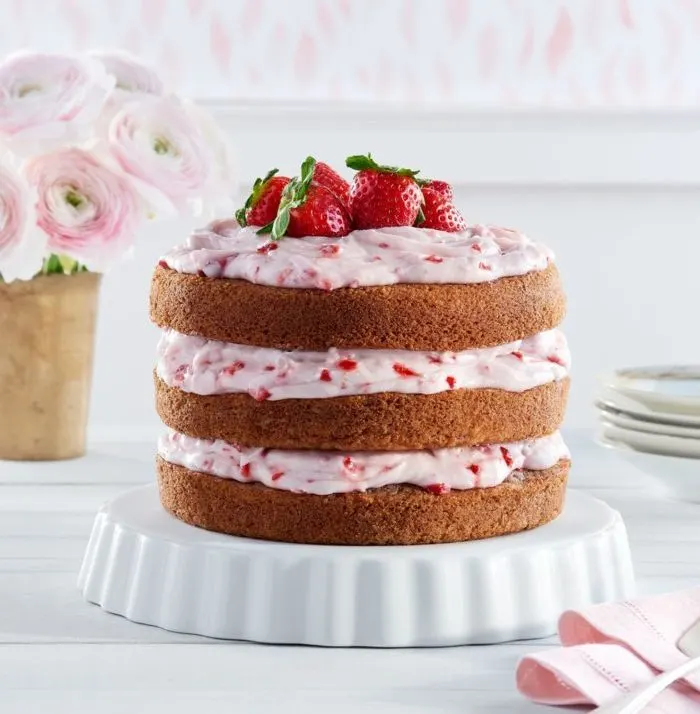 This delightful and equally beautiful birthday cake will be perfect for a fabulous birthday celebration for your teenager.
With a creamy and smooth texture, this frosting has the decadent taste of strawberry cheesecake.
Coconut Angel Cake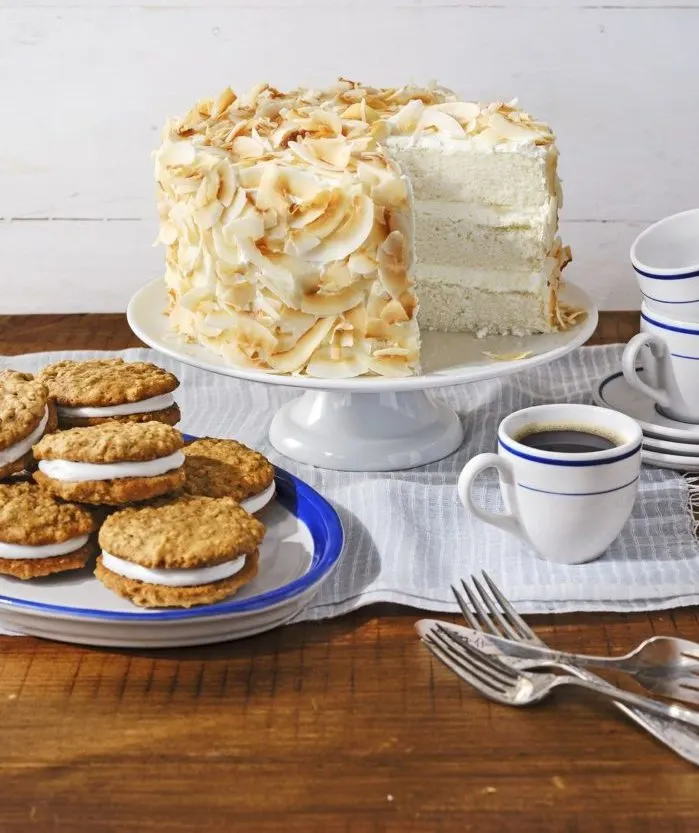 This sweet cake has fluffy layers that are delightful to eat.
A light and airy classic three-layer cake, filled with fluffy egg-white frosting, topped with coconut shreds.
It is incredibly easy to make. For a balanced taste, add fresh berries.
Making an angel food cake takes patience and time, but you'll make an incredible cake for your teen on his/her special day.


I hope that you and your teen found some inspiration in this post and have chosen a favorite cake for their birthday.
Remember that you can always bake (or even buy) a simple cake and decorate it with cream, berries, icing and some fun birthday cake toppers.
And of course, don't forget the balloons, because no party is complete without some balloons or even a party balloon arch.