Reading Scripture for breakup healing can be helpful to your teen after a romantic relationship comes to an end.
Having faith in God can help your teen overcome the emotional pain felt after a breakup.
We never know when a teenage breakup will happen, so it's important to have Godly teenage breakup advice handy.
It is beneficial to read Scripture for breakup healing a few times each day to increase your positive energy and help you slowly regain the energy and confidence to move forward.
In this article, we share some Bible verses that can be helpful for a teenager going through a breakup.
🙏 You might also enjoy reading: How To Get Closer To God As A Teenager
Bible Verses For Teenage Breakups
Here are the most comforting bible verses for breakups to help you cope and heal your broken heart.
1. "He heals the brokenhearted and binds up their wounds." Psalm 147:3
2. Walk away and shake it off. – "And whosoever shall not receive you, nor hear your words, when ye depart out of that house or city, shake off the dust of your feet." Matthew 10:14
3. Even if you're heartbroken, allow God to be the source of your happiness. – "My flesh and heart faileth, but God is the strength of my heart and my portion forever." Psalm 73:26
4. Keep trusting God to work it out. – "And we know that for those who love God, all things work together for good, for those who are called according to his purpose." Romans 8:28
5. "I lift my eyes to the hills from whence cometh my help. My help comes from the Lord, who made heaven and earth. He will not let your foot be moved. He who keeps you will not slumber." Psalm 121:1-2
🙏 Suggested reading: The Effects Of Teenage Breakups (How To Help Your Teen Through It)
5. Wait patiently for God to restore you. – "And the God of all grace, who called you to His eternal glory in Christ, after you have suffered a little while, will Himself restore you and make you strong, firm, and steadfast." 1 Peter 5:10
6. "The Lord is nigh unto them that are of a broken heart: and saveth such as be of a contrite spirit." Psalm 34:18
7. "He hath blinded their eyes and hardened their heart that they should not see with their eyes, nor understand with their heart, and be converted, and I should heal them." John 12:40
8. "He restores my soul. He guides me along right paths, bringing honor to his name." Psalm 23:3
9. "For I know the thoughts that I think toward you, said the Lord, thoughts of peace, and not of evil to give you an expected end." Jeremiah 29:11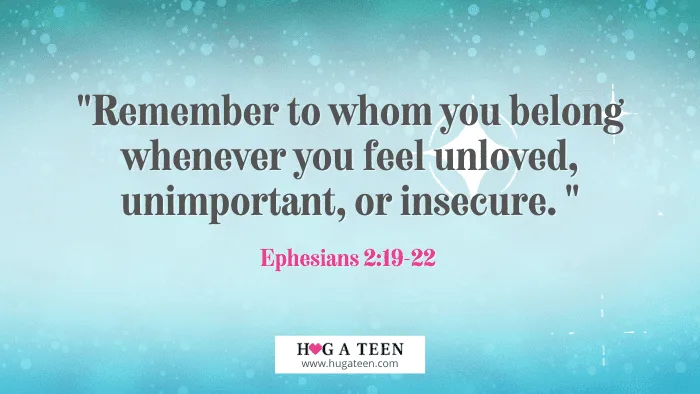 10. "Remember to whom you belong whenever you feel unloved, unimportant, or insecure." Ephesians 2:19-22
This bible verse is a reminder of our identity in Christ. This verse reminds us that we are members of God's family and that we have been reconciled to Him through faith in Jesus Christ.
When we feel unloved, unimportant, or insecure, it is easy to lose sight of our identity in Christ. This verse is a reminder that we belong to God and that He loves us deeply and unconditionally. No matter what we may face in life, we can always turn to God and find comfort in His love for us.
This verse is also a reminder of the incredible blessings we have as members of God's family, including the hope of heaven and the indwelling of the Holy Spirit. When we remember to whom we belong, we can overcome feelings of insecurity and feel confident in our place in God's family.
11. "And surely I am with you always, to the very end of the age." Matthew 28:20
12. "I will not forget you! See, I have engraved you on the palms of my hands." Isaiah 49;15,16
13. When you seek the Lord, He will not abandon you. – "The Lord also will be a refuge for the oppressed, a refuge in times of trouble. And they that know thy name will put their trust in thee: for thou, Lord, hast not forsaken them that seek thee." – Psalm 9:9-10
14. Focus on the good in your life. – "Finally, brothers and sisters, whatever is true, whatever is noble, whatever is right, whatever is pure, whatever is lovely, whatever is admirable—if anything is excellent or praiseworthy—think about such things." Philippians 4:8
15. "Fear not, for I am with you; be not dismayed, for I am your God; I will strengthen you, I will help you, I will uphold you with my righteous right hand." – Isaiah 41:10
The purpose of this verse is to provide comfort to those who are facing challenges and difficulties. The first part of this verse, "Fear not, for I am with you," reminds us that God is always present and available to help no matter what we face.
This verse reinforces the idea that God is the only true God and our personal deity, helping us to strengthen our faith and realize that no problem can compare to what God can do.
Lastly, God promises to strengthen, help, and uphold us with his righteous right hand. This means that He will give us the strength and support we need to overcome any obstacle, as well as protect us and keep us safe.
16. Take one day at a time. – "Therefore do not be anxious about tomorrow, for tomorrow will be anxious for itself. Sufficient for the day is its own trouble." – Matthew 6:33
17. The Bible verse "Give all your worries and cares to God, for he cares about you" (1 Peter 5:7) is a reminder to trust in God and rely on Him for help in times of trouble. This verse encourages us to cast all of our anxieties, fears, and worries upon God, knowing that He loves us and cares for us deeply.
The message is that we don't have to carry the weight of our problems on our own, but instead, we can trust God to help us and provide for us.
The verse suggests that we should surrender our worries to God in prayer and acknowledge that He is in control. When we do this, we can find peace and comfort in knowing that God is taking care of us, even when the world around us is uncertain.
This verse is a source of hope and encouragement, reminding us that no matter what challenges we face, God is always with us, and He is always concerned for our well-being.
18. "And we know that in all things God works for the good of those who love him, who have been called according to his purpose." – Romans 8:28
This verse is a declaration of faith in the sovereignty and goodness of God and teaches us that God is in control of all things. Everything that happens in our lives, whether good or bad, is part of a larger plan that God is working out for our good and His glory.
The key phrase in this verse is "all things." This means that everything that happens in our lives is included in God's plan and can be used for our benefit. This doesn't mean that every event is good in and of itself, but that God can bring good out of even the most difficult circumstances.
19. "Come to me, all you who are weary and burdened, and I will give you rest. Take my yoke upon you and learn from me, for I am gentle and humble in heart, and you will find rest for your souls. For my yoke is easy and my burden is light." –Matthew 11:28-30
In this verse, Jesus is offering relief to those who are feeling burdened or weary from the weight of their problems and challenges. He invites them to come to Him and take on His yoke, or to follow His teachings and way of life.
Jesus promises that if we follow Him, we will find rest for our souls. This means that we will find peace, comfort, and a sense of inner rest despite the challenges we may face. This rest comes from knowing and following Jesus, who is gentle and humble in heart.
The "yoke" that Jesus refers to is a symbol of the burden that we carry in life. Jesus promises that His yoke is easy and His burden is light, meaning that following Him will bring us a sense of ease and lightness.
21. "Trust in the Lord with all your heart and lean not on your own understanding; in all your ways submit to him, and he will make your paths straight." – Proverbs 3:5-6
22. "Blessed are those who mourn, for they will be comforted." – Matthew 5:4
23. He is there for you if you reach out to him – "When the righteous cry for help, the Lord hears and delivers them out of all their troubles. The Lord is near to the brokenhearted and saves the crushed in spirit." – Psalm 34:17-18
Remember, God is always with you, and He loves you. You can always turn to Him for comfort and guidance during difficult times.
Here's a prayer that you can say when you need God by your side after a breakup:
"My Lord, I pray that you will be with me during this painful time and that you will give me vision so that I can move on to something that will be even better."