If your teen is about to turn 16 you've most likely been discussing how they would like to celebrate this milestone.
If you haven't discussed their wishes with them yet, then please read Sweet 16 Party Ideas to discuss with your teen first, where I share several party options and ideas for their Sweet 16th birthday.
Your teen might not want a traditional party and might want a beach party instead.
You should also discuss if they have a favorite theme as this will help you with your planning tremendously.
Once they have decided what kind of party they would like for their 16th birthday it's time to start planning. Your Sweet 16 party plan should include deciding on a budget, choosing a venue, sending out invitations, choosing the food, entertainment, and go all out in decorating to make this Sweet 16th a birthday party to remember.
Whatever the size of your celebration, you can utilize these tips for a successful Sweet 16 party planning process.
Budget
To start you will need to have an honest discussion about the budget. I've seen how quickly party costs can skyrocket if you don't budget and plan ahead. Your budget will influence where you will have the party, how many guests you can invite, as well as the food, decorations, and entertainment.
In my post on Sweet 16 Ideas, I mentioned keeping all ideas on the table. Start with the big idea in mind, and then you most likely will have to make adjustments as you go along. I'll share ways to amend ideas to fit within your budget.
Venue
If you have a big enough budget, you might want to host the party at a venue near you. If you're going to hire a venue, then you should also consider if you're going to hire a party planner at this stage. They will be able to suggest great venues in your neighborhood, and will most likely have relationships with many vendors. Hiring a party planner makes the process a lot easier but also a lot more expensive.
I personally love planning events, so I have always planned my own, even our wedding. It's a super fun activity to do with your teen and they will learn quite a lot from the planning and budgeting process from you if you do this together.
If you're going to plan your teen's birthday yourself, then you should start looking for venues a few months before to find out costs and availability. Visit several different venues before making your decision. Be sure to take the birthday girl with you so that she can play a role in the planning process.
Alternatively, if you have space, you can choose to have the party at your home. This will take away the stress of finding a venue that's available on the date you want, plus it will save you a lot of money.
Budget Venue Tip: host the party at your house instead of hiring a venue.
Length Of Party
The length of the party really depends on what type of party you're having. If it's a relaxed picnic in the garden on a Summer's day, then your guests might enjoy a swim, some yard games and just lazing in the garden all afternoon.
If it's a dance party at night, then you will want to have a set end time, so that parents can collect their teens at a specific time. This also helps to set expectations and there won't be any arguments from your teen later.
Invitations
Now it's time to decide how many guests you would like, or are able, to invite. Traditionally Sweet 16 parties are a big affair where friends and family are invited.
However, if your teen would like to have a Glow In The Dark Disco Party, then perhaps gran and gramps wouldn't be that keen on attending.
In this case, you might want to plan a separate lunch for close family members. This will allow you to have a more intimate family gathering, where you can chat and not embarrass your child with your "I'm so proud of you" speech in front of her friends.
Once you've decided on the date, venue, and guest list, it's time to send out the invitations.
You can choose to have these designed, printed, and mailed, or you can use a design tool like Canva, where you can easily design it yourself.
You can email or even Whatsapp the invitations to your guests. I like to create a Whatsapp group for the party. This allows you to communicate any important information, and guests can leave the group if they have RSVP'd that they cannot attend.
Budget Invitation Tip: design your own in Canva and send them out via WhatsApp or email, rather than printing and mailing your invitations.
Food
The food you serve will depend on various aspects of the style of party that your child has chosen.
If it's a traditional party for family and friends with a DJ and father/daughter dance, then you might like a more formal sit-down meal.
If they've chosen a disco party then finger foods are the way to go.
If you're having a movie night then this post on Movie Night Snacks might be of interest to you right now.
Budget Food Tip: If your budget doesn't allow for a plated meal, then have your party in the afternoon or a dance party after dinner. This will allow you to serve lighter snacks and finger foods rather than having to offer a sit-down dinner.
Entertainment
For a formal dance party, you might want to hire a DJ. Again, this depends on your budget and a good DJ can set you back around $500 for the evening.
With music streaming services like Spotify or Amazon Music, you can create a playlist with your teen and friends and play their favorite songs all night long. It's not as fancy as having a DJ but as long as the music is good, they'll still have a great time.
You can get Free 30-day Unlimited Access to 75 million songs on Amazon Music. Cancel anytime.
Music always makes a party better, so even if you're teen has decided on a girlie sleepover, or a beach party, it's still great to create a playlist and enjoy some fun tunes.
Dress
Your teenage daughter will most likely want to get a special dress for the occasion. There are so many options to choose from, and it really depends on the theme and style of party that she's chosen.
For a traditional dance party, she'll probably want a beautiful gown for her father-daughter dance.
If you're looking for a glamorous ballgown then you have to take a peek at these Sweet 16 dresses from CoutureCandy.
For short party dresses, you can find some super cute options at Missguided.
If she's chosen a boho theme, then these gorgeous floaty dresses from TBDress will definitely be on her wish list.
Budget Dress Tip: look for the Sale or Special Offers on your favorite website as you'll often find absolute bargains.
Shop high-end dresses under $100, like the ones shown below from CoutureCandy here.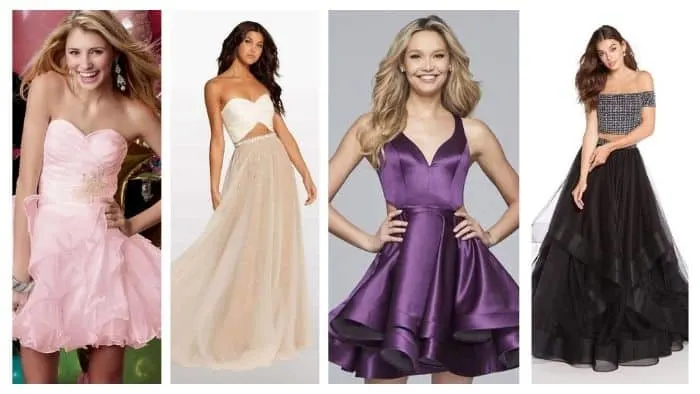 Make-up
If you're going all Super Sweet 16 glam then she might like to have her hair and make-up done.
Most teens are very capable of doing a great job on their own and can practice by watching YouTube videos, but she might like something special for her 16th birthday.
It might be fun to have a virtual make-over done online to get some inspiration for the party. These stores allow you to see what you would look like with different hairstyles, lipstick, or eyeshadow.
Have a look at Mary Kay Mirror Me or MAC Virtual Try On, which both offer this service. Just upload your photo and start playing around.
Once you know what look you want, you can head on over to Sephora, as they offer a 15-minute walk-in mini makeover, including smoky eye application and contouring services.
You can also book a longer makeover at some Sephora outlets, which is complimentary with purchase. Please check with your local store to find out what they offer.
Some MAC stores also offer various complementary services with purchases you make. A great idea for a Sweet 16 make-over is to purchase false eyelashes and ask them to trim and fit them for you. Note that not all MAC stores offer complimentary makeover demos, so a quick phone call can determine if the store offers demos and if there is any related purchase requirement.
Budget Make-Up Tip: Book a complimentary make-over demo with purchase.
Decorations
This has to be my favorite part of planning any party. Your birthday girl should choose a theme or at least a color scheme to help you create the right look. You can achieve a fabulous look by adding several balloons and fresh flowers.
Here are a few high-end looks arranged by various party planners and ways for you to recreate this at home.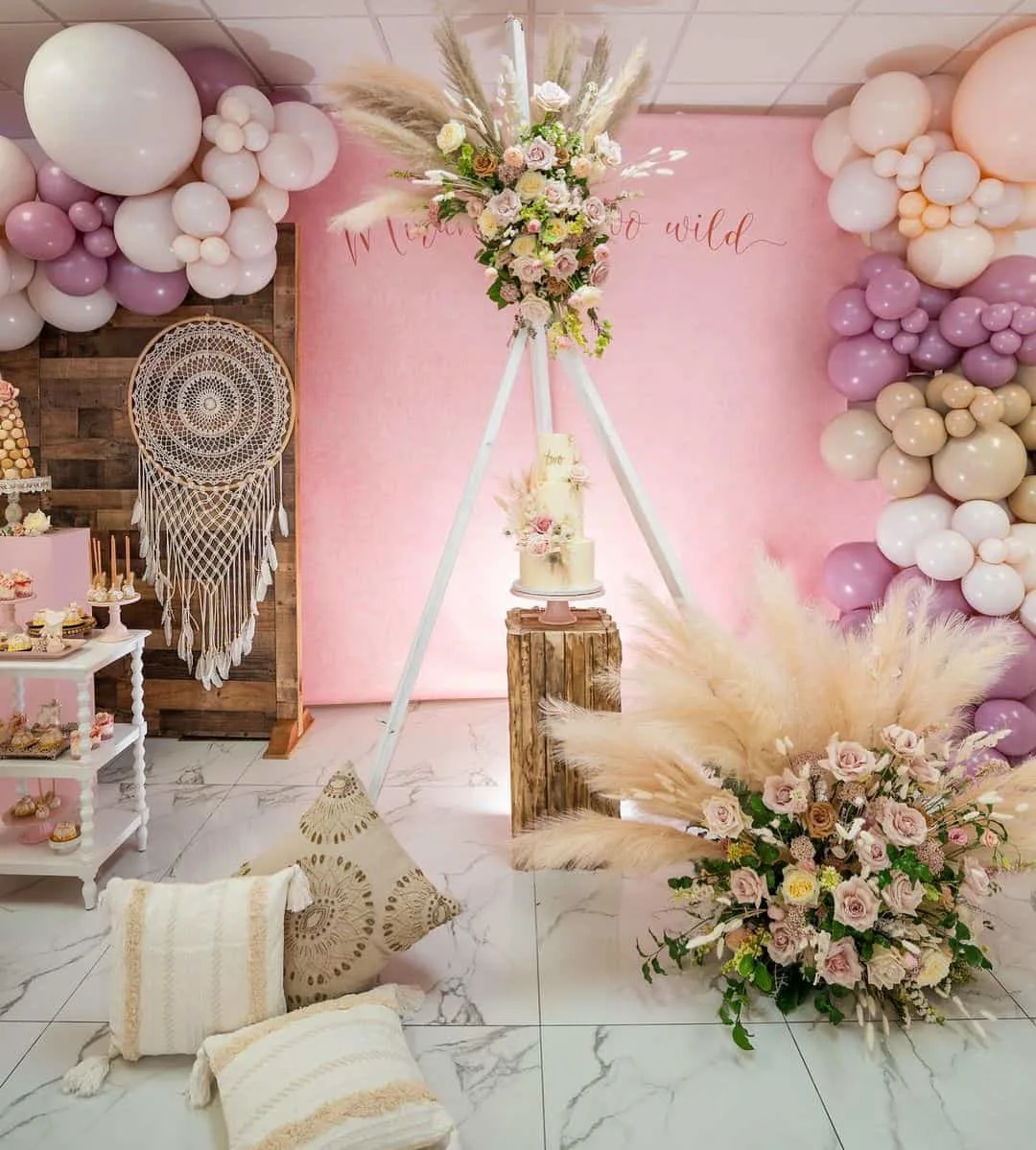 You can recreate this gorgeous Boho theme in pastels by Decor By Radelkis by adding balloons in pastel colors, some dream catchers, pillows, and plenty of fresh roses.
Table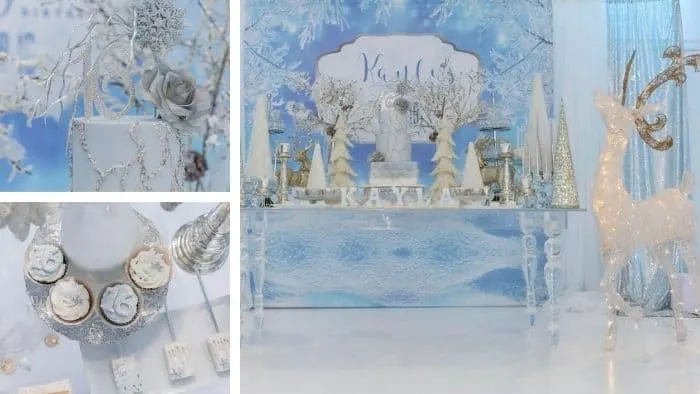 For a Winter Wonderland theme, the table can be decorated with a shiny silver tablecloth, fresh flowers, silver, and blue balloons, and tableware in the color scheme chosen. Add some themed decorations and you've recreated this look for the most memorable Sweet 16 party.
Entrance
Don't forget to decorate the entrance to welcome your guests. You can use balloons, signs and even have a tray with refreshments as they enter.
You can really carry the theme and color scheme through starting at the entrance. Depending on the budget you can go huge with fresh flowers and balloons or you can tone it down but still create a warm welcome for your guests.
Backdrop
Depending on where you're hosting the party, you might need a backdrop to add some interest to the room or use this as a place for guests to take photos. There are so many gorgeous options on Amazon. I selected this pink one, as I'm picturing a pastel pink dance party, with a balloon arch and fresh flowers, but just type in your color scheme and you'll find what you're looking for.
Add a photo booth or at least a photo frame with photo props to make the party even more memorable.
Candy Bar
If you're not serving dessert, a candy bar is a great alternative. You can decorate with candies in your color scheme or just make it a burst of color and treats.
Balloons
I've already mentioned balloons several times because they really set the scene and complete any party theme. There are so many color options to choose from.
Be sure that your DIY set includes some arch strip tape that you can attach your balloons to. Most sets on Amazon do include the tape but just double-check.
If you want the full arch effect then you could get a proper balloon arch as well.
I would recommend that you purchase an electric balloon pump as you don't want to have to blow up these balloons yourself.
Flowers
I would always choose fresh flowers over artificial flowers, however, if you're on a budget, you can bulk up your fresh flowers with some flower decorations. These artificial French dusty roses look so real that you can definitely get away with adding these to bulk up your decor.
Peonies are one of my all-time favorite flowers, so I would recommend some vintage artificial silk Peony flowers as well.
Vines are great to hang on walls or around doorways, and paper flowers make gorgeous wall and table decorations as well.
Party Favors
It's not always necessary to hand out party favors, especially with older teens, but if your budget allows, you can find many fun party favors for your guests.
These adjustable bracelets come in a set of 5 and are a lovely thank you for your Sweet 16's friends.
If you're having a glow-in-the-dark party, then fun glasses, glow sticks, and neon make-up are great party favor ideas that they can actually use at the party.
For an outdoor or pool party, there are several fun balls, water balloons, and water pistols that can add to the fun.
Cake
Don't forget the cake! Order a special cake for your birthday girl or if you enjoy baking why not make something special yourself.
I've never been good at baking, so have tended to order birthday cakes. However, one year I realized that I was spending more on the cake than the gift. Making & decorating the cake yourself if you're on a budget is a great idea. You might even have an aunt or friend who can help you out.
You can even decorate your cake with edible flowers.
Or edible butterflies.
And don't forget the Sweet 16 cake topper.
Guest Book
Your sweet 16 will treasure all the messages written in the guest book for many years to come.
This is a fun alternative to the traditional guest book. Everyone can write on the poster and your teen can frame it and hang it in her room to remember the best party ever.