How old you have to be to go to a concert depends on the age limit of the venue in which the performance is taking place, and the band/artist you want to see.
Anyone 18+ can attend a concert or festival unless the event or venue is rated 21+. 13 – 17-year-olds can attend an 18+ concert if accompanied by an adult. Anyone under the age of 12 can only attend concerts rated 16+ or below, in seated areas, with a responsible adult.
How Old Do You Have To Be To Go To A Concert?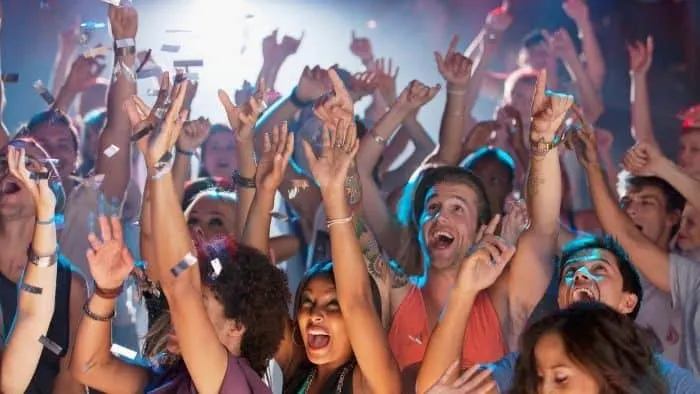 Below are guidelines on how old you have to be to go to a concert:
If the Event Is 21+: Anyone between the ages of 13 and 20 must be accompanied by their parents or legal guardians. Anyone under the age of 12 is not permitted.
18+ Event: Anyone between the ages of 13 and 17 must be accompanied by their parents or legal guardians. Anyone under the age of 12 is not permitted.
16+ Event: Anyone 15 and under must be accompanied by a parent/legal guardian.
13+ Events: Anyone 12 and under must be accompanied by a parent/legal guardian. Most venues will not allow anyone 14 and under to buy standing area tickets, so best to get tickets for the seated area only.
All Ages Events: Anyone 12 and under must be accompanied by a parent/legal guardian. Tickets are usually for seated areas only.
🤓 Suggested reading: Can A 13 Year Old Have A Debit Card?
How Do I Know If A Concert Is 18+?
You can find out the age restriction for a venue by checking the venue's website, which should have information about the event.
The FAQ will most likely have a question about age requirements.
If you cannot find the information on the website, call the venue and ask for details.
When booking tickets for a concert online, you can see if an event has any age restrictions.
Find the event you're interested in and select the correct date.
You will see "Info" on the left, where you can find the age restrictions. If an event has an age restriction, you must comply with it.
Should You Let Your Child Go To A Concert?
Children should be allowed to go to a concert, but the question is often whether they should go alone.
All children under 12, no matter the age restriction of the venue or event, must be accompanied by an adult.
If the music event is 13+, anyone 12 and under must be accompanied by a parent/legal guardian. This means that your 13 year old would legally be allowed to attend the concert independently. As parents, you will need to judge and decide if this is a good idea or not.
Allowing your kids to go out on their own depends on many factors beyond age.
What Kind Of Audience Will Be Attending?
Firstly you need to consider what type of concert it is. Who is the artist, and what type of crowd will be attending the show? If children of a similar age will mainly attend the concert then perhaps it would be okay.
How Mature Is Your Child?
Secondly, you need to look at your child and decide whether they're mature enough to make the right decisions. Are they independent enough to feel comfortable in a big crowd, and do they usually demonstrate good judgment (or make poor choices)? Concerts are crowded and there is a lot of walking and waiting, so they need to be able to manage themselves accordingly.
Who Will They Be Going With?
The third thing to think about is who will be going with them. Will they be going with close friends who you know and trust? No matter how old one is, it's never a good idea to attend any event alone.
How Far Away Is The Venue?
Another thing to consider is how close you will be to the venue. If the venue is close to where you live, or you will remain close by during the concert, you will be able to assist if a situation arises where you need to get to them quickly.
Do You Have A Way To Communicate With Your Child At The Event?
Lastly, does your child have a cell phone, and do they know how to use it responsibly i.e., will they call or message you if they need help, and will they answer your messages if you're trying to get hold of them.
Things To Consider Before Going To A Concert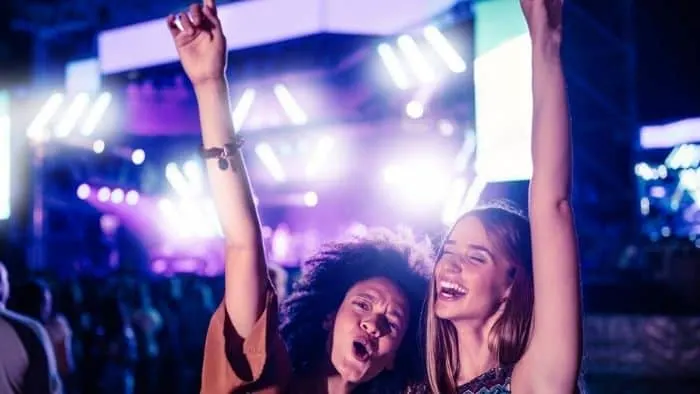 Going to a concert can be fun, but it can also be overwhelming for younger teens, especially if they haven't attended a large concert on their own before.
It's best to prepare yourself for what to expect to ensure that you have the most enjoyable concert experience.
Safety is always the most important thing to remember, so talk to your parents and discuss necessary safety measures, and make plans to stay safe throughout the event.
Here are some things to consider before going to a concert without a parent:
Concert & Venue Policy
Find out what the venue's policies and regulations are. Look on the venue's website to get all the information you need. Find out what time the doors open, what you can and cannot bring into the venue with you, and have a look at the venue layout to see where your seats will be.
Age restriction
Make sure that the concert venue is for all ages. Some venues, especially those that serve alcohol, will only admit guests over the age of 21. Before buying tickets, check the venue's age policies online or by phone. You probably will not get your money back if you buy a ticket and get turned away at the door.
Size of the Venue
Consider the size of the venue. The larger the venue the more people will attend. A large stadium event will attract older and larger crowds of people.
Parental Consent
Please ask your parents for permission. Talk to your parents about the concert you want to attend before buying tickets. Discuss who you will be going with, how you will get there and back, and establish ground rules for staying safe.
Don't Attend Alone
Take a friend with you. It's best not to attend concerts alone for safety reasons. Attend the concert with at least one friend and plan to stay together on the day of the event. It's safer and a lot more fun if you attend with friends.
Ticket Purchase
Buy tickets online. Be sure to buy tickets from a reputable website like Ticketmaster. Purchase tickets from online resellers or at the door is risky. For popular concerts, you will need to purchase tickets as soon as they go on sale as they often sell out quickly. Be sure to keep your tickets in a safe place.
Transportation
Plan how to get there are back. Speak to your parents and friends about how you will get to the concert and back. Parents are often happy to share lifts. Plan ahead and confirm a pick-up location and time, so you can find whoever is picking you up.
🤓 You might like to read How Old Do You Have To Be To Pump Gas?
Trouble Shoot Any Possible Scenarios
There will be many people at a concert, so it's a good idea to consider any possible scenarios and how you will respond to them. What should you do, and where will you meet up if you get separated from your friends? What will you do if your cell phone battery dies? Look at how the venue is laid out to know where the bathrooms are and where the exits are.
What Are The Age Restrictions For Attending Events?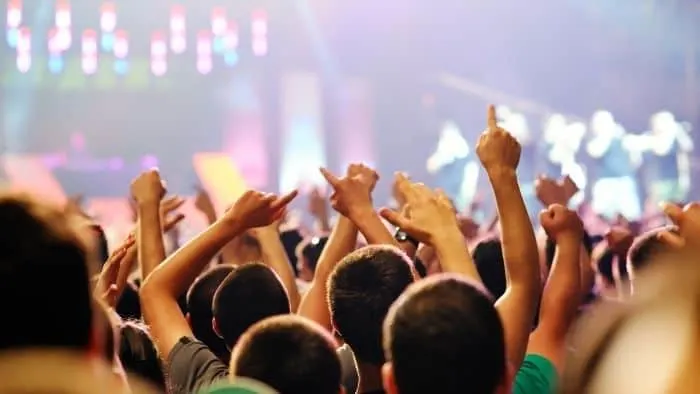 Each venue and event will have a specific age restriction.
For example, for Justin Bieber's World Purpose Tour in the US in 2017:
All Under 18's had to be accompanied by a responsible adult over 18 years.
The responsible adults must remain with the under 16s and be responsible for them at all times.
Even if accompanied by an adult, children under 14 will not be permitted in the Standing/Gold Circle Area.
One adult can accompany up to four children, but the age and needs of the children should be taken into account when making this decision.
For the same Justin Bieber tour in Australia:
A child under the age of 14 must be accompanied by a parent or legal guardian during the entire performance and have a valid ticket.
We do not recommend children under five to attend this event, as it is a loud music concert over an extended period.
Do Children Need Ear Protection At Concerts?
Concerts can be extremely loud, especially if you're near the front or near the speakers. For very young children noise-canceling headphones are recommended.
For teenagers, you should encourage them to wear high-fidelity earplugs as their ears are a lot more sensitive than adult ears. The Eargasm Soft earplugs are great for older kids as they will protect their ears from harmful noise while still allowing them to hear the music clearly so they won't lose the concert experience.
Eargasm earplugs come highly recommended by music lovers and concert-goers – watch below:
Eargasm High Fidelity Earplugs
More Tips For Teens Attending Concert
Most venues do not allow children 14 years or younger to purchase standing area tickets.
Standing floor access is only permitted for adolescents (15-17 years) accompanied by a responsible adult of 18 years or older.
Check if a concert venue has a waiting area for parents. This is sometimes available at venues where they expect mainly younger concertgoers.
Listen to the music at home before you go to the concert. Being able to sing along to the lyrics makes a concert even more enjoyable.
Talk to your child about not going to the toilet alone. Make sure that they go to the bathroom before they enter the venue, or if it's a long concert, then they should definitely go as a group or with a friend. This is good advice for boys and girls.
There will usually be an opening act, which will add about 1h30 to the concert time. So check to see who the opening act is and if it's worth coming early to watch them. Most opening acts are great, and it's part of the vibe, but it's good to know upfront anyway.
Consider missing the encore. Most artists will come back on stage for one last song. If you're not a fan of being squashed between hundreds or thousands of people all trying to squeeze through exits at the same time, then leaving before the encore is a good idea. It's usually only one song, and you'll still be able to hear it as you're walking through the crowd to get out of the venue.
Frequently Asked Questions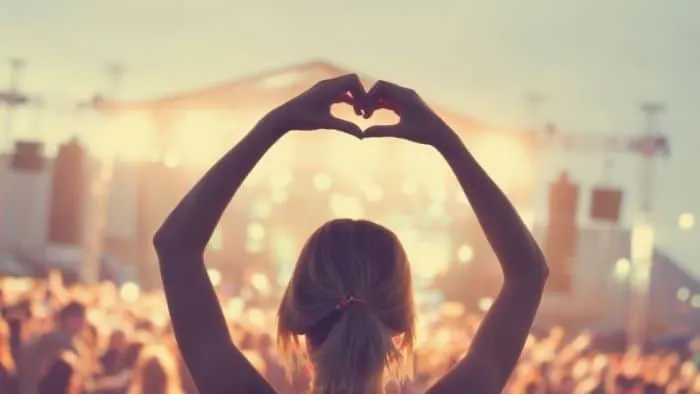 Are there alternatives to letting children go to concerts unaccompanied by a parent?
Teens can attend a concert if they're accompanied by a responsible adult i.e. someone over 18 years old. As long as their parents approve, they could go with an older sibling, family member, or even a trusted 'babysitter'.
How old do I have to be to go to a BTS concert?
All ages are welcome at BTS concerts. Ticketmaster or the venue sites will probably state how old you have to be to attend. BTS concerts are family-friendly because it's K-pop, but seated seats are generally better because standing sections can be dangerous because of pushing or you might get crushed if you're not big enough. Most venues won't allow kids under 15 to buy tickets in the standing areas.
Can a 12-year-old go to a concert alone?
A 12-year-old is not allowed to go to a concert unchaperoned. Even if the venue and the event is an all-ages event, anyone 12 and under must have parental supervision. Tickets are usually for seated areas only.
Should I let my 13 year old go to a concert?
Depending on who the artist is, attending a concert can be an amazing experience for kids of any age. You need to find out if the venue and event are rated 13+ or 16+ to know if they will be allowed to attend on their own if with a responsible adult only. Read all the Things To Consider Before Going To A Concert, as well as some extra tips to help you decide if they're ready for a crowded concert.
Should I let my 16 year old go to a concert?
It depends on your 16-year-old whether the venue allows teens under 18 years of age. If it's 16+ then they would be allowed to attend on their own. Remember to not let them go on their own, and to arrange safe transportation to and from the venue.
Is going to a concert alone safe?
I would always recommend going to a concert with a friend or a group of friends. It's not only safer but also much more fun to experience a concern with someone else.
Having said that, big concerts will have plenty of security, and troublemakers are quickly thrown out of the venue. Most people will be on their best behavior as tickets cost a lot of money and no one wants to be ejected. However, there are sometimes troublemakers or people who've been drinking.
If you feel unsafe or uncomfortable you should find a security guard and stay close to them. There are usual female security guards as well, so ask for one if they make you feel more comfortable.
Always keep a charged phone (bring a battery pack if you have one), and plan ahead of time where you will meet your parents or how you will get home.
How old do you have to be to go to a concert with a parent?
Most concert venues will allow parents to take their children with them to a concert. Unless the venue is strictly 18+ or 21+ and they will be serving alcohol. Check with the venue, the ticket sales site, and on the artist's website to find out if your kids will be allowed to enter the venue. Remember to bring safely earplugs for younger kids.
How old do you have to be to go to a concert by yourself?
Whether or not you can go to a concert by yourself will depend on the concert venue, the event/artist that you want to go see, and your parent's permission.
Generally, anyone 13 or older would be allowed to attend a concert that has an age rating of 13+. If the event is rated 16+ then you will need to be 16 years old to be able to go to the concert by yourself.
If the event is rated 18+ then anyone between the ages of 13 and 17 must be accompanied by an adult, and 12 and under will not be permitted.
Last note:
Due to Covid-19, there are sometimes restrictions and health checks before you can attend a concert. Check whether unvaccinated people can attend. They might only allow vaccinated people or people who can show a negative Covid test. Some indoor venus might also require social distancing and ask you to wear a mask.
I hope that I've cleared up and answered some of your questions. You should always check the venue or ticket sales website for the age restrictions before buying your tickets. Remember to get your parent's permission and follow the tips and safety guidelines to ensure you have the best concert experience ever.