Teen and tween parties are becoming increasingly popular with glow-in-the-dark themes.
Glow-in-the-dark parties usually include bright, colorful, neon-colored decorations that glow in the dark. Having neon colors that glow under UV black lights creates an even more dramatic visual effect. Incorporate neon outfits, face paint, and glow-in-the-dark accessories to illuminate your guests while playing awesome games and activities at your next party.
A little bit of planning can go a long way when it comes to a neon birthday party theme.
So check out the steps below on how to make your glow-in-the-dark birthday party a success.
🎉You might also enjoy reading:
Glow In The Dark Birthday Party Ideas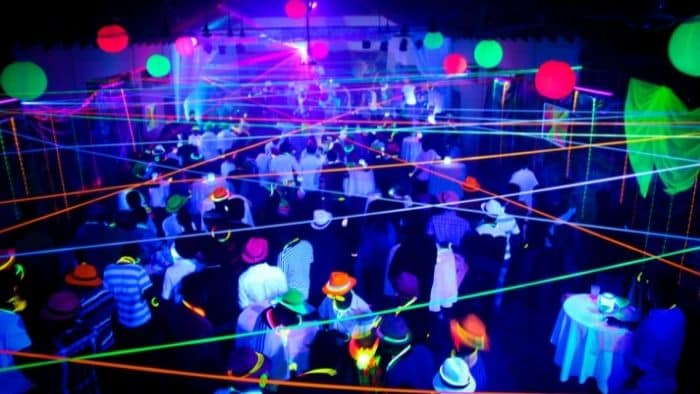 How To Set Up A Glow In The Dark Party
1. Send Out Invitations
Every teen party starts with sending out invitations to all the party guests. You can create themed party invitations to perfectly highlight your Glow In The Dark party theme.
If you're creative, you can create your own invitations using Canva, or you can find some lovely invites at your local party store or on Amazon.
2. Decide Where To Set Up Your Glow In The Dark Party
To make your glow party a success, you need to decide where you will set it up.
If you want to have your party outside, then you will need to choose an evening when the moon is not full so that it's nice and dark outside.
You could wrap large sheets of black plastic around a patio area or gazebo to make it extra dark.
Alternatively, if you're just having a few friends over, then you could set up an outdoor tent and blackout any windows.
The best glow-in-the-dark parties are most often held inside and commonly use blacklight.
Choose an area that has as little light as possible. You can choose a specific room in your house or even the garage if you prefer. The idea is to make the area as dark as possible so that everything glows. If the room or party space is darker, the lighting will glow better.
Make sure there is no sunlight in the room by covering the windows with black builders' plastic.
To create a dark walkthrough curtain, hang black plastic over a doorway, and cut vertical lines from the bottom to the top. This acts as both an entrance and exit but also blocks out any light.
3. Get The Best UV or Blacklight For Your Party
It's important that you use a good blacklight for your glow in the dark party.
The best blacklight is probably an LED UV bar like the one below.
These UV bars are lightweight and portable, making them easy to install.
This blacklight won't light up your whole room with a purple glow but is designed to light up fluorescent objects while keeping the rest of the room fairly dark. Remember that the darker the room, the more your neon products will glow.
Depending on the size of your room or party area, you might need more than one blacklight. It's always best to test the glow a few nights before the actual party to see how many black lights you might need for your specific area.
You can also replace all your regular lightbulbs in the rooms nearby with LED UV blacklight bulbs. This will help minimize any white light entering the room.
How to get the best blacklight effect from your LED blacklight:
Ensure a totally dark area.
Use white and fluorescent materials.
The more sensitive the fluorescent materials are, the brighter they will glow.
The more UV blacklights used, the brighter everything will glow.
The closer the backlights are to the fluorescent materials, the brighter they will glow.
Choose the best position for your LED blacklight(s) and adjust the light direction accordingly.
Don't use other white (non-black) lights in the room.
Replace all lightbulbs in the room with LED UV black light bulbs.
4. Buy or Make Glow In The Dark Party Decorations
Now that you have your room set up and ready, it's time for the fun bit – decorations! There are so many awesome decorations that you can find these days.
One of my favorite teen party glow decorations is a splatter paint curtain. Hang black plastic on the walls and give your party guests fluorescent paint to splatter on the 'curtain.' You'll need to put some plastic on the floor as well.
You can use paintbrushes or spoons to splatter your paint on the curtain. This is loads of messy fun – it's the perfect teen party activity for 13-year-olds to get the party started.
If you don't have time to make your own splatter wall backdrop, or you think it will be too messy, then you can purchase a similar wall decoration like the one below.
Alternatively, you can also use neon streamers to decorate your party room.
You could hang these streamers straight down against a wall, or you can attach them to a hula hoop and make round decorations.
Make your own glow in the dark centerpiece for your party table with a foam ball and plenty of glow sticks.
How about getting creative and making this DIY Glow In The Dark Chandelier with large glow sticks, to brighten up your teen's party.
Every party needs balloons, so don't forget to get some glow in the dark balloons as well.
You can either get LED light-up balloons.
Or you can get the balloons that light up in blacklight.
If using helium balloons, you might want to read How Long Do Helium Balloons Last.
5. Get Glow In The Dark Tableware
Decorating your table with plates, cups, napkins, and a tablecloth with a glow theme definitely brings your glow-in-the-dark party to a whole new level.
You can even get fluorescent plastic cups and plates that will actually glow in the black light.
6. Make The Food & Drink Glow In The Dark
You can use neon food coloring to decorate your food for your teen's glow in the dark party.
My favorite party decor food has to be this neon splatter birthday cake that I saw on Craftsy.com.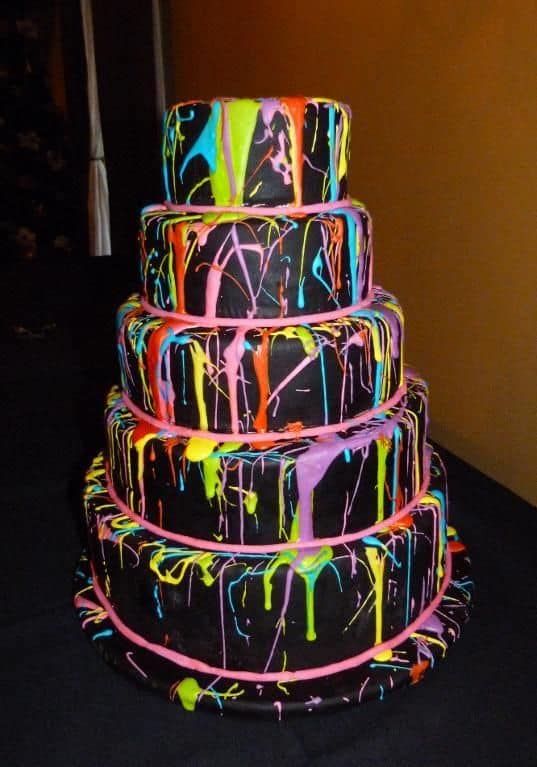 Watch how to make your own neon splatter birthday cake below.
Apart from using neon food coloring, not all food that glows tastes good. So you can either make a few things that glow just for decoration, or you can choose to rather use plates and cups that glow and stick to just having yummy tasting food instead.
For example, tonic water glows in the dark, so that's great if the moms are in the mood for a G&T, but not really a tasty beverage for teens.
You can also place glow sticks in water bottles or inside paper cones to make your candy floss glow in the dark.
Aside from quinine in tonic water, there are a couple of other non-toxic ingredients that make drinks glow under black light, including chlorophyll and vitamin B.
Foods that glow under blacklight include:
Quinine in tonic water glows blue.
Vitamin B12 glows bright yellow.
Chlorophyll glows red.
Glow Party Activities & Games
Every glow in the dark party starts with accessorizing your guests. Be sure to have plenty of glow sticks and other glow party accessories for them to play with.
1. Decorate Your Friends
Ask all your guests to wear a black or white T-shirt to your glow-in-the-dark party so that they can decorate their outfits with neon fabric paint.
Alternatively, they can come dressed in fluorescent clothing. Bright neon colors are more likely to glow. Fluorescent green, pink, yellow, and orange are the most likely to do so.
Fabric Paint
They can then use neon fabric paint to decorate each other's tees. They can either do a splatter paint effect or write messages and draw pics.
Body Paint
Your guests can also use neon body paint to paint their faces and bodies. Let them get creative with splashes, handprints, lines, and drawings.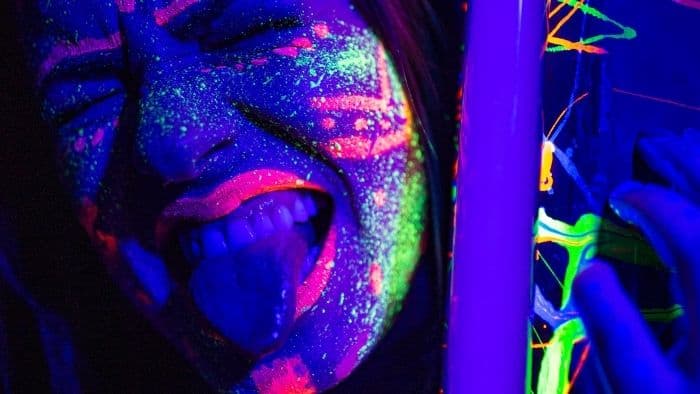 Neon Make-Up
If the girls want to be a little fancier, then they can try neon make-up, nail polish, eyeliner/mascara, and even neon-colored lashes.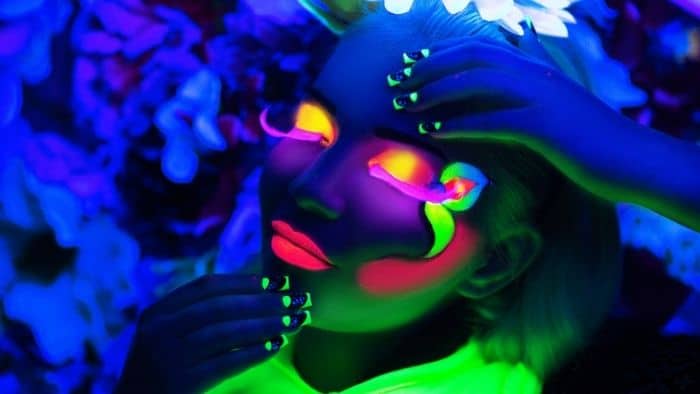 2. Photo Booth – Photograph under UV Black Lights
You can either create a cardboard photo booth or just create a neon photo frame using streamers made with neon crepe paper.
Be sure to position a blacklight close to where you're taking the photo to ensure anything neon lights up properly.
It's best to use an SLR digital camera rather than your phone, as you can control the shutter speed.
If your camera does have a UV filter, then you should remove this first. If not, then set your camera shutter speed to 1/8 of a second and set your camera's ISO to 200. You can read here for more instructions.
Your camera might have a nighttime setting or firework setting that you could look for as well.
Grab some neon photo booth props, and your guests are ready to strike a pose.
3. Glow In The Dark Ring Toss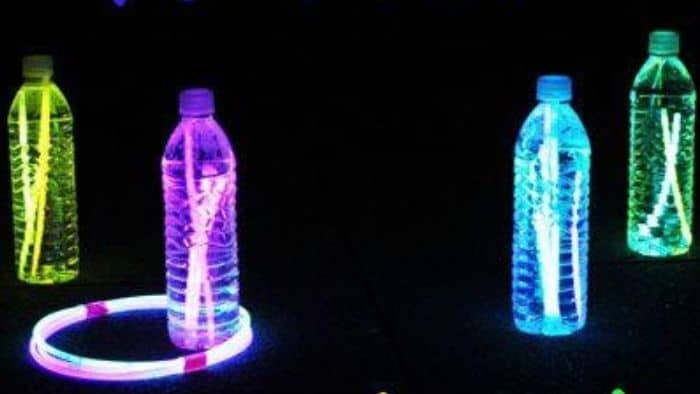 You can make your own glow stick ring toss game. Simply insert glow sticks into water bottles and toss glow stick bracelets over the bottles to play!
If you want to play outside on the grass, then you might want to get one of these glowing ring toss sticks, as the water bottles do tend to fall over on an uneven surface.
4. Capture The Flag Glow
This classic outdoor game can now be played at night with a glowing version. You can even add extra neon armbands with this bracelet expansion set if you have a big party.
5. LED Jump Rope
Younger tweens will love this LED jump rope as it looks amazing at night.
6. Glow In The Dark Tic Tac Toe
Another fun game to keep your tweens entertained is the glow-in-the-dark tic tac toe set. The game pieces are off-white in daylight and will glow bright green in the dark for about 20 minutes. However, if you place the game set near a UV blacklight, it will glow non-stop.
7. Glow In The Dark Dodgeball
Try glow-in-the-dark dodgeball if you're looking for an outside game to keep your guests entertained.
This glow in the dark dodgeball set includes 6 high-tech, fully luminescent game balls. Before playing, just expose the balls to light, and they will glow in the dark.
Alternatively, you could also use these Thermo grip dodgeballs, which change color when you hold them as the balls react to the heat of your hands.
8. LED Cornhole Bean Bag Toss
Even if you're not using a black light, you can still enjoy playing cornhole bean bag toss with these LED light rings that light the edge and rings in the boards.
9. Kan Jam Illuminate
The ultimate glow game can now be played at nighttime with the Kan Jam Illuminate disc-throwing game.
This popular competitive game is similar to cornhole or washer toss and is easy to set up.
Kan Jam's LED Flying Disc and multi-colored light-up goals will keep you playing all night long!
10. Glow In The Dark Ball Games
You can also keep your teen guest entertained for many hours with light-up LED soccer balls, beach balls, shuttlecocks, footballs, nerf guns, and even foam-lighting rocket launchers.
11. Don't Forget The Party Favors
Glow-in-the-dark foam sticks and bumpy rings are fun party favors to give your party guests.
Glow-In-The-Dark DIY Ideas
I've already mentioned some fun DIY party decorations like the glow stick table centerpiece and chandelier, but there are many other DIY glow-in-the-dark things you can do with your teenager.
1. DIY Glow In The Dark Bubbles
You can easily make your own glow in the dark bubbles by mixing the liquid from a fluorescent highlighter with a bubble mixture. You can also use fluorescent paint or tonic water – remember that quinine in tonic water glows blue.
Blow these bubbles in blacklight, and they'll glow up wonderfully in the dark. Be warned, though, that bubbles pop and get pretty messy, so only do this outside.
2. DIY Glow In The Dark Lanterns
You will need a glass jar, some glitter, and some glow sticks.
Bend your glowsticks to crack the glass inside and make them glow.
Open your jar and cut open your glow sticks carefully. You don't want to get the glow stuff on your hands or clothes.
Empty the contents from the glowsticks into the glass jar, and add some glitter – you don't need a lot of glitter.
Close the jar, shake it up, and there you go – awesome glow-in-the-dark lanterns that you can make at home.
4. DIY Glow In The Dark Flowers
You will need a white flower (carnations work well), a fluorescent highlighter, and some water.
If you can, get the fluorescent middle part of the highlighter out of its casing. Squeeze out the highlighter fluid into the water. You can let it sit in the water for a while. Squeeze as much out as possible.
If this is not possible to get the middle part out of the casing, then dip the tip of the highlighter in water and swirl it around to get most of the highlighter fluid mixed into the water.
Now let the flower sit in your highlighter and water mixture overnight. It will absorb the highlighter liquid, and its petals will turn fluorescent under black light.
Alternatives to a fluorescent highlighter are fluorescent paint or tonic water (the quinine in tonic water glows blue).
5. DIY Glow In The Dark Ice & Drinks Container
This is such an easy DIY but works so well to really add some extra glow to your party.
Simply place some glow sticks in the bottom of your drinks container and cover them with ice.
Place your drinks on top of the ice to keep cool and enjoy!
6. DIY Glow In The Dark Balloons
Before blowing up your balloons, simply insert a glow stick or LED light inside each balloon. You'll have instantly glowing balloons for your party.
7. DIY Glow In The Dark Eyelashes
Take some false eyelashes and paint them with neon acrylic paint and let them dry. These will glow brightly in black light at neon glow parties.
How To Throw A Glow In The Dark Party
There's a difference between glow-in-the-dark and neon/fluorescent products.
You can create an awesome glow party by using glow in the dark products (like glow sticks) or by using neon/fluorescent colored decorations with UV-A black lights, also known as ultraviolet light. Or you can combine the two.
To create the most visually spectacular glow party, you should use UV or black light.
Though blacklight appears to be purple, it actually emits most of the light within the ultraviolet part of the spectrum, which the human eye cannot see.
Neon products contain phosphor, a substance that absorbs ultraviolet and visible light energy, which makes all neon products glow under black light.
Glow sticks don't need UV light to glow. The plastic glow tube has an inner glass tube, which snaps when you bend the stick. This releases a chemical that mixes with the liquid in the plastic tube. As the chemicals react, they give off light.
Can I Have a Glow In The Dark Party Outside?
You can have a glow party outside, but only at night when it's totally dark, and choose a night when the moon is not bright. You will need to swap out any outdoor lights on the porch or patio with black light bulbs. You should then add strong black light bars or lighting strands in your party area.
The closer the neon elements are to the black light, the brighter they will glow.
You can obviously also use glow-in-the-dark products like glow sticks and battery-powered glow wands, which don't need a black light to be effective.
What to Wear To A Glow In The Dark Party?
You have many options for what to wear if you are attending a glow in the dark party with black lights.
Most white and neon fabrics will glow.
The best way to make your ensemble stand out is to wear a variety of colors. You might wear an orange hat, green tie, yellow belt, white t-shirt, pink pants, etc.
Neon paints also look great under black light, so don't forget to have your face and body painted.
Glow-in-the-dark or neon birthday parties are great fun.
There are plenty of ways to decorate your home as well as fun clothes and accessories to style the birthday guests.