Sleepovers can be fun, but not having all your sleepover essentials for the night can ruin the experience. A sleepover checklist can come in handy to ensure you have all the essential items for a comfortable and fun time away from home.
This article breaks down your sleepover checklist into various categories to help you put everything together effortlessly.
What To Pack For A Sleepover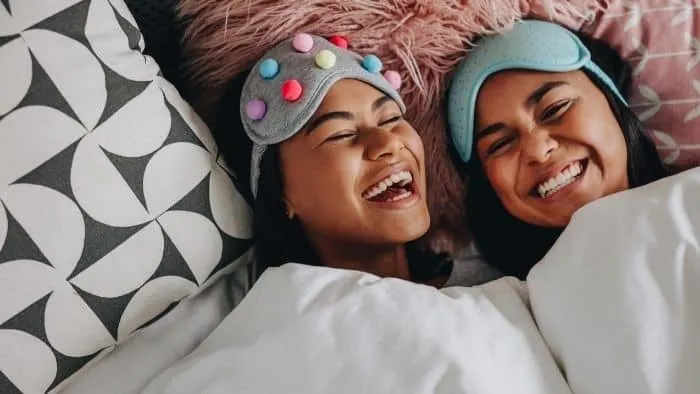 Grab your sleepover bag and use the checklist below to organize all the items you will need.
Be sure to include all the essential items like clothing, toiletries, medications, and some fun things like games, snacks, and gadgets; lastly, don't forget any emergency items that you may need, like a flashlight or money.
The number of items you pack will depend on the number of nights you will be away. Once you know what you'll be packing, you will need to have a big enough bag to fit all your essential sleepover items. You can use your school backpack, a large tote, or a small travel bag.
Here is an excellent example of a good sized sleepover bag:
Weekender Overnight Bag
What To Pack For A Sleepover Checklist
Here's a free printable checklist that you can download and use for your next sleepover.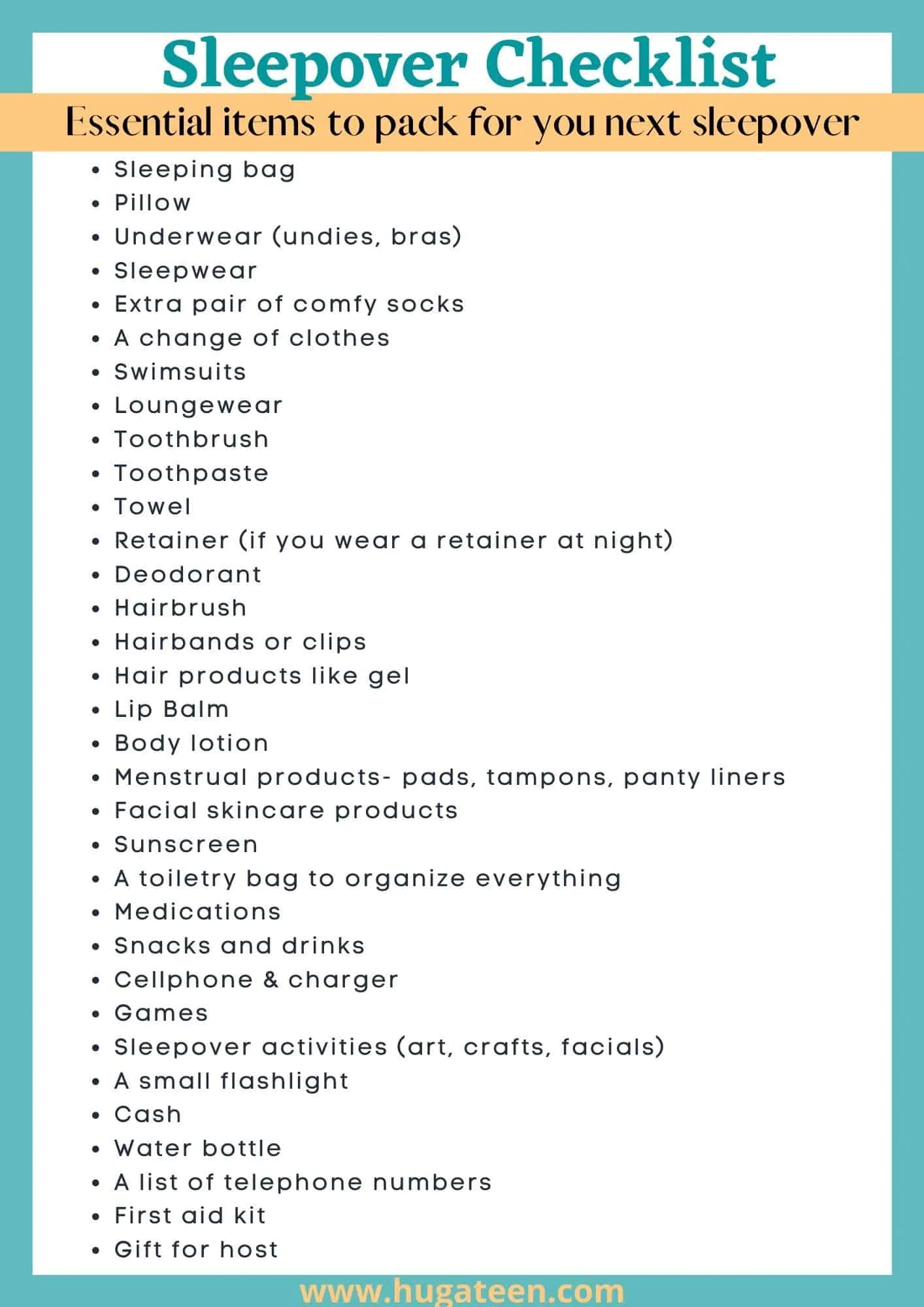 Use this checklist to help your child develop good habits, like learning to pack for themselves. Packing is a life skill, so help your kids by letting them pack everything they need themselves by ticking off each item from this list. Depending on their age, you might want to assist them initially, but soon they'll be able to do it on their own.
Always inquire about sleeping arrangements to know if you'll need to pack a sleeping bag and pillow.
Find out if there are any planned activities like swimming to see if you need to pack a swimming costume and towel.
Lastly, ask permission to bring electronic items and sweets as it might be a gadget or candy-free household.
Bedding
Check with your sleepover host whether or not you will need to bring your own bedding. If it's just you, then you most likely don't need to bring your own, but you might like to do so anyway as it's more hygienic and familiar.
If you're going to a sleepover party then you may need to bring your own bedding as your host might not have enough for everyone. Check if you need to bring a foldaway mattress as well.
Rather bring a sleeping bag than a sheet and blanket. If you have a pillow that you like, you can bring that as well, or alternatively, you can just bring a pillow cover.
If you have a favorite blanket, feel free to pack this as well, if you have space.
Clothing & Sleepwear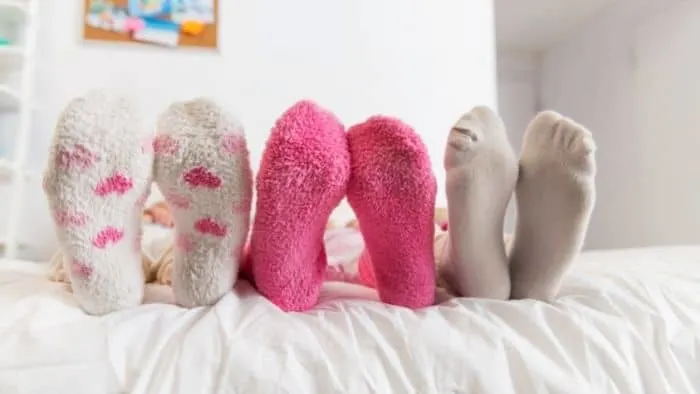 Having a set of clothes to change should be your priority when packing your sleepover bag. You should have a change of clothes for the next day and a lounge set if you would like to get comfortable at the sleepover.
More than your usual day-to-day clothes, you might need to pack extra clothing items depending on the activities you will do at the sleepover. For example, if you will be hanging out in a pool during the sleepover, swimwear is necessary.
Depending on the games and activities you have planned for the sleepover, you may need extra clothing to match the vibe. These can be costumes you may have already, or you may need to stop by the stores to buy some. Plan ahead to ensure you have each piece of clothing to join in all the fun activities.
Here are the different clothes your overnight bag should have:
Underwear (undies, bras)
Sleepwear
Extra pair of socks
A change of clothes
Swimsuits
Loungewear
When packing clothes for a sleepover, the best way to save on space is to fold them together according to how you will wear them. For example, if you will be away for a few nights, roll together each day's outfit to ensure you stay organized all through.
Watch this useful video on what to pack for a sleepover:
Toiletries & Bathroom Items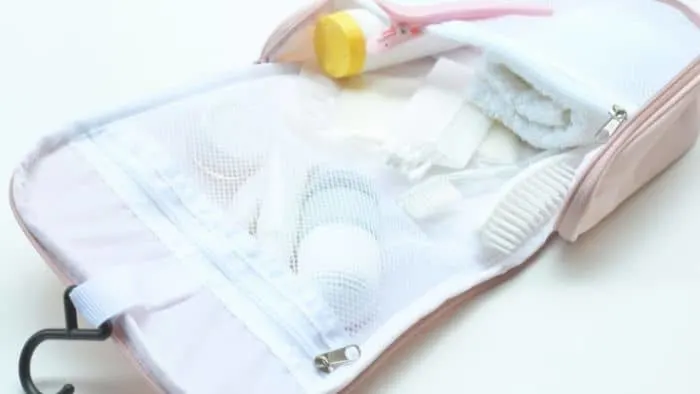 You will need essential bathroom items to use during your sleepover. The items you carry will depend on your usual needs and what you use daily. Whatever that is, there are a few non-negotiable when going for a sleepover.
These are:
Toothbrush
Toothpaste
Towel
Retainer (if you wear a retainer at night)
Deodorant
Hairbrush
Hairbands or clips
Hair products like gel
Lip Balm
Body lotion
Menstrual products- pads, tampons, panty liners, etc.
Facial skincare products- Cleansers, moisturizers, sunscreen, etc.
A toiletry bag to organize everything
Hanging Travel Toiletry Bag
The best way to figure out what to include in your toiletry bag is by picturing what your get-ready sessions include. Remember, you will need to get ready for bed and in the morning after the sleepover.
Consider all the items you need for a comfortable stay through the night and before leaving. If you wear make-up, it will be necessary to carry your make-up cleansing wipes. You may also need to take a few make-up items for the next day if need be.
You may feel the need to share some of these items with your friends, but the bathroom and hygiene products are strictly personal. Pack small bottles of cleansers and soaps you may need, get your own make-up and brushes, and pack a bag of hair products and tools.
Medications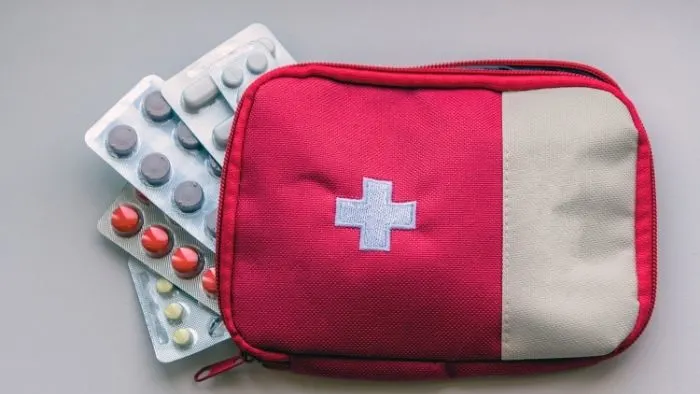 You cannot predict when you will need to pop some painkillers, so it's always safe to have some medications with you.
Pack a small emergency bag with a painkiller like ibuprofen or paracetamol. You could also include an antihistamine that can come in handy if you are prone to seasonal allergies.
If you take medication daily, pack a few for the time that you will be away. Have medication you regularly take (like an inhaler) since you might need them while away.
Be sure to notify the host of any health issues you have to handle any emergency that might arise.
When packing medications, ensure you keep them in a well-sealed bag. The last thing you want is to mix your medication with items such as cleansers and lotions. A Ziploc bag should be good enough to keep the medication safe.
Food & Snacks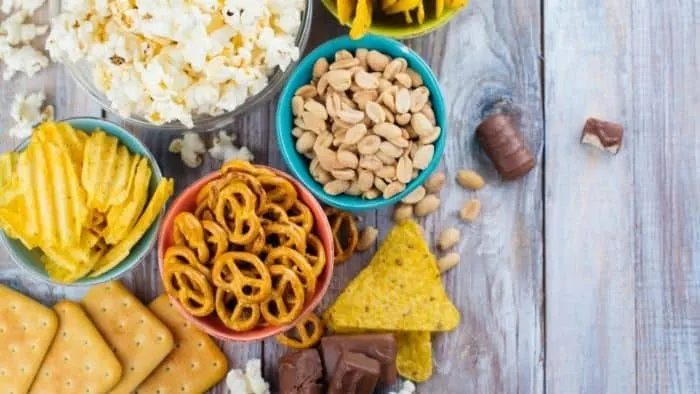 A must-have for every sleepover is a wide selection of food and snacks. You can pack a few to share with your friends and keep a few in your bag for when hunger strikes in the middle of the night.
Some snacks options are:
Potato or tortilla chips
Flavored popcorn
Crackers
Trail mix
Frozen yogurt
Ice cream
Cupcakes
Chocolates
Fruits
One thing you need to consider when packing snacks is ensuring you are aware of your friends' dietary restrictions.
You can plan ahead of time and pack food items that everyone can enjoy or ensure you have a few options to share.
Also, do not forget the drinks; you will need them. You can pack some lemonade, soda, fruit juice, or water. If you are planning a sleepover with your friends, consider meals for breakfast the next day. After a night of fun and games, you will need something to start you off the next day.
Gadgets & Chargers
As fun and engaging as sleepovers are, you still need to stay connected and communicate with your folks. That means having your cellphone charged all through. Even so, you will need to carry your charger, especially if you will be playing games on your phone.
If you are taking a laptop with you to your slumber party, do not forget its charger. You might also need to carry an adapter to ensure the sockets are compatible with your devices' chargers. Check ahead of time to ensure you pack every device you will need.
Games & Activities
You'll also want to plan some fun things to bring to a sleepover. It helps to have an idea of the games and activities you intend to play. You may need to bring some items which will require you to plan ahead of time.
Examples of items to pack are:
Camera
A make-up kit
Movies and TV shows
Crafts sets
Skincare products such as face masks and scrubs
Painting supplies
Tie-dye kits
Nail polish sets – try these DIY Galaxy Nails at your next sleepover
The items you pack will depend on the games you will have agreed on with everyone involved. You can pack a few extra items from the agreed checklist. You might need more games to keep the fun night going, so having extra will be valuable.
An excellent way to figure out the games and activities you will enjoy is by considering everyone's interests. If you all enjoy board games, you should pack a set or two of them. If you like binging on movies, it makes sense to have a collection of shows you can watch together.
Emergency Items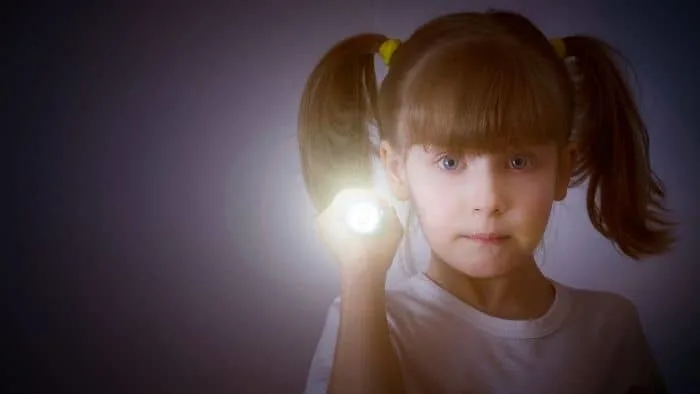 Emergencies are unforeseen, and even if you can never be fully prepared for them, you can pack a few things to handle them better if they occur. Some basic emergency items you should have in your overnight bag include:
A small flashlight – these glow-in-the-dark flashlights are perfect
Cash
Water bottle
A list of telephone numbers
A history of the routes you take
Feminine products
You may need to put together a small first aid kit, especially if you will be away for a few days. These are some of the most critical items to include in your first aid kit:
Band-aids
Ace bandages
A thermometer
Alcohol swabs
Petroleum jelly
Tips For What To Pack For A Sleepover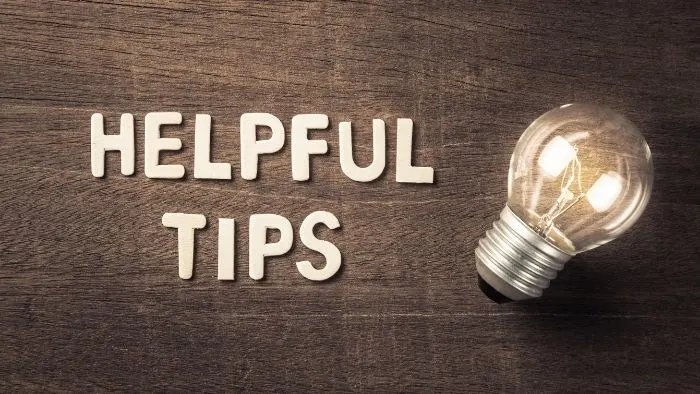 Ask your host what you will do at the sleepover so that you can pack the necessary items.
Use a checklist to ensure you pack everything you need.
Try not to overpack or pack large items that are not necessary.
Avoid last-minute packing. Pack some time in advance to ensure you don't forget anything while rushing to get ready.
All the necessities should be packed in a bag large enough to hold them. Do not try to stuff your stuff into a small bag. A tote bag or overnight bag is perfect for a sleepover.
Roll your clothes up together for each day that you're staying over.
Pack your toiletries and medication in separate toiletry bags.
Bring a dry bag for your swimming costume and towel.
Bring a flashlight in case you need to go to the bathroom at night or need to find something in your bag.
Make sure that your phone is fully charged, and don't forget to bring your charger.
Ask if you can bring snacks and drinks.
Pack smaller games like Uno rather than large board games like Monopoly.
Bring a small first aid kit for minor scrapes.
Don't forget to bring your personal hygiene items and hair products.
If you're allergic to animals, check with the sleepover host, and bring your antihistamines.
Don't worry if you've forgotten something. Most likely, you can borrow from your friend.
Respect your host by being polite. Bringing a small gift for your host like chocolate is also a nice gesture.
If it's your first sleepover, just relax and have fun.
One More Important Tip
The last thing you want is for your child to leave something important at their friend's house, like an inhaler or phone charger! Write down all the items they've packed and place the list in their backpack. In this way, they can ensure that everything has been repacked before they return home.
Last Tip
Be prepared for very little sleep. Although some parents are more strict when it comes to bedtimes, even at sleepovers, most kids will stay up much later than usual.
Don't push staying awake, though. If you're tired, then close your eyes and know that you'll feel better the next day after having had at least some sleep.
It's best not to plan anything for the following day as you'll probably be quite tired and just want to chill at home.
What To Bring To A Sleepover Related Questions
What To Pack For A Sleepover With Your Best Friend?
Here is a brief checklist of what you should carry:
A change of clothes and pajamas
A toiletry bag with all hygiene products you need
A few snacks for the night
Some games or activities you both love doing
Chargers for your devices
What To Pack For A Sleepover With Your Boyfriend?
Packing for a sleepover with your boyfriend may call for more items than other sleepovers. Here is a list of things you need:
A few clothes to change, including underwear and pajamas
Toiletry products- deodorant, cleansers, hair shampoo, toothbrush, toothpaste, lotion, razor, hairbrush, and hair ties.
Make-up and make-up removal products
Breath mints
Phone and charger
Feminine products like tampons, panty liners, etc.
If you're of legal age and in a consensual sexual relationship, then don't forget to bring contraceptives.
What To Pack For A Sleepover At Your Grandma's House?
Time with grandma is valuable, so you want to be as comfortable as possible.
You can pack everything from usual sleepovers but do not forget your favorite pajamas.
Also, pack your grandma's favorite snack that you can share as you catch up.
Do You Need To Pack A Towel For A Sleepover?
If you have space in your bag, it's always a good idea to pack a towel. You can use it for your shower or swimming.
However, you can always ask if it's necessary. Most families will have an extra towel for you, but if many kids are sleeping over, it may be a good idea to bring your own.
Do I Need To Bring Money To A Sleepover?
Generally, you won't need to bring money if you're staying over at someone's house. However, if they've planned an outing to the cinema or going out to dinner, then it's always polite to offer to contribute. Packing $20 for emergencies is always a good idea.
What To Pack For A Sleepover Summary
Packing for a sleepover can be a breeze with a checklist. Planning ahead of time will help you put together everything you need, ensuring a comfortable and stress-free sleepover. The items you need might change depending on the nature of the sleepover, but the checklist above is applicable regardless of the location or the company.