Sometimes we feel sad, depressed, angry, lonely, etc. We may feel like we're all alone and that no one cares or understands what we're going through.
Writing a letter of encouragement to a friend who is feeling down can help lift their spirits. It reminds them that others go through tough times as well and that they aren't alone.
Teens might be struggling with a breakup, social rejection, or dealing with the pressures of school. Studies show that words of comfort and support can help reduce depression symptoms.
I'm going to share a few examples of letters of encouragement to a friend that you can use as a guide to helping your friends get back on track. I hope you find them helpful.
Inspirational Letter to Someone Going Through a Difficult Time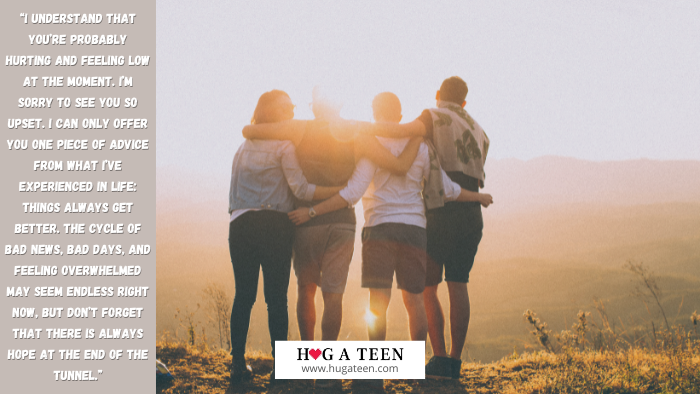 Dear Friend,
Recently, I learned of your situation, and I am so sorry I have not been there for you during that time. I want to let you know that we're all here for you and that everything will get better, however long it may take.
I understand that you're probably hurting and feeling low at the moment. I'm sorry to see you so upset. I can only offer you one piece of advice from what I've experienced in life: things always get better. The cycle of bad news, bad days, and feeling overwhelmed may seem endless right now, but don't forget that there is always hope at the end of the tunnel.
Never hesitate to WhatsApp me, call me, or FaceTime me if you ever need help or just to vent. While I won't be able to take away the pain, talking about it or talking to someone can distract you from the situation. Your family and friends are your greatest support system, so if you need anything, just let us know. We are all here to console you and be there for you as your friends.
If people are reaching out to you, they are trying to reassure you that everything will be ok. You may not want to hear it, but they are there for you and will do anything to assist you. Do not ignore them or push them away.
Sending lots of love and strength,
Your friend
Spiritual Letters Of Encouragement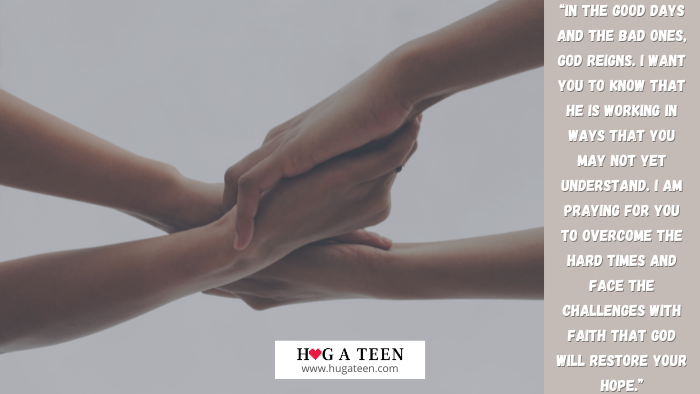 In the good days and the bad ones, God reigns. I want you to know that He is working in ways that you may not yet understand. I am praying for you to overcome the hard times and face the challenges with faith that God will restore your hope.
When things get hard, it is not unusual to dwindle in faith and hope; in those times, it is okay to ask for help. I am here to help you pray and encourage you as you go through this challenging phase. You are not alone and can count on me to support you in my presence and prayer.
May God fill your heart with peace and comfort and give you faith to believe that brighter days are coming. Remember, God will never leave you and sees everything you go through. Stay strong in faith and trust that this is just a passing cloud.
Being sensitive and emotional is okay, and you should never apologize for it. Showing and expressing your emotions is a sign of strength more than weakness. Embrace all of them and own up to how you feel; it is all part of the process of growth.
I'm here to support you in any way you need, so please reach out and let me know how I can help.
Letter Of Encouragement To A Friend Feeling Down