I've rounded up some of my favorite easy eyeshadow looks with step by step instructions and video tutorials.
If you're looking for an easy and natural look then this beginner's guide to eye makeup has step-by-step instructions for simple eyeshadow looks that you can do.
Alternatively, if you're wanting to try a more dramatic smokey eye, there is definitely a look for you to copy and be inspired by.
Follow these best practice tips to get great results with your eyeshadow look.
Blue Smokey Eyeshadow Look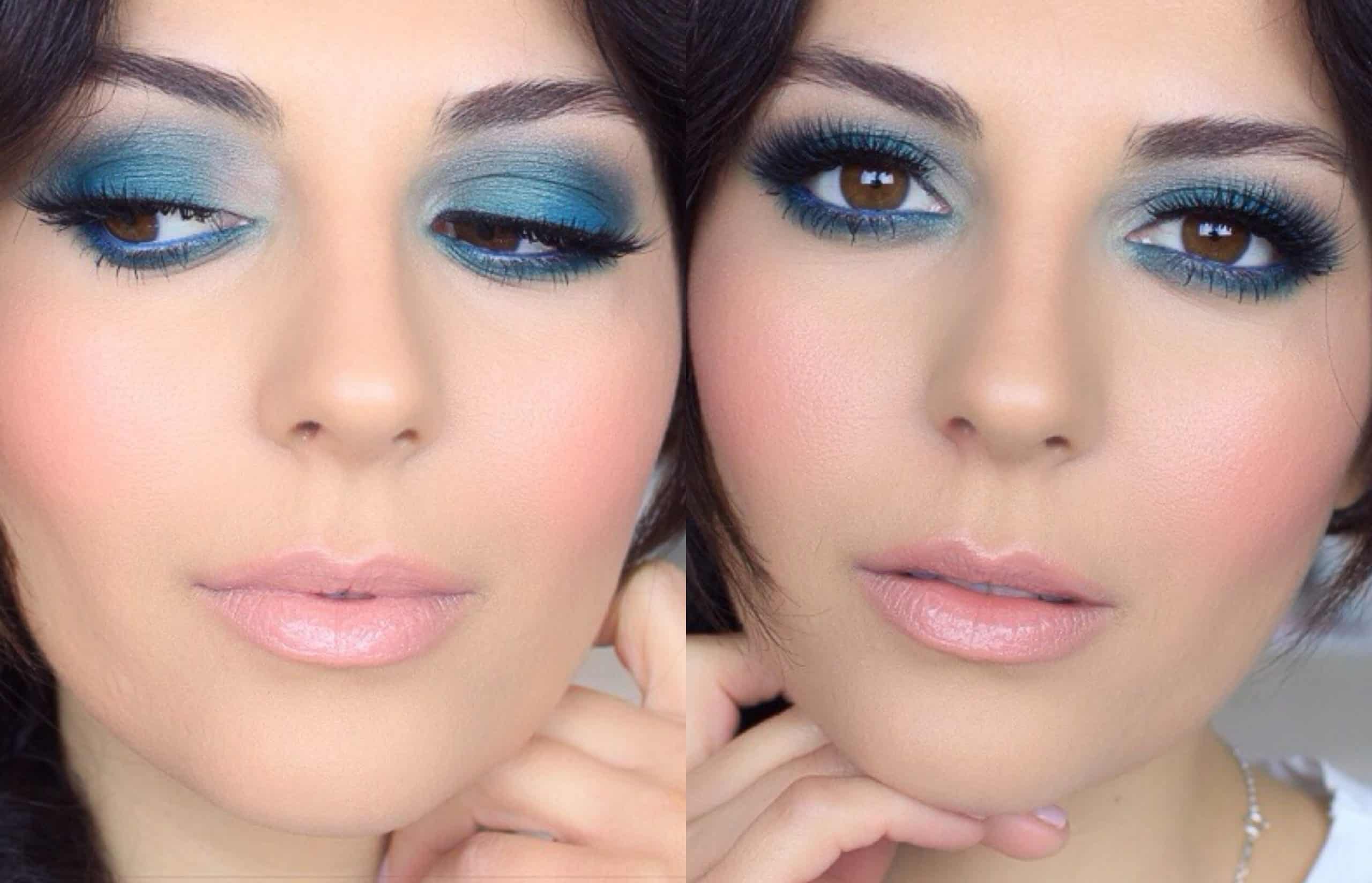 One of the trendiest looks to wear is a smoky eye.
In this tutorial you get to decide what kind of blue you want – whether it's a vivid hue or a more subtle tone.
Would you like to blend a blue with a subtle tone like white, but do you feel that the contrast between that and your favorite blue is just too stark for the look you're likely to achieve?
Then you might consider using a very light shade of silver or matte gray instead!

Products You'll Need To Create This Look
Make-up Brush Set
Changeable Eye Shadow Pallete
Betty-Lou Manizer Bronzer
MAC Pro-Long-Wear Concealer – NW20
Sweet Heat – Eyeshadow Highlighter
Urban Decay Potion Primer
Purple Eyeshadow Look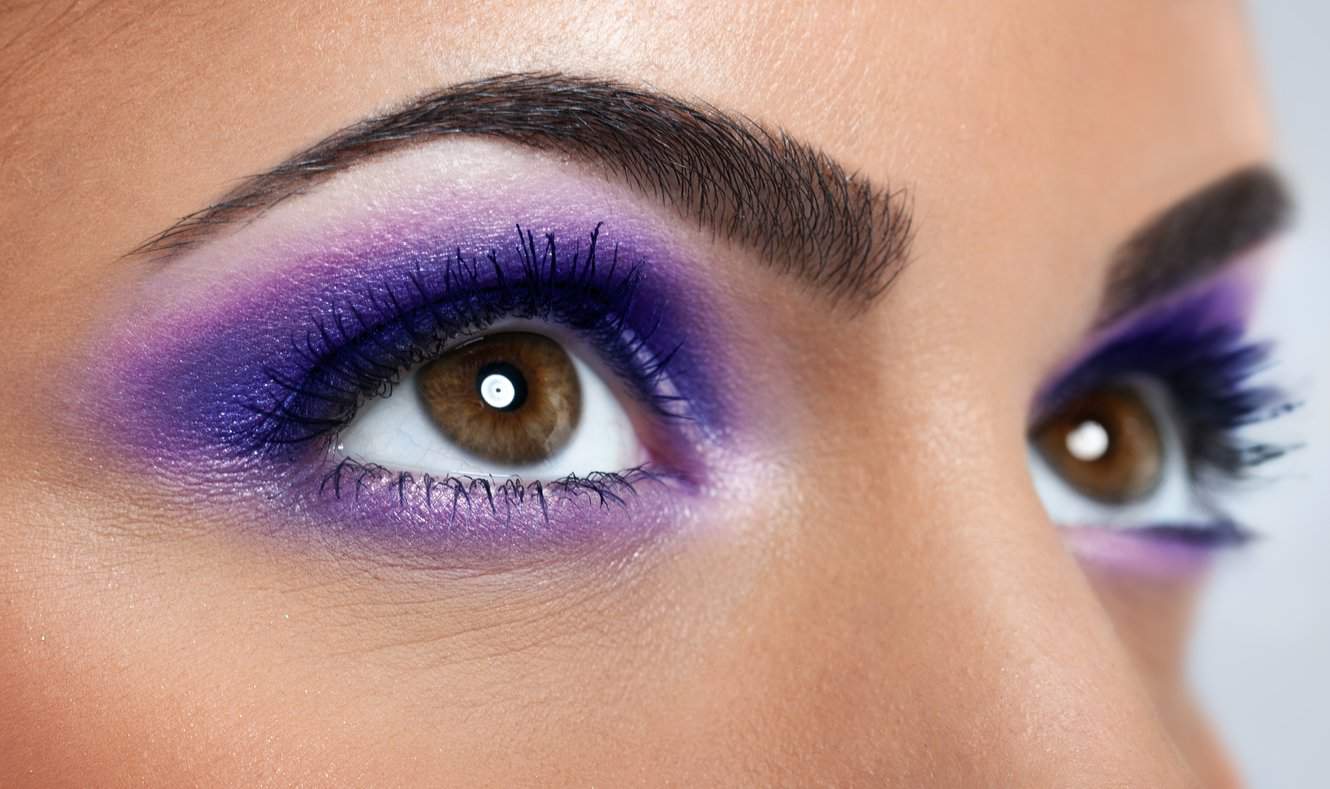 Occasionally, you want something bright, dazzling and pretty, and this look covers them all.
If you've been wondering how to create a purple eyeshadow look, then stick around. This purple eye makeup look is fresh and bold.
Once you've mastered the lighter and more subtle shades of your palette, wearing brighter colors becomes easier to master.
Purple Eyeshadow Palette
Easy Pink Eyeshadow Look
mamabella

In order to create the perfect pink eyeshadow look, you need to choose a shade that is complementary to your skin tone and eye color.
It is easiest to achieve a pink eyeshadow look by either choosing a matte pink shade, or opting for a shimmery pink shade allover.
Increasing the vibrancy of a pink eyeshadow can make it a more dramatic statement during a nighttime event, or you can also apply the color underneath your lower lashes to make your look more dramatic.
Pink Eyeshadow Palette
Natural Eye Shadow Look
merakilane

Natural eye makeup is timeless and never goes out of style.
You can embrace your summer look with just a few eyeshadow colors. Stick to a neutral palette that matches your skin tone when applying eye shadow for this easy eyeshadow look.
You can wear this natural everyday eye makeup look whether you're heading to school, working, or just going out for coffee with friends!
Recommended Products:
Eye Shadow Primer
Translucent Powder
Natural Eye Shadow Palette
Orange & Brown Smokey Eye Shadow Look
Orange and brown are two eyeshadow color combinations that look amazing together.
A smokey eye makeup look is also one of those trends that have endured over the years because it adds a touch of glamour to any look, no matter your skin tone or eye color.
You will love this makeup tutorial which involves using these two colors with a smokey effect.
Recommended Products:
bareMinerals Concealer
Prism Supreme Seductress – Eyeshadow Palette
NYX Black Eyeliner
Maybelline Black Mascara
Ardell False Eyelashes
Emerald Green Smokey Eye Shadow Look
belletag


You can wear green tones all year round!
Green smokey eyes are equally sultry as traditional smokey eyes, but with a fun pop of color!
Green eyeshadow shades that lean towards the dark side can be used to complete a smokey eye or you can add a touch of black to deepen your green tones for a more dramatic look.
Even though emerald colors are usually a more suitable eyeshadow look for brown eyes, this tutorial shows that it can work with any eye color.
Gold Smokey Eye Shadow Look
The warmth of gold contrasts nicely with the cool metallic giving the eyes a dramatic effect, and is a great eyeshadow look for brown eyes.
To achieve this look, first apply gold eyeshadow on the lids, followed by dark eyeshadow on the outer corners.
After everything has been blended seamlessly, you can apply more gold eyeshadow if you wish.
The results are stunning!
Recommended Products:
Maybelline Fit Me Concealer
Too Faced Matte Eye Palette
Catrice Chocolate Nudes Eyeshadow Palette
Nyx Noir Liquid Black Liner
Fall Orange Eyeshadow Look
This tutorial shows you how to use orange, red, brown, and gold tones to create an amazing look for fall.
This sunset inspired eyeshadow look is also great for Thanksgiving and even Halloween.
When combining several colors, always take time to blend them together using a good quality blending brush.
Add some stunning false eyelashes to complete your fall look.
Recommended Products:
Wet n Wild Eye Shadow Palette
Real Techniques Eye Shadow Makeup Brush
Sigma Blending Brush
Winged Liner Brush Set
Newcally False Eyelashes
Neutral Smokey Eye Shadow Look
thewonderforest
Video URL: youtube
There are a few good reasons why neutral makeup looks are so popular.
As well as being easier to execute than bright and bold makeup looks, they can quickly deliver a sultry and sophisticated finish.
Using shimmery shadows will result in a more evening appearance. For daytime light, keep it matte and flat!
Best Pro Eyeshadow Palette – Matte & Shimmer
Metallic Silver and Purple-Grey Eye Shadow Look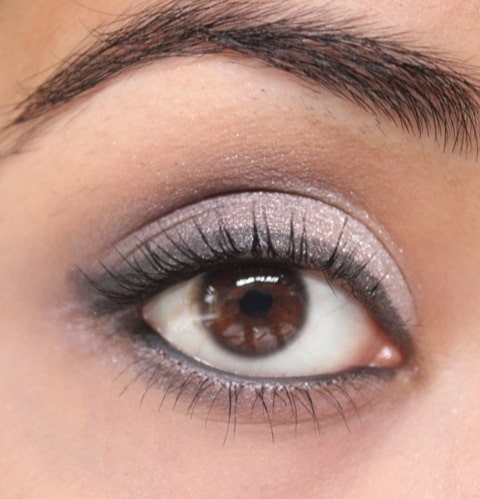 There are numerous ways and color combinations to create the perfect smokey eye.
However, a dark eyeshadow and strong mascara are essential for all smokey eyes.
This tutorial makes it easy to customize bright, bold, soft, and shimmery styles.
Midsummer Bronze Eye Shadow Look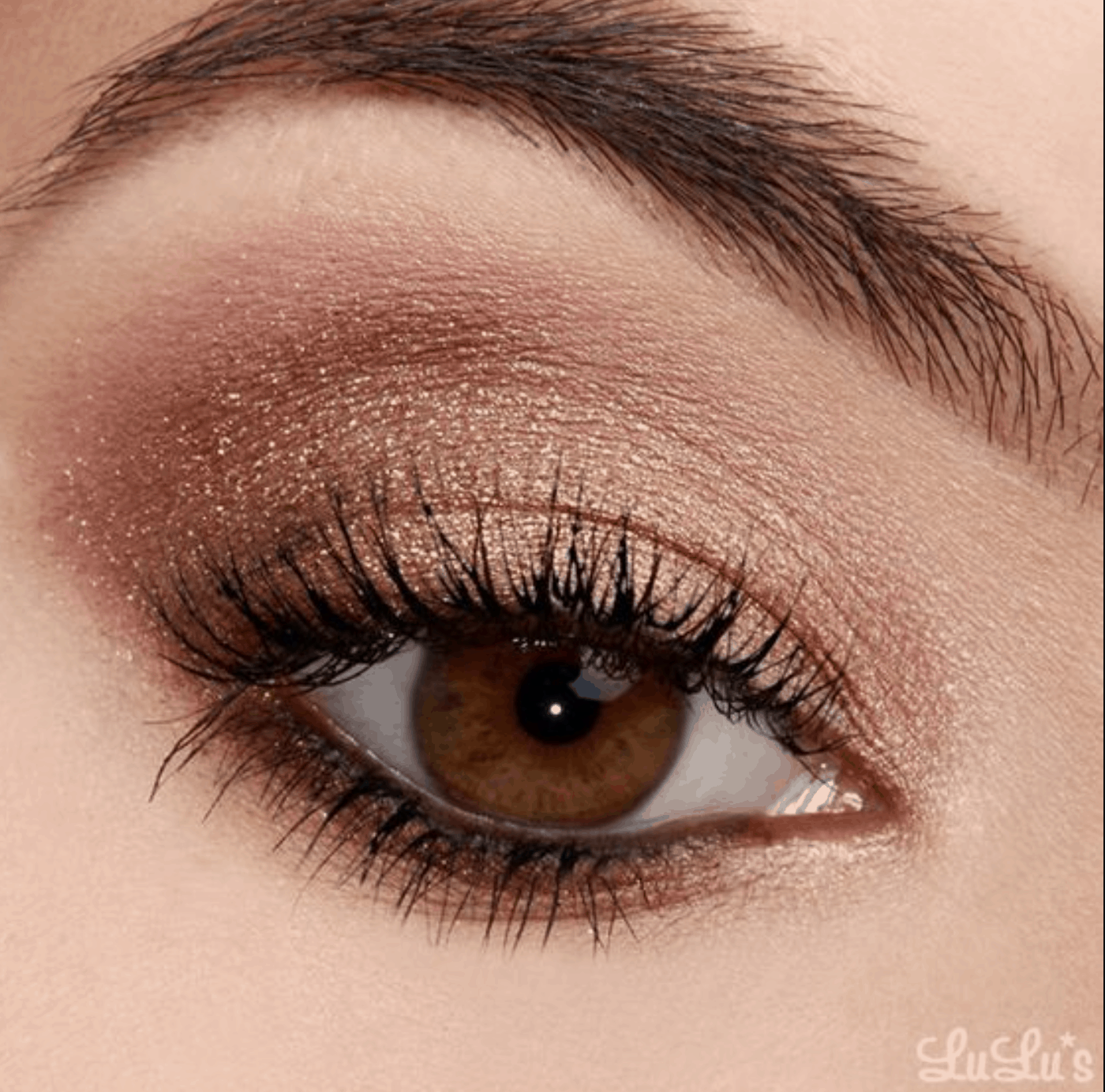 Beautiful summer eye makeup looks for brown eyes, like the image above, incorporate warm eyeshadow colors like copper, gold, and bronze.
You can also achieve a similar look with eyeshadows that have a shimmery finish, to brighten up your eyes and make them sparkle.
Keep the lashes simple and use brown eyeliner on the waterline.
Rainbow Inspired Smokey Eye Shadow Look
Make up is all about experimenting and expressing yourself. Have fun and play around with different colors.
This tutorial must be one of my favorites as it shows you how much fun you can have playing with all the colors of the rainbow.
The the step-by-step instructions show you how to start with the lightest color yellow, then blend in orange, pink, purple, blue and green.
Recommended Rainbow Color Palette – NYX Professional
Fall Dark Red Eye Shadow Look
If you're obsessed with dark, smoldering eyes, this tutorial is perfect for you.
Using the morphe 35b eyeshadow palette, this video tutorial will show you how to pull off a red eyeshadow look with ease.

Navy and Plum Smokey Eye Shadow Look
A smokey eye is always sultry, but it becomes something special when you pair it with navy and plum!
Make sure you apply mascara to both the top and bottom lashes to complete the look!
Mermaid Eye Shadow Look
This amazing video tutorial will how you how to create an absolutely gorgeous mermaid eyeshadow look.
Combining blues. teals, purples and aqua shades with a statement lash, you'll soon be showing off this look yourself.
Metallics, glitter and shimmery eyeshadow will also make your eyes pop.
These mermaid colors are a stunning eyeshadow look for blue eyes and brown eyes you can see in the video above.
Mermaid Eyeshadow Palette
NYX Mermaid Glitter Eyeshadow
Mermaid Colorful Makeup Brushes
Black Eyeshadow Look
For a serious statement look why not try a black eyeshadow look with a smokey eye. This video tutorial will show you step by step how to apply black eyeshadow for beginners.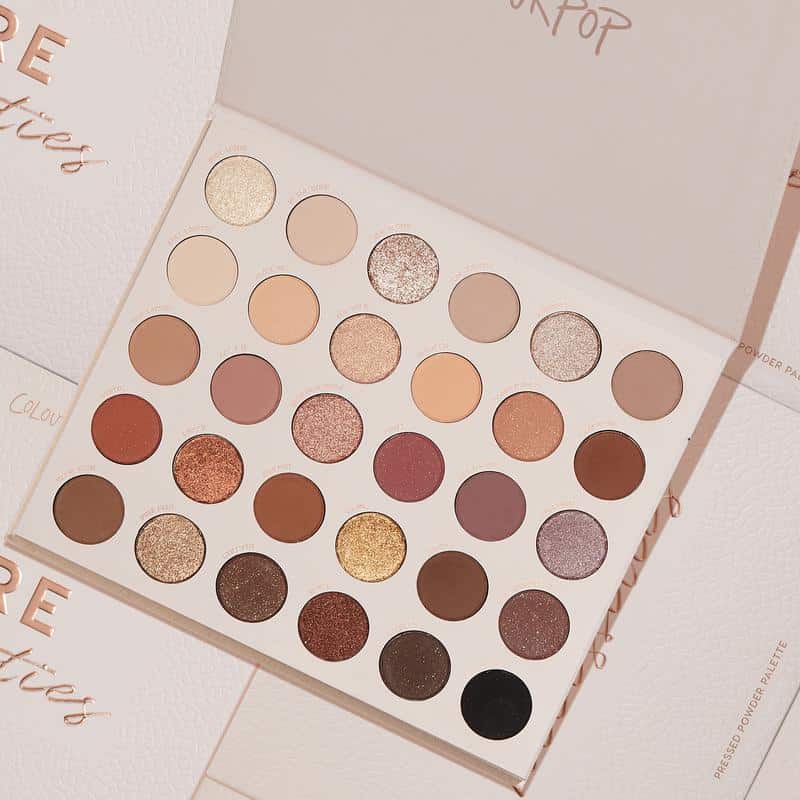 Frequently Asked Questions
Do you put foundation on eyelids?
Putting concealer or foundation on your eyelids as a base, could cause your eye makeup to crease.
There are eyeshadow primers specifically formulated to act as a primer or base for your eyeshadow to adhere to, so rather use these.
Alternatively, you can also prep your eyelids with a matte base shadow that matches your skin color. Apply the eyeshadow all over your lids and up to the brow bone.


Should you put eyeshadow under your eyes?
You don't have to put eyeshadow under your eyes, but you definitely can. If you line your lower lashes with shadow, you get a softer definition than you would with a typical liner.
How do you apply eyeshadow to hooded eyes?
Applying eyeshadow to hooded eyes incorrectly can make them look even more droopy or closed.
Follow these steps to apply eyeshadow correctly to hooded eyes:
Use a really good crease proof primer
Powder that down with a good translucent powder
Don't place your transition color directly in your crease. Rather place the blending color just above the crease, basically creating a fake crease that's higher than your real crease. This gives the illusion of making your eye much wider and much more open.
Don't fill in the inner corner along the crease line either, but pull the color in a straight line towards the bottom of your brow. Again this opens the eye up a lot more.
Don't blend any darker colors downward in the outer corners of your eyes. Rather sweep your eyeshadow outwards and upwards towards the top of your brow.
Apply deep shades only in the outer corner, and not all over your eye. Light colors in the inner corner will make your eyes seem much more open as well.
Don't apply highlighter to the entire browbone, but only right under the brow line.
Use a think line of eyeliner so that you can still see some of your eyelid.
Don't add a dark color in the waterline, rather use dark in the outer corner only and lighter color to the rest of the waterline.
Watch this amazing video where she shows you the do's and don'ts when it comes to applying eyeshadow to hooded eyes.

How do you apply eyeshadow for beginners?
As with anything in life, the more you practice, the better you will become at any task. The best way to learn to apply eyeshadow to your eyes, is to practice. Watch loads of videos and try the different techniques on your eyes. There are many different eye shapes, so not every tutorial will work best for you. Play around with different colors and looks to see what you love best. Remember, it's only make-up and you can wash it off and start again.
Always use the best products that you can afford.
Get a good primer, some good brushes and a color palette that you like.
Remember to start with lighter colors and build up your layers and blend them together well.
Define your crease – or create a fake crease by using a darker color in the outside of your eyes.
Practice and have fun!
Watch this great beginner eyeshadow tutorial below:

What is the best eyeshadow palette for beginners?
It's probably best to start with a more neutral and natural palette.
Be sure that your palette has a lighter shade that you can use on your browbone.
It should also have a transition shade that is slighter darker than your natural skin tone. You will use this as the base color all over your eye.
Lastly, you want a darker shade as the crease color.
The above video also shows you which colors to use for your highlight, transition and crease shades from different palettes.
What's the difference between matte eyeshadow and regular eyeshadow?
There are many different types of eyeshadow with matte being the most used as a base or regular shadow. Matte finishes don't have any shimmer or glitter in them.
As opposed to cream eyeshadows, mattes tend to be more pigmented, which results in better coverage and blending.
It is important for mature skin to use matte eyeshadows as they add dimension without highlighting fine lines on the lids.
How do I know what skin tone I have?
According to Colorescience you can determine your skin tone by looking at your veins beneath your skin on your arms.
In natural light, check the appearance of your veins beneath your skin. If your veins appear blue or purple, you have a cool skin tone. If your veins look green or a greenish blue, you have a warm skin tone. If you can't tell whether or not your veins are green or blue, you probably have a neutral skin tone.
What Color eyeshadow suits my skin tone?
Blue-based eye shadows work best with skin with cool undertones.
Natural earthy eye shadows work best with skin with warm undertones.
Most colors work well with neutral undertones, so consider wearing colors that compliment your eyes and hair.
Do you apply light or dark eyeshadow first?
Always start with the lighter color over your entire lid. Blend in your darker colors from the outside of your eye, and the darkest in your crease. You can add highlight color to the browbone and center of your eyelid in the end.
How do you keep glitter eyeshadow off your face?
Always prep your eyelids with primer to help the eyeshadow stick to your yes and prevent fallout.
Tap off excess eyeshadow.
Apply and blend your matte eyeshadow first before adding glitter eyeshadow.
You can also dampen your eyeshadow brush and dab it onto your eyelid before applying your glitter eyeshadow to help keep it in place.
Place translucent powder under your eyes so that you can easily wipe any fallout away with a fan brush when you're done applying your eyeshadow.
Finish off with a setting spray to keep the glitter eyeshadow in place.
What should I use to apply eyeshadow?
There are several different brushes that you can use to apply eyeshadow.
Basic Eyeshadow Brush to apply all over eyelid
Small Eyeshadow Brush for apply eyeshadow under the lash line
Blending Brush to brush out harsh lines and creating a smooth transition between shades.
Get the set
Should you do eyeshadow before foundation?
Many make-up artists will prep the skin and then apply eyeshadow before moving onto applying make-up to the rest of the face. This is mainly done as it's easier to clean any eyeshadow fallout from clean bare skin, then it is from foundation.
However, if you want to apply your foundation first, then you can add concealer and translucent powder under your eyes, before applying your eyeshadow. This makes it easier to sweep away any eyeshadow fallout with a fan brush without smudging or messing up your foundation.
Should eyeshadow go up to your eyebrow?
Generally it's best to not take your eyeshadow all the way up to your eyebrows. Rather add a lighter shimmer or highlight color just under your eyebrow to make it pop.