We're counting down to Halloween, so it's time to start planning our costumes. Instead of going solo, why not team up with your best friend or partner and dress up together?
Finding or creating the perfect Halloween costumes involves a lot of creativity, and that's what makes it all so exciting. Even more so when you have your best friend helping you plan your costume.
You can come up with cute Halloween costumes for best friends based on all kinds of ideas, from your favorite movie or TV show characters and icons to culinary staples, scary characters, or you can even turn a pun into a witty costume.
Choosing the best costume every year might seem like a grueling task, especially with the thousands of options available. If you and your best friend aren't sure what to be this Halloween, here are a few suggestions to help you choose.
Are you ready for the spookfest? Take a look at these clever Halloween costumes for best friends.
🎃 You might also enjoy reading:
TV Show Halloween Costumes For Best Friends
'Money Heist' Characters
Fans will love dressing up as the crew from Money Heist since the outfits are so easy to wear all night long. It only takes a red jumpsuit and a mask for you to complete the look. Easy peasy!
The Money Heist in and of itself is not a horror show. Thrilling? Maybe. Creepy? Not really. But you're bound to scare people if you wear these masks on Halloween.
"Game Of Thrones" Daenerys and Yara DIY Halloween Costumes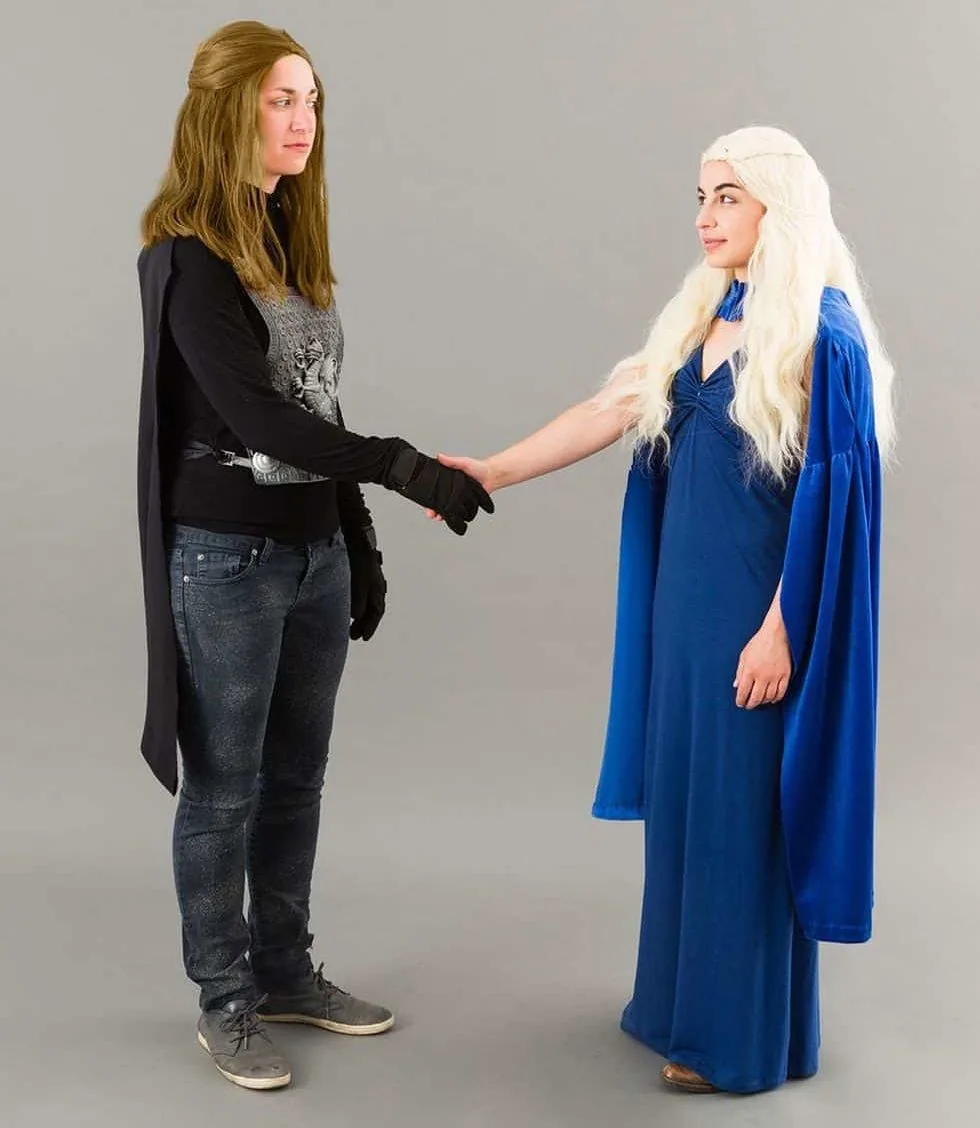 Game of Thrones remains popular even after the series ended. Copy these costumes of Daenerys and Yara from the cult series Game Of Thrones if you want to put on a real show at the party.
"Stranger Things" Eleven & Max Costumes
If you're a fan of 'Stranger Thing's, then you and your BFF might want to channel these '80s gal pals in your best '80s fashion. You will find all 'Stranger Things' merch available online, so you can go costume shopping easily. Costumes can be bought in exact replicas from the series, so they are 100% authentic.
"Riverdale" Costumes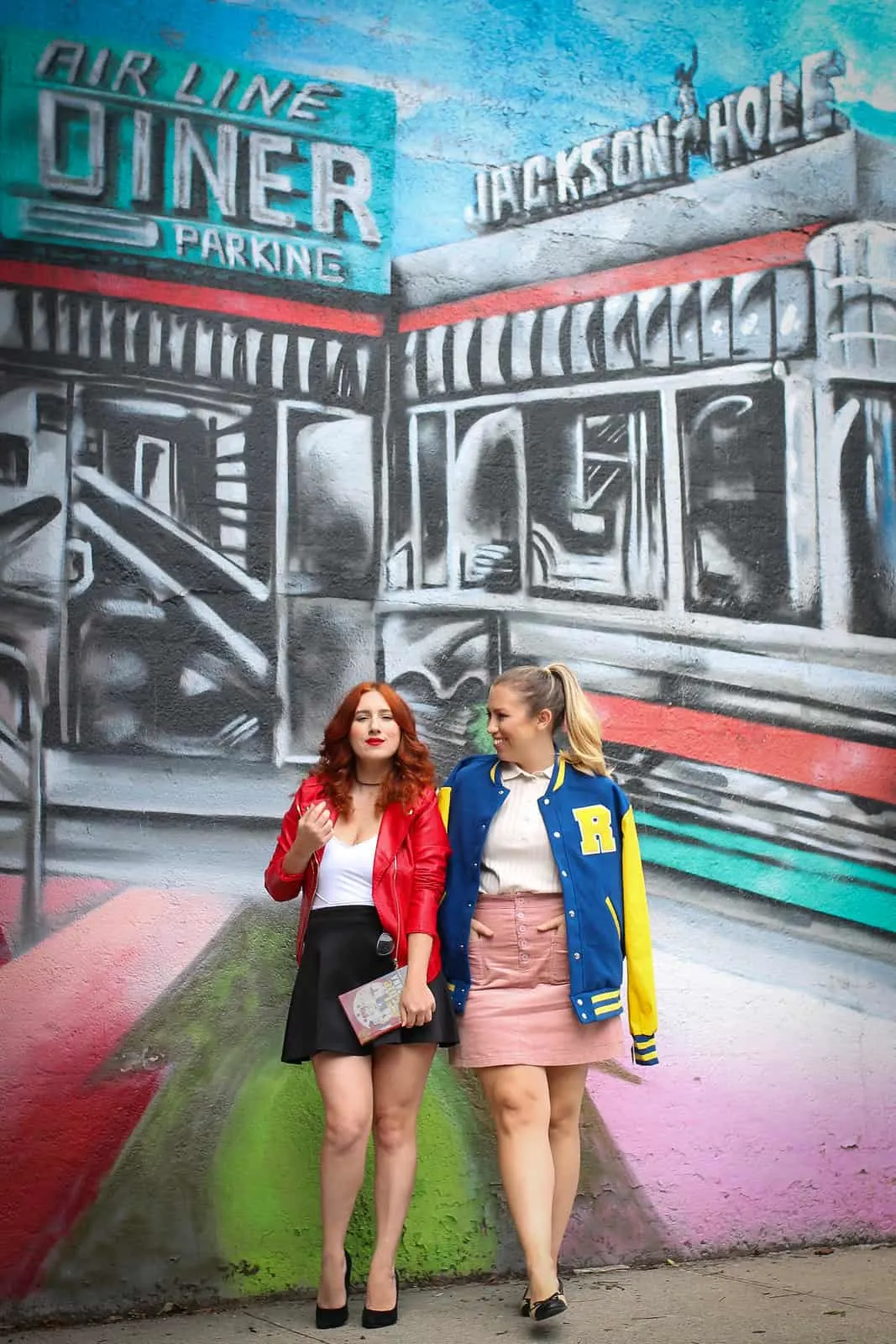 On a holiday like All Hallow's Eve, Riverdale's roots are more than enough to satisfy our modern-meets-retro need! With Halloween just around the corner, it's the perfect time to get into that character's look you've always wanted to try.
Despite appearing like a costume concept for a younger generation, let's not forget that Riverdale is based on Archie Comics, which were published in 1939. Here are some of Cheryl Blossom's and Betty Cooper's looks for Riverdale fans. The good news is that most (if not all) of these looks can be DIYed.
Robin and Steve from Stranger Things
Find your ice cream-loving, mystery-solving partner just like Robin and Steve from Stranger Things. In a similar fashion to the Starcourt Mall, the Scoops Ahoy uniforms will be a big hit.
Movie Halloween Costume Ideas For Best Friends
Anna and Elsa from 'Frozen'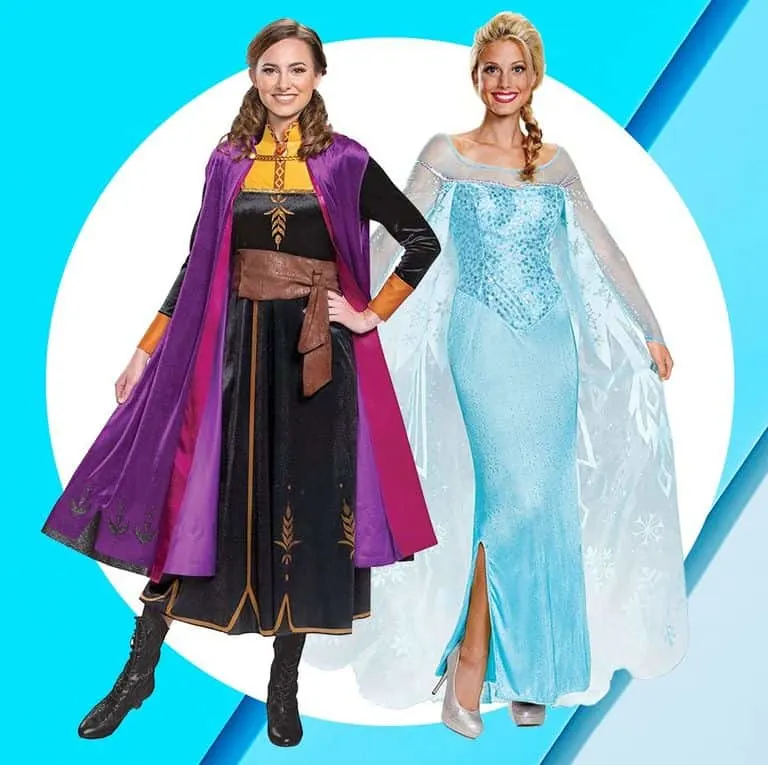 This Halloween, channel these two royal sisters, and your friends will recognize you instantly.
Even if the cold never bothered her, you may want to get these Anna and Elsa costumes to be super cool on Oct. 31.
These disguises are perfect if the weather looks chilly on the 31st, but chances are you won't have to fight off any magical snow. It goes without saying that braids go perfectly with these outfits.
Get to rule Arendelle by wearing a costume that best suits each of your personalities.
Princess Leia & Rey
In the same way we admired Princess Leia for her beauty, so too do we adore Rey.
Bring everyone back to their childhoods this Halloween by dressing up as this timeless classic. You get a chance to wow everyone by bringing your favorite characters to life!
May the force be with you in this cosmic look this Halloween; whether you DIY everything or get an officially licensed costume, you just have to slip on.
Harley Quinn and the Joker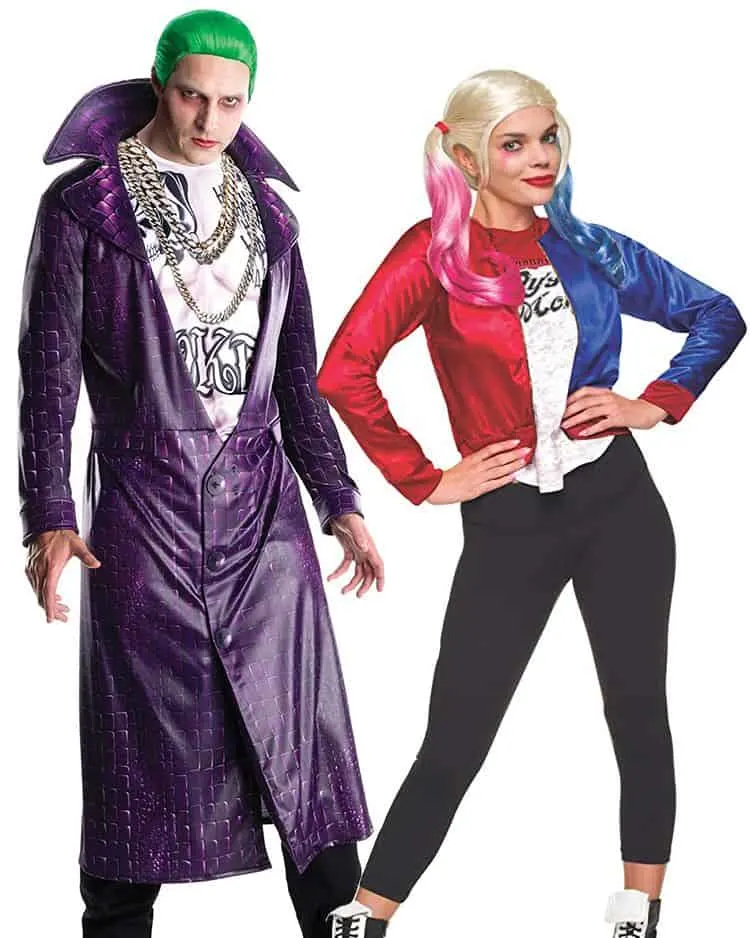 The comic strip legends are frightening, but do you know what's the best part? They go together perfectly.
These costumes will have you looking like Harley Quinn and the Joker from the Suicide Squad – just add a bicolor wig to complete the look!
"Great Gatsby" Costumes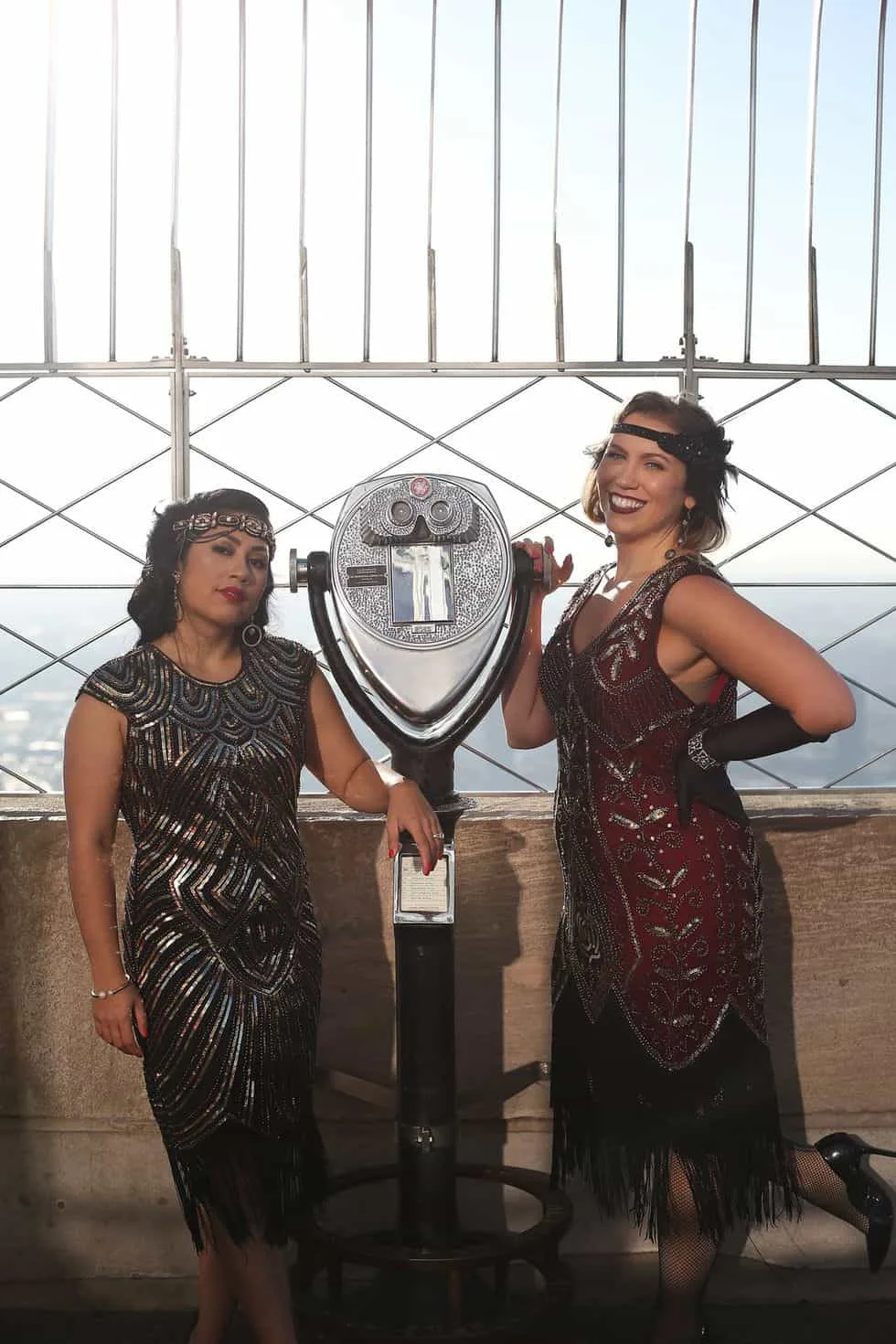 Get dressed to the nines in these 1920s costumes full of glitz and glamour. A Great Gatsby theme would be fun as well.
You can purchase these beautiful 1920s-inspired dresses that are ideal for your next group activity.
They're actually stylish enough to wear to another event too!
A League of Their Own Halloween Costume
This cult classic, now being adapted for Amazon, tells the story of Dottie and Kit. They were among the first women to play in the All-American Girls Professional Baseball League.
Wear A League of Their Own costume for Halloween and hit the home run!
Food Costumes For Halloween
Classic Burger & Fries Halloween Costume
No one will forget these conflict-resolution costumes. Remember when Taylor Swift and Katy Perry appeared on a music video wearing matchy burger and fries costumes that formally resolved their conflict? What a delicious way to show love!
Slay these Halloween costumes and be like these music icons for a day. BFF Forever!
Avocados Pair Costumes For Friends
You and your best friend will have so much fun dressed up as everyone's favorite fruit, whether you're both obsessed with avocado toast, or you're just the perfect duo!
Bacon and Eggs Halloween Costumes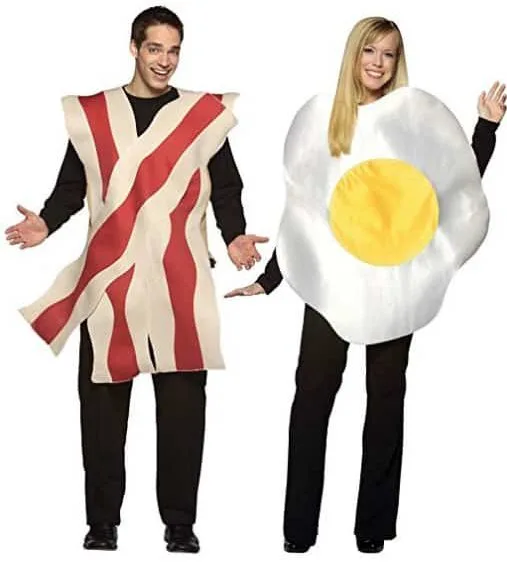 This easy-to-wear breakfast-themed costume is a classic last-minute choice for best friends.
Brunch is already one of your favorite things to do with your BFF. Why not transform your favorite meal into your new Halloween costume?
Salt & Pepper Easy Halloween Costumes
Salt and pepper go together like no other, just like you and your best friend. Wear a matching S and P dress to match your bestie, which can be made easily by combining fabrics you already have with felt cutouts.
Showing up in these salt and pepper costumes with your best friend will definitely add a new twist to the party.
Vegetables Best Friend Costumes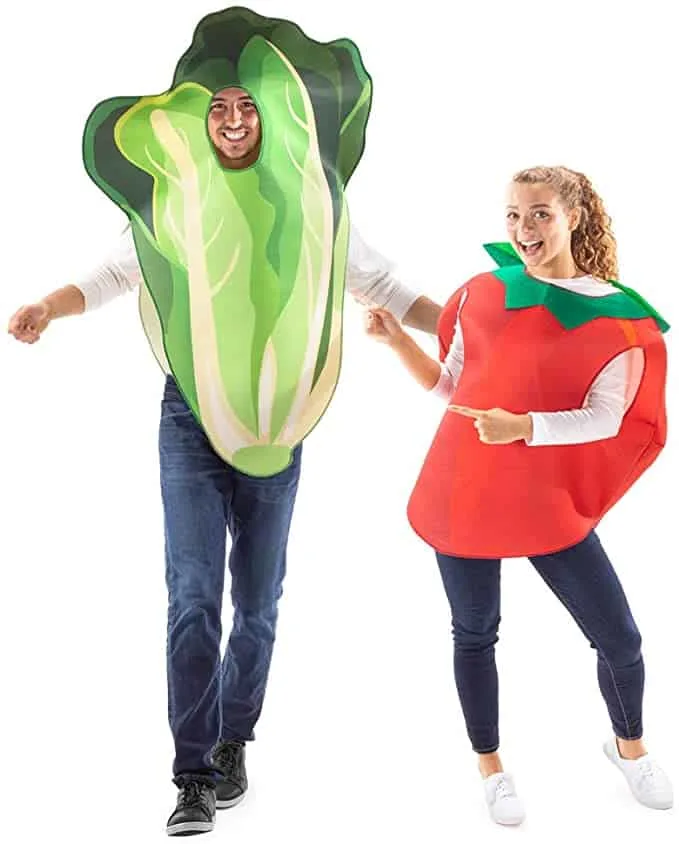 With these colorful veggie costumes, you'll be the joy of the harvest. Wear leggings or tights with heels to jazz up the look instead of low-top sneakers and jeans.
Peanut Butter & Jelly Costumes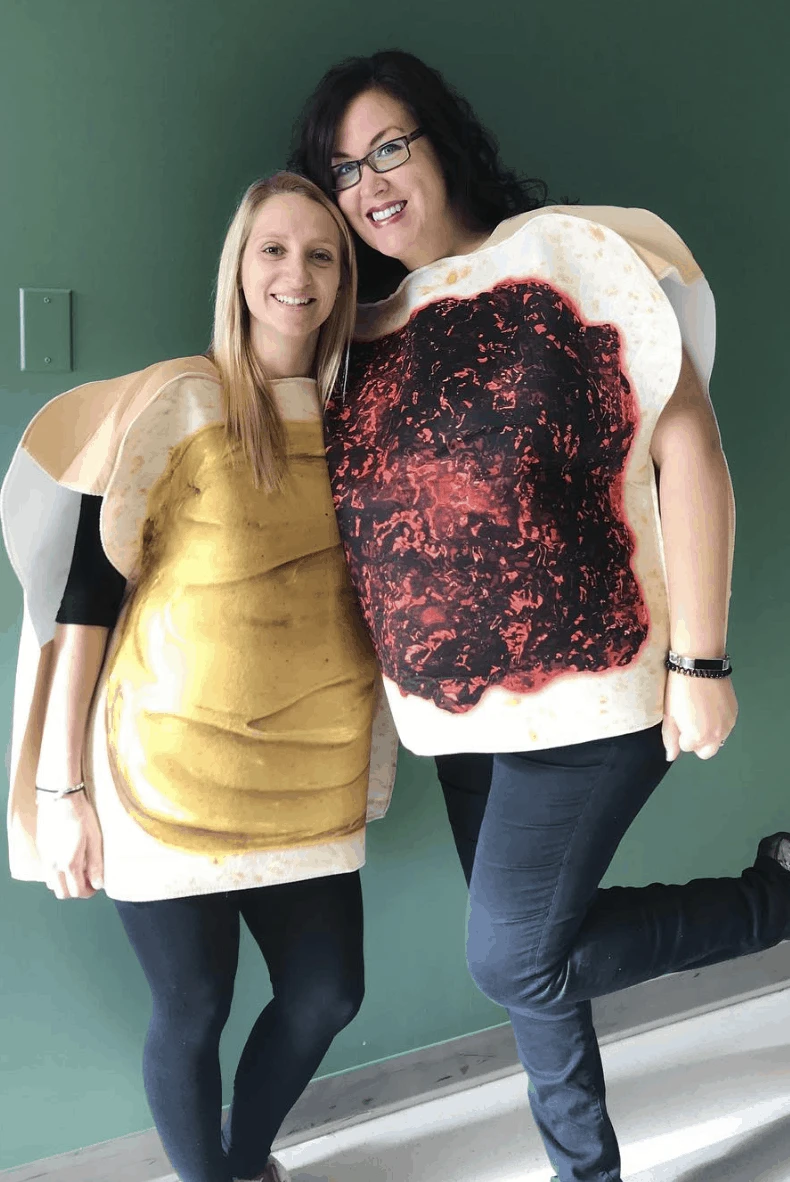 Perhaps only you and your BFF can make a better pairing than PB&J, which is why it makes the perfect Halloween costume for best pals.
Wear all black or all white underneath to keep your look matching. This adorable costume is perfect for you and your best friend if you go together like peanut butter and jelly.
Peas In A Pod Costumes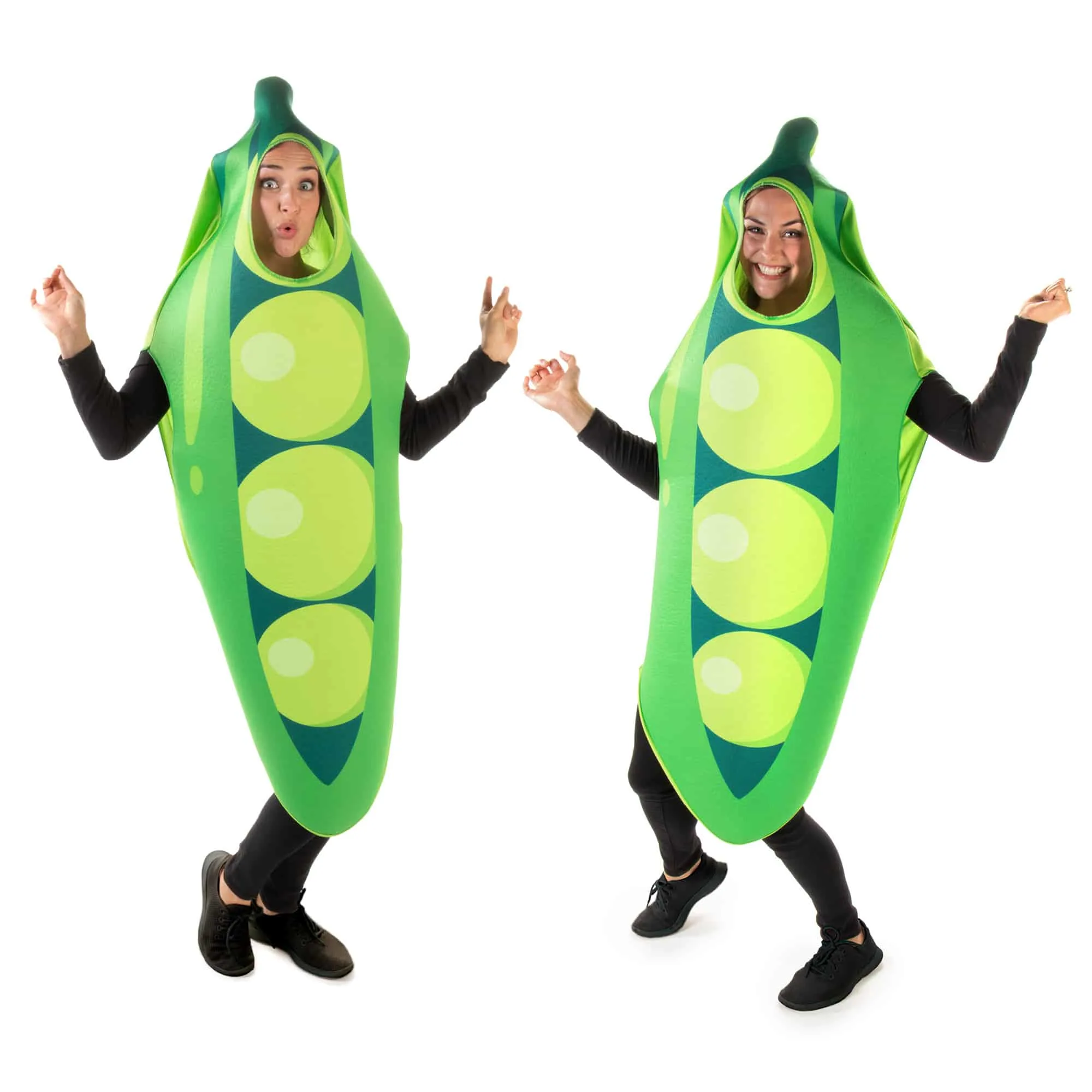 Your friendship has lasted for years now, so show everyone how special it is by wearing this silly matching costume that will show your friends that you two are inseparable.
Ketchup and Mustard Sweatshirts
Dress up in no time with this easy costume. If you and your BFF just want to throw on sweatshirts and go, that's totally understandable.
The mustard and ketchup costume can be worn with pants, jeans, leggings, shorts, or midi skirts to complete your look.
Dress up or down to suit your preferences. Wear this unisex hoodie set with your bestie for some Halloween flair.
Taco and Hot Sauce Halloween Costume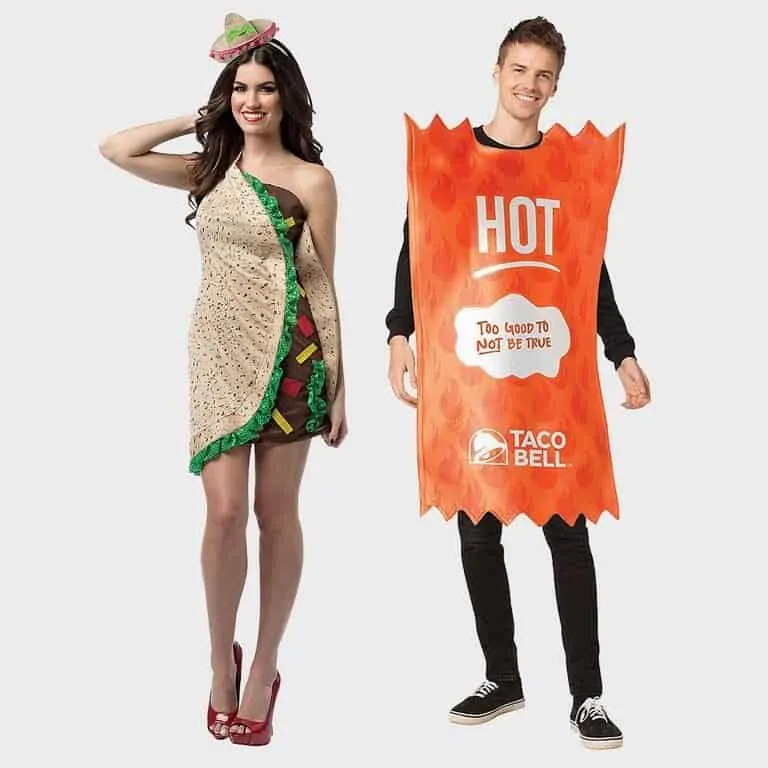 With this spicy idea, make it Taco Tuesday any day.
With tacos and hot sauce topping the list for most popular Halloween costumes, these taco and hot sauce outfits will surely make you a hit.
Whether in a group costume or on its own, this funny Halloween costume fits perfectly.
Spaghetti and Parmesan Halloween Costume
Dress up as a food costume that's anything but cheesy to celebrate your friendship and your love for pasta.
Put the parmesan label on a green jersey dress, then use yarn and pom-poms for a spaghetti sweater.
Finish with a colander and pasta hair. A delicious and clever BFF Halloween costume!
DIY Halloween Costumes For Friends
'Troop Beverly Hills' Costume
The classic comedy from the 1980s was simple and classy back then, and it won everyone's heart.
Bring the characters back to life and celebrate the legacy this Halloween. There's no doubt that people would love to see you and your best pal in this matchy costume since the nostalgic vibe always warms our hearts.
Wilma and Pebbles Flintstone Halloween Costume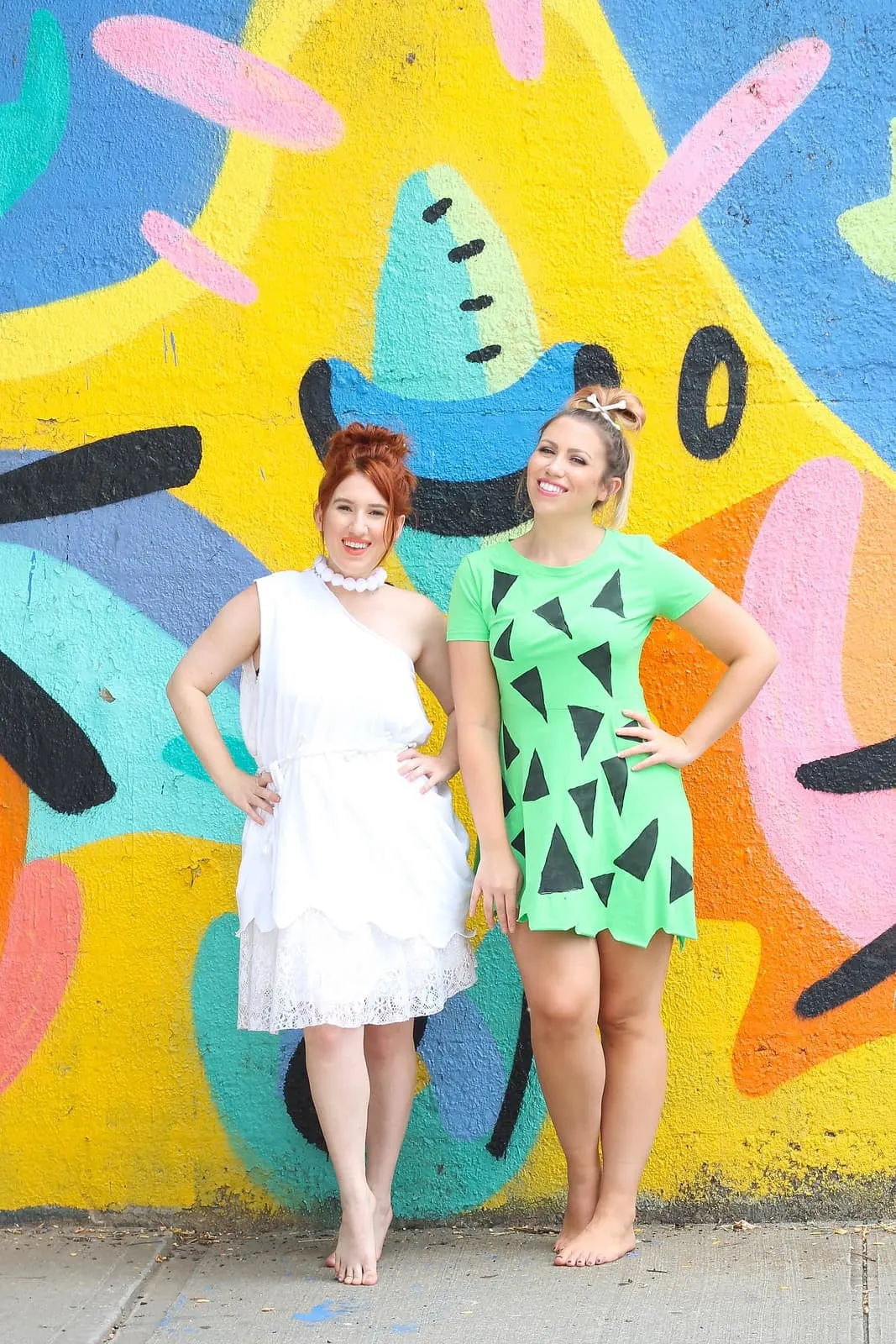 Despite its age, The Flintstones has become a beloved TV show since 1960. Due to its popularity, it became one of the most popular costume ideas for Halloween.
You can make an awesome Halloween costume with these easy-to-make DIY ideas. The designs are very easy to copy and are also very unique. This is a great option if you don't have much time, but still want to look your best.
Palm Tree and Beach Ball DIY Halloween Costumes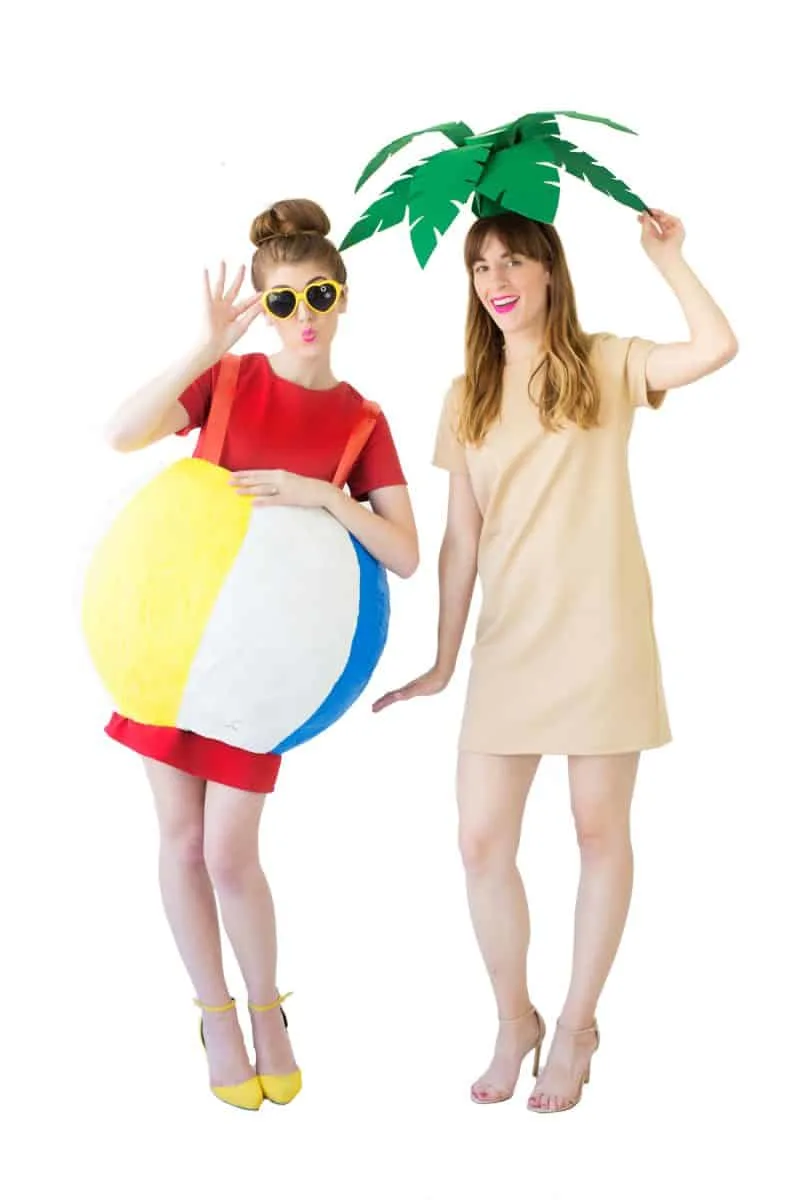 In 2021, it's practically essential to have an "endless summer" mindset. These DIY costumes will keep your spirits high all year long.
With this ultimate Halloween costume, you can relive Summer beach days and create a fun party atmosphere because winter isn't too far off.
Team up with your best friend to create this fun DIY beach ball and palm tree costume.
Chuckie & Angelica from Rugrats DIY Costumes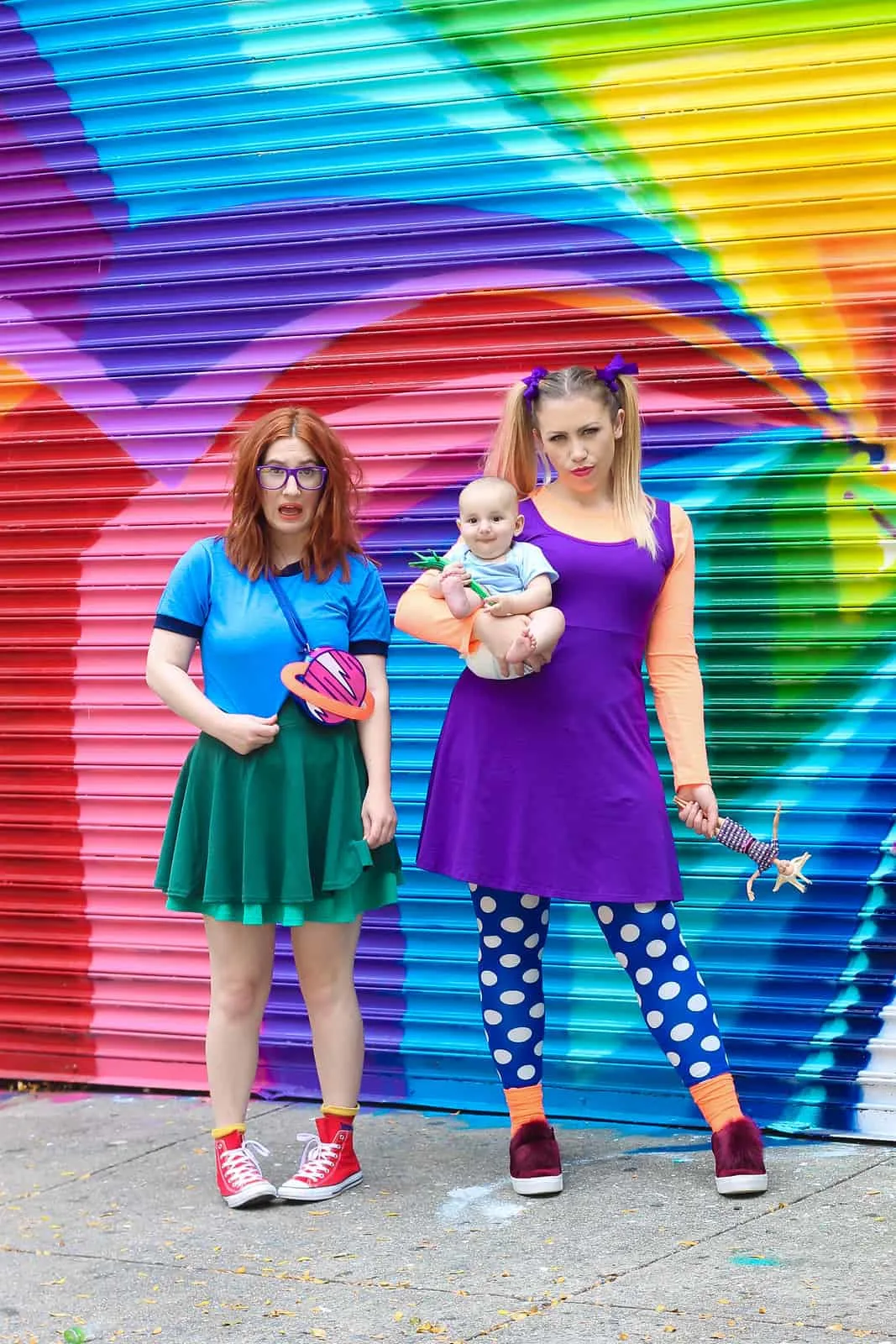 It looks like Rugrats is back since these Chuckie Finster and Angelica Pickles Halloween costumes are super popular!
Besides being super fun to make and wear, this outfit is perfect for any Halloween party or trick-or-treating event, and it's age-appropriate too!
You and your best friend will absolutely look cute in these vibrant costumes!
"Sesame Street" Big Bird & Cookie Monster DIY Costume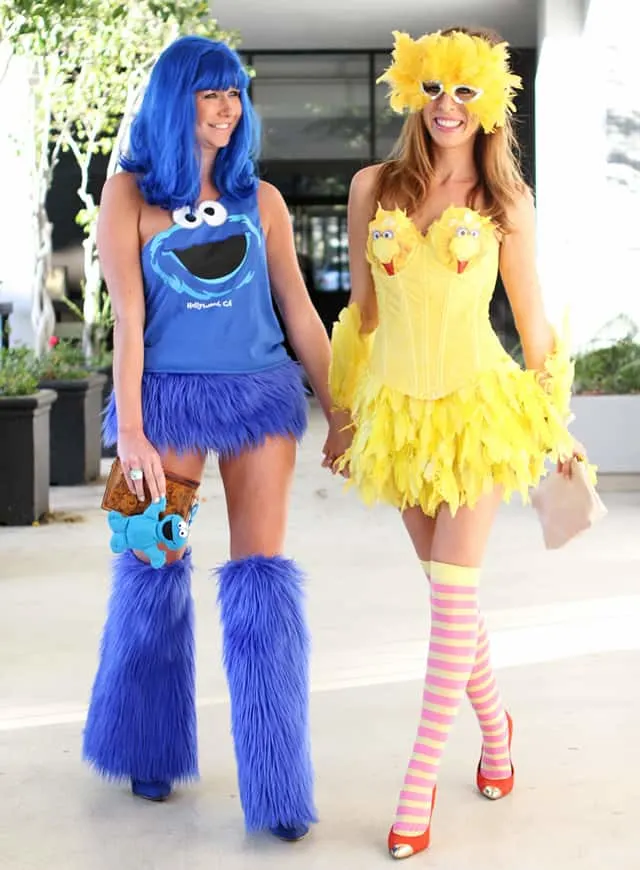 With this adorable DIY Halloween costume, you and your bestie can channel your favorite Sesame Street characters.
The matching clutch bags complete the look. These glammed-up versions of Sesame Street characters are sure to turn heads at your next Halloween party.
Sunshine and Rainbow DIY Halloween Costumes
This adorable sunshine and rainbow costume will delight you and your best friend.
This is a quick and easy DIY Halloween costume for people with little time but desperate for a costume!
Get creative with your best friend and make A Rainbow and The Sun Halloween costume.
Pretty Woman: Julia Roberts – Before & After Costumes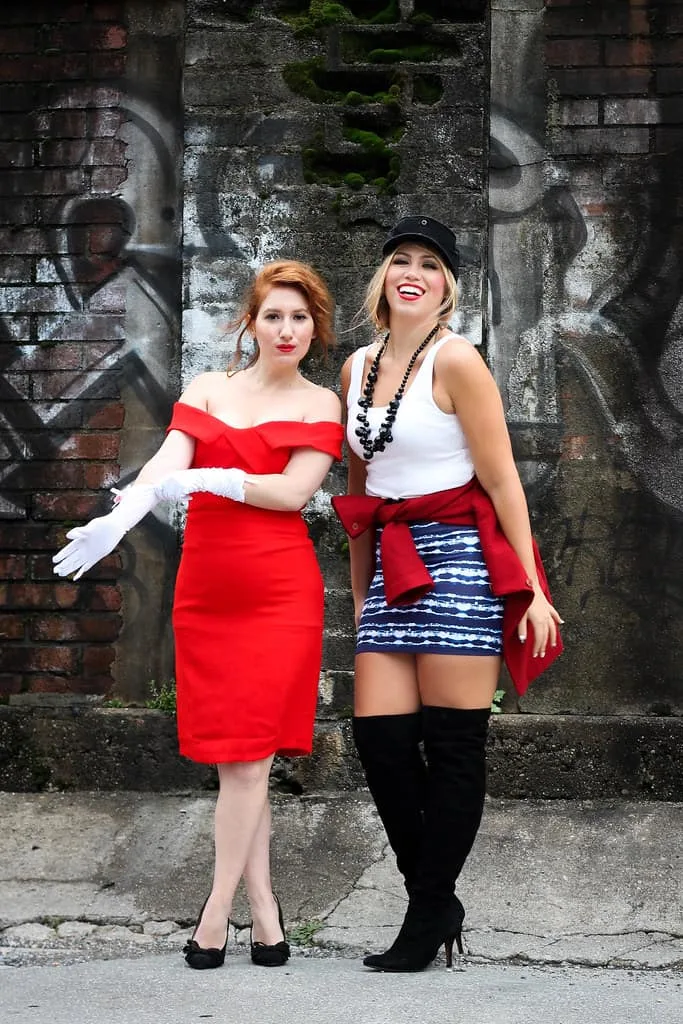 The costume is so recognizable that everyone wishes they had thought of it.
The '90s are the best for costumes, especially if you're going to a party with people who grew up during that decade.
You and your BFF will slay all night looking so chic and elegant with these popular outfits from an iconic movie!
Heroes & Villains Halloween Costumes
Marvel Avengers: Endgame Deluxe Team Suit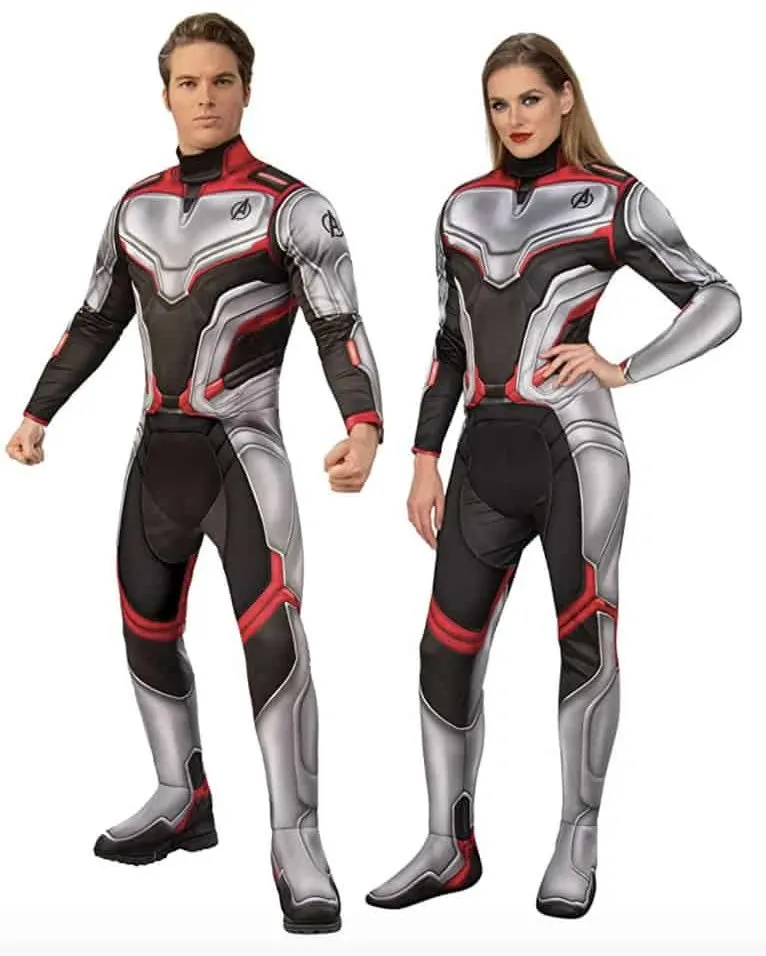 As fans know, Endgame was not Marvel's last flick, but you can present your bestie with matching team suits while you wait for the next chapter.
Be a Marvel superhero for a day with your best pal through this awesome costume! Please note that costumes run large and are sold separately.
Batman Villains Costumes For Halloween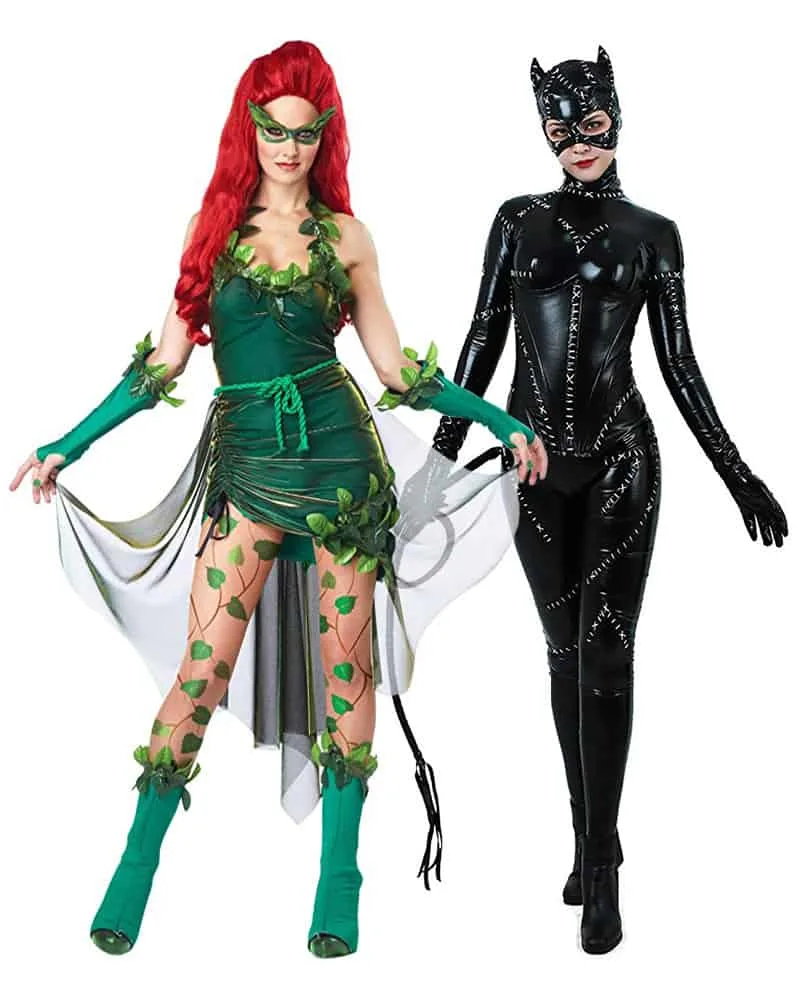 Take on the roles of the most popular female villains from comic books, Cat Woman and Poison Ivy!
You may be a nice gal, but why not let your naughty side out too? You and your best friend will be the center of attention whether you channel Catwoman or Poison Ivy.
Shuri and Dora Milaje from 'Black Panther' Costumes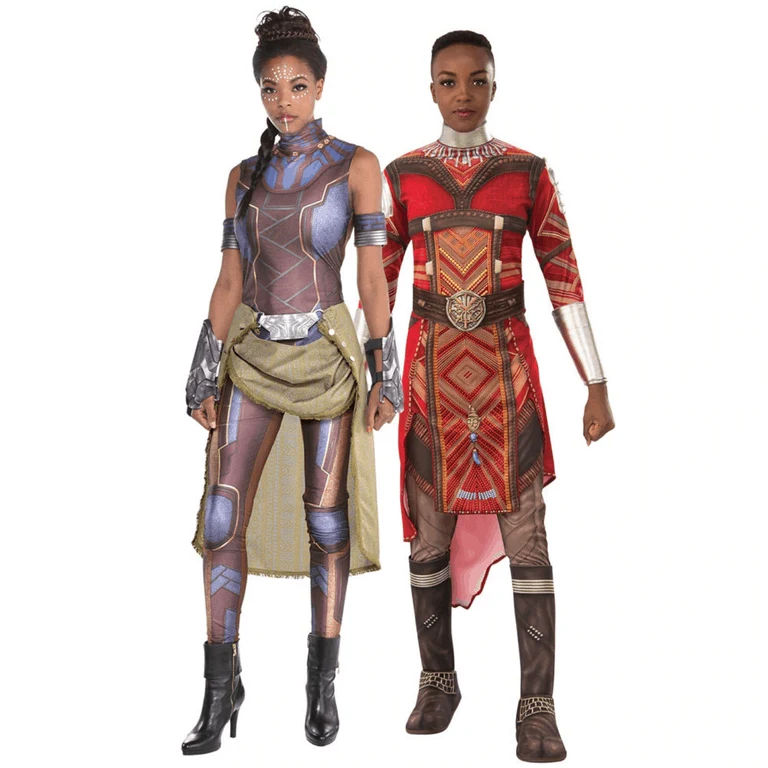 Be a Black Panther hero for a day with no other than your best friend.
Black Panther fans know that it would be really cool to step out wearing these powerful costumes from the popular movie.
Grab this Shuri and Dora costume set before someone steals your idea.
Black Panther and Killmonger Halloween Costumes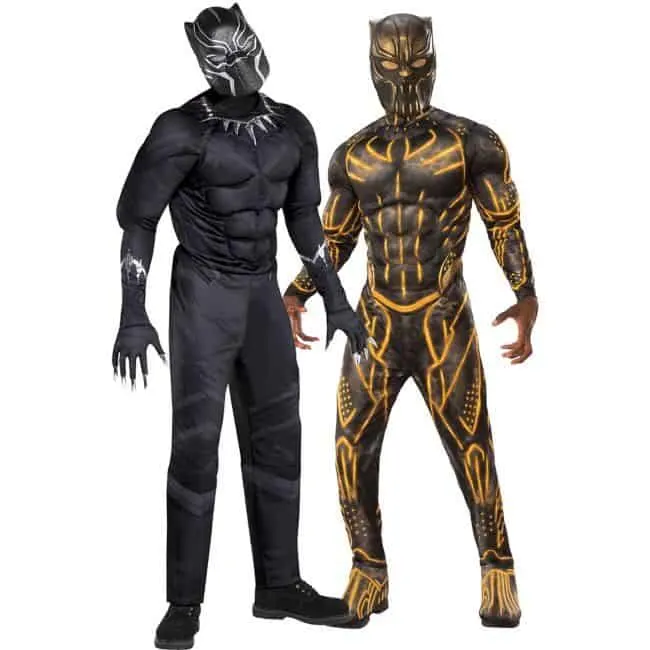 Take on your best friend to see who has the best Halloween costume in Black Panther.
Whether you face off against an enemy like Black Panther and Killmonger or with a rogue force like Shuri and Milaje, these superhero costumes will help you win.
Iconic Characters Halloween Costumes For Besties
Barbie and Ken Halloween Costume
Wrapped in Plastic, it's fantastic.<
Get dressed in the cheesiest Barbie and Ken outfits, slip this box on, and begin looking for your dream house.
For easy carrying, these polyester boxes with PVC pole frames have straps that allow you to secure the pack over your shoulders. Not to mention how well this box preserves your makeup and hair look!
It's a surefire winner this Halloween.
Jesse and Buzz Lightyear Costumes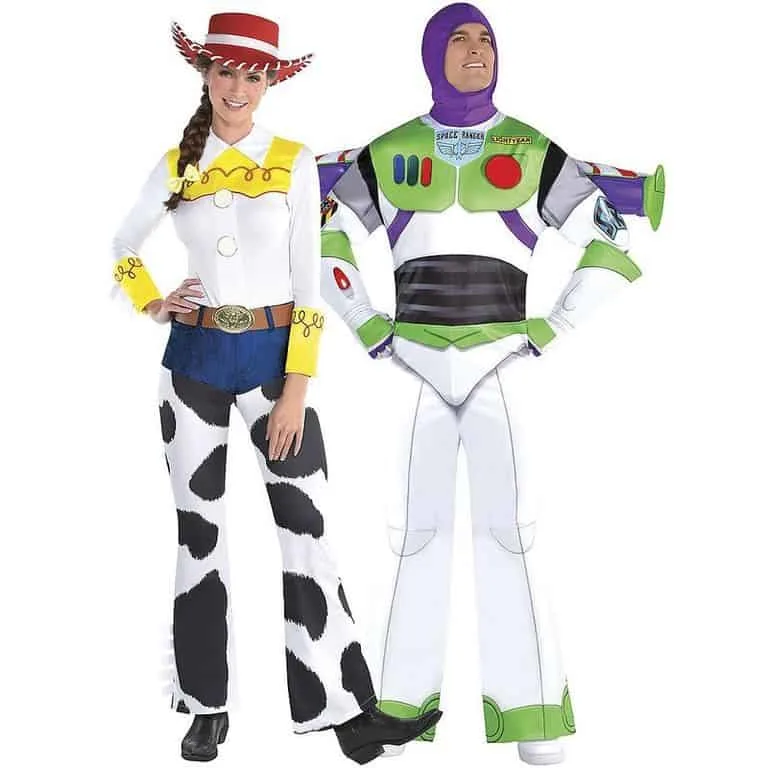 Dress up as your favorite Toy Story characters in no time with these Buzz Lightyear and Jesse suits.
Take your friendship with your best pal to infinity and beyond with these costumes from these well-loved characters popular for kids and adults alike.
"Alice in Wonderland" Halloween Costumes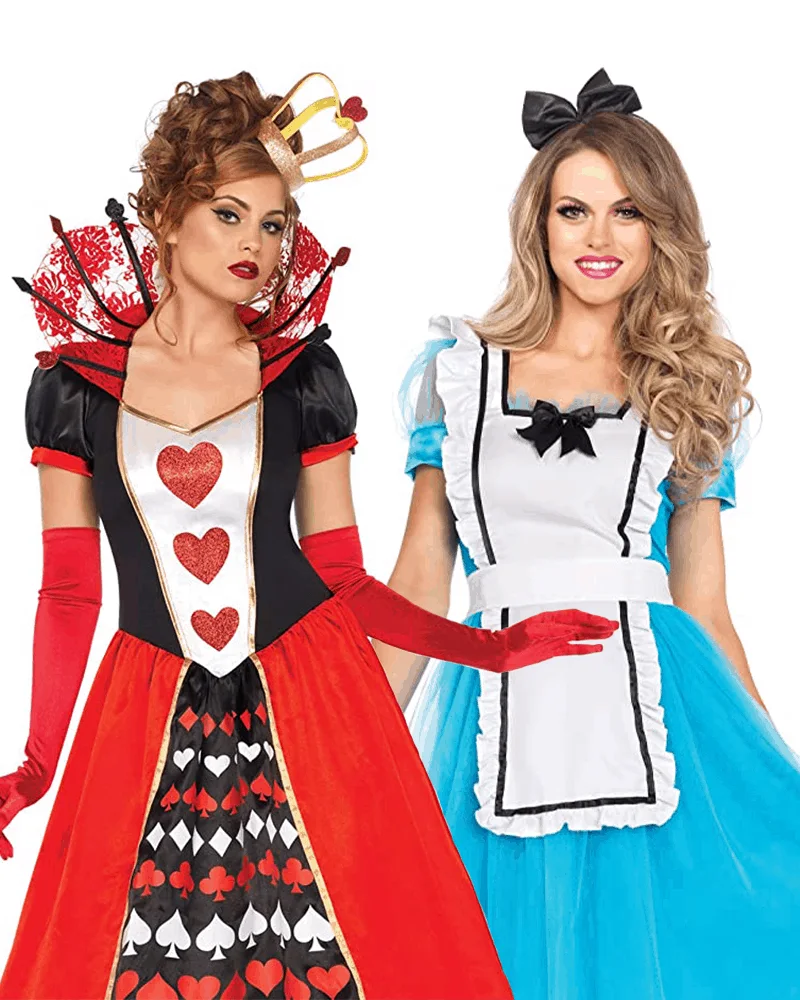 Do you want a costume that will steal the show this Halloween? Then slip into Alice's shoes, as well as those of the Mad Hatter and Queen of Hearts.
Not only that these costumes look enchanting, but they will give you and your best friend a chance to don these magical costumes for All Hallow's Eve!
Mystery Gala Guest Costume
If you watched all the glittering gowns at the 2021 Met Gala, you'll definitely remember Kim Kardashian's t-shirt inspired outfit designed by Balenciaga.
Yandy has quickly transformed this iconic look into a Halloween costume. If you're not claustrophobic, then this is a fabulous dress-up costume for both you and your BFF to go unrecognized.
Emoji Costumes and Halloween Puns
Dancing Emoji Costume
Have you decided what costume you and your best friend will be wearing this Halloween? Time to get creative and have fun. Happy Halloween, everyone!