Breaking your arm or leg is horrible. There's no way to sugarcoat it; there's absolutely nothing good about it. However, our bones do heal (thank goodness), and we just have to find ways to get through it.
In the first few days, teens should be allowed to feel sorry for themselves and milk having their family members (mom) at their beck and call. But even that gets boring quite quickly, so we need to find ways to entertain them over the next few weeks while they're in a cast or on crutches.
Once your teen moves past the initial pain and discomfort of being in a cast, it's essential to try and find ways to keep their mind off it and keep them entertained physically and mentally.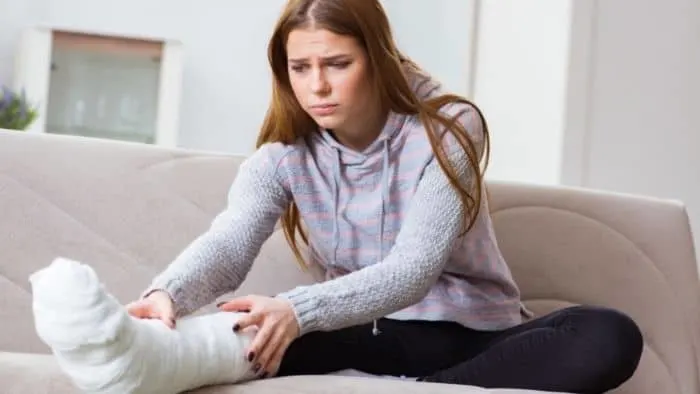 I've listed several activities for teenagers with a broken leg or broken arm that will keep them busy and entertained, from the obvious suggestions of watching movies and reading books to more unique ways to pass the time like origami and learning to play the harmonica. We also look at some exercises that your teens can safely do to avoid becoming complete couch potatoes.
Let's dive in!
Activities For Teens With A Broken Leg or Arm
1. Reading Books
In the first few days after having a broken leg or arm, your teen might still be in pain and will rest and look for some quiet activities.
Let's start with the most obvious and personally most enjoyable of ways to pass the time with a broken leg – reading!
Whether you prefer reading hardcover books, reading on a Kindle, or listening to audiobooks, reading will help the time pass by quickly.
Here are some recommended books for teens:
Stephanie Meyer's Twilight Saga series is great for all teenagers, even if they've watched the movies.
Susan Cooper's The Dark Is Rising series
Cory Doctorow's Little Brother
Percy Jackson also has several series that will keep you entertained for weeks.
2. Watching Movies
Watching movies is great for kids in a leg cast or on crutches. With streaming services today, there are countless movies and series that will keep them entertained for the duration of their recovery. Both reading and watching movies are some of the most obvious and easiest things to do with a broken arm or leg.
3. Listen To Music
Listening to music is great while you're doing arts & crafts or even just chilling.
It can be fun to listen to some of your old records together if you have the time.
And they can play some of their favorite artists to you—a terrific way to bond and spend time together.
4. Invite Friends Over
When they've had enough of hanging out with you, they can invite some friends over to chill.
Maybe create a movie night with yummy snacks for them all to enjoy. Just because your teen can't run around and do their usual activities like swim, surf, or skateboard (which is possibly how they broke a bone in the first place) doesn't mean that they can't spend time with their friends.
If you've been meaning to update your teen hangout room, I have some ideas that might inspire you. Read Teen Hangout Room Ideas.
If it's Summertime and their friends prefer to lounge by the pool, you should make sure that they have a waterproof cover for their cast. Even though they probably won't swim, you don't want their cast getting wet with all their friends jumping and splashing around them.
5. Play Board Games
Playing board games is another suggestion for fun things to do with a broken ankle.
There are so many awesome board games, and I'm sure that you have many of them at home already.
Have a look at my Best Board Games For Teens post, and perhaps your teen can find a new board game that they would like to play.
Catan, Sequence, and Pictionary are some of our favorites.
They may even want to learn how to play chess or a new card game.
6. Question & Answer Games
A fun thing to do when you have a broken leg or arm is to play question and answer games at home with friends and family or even over Zoom.
Some examples of question-and-answer games include: Never Have I Ever, 30 Seconds, Fact or Fiction, Would Your Rather, Guess Who, or Trivia Questions.
🤓 Here are some great Would You Rather Questions For Teens [2023 Guide]
🤓 Alternatively, they could play Who Knows Me Better Questions with their friends
7. Zoom / FaceTime Chats
Your teenager might have friends or family living far away, and now would be the perfect time to set up some Zoom or FaceTime chats with them. You can do it as a family or set them up to chat alone, whatever you think would work best.
However, I have found that you shouldn't invite too many people to a zoom chat, as it's hard to hear what everyone is saying, and you don't get meaningful chats. Instead, set up one on one or a chat with a couple of close friends.
🤓 Here are some Super Fun Things To Do On FaceTime With Friends
8. Learn A New Language
Okay, you're probably right that our teenagers won't voluntarily choose to learn something while stuck in bed, but it's worth a try. Learning a new skill or language is definitely one of the most productive things to do while having a broken leg or arm.
According to cnet the following are the best apps to learn a new language:
9. Exercise & Stretching
Even with a broken leg, your teen can still do many exercises at home. Ask your doctor first to ensure that they don't injure themselves, as healing is obviously the most important.
However, they will need some form of exercise to help them mentally and physically, so don't let them ignore this completely.
Watch the video below of exercises you can do with injured foot or ankle:


10. Meditation
Meditation is a wonderful tool to help teens relax their minds.
There are several ways to start meditating, including taking deep, slow breaths, sitting meditations, or doing a body scan. There are many mindfulness and guided meditations that your teen can listen to.
🤓 You might also like to read What To Do When You're Bored For Girls
Things To Do With A Broken Foot, Leg, or Ankle
When faced with a broken foot, leg, or ankle, it's essential to find activities that keep teens active while still promoting healing. Explore this list of things to do while in a leg cast, from engaging in creative hobbies to discovering new ways to stay active and connected with others.
11. Playing Video Games
One of the most obvious things to do with a broken foot or leg is to play video games. It keeps them busy for hours, plus it allows them to chat and play with their friends. This is super helpful when they're stuck at home and can't join their friends for the usual outdoor activities.
👍 Suggested reading Driving Games For Teens To Learn How To Drive
Our boys play Fortnite, Minecraft, Roblox, Among Us, Rocket League, and Overwatch on their Xbox, but there are other games for Nintendo Switch or Playstation as well.
Even though we want our teenagers to have a healthy relationship with gaming and not spend too much time doing it, I think we can be a bit more lenient when they're stuck in bed.
However, we still don't want our teens spending all their time on a screen, so I've spent some time finding and researching other things to do while on crutches that will keep them busy and off the screen.
🤓 Suggested reading: Video Game Trivia Questions And Answers Quiz
12. Learn To Play A Musical Instrument
Not all musical instruments are easy to play with a broken arm or leg, but there are some that could be fun.
My son loves making music (noise) on his harmonica, so spending a few weeks learning how to play properly would be fantastic for all of us. Even with a broken arm or wrist, you can still play the harmonica.
Learning how to play the guitar is another excellent activity while in a leg cast. There are many great tutorials online to help get you started or learn new songs if you already have some experience.
13. Learn How To Juggle
Every teen needs a party trick, so why not learn how to juggle. You could even make it a challenge for everyone in the family to see how they can juggle the best once their cast comes off.
You can watch some great tutorial videos on YouTube like the one below for beginners and work your way up to expert level in no time.
14. Puzzles
In lockdown during the Covid pandemic, we all started doing puzzles to keep ourselves busy and, to some extent, sane. It's mindless but fun, and you do feel like you're achieving something as you watch the puzzle take shape.
You can leave it out and just pick it up again when you feel like it. Plus, family members can jump in and help out too. We set our desktop puzzle organizer up on the kitchen table, and our kids would find a few pieces before dinner while I was cooking, and we had a chat.
My favorite puzzles are these gorgeous wooden animal jigsaw puzzles by UniDragon.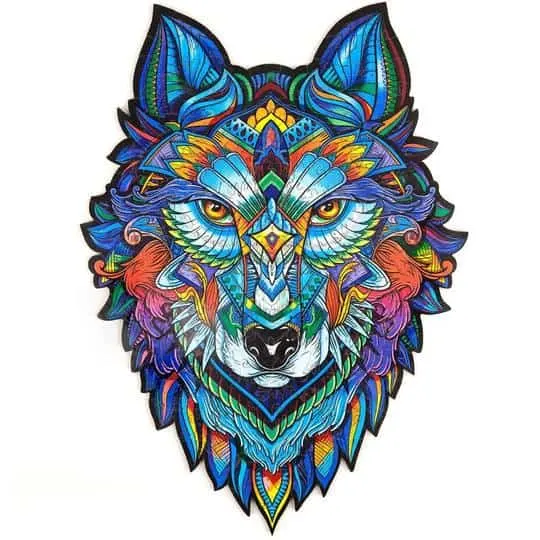 15. Start A Side Hustle
Your teen might not be able to move around much, but their brain should still be functioning, and perhaps they can use the time to start or at least think about starting a side hustle.
Have a look at our side hustle recommendations. Not all will be possible in a cast or on crutches, but they can take online surveys or do some Fiverr gigs and earn some extra cash while stuck at home.
16. Start A New Hobby
Starting a new hobby is probably one of the best suggestions I came across, as there are just so many things out there that your teen can do.
Obviously, not all activities are possible with a broken leg or arm, but they could learn to program or even start a blog while stuck inside.
🤓 Read more about Hobbies for Teen Boys and Hobbies For Teen Girls to find some hobbies that can keep your teenager entertained.
17. DIY
If your teen is into making things themselves then we have several DIY posts that they can peruse and try.
I'm sure they'll discover some unique, fun, and easy-to-make DIY ideas and tutorials among these, that are affordable and that they'll love to try at home.
18. Arts & Crafts
Your teen can start doing some unique arts & crafts, especially now that they're in a cast and stuck at home.
Most crafts will not only teach your teen a new skill but will provide them with something to keep them occupied for a few hours.
They can try knitting, small woodwork projects, making jewelry, or origami if they're looking for craft ideas that involve learning something new.
Art and craft kits are a game-changer as they include everything they'll need to try their hand at something new.
🤓 Discover 24 Unique Art Kits For Teens and our recommended Craft Kits For Teens & Tweens
Don't forget to decorate their cast. Here are some markers that will draw well on their cast.
19. Build A Train Track
If there's ever a time to start building that train track you've been dreaming of for so many years, then this is it.
Depending on your child's age, there are several 'build your own' train track options to choose from. Ranging from fun race tracks to more intricate train tracks with a locomotive engine, they'll definitely keep their mind off being in a cast.
Activities for Teenager With Broken Arm
20. Visit A Museum or Art Gallery
Museums and art galleries are great places to go with a broken leg. One of the benefits of museums and art galleries is that they're usually quiet, and no one is running around, meaning that your recovering teenager will be safe from being knocked or injured.
21. Go For A Walk
Walking is excellent for someone with a broken arm but a little more tricky if you're on crutches. However, your teen should still get some exercise.
A short walk around a local pond or along a boardwalk or to get ice cream is all they need to get some exercise, fresh air, and positive vibes. Short walks are great summer activities with broken leg.
22. Picnic
Relaxing outside while enjoying a picnic is another popular thing to do with a broken foot. Pack a picnic and drive to a nearby park or lake or someplace where your teen can be outside in nature and enjoy some fresh air.
Although our teens usually complain at first, they actually do enjoy sitting in nature, away from screens, and they come home a lot happier and less stressed afterward.
Pack their favorite treats, and you might just be voted super parent of the year!
23. Swimming
In my time, you definitely couldn't come near the water with a plaster cast, and bathing was difficult.
Nowadays, you can get fiberglass and waterproof casts, or covers that will allow your teen to swim.
Ask your doctor to explain how to use and take care of their cast before diving in.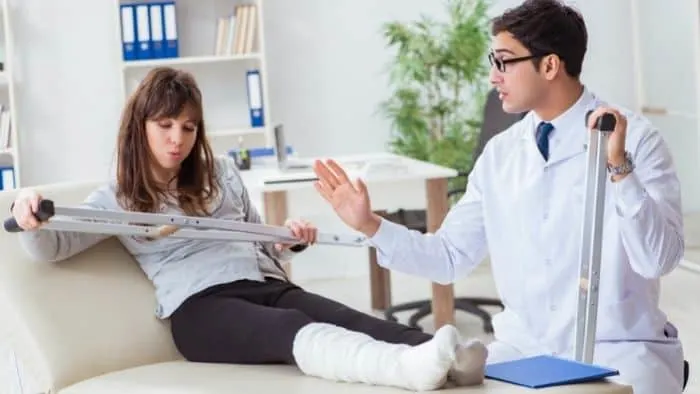 According to Healthline, there are pros and cons to all types of casts so be sure to check before getting your cast wet.
We used a cast protection cover on our son's broken arm so that he could get in the water with us on a very hot day, but he never actually put his arm underwater. We just wanted to protect the cast from splashes.
Just don't go to the beach, as having sand in your cast is not pleasant; believe me, I learned the hard way.
If you don't feel like swimming, then simply lounging by the pool with some friends is a great outdoor summer activity with a broken arm or leg.
Gifts To Buy For Teens With A Broken Leg or Arm
Practical Essentials For Someone In A Cast
TV tray – a TV tray will be very useful for eating meals in bed without messing.
Dry shampoo – if you can't wash your hair for a few days, then dry shampoo is a lifesaver. It makes it look less greasy and smells great.
Urination bottle – if it's a full leg cast, this might be useful initially and at night.
A bell – to call on you to serve them with snacks and sympathy – purchase at own risk!
Loose clothing
Long cast scratcher to get under that cast
Cast Comfort Itching and Odor Relief Spray
Crutch pads, grips, and travel pouch. This complete crutch accessory kit not only makes using their crutches more comfortable but also keeps all their essential items safe in the pouches and in easy reach.
Best Diet For Teen Laid Up In Bed
It's essential that your teen still maintains a balanced diet. There will be a lot of snacking because, let's face it, they're going to feel sorry for themselves and be pretty bored, especially in the beginning.
This is where healthy snacks come in. Smoothies are your friend here. You can add greens like spinach and avocado to a fruit smoothie with yogurt, and they won't know that it's actually a healthy snack.
Be sure that they get enough protein and calcium-rich leafy greens for bone health.
You might also want to get a multivitamin that has Vitamin D, as they might not be getting out in the sun as much as usual. For more information, read Best Vitamins For Teens.
If your child is away at college, then you could send this amazing CollegeBox healthy care package to them. It includes a mix of 30 healthy snacks that they'll surely love.
Advice For Friends And Family
Friends and family will most likely rally around and ask what they can do. Here are just a few ideas of ways to help:
Send a card or message.
Send a gift – something to keep them busy (magazines, books, games, art & craft kits).
Ask when it would be appropriate to visit – keep it short as they may get tired.
Bring them a cooked meal.
Offer to babysit or lift siblings when needed.
Offer to keep the child company if the parents need to work or run errands.
Conclusion
I hope you've found this article helpful and that you found a few activities for your teenager with a broken leg.
A parent's main challenge is to keep our teens safe from re-injury and give them everything they need to heal while ensuring they find other ways to entertain themselves than playing video games.
It's vitally important that they stay mentally and physically healthy too.
And remember that they will need some extra TLC – and so will you by the time they've fully recovered.