Virtual Halloween parties are great for bringing friends and family together when you live far away but still want to celebrate this fun holiday.
Activities at an online Halloween party can include several games one would play at birthday parties but with a Halloween theme.
In this post, we will guide you on best practices on how to host a Virtual Halloween Party and share fun games and activities to include.
You might also like to read:
How do I host a Halloween party online?
1. You can host a Halloween party online by making use of group video and messaging apps.
You will need to decide which platform to use to host your online party. Many people prefer to use Zoom, while other options are Microsoft teams, Loom, WebEx, or Skype.
Include a link for everyone to join your party with the date and time. It's a good idea to set a reminder a few days prior to the event.2.
2. Like any party, you should start by sending out spooky invitations for your online party. You can use a service like Canva where you can design your own invitations easily.
3. Having a theme is great to set the mood and help guests decide on what to wear and possibly even decorate their space at home.
4. Lastly, you need to choose an activity to do together.
Below are a few ideas for throwing a Halloween party online.
Virtual Halloween Party Ideas
1. Halloween craft afternoon is a fun activity that allows participants to share, interact, and learn how to make Halloween props and crafts.
You can choose a few items you'd like to make and send a list of art supplies that everyone will need before the party.
Alternatively, everyone can contribute with a craft idea they would like to share with the party.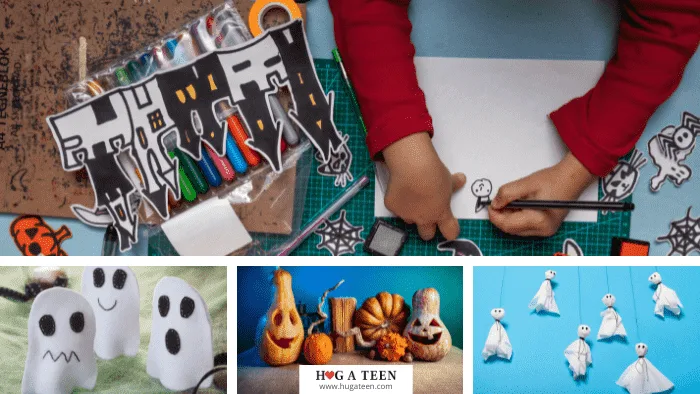 2. Halloween game night. Incorporate virtual fun Halloween games for the whole family and your friends.
3. Pumpkin carving party. Carve your Jack O lanterns virtually. To keep it more interesting, have a little friendly competition and give prizes for the best-carved pumpkin.
4. The pumpkin beer-tasting party is meant exclusively for adults. Provide a list of different beers to taste to ensure you have a variety of brands and flavors.
5. Wine and candy pairing for the adults. You can provide a list of wines and favorite candies that need to be available on the day of the party.
6. Netflix party. A Netflix party would be a great opportunity to watch a lot of horror films. Also, a great option if you want to host a relaxed and laid-back online party.
7. Virtual costume contest. You can have a costume contest, allowing the partygoers to show off their costumes and accessories.
Online Halloween Activities For Students
There are many activities that tweens can do online for Halloween.
Halloween arts and crafts
Pumpkin painting.
Playdoh monster-making tray.
Halloween paper crafts.
Create confetti pumpkins.
Make pumpkin slime.
Toilet paper roll crafts.
Make spiders out of paper plates.
Spider slime.
Q-tip skeletons.
Popsile Frankenstein.
Pumpkin jack-o-lanterns.
Make teachers gifts.
Make Halloween candles.
Make Halloween masks.
Make a paper lantern.
Smash a pumpkin.
Halloween learning activities
Halloween creative writing lesson.
Halloween drawing tutorial. 🎃 Suggested read: 40+ Easy & Cute Halloween Drawing Ideas (with Tutorials!)
Pumpkin counting.
Halloween movie trivia. 🎃 Suggested read: 120+ Halloween Movie Trivia Questions And Answers
Read a Halloween book.
Do a Halloween maze worksheet.
Halloween picture book.
Halloween Bingo.
Halloween Charades. 🎃Suggested read: Halloween Charades List (FREE Printable Word Cards)
Halloween Pictionary.
Guess 'who?' You can only ask 'yes' or 'no' questions to find out which Halloween movie character someone is thinking of. You can ask as many questions as you like, but you will only have three final guesses.
Halloween Virtual Activities
Host A Virtual Halloween Crafting Session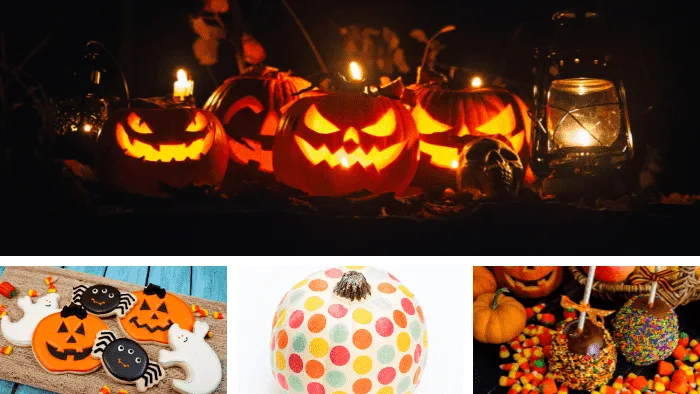 Pumpkin carving contest
Make a Halloween wreath.
Make Jack -0- lanterns.
Interior and exterior house decoration.
Make paper plate vampires.
Make milk jug ghosts.
Make TP tube bats.
Paint pumpkins.
Make costumes.
Make Halloween playdoh or slime.
Make a "boo" gift for a neighbor.
Make a tin can Frankenstein.
Find unique pumpkins.
Design invitations for the Halloween party.
Play Spooky Games
Halloween-themed Scavenger hunt. 🎃 Suggested read: 50+ Halloween Clues For Scavenger Hunt
Halloween virtual costume party.
Tell ghost stories.
Read Halloween stories.
Do a Halloween word search.
Play Halloween bingo.
Virtual Escape Room – Check out Online Escape Rooms for some great ideas.
Virtual Murder Mystery Party – Masters of Mystery can host several spooktacular Online Murder Mystery parties for you and your guest.
Make Halloween Treats
Be sure to send everyone the list of ingredients for the treats you'll all be making ahead of time.
Virtual Halloween baking party.
Make a Halloween dessert.
Make a Halloween breakfast.
Decorate Halloween cookies.
Roast pumpkin seeds.
Bake a pumpkin pie.
Make pumpkin bread.
Drink pumpkin beer (for adults).
Test different pumpkin spice latte recipes.
Make hot chocolate.
Make spider cinnamon rolls.
Make some Halloween treats for friends.
Make caramel apples.
Brew potions.
Make popcorn and add pumpkin spice.
Create a Halloween punch.
Make Halloween-themed food.
Make pumpkin soup.
Mix spooky drinks.
Halloween movie night.
There are several streaming services (such as Teleparty and Watch2Gether) that you can use to watch the same movie with your friends. Get the popcorn and candy corn (and possibly a creepy cocktail) and enjoy a scary movie marathon.
Watch hocus pocus.
Watch Scary Movies
Wear Halloween pyjamas.
Watch 13 nights of Halloween.
Watch Charlie Brown's Halloween.
Watch Hotel Transylvania.
Watch Paranorman.
🎃 Suggested Reading: Fun Halloween Movie Night Ideas (Invites, Decor, Snacks & Movie List)
Decorate your home/space
Hang up fake spider webs.
Dress up your pets in Halloween costumes.
Decorate your porch.
Build a scarecrow.
Have a Halloween photo shoot.
Make a Halloween playlist.
Have a dance-off.
Dance to thriller.
Dance to the "monster mash."
Have a lip sync battle.
Moving virtual party
Get guests to participate while visiting different locations. You will need to ensure everyone has enough data on their phones.
Go ghost hunting.
Go for a walk in the dark.
Visit cemeteries.
Visit a haunted house and take everyone along with you virtually.
Do a Samhain ritual.
Virtual Halloween Party Games
Virtual Halloween party activities can include party games to entertain your guests. Here are some great online games that you can play.
The Halloween persona game is a fun and interactive game that can be modified and edited to best suit a virtual space.
Halloween bingo is great for team building. You can comfortably participate from your preferred location and have fun even without it being an in-person event.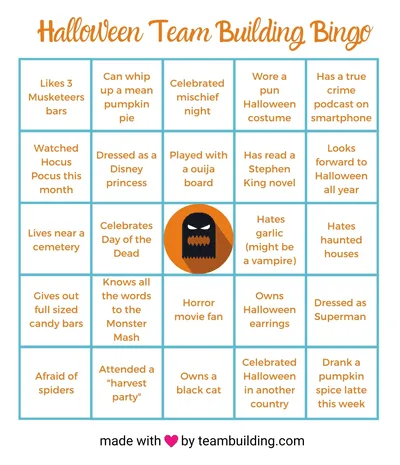 Finish my phrase is an easy game that people of all age groups can play. You need to modify and edit it to accommodate your guest list and make it more interactive.
Would you rather? A straightforward game with questions that require you to answer what you would rather be or do. You can play without having to be in the same vicinity.
🎃 Find over 130+ Halloween Would You Rather Questions here.
Scary movie trivia challenge. To avoid cheating and ensure fairness, you can have one person have the answers to verify when someone answers.
🎃 Find over 120+ Halloween Movie Trivia Questions and Answers here.
Halloween This or That game. Disagreements and debates are most likely to arise from this particular game due to differing opinions. You are given two options. You choose one of the options offered and explain why you prefer it to the other.
Match the Disney Villain. You can use free downloads or customize your own list of villains and films according to the participants.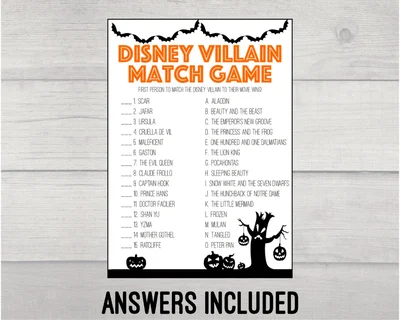 A virtual murder mystery can be a fun activity to do with your friends and family. It is now possible for virtually anyone to join in on the fun thanks to the power of technology.
Halloween A-Z Using the alphabet as a guide, you take turns naming only Halloween-related things against each letter of the alphabet.
Discord Halloween Event Ideas
You can also choose to host a Halloween event on Discord. Here are some ideas:
Spooky movie night. In addition to all the other fun games, you can choose to watch horror movies. The scarier, the better.
Create spooky role names using a name generator. Create nicknames for each participant and keep the event more interactive and fun.
Halloween special events where you have an Art/ Gfx contest challenge, and members create Halloween-themed art pieces.
Watch the video below for more tips and Discord Halloween event ideas:
Server template contest whereby you have a contest to see who will come up with the winning design for Halloween-related server templates.
Spooky story contest for fictional or original horror stories to see who writes a story that gives you all chills. You can come up with a list of topics for inspiration.
A Halloween photo contest where you get the opportunity to show your creative sides by having a photo contest with different categories. The contest can include several categories, including best costume, best pumpkin carving, best Halloween decorations.
Roblox has some coding fun where you use your creative ideas to make avatar characters and outfits to see who gets more points.
Halloween discord bot roles You can create, add and assign roles for activities like trick or treating for sweet treats.
Watch the video below to see how To setup Trick'cord Treat Bot on Discord:
Halloween Costumes For Virtual Party
Zombies. No Halloween is complete without the appearance of zombies. Nothing depicts an apocalypse better than zombies.
Vampire Costumes. You can never go wrong with a vampire costume. It works well if you are also leaning toward a Dracula costume.
Ghost Busters is a great unisex costume idea that works for all age groups. If the virtual party has a ghost theme, definitely a great choice.
Scary Ghost is another excellent option for a ghost-themed Halloween party. The great thing is it can be easily made at home using white bedsheets or pieces and strips of white cloth.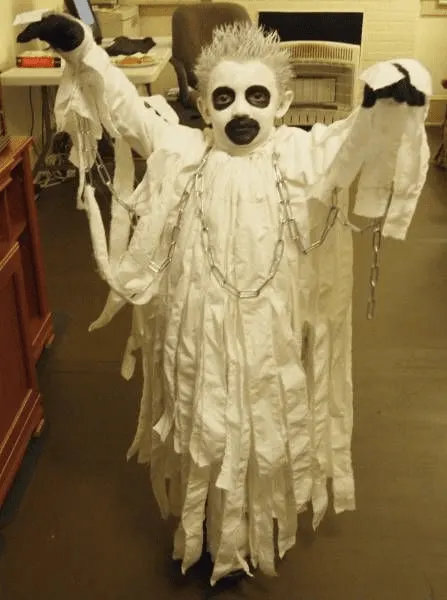 Witch Costume. Nothing screams Halloween like a witch costume. You can be bold and use make-up that will enhance your outfit.
The Mummy costume is a great DIY option because you can create one using white clothing, old bedsheets, and strips of cloth of the same color.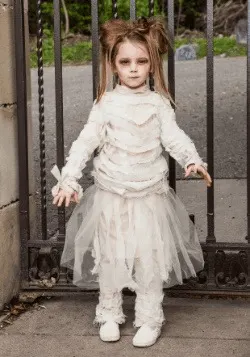 Cruella de Ville. What better way to attend a virtual Halloween party than as one of the characters of great films? You can go as Cruella, enhancing your costume with things already available in your closet.
Michael Meyers. If you are looking to dress up for a Halloween party like one of the famous horror flick characters, a Michael Meyers costume would be a great choice.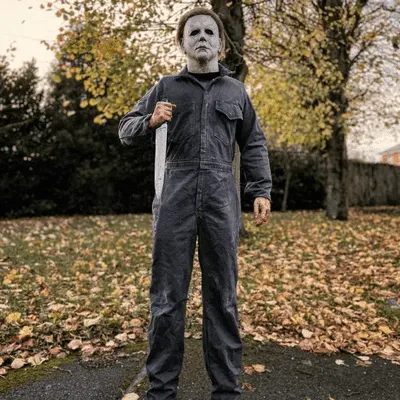 Corpse Bride. Take a traditional bridal look a notch higher by sprucing up your costume with Halloween make-up.
You might also like to view 50+ Halloween Costumes For Best Friends 🎃
How To Host A Virtual Halloween Costume Contest
A virtual Halloween costume competition is an excellent online escape if you can't attend an in-person party. To start, you need to choose a theme and costume categories.
Depending on the number of people participating, the categories can be increased to have more variety. Participants can suggest themes to you, allowing you to incorporate their personalities.
Below is a list of options for creative costume ideas that you can use:
Superheroes.
Greatest Villains.
Scary Movie Characters
Disney Villians.
Historical Figures.
Aliens.
Zombies and Vampires.
Ghosts.
Movie Monsters.
🎃 Suggested Reading: College Halloween Costumes (Cute, Easy & Cheap!)
Prizes can be awarded for best dressed in the following categories:
Funniest Costume.
Craziest costume.
Scariest Costume.
Best DIY Costume.
Best Make-Up
You can all collectively decide on how to award prizes to the winners. There can be subcategories like 1st and 2nd runners-up if there are many participants. With an increase in categories, ensure enough prizes for all the winners.
Below are some prizes that can be awarded:
Spa vouchers.
Digital gift cards.
Subscription service.
Assorted candies and treats.
Online gift cards.
Because the contest is virtual, participants can go all out and use technology to put edgy zoom backgrounds and effects to match their costumes.
Send the invitations early enough to give everyone enough time to prepare their costumes.
Be sure to remind everyone a week before the virtual event to get them excited and ready in time.
Just before the day of the contest, you can do a dry run. It allows you to test how everything would work out on the actual day of the competition. Now that everything is in place, all that is remaining might be making sure costumes are ready.
On the set date, you all show up online dressed in select costumes and ready to have a great virtual experience. You can each get a chance to talk and describe your outfits. A fun conversation starter would be the additional accessories and virtual backgrounds.
Another fun idea to make the event more interactive would include virtual games. Even though it's an online event, don't forget to take pictures. Make sure to take plenty of photos for memories.
Virtual Halloween Party Invitations
You can design an invitation using Canva for your virtual Halloween party. Choose a template that is appropriate for your age group, and that relays the theme and type of online event you will be hosting.
Virtual Halloween Costume Party Invitation
Excite your guests with this fun invitation to dress up for a Virtual Halloween Costume Party. The invitation is free to download and send out to your guests.
Virtual Halloween Pumpkin Carving Party Invitation
Invite your guests to a virtual pumpkin carving competition with this stylish invitation. Free to download and use.
Virtual Murder Mystery Halloween Party Invitation
Cute Halloween invitations like this one can be edited using Postermywall.com. Fill in the necessary information like date, time, and Zoom link.
Spooktacular Halloween invitation free template. You edit and modify to capture all the additional virtual details.
In conclusion, Halloween parties aren't just for kids anymore. With the help of these amazing social media platforms, you can create a spooky, interactive experience for everyone who wants to join in on the fun.
For example, you can set up a group chat where guests can send each other messages, share photos, and watch videos together. This means that you won't have to worry about having to coordinate with multiple hosts or spending hours setting up decorations. Instead, you can focus on creating a truly memorable night for everyone involved.