A scavenger hunt is always full of fun surprises and a great party activity. Teens enjoy the thrill and adrenaline of finding clues that lead to hidden treasures.
Check out these clues to help you set up a fun-filled Halloween Scavenger Hunt.
🎃 You might also enjoy:
Halloween Clues For Scavenger Hunt
A Halloween Scavenger hunt for kids is always a fun activity to keep them entertained. The perfect Scavenger hunt will have great clues leading them to their favorite Scavenger hunt prizes.
1. Look under a tree for a witch's stew. Don't be afraid of guts and goo. For in that stew is your next clue.
Instructions: Put the next clue in a sealed bag. Make some oatmeal or pasta mixed with red food coloring and put it in a container. Hide the plastic bag with the clue in the gooey mess and put the container under a tree.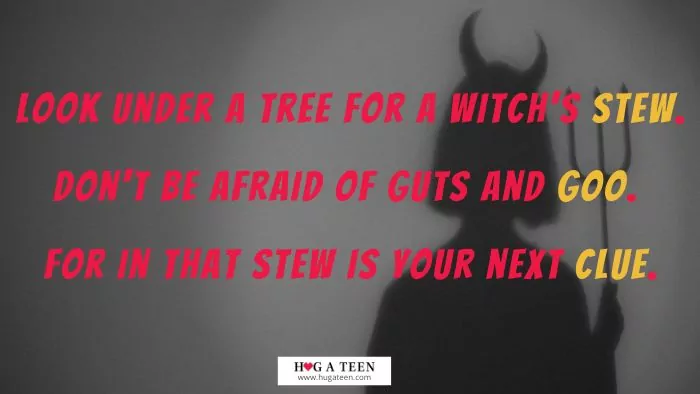 2. Bats are said to come out at night. But don't be overcome with fright. A bat hangs somewhere, and your next clue is hidden there.
Instructions: Attach your next clue to a paper or rubber bat hanging somewhere.
3. Orange carved faces light up the night. Their eerie faces shine bright. Some place near is a utensil used to scoop out their innards and holds your next clue safe and sound.
Instructions: Attach your next clue to a spoon near a jack o lantern.
4. Don't be scared by the glowing orange goblin. He sits around nicely if he's got a flat bottom. Now hurry outside to find your surprise.
5. Halloween is here- let's make a ghostly cheer! Is that some broccoli stuck in your teeth? Best grab a brush and scrub it out from beneath.
6. Trick or treat, smell my feet. Could you give me something healthy to eat?
7. Around and around a spider web goes. Have you ever wondered if spiders have toes? If you find one inside, use this to trap it and take it outside.
8. What's your costume this year? Perhaps it's a lion or bear? There are so many ideas. You just have to look. Perhaps start with the pages of the book. 🤓 Suggested Read: College Halloween Costumes (Cute, Easy & Cheap!)
9. Carved pumpkins on parade. Is yours happy or afraid? They give a smile or boos until they get old and smell like dirty shoes.
10. Halloween is full of treats. Go to where we wash our sheets.
11. Halloween is one of those nights when you can stay up late. Your next clue is hidden with your favorite cup or plate.
Halloween Scavenger Hunt Riddles
Your teens will have loads of fun trying to find the answers to these Halloween riddles.
1. Telephone
Zombies and ghosts – what terror will this night bring?
I have no fingers, but I do ring!
2. Chalkboard
Beware of vampires who are always thirsty.
What is black when clean and white when it's dirty?
3. Pillow
If the ghosts scare you while you're sleeping in the night,
You can use me for a silly fight!
4. Chair
What has arms and legs but no head?
5. Clock
I have a face that doesn't frown, hands that do not wave, and no mouth. I have a familiar sound and don't walk but move around. What am I?
6. Newspaper
Halloween is in October.
What's black and white and read all over?
7. Leaf
In the night, the werewolves call.
I blow in the wind, and I drop in the fall.
8. Trash bag
Halloween is underway;
Don't forget to take me out, or I'll stink the next day.
9. Pencil
Beware the werewolves eyes all aglow;
I make marks wherever I go but shrink as your ideas grow.
Printable Halloween Scavenger Hunt Clues
Make your Halloween a memorable one with these scavenger hunt ideas. You can download some of these printable files to help you get started.
Halloween Scavenger Hunt Clues Printable
Download and print these spooky clues to direct your teens on finding the treasure at the end of an epic Halloween Scavenger Hunt.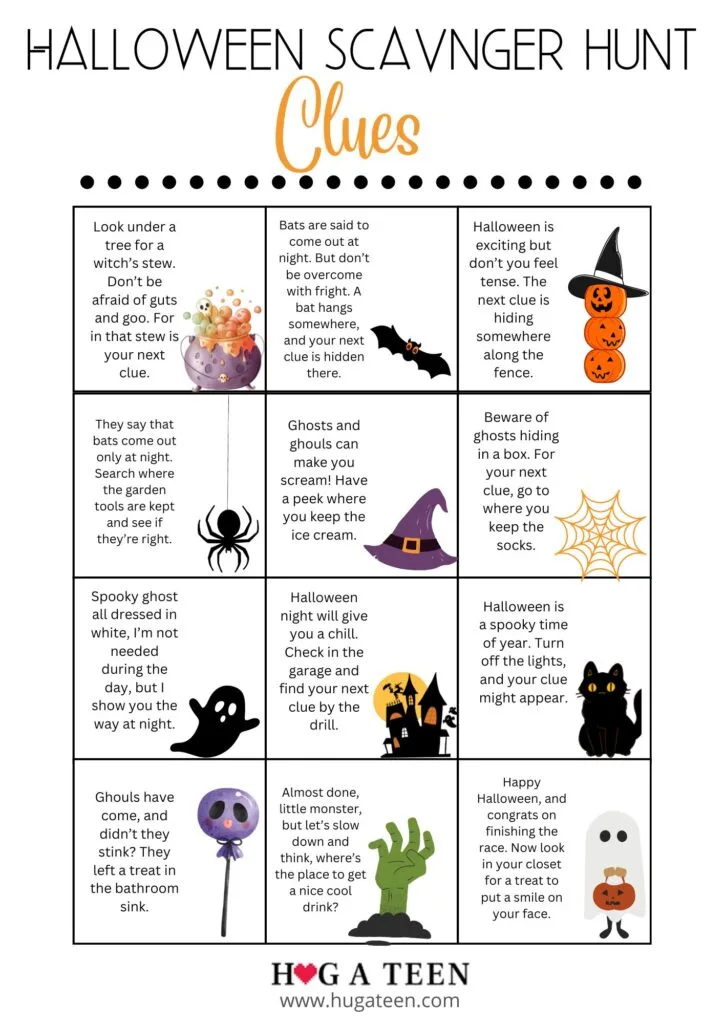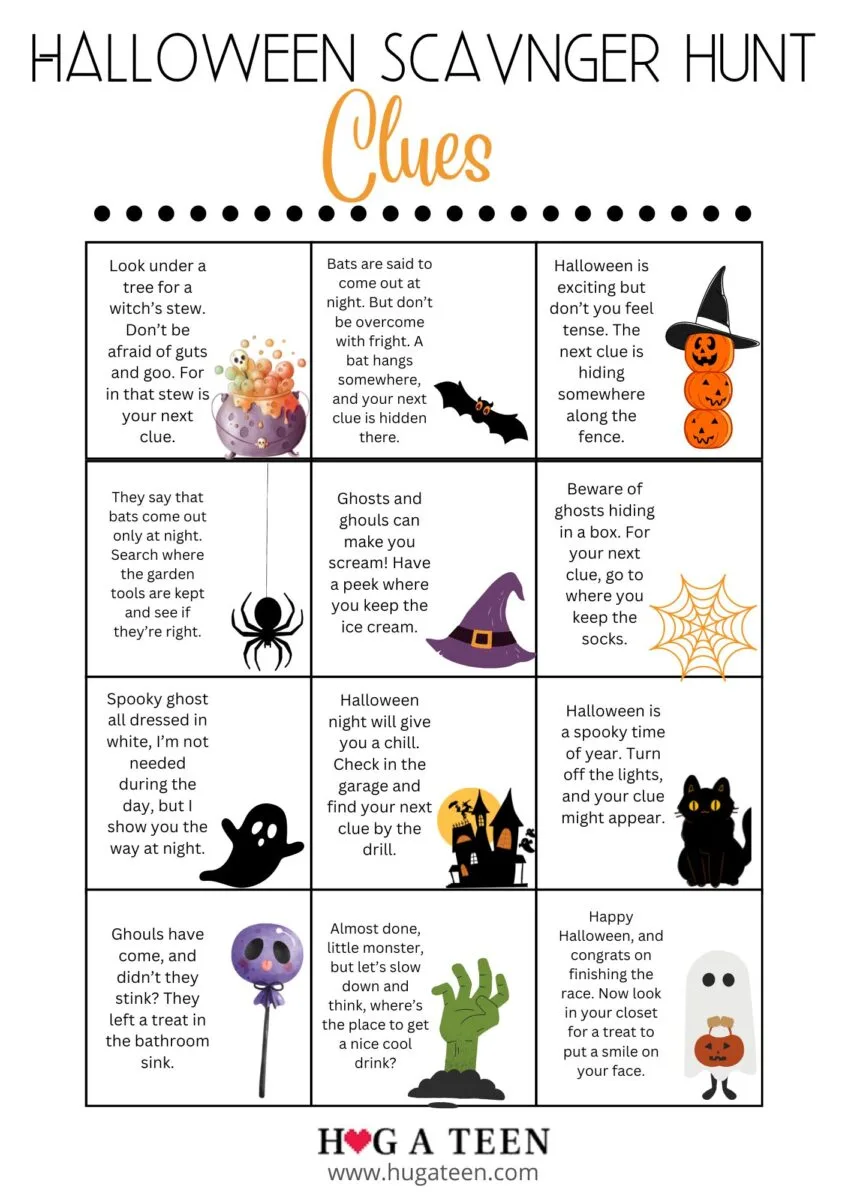 Scavenger Hunt Game
Print out the treasure hunt clues and hand them out to an individual or group where they can look for items on the checklist. They tick them off one by one. The winning team or person is the one that finds most or all of the stuff on the list.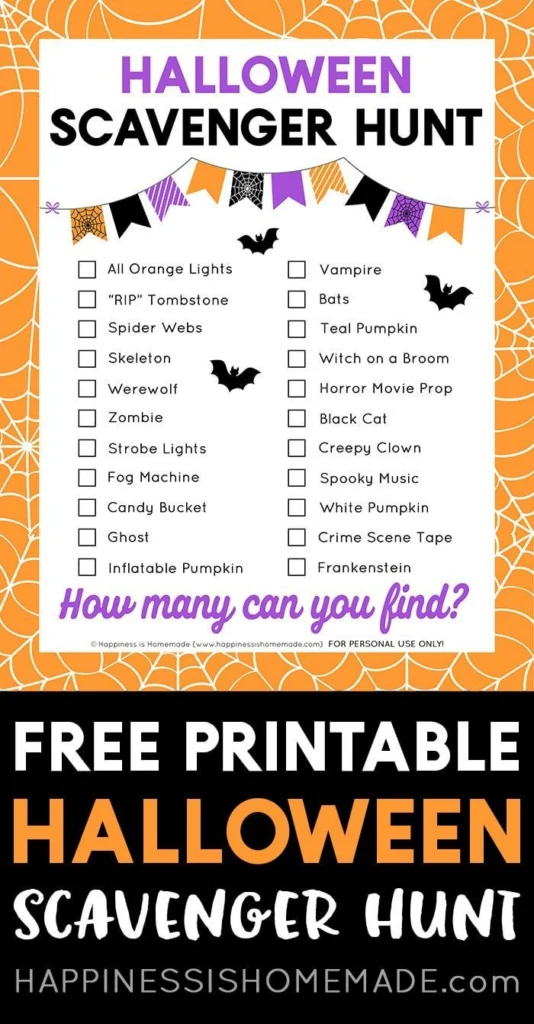 Kids Printable Scavenger Hunt Clues
The scavenger kids checklist with additional animation features makes this scavenger hunt list appealing and an excellent activity for kids. Get the different blank cards and add more clues to give the hunt more variety. Hide items in places that are easily accessible and safe for kids.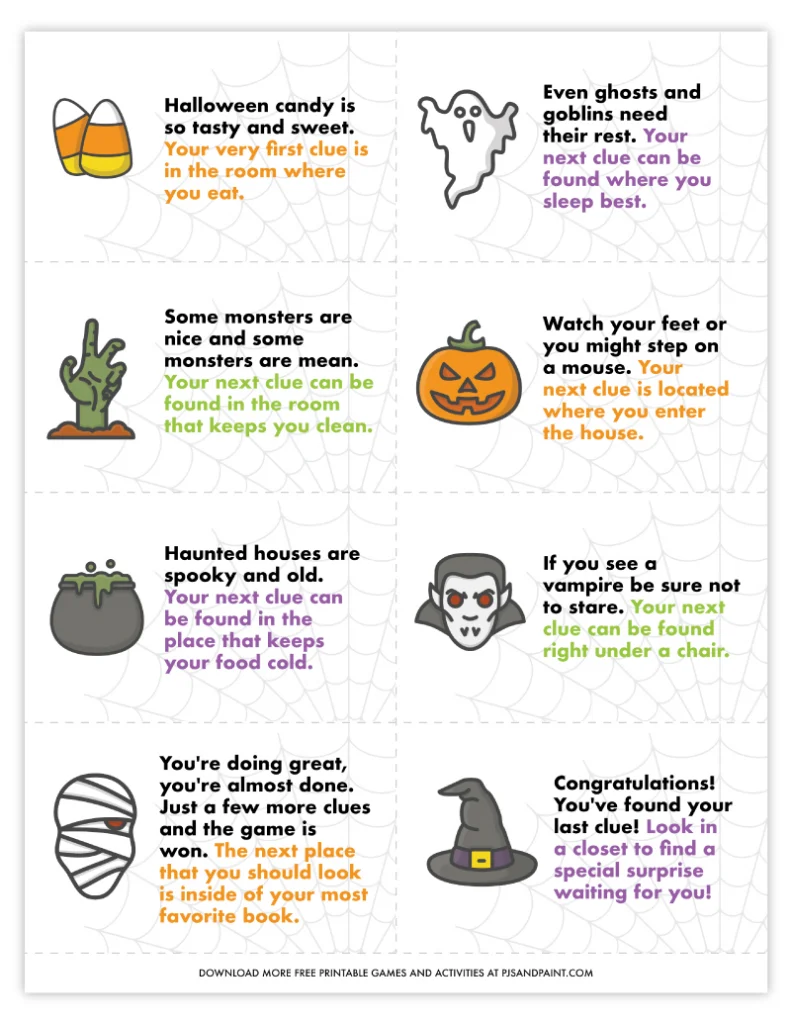 Candy Scavenger Hunt Clues
Candy scavenger hunt clues are ideal for all age groups. Sweet treats are a great incentive to get individuals more interested in the hunt. Put the candy in clear treat bags if planning outdoor versions. It ensures they are safe for consumption.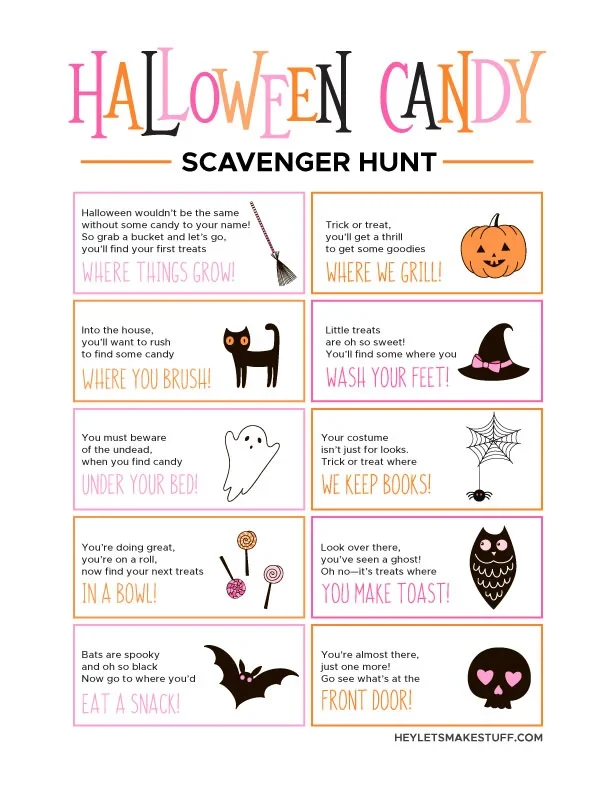 Candy Hunt Clues
Free printable scavenger hunt cards for candy hunting. Since candy plays a major role during Halloween, a candy hunt with clues can never be too much. Make several clue cards enough for everyone. Put prizes in great hiding spots.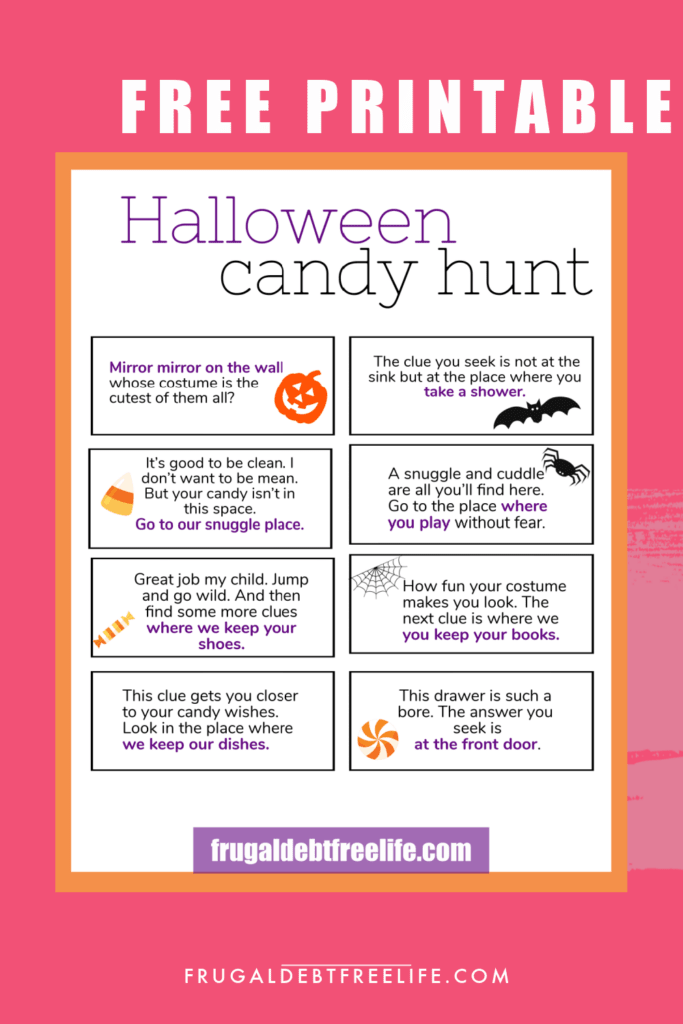 Scavenger Hunt Cards For Preschoolers
Scavenger Hunt free printables are best for preschoolers. They are easy to read, and the colorful cartoons included make them more appealing.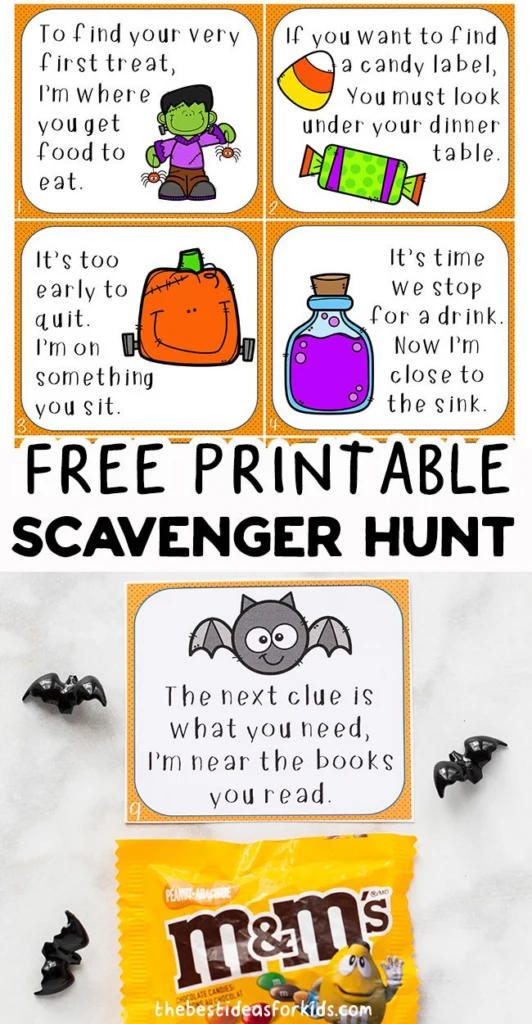 Neighborhood Scavenger Hunt
Download your neighborhood Scavenger Hunt printable with detailed, clear photos. Easily download several copies from your printer at home, and share them with neighbors and friends for a fun-filled hunt.
Spider Web Free Printable
This Spider-Web Free printable would work perfectly for a spider-themed Halloween party. The winner gets to be the one that ticks off all or most of the items on the list.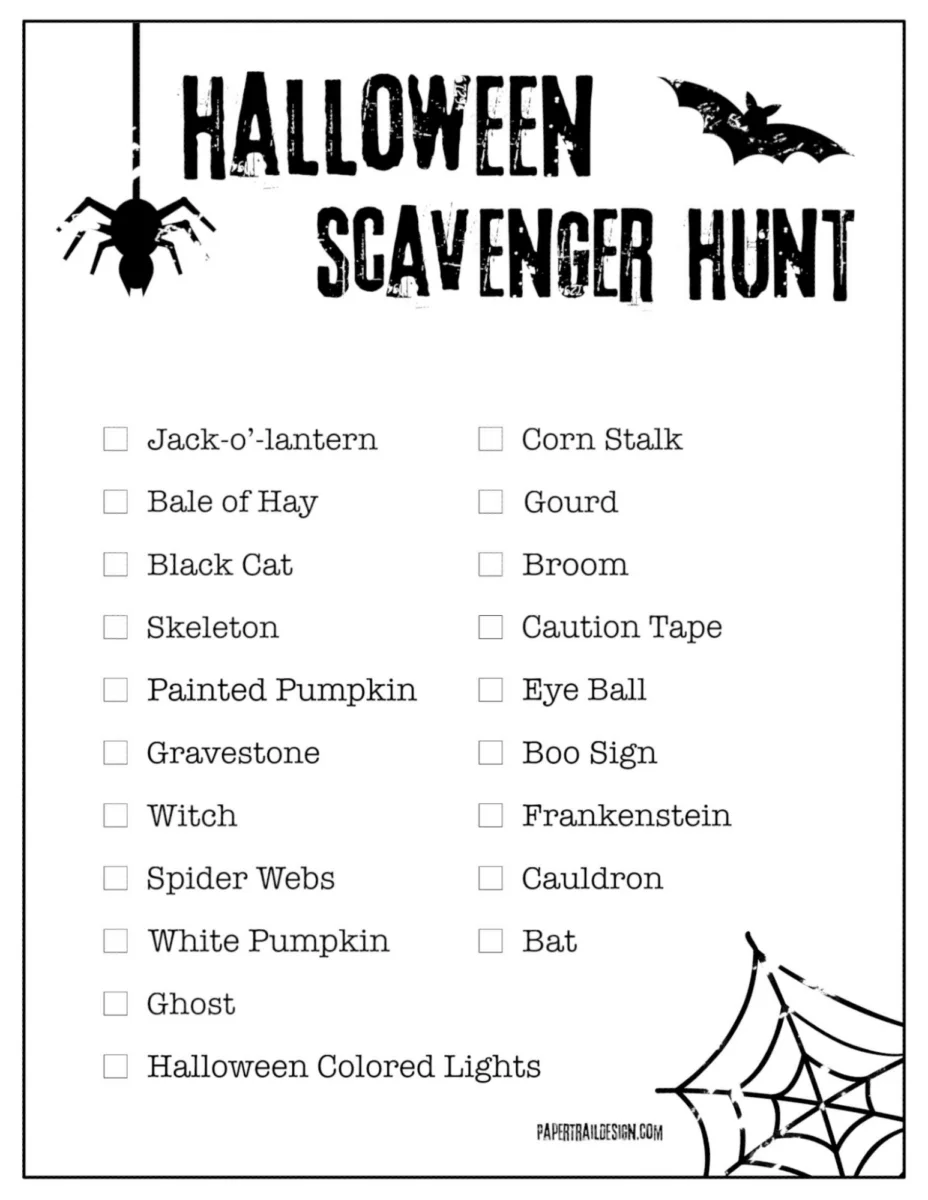 🎃 You might also enjoy reading: Easy & Cute Halloween Drawing Ideas (with Tutorials!)
Outdoor Halloween Scavenger Hunt Clues
Halloween night can be scary, but it doesn't have to be. Your next clue is hanging where lots of leaves might be.
The smell of this place is frightful. Here we put our trash. To find this clue, you'll have to dash.
Ride Through the night by the light of the moon; I am the queen of Halloween on my magical broom.
A treat awaits, but there's a catch, have a look near the vegetable patch.
Some people think I look a little weird with my pointy head and long white beard.
Halloween is exciting but don't you feel tense. The next clue is hiding somewhere along the fence.
Is this little house haunted? Don't be absurd! Find your next clue at this home for a bird.
I love to keep your home nice and neat; I help remove dirt when you clean your feet.
The next clue has gone to hide under a chair that we keep outside.
Where we go to dine outdoors, the next treat could be yours.
The next clue should be the last seen. You will find it where the grass is green.
I am pretty and smell so sweet. Look down to see me. I grow near your feet.
Where bats, cats, and spiders go, find this treat where tomatoes grow.
When you are on me, you can speed like a pro. My two wheels will take you wherever you want to go.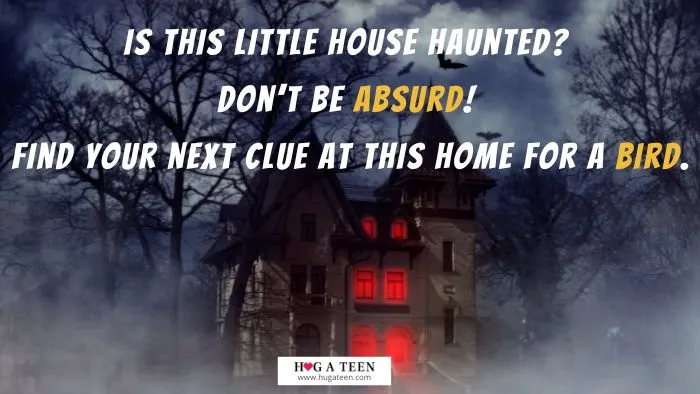 Indoor Halloween Scavenger Hunt Clues
Where Mum and Dad lay down to rest, find this clue, just do your best.
The next clue is hidden in the place where you brush your teeth and wash your face.
Close your eyes and snuggle up tight; it's where the oldest child sleeps at night.
Where you watch films, cartoons, and episodes, check behind me for the clue I've left you.
A clue to finding where you keep things cold. Where to go next is what you'll be told.
Happy Halloween, and congrats on finishing the race. Now look in your closet for a treat to put a smile on your face.
Now it's time to go back inside because it's too cold. Once back inside, look for how the TV is controlled.
Scarecrows don't scare me, and neither do mice. I hid something where we keep all the ice.
Watch out for witches, and don't lose your head. To get your next clue look under the bed.
Werewolves are known to give off a stink; for your next spooky clue, look under the sink.
It's Halloween ghosts have started practicing their boos. The next clue can be found in your shoes.
Mummies are out and wrapped up so tight. To find your next clue, check by the light.
Halloween Treasure Hunt Riddles
You can set a time limit to make it harder to decipher these riddles. Once they get a correct answer, they can look for the next clue.
Ghosts dancing and scaring with glee. I am where you eat, and people sit around me. (Kitchen table)
Black cauldron. Witches brew. When you look at me, I look right back at you! (Mirror)
Spooky skeleton, all in white. Switch me on to light up at night. (Lamp)
Dare you to enter this creepy haunted house, I drink plenty of water, but I don't have a mouth. (Plant)
Vampires are scary but don't be confused, I have to be broken before I can be used. (Egg)
To the vampires' bite, you might succumb. The more I dry, the wetter I become. (Towel)
Why was the witches' broom late? It over swept.
Zombies creep from down below. What can you catch but can never throw? (A cold)
At night ghosts come out to play. What becomes bigger the more you take away? (A hole)
On Halloween night, you're in for a fright. I am on your left and your right, hopefully not too tight. (Shoe)
Carve me out, and stick in a candle at night. If you make me scary, I can give someone a fright. (Pumpkin)
🤓 Suggested read: 95 Fun Riddles For Teens (with Answers!)
Spooky Scavenger Hunt Clues
It's Halloween! You're in for a fright! As we go on our hunt, watch out for creepy crawlies tonight.
They say that bats come out only at night. Search where the garden tools are kept and see if they're right.
Ghosts and ghouls can make you scream! Have a peek where you keep the ice cream.
Beware of ghosts hiding in a box. For your next clue, go to where you keep the socks.
Spooky ghost all dressed in white, I'm not needed during the day, but I show you the way at night.
Halloween night will give you a chill. Check in the garage and find your next clue by the drill.
Halloween is a spooky time of year. Turn off the lights, and your clue might appear. (Paint a Glow in the dark sign.)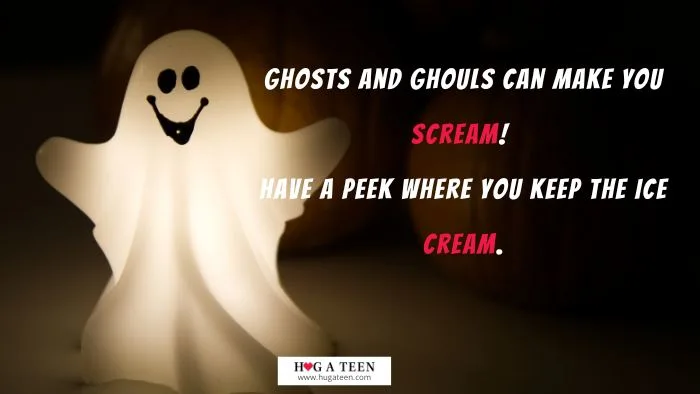 Halloween Scavenger Hunt Clues For Teens & Tweens
If your tweens love a traditional scavenger hunt, they will love a kids Scavenger hunt at Halloween. Organizing a hunt after dark will make finding the clues scarier.
Ghouls have come, and didn't they stink? They left a treat in the bathroom sink.
Almost done, little monster, but let's slow down and think, where's the place to get a nice cool drink?
The treasure is hiding; if you know where to look, go where we keep the books.
Trick or treat! Let's stay up late. Now go to where you get a plate.
Where do you go when you stink? You will come out smelling of perfume after a wash in the?