Are you looking for fun activities for youth groups this Halloween?
There are many fun games for kids that help youth groups build teamwork skills, develop leadership qualities, and learn valuable lessons.
In this article, I'll share with you a selection of Halloween youth group games that will bring your youth group together and inspire them.
I've included links to free printable versions of these games and instructions on how to play them. Enjoy!
🎃Suggested Reading:
Halloween Youth Group Games
1. Halloween Charades
The original Halloween charades game is a must-have if you're planning a youth group party. The game is similar to charades, but the items are Halloween-themed.
Check out this Halloween Charades List with (FREE Printable Word Cards)
2. Horror Movie Trivia Games
If you and your group members love horror flicks, create your own movie trivia games about monsters, villains, or scary movie facts and see how well your friends know horror movies. You can do matching, fill-in-the-blank, multiple-choice, or place-in-order games as long as you choose one topic per game.
Here are over 120+ Halloween Movie Trivia Questions And Answers that you can use.
3. Halloween Mystery Boxes
Spray paint containers orange or black and fill them with creepy food for kids to touch and identify.
Be imaginative and come up with great creepy food ideas.
Examples include spaghetti for worms, litchis for eyeballs, and a flour-filled glove that feels like a hand.
This is a fun food game for kids of all ages.
4. Candy Corn Bottle Flip
You can split the group into teams or give everyone a bottle to flip – depending on how big your group is and how many bottles you have available.
Fill the bottles with equal amounts of candy corn. The aim of the game is to land ten bottle flips.
Find out who your youth group's best flippers are. It is a race to see who can flip ten bottles in a row the fastest.
5. Halloween Fear Factor Trick or Treat
Halloween Fear factor Trick or Treat borrows elements from the Fear Factor show and adapts them to give guests either a trick or a treat.
Treats can be any type of Halloween candy. Tricks should be something gross to eat. You can go as far as making them eat crickets, snails, beef tongue, anchovies, or liver. Or you can make it more of a mental grossness (seaweed sheets made to look like fish skin, beef jerky as goat tendons, or red spaghetti as intestines).
Split your group into two teams, and give them each a die to throw. If they throw an even number, they get a treat. If they throw an odd number, they must eat a trick.
Watch the video below for some Halloween Fear Factor Game Ideas:
6. Halloween Scavenger Hunt
This is just like the traditional scavenger hunt but with a spooky twist. Be creative and include Halloween-related items.
Have a look at these 50+ Halloween Clues For Your Next Scavenger Hunt
7. Bobbing for Pumpkins
In this game, you will need a large container or bucket of water and some mini pumpkins. Pumpkins are placed in water to float.
With only their teeth, players attempt to grab a pumpkin!
Fill the bucket of water with plastic spiders, worms, and sticky eyeballs to make it more disgusting.
Includes:
16 mini pumpkins
2.2 inch x 2.6 inch
Orange
Orange eco-friendly polyfoam
Green plastic stem
Includes:
Ripped Out Eyeball
Movie Quality Prop
Acrylic
6 x 1 x 1 inches
Life Size
Realistic blue eye
Includes:
60 pieces of fake earthworms
Approx. 18cm / 7. 1 inches long
Stretchable
Soft and sticky
8. Halloween Would You Rather
'Would You Rather' is a favorite game among teens. You can ask Halloween-related questions or make them think with interesting spooky choices and listen to them defend their answers. You will learn more about your church youth group members through this game.
Download and print your favorite Halloween Would You Rather Questions.
Halloween Youth Group Party Games
Take the stress out of hosting a Halloween party by having several games lined up for teens and tweens to play. Choose your favorite Halloween party ideas from the list below.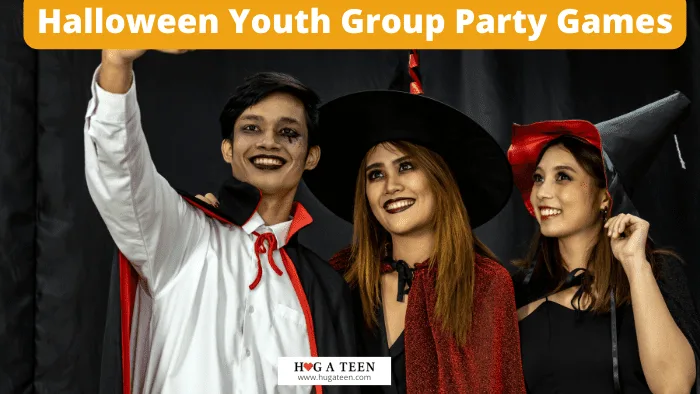 9. Halloween Bingo Game
Whether you're hosting a Halloween party for kids or adults, the Halloween Bingo Card Set is the perfect game to play. These games are great for camp nights, group activities, or party games this Halloween season to bring your friends and youth group closer together.
Includes:
30 unique player card packs
144 pictures
24 unique designs
540 pieces of pumpkin markers
Instructions
10. Eyeball Spoon Relay
The traditional egg race with a Halloween twist. Your next spooky Halloween youth group party will be full of enjoyment and laughter with this funny game. Get glow-in-the-dark eyeballs to play at night.
Includes:
24 pieces
1.25-inch diameter
Bouncing eyeballs
Glow in the dark
Hold them in the sun or strong light to absorb light to glow in the dark
11. Scarecrow Relay
Play this game in two different versions. This first game, 'Stuff A Scarecrow,' is fun for mixed-age groups.
Alternatively, 'Be A Scarecrow' is better suited to older ones or those who are into dressing-up games and activities.
Divide the group into two teams. Each team must select someone to be a scarecrow. This person will stand on one side with several clothing items placed beside them.
Team members must race up to the scarecrow one at a time and dress the scarecrow with an item of clothing. As soon as they have successfully placed the article of clothing on the scarecrow, they then run back to let the next person add another item of clothing. The first team to fully dress their scarecrow wins.
Watch this short video to see how it's played:
12. Eyeball Hunt
It is much like an Easter egg hunt, except the goal is to find as many spooky candy eyeballs as possible.
13. Halloween Cookie or Cake-Pop Decorating
The next time you organize a youth group party, you and your group mates might want to sit down to decorate cookies or cake pops with a Halloween theme.
Bake the cookies or cake pops before the events and ensure that you have plenty for everyone to decorate and enjoy.
Supply the teens with sprinkles and icing to decorate.
Includes:
Cake sprinkles
Candy eyeball
Monster Mash
6 ounces
14. Halloween Truth or Dare
This is a Halloween-themed version of Truth or Dare. The truth questions must include questions about their creepiest real-life experiences.
Check out these Scary Halloween Dares For Teens & Tweens to get you started.
15. Slimy Worm Slurp
On a plate, place some gummy worms, then top them with whipped cream. While keeping their hands behind their backs, players must try to eat all the worms.
16. Stack The Bones
'Stack The Bones' is a Halloween twist on the classic game Jenga that requires serious bone-stacking skill and strategy. There's no doubt that this game is a bone-yard of fun for both adults and children.
A bone is removed from the stack and placed at the top of the pile by each player using one hand only. Last player to place a bone without knocking over the stack wins!
Includes:
Skeleton & Skull Stacking Bones
1 – 10 players
Wooden bones
17. Zombie Kittens
This is the spooky version of the popular Exploding Kittens game. The Undead Twist on Exploding Kittens keeps players involved until the very end, regardless of whether they are alive or dead. The last player alive wins.
Includes:
2 – 5 players
61 original cards
Halloween version
Halloween Games For Church Youth Groups
Choose any combination of games from the list below for your next church group on Halloween.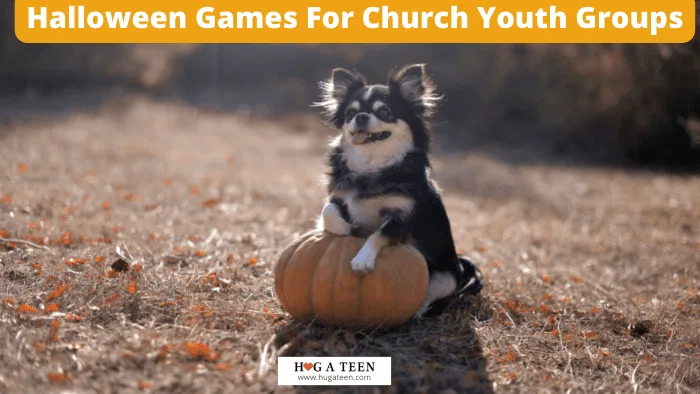 18. Jack O' lantern Race
The Pumpkin Drop Game will keep you on the edge of your seat! Playing it is challenging but very enjoyable.
You can use a tray or even an empty roll of toilet paper as the vessel to balance your plastic pumpkin on.
Players must run from one end to another without dropping their pumpkins.
Whoever crosses the finish line with their pumpkins still on the holders and with the fastest time wins.
19. Witch's Brew
Set up a variety of drinks, such as lemonade, soda, milk, and iced tea.
A group member is blindfolded and spun around. That person chooses three drinks from a menu.
One of the players, designated as the witch, mixes the drinks. A prize is awarded if the blindfolded player consumes the concoction within a specified time period.
20. Halloween Capture the Pumpkins
Suitable for older children, teens, and even adults, Capture the Pumpkins is a twist on the classic Capture the Flag game.
In order to make it work, you should divide the group into teams if you have a large number of members.
21. Eyeball Pong
If you have some ping-pong balls, you can make them into eyeballs or buy fake plastic eyeballs. This will give you a Halloween twist to your pong game. Play traditional pong, minus the alcohol.
22. Licorice Race
Players each get a piece of long licorice to put in their mouth and must eat the licorice without using their hands. The first person to have the whole piece of licorice in their mouth wins.
Includes:
2 lb bag
Quality licorice laces
Thin, flexible laces
You can also use candy wheels or sour power belts for this race.
Includes:
4 flavors (Strawberry, Green Apple, Blue Raspberry & Tutti Frutti)
Sour belts
Includes:
Strawberry, wheels
Pack of 12
Licorice candy
Green Apple, Blue Raspberry & Tutti Frutti)
Sour belts
23. Halloween Dance-Off
Make party guests dance to popular Halloween songs like "Thriller" and "Monster Mash." Awards can be given for the best dance moves.
24. Dead Weight Balloons
Place a light weight like candy corn in balloons and blow them up.
Give each player three balloons, which they must try to keep up in the air. You can either time each player or pit them against each other.
The player who keeps all three balloons up in the air the longest wins.
25. Pass the Package, Halloween Version
A box, some Halloween wrapping paper, a candy stash, and a small prize are all you need.
The box should be wrapped in multiple layers of wrapping paper with pieces of candy for prizes in between each layer.
Pass the box around to guests as Halloween-themed music plays. As soon as the spooky music stops, the person holding the parcel gets to open one layer at a time. Do not stop until you discover the final prize.
26. Pumpkin Bowling
Decorate toilet paper rolls or cans to create ghost bowling pins. Follow the actual rules of the bowling game when playing the game. Using little mini pumpkins as bowling balls makes it even more fun!
27. Spider Web Maze
To win their prizes, players must untangle their strands of yarn and work as a team. It will take several colors of yarn to complete the setup. Putting this together takes a lot of time, but it's a lot of fun!
Halloween Themed Games Youth Groups
28. Halloween Candy Catch
Divide guests into two teams. A bucket is held by one team member and a bunch of candy by the other. Players stand back-to-back.
One person throws a piece of candy while the other tries to catch it in their bucket.
You can use Halloween-inspired candy like candy corn, sour worms, and eyeballs to make it even more fun. It's a hilarious game!
Includes:
Sour Worms
28.8 ounces
Cherry, Lemon, Strawberry, Grape, Orange, and Lime
Includes:
22 individually wrapped eyeballs
Green, yellow, and red.
5.92 oz
29. Passing Pumpkins
The Pass The Pumpkin game is simple and fun to play with a group. There will be plenty of laughter and movement in the room.
Divide the group into two teams and give them each a pumpkin. You can use a small real pumpkin or a plastic pumpkin.
The team that passes the pumpkin around the fastest wins. However, the trick is that they can't use their hands. They can use their feet, chin, elbow, or whatever other body parts they choose.
30. Halloween Balloon Decorating
Let everyone design their own Halloween Jack-o'-lanterns and spooky characters by blowing up some orange balloons and decorating them with a black marker. A great time to show off your creativity!
31. Pass The Ghost Story
The spooky twist on "Telephone" will have your guests spellbound. See how your ghost story changes as your friends pass it along. Watch out the for the spooky or sometimes hilarious twists and turns of the story before it even reaches the last player.
32. Halloween Film Festival Game
Your guests will enjoy recreating classic Halloween movies or television shows in this game. Guests can act in response to simple prompts, or you can make it as involved as you like, given the resources and time available.
Split the group into two teams. A team member has to select a Halloween movie from a hat and choose a few team members to help them act it out for the rest of the team.
The first team to guess the Halloween movie or TV show wins.
33. Ghost in the Graveyard
In 'Ghost in the Graveyard,' teens and tweens can enjoy an active and fun nighttime version of the classic game Hide and Seek.
Throughout this after-dark hunt, all players try to avoid being tagged by the designated ghost.
34. Shadow Game
The room needs to be dark, so turn off all the lights except one lamp placed on a table. Hang a white tablecloth in front of the table and then put a stool between them.
One group member uses props to disguise himself while sitting on the stool.
The person on the other side of the cloth must guess which shadow belongs to which individual.
35. Costume Contest
A themed costume contest is always a good idea at group parties. Anyone can join and dress up as whoever or whatever they wish. Get everyone excited by announcing that awards will be given to the party's Best Dressed. You can include categories by age or costume type scariest, most creative, the best team, best make-up, etc.
36. Halloween Ring Toss
This Halloween-themed ring toss game appeals to kids and adults. This highly addicting and challenging game is all about hand-eye coordination and calculation with added fun and excitement.
Includes:
Inflatable Witch Hat Ring Toss
10 rings (6 small Rings + 4 big Rings )
5 inflatable witch's hats
1 pump