Halloween charades can be a great addition to your Halloween party. It is an excellent opportunity for people to interact, learn and have fun.
Read on to get ideas on words and phrases you can include in your charades game this Halloween.
🎃 You might also enjoy reading:
How do you play Halloween charades?
A great benefit to playing Halloween charades is that you don't need to incur extra costs to play the game. Download and print out these Halloween Charades List with words or phrases to make your next game night spooktacular.
Below are the rules of charades and how to play the game.
If there are many players, you can divide them into teams. If there are only a few players, you can play individually.
You assign a timekeeper to ensure every team or individual is allocated the same time limit to keep it fair and exciting.
After printing or writing out the charades words or phrases, you put them in a bowl or deep container. Make sure to shake them.
Everyone takes turns. One person is selected to choose a topic from the charade cards in the bowl. The cards with the subjects are picked up randomly. Once you pick, you can't change and select a different one.
The timekeeper sets the time. One minute is usually enough. You read the card and act out the idea or topic indicated. Talking is not allowed.
The rest of you or your teammates try to guess what you're acting out. The person who gives the correct guess will be the next to play.
You play for points. For every correct guess, you get awarded one point. The game can be short or long, depending on the number of participants and topics.
The person or team with the most points when you are done playing is the winner.
Charade Clues – Signals, Signs, and Gestures for Charades
You can use several different signals, signs, and hand gestures to help you play charades.
Letting your teammates know how many words and syllables you're describing is helpful if you're explaining a difficult word or longer phrase.
If you're not familiar with which gestures to use, we list them all in our Christmas Charades post.
Or watch this video:
Halloween Charades List
If you enjoy family game night, you'll love these Halloween-themed words for charades. Download these printable lists of charade word ideas for a fun family game night.
Easy Charades Ideas
Here are some easy charades cards that kids will enjoy, as it's a simple game that everyone can play.
Eating candy.
Witch stirring a brew.
Eating a caramel apple.
Drinking poison.
A witch riding a broom.
Going to a Halloween party.
Going trick or treating.
Doing a magic trick.
Drinking hot cider.
Bobbing for apples.
One-eyed monster.
Jumping into a pile of leaves.
Pumpkin seeds.
Mummy eating candy corn.
Frankenstein dancing.
Casper, the friendly ghost.
Putting up Halloween decorations.
Monster mash dance.
Princess fighting a ninja.
Being caught in a spider web.
Sorting candies.
Unwrapping a piece of candy.
Walking through a spider web.
Putting on a Halloween costume.
Witch baking dessert.
Carving a pumpkin.
Watch how to dance the Monster Mash in the video below:
Spooky Charades Ideas
Here are some fun ideas if you're looking for spooktacular charade ideas for game night. Print out these Free Charades Game Cards, and you're ready to play your favorite game this Halloween.
Casket
Zombie attack.
Grim reaper.
Going to a haunted house.
Haunting memories.
Spooky.
Watching a scary movie.
Mummy.
Rest in peace.
Monster.
Bone-chilling.
Changing into a werewolf.
Zombie Apocolypse.
Funny Charades Ideas
Creating funny charade ideas and characters can take your charade game to the next level.
Dancing skeleton.
Cowboy on a broom.
Hunchback dancing ballet.
Witch painting her nails.
Vampire at the beach.
Dracula playing the piano.
Clown riding a tricycle.
Witch playing limbo.
Zombie tying his shoe.
Dancing dinosaur.
Vampire brushing teeth.
Werewolf-eating candy.
Mummy waking up.
Avoiding a black cat crossing your path.
Zombie performing ballerina.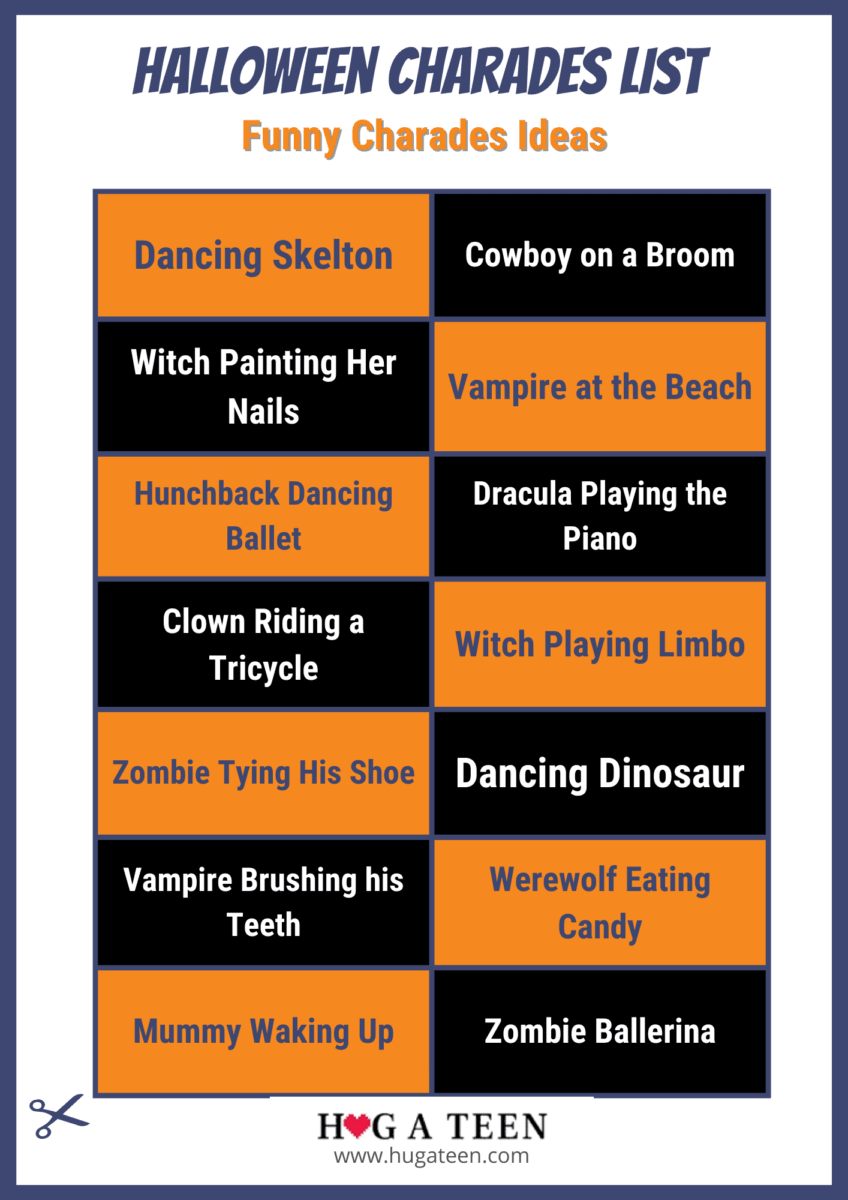 🤓 Suggested Reading: 100+ Funny Halloween Knock Knock Jokes
Hard Charades Ideas
If you would like to create a more challenging game, you can move on to some of the ideas below.
Voodoo doll.
Blood.
Freddy Krueger.
Devil In A Blue Dress.
Flashlight.
Evil snowman.
Book of spells.
Soul.
Bat turning into a vampire.
Buried alive.
Guillotine.
Poltergeist.
Michael Myers.
Ghoul.
Friday, the 13th.
Words For Halloween Pictionary
If you don't feel like acting out these Halloween words or phrases, you can always choose to draw them instead. You can use this charades words list for Pictionary as well. Some teens prefer to draw rather than act out words, so you can always mix things up and have different party game ideas to keep everyone engaged.
Ghost.
Broomstick.
Spider web.
Witch.
Fangs.
Superhero.
Black cat.
Monster mash.
Lantern.
Count Dracula.
Witchcraft.
Ghost story.
Flying bat.
Spell.
Evil.
Boo.
Skull.
Face paint.
Joker.
Shadow.
Doorbell.
Vampire.
Pumpkin.
Scarecrow.
Midnight.
Frankenstein
Scared.
Mad scientist.
Princess.
Troll.
Ninja.
Jack o lantern.
Creepy.
Costume.
Gruesome.
Harry Porter.
Eyeballs.
Spider Legs.
Garlic.
Spider.
Chain.
Magic potion.
Trick or treat bag.
Werewolf.
Bat.
Hunt.
Evil laugh.
Broom.
Goblins.
Halloween Charades Ideas
Halloween charades are an excellent opportunity for adding activities to your party. The best thing about a game of charades is that you can customize them to accommodate all age groups. You can use written or printable cards with words that include pictures, if necessary, for younger players.
Halloween Heads Up Game
Heads Up! is a fun twist on charades!
Instead of choosing a card and having to act out what it says to the other players, in Heads Up, you hold the card against your forehead, facing toward the other players. They then need to act it out the so that you can guess the word you're holding up against your forehead.
They may also choose to give clues as to what the word or phrase is without saying the actual word.
As soon as you guess the correct answer, you can choose another card and continue playing for an agreed-upon time.
You get a point for every correct answer.
The team or person with the most points wins.
Ellen Degeneres also created a Heads Up app, which you can download to your phone and use your phone instead of printing out cards.
Watch Ellen play Heads Up in the video below:
Halloween Fishbowl Game
Fishbowl is a great team game when you have a large group of people. You will need at least four (preferably more) players to play the Halloween fishbowl game. You will need a bowl, pieces of paper and something to write with. Each player is given three or more pieces of paper. On this paper, you need to write Halloween-related words.
Once you're done writing, fold the papers and put them in the bowl. Mix them up. Divide yourselves into two teams. From each group, one player will pick a piece of paper. The player is not supposed to mention outright the word written on the card.
You are supposed to act out, like charades, or say other words related to the word written on paper. Your teammates are supposed to guess the word on the card from your actions. Each player has a time limit of 60 seconds. You each take turns, awarding one point for every word guessed correctly.
You can play Fishbowl in three different ways. You can even have three rounds and use the different gameplays for each one.
Each team plays a round, and when both teams have taken turns, all of the words are put back into the container for the second round. Putting the words back into the fishbowl allows you to play the final round, called Password, where you can only use a one-word hint. It is, therefore, useful if your team members can remember the words from Rounds 1 and 2.
Round 1. Taboo
You can use only words and sentences to get your teammates to guess the word. Actions are not allowed.
Round 2. Charades
You can only use actions. No words can be spoken.
Round 3. Password
You can only use one word.
Halloween Movie Charades
Halloween movie charades is a fun game that everyone can play depending on the difficulty level. When choosing the movies, you can opt to stick to the classic movies or mix them up and include new films.
After picking the movies, put down the movie titles and characters on blank cards or regular paper.
You can put the pieces of paper in a bowl or pumpkin, or be even more inventive and put them in a balloon. You blow up the balloons, tie them up them, and place on a board.
Choose one and pop it to get the topic, then you can act it out.
Below is a list of Halloween movies that can guide you in coming up with words for the game
Nightmare on Elm Street.
The Blair Witch Project.
Night of the Living Dead.
Friday the 13th.
Halloween.
The Omen.
IT.
Jaws.
Texas Chainsaw Massacre.
Nosferatu. https://en.wikipedia.org/wiki/Nosferatu
The Exorcist.
The Thing.
Pumpkinhead.
Psycho.
Saw.
When a Stranger Calls.
House on a Haunted Hill.
The Shining.
The Amityville Horror.
Sleepy Hollow.
Pet Sematary.
Alien.
Scream.
🤓 Suggested Read: 120+ Halloween Movie Trivia Questions And Answers
Remember that for longer phrases, you can either act out the name of the movie or each individual word. You can also use the 'sounds like' or 'rhymes with' gesture if that can help them guess the correct words.
For example: 'The Thing' – rhymes with or sounds like 'ring.'