In today's highly stressful world, Millennials consider bullet journaling the best way to organize their thoughts, jot down ideas, and meditate. It has actually morphed into a mindfulness practice disguised as a journal.
Bullet journaling combines the ease of a day planner with the convenience of a diary, and written meditation all into one, creating an innovative method that helps you be more productive and reach your goals.
With sections for daily tasks, weekly goals, and ideas for your next steps, bullet journals can be customized to meet your needs. You can mark the days using boxes, columns, or rows.
Use symbols you understand to customize your BuJo and use collections to organize objectives that align with your long- and short-term goals.
You might also enjoy reading How To Improve Handwriting for Teenagers if you feel that your handwriting isn't as good as it should be.
What Is The Difference Between A Journal & A Diary?
The concept of bullet journaling is different from a conventional diary which is used for organizing and planning your days, weeks, and months ahead.
Using bullet journal methods encourages authors to reflect on their goals, tasks, and responsibilities. Instead of a traditional checklist, bullet journalers include daily, monthly, and yearly reflections along with bullet points.
Each page can be decorated, designed, and customized in a way that is visually appealing, relaxing, and can assist in helping you find things more easily.
How Do You Do A Weekly Spread On A Bullet Journal?
The bullet journal weekly spread also called the weekly log, is the most common way of keeping track of your journal entries.
Even if you prefer to journal daily, many people find it beneficial to also keep a weekly log in their bullet journal.
An alternative to the monthly overview, a weekly template offers you the opportunity to include more entries and allows you to easily migrate tasks from one week to the next.
Your weekly spread will help you become more organized and productive.
The weekly bullet journal spread includes a section for every day where you can record your ongoing tasks, your to-do lists, notes, weekly trackers, and anything else you need for the week.
Depending on how much information you need to record in your bullet journal and how you like to log it, there are a number of ways to design your bullet journal weekly spreads.
Here are some bullet journal weekly spread ideas you can use in your bujo. Pick some you like and recreate them.
You'll be able to design your own creative layout once you've been using a bullet journal for a couple of weeks!
Minimalist Bullet Journal Weekly Spead
Minimalist templates are most suitable for Bullet Journal beginners.
Bullet Journals can be pretty overwhelming at first, with all the different decorating ideas and page ideas. If you begin with a minimalist setup, you will be able to get into the habit of journaling and discover how to best utilize the system.
You can then experiment with other styles, but by then you'll have established a baseline and know what you're looking for in your BuJo.
If you're looking for some inspiration, here are some simple bullet journal weekly spread examples.
Vertical Layout Bullet Journal
This layout is simple and vertical. There is a box denoting the day and the date at the top of each column, which is a nice touch.
A note space at the bottom of each column is also included.
The space is often used as a gratitude log.
Minimalist Weekly Spread with Habit Tracker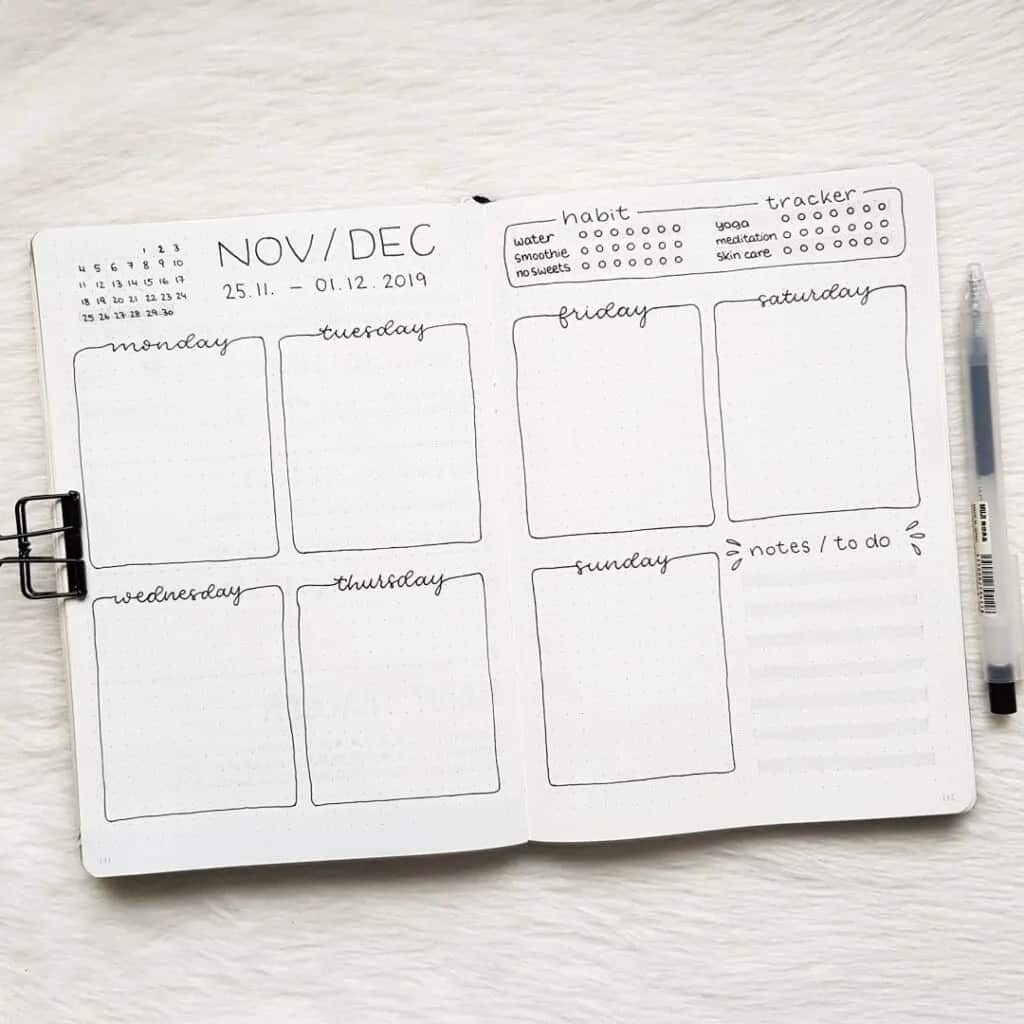 You have plenty of writing space with oversized blocks.
There is a small spot above each day to track your habits, and each week is divided into two pages.
The bottom of the page has a block for scribbling notes or doodles.
There is also space for birthdays, appointments, and important dates.
his bare layout doesn't require any artistic skills, with lots of white space for notes and doodles.
Workout Schedule & Meal Planner
Now let's take a look at this minimalist bullet journal design. This minimalist design will let the author maximize the use of each page.
On this bujo planner page, there is a workout schedule as well as a meal planner.
This is a great bullet journal for minimalists and fitness enthusiasts.
Weekly Spread Bullet Journal for the Foodie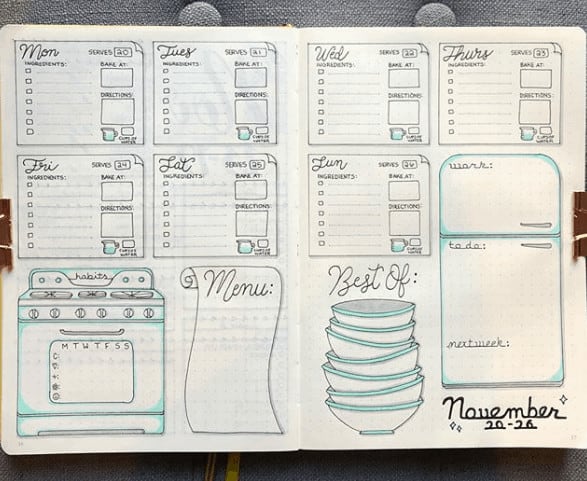 It can be frustrating to plan your meals for the week. The weekly meal planner makes this process so much simpler.
The smaller spaces for notes, work, and habits, it will be easier for you to track the grocery list, plan your meals, and eat healthier.
Minimalist Weekly Spread With Tracker & Logs
Bullet journal users will love this weekly spread idea. Despite its minimalistic appearance, the trackers, logs, and the weekly log are all beautifully organized.
Weekly Bullet Journal Spread Ideas & Designs
Bullet Journal themes can simplify your Bullet Journal setup, bring consistency to your pages, and clearly divide your weeks.
By choosing a theme, you basically commit to using one type of doodle or illustration on every page for the entire week.
You can add doodles on all your pages based on a theme such as books. As an alternative, you may choose a specific color as your theme and decorate accordingly.
It's basically a way to organize your spreads for a certain week with a theme, a certain type of decoration, that helps you pull everything together.
Harry Potter Bullet Journal Spread
Harry Potter was probably a big part of your childhood if you're a Millennial. During the holidays, most of them still get nostalgic and rewatch the movies they grew up with.
With this Harry Potter-themed bullet journal weekly spread, Potterheads are sure to be delighted.
This spread is absolutely gorgeous, and anything Harry Potter is a winner.
Bullet Journal Spread Flowers
Here's a great weekly spread for inspiration if you love something colorful and floral.
There are so many pretty flowers to draw in your journal.
There is a great balance of different shades of blue used throughout the layout, but you can use any color combination that you love.
Dutch Door Journal
In a 'Dutch door' bullet journal, part of the page stays stationary, while the other remains normal, so you can turn the pages as usual. A horizontal or vertical application is possible with this system.
For this Dutch door organization system, tabs are used to label each week in a month. It's awesome that you can create a different layout for each week while keeping the same main theme throughout the month.
Have a look at how you can create different Dutch Door styled bullet journals:

Pretty Watercolor with Habit Tracker
It is absolutely gorgeous how this weekly spread features ombre washes of color on each day. What a wonderful idea!
In addition, it has an extra triangle that can be used for taking notes for the coming week. How convenient!
You'll find several different modules grouped together at the bottom of both pages.
There is a thumbnail of a calendar on the left page, as well as a catch-all box for whatever the author wants to add. Cool concept!
Neutral Planner
You'll love this layout if you like to keep track of your tasks and habits each week!
One page displays the daily tasks and the other displays the running task list.
Making the layout more visually interesting is as simple as adding craft paper or scrap paper.
Blackout Bullet Journal Themes
Journals with black pages are called blackout journals. Blackout BuJos are becoming increasingly popular, even though they aren't as widely used as normal journals. And rightfully so- they're stunning.
Blackout journals might be the right choice for you if you want to stretch your creative muscles.
Here are some samples to get you started.
Summer Nights
This mix of gel pens and stickers is so adorable! Those who love blackout bullet journals will love this!
Gel Pens & Stickers
This combination of white and light blue gel pens on black is simply stunning. Add some stickers to make it even more amazing.
Black Blue & White
Using this simple layout, the entire week is covered in two pages. One page includes some notes at the bottom. On the opposite page, there is a to-do list.
With white and blue gel pens and leaf doodles, it was even more appealing.
Black & Gold Space Theme
Stunning space theme incorporating some awesome star signs! It is really neat how each month has a different sign!
Use gold gel pens to create your own designs.
Black White & Stickers
With stickers, doodles, and gorgeous handwriting using white gel pens, here's another fantastic spread. So pretty!
Adding some clear and writeable stickers to your Bullet Journal is a great way to make it more interesting.
Doodles In Bullet Journals
When you doodle, you are able to connect with your emotions and relax.
Doodling has been found to relieve stress and improve concentration.
You don't need any special skills or expensive bullet journal supplies to create amazing drawings.
Browse through our selection of doodle bullet journals to get you started.
Cats Themed Weekly Spread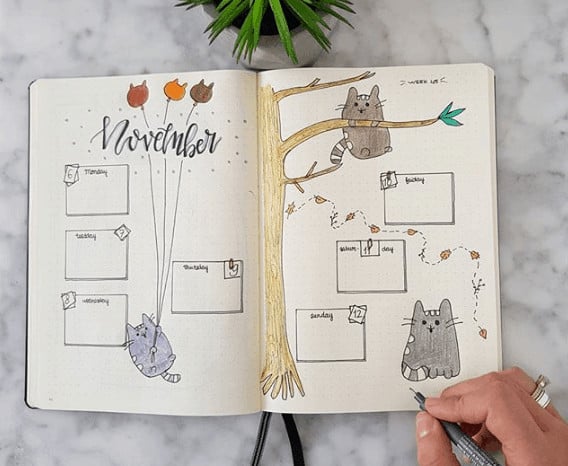 Make your weekly spread very cute and whimsical by adding some cute little drawings of things that make you smile.
Besides being fun, cats are also fairly easy to draw. You can personalize these bullet journal ideas to suit your tastes.
If you aren't an artist, consider just writing out your happiness boosters and using stickers or Washi Tape to make it pretty instead.
Staggered Days
Here is a fun layout that uses a different size for each day to create an interesting look.
Additionally, this layout gives you plenty of room to be creative.
Trip Itinerary
Here is a pretty itinerary layout idea that you can use to plan your perfect travel week.
Doodles and Calligraphy
The spread for Halloween week features wonderfully cute Halloween doodles. How adorable!
Doodles are for everyone! Let your creativity run free.
If you're just starting out then a book teaching you how to do calligraphy and letting could be very useful.
Comic Book Spread
This bullet journal weekly spread is based on comic book art. This design is simple, minimalist, yet colorful and very functional. This works very well for comic book enthusiasts.
Scrapbook Style Bullet Journals
If you're unfamiliar with the concept of a scrapbook bullet journal, to put it simply, it's like taking a bullet journal and turning it into a little scrapbook.
You can now create your scrapbook bullet journal with anything you like, such as photos, stickers, stamps, magazine cut-outs, and anything you like to draw or paint. Everything that you would normally use for scrapbooking!
The following scrapbook-inspired bullet journals can also serve as inspiration for your bujo.
Diary & Memory Keeper Weekly Spread
Bullet journals can both serve as a diary and a memory keeper.
Take inspiration from this scrapbook-inspired bullet journal weekly spread to spark your creativity!
Collage Scrapbook Journal
Your bullet journal can be customized with pictures to make a weekly spread.
Use washi tape to attach the pictures. It has the look of a collage when viewed as a whole!
Bullet journals possess a strong sentimental value. The BuJo offers many opportunities to add pictures and memories from a week.
Vintage Scrapbook Weekly Spread
When it comes to using the scrapbooking method for your bullet journal, you need to ensure that it doesn't become too messy, or you'll have trouble finding information.
One of the best things about using the scrapbook look is that you can add photos, ticket stubs, or any other memento.
Autumn Inspired Bullet Journal
Autumn vibes fill this scrapbook-style bullet journal spread. Include earth colors in your stickers and pens and you're good to go!
Scrapbook Weekly Overview
Using craft paper circles to represent each day is what makes this layout so appealing!
On the right side of the spread, there is a spot for the daily task with stunning headers.
You can use these circle headers even if you plan to do a different overall layout.
Color Theme Bullet Journal Ideas
It can be challenging to come up with the right theme for your bullet journal spread. To make your bujo life easier, we have put together a list of cute color-coordinated themes.
It is possible to simply like a particular color in your bullet journal, or it may be that the color is symbolic of a particular month in your BuJo, so all of your weekly and monthly spreads fall under similar themes and colors.
When bullet journal pages are color coordinated, it makes them very organized and easy to fin.
You might be inspired to try themes and color palettes you have never thought of before by these bullet journal ideas!
Red Bullet Journal Inspiration
This weekly spread is stunning in its vivid red theme. Those strawberries are perfect for this color scheme!
You can include any red objects in your red bullet journal theme. Lips, apples, ladybirds, hearts, cherries, flowers, tomatoes – you get the idea.
I appreciate the simplicity while still having an impact.
Green Bullet Journal Ideas
The color green is used in chromatic therapy to soothe the mind and soul.
When a person is stressed or anxious, it is an ideal color theme for their bullet journal weekly spread, as it helps them to regain their emotional balance and quiet the mind.
Gold Themed Bullet Journal
Adding gold to bullet journal spreads brings a bit of excitement because it adds a touch of magic and luxury that only gold can bring.
You can use gold washi tapes, gold pens, glitter, embossing, and more.
Blue BuJo Inspiration
You can use many different shades of blue to make each page stand out.
This theme uses natural elements like the sky, clouds, and birds as inspiration.
Purple Bullet Journal Spread
If you like galaxy nails then using a mix of colors like purple and pink might appeal to you. There are so many ways to color and shade this look.
Add some white stars and you have a dreamy starry night to gaze at.
Best Bullet Journal Kits For Beginners
Weekly Planner Printables
Here are some weekly planner printables to get you started.