There are times when physically meeting with family or friends can be challenging because of the distance.
Fortunately, video chatting technology, which has become a popular form of communication in the past few years, allows you to interact with your friends in real-time.
Other than coming up with things to talk about on FaceTime, you might be interested in playing games on your video call.
Games To Play On FaceTime In 2023
If you're looking for things to do on FaceTime then here are some fun games to play on FaceTime with family, friends, and colleagues.
Although one could attempt to play a board game or card games, these are really fun and much easier to play on FaceTime.
To play FaceTime games with friends, start by calling an individual or group on FaceTime.
You can receive and make FaceTime calls on any Apple device (iPhone, Ipad or Mac computer by launching the application and signing in with your Apple ID. You can have up to 32 people on Group FaceTime calls on any up-to-date iOS device.)
Choose a couple of your favorite games from the list below and get ready to have some fun with your friends on FaceTime.
Watch this quick video on how to invite your friends to a group FaceTime game:

1. Clap The Song Game
"Clap the song" is a popular game for people that are into music.
How To Play Clap The Song Game
Think of a song; it's best to think of a popular one or one you believe the person or people you are chatting with can recognize.
Start clapping to the beats and rhythm of the songs.
Your friends must then try to find out what song it is.
It shouldn't take too long if it is an easily recognizable song.
If the people you are chatting with cannot identify the song you are clapping, you can hum it to provide more clues.
You won't notice the time passing if you all take turns to clap out your favorite song.
2. Read My Lips on FaceTime
How good are your lip-reading skills? You can find out with this game next time you Facetime with friends or a loved one.
How To Play 'Read My Lips'
Start by hitting the mute button and putting your speaker on mute to ensure the other person cannot hear anything you say.
Agree on the number of times both of you can say a word or phrase.
Try to find phrases or words that aren't so easy to identify.
You can look up words and phrases online or get inspired by the things around you.
For example, you can focus on things around your house such as 'microwave,' 'bed sheets,' and 'living room.'
It's a funny game that will most likely have you both in stitches as you try to guess what they're saying.
3. Virtual Hide And Seek
Yes. You can play hide and seek over Facetime! This is a variation of the physical game, which allows participants to play it over video chat.
How To Play Virtual Hide And Seek
To play the game, think of a hiding place in your house or where you are calling from.
It makes it more enjoyable if the people you are Facetiming with know various parts of your house.
When you have "picked" a place you will be hiding in, the other players will try to guess where you are.
They can ask questions like, "Are you hiding in the bathroom?" "Are you hiding under the bed?" and "Are you hiding behind the bedroom door?"
4. Truth or Dare Game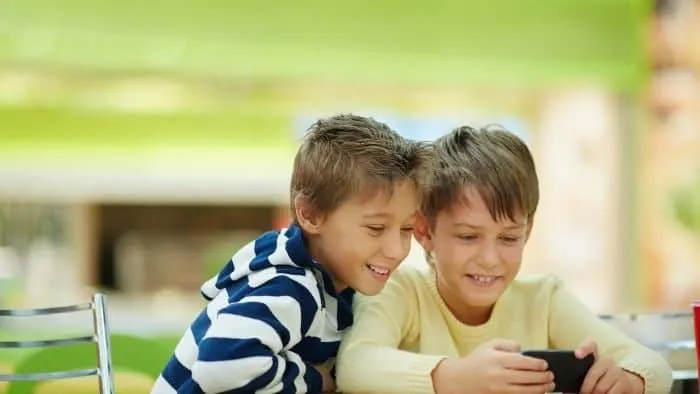 This is a classic game and one of the best you can play on Facetime.
How To Play Truth or Dare on FaceTime
This game of Truth or Dare involves asking the other person to answer personal questions about themselves or complete a dare.
Remember to be creative with your list of questions!
Some Truth questions include:
What's the silliest thing you've ever done?
What was the last thing you looked up on the internet?
What do you fear most?
Have you ever peed in bed? Find out: How Long Does It Take To Pee After Drinking Water?
Can you show me the most embarrassing photo you have ever taken?
What would you do if you were the opposite gender for a day?
What's the most annoying thing you've ever done to someone?
Here are examples of dares:
Impersonate a person (could be someone you both know closely or a famous person)
Do 15 sit-ups
Run around your house in 15 seconds
Sing a song from your favorite singer/rapper
Talk like a little child
Be careful not to ask truth questions that will hurt people or ask them to perform dares that can lead to physical injuries.
5. Never Have I Ever on FaceTime
This is another entertaining game you can use to learn more about the people you are Facetiming with.
How To Play 'Never Have I Ever'
To play, have two cards or pieces of paper and write "I have" on one and "I have never" on the other.
Next, pick a category or theme to make the game more interesting. For example, you can choose school as a category.
One person then starts by asking a question like, "Never have I ever played a prank on a student in school."
Those who have ever done this will show the card "I have" on the screen, while those who have never done it will show the "I have never" card.
Give everyone a chance to ask the next question.
6. 'Would You Rather' FaceTime Game
This is another fun option and simple questions game.
How To Play Would You Rather On FaceTime
It involves asking players what they'd rather do. Examples of questions you can ask:
Would you rather dance or sing a song?
Would you rather live in extreme cold or extreme heat?
Would you rather be able to fly or disappear as your superpower?
Would you rather hike or go swimming?
Would you rather have a personal chef or a personal maid?
Would you rather spend two years in a war or two years in prison?
Would you rather have an extra toe or a third eye?
Would you rather live in a cave or a treehouse?
Would you rather be surrounded by annoying people or all alone in the world?
Would you rather lose the ability to hear or the ability to see?
You can find more Would You Rather questions for teens here.
7. Newlywed FaceTime Game
This game is ideal for people who are dating, but it can also be played with friends and family.
How To Play Newlywed On Facetime
The idea is to answer questions about your relationship with the person you are Facetiming with.
You can either send a message or upload a photo from your photo library in a shared album to answer the questions.
Here are some Newlywed game ideas:
A concert we went to together
My favorite color
My favorite dish
My best movie
Where I was born
Picture of me in a restaurant
Where was our first date
My favorite TV personality
A meme I'd like
8. Charades on Video Call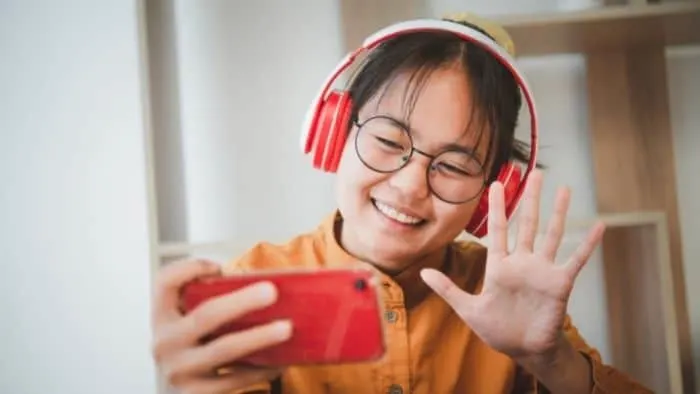 You have probably played a game of charades at some point in your life but never done it on video chat.
Charades has been around for centuries and is the perfect Facetime game as it is a simple game that does not require any tools play.
How To Play Charades On Video Chat
To get started, think of something you can act out. You could choose a famous person, word, phrase, place, thing, or activity. For instance, if you choose a lion, imitate how a lion walks and roars (no sound is allowed, though).
Activities include rowing, playing baseball, swimming, opening a gift, driving a car, and brushing teeth.
Take turns individually or create teams and award points to people who make the correct guesses.
9. Sentence Story Making
Another great thing to do on Facetime is to make up stories!
How To Play 'Sentence Story Making'
One person begins telling a story with one sentence only.
The second person adds to it, and then the third person does the same, and so on.
If you have friends who love stories or writing, this is the perfect game to improve your storytelling skills.
You could even choose a theme for your story, for instance, romance or crime.
It would be best to have several participants to make the game more interesting.
10. Rhymes Only On Video Chat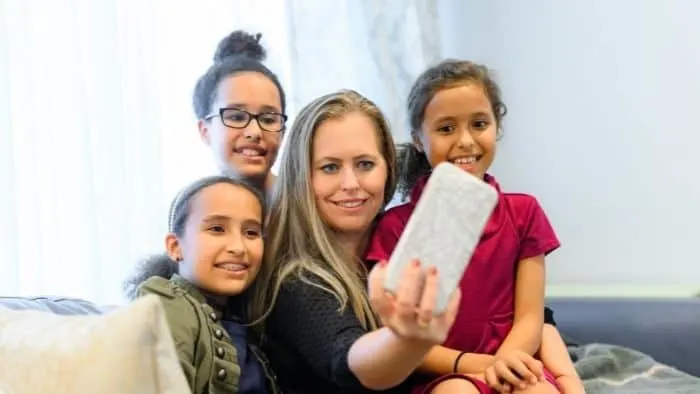 This is arguably one of the easiest Facetime games To play FaceTime games with friends, call an individual or group on FaceTime.
How To Play Rhymes Only on FaceTime
One player says a word, then the next player or the following person (if in a group) says another word that rhymes with it, and so on.
Remember, players have to say a word that rhymes within ten seconds. If they are unable to do that, they don't get a point!
11. 'This or That' FaceTime Game
This Or That is a great game that people of all ages will love.
How To Play This or That
The game involves players taking turns asking the other players to pick between two options.
Here are some ideas for the game:
Reading or watching TV?
Mountains or beaches?
Juice or energy drink?
Night or morning?
Cash or credit?
Basketball or baseball?
Flats or high heels?
Hip Hop or Country Music?
Camping RV or tent?
Gold or Diamond?
Sleep on the right or left side of the bed?
Laptop or desktop?
Sweatpants or jeans?
Piercings or tattoos?
Water balloon fight or snowball fight?
Hardwood floors or carpet?
Supervillains or superheroes?
Chocolate or coffee?
Travel by ship or plane?
Dog or cat?
12. 'Most Likely To' FaceTime Questions
Most Likely To is one of the most popular games to play on Facetime, especially in groups.
How To Play Most Likely To
One person prepares questions and reads them out to the rest.
Here are some interesting Most Likely To questions:
Who is most likely to get late to a meeting?
Who is most likely to get burnt while cooking?
Who is most likely to wear shorts during cold weather?
Who is most likely to win an arm-wrestling match?
Who is most likely to hang up the phone?
Who is most likely to cry after watching a sad movie?
Who is the most likely to use their phone in the bathroom?
Who is most likely to attend a concert on Saturdays?
Who is most likely to sleep in class?
13. Virtual Put A Finger Down
Put A Finger Down is an exciting game you can play with friends and family.
How To Play 'Put A Finger Down'
To get started, select one person to write down ten statements, each beginning with "Put a finger down if."
Next, everyone holds up ten fingers. Let's say the first statement is, "Put a finger down if you have ever been to a concert."
People who have been to a concert will put a finger down, and those who've never will leave it up.
You can decide that the winner is either the first person to put all ten fingers down, or the person with the most fingers up at the end of the game wins.
14. Virtual Pictionary
Pictionary is an awesome game for friends who love drawing. Even if you don't enjoy drawing, you only need to draw simple figures, so you should still try it out!
How To Play Pictionary on FaceTime
All you need is a piece of paper and a marker, pencil.
At least four people should play Pictionary so you can split into teams.
Identify a random word and begin drawing immediately.
Your partner will have one minute to guess what you are drawing.
If they can guess what you are drawing, your team gets one point; if they can't, you get zero points.
You can use a timer to make the game more interesting.
15. 'True Or False' on FaceTime
True or False is a straightforward game appropriate for all ages that involves identifying falsehoods and truths.
One player makes a statement, and the other says true or false. For instance, a statement like, "The Wright brothers invented the first car" is false.
You can set a 10-15 second time frame for a participant to provide an answer.
16. Vitual Rainbow Race
Rainbow Race is similar to a scavenger hunt, except you need to find items that match a color rather than a specific item.
How To Play Rainbow Race On Video Call
In this game, players agree on a color, and then one person asks the others to go and find an item in the house with a similar color.
The first person to return with an item wins a point.
You can make the game more enjoyable by specifying where the participants should get the items from. For instance, you can ask them to get any blue item from the kitchen.
You could also state that the item must be of a specific size.
17. 'Masked Dancer' FaceTime Game
Masked dancer is an awesome Facetime group game. The game is all about identifying a masked dancer.
How To Play Masked Dancer
To hide your identity, use the effects feature to select an animoji to hide your face, then put on things like gloves and sweatpants to hide parts of your body. It might even morph into a fancy dress party.
After this, begin dancing and let the other players guess who you are. You could even combine it with a Tiktok dance tutorial if you want to spice it up.
You only reveal yourself after everyone has made a guess.
The game requires several players in the same room to make it harder to identify the masked dancer.
For fun, you can watch Ellen's version of the Masked Dancer.
18. 'What's Missing' on FaceTime Game
What's Missing is a fantastic game ideal for all age groups as it is pretty easy to play.
How to Play 'What's Missing' on Facetime
Collect about eight to ten items in your house.
Make sure the objects are small enough to fit the screen so that all players can see. Think of things like stationery or cutlery.
Once the players have seen them, ask them to close their eyes, remove an item and tell them to guess what's missing.
19. Trivia Game on FaceTime
Trivia is a great game that helps participants learn interesting facts. It is best played with a group of people.
How To Play Trivia
Before playing the game, come up with as many trivia questions as possible.
Instead of using Trivial Pursuit questions, you can ask a few participants to create a list of trivia quizzes.
Each person gets a chance to ask the group their trivia questions.
The first team or first person to answer a question gains one point. Some trivia questions include:
Mutton and cabbage stew is the national dish of which country? (The answer is Norway)
Which Hollywood movie star is nicknamed 'Bruno' (the answer is Bruce Willis)
Which is the hottest planet in the solar system (the answer is Venus)
Here are some more Trivia questions.
20. Origami on Video Call
Practicing origami over Facetime is a great way to learn the art.
How To Do Origami on FaceTime
Watch a couple of tutorial videos online and choose the shapes you will create in the game.
Next, make a figure or shape and compare. Do the same for the following creations.
If you want to compete, you can give points to the participants who create the best origami creations.
21. Virtual Scavenger Hunt
As the name suggests, Scavenger Hunt is all about finding items in your house.
You have a chance of winning this game if you have many things lying around in the house.
How To Play Scavenger Hunt on FaceTime
One player asks the others to find items in their house.
For instance, you can ask your friends to find a nail cutter, and anyone who produces it within 30 seconds gets one point.
As soon as everyone is back, you can give them the next item they need to find.
Or you can message them the list, and the first person to come back with all the items wins.
22. Family/Friends Feud Game on Phone
You're probably familiar with the Family Feud TV show. You have the chance to recreate it in the Family/friends Family Feud game on Facetime.
How To Play Family/Friend Feud Game
Before you begin, ensure that everyone's camera and audio are working correctly, and then prepare some questions and answers for the game.
An example of a question is: "What do you think of when you hear of Mexico?" (Answers can be tacos, the word 'Amigo,' warm weather, big hats, etc.).
You can divide yourselves into teams, and the team that gets more answers right wins.
Alternatively, you can download the free Family Feud Live! Game app
23. Desert Island FaceTime Game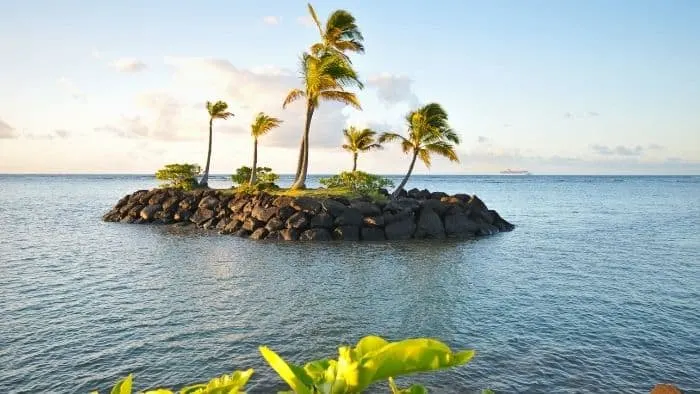 This is a fascinating game that boosts players' creativity.
How To Play Desert Island
Players mention items they would bring with them if they were stranded on a desert island.
You can create categories like survival items, food, and wearables. For instance, you can ask what four survival items one would want when stranded on a desert island.
Players will answer in turns, and the last one will ask the next question.
24. First Letter Game
First letter is an interesting variation on the alphabet game that requires some quick thinking.
How To Play First Letter
Begin by making categories, for instance, snacks, celebrities, girls' names, and cars.
Once you have decided on a category, one person mentions a name. For instance, if it is cars and a player mentions' Jaguar", the next person has to mention a car that starts with the last letter "r." In this case, "Rolls-Royce" would be one of the correct answers.
25. Word Association Game
This exciting word game can be played with two or more individuals over FaceTime.
How To Play Word Association
As the name suggests, one person says a word, and the other responds with a related term.
An example is when a player says "fruit," and the next person says "mango."
To make it more interesting, players can focus on topics like colors, furniture in the house, sports, superheroes, drinks, and food.
The game may even help players learn some interesting new words.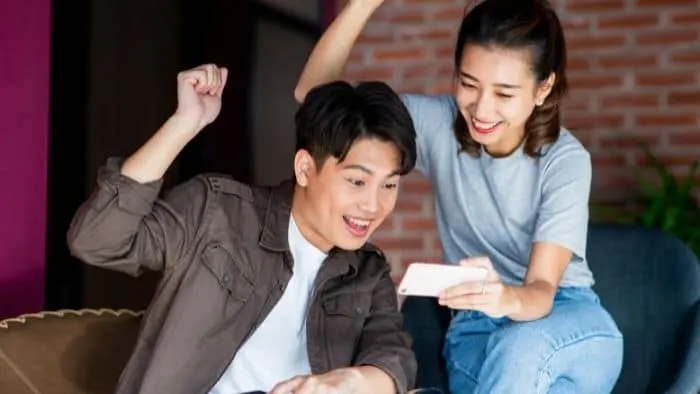 The classic card game can be played online in multiplayer modes while enjoying FaceTime with friends and family.
How To Play Hearts
The trick-taking card game is most famous for its "strategy" gameplay that is required.
Players must swap cards out through a series of rounds and attempt to have the lowest number of points.
Some cards, such as the Queen of spades (13 points) should be avoided, however, holding onto this card and swapping it to your opponent can give you a large advantage in the game.
The online version offers a detailed look into the rules and even offers illustrated tips.
Conclusion
Teen screen time usually involved playing online games, but these FaceTime games are another way to get them to have fun and interact with friends.
Most of these games can also be played on an Android device (if you don't have an iPhone) using WhatsApp or Zoom.