Also known as space or cosmic art, galaxy design has become a recent trend in nail art.
It looks fascinating and beautiful and even though it may seem complex and challenging, galaxy nails are very simple to do.
I share some beautiful galaxy nail art designs, with simple step-by-step instructions, that will give you a glamorous galaxy manicure in no time.
Take a moment to browse through these DIY nail tutorials that will surely inspire you and will soon become a firm favorite.
How To Do Galaxy Nails?
This step-by-step video tutorial below shows you how to easily create gorgeous galaxy nail art yourself.
Here are the simple steps to follow to do galaxy nails at home.
Step 1: Make sure you have clean nails and that you've filed them to your desired shape.
Step 2: Apply any sort of barrier to your cuticles so you won't need to clean up a lot around them afterward.
Step 3: Apply a base coat.
Step 4: Although you'll find many galaxy nail tutorials using different colors, it's best to start with the darkest color first as the base. Many designs will use an opaque black to start to signify the darkness of outer space.
Step 5: Next add some white nail polish to a cosmetic sponge and dabble a diagonal line of white polish across your nail.
Step 6: Then you can use any colors that you choose to enhance your galaxy design. You can use dark blue, light blue, and even add some pink as well. Use a sponge to gently pat these colors around your white polish on your nails.
Step 7: Play around with these colors to see if you want to add more brightness (white) or tone is down more (blue).
Step 8: When you're happy with your design, add a layer of glitter polish over the entire nail.
Step 9: Peel off your tape/base coat or clean any messy polish off your cuticles.
What Tools Do You Need For Galaxy Nails?
You will need the following basic manicure tools to create your own galaxy nail art.
Nail file
Nail polish remover
Tweezers
Tape or peel off cuticle guard
Nail polish: black, white, dark blue, medium blue, pink, yellow, purple
Glitter top coat
If you're doing gel nails then you'll need a UV curing light as well. See some recommended sets below.
Purple Galaxy Nails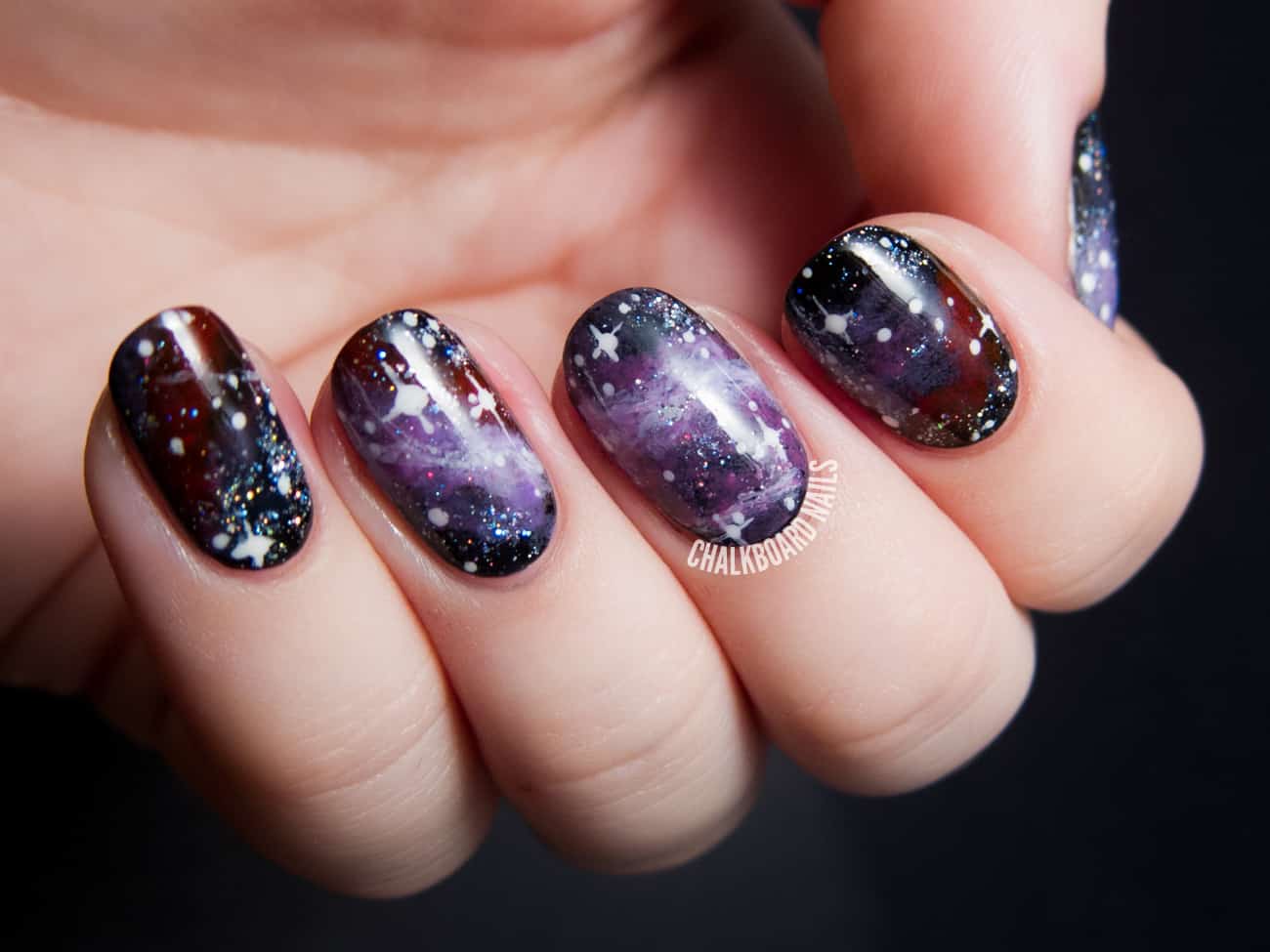 Inspired by a photo of the Pelican Nebula, this stunning tutorial creates an amazing galaxy effect.
I love galaxy nails because they are so simple, and you don't need excellent nail art skills to do them.
You can make this DIY in no time with nail polish, a sponge, and a glitter topcoat. They are so dreamy 🙂
Materials Needed:
You might have some of these nail polish colors at home already, but if you don't, then you can find them below.
Black nail polish: Sally Hansen Black Heart
Navy nail polish: Essie Navy Blue
Orchid: Sally Hansen Orchid Me Not
Purple: Essie Go Ginza
Red: Essie Forever Yummy
White: Sally Hansen White On
Holographic Glitter: ILNP MEGA Holographic Nail Polish


Pastel Galaxy Nails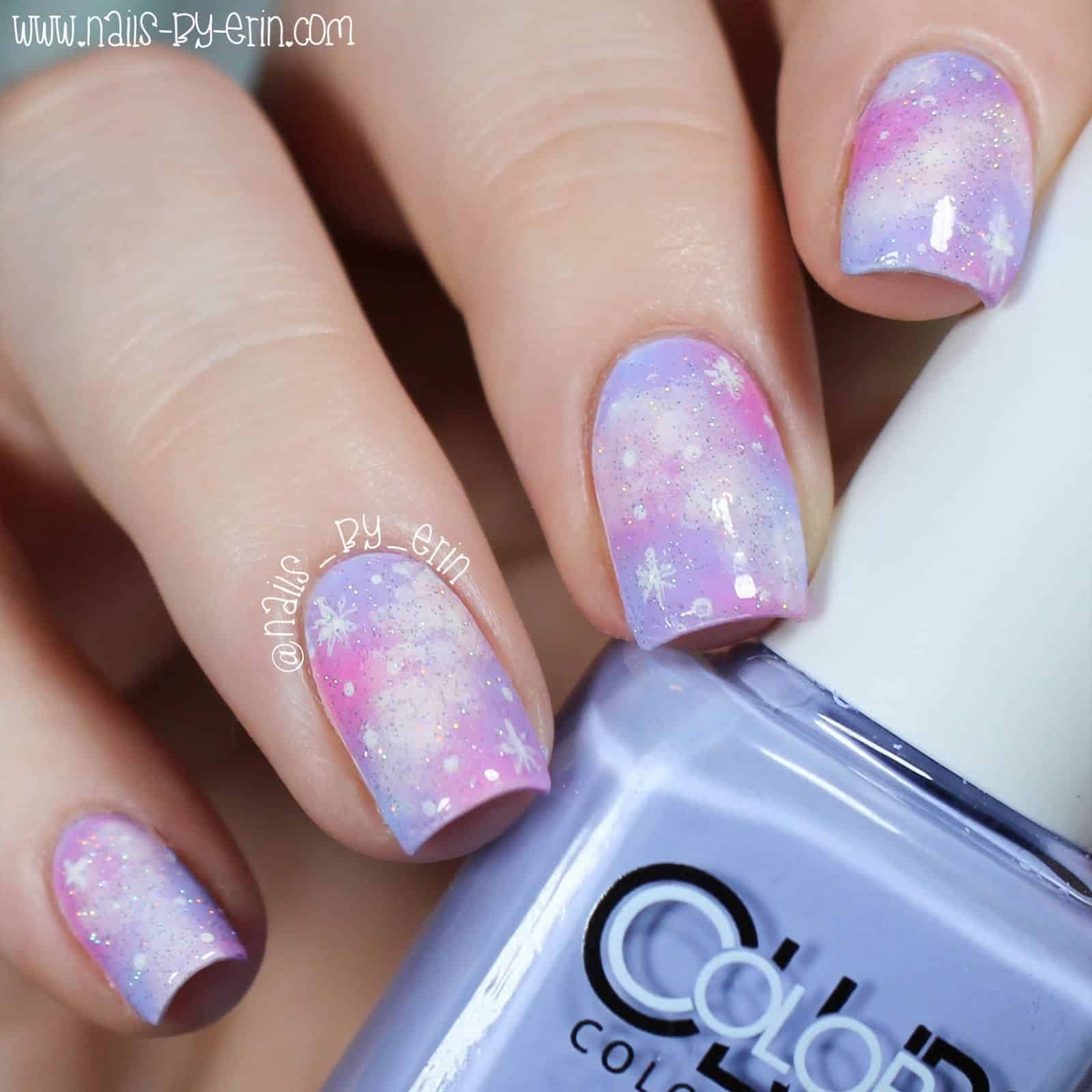 Our next DIY galaxy nail project looks very feminine. Instead of using black for the base color, she uses white to give a much lighter galaxy effect.
Beginners can easily follow the techniques used and the end result is amazing.
Watch the video tutorial below:
Here are the products used to create a pastel galaxy nail:
Base coat
White nail polish
Pastel pink, pastel blue and pastel purple nail polish.
Fast drying peel off nail polish cuticle guard – Dr. Mode Liquid Latex for Nails
White acrylic paint for the stars
Nail art detail brush – Beetles nail art liner brush set
Edgy Galaxy Nails
If you have an edgy sense of style, you might enjoy this tutorial. This galaxy nail is paired with studs and filed in a pointed shape to give it a new look.
Materials Needed:
Makeup Sponge
Pinchers/Tweezers
Dotting Tool
Fine Nail Art Brush
Nail polish colors: black, white, blue, pink, green, glitter
Embellishments: studs


Neon Mermaid Galaxy Glitter
These neon mermaid and galaxy glitter nail art tutorial is seriously creative and one of my favorites.
Whether you prefer a 'squaval' shaped nail or a more rounded tip, these tutorials will give you a beautiful finished colorful nail.
Watch the video below or follow her step-by-step instructions to create you own neon mermaid galaxy nail.
Materials Needed:
Nail Glitter – Holographic Mermaid Powder Flakes:
Pink Galaxy Nails
Pink galaxy nails are not as common as the darker galaxy nails but we're so glad to have found this tutorial.
These pink galaxies are so beautiful and perfect for teens.
If you have a few different pink nail polishes at home why not give this a try.
Holographic Pastel Galaxy Nails
This project requires several colors of nail polish in pastel shades. The holo and pastel colors blend really well together.
The end result looks fantastic! The pastel galaxy version is my favorite!
Check out the colors used for this tutorial:
Essie Full Steam Ahead, Love & Acceptance & Pure Pearlfection
Essie Cascade Cool
Color Club Miss Bliss
Color Club Eternal Beauty
Color Club Over the Moon
Watch her video tutorial below:

Blue Galaxy Nails
Almost like a real sky full of stars, this tutorial's color palette is stunning.
It is such a beautiful combination of colors and shimmer! Glitter adds a little extra sparkle, too!
She used the following polishes:
No. 44 – D'Orleac
Urban Jungle – Essie
Unnamed lilac polish – Guylond
Lapiz of Luxury – Essie
No. 29M – Safari Nail Polish
Alice – Shimmer Polish
Galaxy Nails for Halloween
Making your nails look like a masterpiece doesn't require you to be a professional nail artist!
I love this galaxy mani because it's super cute and perfect for Halloween!
Galaxy Nails with Stars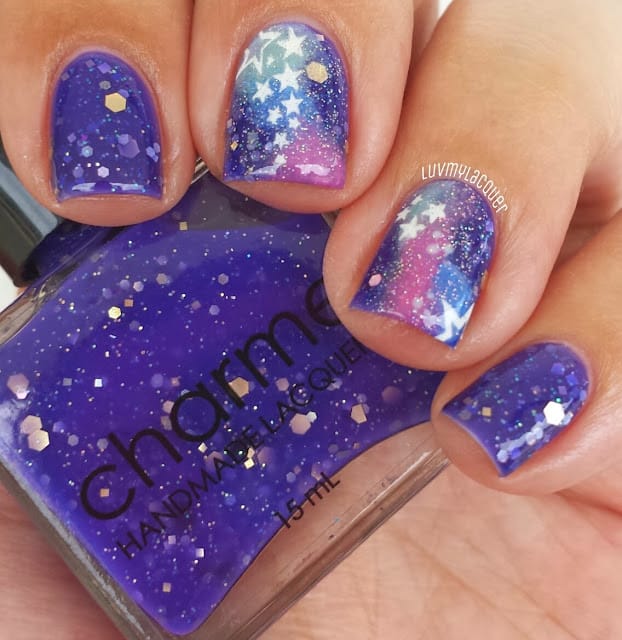 This polish has a gorgeous jelly base, and the glitters add an extra wow factor.
With stars and a mesmerizing space look, this galaxy manicure looks really cool.


Light Up Galaxy Nails
I wouldn't have thought of this! You'll enjoy adding these little embellishments to a traditional galaxy nail if you want it to stand out!
Kawaii Pink & Lilac Galaxy Nails
Beautiful colors! You don't need to be technically skilled to accomplish this DIY and look great at the same time.
There's something soft, pretty, and feminine about it.
Understanding how the technique works and how straight-forward it is can help you choose the colors that will make your look beautiful.
Glowing Galaxy Nails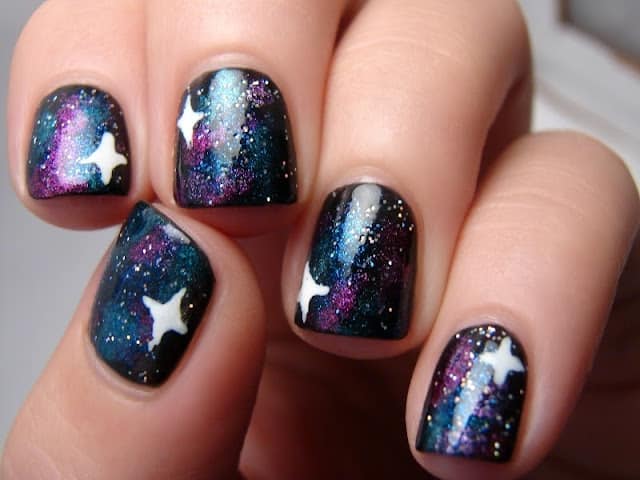 This tutorial adds a shooting star in white to each nail.
Using several colors that stand out, as well as some glow polish, these nails even glow in the dark!


Shimmery Pink Galaxy Nail Art
Image: thenailasaurus
See step-by-step instructions on how to do galaxy nails here: thenailasaurus
This look is amazing! Galaxies in other colors apart from blue have always fascinated me, and I'm really crushing on these pastels.
I like the combination of colors. It's gorgeous! So pretty in pink!
Dripping Galaxy Nails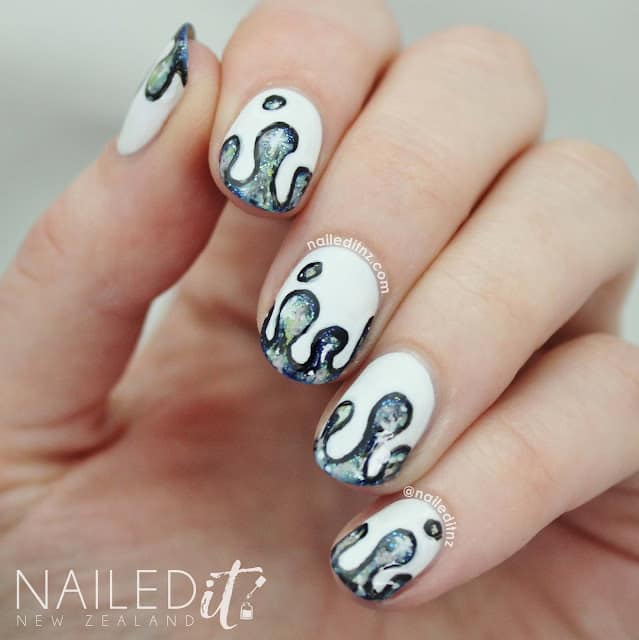 The galaxy nail looks so cool, and the dripping design makes it even more interesting! These are more challenging than other galaxy nails, but the result is stunning!
Rainbow Galaxy Nails

This tutorial highlights that you can use many different colors using the same technique to create several unique looks.
Start with a dark-ish base, then add touches of white and lighter shades with makeup sponges.
Colors Used:
China Glaze Don't Make Me Wine
Zoya Bobbi
Essie Full Steam Ahead
Essie Midnight Camie
Zoya Hazel
Essie Rock the Boat
Nubar Into the Wild (not currently available). Replace with Sally Hansen Smouldering Teal
Zoya Rikki
Galaxy Heart Nails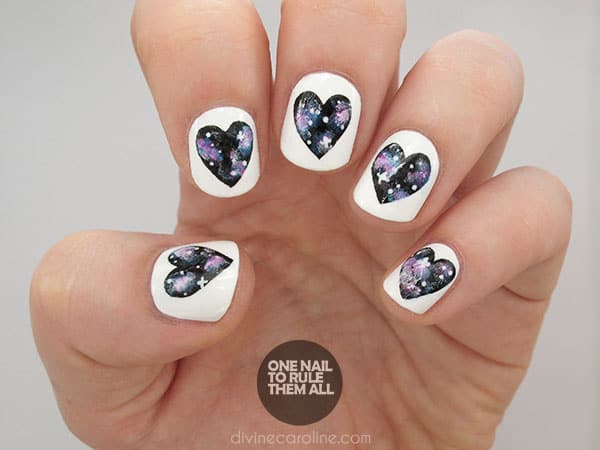 These are seriously cute! This is a surprisingly straightforward design to pull off, and they look fantastic.
Combining galaxy art with a heart shape is unique. I think this nail art design is simply phenomenal.
Personal Recommendations
I hope you've enjoyed these gorgeous DIY galaxy nail tutorials on how to create them at home.
Feel free to experiment with different colors and glitters. Change up the color combinations to create a unique galaxy manicure every time.
I really like this useful Gel Nail Polish Set as it includes black, white and holo glitter polishes.
Nail Art Brushes – Beetles Nail Art Brushes Set
Nail Art Design Kit
Brush and Rhinestone Accessories Set
I personally found these glitter polishes for base and top coat really useful as they quickly add a starry effect to the nail art.
True Black Holographic Jelly Nail Polish
Holographic Shimmery Top Coat
Frequently Asked Questions
What Colors Do I Need For Galaxy Nails?
The colors you choose to do Galaxy nail art depends on the look that you want to create.
If you want to create a dark starry night effect then you should start with a dark base color, like black. Most manicures will then add a white curvy line across the nail, over which you will add highlight colors in blues (dark blue and medium blue) and then add accent colors like red, orange, pink or yellow. You'll usually finish off by adding white stars on top.
Alternatively, if you want to create a more pastel galaxy nail, then you start with a lighter base color (like white), and add your highlight colors (pink, purple, blue) and accent with white for the stars.
You can work with several combinations so get creative and have fun!
What Are The Different Types Of Nail Polish?
Easy Peel Off Nail Polish
Peel off nail polish is water based. You can soak in water and easily remove the polish without using any acetone. As it's easy to peel off, this is a great polish for tweens and teens. However, it doesn't last as long as other polishes.
Lacquer Nail Polish
The most commonly used nail polish formula is your standard nail lacquer that you can easily apply yourself at home. Many of the tutorials above use your standard nail polish that takes a bit longer to dry, but can be removed at home with normal nail polish remover. Normal nail polish can last up to about 1 week before chipping.
Gel Polish
Another popular product used is gel polish. Gel polish is applied in a similar way to nail polish, however you need to use a UV light to cure (harden) each layer of polish. Although this is often done in salons, you can buy and use a UV light yourself at home. Gel polish is much harder to remove then normal nail polish and needs to be soaked off, but this does mean that it lasts much longer – 2-3 weeks.
Color Changing Gel Polish
Similar application like regular gel polish however this polish changes color as the temperature changes.
Cats Eye Gel Polish
Cats eye nail polish is a gel polish that requires a UV lamp to cure the polish, but it's different in that before you cure it, you use a magnet to create a 'cat's eye' in the middle of the nail . Pretty cool effect!
Acrylic Nails
Acrylic polish is a mixture of liquid and powder and can be used to extend the length of your nails. It hardens as it dries, no UV lamp required, and can be filed into shape. Best done in a salon, acrylic nails can last about 2 weeks.
Gel Nails
Gel nail application is different to gel polish. As the name suggests, gel polish is applied like a normal polish but dried using a UV lamp. Gel nail application can be applied over natural or fake nails, and can be used to extend the length of your nail and create any shape you want. Best applied and removed at a salon, as they will need to use an electric file to sand away the gel. Similar to acrylic these last about 2 weeks.
Dip Powder
Instead of lacquer dip powder comes in pigmented powder. You apply a base coat, then dip your nail into the colored powder, and then add a sealant. The powder adheres to the nail like gel polish, so you can use acetone to soak off.
Have fun and be creative. The great thing about nail art is that nail polish is super affordable, so you can easily play around with many different colors for very little expense. Enjoy and feel free to show off your nail art.