The traditional advent calendar, where you open a door or window and find a chocolate, is probably no longer cool enough for your difficult-to-please teenagers.
Although they still want to be part of traditions and celebrations (and still love chocolate), it might be a bit harder to find an advent calendar that your teen will love.
So I thought I'd share some really awesome advent calendars for teens and tweens that I recently discovered, as well as some fun calendar fillers if you'd prefer to DIY.
Just a heads up to order soon as most advent calendars start on December 1st. But don't fret, if you're a bit late you can get a 12-day advent calendar as well.
Advent Calendars For Tween Boys
Robot Construction Vehicles Building Blocks Advent Calendar
This 24-day countdown robot construction advent calendar for tween boys includes 24 building blocks that he can assemble into 2 fighting robots.
Military Army Men Advent Calendar
Let your tween boy discover 12 army men, 1 dog, 3 transportation vehicles, weapons, and gear over 24 days countdown to Christmas.
Dinosaur Advent Calendar
For all dinosaur enthusiasts, this 24-day advent calendar will have them looking forward to opening a new door and discovering the next dinosaur every day. It even includes a dice game to play once all 24 doors have been opened.
Lego Advent Calendars
If your son loves building legos then any one of these Lego advent calendars will bring a huge smile to his face.
I've chosen our son's favorite, Marvel The Avengers Advent Calendar, but there are several other Lego advent calendars to choose from like Stars Wars, Lego City, and even Happy Potter.
Fidget Advent Calendar For Boys
24 fun fidget toys for boys including pop-it's , robots, slinky and more.
Candy Christmas Advent Calendar
If your tween loves candy but you're looking for something different from the usual chocolate advent calendar, then he might enjoy this Swizzels candy calendar.
Advent Calendars For Tween Girls
Disney Princess Storybook Collection Advent Calendar 2021
Your little princess will love counting down to Christmas while unwrapping 24 small paperback Disney Princess books.
DIY Arts & Crafts Ornaments & Decorations Advent Calendar
This new 2021 Christmas Countdown Advent Calendar includes 24 stunning DIY Arts & Crafts Ornaments & Decorations for the Christmas tree and table.
Slime Advent Calendar
This must be one of the coolest advent calendars for tween girls. With 24 surprises DIY slime kits and some fun ornaments, your daughter will absolutely love creating their own slime creations this Christmas.
Barbie Advent Calendar
Gosh, to be a girl in this day and age! There are just so many creative advent calendars to choose from. This Barbie advent calendar comes with 24 items including clothing and accessories as well as a Barbie doll.
24 Scented Slow-Rising Squishies Keychains Advent Calendar
These super cute squishes are scented and on keychains, so your daughter can collect or share with friends. Super cute for any tween girl.
Fidget Advent Calendar
I really wanted to share an equal number of advent calendar ideas for boys and girls but I just couldn't resist sharing this one. Filled with 24 sensory relief toys this will surely be a hit with any teen.
And yes, there is a fidget toys countdown calendar for boys as well.
Advent Calendars For Teen Boys
Teen boys can be quite difficult to shop for as they don't always open up about what they're into at the moment.
However, you can't go wrong with the Marvel comics for teen boys.
Marvel Storybook Collection Advent Calendar 2021
Crazy Scientist Advent Calendar
This countdown calendar includes 24 exciting science experiments & tricks any teen will love.
Magic & Tricks Advent Calendar
If your teenager is more into magic tricks then this advent calendar will keep him entertained for days.
Wire Puzzle Advent Calendar
Our son loves fidgeting with these wire puzzle toys and figuring them out. Let your teen countdown to Christmas while enjoying these 24 brain teasers, from beginner to expert level.
Advent Calendars For Teenage Girls
Advent Calendar Charm Bracelets
I wish we had such amazing advent calendars when I was a teenager. What an amazing way to countdown to Christmas. This advent calendar includes 2 DIY bracelets, 1 necklace, and 22 pendants.
NYX Lipstick & Lip Gloss Advent Calendar
For your older teenage daughter, you can't go wrong with 24 lipsticks and lip gloss from NYX
There are quite a few other brands that also offer beauty advent calendars in 2021 so have a look at the Beauty Blast Reloaded (make-up for tweens), skincare, make-up, and perfume samples from Yves Rocher, L'Occitane (also a favorite), Rituals (pricey but oh so beautiful), or the Body & Earth advent calendars if you think your daughter might prefer those instead.
New York Puzzle Advent Calendar
This stunning advent calendar will be enjoyed by the whole family as it includes 24 x 100 piece jigsaw puzzles. Absolutely beautiful, these puzzles can be used as stocking stuffers for years to come.
Jewelry Advent Calendar For Teens 2021
This is probably my favorite advent calendar idea for teenage girls as there are just so many gorgeous pieces that will certainly heighten her excitement and anticipation for Christmas.
12 Days Of Christmas Advent Calendars
If you missed the 1 December advent calendar start to countdown 24 days to Christmas, then you can still get one of these 12 days of Christmas calendars and make amends.
12 Days of Christmas Socks Advent Calendar
I absolutely love this idea for an advent calendar. A new pair of Christmas socks every day to countdown to Christmas. I might have to get this one for myself.
12 Day Beauty Countdown Advent Calendars
If you missed the 24-day countdown calendar from NYX you can still get the NYX 12 days lipstick countdown, or 12 days of Chapstick Holiday advent calendar lip balm gift set.
Or why not spoil your teen with 12 days of Ulta Beauty surprises.
12 Days Ice Cream Truck Building Bricks
Another exciting 12-day countdown advent calendar for tween girls is this gorgeous ice cream truck building bricks for kids.
Friends Central Perk 12 Days of Bath Advent Calendar
What better way to celebrate the run-up to Christmas than with 12 days of bath and body advent calendar from Central Perk. With body washes, lip balm bath salts, hand cream, and more, there's sure to be treats and surprises she'll love.
I hope you've found the perfect advent calendar for every child in your home. But wait, don't forget about your furry friends. You can get an advent calendar with 24 unique treats for your doggo here.
DIY Advent Calendars & Filler Ideas For Teens
We're all so busy at the end of the year that the advent calendar ideas for teens above are very useful for when we don't have a lot of time on our hands. However, if you do have time and would like to be creative and make your own DIY advent calendars, then I have some great ideas for you as well.
First, you need to decide how you want to display your advent calendar. You might already have something at home, but I wanted to share some fun DIY advent calendars with you before I share my top teen advent calendar fillers.
DIY Craft Advent Calendar
If you want to go totally DIY then these pillow boxes are a great way to start. They also offer cube boxes and jute bags, so have a look and choose your favorite.
Hanging Christmas Advent Calendar Gnome
For younger kids, this cute little re-usable gnome is super cute. Fill the 24 felt pockets with some of the fillers mentioned below. There is also a Santa option if you prefer that to a Gnome.
24 Christmas Hanging Advent Calendar Stocking Socks
Instead of the usual advent calendar bags, which are also cute, I prefer these gorgeous stocking socks. Hang them on the tree or on a string with pegs, and fill them with your favorite treats.
Wooden Cabin In The Woods Advent Calendar
I love the surprise drawers in this advent calendar but it's only good if you want to use small treats and toys, as the drawers are only a couple of inches in size. Filler ideas for this would be candies, coins or jewelry.
DIY Advent Calendar Kit Houses
This DIY advent calendar kit includes 24 printed houses and with ribbons and instructions to fold and glue yourself.
Fun Advent Calendar Fillers For Teenagers
Now that you have your advent calendar ready to fill, it's time to find the best possible treats, toys, and surprises to make your teen's countdown to Christmas super special.
As you're filling the advent calendar yourself, you can custom make advent calendars for each child. A good place to start is with chocolates. Every kid loves to receive at least some chocolates, and it will remind them of all the traditional advent calendars they might have had as kids. It doesn't really matter which chocolates, just choose their favorites, although we do love Lindt Holiday Figures and Hershey's Kisses.
Remember that you can use any extra leftover items as stocking stuffers, as well as for birthday gifts fillers during the year. If you're looking for stocking stuffers then have a look at these 100+ Stocking Stuffer Ideas For Every Kind Of Teen.
Another great addition to any advent calendar for teens is cash. But add a bit of creativity and fun to it and fold your dollar bill into a Christmas tree. You can learn some easy DIY origami money folding techniques here.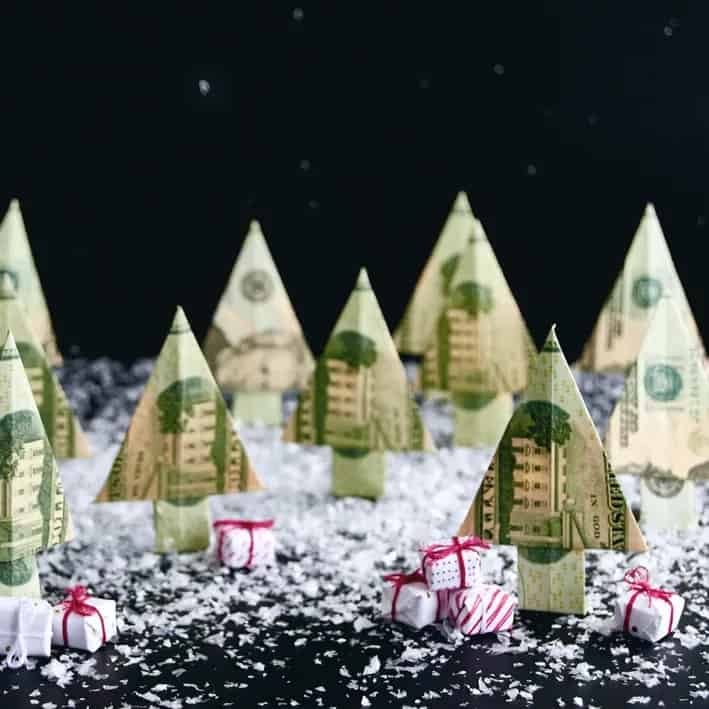 12 Cocoas Of Christmas In 4 Unique Flavors
Everyone loves a good cup of cocoa and these unique flavors including doubled chocolate, snickerdoodle, toasted marshmallow, and french vanilla cocoas won't disappoint.
DIY Building Blocks Dots Bracelets
Each bracelet is individually packaged with a silicone band and 28 colorful tiles to decorate and design your own dots bracelet.
Stackable Push Pencils With Eraser
These fun donuts multi-point stacking pencils with non-sharpening lead make great fillers and stocking stuffers as well.
Llama Crazy Loop Reusable Straws
These Llama drinking straws are super cute and a fun filler for any advent calendar. If they're not into Llamas, you can choose Ice Cream, Unicorn, or Watermelon straws instead.
Diamond Painting Sticker Kits
Super popular these DIY superhero diamond painting sticker kits will bring hours of entertainment and they can stick them on their phones afterward.
Squishies Toys
These squishies are not only cute but feel great and are fun to play with while relieving stress.
Game & Grub Gift Card
All teens love a good gift card that they can spend on their favorite things – gaming and food.
Sensory Fidget Toys
Fun to play with, these sensory fidget toys are a great filler for any teen advent calendar. Includes spinners, cubes, squishies, balls, finger rings, and much more.
Burt's Bees Lip Balm
Burt's Bees is popular and useful all year round and makes a great addition to any advent calendar or stocking stuffer. There are different flavors, so have a look and choose their favorite.
LED Flashlight
Our boys love having a flashlight in the room, in their tent, while camping and hiking, and do tend to 'lose' a few during the year. These LED flashlights are useful and great value.
Card Game
Smack It! is a fun fast-paced card game for kids.
If your kids love playing party games then you might be interested in these Christmas Scavenger Hunt Games & Clues, or even board games that they can play during the holidays.
I hope that you've found some amazing advent calendars for teens or if you've chosen to go DIY, that these advent calendar filler ideas have given you some inspiration to create the best advent calendars for your teens this year.