Christmas is a wonderful opportunity to send funny wishes and messages to your family and friends.
You can throw in some witty and funny Christmas wishes to lighten up the mood and make the festivities even more fun-filled.
Read on to get ideas on how to tickle a funny bone with these hilarious Christmas wishes.
🎄 You might also enjoy reading:
Funny Merry Christmas Wishes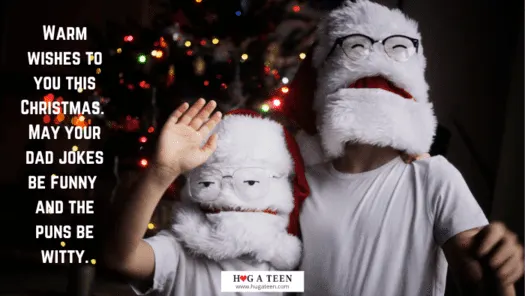 May your fun be enormous and credit card bills be small this year. Merry Christmas and a debt-free new year.
May your egg nog contain plenty of rum to get you through the Christmas season. Merry Christmas.
Warm wishes to you this Christmas. May your dad jokes be funny and the Christmas puns be witty.
So it's Christmas again, another extended holiday to drink as much as possible without worrying about going to work and other things that need your sober attention. Merry Christmas.
The main focus of Christmas is on children. It can be enjoyed by adults as well until the credit card bill arrives. Merry Christmas!
Let your Christmas presents bring you happiness, not fruit cake and ugly Christmas sweaters. Merry Christmas.
Merry Christmas. May the lines at the mall be short and your patience be extended.
With all the food you're going to consume over Christmas, I hope your digestive system is in good working order. Merry Christmas.
This year we're having a stress-free Christmas dinner. I am crushing up Prozac in all the food. Merry Christmas.
Santa told me you had not been good this year. My response was that there were just too few opportunities. Merry Christmas!
Funny Christmas Greetings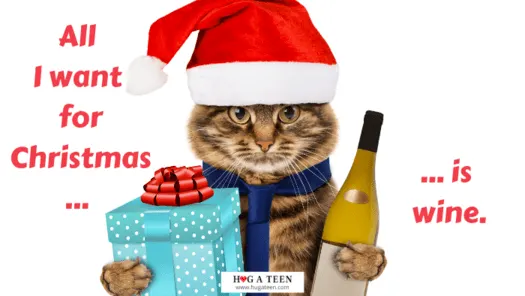 For some, the best part of Christmas happens when it's all over! Wishing you a stress-free Merry Christmas.
Keep calm and get your ho ho ho own.
Christmas is all about spending time with good people. So make sure you spend the entire day with me tomorrow. Merry Christmas.
All I want for Christmas is wine.
At all costs, try to avoid the Christmas magic. Last year it made all my savings disappear!
A heartfelt gift makes the best Christmas present. Cash and gift cards, however, are also practical options. Have a wonderful Christmas!
Whenever I spend Christmas at my house, it is at least six or seven times more enjoyable than anywhere else. Unlike everyone else, we start drinking early, and while they see only Santa Claus, we see six or seven. Merry Christmas!
What makes Christmas so similar to a workday? You do all the work, but the fat guy with the suit gets all the credit.
This Christmas, you only need to follow one rule; don't drink too much if I'm not around to carry you. Merry Christmas.
Short Christmas Quotes Funny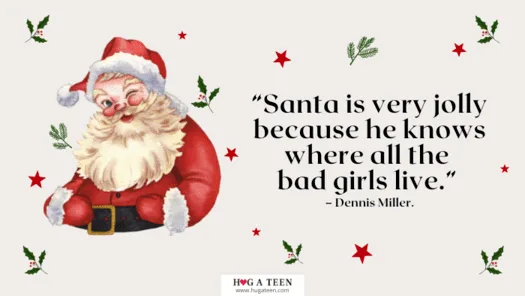 "Even before Christmas has said Hello, it's saying 'Buy Buy.'" – Robert Paul
"Christmas is like candy; it slowly melts in your mouth, sweetening every taste bud, making you wish it could last forever." – Richelle Goodrich.
"Santa is very jolly because he knows where all the bad girls live." – Dennis Miller.
"Let's be naughty and save Santa the trip." – Gary Allan
"Christmas sweaters are only acceptable as a cry for help." – Andy Borowitz
"From a commercial point of view, if Christmas did not exist, it would be necessary to invent it." – Katharine Whitehorn
"Santa Claus wears a red suit; he must be a communist." – Craig Ferguson
"Christmas is a time when everybody wants his past forgotten and his present remembered." – Phyllis Diller
"Santa Claus has the right idea – visit people only once a year." – Victor Borge
"Aren't we forgetting the true meaning of this day – the birth of Santa? – Matt Groening
"Sending Christmas cards is a good way to let your friends and family know that you think they're worth the price of a stamp." – Melanie White
"It's customarily said that Christmas is done "for the kids." considering how awful Christmas is and how little our society likes children, this must be true" – P. J O'Rourke
"Christmas tree stands are the work of the devil, and they want you dead." – Bill Bryson.
"You can tell a lot about a person by the way they handle three things: a rainy day, lost luggage, and tangled Christmas tree lights."
~ Maya Angelou
I love the holidays. But sometimes I could use a little less "Jingle Bells" and a little more "Silent Night."
Christmas is a time for spending time with your family and trying to guess everyone's sizes!
Christmas is love with all the trimmings!
Funny Ways To Say Merry Christmas
May you enjoy this Christmas till you find your name on Santa's naughty list.
Merry Christmas! May your coffee be as strong as your brow game today.
Christmas is too sparkly, said no one ever.
Have a mediocre holiday.
Merry Christmas! I hope you enjoy sitting beside a dead tree and eating candy from your socks.
Christmas has been canceled. Apparently, you told Santa that you had been good this year. He died of laughter.
Don't get your tinsel in a tassel. Merry Christmas!
Warmest wishes. I've seen your Facebook status; you're getting a dictionary for Christmas.
Keep calm; Christmas is coming.
Don't expect much for Christmas. Santas sleigh was repossessed, the north pole is foreclosed, and the elves have been laid off.
Christmas time is here. So quit complaining that it's too early, and get into the Christmas spirit already.
Everything is fun and games until Santa checks the naughty list. Merry Christmas.
May your Christmas be as big and jolly as Santa!
Happy holidays! May your Christmas calories disappear by the New Year.
Funny Christmas Wishes For Boyfriend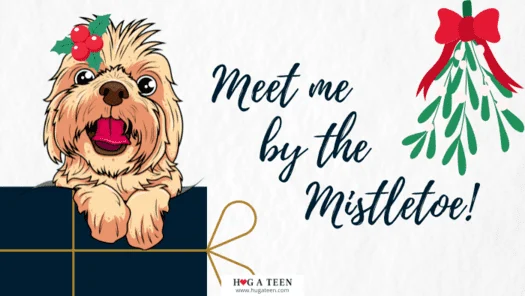 You have me. So I don't know what else you could possibly wish for but knock yourself out. Merry Christmas!
If a fat man with a big beard puts you in a bag at night, don't worry. I told Santa I want you for Christmas. Merry Christmas.
Meet me by the mistletoe. Merry Christmas.
I tried to send you something cute for Christmas, but the mailman pulled the stamp off my tooshie and told me to get out of the mailbox. Merry Christmas.
You light up my life like a Christmas tree. Merry Christmas.
All I want for Christmas is you – just kidding, I also want scented candles. Merry Christmas.
You're the best gift I received this year. Can I keep you forever? Merry Christmas, my love.
I wonder why you get so excited about Christmas. I am your all-year-long Santa, fulfilling every wish. Love you!
Merry Christmas to the grouchiest man I know!
Funny Christmas Wishes For Friends & Family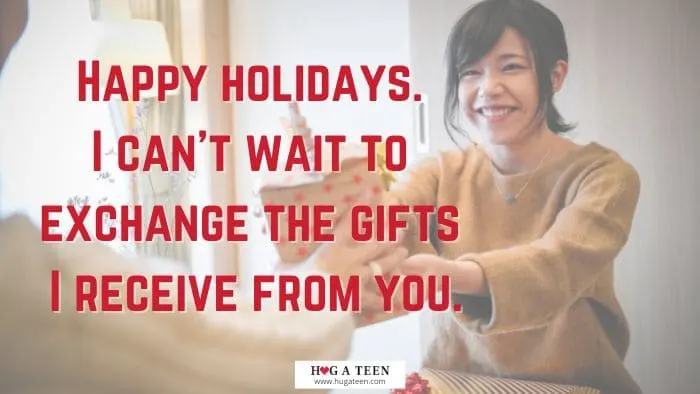 I mistakenly wrapped your Christmas present in a piece of paper that says "Happy Birthday." So I added the wording "to Jesus." Merry Christmas.
I wish Santa would fill your socks with cash instead of gifts and toys. Merry Christmas.
Merry Elfin Christmas. Have a fun-filled holiday season.
Having me as a relative is all the gift you need. Happy Holidays!
You know you said you couldn't think of anything you wanted for Christmas. Well, neither could I. Merry Christmas.
I hope you love and enjoy the Christmas present you told me to buy for you. Merry Christmas.
I told Santa I wanted a better friend for Christmas. Wishing you a Merry Christmas.
It's beginning to cost a lot, like Christmas. Warmest wishes.
You are so hard to buy gifts for, so enjoy this carefully selected Christmas card and the joy of having me in your life.
Happy holidays. I can't wait to exchange the gifts I receive from you.
Merry Christmas. Keep your friends close, your enemies closer, and your receipts for all major purchases.
Funny Christmas Texts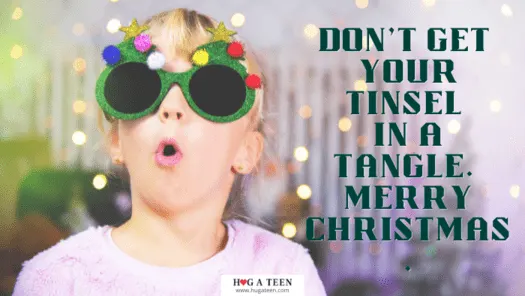 Don't get your tinsel in a tangle. Merry Christmas.
I will be ho ho home for Christmas.
Dear Santa, please refer to my Pinterest board.
Too bad we can't gift-wrap common sense.
Don't make me text Santa.
A balanced diet is a Christmas cookie in each hand.
What is the word you use for people who have a fear of Santa Claus? Claustrophobic.
I run on plenty of coffee and Christmas cheer.
One more cookie and I swear I will be able to fit into a Santa costume.
It is the season to rock ugly sweaters.
Single bells, single bells, single all the way.
I haven't taken my Christmas decorative lights down. They look so lovely on the pumpkin.
Do Santa cookies pair well with wine?
I'm only a morning person on December 25th.
It's the season to let overeating begin.
Single and ready to jingle.
Christmas calories don't count. Merry Christmas.
Maybe hot chocolate wants to be called beautiful chocolate just one time.
I consider myself a Christmas tree hugger.
I don't know about Christmas cheer, but I do know about Christmas beer.
I hope Rudolph eats the naughty list.
It's not Christmas without cookies.
Just once, I'd like to be a kid again at Christmas time and have all the fun with none of the stress.
If you don't believe you won't receive!
Cute Merry Christmas Wishes
I love Christmas because I get to spend it with you. The only scary part is that all my savings disappear. Merry Christmas!
Make it a December to remember. Happy holiday season.
May this holiday season sparkle and shine, and may all your wishes and dreams come true. Merry Christmas.
What's Christmas without having your best friend there to share it? Merry Xmas, my wonderful friend.
Hurry up the chimney tonight.
Let in snow, let it glow, let it wow.
Kindness is free! Sprinkle that stuff everywhere. Have a wonderful holiday.
I am sending you gingerbread hugs and peppermint kisses.
Merry everything and be happy always.
I love the giver more than the gift. Merry Christmas.
Some people are worth melting for.
There's snow place like home.
If the kisses were snowflakes, I would send you a snowstorm. Merry x-mas.
Today I will sleigh Christmas and spread festive cheer. Merry Christmas.
I love you from head to mistletoe. Merry Christmas.
Santa Claus Wishes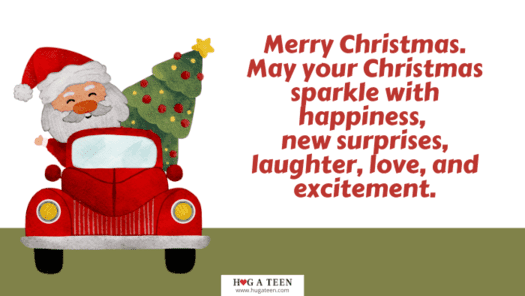 May all your dreams come true this magical holiday season. May Santa Claus bring joy and luck to you.
May your Christmas sparkle with love, laughter, and goodwill, and the year ahead be full of contentment and Joy. Merry Christmas.
Some people say Santa isn't real. But who gives all those great gifts? Happy Holiday.
May the holiday spirit of Christmas bring you and your family blessings of hope, love, and happiness. Merry Christmas.
Let's enjoy this Christmas and share our joy with our loved ones. Have a joyful holiday.
May all the sweet magic of Christmas glorify your heart and fill every desire. Merry Christmas.
Merry Christmas. May your Christmas sparkle with happiness, new surprises, laughter, love, and excitement.
You know, the nice list Santa checked twice. Don't worry; your name was on there. Merry Christmas and a happy new year.
May your days be merry and bright with the light of God's love. Merry Christmas.
The gift of love, the gift of peace, the gift of happiness. May all these be yours at Christmas. Merry Christmas.
May peace be your gift at Christmas and unlimited blessings be yours all year. Merry Christmas.
Merry Christmas. I hope this festive season brings you great favor, long life, health, and success.
Christmas is a special time for spending time with family and friends. It's about creating happy and warm holiday memories that will last a lifetime. Happy Merry Christmas.
Christmas is a season of blessings that engages the whole world in a conspiracy of love. Merry Christmas.
Merry Christmas. Your smile is the best gift I could ever wish for on Christmas! Wishing you a warm and joyful Christmas.
Rude Christmas Quotes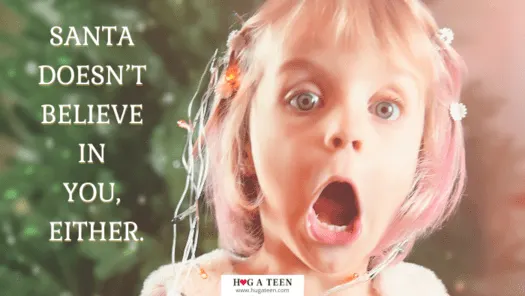 Santa doesn't believe in you, either.
Don't blame the holidays; you were fat in August. Merry Christmas.
How to survive Christmas? Drink! There are no other ways.
It's not a wonderful time of the year.
Santa has the right idea to visit people only once a year.
I choose my Christmas cards like I choose my nursing homes. Low cost and in a hurry.
Let it snow elsewhere.
My wish for you this holiday is that you be happy, healthy, and slightly less successful than me.
This is as merry as I get.
Merry Christmas, you cotton-head ninny muggins.
Their caroling is sung way off-key; tell them to stop!
Dear Santa, I am writing to tell you I have been naughty, and it was worth it, you judgemental bastard.
Yay, it's Christmas again. Let's spend loads of money on stuff we don't need.
Ain't nobody got time to detangle and separate the Christmas tree lights.
Let's be naughty and save Santa the trip.
Is it over yet?
Just so we're clear, the Grinch never really hated Christmas. He hated people, which is fair.
What did you get for Christmas? I got me.
All I want for Christmas is for you to get me food.
It's the most wonderful time of the year, allegedly.
Once upon a time, I didn't care! I still don't care. Happy Holidays.
Cheeky Christmas Wishes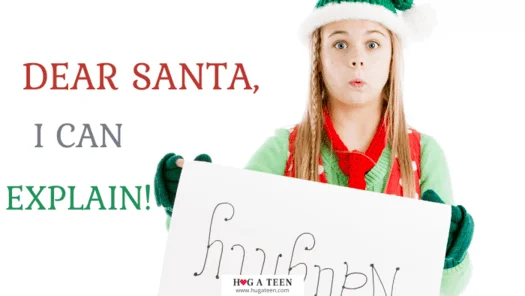 Brace yourselves. Christmas is coming. Merry Christmas.
Christmas comes once a year but once a year is enough. Merry Christmas.
Dear Santa, just leave your credit card under the tree.
I know it's winter season, but baby, it's too cold outside.
The best way to spread Christmas cheer is by singing loud for all to hear. Merry Christmas.
Dear Santa define, nice.
Dear Santa, I have been good this year, ok, most of the time, once in a while. Never mind, I will get my own gifts.
Dear Santa, since I have been terrific, please bring me a self-cleaning house this year.
Dear Santa, I was really good at being naughty. Does that count?
You rock my Christmas socks.
Let the trees be one of many things getting lit this year.
Dear Santa, I can explain.
Santa Clause, stop here! We have cookies.
Dear Santa, it was my wife's fault.
Christmas is filled with love and spirit. So let us drink lots of spirits to feel the love.
Good luck with wishing for unrealistic gifts from someone who doesn't even exist.