Christmas is a special time for families to spend quality time together, and sharing heartfelt messages with your loved ones brings you closer together.
However, it might be hard to find the right words to express just how you feel.
If you have a daughter that you love and want her to know how special she is to you, then you will appreciate these Christmas Wishes for Daughters.
Send a message to your awesome daughter to let her know that she's loved and will always be important to you.
We hope these messages bring a smile to her face and remind her of just how much you love her.
🎄 You might also enjoy reading:
Christmas Wishes For Daughter
Having you by my side at Christmas is such a special time for me, and I'm so glad to be able to spend it with you. Have a wonderful Christmas and a prosperous New Year, sweetheart!
My dear daughter, have a wonderful Christmas! May you always be amazed by the magic of the holidays with the same sense of childlike wonder.
Wishing you a wonderful Christmas, dear daughter. It's your sparkle in the eyes and your warmth in the heart that's making me smile. Happy holidays! May your season be filled with magic.
The star on top of our Christmas tree pales in comparison to your brilliance. May your Christmas be filled with pure joy and an abundance of happiness.
Wishing our wonderful daughter a very Merry Christmas. Wishing you a joyful Merry Christmas with warm greetings.
The festive season brings a lot of joy, so I wish you the happiest of holidays, our dearest daughter!
Christmas brings immense joy whenever we reunite as a family. We want you to know that having you in our lives means the world to us. Best wishes for the holiday season, our baby girl!
Your birth made me the happiest woman in the world. It is a blessing to have a daughter who makes me happy beyond words. The love I have for you is endless. Best wishes for the holiday season!
Regardless of how busy I am, I will always think about you and how grateful I am to be your parent. Have a wonderful holiday season, beautiful girl!
Christmases are always a reminder of how lucky I am to have such a sweet daughter. Oh, and let's not talk about the teenage years!
Your presence is the greatest Christmas gift I could ever receive. Despite your young age, you are a brilliant and ambitious girl, and I am very proud of you. Wishing you an unforgettable holiday season!
Best wishes for the holidays, our precious daughter. The more time passes, the more radiant you become. Happy holidays! Wishing you a season of wonder and happiness.
Wishing you a wonderful holiday season and plenty of time to relax and unwind. This is a reward you deserve! My dear daughter, have a wonderful Christmas!
I am so impressed with how much you embrace the holiday season's spirit. I wish you a season filled with joy, peace, & happiness. Have a wonderful Christmas!
We would like you to know how much we appreciate you, daughter. Best wishes for the holidays!
You are an incredible daughter, and I'm so blessed to have you. No one else provides me with as much joy as you do. Warmest wishes for Christmas!
Christmas Messages For Daughter
Choose your favorite messages for daughters this festive season from the list below.
You fill my heart every day with joy, my dearest daughter. Wishing you joy this happy season. Have a Merry Christmas!
The beauty of life is in the little things, like a rare moment spent with a loved one. We wish our most valuable gift, our daughter, a very happy holiday season!
You have been an incredible gift to both of us. Always keep that in mind. Have a wonderful Christmas!
We want to express our appreciation and love to you this Christmas season. We are infinitely proud of our smart, considerate daughter. My love, have a wonderful Christmas.
Santa doesn't need to check his list twice for the sweetest girl in the universe! Sweetheart, I wish you a very Merry Christmas!
The best Christmas present I could have received would have been to spend time with you during this family holiday. Our beautiful daughter is always a joy to see. Wishing you a year filled with joy and happiness.
Each year, you have the power to make Christmas even more joyful and memorable. My life is brighter because of you. I wish my lovely daughter a very Merry Christmas!
We still enjoy seeing your sense of wonder each year when you open your gifts from us, even if you don't believe in Santa anymore. You are the perfect daughter we could ever wish for. Wishing you a very happy holiday season!
It brightens my day when I see you smiling, princess; keep it up. You are in your dad's thoughts during this holiday season.
Warmth and community are in the air this time of year. Get in the holiday spirit with a mug full of yuletide cheer! My dear daughter, have a wonderful Christmas!
There's no better time to wish some of your dreams come true than the holiday season. We wish you all the nice things in life, our dear daughter. Merry Christmas!
Christmas is said to be a time of believing. As I am sure you already know, I believe in you and have always done so. Wishing my amazing and talented daughter a magical Christmas!
Christmas Quotes For Daughter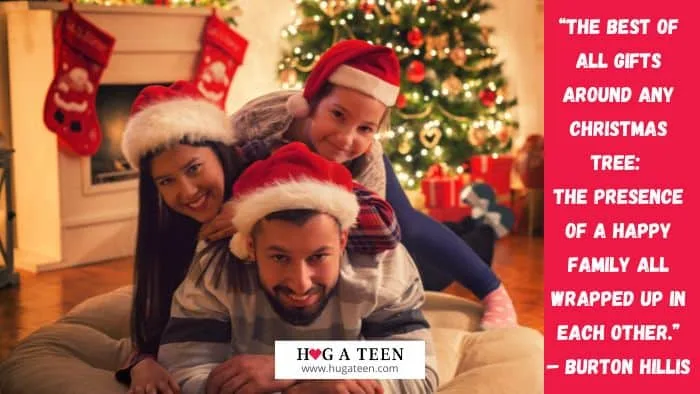 "Christmas is not a time nor a season, but a state of mind. To cherish peace and goodwill, to be plenteous in mercy, is to have the real spirit of Christmas."

– Calvin Coolidge
"The best of all gifts around any Christmas tree: the presence of a happy family all wrapped up in each other."

– Burton Hillis
"Christmas, my child, is love in action. Every time we love, every time we give, it's Christmas."

– Dale Evans
"God never gives someone a gift they are not capable of receiving. If he gives us the gift of Christmas, it is because we all have the ability to understand and receive it."

– Pope Francis
"Christmas is doing a little something extra for someone."

– Charles M. Schulz
"Bless us Lord, this Christmas, with quietness of mind; Teach us to be patient and always to be kind."

– Helen Steiner Rice
"Gifts of time and love are surely the basic ingredients of a truly merry Christmas."

– Peg Bracken
"Christmas waves a magic wand over this world, and behold, everything is softer and more beautiful."

– Norman Vincent Peale
"Christmas is the day that holds all time together."

– Alexander Smith
"Remember this December, that love weighs more than gold."

– Josephine Daskam Bacon
"Every gift, though it be small, is in reality great if given with affection."

– Pindar
"We make a living by what we get but we make a life by what we give."

– Winston Churchill
"Peace on earth will come to stay, when we live Christmas every day."

– Helen Steiner Rice
Merry Christmas Daughter Poems
Year-Round Joy
By Joanna Fuchs
Christmas is full of shiny things
That sparkle, gleam and glow.
These holiday pleasures dazzle us,
And yet, deep down, we know…
That Christmas has its special gifts,
But our year-round joy depends
On the cherished people in our lives,
Our family and friends.
Holidays
By Henry Wadsworth Longfellow
The holiest of all holidays are those
Kept by ourselves in silence and apart;
The secret anniversaries of the heart,
When the full river of feeling overflows;–
The happy days unclouded to their close;
The sudden joys that out of darkness start
As flames from ashes; swift desires that dart
Like swallows singing down each wind that blows!
White as the gleam of a receding sail,
White as a cloud that floats and fades in the air,
White as the whitest lily on a stream,
These tender memories are;–a fairy tale
Of some enchanted land, we know not where,
But lovely as a landscape in a dream.
Snowball
By Shel Silverstein
I made myself a snowball,
As perfect as could be,
I thought I'd keep it as a pet,
And let it sleep with me.
I made it some pajamas,
And a pillow for its head,
Then last night it ran away,
But first – it wet the bed!
The Joy Of Christmas
By Maddy R. Kohler
Christmas is a loving hug
Or roasting chestnuts on the rug.
Christmas is one's first snow
And wrapping presents up with bows.
Christmas is sledding over the ice,
And giving presents feels so nice.
Christmas is a friend.
I never want Christmas to end.
The Nicest Present
By Joanna and Karl Fuchs
Under the tree the gifts enthrall,
But the nicest present of them all
Is filling our thoughts with those who care,
Wanting our Christmas joy to share.
To you, whom we're often thinking of,
We send our holiday joy and love.
Wishes
By Patricia A. Howard
The orange glow of the fireplace
fills the room with Christmas cheer.
To my family I raise my glass,
full of wishes for the year.
Christmas Greetings For Daughter
These beautiful Christmas greetings will let her know how special she is to you.
Christmas is a time to reflect on what is most important to you and how to show it to the people you care about most. So, we are writing to let you know how much we appreciate you. Have a wonderful Christmas!
Your presence has lit up my life like a bright, shining angel from heaven, my dearest daughter. I wish my brilliant daughter a very Merry Christmas. You are loved.
I wish our incredible daughter a very Merry Christmas. Wishing you a magical holiday season with our warmest wishes
The current situation isn't perfect, I understand. In spite of this, I still want to let you know that – regardless of anything else – you are my daughter, and I love you dearly. Wishing you a happy Christmas.
Among the cherished childhood memories of the years spent with you are the outfits and dolls, the makeup collections, and so many more. We are proud of the woman you have become. This Christmas season, we are celebrating you, our most precious gift.
It can be a challenge to keep up with the holidays when you're a busy mom. So I want you to take time for yourself…to appreciate all that you do for your family each day.
You make my life brighter and merrier just by being my daughter, and I wish you a very merry Christmas. It might not be as intense as it was when you were a teenager, but you still had a lot of fun.
We have witnessed you grow from a young girl to a woman with ambition and success. We are so grateful for that gift! Have a wonderful Christmas, our fabulous daughter!
Special Christmas Wishes For Daughter
Let your amazing daughter know just how much you love her with these special Christmas wishes.
Happy holidays! The star that shines at the top of the tree is not as bright as you, my daughter. My best wishes for a magical holiday season!
Wishing you a very Merry Christmas, beloved daughter. I wish you a festive season filled with sheer happiness and spectacular moments. I love you!
My darling daughter, have a wonderful Christmas. I wish you a healthy and cheerful holiday season. Let your days be filled with everything that makes you happy!
I would like to share the joy of this holiday season with you, dear daughter. Best wishes for Christmas!
Happy Holidays, sweetheart! I hope this holiday season brings you the same kind of happiness you bring to others.
It is because of you that our lives are happier! I wish you a happy and phenomenal holiday! Have a blessed Christmas!
There are times when everything isn't all merry and bright. Nevertheless, I wish you a blessed Christmas and the best for the New Year, just as I always do.
Sweet Christmas Message For Teenage Girl
One of our greatest wishes for you, daughter, is for you to realize how much we appreciate you. Happy Holidays!
Your eyes still shine with pure delight as you anticipate your presents with excitement. May it never fade away, my love, and have a very merry Christmas.
Your presence in my life is the ultimate gift I could ever imagine. Best wishes to my beautiful daughter for the holiday season.
The blessing of having you as a daughter is priceless. My dear child, I wish you a very happy holiday season.
My concern for you as a parent is always genuine, but just because I love you. You are the most precious and wonderful gift in my life. I wish you a Merry Christmas.
Happy holidays, dear daughter! You bring warmth to so many people's hearts. Best wishes for a lovely holiday season.
We wish you a happy and healthy Christmas season filled with God's blessings. Warm wishes, dear daughter!
Warm wishes on Christmas to the most wonderful teenager. May you have a blast this Christmas with your family and friends.
I hope you've found the best season's greetings and messages to send to your daughter this Christmas.