It's important to teach boys how to properly take care of their skin from a young age.
As they grow older, and their skin changes, they need to have the right products to wash away impurities and protect their skin in the process.
I share how your teen can find out what skin type he has and which products are best suited for him. I've highlighted my top 3 face washes for each skin type below, as well as information on moisturizers and sunscreens.
Read on to find the best face wash for teen boys, whether they have normal, oily, acne-prone, dry or sensitive skin.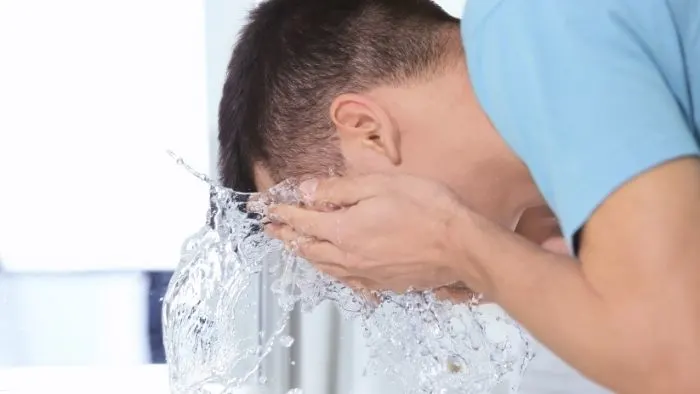 How Do I Choose A Teen Face Wash?
Choosing the best face wash for your teen boy will depend mostly on his skin type and age.
The most important thing for this age group is establishing a great skincare routine early on. To get your pre-teen son used to washing his face daily, you can start by getting a very mild, simple face wash. Choose a mild, soap-free, fragrance-free, hypoallergenic cleanser.
Once your child starts puberty and their hormones start increasing and causing breakouts, it's time to consider adding some more potent acne-fighting ingredients.
It's essential to understand if your teen has normal skin, dry skin, sensitive skin, or oily/combination skin. Although some cleansers can be used for all skin types, several will be targeted to address a specific skin type or problem.
Many teens will have combination skin, meaning that you might have an oily T-zone (forehead and nose), but the rest of your skin might be normal. Consider the skin concern that you want to address most. For many teens, this would be acne, in which case a face wash that is best for treating acne will be the one to look for.
Look for a cleanser with ingredients proven to be effective on acne-prone skin. Over-the-counter acne products that contain 5-10% benzoyl peroxide are widely available. There are also many cleansers with 1-5% salicylic acid, which acts as an exfoliating agent, helping unclog pores.
It's also important to try and avoid certain key harmful ingredients like parabens, phthalates, sulfates, alcohol, and artificial fragrances.
To help you find the best face wash for your teen, I've listed my top three choices for each skin type.
🤓Suggested reading: How To Teach A Kid To Shave – Tips & Tools For Boys & Girls
Best Face Wash For Teen Boy With Normal Skin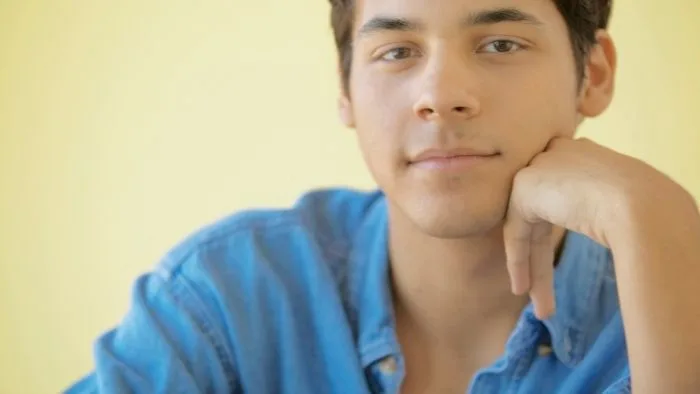 What Is Normal Skin?
Normal skin means that your skin is well balanced. Your T-zone (forehead, chin & nose) may have some oil, but overall the moisture in your skin is balanced, and the skin is neither too oily nor too dry. Your skin has a smooth texture, with few imperfections, barely visible pores, no severe sensitivity, and does not require special care.
How Do You Test For Normal Skin?
Wash your face with a gentle cleanser and wait for an hour. After an hour, consider what your skin looks and feels like. Take some blotting or tissue paper and pat it against your face. Hold it up to the light and see the oil markings. You most likely have normal skin if you only see a minimal amount of oil coming from every area of your face equally.
What Kind Of Face Wash Should I Use For Normal Skin?
A non-foaming face wash should be used twice a day.
Top 3 Best Face Wash For Normal Skin For Teen Boys
The Vitamin C Cleanser is a natural face wash with triple-action cleansing, exfoliating, and nourishing properties.
It is an effective deep pore cleanser and exfoliator that can remove dirt from the skin that can cause clogged pores and blackheads.
This Vitamin C Face Cleanser leaves your skin clean, smooth, and healthy.
Clean & Clear Day & Night Face Wash are oil-free, hypoallergenic, and non-comedogenic to gently cleanse without over-drying skin both in the morning and at night.
Clean & Clear Morning Burst Facial Cleanser effectively removes skin impurities that build up overnight. It has a refreshing citrus scent with ginger extract to awaken your senses and help you start your day.
Clean & Clear Night Relaxing Deep Cleansing Face Wash contains deep-sea minerals & sea kelp extract to deeply cleanse pores with calming aromas to help you wind down after a long day.
Everdeen Kids Face Wash offers a complete blend of organic ingredients, essential omegas, amino acids, and vitamins to help maintain the feel of healthy skin and protect kids' delicate skin in the future.
With organic coconut water and coconut juice, this gentle face wash for kids produces a rich, foaming lather that is easily rinsed to leave the skin feeling refreshed and balanced.
A 100% natural fragrance featuring top notes of grapefruit and orange zest, heart notes of rose petals, and base notes of earthy vetiver.
What Type Of Moisturizer Should I Use For Normal Skin?
Apply a light water-based moisturizer every time you wash your face.
What Type Of Sunscreen Should I Use For Normal Skin?
Use a gel formulation of sunscreen with SPF 30 daily.
Best Face Wash For Oily Skin Teen Boys
What Is Oily Skin?
Oily skin produces an excess of sebum that causes the skin to appear shiny and feel greasy. You may be more likely to have enlarged pores and be more prone to acne breakouts.
How Do You Test For Oily Skin?
Blot your face with tissue paper. Start by blotting your T-zone (forehead, nose, and chin) first. If you can see oil on the tissue, you have combination skin. Do the same tissue-paper test on your cheeks, and if there's an oily shine on the tissue from your cheeks, you have oily skin.
What Kind Of Face Wash Should I Use For Oily/Combination Skin?
If you have oily skin, you may want to use a face wash that contains salicylic acid.
If you have acne, you can use a face wash containing benzoyl peroxide.
Top 3 Best Face Wash For Teen Boys With Oily Skin
Cetaphil Pro DermaControl Oil Removing Foam Wash is clinically proven to effectively remove oil impurities and is specifically designed for oily and acne-prone skin. It is pH-balanced and contains licorice root extract and zinc technology to soothe irritated skin. The wash is hypoallergenic and paraben-free and has been clinically proven not to irritate sensitive skin.
Our son uses this face wash combined with the moisturizer and spot cream to manage his teenage acne.
The Neutrogena Oil-Free Acne Face Wash is oil-free and non-comedogenic. The residue-free formula washes away dirt, oil, and bacteria. Rinses clean easily with water and is never oily, helping to unclog pores. The all-important salicylic acid helps treat acne even before it emerges.
CeraVe Foaming Facial Cleanser for Oily Skin is a foaming gel cleanser that cleanses without leaving your skin feeling tight, dry, or stripped. Formulated with three essential ceramides (1, 3, 6-II) to help restore and maintain the skin's natural barrier. Niacinamide helps to calm the skin.
This product is fragrance-free, non-comedogenic, non-drying, and non-irritating.
What Type Of Moisturizer Should I Use For Oily/Combination Skin?
Use a light gel-based moisturizer to wash your face in the morning and evening.
What Type Of Sunscreen Should I Use For Oily/Combination Skin?
Make sure you use a gel-based sunscreen with SPF 30 regularly.
Watch this video which explains how teen boys can take care of their skin:
Best Acne Face Wash For Teen Boys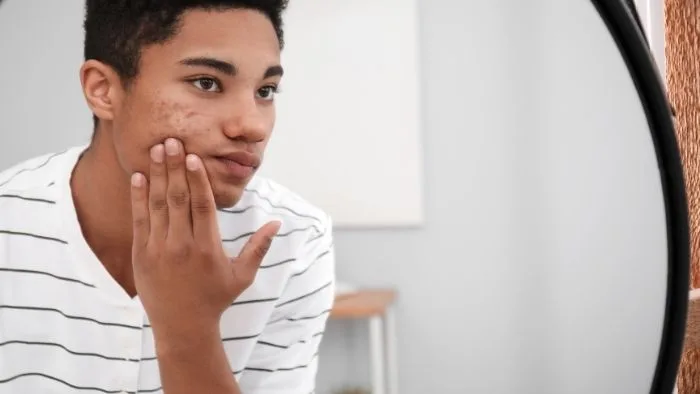 What Is Acne Prone Skin?
Blemish-prone skin is prone to developing comedones and pimples. The skin appears oily and shiny. This is because sebaceous glands produce more sebum on the oily skin type.
How Do You Test For Acne-Prone Skin?
You can diagnose it by a simple visual inspection by yourself or your healthcare provider. If you want to determine the cause of the acne, a bacterial test where a microbiological examination and culture of acne spots can be performed. Tests for hormonal imbalances can include testosterone, SBHG, free androgen index, prolactin, cortisol, and dexamethasone suppression.
What Kind Of Face Wash Should I Use For Acne-Prone Skin?
I would always recommend starting with the mildest product first. You can then begin testing products with a stronger active ingredient like salicylic acid. If these do not help manage your acne, you can move on to products containing benzoyl peroxide in the lowest concentrations. If you have severe acne, it is best to visit a dermatologist and get it treated.
Top 3 Best Face Wash For Teen Boys With Acne
Here are my top picks for teen boys with acne.
Differin offers several cleansers and acne treatment products. It's best to start with the gentlest cleanser and if your son's skin doesn't react negatively, but you feel like you might need something stronger to clear his acne, then try one of the other Differin products listed below.
The most gentle product that your teen could start using is their Differin Gentle Cleanser which is excellent for sensitive skin.
If your teenage son has oily or acne-prone skin, he can move on to the Refreshing Cleanser in combination with the Differin Gel, which contains the retinoid Adapalene.
For extreme acne, he could dry the Differin Daily Deep Cleanser, which contains 5% Benzoyl Peroxide. This works great for many, but some have complained that it is too strong, so it's always best to test and stop use if your skin reacts badly. If your teen boy has severe acne, it is best to see a dermatologist.
Differin is a water-based formula, oil-free, alcohol-free, fragrance-free, and non-comedogenic.
La Roche-Posay Effaclar Medicated Gel Facial Cleanser is a foaming acne face wash with Salicylic Acid.
It helps control oily skin and clears acne breakouts. With this foaming acne face wash, skin is cleansed, and impurities are removed without harsh scrub particles that may irritate the skin. It is oil-free (non-comedogenic), paraben-free, and fragrance-free.
It has been allergy tested by dermatologists.
Acne Free Oil-Free Acne Cleanser offers several acne clearing products. If you're looking for a product containing Benzoyl Peroxide, you might want to try this acne face wash formulated with 2.5% micronized benzoyl peroxide, which may be less severe than other stronger products.
Eliminates and prevents breakouts, including pimples, cystic acne, blackheads, and whiteheads.
Micronized benzoyl peroxide recommended by dermatologists penetrates deep inside the pores to remove acne-causing bacteria.
Ceramides nourish the skin and help it hold onto moisture.
They offer three acne clearing systems from oil-free, with salicylic acid for sensitive skin and maximum strength benzoyl peroxide for severe acne.
Always start with the most gentle and work your way up to stronger ingredients if necessary and if you feel that you can skin can tolerate it.
For extreme acne, it is recommended to see a dermatologist for expert advice.
What Type Of Moisturizer Should I Use For Acne-Prone Skin?
Gel moisturizers work best with acne-prone and oily skin. Gel moisturizers contain water molecules and capsules of hyaluronic acid that allow the skin to be hydrated without leaving greasy residues behind.
What Type Of Sunscreen Should I Use For Acne-Prone Skin?
Use a physical mineral sunscreen rather than a chemical sunscreen. An oil-free, light sunblock that is non-comedogenic, like the Neutrogena Ultrasheer dry-touch sunblock, is a great choice. Spray and gel-based sunscreens are also suitable for acne and oily skin.
Best Face Wash For Dry Skin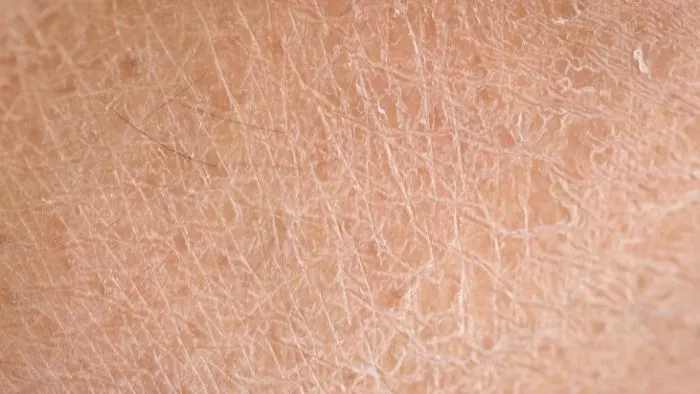 What Is Dry Skin?
Dry skin happens when your skin does not have enough moisture (water and oils) it needs to maintain itself. Dry skin may be scaly, itchy, or even painful. Dry skin can also be caused by environmental factors such as cold weather or dry air.
How Do You Test For Dry Skin?
If your skin feels tight, itchy, or flaky, you probably have dry skin. To test, you can wash your face with a gentle cleanser and water and then leave for about an hour without applying any moisturizer. If, after an hour, your face still feels tight, then you most likely have dry skin.
What Kind Of Face Wash Should I Use For Dry Skin?
Wash your face with a light, non-foaming face wash designed for dry, sensitive skin. You should avoid scrubs and foaming face washes. Use cool water instead of hot water.
Top 3 Best Face Wash For Dry Skin For Teen Boys
CeraVe Hydrating Cleanser contains hyaluronic acid, ceramides, and glycerin to help hydrate skin without stripping it of moisture. It contains a unique formula that washes away dirt, and excess oil, hydrates for 24 hours, and leaves the skin feeling moisturized and non-greasy.
A gentle facial cleanser for sensitive, dry skin that feels smooth as it cleans. This cleanser feels like a lotion and doesn't foam, but it still cleans the skin well and doesn't dry it out.
This product is non-comedogenic (does not clog pores), non-drying, non-irritating, fragrance-free, soap-free, and paraben-free. National Eczema Association-certified.
This is our pick for the best face wash for teenagers with particularly dry skin.
Nivea Men Maximum Hydration Moisturizing Face Wash
Nivea Men Maximum Hydration Moisturizing Face Wash has a lightly scented aloe vera fragrance.
As you wash your face with this, it gently foams to thoroughly remove dirt and oil.
It protects the skin from drying out and does not leave it feeling tight or dry.
This hydrating face wash is enriched with Aloe Vera, Provitamin B5, and other moisturizers.
Neutrogena Hydro Boost Facial Cleansing Gel transforms into a silky foaming lather that removes oil and impurities from the skin, leaving it feeling soft and supple.
This product is formulated with hydrating hyaluronic acid, a nutrient found naturally in the skin and widely recognized by dermatologists.
Hypoallergenic and non-comedogenic, this facial cleanser won't clog pores. The formula is free of fragrance, oil, soap, parabens, dyes, phthalates, and alcohol.
What Type Of Moisturizer Should I Use For Dry Skin?
If you have dry skin, your moisturizer is the most important part of your skincare routine. You should look for moisturizers that contain humectants like hyaluronic acid, lactic acid, urea, or sorbitol. Other ingredients that can prevent moisture loss include lanolin, petrolatum, and dimethicone.
What Type Of Sunscreen Should I Use For Dry Skin?
You can use a lotion or cream formulation of sunscreen over your moisturizer.
Best Face Wash For Sensitive Skin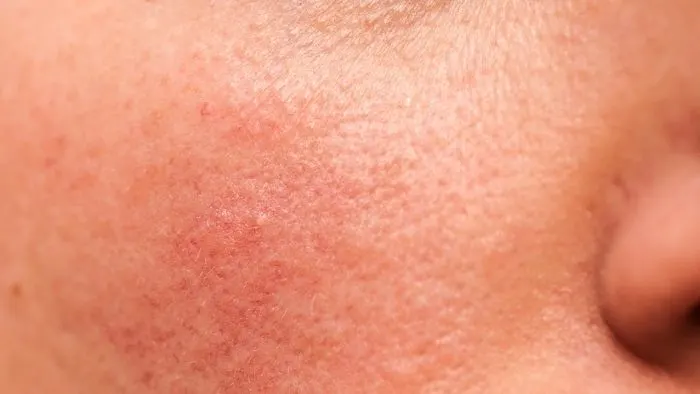 What Is Sensitive Skin?
Sensitive skin means your skin is more prone to react to stimuli that normal skin won't respond to. Most people who have sensitive skin notice redness, itching, burning, and stinging of patches of skin. They can develop rashes often and are prone to breakouts and sunburn easily.
How Do You Test For Sensitive Skin?
If your skin reacts easily to certain stimuli, you might have sensitive skin. Everybody's skin is different, so keeping a record of skin reactions is a good way of identifying problematic ingredients. Consider comparing the ingredients in products that irritate your skin, as you may find some repeat offenders. You should only test one new product at a time, and you can start by doing a patch test instead of slathering a new product all over your face.
What Kind Of Face Wash Should I Use For Sensitive Skin?
Generally, hypoallergenic products cause fewer reactions in people with sensitive skin. Avoid products that include aluminum compounds, alpha-hydroxy and beta-hydroxy acids (such as glycolic acid and salicylic acid), synthetic fragrances, metals, and sulfates.
Top 3 Best Face Wash For Sensitive Skin For Teen Boys
Cetaphil Gentle Skin Cleanser is recommended for daily use to gently clean, hydrate, and soothe sensitive skin. Although all skin types can use it, it's ideal for sensitive, dry skin. Its fragrance-free, soap-free formula is hypoallergenic and pH-balanced for your teen's skin.
Dermatologists recommend this product for teenagers with ultra-sensitive skin, acne-prone skin, rosacea, eczema, or folliculitis.
Cetaphil is one of the most popular skincare brands among teens. This face wash is recommended as the best face wash for teens beginning their skincare journey.
Vanicream Gentle Facial Cleanser uses a soap-free formula that is gentle on sensitive skin. It is non-comedogenic (meaning that it won't clog your pores), has no hard cleaning agents, and is pH balanced.
It is dermatologist tested, sulfate-free, and fragrance-free. It has even been awarded the seal of acceptance from the National Eczema Association.
Aveeno Calm and Restore Nourishing Oat Facial Cleanser is recommended for sensitive and irritated, dry skin. This gentle daily cleanser is made with a blend of nourishing oat and calming feverfew, which helps calm irritated, dry skin while strengthening the skin's moisture barrier.
This cleanser is Ideal for sensitive skin as it is hypoallergenic, fragrance-free, paraben-free, sulfate-free, alcohol-free, dye-free, and phthalate-free. In addition, it is non-comedogenic, so it won't clog pores as it cleanses
What Type Of Moisturizer Should I Use For Sensitive Skin?
Finding the right skincare for teenagers with sensitive skin can be daunting. However, a good moisturizer is an absolute must to help create an effective skin barrier to ward off dryness and further irritations.
What Type Of Sunscreen Should I Use For Sensitive Skin?
If you have sensitive or acne-prone skin, the American Academy of Dermatology recommends using mineral sunscreen instead of chemical sunscreen.
Best Face Wash For African American Skin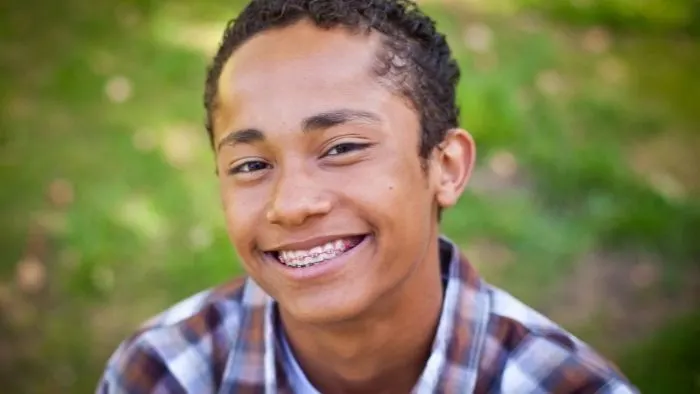 Choosing the best cleanser for African American skin is all about choosing one that is best suited to your skin type. People of African descent can have different skin types, just like people of other ethnicities. Even though dark-skinned individuals have a more pigmented and darker skin tone, your skin type still ranges from oily to sensitive, to acne-prone, to dry, to combination skin.
Find out your skin type by reading each section above, and then you can choose a great face wash based on this information.
As with any skin color, it's essential to use non-comedogenic products that won't clog your pores and try to avoid artificial fragrances and harsh chemicals that could cause an allergic reaction.
I've added three more great cleansers below, but don't feel limited to these. Any of the products listed above can work perfectly for African American skin.
Top 3 Best Face Wash For African American Skin
Bioré makes several foaming cleansers for combination and oily skin.
Bioré Deep Pore Charcoal Face Wash has charcoal and salicylic acid. You can also choose others with baking soda, rose quartz, and witch hazel.
Salicylic acid treats existing acne, and the natural charcoal in this acne cleanser helps clear pores and prevent the development of new acne-related blemishes.
Sheamoisture Facial Wash & Scrub is a cleanser and exfoliator in one.
I usually recommend a facial wash over a scrub for anyone with sensitive skin, but this product seems to work well for oily skin and blemish-prone skin.
You probably wouldn't use this every day, but once a week could be a great addition to your skincare routine.
It's also formulated with no parabens, no phthalates, no mineral oil, and no sulfates, which is a major plus for teen skin.
It contains salicylic acid and is blended with Tea Tree Oil which gently purifies and helps to soothe and mattify skin.
Bioderma – Sébium Foaming Gel is a non-drying gentle cleanser that targets sebum production and helps to reduce the appearance of irregularities.
The product also contains zinc and copper sulfate, two purifying agents that remove impurities and prevent pores from clogging.
🤓 Suggested read: Best Deodorant For Teen Boys
Best Face Wash For Tweens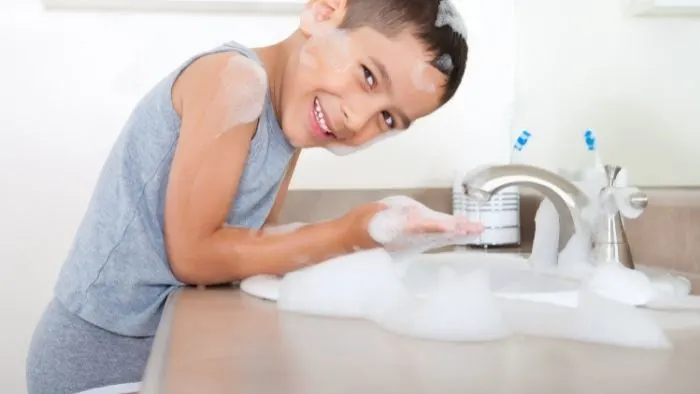 The most important thing for this age group is establishing a simple skincare routine as soon as possible. To find the best skincare for tweens, start by getting your pre-teen son a very mild, simple face wash to get him used to washing his face daily. Choose mild, soap-free, fragrance-free, hypoallergenic face wash.
Top 3 Face Wash For Tweens
Gentle Kids Foaming Face Wash is 99% natural and 80% organic. It is excellent for pre-teens starting on their facial care journey. It is formulated without harsh ingredients making it perfect for all skin types, including sensitive, combination, oily, dry, and normal. It has a lovely light natural scent from organic neroli flower water and is packed with organic aloe vera to soothe, calm and rejuvenate.
Papaya extract works as a natural astringent to reduce excess oil and cleanse and exfoliate the skin, making it smooth, clean, and even-toned.
The Neutrogena Fresh Foaming Facial Cleanser removes dirt, oil, and makeup in one easy step, leaving skin feeling fresh and clean.
It creates a foamy lather that cleanses without over-drying skin. A gentle face wash that won't sting or irritate sensitive eyes and won't clog pores.
Neutrogena is dermatologist-tested, hypoallergenic, and is oil, soap, and alcohol-free.
Kidskin T-Blast Cleanser is great for pre-teens.
It contains .04% tea tree oil which is great for cleaning oily skin without drying it. Tea tree oil also has an anti-inflammatory action that helps soothe redness and reduces skin irritations.
Kidskin is fragrance-free, cruelty-free, paraben-free, sulfate-free, gluten-free, benzoyl peroxide-free, and vegan. With this product, your tweens and teens are protected from harsh ingredients that may cause breakouts or more serious skin problems.
The product does have a scent, which comes from natural essential oils, which isn't detrimental to the quality.
Face Wash Kits For Teens
Once you've found a product or brand your teen loves, it's as important to find a suitable moisturizer. Even though it's not always necessary, it is often recommended to use a moisturizer from the same brand to start. If your teen's skin tolerates the cleanser, the moisturizer should work well too. Here are some great face wash kits for teens that offer you a cleanser, toner, and moisturizer to suit your teenage boy's needs.
Note: these kits are mainly targeted at teens who have acne-prone skin.
The Proactiv Teenage Kit is specifically formulated to treat and prevent breakouts for most skin types, especially oily and combination skin. Proactiv acne cleanser delivers finely-milled benzoyl peroxide deep into your pores to fight acne-causing bacteria and prevent breakouts for acne-prone skin. Glycolic acid, an exfoliating alpha hydroxy acid, keeps pores clear and skin breakout free. A powerful, comprehensive acne treatment system, Proactiv eliminates impurities and helps prevent future breakouts.
Acne Free 3-Step Acne treatment kit was formulated for mild to severe acne, blackheads, and whiteheads.
This acne treatment kit eliminates acne breakouts with dermatologist-recommended 2.5 percent micronized benzoyl peroxide for visibly clearer skin.
Kidskin Three-Step Acne Treatment Kit or PreTeens and Teens is specifically designed to be used by kids between 8 and 17 years old. These products are safe for all skin types and can be used every day.
Skin impurities will be removed with the cleanser, pimples will be reduced with the serum, and your skin will be hydrated with the moisturizer.
This Differin Skin Care Set contains its gentle cleanser, acne treatment gel, and oil-absorbing moisturizer with sunscreen.
By normalizing skin cell turnover, Differin combats acne's two primary causes, clogged pores, and inflammation.
The Differin gel contains Adapalene, which was created for superior tolerability compared to other prescription retinoid products.
Differin skincare set uses a water-based formula, is oil-free, alcohol-free, fragrance-free, and non-comedogenic.
FAQ Best Face Wash For Teen Boys
Is Salicylic Acid Good For Teenage Skin?
Salicylic acid unclogs congested pores and is anti-inflammatory, making it one of the best teenage skincare products. Experts agree that Salicylic Acid is the must-have ingredient for teens with spot-prone oily, combination, and blemish-prone skin. It is, however, not recommended for dry or sensitive skin.
Is Cetaphil Good For Teenage Skin?
Cetaphil is perfect for teens since it is fragrance-free and soap-free and will gently cleanse dirt and grime from the skin. Cetaphil offers different products for each skin type, so even though it's gentle on the skin, even acne-prone teens can use their oil control foam wash for teenager acne with great results. Cetaphil is one of the best brands for tweens and teens to start using at the beginning of their skincare journey.
Is CeraVe Or Cetaphil Better?
Both products are great for teen skin and have effective products to address different skin types and issues.
Cetaphil was created for sensitive skin, so you might prefer this if you have this skin type. Cetaphil products have a pH level that regulates the skin's acid-alkaline balance, meaning that it will balance out pH if your skin is too oily or too dry. It also contains glycerin which hydrates, provides protection from skin irritants, and also accelerates skin healing. I have recommended two different Cetaphil products for oily and sensitive skin.
CeraVe contains hyaluronic acid and three types of ceramides, so it might be more hydrating for dry skin types. Hyaluronic acid maintains the skin's natural moisture barrier, and the ceramides are released gradually onto the skin, providing hydrated skin for longer. I have recommended two different CeraVe products for dry and oily skin.
Is Clean And Clear Face Wash Good For Teenagers?
Clean and Clear has some great products for teenagers. You might want to start with Clean & Clear's Morning Burst Facial Cleanser since it's mild enough for teens. Cleanses gently while enriching and energizing the skin with vitamins. I've recommended this product for teens with normal skin.
I hope that this article has helped you not only identify your teenage boy's skin type and find the best face wash for your teenage son, but that he will enjoy a brighter skin, calm skin, and happy skin by keeping his skin healthy throughout his teenage years.